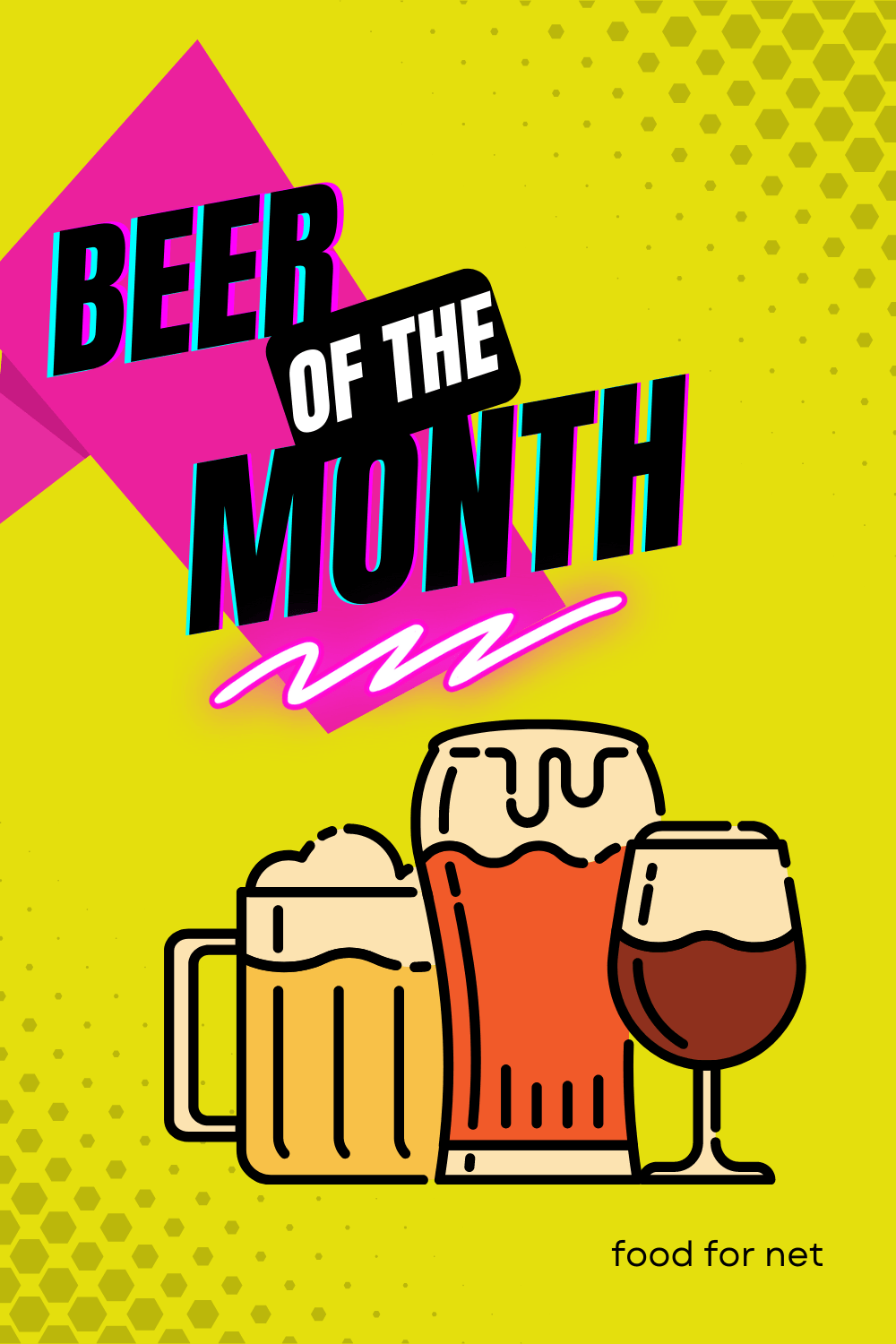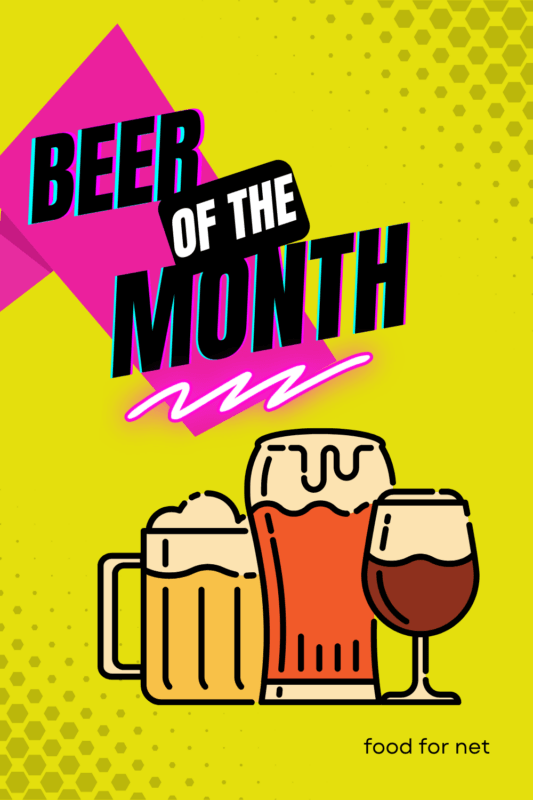 Whether you are buying for yourself, or as a gift, I hope you get a lot of use out of the beer of the month club reviews you'll find on this page.
There are quite a few options for clubs that you can join, with a variety of prices and types of brews available. In general, I had a great experience with all the clubs. They were eager to deliver high quality beers, directly to my doorstep.
I'll tell you what, it sure beat making a trip to the store and browsing the aisles or hours trying to find something new!

Keep reading to find which one was my personal favorite – the one I'm still a member of today! I'd love to be a member of all of them, but who can really keep up with all that drinking?!
Best Beer Of The Month Clubs
Comparing 14 different beer clubs is a lot of work, especially if you are trying to get a gift for someone. So I'll show my top 3 picks right here, and why I like them. Pick one of those and you'll be fine (and get some decent beer).
With the rest of the list I go into a bit more detail about my experience, including some pictures and links the full review if you really want to dig into the details.
#1 Rare Beer Club (My Favorite)

Pros
hard to find beer
unique flavors
exclusive offerings
two big bottles per month
options to order more
more control over what's delivered
big bottles great for sharing with friends
Cons
strong beers are not for everyone
hard to finish one by yourself
doesn't keep overnight like wine
more expensive than other clubs
Sign Up To The Rare Beer Club Here
#2 Hop Heads (Most Flavor!)

Pros
most flavor of any beer club
hoppy beers go great with food
Cons
lots of people don't like hoppy beers
not hoppy enough for true hop heads
Sign Up To The Hop Heads Beer Club Here
#3 US/International Mix (Fan Favorite)

Pros
biggest variety of beers of any clubs
includes US micro, plus international selection
good for people that don't like "hoppy" beers
Belgian beers are great for cozy winter nights
Cons
a little more expensive that US-only micro clubs
foreign beers don't have "crazy flavors" like US micros
Sign Up To The US + International Microbrew Club
>>>> Beer Club Options #1 to #14 <<<<
Note: There are actually five different kinds of beer clubs available from MonthlyClubs.com, AKA BeerMonthClub.com. The first five clubs on this list are from that company, and the remaining clubs are different companies.
Option #1. US Microbrewed Beer Club

$27.95 per month plus $15 S&H
One of the biggest trouble with "drinking local" is that you can really expire you choices of new brews quickly (unless you live in Oregon, Washington, or San Diego!). Being part of a US Microbrew of the monthly club immediately opens up some doors for you to try beers from around the USA without needing to make a trip across the country!
I actually drove across the USA on my motorcycle, stopping at a few breweries in each state, and was not able to come even close to "trying everything". The US Microbrew of The Month Club is a cool way to taste the best of the best around the US since these beers are professionally curated and chosen for quality.
In my opinion, the US beers featured in this club were much more interesting than in the other US micro clubs below.
Option #2. International Beer Club

$37.95 per month plus $15 S&H
Are you able to ship your own beers internationally? Probably not. Even if you were a frequent traveler, it would be insanely inconvenient to find and bring back international beers regularly.
Your local bottle shop likely only has a few English and Belgian beers, if anything, and who knows how long they've been sitting on that shelf. Even my local BevMo only has certain selections and they don't rotate as often as the US craft stuff. 18-month old Belgian golden ales? Boring and stale.
That's why I really like having these international beers sent to me. I know they are going to be fresher, and more interesting than what I can source myself. And even though they are a bit more expensive than the craft clubs listed on this page, they are worth it because I can't source these bottles for much cheaper.
I was part of the US/International club, so I didn't get the full experience, but from what I got over three months, I was happy.
A lot of beer drinkers simply don't like the crazy stuff from craft beer breweries like chocolate stouts, or cherry watermelon wheats. That's OK! So you would probably like these international beers. They are less hoppy, more traditional, but still in the realm of "interesting" because they come from foreign places and use different brewing techniques.
Though The Rare Beer Club was my favorite club of this bunch, for obvious reasons, the International Beer Club was easily my second or third favorite, depending on my mood!
Option #3. US/International Variety Beer Club

$32.95 per month plus $15 S&H
I opted for the US/International mix because I wanted to get a taste of both the US micro and non-US selections. While I was satisfied with what I got, I didn't realize that I would not be getting ALL beers from each of the other clubs. What I got in the package was 4 breweries (4 types of beer), 3 bottles each.
I was hoping for 8 types of beer with 1-2 bottles each! I guess that was wishful thinking, and doesn't really make sense now that I think of it. Anyway, this was a cool mix pack, but you will miss out on a few beers that the other packs would normally ship.
Personally, I prefer US micros because they're generally fresher, more fun & unique, and it's just something that's of interest to me. If I started another membership with Monthly Clubs, it would be the US Micro. It's also $4 cheaper per month!
Option #4. Hop Heads Beer Club

$32.95 per month plus $15 S&H
Since I live in California, I have pretty easy access to a ton of IPAs. The West Coast of the US invented the "west coast IPA" (Green Flash Brewery). However, not everyone across the USA has access to delicious hoppy beers. If you're a hop head, and stuck in malty-beer USA, then this would be a great club to join.
Even for someone along the West Coast, there's nothing wrong with trying out hoppy beers from around the US. Sometimes it's nice to get away from the "punch you in the face" hoppiness California/Oregon/Colorado/Washington beers! Those guys have more balance over there lol.
Plus, you can try other IPA styles. Remember, there's red, black, Belgian, session, and more. I tried a nice Belgian IPA from the US's only Trappist brewery as part of my Hop Heads membership!
Option #5. Rare Beer Club

$37.95 to $72.95 + $14 to $19 S&H
Price and shipping depend on how many bottles you get
Option for 2, 4, or 6 bottles per month
Option to purchase special releases and extra bottles
My taste in beer is more expensive and unique, so I really enjoyed The Rare Beer Club. I love getting access to exclusive brews that aren't available in my area. I'm also a member of the Rare Barrel's Ambassadors of Sour Club and Sierra Nevada's Alpha Hop Society. Sours, weird hopping techniques, limited releases, big beers…that's my jam!
The cool thing about The Rare Beer Club for me is that it sets a limit where I can enjoy a few special bottles per month, without spending all my money. I'm a collector at heart, and it's easy to spend $100's on specialty beer without even trying.
The downside to this club (for some) is that all bottles are 750ml, so sometimes they end up being too much for one person to handle in one sitting. For me, meh, I do alright and can do 750 ml of 11% beer as long as I'm not driving! However, these are best when shared with friends that can appreciate and awe at the flavors, aromas, and story behind the beer (literature included with each shipping!).
Club #6: Clubs Of America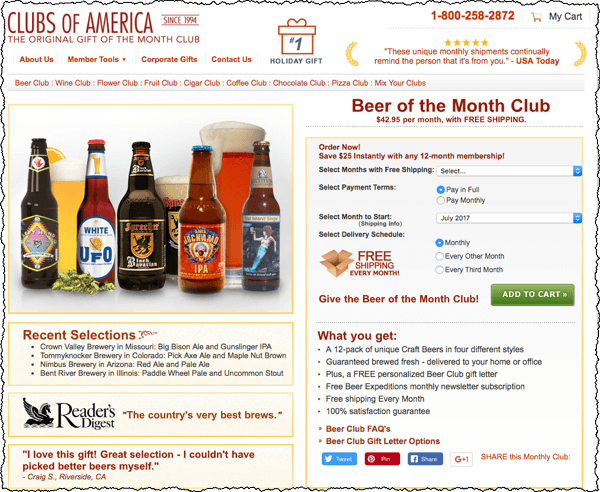 $42.95/month + Free Shipping
The beers you get with Clubs of America are pretty standard brews but I was amazed by the quality and flavor. There wasn't anything too crazy like salted caramel imperial porters, and that may be a positive or negative for you. Either way, it was enjoyable being introduced to a variety of new breweries that I either couldn't find in my local area or wouldn't try on my own.
I typically don't go for "American lagers" because they're a bit too boring, but my favorite beer from my 3-month membership was the Shmaltz Brewing Slighshot Lager (American Craft Lager). Surprise! Sometimes you gotta drink outside the box.
Club #7: The Original Craft Beer Club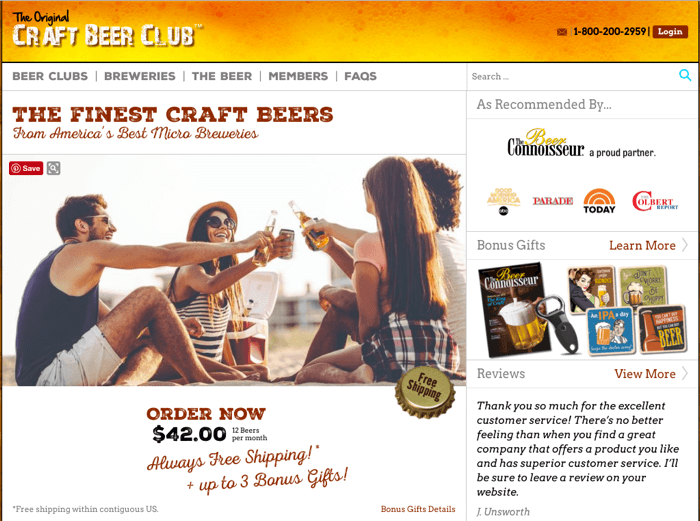 $42/month + Free Shipping
This club provided a good mix of breweries, but beer itself was a little tame for my taste. I ended up using some of it for cooking because, well, I had better stuff on hand. There were a few wheat beers, amber ales, and blond ales that just didn't excite me that much. Don't get me wrong, they were good, but since I was subscribed to a few other clubs at the time, this stuff was drunk last.
Though this club wasn't really my speed, it would be great for someone that wants some pretty "normal" beers from the craft beer world. Some styles I received included, helles, kolsch, APA, and a blonde.
Club #8: Tavour

Personally Selected Beers + $14.95 Flat Rate Shipping
$55/month for 6 beers or $90/month for 12
There are two ways to get delicious beer from Tavour.
One, is that you actually get to choose which beers get delivered each month. It's more like an online retailer, but with more exclusive beers. Download the app, then get notified when a new beer comes in. You can add between 1-6 cans/bottles of each selection, to build your custom "box" that's shipped each month.
The listings have awesome descriptions, so you will have a good idea of what you want to buy, rather than browsing bleary-eyed through the hundreds generic IPAs online that are described as "hop bombs".



There is a super broad selection of beers – more so than any other club on this page.
The other club they offer is a set membership of $55/month for 6 beers or $90/month for 12. $7-$10 per beer (tall can) is kinda brutal, even for good stuff. But it really is beers you can't get in your local area unless you live in hipster central like San Diego.

The downside is that you can easily go overboard, and I spent about $150 in my test-run of their service. It's flat-rate shipping, so that was a plus, but I really didn't meant to spend that much money.
Club #9: Amazing Clubs

$41.95 /month + Free Shipping
Amazing Clubs is just ever-so slightly cheaper than some of the other clubs on this list. It's about five bucks cheaper, which comes out to a few pennies per bottle. For that cheaper price, you get pretty much the same type of beers from Clubs Galore and The Original Craft Beer Club.
Compared to MonthlyClubs.com, the literature you get with the beer is not as extensive, so all in all, this was not one of my favorite clubs. It was OK, and for your average microbrew drinker, it'll be just fine, especially if you are looking to spend as little as possible.
Club #10: Beer Across Americ

$39/month + Free Shipping
The concept and pricing seems identical to the other clubs on this list, so I suspect that it's exactly the same beer selection. I have seen some repeats between American craft beer clubs, with confirmation that they do buy in bulk with competitors. I suspect this club is pretty much the same as Original Craft Beer Club and AmazingClubs.com since the setup looks pretty much the same.
Currently, they are the cheapest club by $3/month!
Club #11: Beer Drop

A club so new, I haven't even got my first shipment yet. The coolest thing about Beer Drop is that you have more control over your monthly beer selection. The second coolest thing is that they have some very specific styles that appeal to my craft beer obsession.
It's not that often where you see a beer service offering Belgian styles of beer or even sour beers! IPAs and lagers are pretty common in beer clubs, but not these other, more hard to find ones.
The beer is from around the Colorado area, which is fine. That's craft beer central! Colorado breweries do just as good a job brewing West Coast, East Coast, and international beer styles as their original counterparts. However, if you wanted more variety from around the US then another club might be a better option.

At $50 for 5 beers, the jury is still out on pricing. If they are tallboys, then I think that's reasonable. It's not uncommon to pay $16 for a four-pack in the store, which is $4/can, but for specialty brews from not-your-local-pub, including shipping $10 isn't bad. I've paid $7-$8 for a tall can of some good stuff just locally.
I'll wait for my first shipment and let you know. (Dec 9, 2019)
Club #12: Belgibeer.com Monthly Belgian Beer

As a HUGE fan of Belgian beer, this was an amazing discovery for me. Good Belgian beer is actually really hard to find in the USA unless you are in commerce centers like NYC, LA, San Francisco, etc.
The Belgian beer you find here is usually US craft breweries doing their best imitation or Belgian beer styles, or doing an American take (ehem, more hops) on Belgian styles.
If you can find a truly Belgian beer in the dusty section of your bottle shop, it's probably mass-produced in Belgium, so kinda disappointing.
The Belgibeer.com Belgian beer of the month club is unique in that it delivers Belgian craft beer. I've been a member for just a month, but their box really exceeded my expectations.

I got the big 12 beer club (8 is the small beer club). They delivered 8 unique beers, with four doubles, so it was a great mix. The reason I got 12 instead of 8 (and recommend you do the same), is that the difference in price is only €10. Sure! I'll take four bottles of beer from Belgium for just $3 each!
The big issue is the price. This club actually ships from Belgium, so it's not cheap. At all. I'm a big spender and this was tough to stomach. €54 shipping means you'll be spending over $100/month for 8-12 bottles of beer. Let's say you get the best price and do $120 USD for 12 bottles. That's $10 (USD) per bottle…and they're small bottles.
Of course, you're paying for craft beer to be hand-picked and shipped from Belgium, so it's worth the cost. The quality is beer It's still a lot though. If you like Belgian beer, this club does not disappoint.
Club #13: BroCrates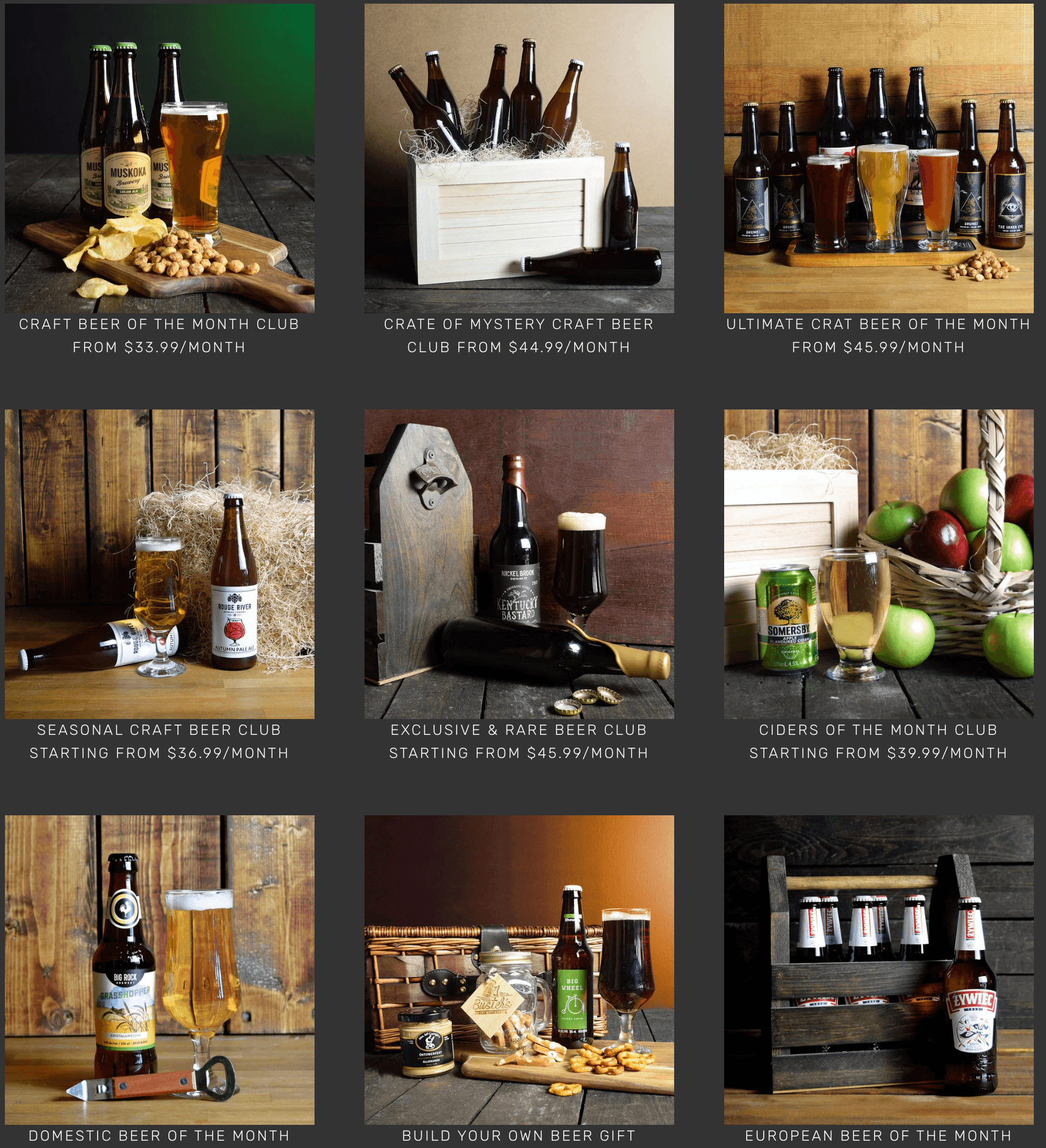 Just found another one. BroCrates has a variety of beer clubs you can choose from, including a rare beer club, a European Beer Club, cider club, and more. It's not very clear how clubs like "seasonal", or "domestic", or "craft beer" differ since they don't list previous brews, but there are 9 clubs in total to choose from.
I haven't tried these yet, but will update when I do.
Club #14: HalfTime Beverage
Another new set of clubs I haven't tried yet, HalfTime Beverage has seven different beer of the month clubs to choose from. I've really got to catch up writing my other reviews so I can start trying out these new beer clubs, but you can still check these guys out.
They have an IPA club which I'm looking forward to trying, but also have some of the most unique offerings like a German beer club, a stout/porter beer club, and even an East Coast (USA) beer club. They also offer a cider of the month club!
My Favorite Beer Club of The Month Club…

My all-time favorite beer of the month club is simply The Rare Beer Club. I enjoyed the variety of beers, the exclusivity of the selections, and it was what I felt a "club" should be.
These were selections that I could not find in my local store, either because they are hard to get, or because people beat me to the punch. It also meant I could control my compulsion to buy a bunch of expensive beers every time I went to the store, because I knew that my rare beer shipment was coming this month.
However, if you are not interested in getting the 750 ml bottles of rare beer, then actually, Tavour is an excellent choice. They delivery some truly interesting beers, and although it's kinda pricey, I like the weird styles mango milkshake IPAs and German Alt Biers. It's stuff you just can't get outside of beer centers like San Diego, LA, and New York.
If you're buying a gift for someone and not sure what style they like, or you want something more "middle of the road", then one of the other Monthlyclub.com clubs are good to go with.
Scroll up for links to each of the clubs I've mentioned as my favorites to start your membership, or let us know in the comments which club you decided to go with.
These are just the clubs I like based on my own tastes. You may hate hoppy beers, or don't care about weird American hipster sours. Everyone's taste is different!
Links To Full Beer Club Reviews

Have you joined a beer of the month club before? What was your experience?