Beer is one of the oldest alcoholic beverages and remains popular today. Most beer lovers have their preferences firmly entrenched. You probably already know which brands of beer you prefer and possibly even which types. But, do you really understand the nuances of pilsner vs lager? What do these beer types have in common? Where do they differ?
Let's dive in and take a close look at pilsners and lagers, including their similarities and their differences. You'll have heard about both types before. You might even think they're the same. Yet, there are some interesting differences, along with fascinating things to learn about the broader world of lagers.
So, at the most basic, pilsner is a light, crisp, and clean beer that's often served in the summer. It's popular because it is easy to drink, although there is some slight "spiciness" (herbal spice, not jalapeño spice) from the hops that sets it apart.
Then there are the lagers. Pilsner is a type of lager, but there are many other lagers out there. Some of those are much like pilsners, while others have their own distinct features.
The Characteristics Of Lagers

The best place to begin this conversation is with beer styles. Even if we just consider the major styles and substyles, there are more than 100 different types of beer. Some of them are pretty similar, while others vary dramatically.
Most beers fall into one of two categories – lager or ale. We've talked about lager vs ale in a previous post, so we're not going to talk much about ales today. Our focus is on lagers instead.
Lagers tend to be lighter than ales. They're often characterized as being crisp, refreshing, and easy to drink. However, some are more intense than others.
How Lagers Are Made
While lagers are often light, this isn't what defines them. Instead, the difference between lagers and ales is the type of yeast used.
Ale is made using Saccharomyces cerevisiae, which is often found on fresh fruit and ferments at relatively high temperatures (often between 60°F and 75°F). Lager relies on Saccharomyces pastorianus instead. This is a hybrid yeast that ferments at lower temperatures (often between 42°F and 55°F). This is typically called a bottom fermenting yeast, although both yeasts can move around the fermenting chamber.
For the most part, any beer made using Saccharomyces pastorianus is classified as a lager, regardless of its color, flavor, or other characteristics. You'll see why this matters a little later on.
What Makes Pilsner Distinct?
Pilsner gets its name from the city of Plzeň in the Czech Republic (which is often written as Pilsen instead). Pilsners tend to be golden in color, with a distinct hop-derived flavor.
The hops give pilsners a noticeable spiciness that isn't present in most other lagers. The flavor from the hops is the most distinctive thing about pilsners. Other types of lager use hops as well, but lack the characteristic flavors from pilsner hops.
Now, to be clear, 'spiciness' doesn't mean the beer has heat to it in the way that a hot curry does. Instead, spiciness here is a reference to the flavor and aroma of the hops. It's much more subtle than the heat of hot foods and provides complexity to the beer.
The Hops Used In Pilsner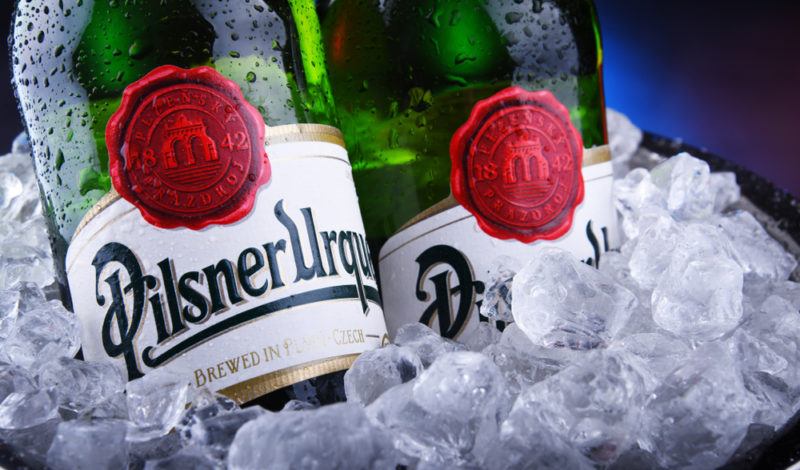 Pilsner often relies on saaz hops. These are the most famous pilsner hops and are particularly common in pilsners from the Czech Republic. Saaz hops have distinct earthy and spicy tones that easily balance the sweetness of the malt, creating a recognizable flavor in the beer.
However, other hop types may be used as well, including hallertau, tettnang, spalt, and New Zealand hops. These types have their own distinct characteristics. However, they're all low in bitterness and supply some spiciness to the pilsner.
Types Of Pilsner
Pilsners can also be broken down into a few distinctive styles, based on where they're made.
Czech Pilsners. This is the most famous pilsner style and the flavor is often similar to sweet bread, contrasted by spicy tones from the hops.
German Pilsners. Pilsners from Germany often rely on hallertau, tettnang, or spalt hops. These pilsners are often more bitter than other varieties (why not serve one in a German beer stein?).
Belgian Pilsners. These pilsners are often smooth and light. Stella Artois is a classic example of this style. Interestingly, it is sometimes categorized as a pilsner and sometimes as a European pale lager instead.
American Pilsners. These pilsners are generally mild, more so than pilsners from other parts of the world. They can include sweet and bready notes, with minimal bitterness and spiciness.
European-Style Pilsners. These pilsners can be produced anywhere in the world, but keep to the styles of Germany and the Czech Republic. As such, these beers often taste very familiar.
New Zealand Pilsner. This pilsner style relies on modern hops from New Zealand, which have a distinctive flavor profile. These hops add fruitness and aromatic properties to the pilsner, making it stand out.
Imperial Pilsner. Imperial beers tend to be stronger and more flavorful than their regular counterparts. This is certainly true for imperial pilsner, which has more intense flavors from hops and a higher ABV.
A Note On Pilsner-Style Lagers
While we're on the topic, there's an important distinction to be made. Pilsner is a very specific style of beer. It often relies solely on malted barley during fermentation, uses Saaz, Tettnang, or Hallertau hops, and relies on soft water.
However, some products keep to some of the characteristics of pilsners and not others. These are sometimes considered to be pilsner-style lagers or pilsner-style beers.
The distinction is important, as pilsner-style lager is a broad category that allows for more variation than the pilsner style itself. This often means that the beers aren't as heavy on hops as pilsners and tend to be lighter in color and flavor.
Another difference is the use of malt. Many definitions state that pilsners should only rely on malt as the grain during fermentation. In contrast, pilsner-style lagers tend to use at least one non-malt adjunct, such as corn, rice, oats, or wheat.
For example, some American pilsner-style versions tend to use a combination of corn and rice. These adjuncts mellow the flavor of the beer, making it lighter and easier to drink. However, the style loses some of the complexity present in a true pilsner.
Popular Pilsner Brands

Beck's
Beck's is a German brand that follows German traditions for beer production. The company's pilsner is made using top-grade barley, glacier water, and hand-selected hops.
The pilsner offers distinct malt and hop flavors, including strong bitterness, a dry finish, and a hop-heavy aftertaste. While the bitterness can catch some people by surprise, it isn't as intense as some other beer styles (like IPA) and can be a welcome change from mild beers.
Live Oak Pilz
Life Oak Pilz comes from an American brand that brews out of Texas. The beer relies on Saaz hops, which provide an assertive flavor tone, without compromising on the lightness of the beer.
Live Oak Pilz isn't necessarily the best pilsner on the market, but it's a decent one that's easily accessible. It even comes in cans, which makes it the perfect beer for picnics and trips to the beach.
Calsberg Pilsner
Carlsberg Pilsner should be instantly familiar, as it's easy to find and has a recognizable dark green can. The beer comes in at 5% ABV and offers plenty of flavor, while still being refreshing.
Because this is a Danish-style pilsner, the flavor profile is a little different than the previous brands. Still, this difference isn't a bad thing, as it's nice to experiment with different types of beer. The beer is easy to pair as well. It can work with beef, chicken, fish, and even cured meat.
Jever Pilsner
This is a German-style pilsner, with an APV of 4.9%. It features unusually soft water, which allows the company to increase the hops content and provide a more bitter beer than normal. The flavor profile is complemented by aromas of grass and herbs, plus a touch of spice.
While this beer is popular, it's also distinctive and won't appeal to everyone. It's best suited to people who want somewhat exciting and unusual flavor profiles.
Pilsner Urquell
Pilsner Urquell is famous. It was initially developed back in 1842, making it the first pale lager to be produced. Many other companies and beer styles have spun off since, but Pilsner Urquell itself is still going strong.
Their beer relies on Saaz hops and soft water, and is sold throughout the world. The style is so distinctive because before it was created most beers were dark and rich instead. Without the development of Pilsner Urquell, we might never have seen all the light easy-to-drink styles that are so popular today.
Other Types Of Lager
American Pale Lager
American lagers range between being golden and having a light straw-like color. They're typically crisp and clean, with plenty of carbonation and not much bitterness from hops.
The flavors vary between brands. This is partly related to actual differences and partly to the advertising campaigns from each of the companies
Pale Lager
Of course, pale lagers don't just follow the American style. Other countries take their own approaches to pale lager, leading to various levels of bitterness.
Pilsner actually falls into the pale lager category as well, although it is just one of many pale lager styles.
Vienna-Style Lager
These lagers have a richer almost copper color to them, along with bread-like flavor notes and plenty of malt. Again, the bitterness tends to be low, although some products are more bitter than others.
There's often a touch of sweetness in the lager as well, which comes from the malt. This sweetness makes the lager easy to enjoy and is one reason for its popularity.
Dark Lager
Lagers aren't all light and mild. Some are dark instead. These lagers tend to be more flavorful than the lighter variations, but still don't have the intensity of similarly colored ales.
Bock
Bock is one specific type of dark lager. It's rich in malt flavor with a touch of toastiness. However, don't expect much bitterness. Despite the dark color of the beer, bitterness from the hops is kept to a minimum.
Dopplebock
Then there's dopplebock. The name simply means double bock, which is fitting, as the beer has roughly twice the strength of a bock. Once again, there are rich malt flavors present, although you'll taste chocolate and some sweet notes as well. Dobblebock is also much higher in ABV than other styles of lager.
Munich Dunkel
This is one of the darkest styles of lager, often with deep copper and even red coloring. It tends to have a medium to full body, with plenty of flavor from the malt.
Some expressions have a more complex flavor profile, including notes of herbs, spices, and perhaps some chocolate.
Lagers From The Czech Republic

Pilsner is the most commonly produced style of beer from the Czech Republic, but there are some other styles of lager as well. Here are some of the most interesting.
Tmavé Výčepní
The term výčepní translates to tap beer, where světlé výčepní is essentially light tap beer (most often a pilsner) and tmavé výčepní is a dark tap lager instead. It tends to have a fairly low ABV and a strong malt flavor.
This beer tends to be sweet and easy to drink, often with barely any hop-based bitterness.
Světlé Ležák
Světlé ležák is basically a light lager, so it offers many familiar characteristics. The beer is often golden, with distinct malt tones in the body, a bittersweet flavor profile, and some citrus notes. This tends to be a light and refreshing beer, making it very popular.
Tmavý Ležák
Tmavý ležák is dark lager instead. It's becoming increasingly popular as an export from the Czech Republic and is surprisingly easy to drink.
The beer is brewed in a similar way to pilsner, except that dark malt or caramel is used for extra color and flavor. Hop use is also kept low, which helps to make the beer sweet.
Silné Pivo
There's also silné pivo. This roughly translates to strong beer, so it's no surprise that this beer is often intense and can have a high alcohol content. The flavor varies depending on the brand, but you're often looking at distinct malt and caramel flavors.
The hop content is kept low here too, so the beer isn't very bitter at all.
Final Thoughts: Pilsner vs Lager
As you've seen, pilsner is a popular type of lager, one that is now found throughout the world. It's not necessarily better than other types of lager, but it's an easy and familiar starting point to the world of beer drinking.
You could also branch out into pilsner-style lagers. While these rely on adjuncts and can't technically be characterized as pilsners, they have many of the same features. There are also many familiar pilsner-style lagers out there, giving you plenty of delicious beers to choose from.
When you're experimenting, be sure to keep an eye on when your beer was bottled and how it has been stored. Both are important factors, as beer can go bad and experience notable flavor changes.