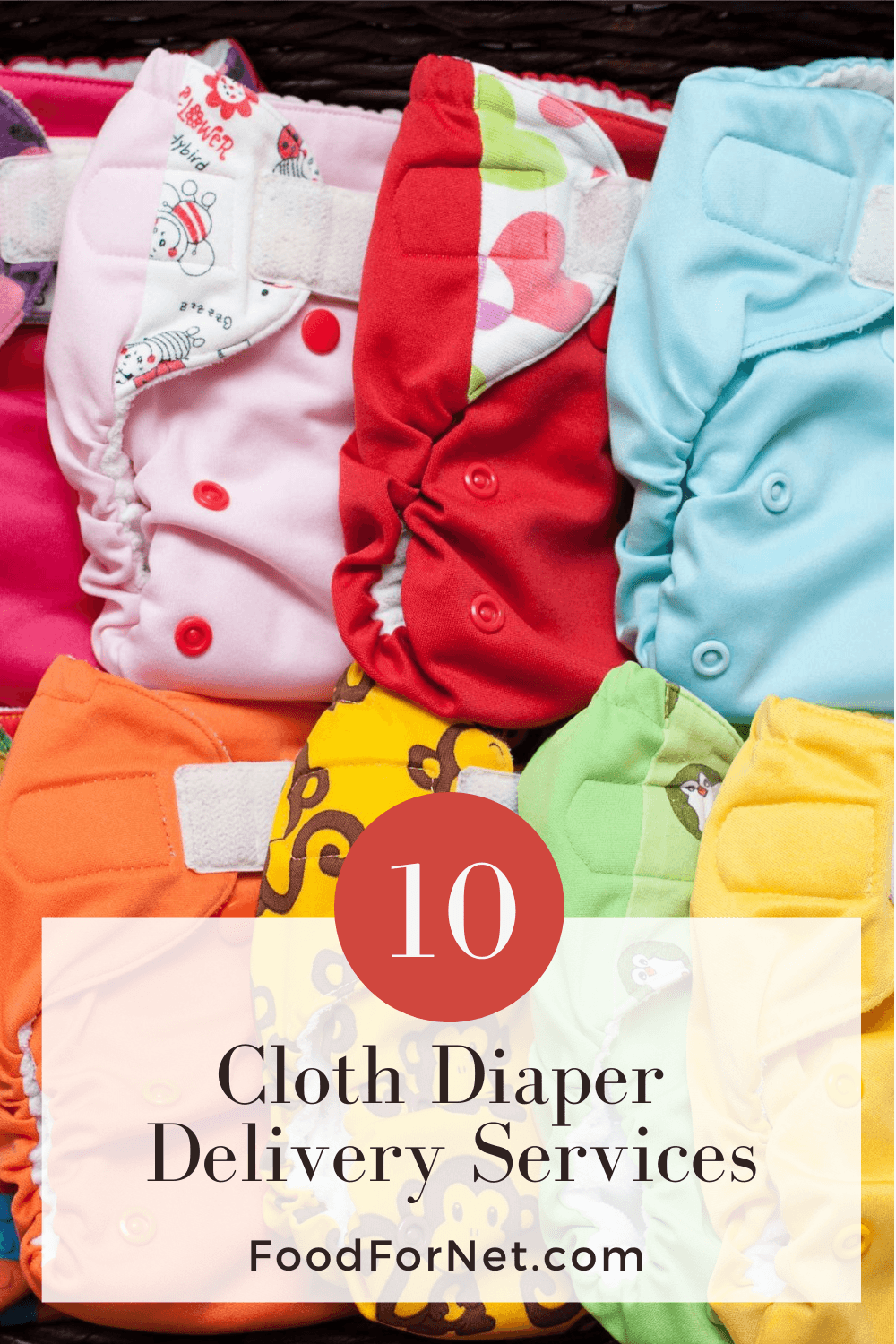 Diapering is only one of the many, many things that come with taking care of a baby. Information on cloth diapering and why it's better, safer, and healthier is coming out all the time and becoming more prevalent.
The problem is that it's also more time-consuming than disposable diapers. When taking care of a new baby is already such a feat, this isn't something new parents like to hear.
This is why finding a cloth diaper service may just be your saving grace. Many cloth diaper delivery services make a natural, organic, and eco-friendly product that they deliver straight to your door – and most of them do the laundry for you!
The laundry service is the kicker – it eliminates the extra step associated with using cloth diapers. With a service cleaning the new ones for you and replacing them with clean ones, there is no excuse to not switch to cloth diapers if that's what you want.

Cloth Diaper Delivery Services
1. Jen's Organic Baby

Jen's Organic Baby is a company that offers all things baby – and it's all organic. They want to create healthier, safer, and more eco-friendly nurseries and kid's rooms for everyone. They have organic products in all categories imaginable, from decor and furniture to clothing and toys.
And, of course, diapers. They want to help as many mothers as possible switch to cloth diapers as the benefits are undeniable. They sell a variety of styles of organic cloth diapers to suit the needs of all babies. They have things like natural one-size-fits-all, newborn diapers, and duo wraps. They also have a selection of wet bags and other accessories.
2. Nicki's Diapers

Nicki's Diapers was founded and is still run by a mom who wants to not only switch other mothers to cloth diapering but continue to improve the selection in her community. It has since evolved from a local effort into service for the whole United States and beyond.
Parents can order a variety of styles, such as pocket diapers, prefold diapers, fitted diapers, and so much more. For those that aren't sure of the benefits of cloth diapering, or aren't sure how to make the switch, they also offer a number of quality resources so people can educate themselves before committing to a delivery.
3. Bambo Nature

Bambo Nature wants to provide healthier products for newborns, babies, toddlers, and children of all ages. To begin, they offer both classic and cloth diapers. But, their disposable diapers are still a step above the drug store brands. They are made from environmentally-friendly and clothing-like materials that are soft and gentle on the skin.
As children get older, some may still struggle with using the bathroom. There's no shame in this, and Bambo Nature is still there to help. Similar to the diapers, they offer training pants for older children that are made from the same materials.
These diapers and training pants are perfect for parents who don't want to fully make the switch to reusable diapers but still want to be conscious of the environment and their child's health.
4. Dy-Dee Diaper Service

Dy-Dee Diaper Service has been in business since 1938 and is one of the oldest and largest diaper services in the country. Their delivery service is comprehensive and detailed. They begin by going over several questions, such as how many diapers you'll need each week and what size you want.
For new parents, they will deliver your first shipment a couple of weeks before your due date so that you're prepared. Going forward, you don't even need to wash the diapers yourself. They provide an odor-free bin that they collect each week and leave you fresh, clean diapers.
For those that aren't sure about making the switch to cloth, they also have plenty of resource and educational information about the benefits. They're local to southern California and service the surrounding areas.
5. Tiny Tush

Tiny Tush is a baby boutique that provides natural and healthy products for babies, with a focus on cloth diapers and related tools and accessories. You can also find diaper covers, packages, prefolds, fitted cloth diapers, soakers, and much more.
Their selection of diapers is among the best on the net and they work hard to keep prices low so they are accessible for as many as possible. They also offer a few other miscellaneous products including dryer balls, mosquito repellent bands, and nursing pads. They ship their diapers and other products anywhere in the continental US.
6. Diaper Stork

Diaper Stork is a company owned and run by moms who know exactly what it's like to have a baby and what goes into diapering. Especially if you choose cloth diapering, it includes a little more work than regular ones. However, it's much better for both your baby and the environment.
This is why they created Diaper Stork. Servicing Seattle and surrounding areas, they offer weekly deliveries of their cloth diapers with two options. You can choose to have them wash the diapers and deliver you fresh ones, or you can purchase the diapers and wash and reuse them yourself. The latter saves you a little money.
They also offer a number of other items for baby such as skincare, potty training tools, and more.
7. Bundle Baby

Bundle Baby is a diaper delivery service that strives to make life a little easier for parents. They keep this closely in mind when creating and selecting the products they offer for sale. Not only do they want to provide practical and useful things but they want to offer things that are healthy, natural, and sustainable.
They offer a weekly diaper delivery service that has a few options. You can go with the classic, cotton, organic pre-folds, all-in-ones, or an eco-friendly, reusable, paper diaper for those that still prefer the classic style.
They offer free shipping within their service area, from Colorado Springs to Fort Collins and everywhere in between.
8. Diaper Kind

Diaper Kind wants to provide a cloth diaper service that takes some of the pressure off parents and makes it easier to use cloth diapers. They are a little more time-consuming than regular diapers, which is why they not only offer regular delivery but they do the laundry for you too, taking the dirty ones and bringing you fresh ones.
For those that are new to cloth diapering, they have a number of great resources. This includes information on the process and what it entails as well as personal support. They offer phone consultations as well as a general support group and a mentor program.
They service several areas of New York and New Jersey, though they invite those outside the service area to get in touch and see if they can work something out for you.
9. Cotton Babies

Cotton Babies is a leader in the natural parenting industry and has been for ten years. They've earned this by knowing their products well and caring deeply about their customer base and their experience. They ship everywhere in the United States, including Hawaii, Peurto Rico, and Alaska – for an additional shipping charge.
They have a huge variety of styles and types to choose from and knowledgeable customer service representatives available to speak to if you're not sure what to choose. In addition to some great educational resources about cloth diapering, they also have a Facebook group where you can go to find support and get questions answered.
10. Ivy's Diaper Service

Ivy's Diaper Service is a small and locally owned cloth diaper service in Charlotte, North Carolina. They have everything you need to get started with cloth diapering, including information on why it's a good choice and how to easily make the switch.
They not only offer delivery but they wash them for you so you don't even have to do the laundry. They offer classic cotton diapers as well as hemp diapers for those that prefer this alternate material. For potty training purposes, they also offer cloth training pants.
Things to Consider When Getting Cloth Diapers Delivered
A good cloth diaper service can make it much easier to switch to cloth diapering, which is healthier for both your baby and the environment. But, not every service is the same. Think about these things before making a choice:
Laundry Service
Do they offer laundry service as well as the diapers themselves? This is key as it helps mitigate the extra effort it takes to use cloth diapers. If this is something they do, they should offer a clean, odor-free bin for you to collect the dirty ones in.
Then, on your delivery day, they will take the old ones to wash and leave new ones for you. Some companies offer this as well as a self-cleaning option, which means more laundry for you but it often saves you money.
Available Options
There are many different styles of cloth diapers out there, so consider which ones are offered by each company. If you're not sure which style is best for you and your baby, read up on cloth diapering to learn more. Even then, it may still be a matter of some trial and error, so look for a company with several options.
Material
While cotton is the most common material to use for a cloth diaper, it may not work for everyone. If you need an alternative, a good one is hemp cloth. It's similar to cotton but usually softer and even more absorbent. Not all companies offer this as an option.
Related Content