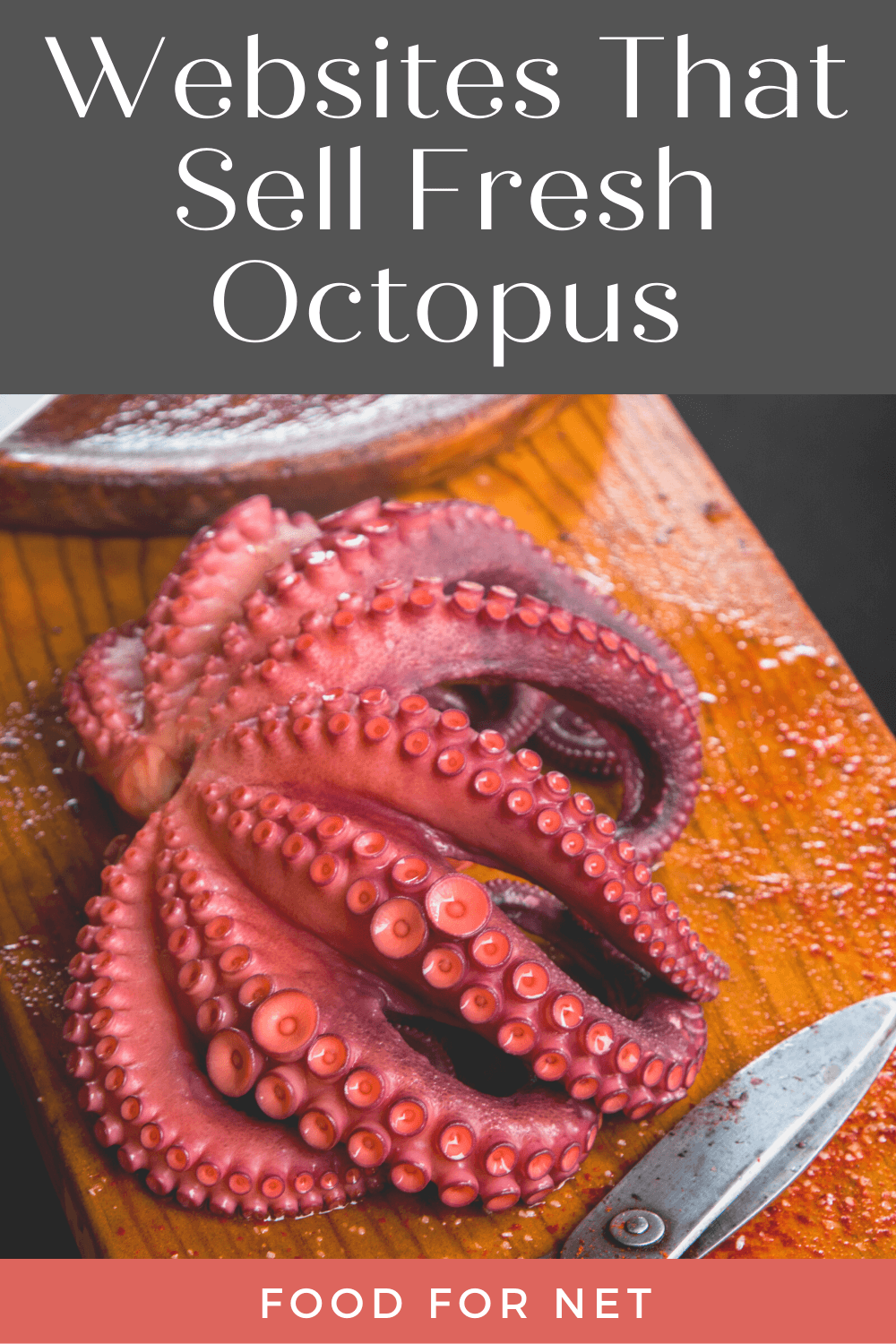 Octopus certainly have a unique look about them, but in terms of nutritional benefits, they're not too different from most seafood. They're low in calories and are a good source of lean protein.
They're also an excellent source of omega-3 fatty acids, which are known as "good fats" and are linked to many health benefits, especially for the heart. They're known to reduce triglycerides in your blood, which are fats that increase the risk of strokes, heart attacks, and heart disease.
Omega-3's can also reduce your risk of developing an irregular heartbeat, while also offering anti-inflammatory properties that reduce the risk for many chronic illnesses, such as heart disease.
Octopus also contains taurine, which is an amino acid that reduces blood pressure and cholesterol levels. The taurine in octopus is also known to have both anti-viral and anti-cancer effects on the body.
While it's a super healthy thing to add to your diet, octopus not always the easiest thing to find. This is why it's best to buy fresh octopus online. Buying online is easier and also offers you a few different options – baby octopus, whole octopus, or just the tentacles.
It also means you're able to better see where the octopus is coming from and you can guarantee you'll get it fresh from companies that ship within 1-2 days of catching it. The same is true for other types of seafood that you order online, like shrimp or fish.
Where to Buy Fresh Octopus Online
Pure Food Fish Market
Alaskan Seafood
Browne Trading Company
Citarella
King Tide Seafood Provisions
1. Pure Food Fish Market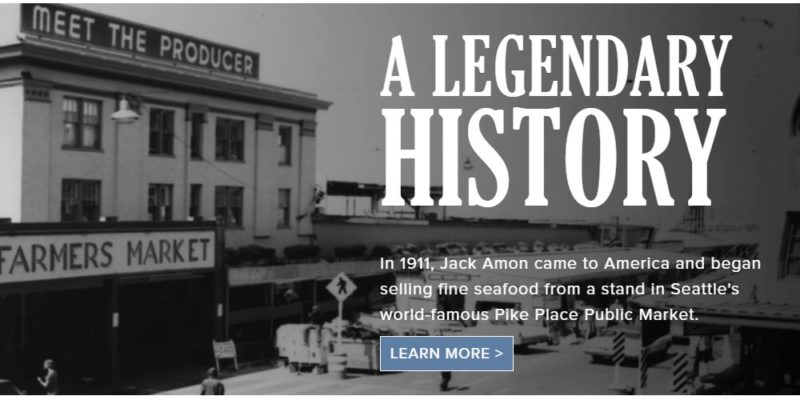 Pure Food Fish Market, began in 1911 when its founder came to America, bringing his passion for fine seafood with him. He began selling it at a small stand in the world-renowned Pike Place Public Market. From here, he made a name for himself quickly as he always offered only the best, local seafood. Customers have always appreciated his dedication to local and they recognize the value in his practice.
The company grew from that small stand into a much larger operation, though they remain dedicated to local and to quality. The company is still in the family, having been run by the founder's son for more than 60 years. His grandchildren are already set to take over.
Their selection is huge, meaning you can find just about anything you're after, from basic and common to the rarest specialty item. This includes salmon, halibut, crab, all sorts of shellfish, swordfish, snapper, trout, catfish, squid, and even octopus.
Their octopus comes from the Pacific Northwest and has a rich, delicious flavor profile that many loyal customers have grown to love and come back to, again and again. All of their seafood can be shipped throughout the United States. They pack it up well to preserve freshness and they ship everything overnight so it doesn't have any time to go bad.
2. Alaskan Seafood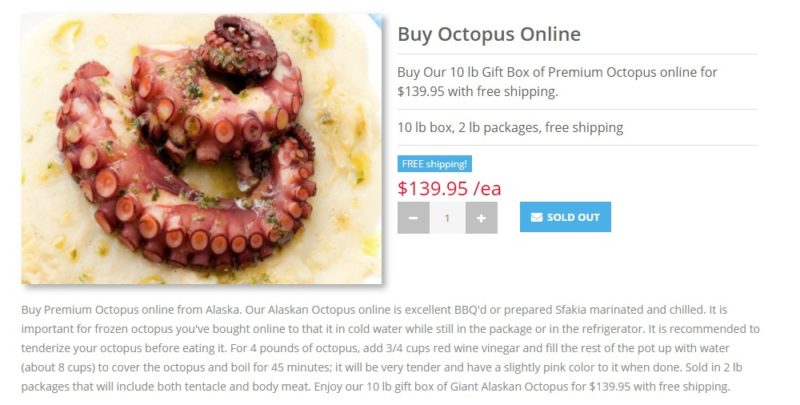 Alaskan Seafood boasts some of Alaska's finest wild-caught seafood. Never farmed, everything is caught directly from the waters in Alaska and shipped throughout the United States. They offer fast shipping no matter what, and free overnight shipping is available on certain items as well as several gifts.
Their selection includes salmon, halibut, caviar, king crab, sea bass, cod, scallops, lobster, clams, and octopus. Octopus is sold in two or ten-pound boxes, each containing a combination of tentacles and body meat. They have a basic recipe with cooking instructions posted on the product page for those who need some inspiration.
In addition to seafood, they also have a selection of sauces and spices. This includes gorilla salt, lemon caper sauce, truffle oil, cocktail sauce, salmon rub, and more. To it all off, they also sell dog treats. These are single-ingredient dog treats made fresh from their wild-caught salmon.
3. Browne Trading Company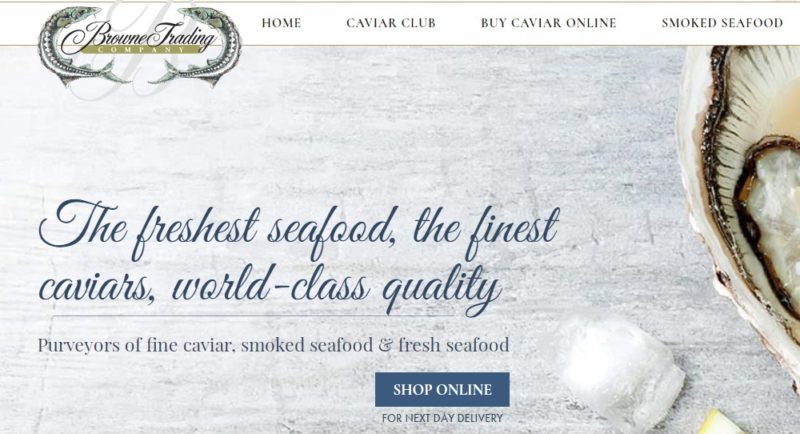 Browne Trading Company is proud to offer some of the finest, highest-quality, world-class caviar and seafood. The company was established by seafood aficionado Rod Browne Mitchell who proudly carries on his family's long history in the seafood industry. He works hard to carry on the legacy of sourcing only the best, freshest, and most pristine seafood.
While they do have quite the selection, the focus has always been on caviar. They are known as being one of the best providers of fine caviar in all of the United States. It began by importing a series of caviar selections from the Caspian Sea, including the highly sought-after Beluga Sturgeon caviar. From there, they began working with biologists and aquaculturists to import only the finest and most sustainable farmed caviar.
Outside of caviar, they have an amazing selection of fresh seafood including many specialty options. They've got trout, lobster, crab, prawns, salmon, shrimp, shellfish, tuna, swordfish, oysters, clams, urchins, sea bass, and more.
Also among the specialty seafood is the Spanish Octopus. These are wild-caught off the coast of Spain, where they are considered a coveted delicacy. After catching it, they clean the octopus and sell it whole, promising a delicate, slightly sweet flavor in each one. International shipping is available, but you should check any local laws or restrictions before ordering.
4. Citarella

Citarella began in 1912 and their commitment to fresh, fine seafood of exceptional quality has never wavered. They travel the world to find the best seafood they can, and are careful and deliberate about their sourcing. Everything is hand-cut, hand-prepared, never frozen, and shipped overnight to any location in the United States. This ensures maximum freshness every time.
Their selection of seafood includes lobster, shrimp, mussels, scallops, crab, many specialty options, and whole fish. Available whole fish include arctic char, sea bass, blackfish, black cod, butterfish, mackerel, bluefish, flounder, fluke, eels, and many more.
Their specialty seafood includes sea urchins, calamari, blowfish, periwinkles, frog legs, baby sepia, and baby octopus. Their baby octopus comes from Spain where it's wild-caught from the Atlantic ocean. They have a purple tinge and are always tender, sweet, and chewy.
They also have a selection of wine and spirits to go with their seafood as well as a recipe book created and written by their resident seafood expert and founder, Joe Gurrera. The recipe book includes a collection of his finest, most tried-and-true, proven delicious seafood recipes that focus on simple instructions and only the best ingredients.
5. King Tide Seafood Provisions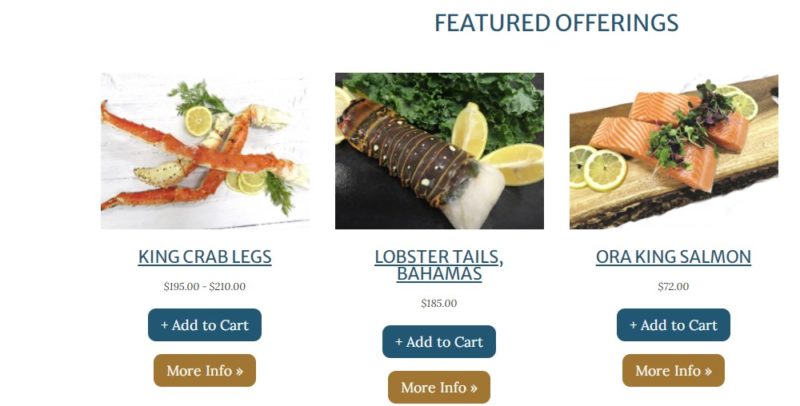 King Tide Seafood Provisions wants to provide its customers with the highest quality, most sustainable fish possible. They believe in full transparency and can trace their fish all the way back to how they were raised and then harvested. They want every individual home chef to have professional quality fish conveniently delivered to their home.
They take so much pride in their sustainable practices that they travel all around the world themselves, personally ensuring that their sources and partners are raising and harvesting the fish in a humane, ethical, sustainable, and healthy way.
They also work hard to provide a wide selection that appeals to all people and all palates. Their selection currently includes salmon, crab, crawfish, shrimp, grouper, sea bass, perch, halibut, cod, scallops, sole, squid, swordfish, and so much more.
Their octopus is wild-caught in Spain and is sold whole. They have some basic cooking instructions on the product page if you're wondering. They also sell octopus legs, cooked and ready to eat, sushi-style, if you don't want to do the work yourself.
They offer shipping throughout the United States. You can also get in touch and request customized recipes, which they are happy to offer based on what you bought, so you can have the best possible dining experience at home.
Things to Consider When Buying Fresh Octopus Online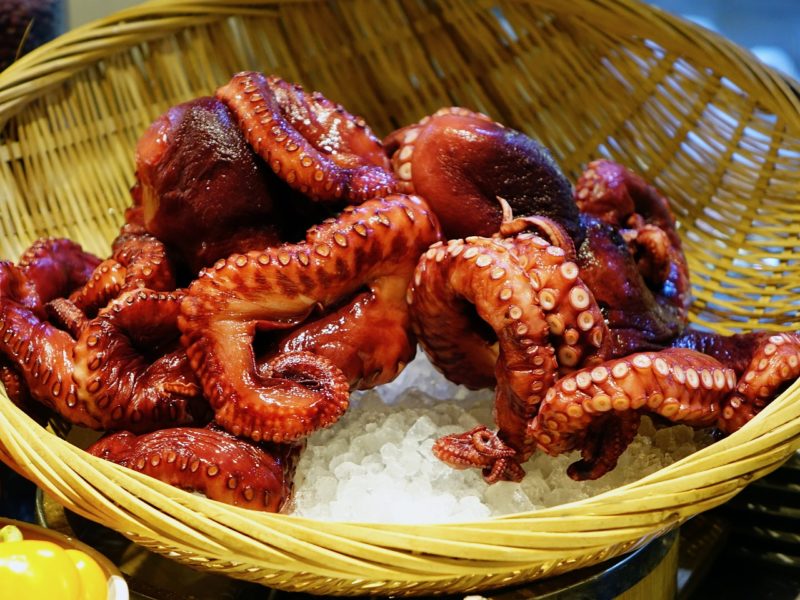 Octopus is a delicacy that often can't be found in stores. If it's something you want, you'll probably have to buy fresh octopus online. Even then, not every seafood supplier has it as it's not exactly a staple. So, when you're on the lookout for some quality octopus, consider a few things during your search:
Regular or Baby?
Cooking an octopus is one thing, but many like baby octopus as well. This has it's own unique flavor and is very tender. Many online seafood stores focus on one or the other, so it may be difficult to find a place you like that offers both.
How You Want it
Many places offer whole octopus, meaning you get some variety in the meat and have plenty to work with. If you don't want or need an entire octopus though, you're often able to just get the tentacles, still fresh but pre-cut. If you don't feel like you need the whole octopus this is a more economical way to go – you save money and you don't waste any meat.
The Source
Spain is a popular place for seafood companies to source their octopus. Spain has a long tradition of eating and celebrating octopus. Because they are so highly revered and valued, they're often abundant.
That being said, Spain isn't the only place they exist. If you're looking for an octopus from a different, specific location, finding an online source may take some more time. If you're not picky, chances are you'll get an octopus that came from Spain.