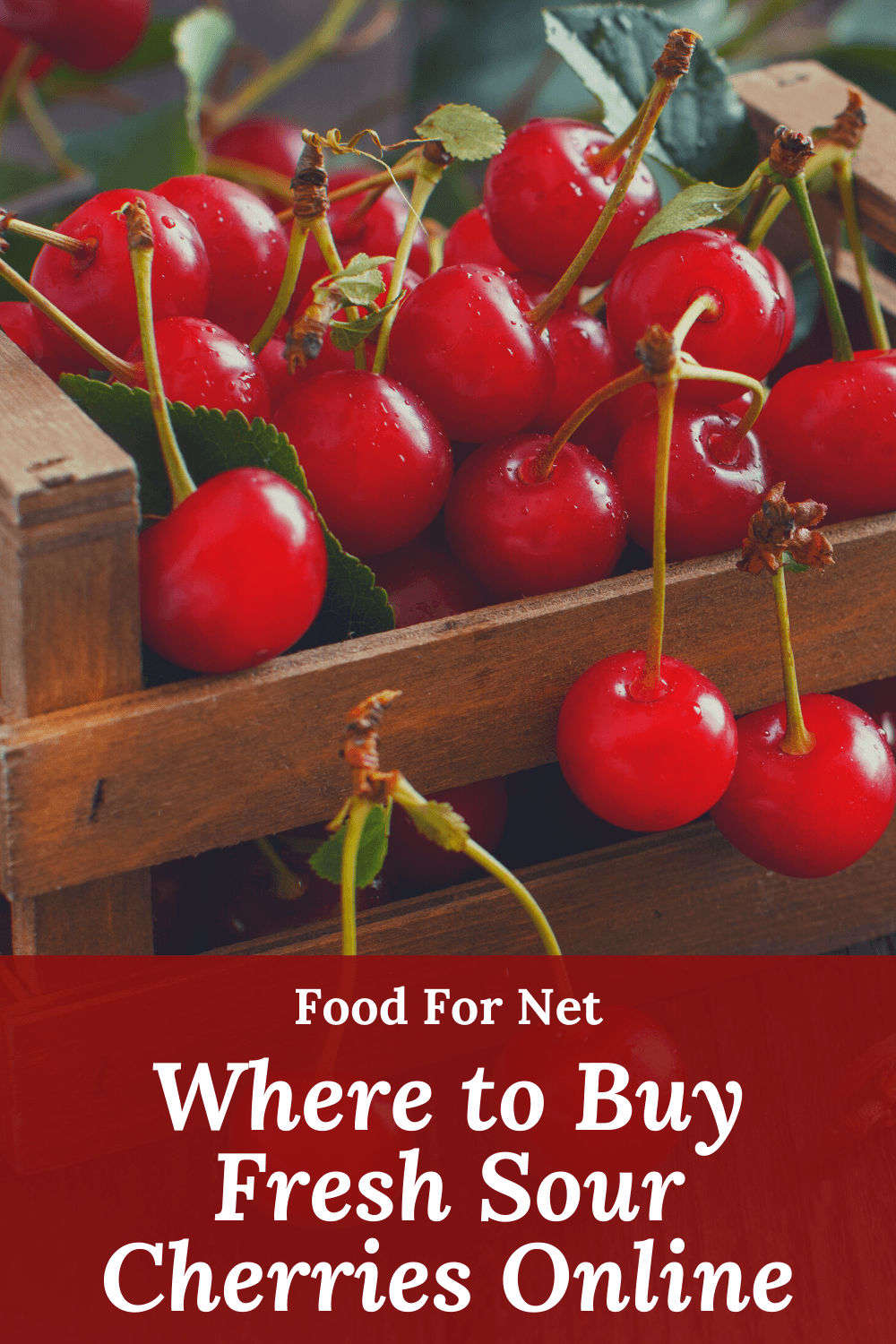 Cherries are a versatile little fruit. Not only are they a delicious, sweet, and healthy treat but they are commonly used as garnishes for drinks and desserts. This adds a little flavor but also makes your dish look stunning. Even if they aren't available locally, you can buy fresh sour cherries online to make your favorite sour cherry dishes.
Sour cherries are a little different, as they're much tarter than regular cherries and aren't as tasty to snack on. However, they've also been linked to a huge range of health benefits. They can be used in plenty of ways too, like adding them to a smoothie, including them in a dessert recipe, or even drinking tart cherry juice.
While it's fairly easy to find dried or powdered cherries online, finding fresh sour cherries for sale can be more difficult as most people prefer to eat sweet cherries. This is when you can turn directly to the farmers rather than searching through larger retail stores.
Many will even deliver straight to you so you don't even have to leave the house!
Where to Buy Fresh Sour Cherries Online
King Orchards
Honeyberry USA
Frank Farms
Northwest Wild Foods
Kalamala
Traverse Bay Farms
Bidmeshk
Persian Basket
1. King Orchards

King Orchards is run by a family of passionate farmers who tend to the crops and take care of all other work together. They welcome visitors and love spreading the joy that they get from what they do. If you do pay a visit to the farm they have plenty to offer you. There's fruit-picking, fresh baked goods, and an amazing family-oriented feeling of community.
At King Orchards, they really love cherries. This is the focus of their farm, with more than 140 acres of Montmorency tart cherries. They also grow Balaton cherries and black sweet cherries. The farm is located right on the outskirts of Michigan's cherry growing region, with glacier-formed ridges and beautiful rolling hills.
While they really love their cherries, they don't stop there. They also grow and harvest peaches, plums, apples, pears, apricots, and nectarines. You can buy their fruit fresh off the vine or tree and have it shipped right to your door.
Or, you can browse their many other offerings from their online shop. Their selection includes fresh and handmade jellies, jams, juices, spreads, and more. You can also get capsule forms of their cherries which is a great way to get a daily dose of the powerful nutrients a cherry has to offer.
They also offer their fruit to breweries for the unique purpose of putting the fruits into beer, wine, or hard cider. The cherries especially make an amazing cherry beer, with many customers reporting festival and competition wins after entering beer made with their cherries.
The farm has two locations, both of which offer fruit picking and same-day pickup of your order. They will also do deliveries to certain areas throughout Michigan. King Orchards will ship Balaton tart cherries further afield, but mention that Montmorency tart cherries cannot be shipped this way due to oxidation issues.
2. Honeyberry USA

Honeyberry USA began with a passion for honeyberries. These berries are fun and unique and not nearly as commonplace as some believe they should be. The berry itself is long and skinny, as opposed to short and round like most berries. It's blue in color and has a very thin skin.
The flavor is difficult to describe. Some have likened it to blackberries while others feel it tastes more like a kiwi. Honeyberry USA doesn't try to identify a specific flavor profile and instead says it's more of a "mystery flavor" that you need to experience for yourself.
Not only do the berries have a unique, zesty flavor but they're quite interesting in many other ways as well. They are often the first fruits to bloom in many areas as the plants can easily withstand very cold temperatures. They are also highly bug and pest resistant, making them a great option for organic farming.
While their focus is on growing and perhaps bringing more awareness to this unique berry, it's not the only thing they have to offer. They have a selection of other less common berries as well, including goji berries, elderberries, seaberries, gooseberries, arctic raspberries, and aronias.
When it comes to more common fruits, they have cranberries and cherries. They have four cherry varieties available, including the Romeo cherry, Juliet cherry, the Evans cherry, and their tartest one – the Carmine Jewel cherry.
They ship their cherries along with other fruits throughout the United States. They do only ship at certain times of the year, depending on harvest seasons. You can see their schedule and shipping dates on the website. Interestingly, you can also order cherry trees from them, rather than just the fruit.
3. Frank Farms

Frank Farms is a small, friendly, family farm run by people who are passionate about fruit. Locally, they run a fresh fruit stand and u-pick services, where you can go and pick your own fruit at certain times of the year. You can also use their website to create an order before going to pick it up.
If you're not local, they do offer their fruits shipped, as well as other farm-fresh products like their fruit juices and concentrates. They do have designated picking seasons and will sell plenty of fresh fruit, but they do freeze plenty as well so they can continue selling throughout the year.
They often provide fresh cherries when they are in season, including sweet and sour varieties. When cherries are out of seasoning, you can normally find frozen cherries on their site instead. They also have apricots, black raspberries, blueberries, peaches, red raspberries, rhubarb, and strawberries available at their farms and on the website.
4. Northwest Wild Foods

Northwest Wild Foods is a small, family-owned company that is passionate about natural, wild foods. They have a huge selection of foods to choose from, but they do specialize in rare and hard-to-find fruits. They have been in operation since 1988 and are always working hard to improve their selection, find new things to offer, and only produce the absolute best quality.
They offer both sweet and tart cherries for sale from their website, as well as tart cherry powder and tart cherry pie. They also have a number of smoothie recipes that include tart cherries if you're interested in using them that way. For those who don't know much about tart cherries, they have some articles and information about the associated health benefits.
In addition to fruit, they also have a huge selection of seafood, mushrooms, nuts, and pies. They also have a recipe section with recipes for their seafood, mushrooms, nuts, and more in addition to the smoothies.
They work really hard to support all those striving to live a healthy and more natural lifestyle. They have products that are vegan, USDA certified organic, non-GMO, kosher, and gluten-free.
5. Kalamala

Located in Los Angeles, Kalamala Persian Grocery ships foods across the United States. The company lives up to its name too, with a strong focus on Persian, Turkish, Armenian, Afghani, and Kurdish groceries. Don't worry, there are still plenty of familiar foods in the mix, including sour cherries.
Their main listing provides you with a pound of fresh sour cherries for around $22. If these are out of season or otherwise unavailable, check out the other sour cherry products on Kalamala. There are some interesting products that you won't find elsewhere, such as a sour cherry snack made using cherries, salt, citric acid, and water, plus sour cherry fruit leather.
6. Traverse Bay Farms

Traverse Bay Farms has a strong focus on antioxidant-rich fruits and all the benefits that come with these. They don't just focus on fresh fruits either, as they also offer fruit supplements, dried fruits, and even cherry juice concentrate.
You can find their shelf-stable products on the site at any time including preserves, bacon salsa, and dried tart cherries. While fresh fruits are less common, Traverse Bay Farms does offer them periodically.
You'll need to closely watch the site for timing, as there is only one cherry harvest per year and tart cherries are highly perishable. Traverse Bay Farms takes every step possible to make sure the cherries are high quality and survive transport. Even so, some may get damaged along the way.
7. Bidmeshk

Bidmeshk is another grocery-focused site. Their collection includes herbs, spices, pantry staples, bakery items, fruit and vegetables, nuts, dairy products, and plenty of others. There's a strong focus on Persian and Mediterranean foods, giving you a different selection than normal.
The sour cherries cost roughly $22 per pound when they're available. However, there's little information about where these cherries are sourced from, how they're packed, or even which variety they are. The site does say albaloo, but that word just translates to sour cherry and isn't a distinct variety.
It might be worth emailing or calling the company if you're interested in their cherries. They'll be able to tell you more about what to expect and give you a sense of the quality.
8. Persian Basket

The owners of Persian Basket have a strong focus on Persian culture and food, which is obvious throughout their site. The site is an amazing place to find Persian foods that you've never seen before, including unusual sauces, treats, and some interesting rice varieties.
They're a great choice for fruit too and even feature some rare options, like fresh mulberries. But, today we're interested in sour cherries. They have one listing for these, which comes in at $17 per pound. That's less than most other sites, although there's a minimum order size of two pounds.
The website notes that shipments come from Atlanta from around July 18th. However, the precise timing and arrival date of your order cannot be predicted. Once again, there's only one shipment of tart cherries each year, so you'll need to get in fast.
Things to Consider When Having Sour Cherries Delivered

Sour cherries are a great thing to have around, but you need to make sure you're getting them from a good quality farm, and that you're getting the right type of cherry for what you want. Take some time to think about these things before making an order anywhere:
The Difference Between Sweet and Sour
Sweet cherries are more common for eating fresh and plain, so a lot of farms or other places might push or advertise these a little more. If you're specifically looking for sour cherries, make sure it's indeed sour cherries that you're purchasing before you place an order.
If they're not simply labeled "sweet" and "tart" then you should try to be familiar with the different cherry varietals. For example, the Montmorency cherry is the most common type of sour cherry. Look for this name when seeking out fresh sour cherries for sale.
Where They Come From
Sour cherries can only grow in specific conditions, meaning they're not available everywhere. Most sour cherries are produced in Michigan. If you're ordering from a farm in Michigan, your odds of getting good cherries are pretty high.
If it's outside of this known sour cherry production area, just make sure they're still growing them properly and producing good quality fruit. It's not impossible to grow them elsewhere, but less common.
The Cost
The shelf life of a fresh sour cherry isn't terribly long, so you should be prepared to consider the cost of expedited shipping. Depending on your intended use of the cherries, dried or powdered may be a suitable alternative if you're looking to save money.
Benefits Of Sour Cherries
Whether you like the flavor of tart cherries or not, they can be powerful for your health.
Firstly, like any brightly colored fruit, they are an excellent source of antioxidants which are essential to the maintenance of overall health and wellness. The same is true for some other fruits that you can order online, like cranberries and blueberries.
They are also rich in fiber, protein, copper, potassium, and many vitamins and minerals.
Tart cherries are often used by athletes as regular consumption can help build muscle strength as well as ease soreness and aid in recovery.
When taken before bed it can also help you sleep better. This is due to its high amount of tryptophan and anthocyanins – two compounds that can help the body create melatonin and improve both the quality and duration of sleep. This is backed by some research as well as several sleep studies.
There have also been studies that look at the effect of sour cherries on brain health, immune support, arthritis relief, and much more. These claims are in the early stages of study and aren't a guarantee, but the fact remains that some have seen and experienced these benefits
Why Are Sour Cherries Hard To Find?
Sour cherries can be tough to find, even when you're looking online. This is partly because their season is short, just from June to August. Many orchards just have a single harvest per year. This combined with the highly perishable nature of the fruit creates a very small window for ordering them.
The cherries are also easily damaged during harvesting, sorting, and shipment, which makes things even trickier. Plus, there's much more demand for sweet cherries than for sour ones. So, it's not surprising that many companies simply don't bother with sour cherries.