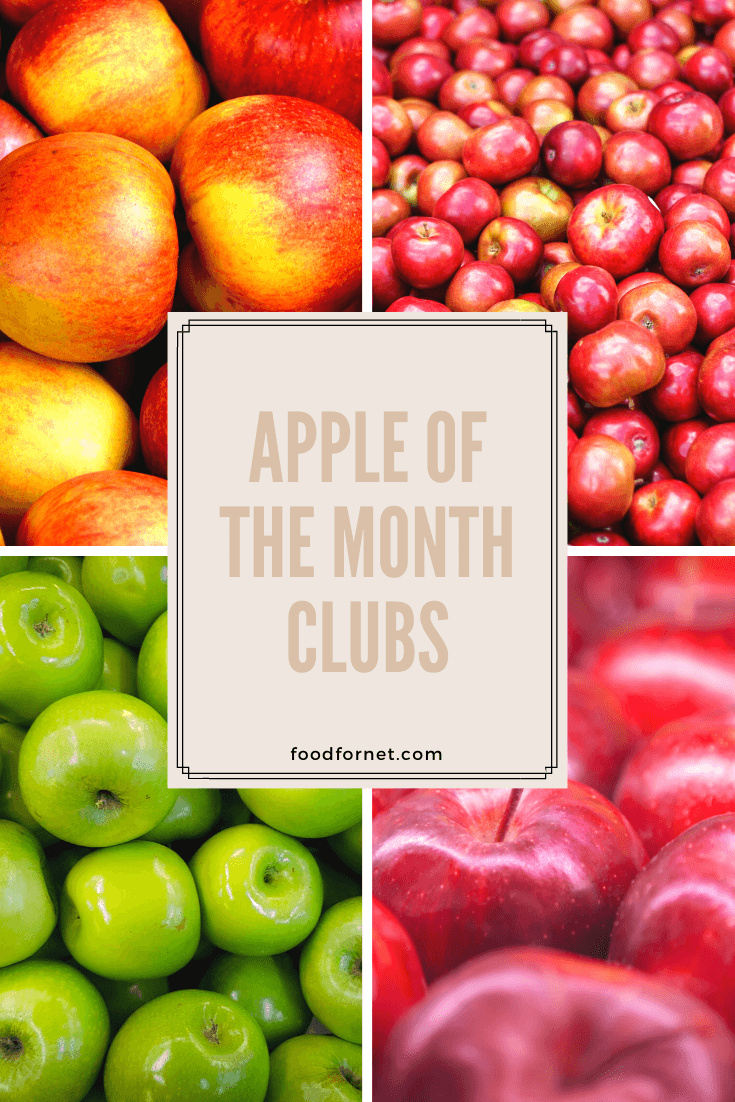 Some believe apples have been around since the beginning of time. Whether that is your belief system or not, it is safe to say that apples have been around for millions of years, and these apple of the month clubs are a fun way to tap into that history with a each delicious bite.
Apples first originated in the Tien Shan mountains of Kazakhstan, and though they have been a staple of a healthy diet, they have had other purposes as well. In fact, in 1607 the apple was first introduced to North America, and not for our beloved apple pie, but instead for the delicious beverage, cider.
Apples can be grown in a variety of climates, making it one of the most popular fruits in the world. Currently, there are 7500 varieties of apples worldwide, and 2500 of those can be found growing in the US. Apples are such a versatile growing fruit that they are grown in all 50 states.
Apples have a multitude of uses:
Eating Raw
Baking
Salads
Cider & Juice
Hard Cider
Butters
Apple Sauce
Dried Apples
Candied Apples
Cooking
The new year has just started, and there is no better time to sign up for an apple of the month club subscription to help you stay on track with your new healthy eating goals. Or if you are looking to send a loved one some edible encouragement, how about sending them a great gift basket to let them know you are cheering them on.
Apple of the Month Clubs
Exotic Fruit market
Honey Crisp
Buy Exotic Fruits
Apple Gift Baskets
The Fruit Company
Hale Groves

PS. If you love getting shipments of apples, these fruit of the month clubs would be great for you too!
Apple of the Month Clubs
Exotic Fruit Market

Exotic Fruit Market has a plethora of exotic fruits and some not so exotic options. They also have a few different fruits of the month clubs like:
Apple
Avocado
Mango
Citrus
Pear
Additionally, they have different fruit available for one-time purchase as well, such as
Passion Fruit
Chikoo -Sweet tropical fruit
Yuzu citrus fruit
Jack Fruit – Tropical fruit that is often used as a pulled pork vegan replacement
Cherimoya – A fruit that has hints of flavor similar to pineapple, strawberries, bananas, and coconut
Kiwano Melon – A spiky orange fruit that is in the cucumber and melon family
The Exotic Fruit Market Apple Club has two different main options organic and non-organic. After making that decision, you can pick the duration of the subscription. The membership options are listed below. The prices listed are conventional/organic:
1 month – $29.99 / $35.99
3 months – $89.99 / $99.99
6 months – $179.99 / $199.99
9 months – $269.99 / $299.99
12 months – $269.99 / $399.99
Each month you or the recipient will receive six specially selected unique apples, shipping is not included, but is added during check out.
Honeycrisp.com

Honeycrisp.com is owned and operated by Paul Woolley and his family. The family-run business has been going strong since 1999. They sell both to the public as well as wholesalers around the country.
Honeycrisp.com is located in Greenwich, New York, but ships their apples all around the world. Plus, if you're ordering for members of the military or their family, check out the Operation Apple program.
Operation Apple offers free shipping to American Soldiers and their families. Additionally, for every $75 donation, they will ship a case of apples to an active duty "Hero."
Not only do they have a great program to support our troops, but Honeycrisp.com has an apple of the month subscription. They have an abundance of membership options and more than just Honeycrisp apple varieties.
The first membership is for monthly deliveries of Honeycrisp apples. First, you will decide if you want a 3 or 6-month subscription. Second, you will decide on the quality level of the Honeycrisp apple.
Extra Fancy – These are the apples that have the perfect shape and color; they make a wonderful gift.
Fancy- These aren't always as perfect as the Extra Fancy, but they taste just as great.
Third, you will choose how many apples you want to be delivered each month.
Prices listed below are for the three-month subscriptions, Extra Fancy/ Fancy.
12 Gift Box $93 / $81
18 Gift Box $120 / $96
25 Gift Box $149 / $117
64 or 72 Bushel Case about 40 pounds $282 / $231
80 Bushel Case about 40 pounds $276 / NA
100 Bushel Case about 40 pounds $270 / $219
Bushel Case Jumbo – Jumbo apples ranging in 36-38 pounds $285 / NA
The other subscriptions available are:
Best 3 Varieties of Apples 18 count 3 months $135
Farmers Choice 18 or 25 count 6 months $216 / $269 – They will surprise you with different varieties each month
Choose your apple 18, 25, or 80 count 3 months $81 / $94 / $220 – Choose from eight different options
Cortland Apple 18 count 3-month subscription
Buy Exotic Fruits

Buy Exotic Fruits is an online store that offers an array of unique fruit that would be challenging to find at your local grocery store. They offer fruits such as:
Cherimoya
White, Red, or Yellow Dragon Fruit – A funky pink or yellow fruit with a white or pink interior, that has a very juicy sweet flavor
Guanabana Green – A spikey fruit with a white inside that has a sweet distinct taste
Cactus Pears – A red fruit with white dots on the outside and a ruby red or golden interior
Rambutans Tropical – A fruit similar to the lychee but less acidic and juicy
Baby Pineapples
In addition to the rare fruits available, Buy Exotic Fruits, also offers an assortment of more well-known fruits like:
Apples
Plantains
Figs
Pomegranates
Mangos
Their fruit can be purchased by the box, or you can sign up for one of their fruit of the month clubs like the apple of the month club.
The apple of the month subscription offers different membership lengths, ranging from 1 to 12 months. Each monthly apple subscription will include:
4-6 Pounds of gourmet apples
Free USPS shipping
Both organic and conventional varieties will be included
100% Satisfaction Guarantee
Apple Gift Baskets
The Fruit Company

The Fruit Company is the offspring of the Webster Orchard that started in Hood River, Oregon, in 1942. The family orchard started with apples, but it wasn't long before pears were growing on the farm too. As time went on, they expanded to add other fruit like cherries and blueberries.
In November of 1999, Scott and Addison Webster started The Fruit Company in their parents' basement. As The Fruit Company grew, the brothers were forced to move from the basement to an old fruit packing plant.
Over the next several years, The Fruit Company and Webster Orchard continued to expand. The Fruit Company became so popular that it hit Orpah's Magazine for best holiday gift ideas.
Both the orchard and The Fruit Company are still headquartered in Hood River Oregon, where they open up to the public on Fridays.
Though they offer a few fruit of the month clubs, they do not have an exclusive apple of the month club. However, many of their memberships do offer apples as one of the featured month's fruit option.
So, if you are looking for an apple only gift, they have a few great apple gift boxes to choose from.
Mountain Apple Medley (also comes in organic) Each box contains Honeycrisp, Golden Supreme, Ruby Red, and Pink Lady

Classic 4 Apples One of each kind
Grand Same 8 Apples Two of each variety
Deluxe 15 apples 3 of each kind, except for the Ruby Red has 6
Executive 30 apples 3 of each kind, except for the Ruby Red has 12, and two handpainted Watercolor apple boxes

For the other Apple Gift Boxes instead of a mix of apples, you pick a single variety and quantity. There are ten different flavors to choose from:

Honeycrisp
Granny Smith
Imperial Fuji
Royal Red
Golden Supreme
Royal Gala
Pink Lady
Newton Pippin
Jonagold
Cosmic Crisp
Hale Groves

Hale Groves first opened in 1947 as a roadside fruit stand in the Indian River area of Florida. Now over 70 years later, it is still a family-owned and operated business. In the beginning, Steve and Polly Hale did everything themselves from handpicking and packing the fruit, to writing out each note that would accompany the gift basket.
Spanning over the last 70+ years, they have expanded their business, but their attention to detail hasn't changed. They nevertheless have the same high level of quality as the first day they opened, ensuring each piece of fruit is packed with the utmost care.
Though Hale Groves is best known for the fresh and delicious citrus fruit, they also offer a variety of other fruit gift baskets and boxes. One of which is their Orchard Fresh Apple gift box.
The gift box contains six apples freshly picked, and never stored in a warehouse. The apples are packed in a decorative cardboard box with each apple gently packed in tissue and is $29.99.
If you are seeking a bit of variety, you can always try one of the multi-fruit gift baskets that not only have apples but also contains fresh citrus fruit straight from the Sunshine State.
Sincerely Fresh from Stemilt

In 1914 Stemilt started in Wenatchee, Washington, with ten acres made up of apple, pear, and cherry orchards. Stemilt is now a fifth-generation family-run business that is also one of the largest fruit growing and export companies in the world.
The company's CEO, West Mathison, still believes in the Stemilt's promise to delight the customer with high-quality fruit and care for the environment and community through their Responsible Choice program.
Sincerely Fresh from Stemilt focuses on bringing their fruit to the consumer directly and foregoing the middleman. They have a wide range of gift options from the fruit of the month club to Apple gift boxes.
They have 12 different boxes to choose from, and each box contains 12 apples.
Variety Specific boxes – You pick the recipient's favorite apple variety, and they receive a box of 12 beautiful shiny apples. The apple options available are:

Organic Honeycrisp
Fuji
Pink Lady
Rave
Honeycrisp
Sweet Tango
Cosmic Crisp
Piñata

A Little Bit from Every Row (also available in organic) – The box contains a variety of hand-picked apples. The apples included will be a combination that could consist of any of the following; it will depend on the ripeness and season.

Fuji
Gala
Pink Lady
Granny Smith
Piñata

Traditional Trio (also available in organic) – Four of each of the following

Red Delicious
Golden Delicious
Granny Smith

Cream of the Crop (also available in organic) – Four of each of the following

Honeycrisp
Piñata
Pink Lady