No matter how old you are, there will always be a spot in your heart (and stomach) for sweets. Whether it's some nostalgic flavored lollipop sticks or a roll of cotton candy (which you can learn to make for yourself right here, by the way), it's hard to stay away from these confectioneries for too long.
But you know what else is hard? No, I'm not talking about your teeth before the eventual decay from cavities caused by excessive amounts of sweets (which is something you should be wary of), I'm talking about candy. And more specifically, rock candy, that tough, sweet treat that takes forever to make and even a longer time to actually consume.
You don't need to head to your local candy shop or your grandma's house to grab yourself some hard candy. It's completely possible to make your own rock-solid candy at home, and with the recipes we're about to show you, all you'll need are simple ingredients, and the patience to wait a week or so for the candy to form.
And yeah, you're trading a week of waiting for a candy you can probably finish in minutes – but you can do plenty of other things in the meantime. Don't have the time to wait? Try making cotton candy at home instead.
Making rock candy can be surprisingly fun, especially when they turn out beautifully once they're done. So what are you waiting for? Read on to find out how to make rock candy for yourself at home, and enjoy the fruits of your labor afterward.
Plus, if you are really a candy fan, I recommend you join one of these candy of the month clubs and get weird, fun, rare, or just plain sweet candy delivered to your home each month!
What's The Best Recipe For Rock Candy?
Now before you go on and start mixing the ingredients together, it's important to know how you'll be making the rock candy. You see, there are two different ways of making your own rock candy at home – you either make it on a string or have it on a stick. It's mostly a matter of preference, as the ingredients used are exactly the same. You just need to know which one you'd rather have the rock candy form on.
The difference is negligible, but if you're being picky, then using a stick or skewer makes eating the rock candy easier, while the string is the easier method of making rock candy in our opinion. Again, either way, it's fine, so don't think about it too much, and just make the candy however way you want it. We'll be using this great how-to guide from Wikihow as a reference for this article.
Making Rock Candy Using A String
We'll first be talking about how to make rock candy using the string method. The stick method will be covered after this part, but the ingredients will stay the same, so just skip towards the next section once you've got the ingredients ready from this section here.
When making yourself some rock candy, you'll need the following ingredients and materials (not counting the string and pencil used exclusively for this method):
4 cups of granulated sugar
2 cups of water
That's about it, really. As an option, you can add both food coloring and artificial flavoring to the mixture if you want something different. We recommend yellow food coloring and a lemon flavor, or purple food coloring and a grape flavor to start off if you can't decide for yourself.
You'll also need a string, a pencil, a small weight such as a paper clip, and a glass jar to hold the solution in. Aside from the glass jar, the other materials aren't used in the stick method.
Step 1 – Boil the Water
To begin the process of making your own rock candy, simply boil all the water over a stove. If you're not an adult, please ask for assistance from your parents or at least have supervision from an adult, as it can be dangerous to work with boiling water for the first time.
It's also recommended to use pure water for this recipe if you can, and not tap water. Tap water may be cheaper, but the impurities in tap water can affect the formation of crystals later in the process, so it's best to play it safe and use purified water that contains no unwanted minerals in them.
Step 2 – Slowly Add Sugar to the Water in Small Increments
Once you've got the water to a boil, it's time to add the sugar. The sugar should be added in ½ cup batches, one at a time. Only add the next batch once you're certain that the sugar has been completely dissolved in the water, as you want the solution to be as even as possible. You can even crank the heat up even higher if you have to, just don't overdo it to be on the safe side.
Alternative – Use a Microwave
If you, for whatever reason, don't have a stove at home, or you'd just rather use your microwave instead, then you can use this method. Mix both the sugar and water well in a microwave-safe glass bowl, and put it in the microwave to heat, setting it at high for 2 minutes. Then, take out the solution, mix it again, and reheat it for another 2 minutes at the same temperature.
If done correctly, most, if not all of the sugar should have been completely dissolved in the solution.
Step 3 – Cool the Solution
Once you're done heating the solution, allow it to cool for around half an hour or so. Be very wary of undissolved sugar that may still linger in the solution – you really don't want them there. Crystals can end up forming around the sugar, which can stick to your stick or string and make it difficult to remove when you're done making the candy.
The best way to remove the undissolved sugar (if you see any) is to pour the solution through a strainer and get rid of as much of the sugar as possible.
Step 4 – Add Food Coloring and Flavor If You Want To
This step is optional, so skip it if you're fine with just a plain, sugary taste in your candy. If not, then all you have to do is add a few drops of coloring and flavoring, and mix them together in the solution. That should be enough. You can also add juice mixes instead if you want to experiment a bit.
Step 5 – Pour the Solution in a Glass Jar/Container
After mixing the flavoring together, you can now pour the solution into your container, preferably a glass jar (though any glass container works). Make sure that the container is free from any impurities such as dust, as even the smallest particles can be where unwanted crystals start to form.
Step 6 – Prepare the String and Pencil
This is where the string and stick methods start to differ. Prepare a string that's shorter than the height of the jar and tie it around the center of a pencil or any other stick-like object. Then, on the other end, tie a weighted substance – a paperclip, screw, or something similar will do just fine.
Step 7 – Dip the String Into The Mixture and Pull It Out to Dry
You need to dip the string into the mixture, get it soaked, and pull it out for it to dry, to allow some crystals to start forming in the string beforehand. Only continue towards the next step once the string has completely dried.
Step 8 – Put the String Back In, Cover the Lid, and Wait
Once it's dried, put the string back in the solution, and let it rest for a week. You can cover the lid of the jar to keep unwanted particles away, but it should be covered with something that allows evaporation, such as a paper towel. Do not use a plastic wrap unless you give room for the water to evaporate. All you have to do now is wait for a week to let the crystals form.
Step 9 – Pull Out and Enjoy!
After 1 week, the crystals should have formed on the string. Pull the string out carefully and enjoy a rock of sweet candy yourself or with a friend, if you can't finish everything alone.
Making Rock Candy Using A Stick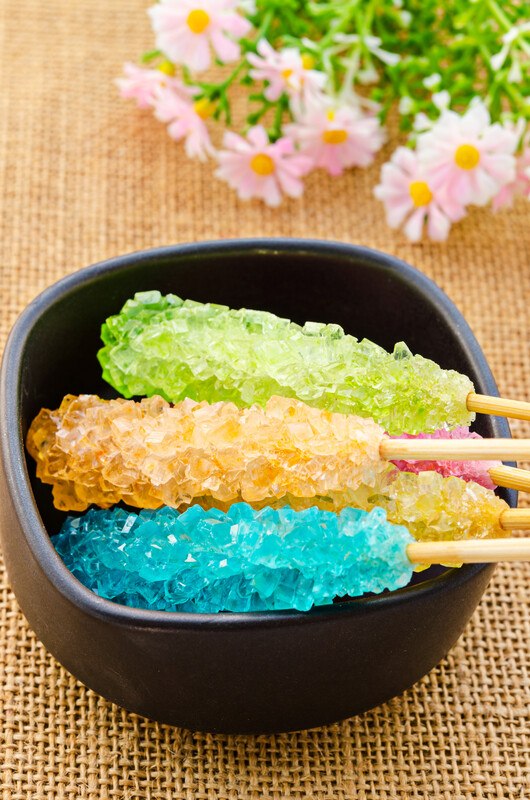 The entire process for both methods is the same up until the point where you pour the liquid in the glass container. At this point, you'll need a stick or skewer, a couple of clothespins, and some granulated sugar.
Step 1 – Dip the Stick in Water and Coat it with Granulated Sugar
First thing you'll need to do is get the stick wet so that granulated sugar can stick onto the skewer. Once that's done, roll the stick in some sugar so that you get a coated stick that probably isn't worth even tasting yet. Don't get the whole stick wet, and leave a dry portion for the clothespins.
Step 2 – Clamp Some Clothespins on the Stick
With your coated stick, clamp a clothespin on its dry end. If they're long enough, clamp two clothespins opposite of each other to create a bridge of sorts that will allow the stick to hover right above the solution.
If you only have one, rest the clothespin on the side of the jar and let the stick rest diagonally. Do not let the stick touch the sides or bottom of the jar at all.
Step 3 – Wait, Pull Out, and Enjoy!
Just like the first method, all you have to do now is wait, and after a week, you can pull the candy out to enjoy.
---
Rock candy may not be the easiest candy to make or eat, but it sure is tasty, and the entire process of making it makes this sweet treat all the more enjoyable.