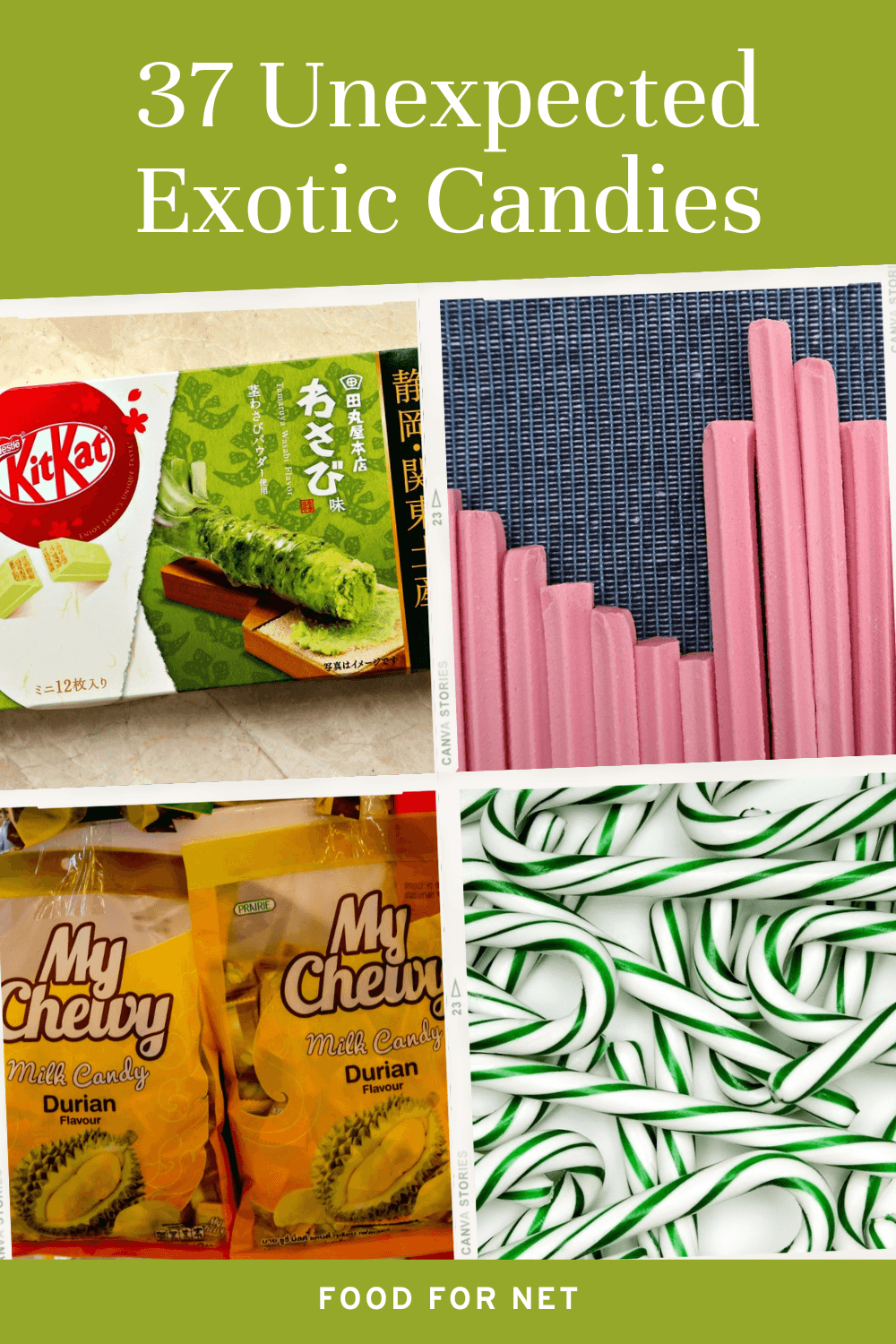 Candy is a delicious sweet treat, right? While that's true most of the time, there are exotic candies out there too, including plenty of unexpected ones. Many of these are from other parts of the world, like musk sticks from Australia and New Zealand, plus the infamous Japanese wasabi KitKats. There are some local ones as well, including limited edition versions of popular products.
Those are just scratching the surface though. There are so many more completely bizarre candies out there as well. Some of these, like pickle candy canes, are clearly novelty items. Anyone who buys them does so for a buzz or perhaps because they want a gag gift.
Others seem to have a legitimate fanbase. Sometimes that's because the candy tastes much better than it seems that it should. Other times, well, who knows? As the saying goes – there's no accounting for taste.
For those interested in more unusual foods, what about exotic nuts and exotic meat? Those topics might seem more familiar, but there's an incredible amount of variation and some very unusual items in the mix.
Exotic Candies (With Pictures!)
BBQ PayDay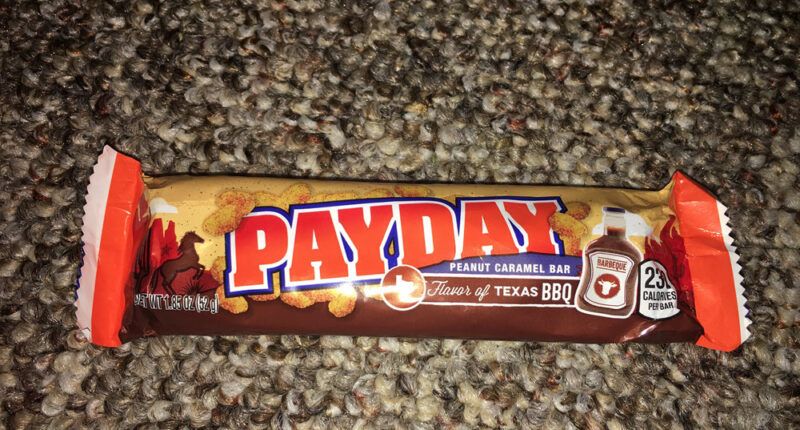 The original PayDay bar is a classic, filled with peanuts and caramel. They have a mixed reputation, with some people loving them and others not, but they're familiar no matter what.
Then there's the BBQ PayDay. This bar is exactly what the name suggests, a PayDay bar with a distinct barbecue flavor. This is achieved by using barbecue seasoning on the peanuts.
As weird as the idea is, it also somehow works. You might even find that you like the BBQ PayDay, even if you can't stand the original version.
Lobster Candy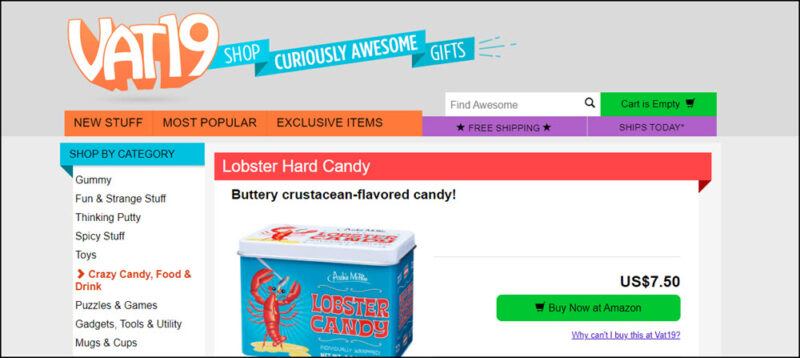 Ever thought of combining seafood with candy? The idea is far more common than it should be.
Some versions are simply regular gummies or hard candies that are shaped like lobster. Then there are versions that really do taste like lobster. They have the familiar buttery, briny, and somewhat sweet flavor.
Whether this is something you actually want is an entirely different question.
Japanese KitKats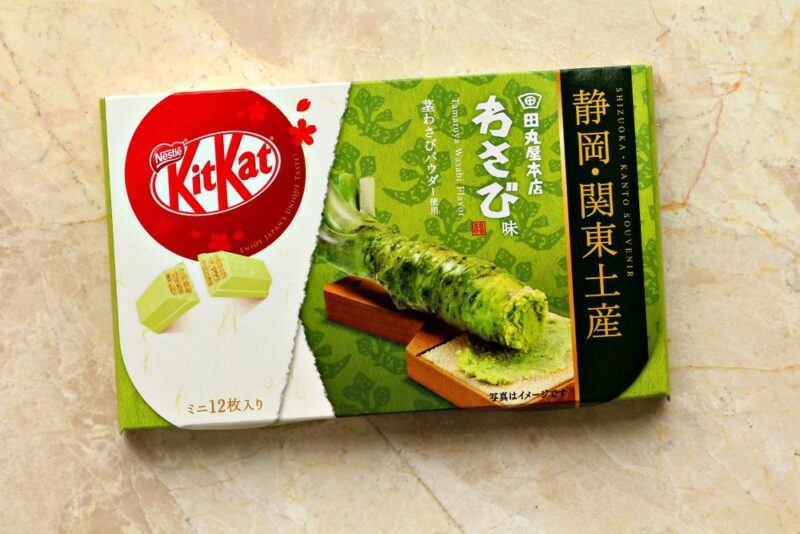 We could honestly write an entire article just on Japanese KitKit flavors, as there are so many different types and many of them are simply bizarre. In fact, there are around 300 individual flavors, although they're not all available at the same time.
The most famous of these is the wasabi KitKat, which is an unusual flavor even in Japan. Thankfully, the KitKats aren't as intense as real wasabi. They have a subtle wasabi flavor instead. This is balanced out by other ingredients.
Some other KitKat flavors include banana caramel, matcha green tea, cheesecake, sakura mochi, baked potato, miso soup, and black tea. That's just a short list and doesn't even cover all the weird ones.
Pickle Candy Cane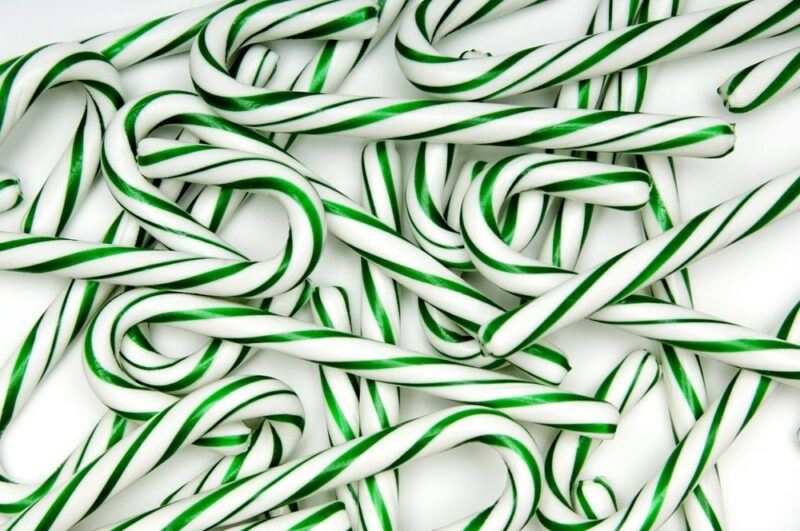 Pickles are popular, but pickle candy? As bizarre as that sounds, pickle candy really is a thing.
Then there are pickle candy canes. These look just like regular candy canes, except that they have green stripes rather than red ones. And, notably, the green stripes have a distinct pickle flavor.
One site that sells these candy canes also offers pickle candy and bacon candy canes. You know, just in case you want to get even weirder with your candy.
Butts With Ears
The strange thing about these gummies isn't the flavor, but the shape. They're basically gummy butts with ears.
This is because the German equivalent for butthead is Arsch mit Ohren, which translates to ass with ears. Who knows why this term deserves to be made into its own candy. Clearly someone thinks that doing so was a good idea.
Then again, Haribo does have a huge range of candy, including plenty of unexpected shapes and flavors.
Yaokin Ikattara Grilled Squid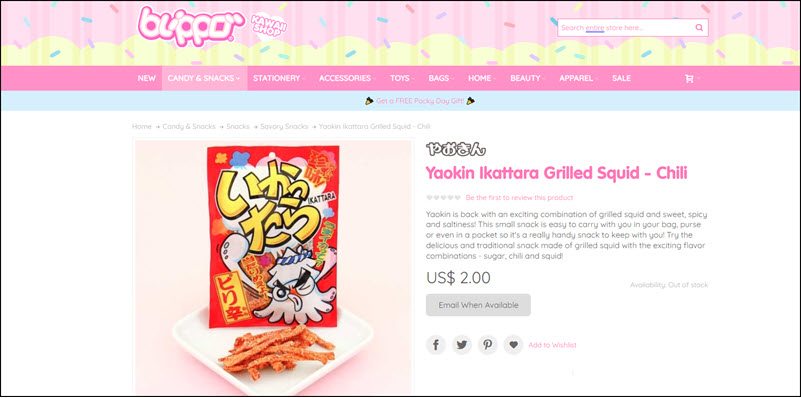 Japanese candy is often strange and this type is no exception. The seasoning creates a snack that's both sweet, spicy, and salty.
The sweet really does taste like squid. That's not surprising though, as it is literally made from grilled squid. Not surprisingly, this is a candy that only some people will enjoy.
Pineapple Lumps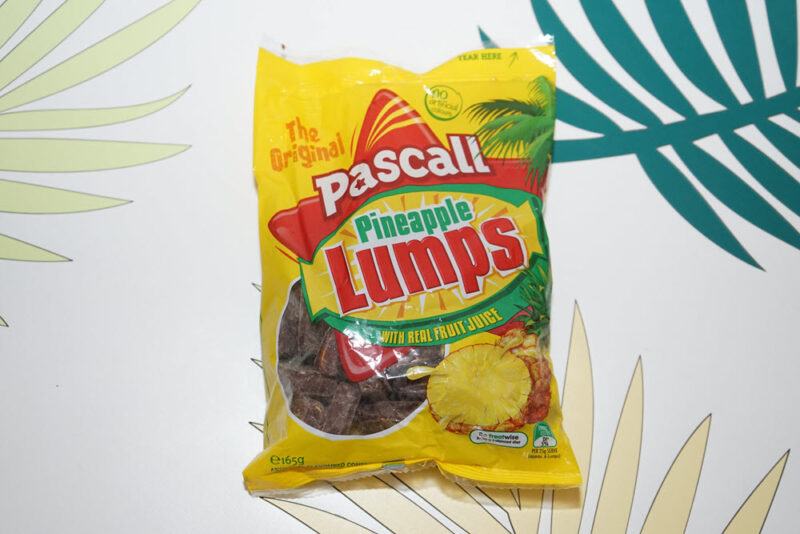 For people in New Zealand, pineapple lumps are an incredibly common treat. Everyone else finds them pretty strange.
Most of the problem is the center, which is often soft and chewy – and doesn't really taste like pineapple at all. The flavor is tough to describe, yet the candy remains incredibly popular.
There have even been differently flavored versions from time to time. Feijoa lumps are easily the strangest of these and aren't universally loved.
Musk Sticks

Here's another entry from New Zealand and Australia. Musk sticks really do have a flavor and scent that's similar to musk perfume. It's an odd idea for candy, yet many people buy musk sticks regularly.
Once again, opinions about musk sticks vary. While some people love the flavor, others can't stand it. Tourists are often shocked by the treats too and can't understand why they exist.
Tequila Lollipops (with worm)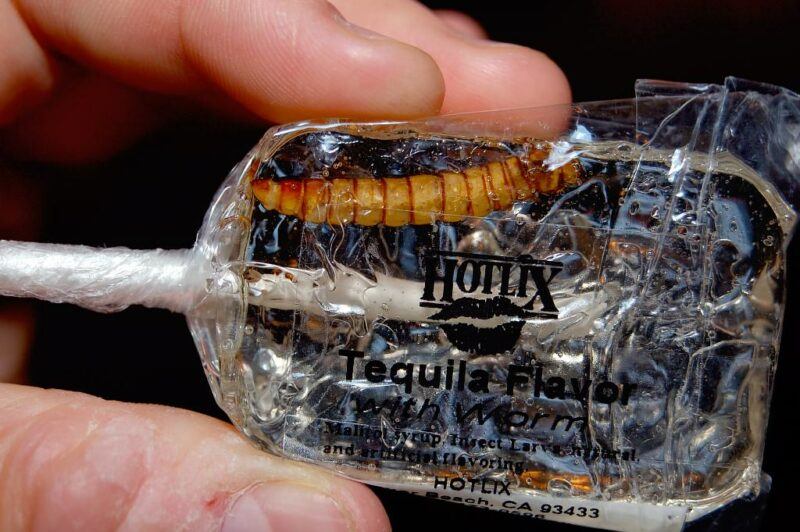 These lollipops are strange from start to finish. Many versions aren't actually made using tequila or they just use a tiny amount of tequila. Instead of tequila itself, most of the distinctive taste comes from flavoring ingredients..
The worm is the strange part, as you actually get a real worm in a piece of candy. The question, then, is whether you want to be eating a worm or not?
Chocolate Covered Crickets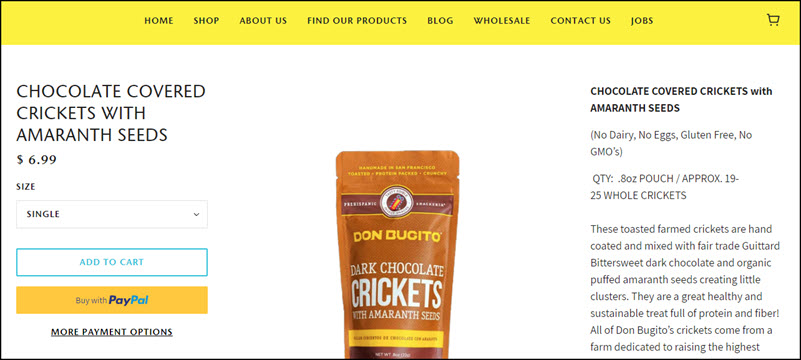 While we're talking about candy, what about chocolate covered crickets? Some versions are literally just crickets that have been roasted and then covered in chocolate. Others include extra ingredients like amaranth seeds to tweak the texture.
These crickets go beyond regular candy, as they may actually be a healthy snack. In particular, the crickets are a decent source of protein that also offers plenty of nutrients.
Durian Candy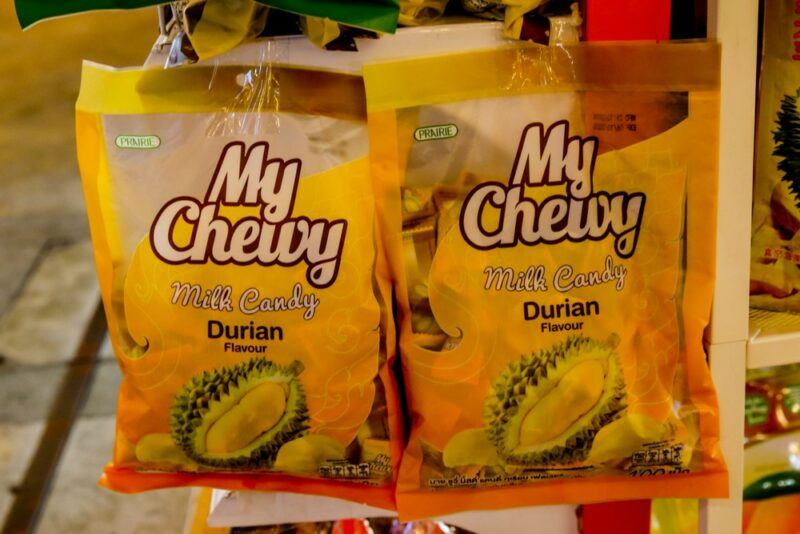 Durian fruit is famous for its intense smell, which is often compared to sewage. The smell is bad enough that the fruit has been banned from many public spaces (which is pretty incredible if you think about it).
However, if you can get past the smell, the fruit can be enjoyable to eat.
Durian candy isn't a gag product. Instead, it is a genuine item sold in China. The candy still smells like durian fruit, but the scent isn't quite as intense. Just like the fruit itself, the flavor takes some getting used to.
Hubba Bubba M&Ms
While Hubba Bubba and M&Ms are both very familiar, they don't sound like they belong together at all. Despite this, Mars produced a Hubba Bubba inspired flavor in Australia.
These are still traditional M&Ms with a chocolate interior and a candy shell. The difference is simply that the sell has the flavor of Hubba Bubba.
Reviews suggest that despite being odd, the M&Ms actually taste good. The flavor of Hubba Bubba even kind of complements the chocolate.
Otoko Ume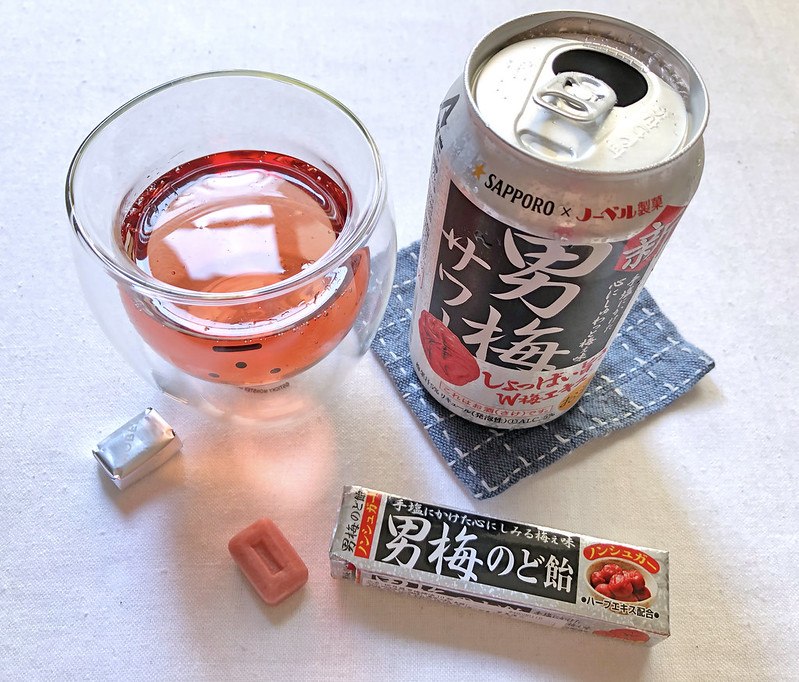 Otoko Ume (or otokoume) is a Japanese candy that literally translates to either manly or masculine plum. The candy comes in the form of hard gummies that have the flavor of the Japanese plum umeboshi and are then further coated with ume powder.
The style means that the candy has a noticeable sour hit and a distinct flavor that you won't soon forget. While otoko ume isn't easy to find in the United States, it sometimes features in Japanese snack subscription boxes and can be found on Amazon.
Onion Ring Mints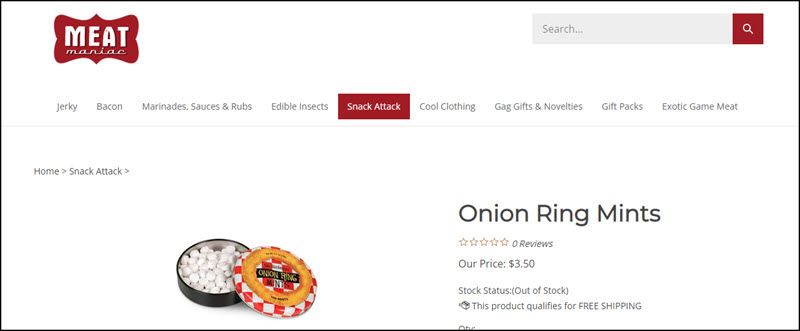 These mints are mostly designed as a gag gift or for pranks, but you might actually end up liking the flavor. As the name suggests, they're mints that happen to taste like onion rings.
They are slightly misleading though, as the onion ring flavor isn't incredibly strong. Instead, the mints mostly just taste like sugar and mint, with a subtle onion flavor added in.
Gravy Candy
Here's another novelty product that plays with the contrast of savory and sweet. This time, you're getting candy that tastes like gravy. Yes, really – because someone thought this was a good idea.
The base sweet is a brown and white striped mint. It does actually have a meat-like or gravy-like flavor as well. However, that's not really a good thing, as reviews for the candy are abysmal.
Curiosity is really the only reason for trying these mints. Just be prepared to spit them out, if they are as bad as the reviews.
Sour Feijoa Candy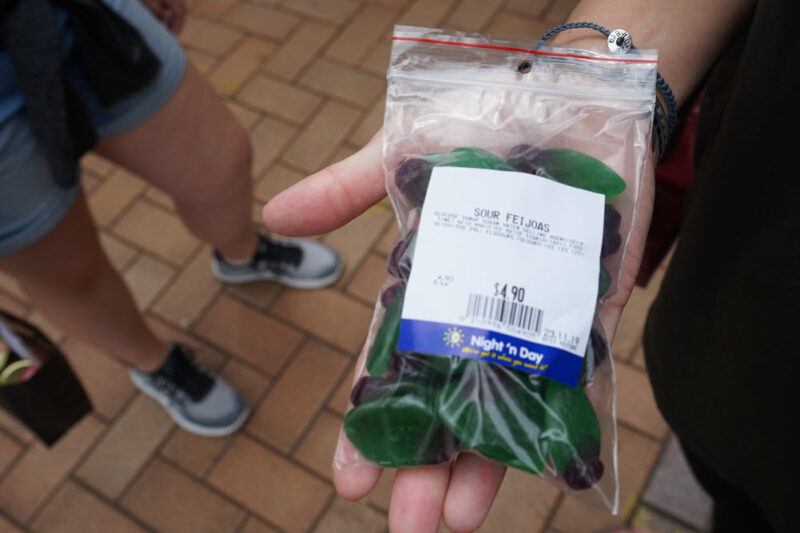 Feijoas have a distinct flavor that sour feijoa candy tries to capture. A few different companies make this candy – the most famous of which is Mayceys in New Zealand.
These gummy treats have a strong flavor and slight sourness. They're also very chewy, which makes them a little tricky to eat.
While the sweets are popular, they tend to polarize people. So, while some people love the sweets, others abhor them. That's not really surprising though, as the feijoa fruit itself garners a similar reaction.
Bacon Jelly Beans
Here's another product that tries to turn a savory treat into candy. This time bacon is the flavor of choice.
The tin is the most standout feature of the candy, as it really does look like a strip of bacon. Reviews for the jelly beans themselves are more mixed. Most people say that the beans don't taste much like bacon at all, but some say they're still good, while others say they're horrible.
Jelly Belly has played with the idea as well. In fact, they have an almost endless selection of unexpected jelly bean flavors.
Fuwarinka Rose Candy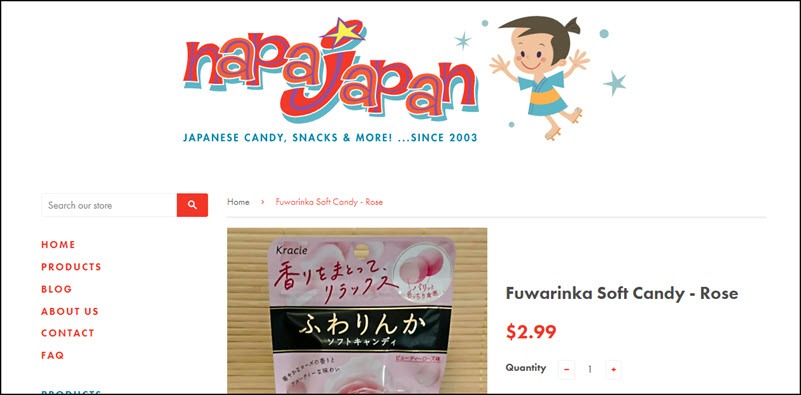 These Japanese treats are sometimes called beauty candy. They have a delicate flavor that comes from rose extract, plus some tartness from the interior layer.
The candies themselves are small, soft, and chewy. They're tasty enough that many people come back to time and time again. Just don't expect them to taste completely like roses, as there are other flavors in the mix too.
Salmiakki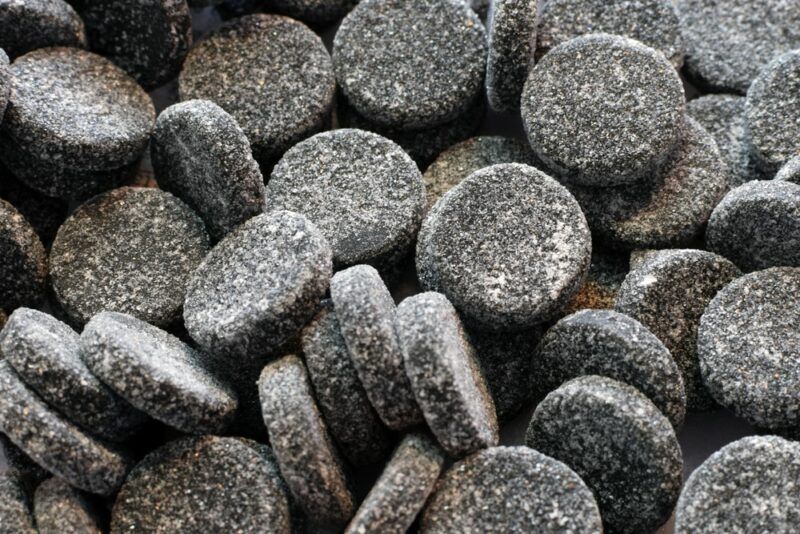 Salmiakki is Finnish salty licorice, which is now relatively easy to find. While the licorice that we know and love tends to be sweet, the Finnish version has little sweetness. Instead, it uses ammonium chloride to make it potent and salty.
The lack of sweetness makes this a strange candy indeed, yet salmiakki remains incredibly popular. Part of the reason is simply that many Finnish children grew up on the licorice and learned to love it. Also, some people do prefer savory foods over sweet ones. If this is true for you, then salmiakki might be ideal.
Tarrito Fruit Flavored Lollipops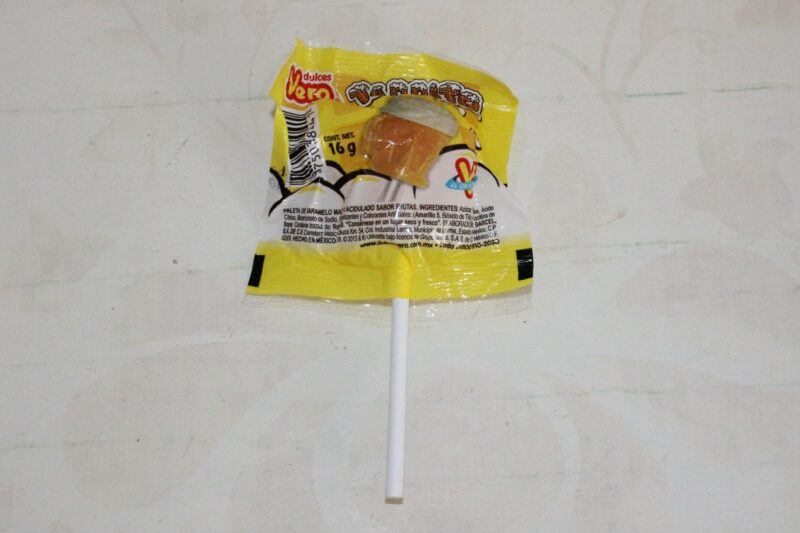 These Mexican treats are partly famous for their appearance, as the hard candy looks like a mug of beer on a stick. The flavor is a little like pineapple, with a slight fizziness that makes them even more interesting.
These are also a fantastic introduction to Mexican candy, as they're not spicy, while many other Mexican candies are. In fact, the treats get consistently good reviews, even from people who don't normally eat Mexican candy.
Gummy Bacon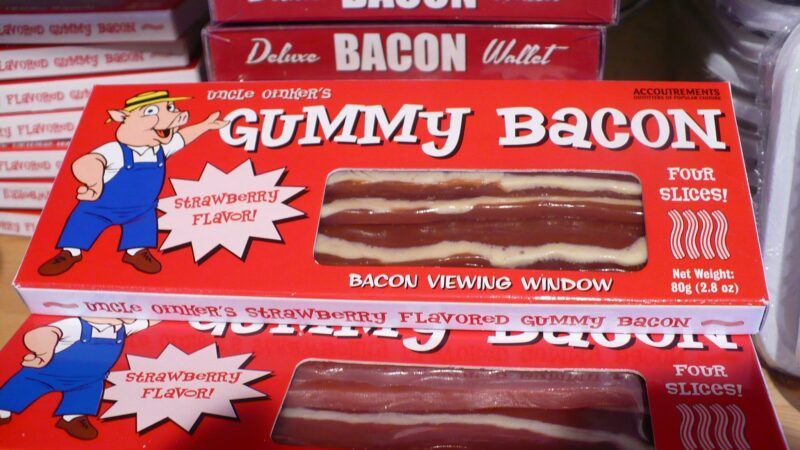 America has a bit of a bacon obsession, so it's not shocking that there is gummy bacon out there. Honestly, I'd be more surprised if there wasn't. Even Oscar Mayer has jumped on the bandwagon with this one.
If you're looking for bacon, though, most of these products will be a letdown. You often just get strawberry flavored gummies that look like bacon.
There are exceptions though. Some companies produce bacon gummies that are actually bacon flavored. The combination of flavors doesn't seem like it would work well. Still, it could be a fun gag gift.
Meatball Bubble Gum
Speaking of meat and candy, here's another treat that riffs on the idea. These chewy gumballs are designed to look just like meatballs.
But, unlike some of the previous entries on this list, the gumballs are only meant to look like meatballs. They don't attempt to mimic the flavor of meat at all. Instead, they taste just like regular bubble gum.
This is probably for the best as most meat-flavored sweets don't taste very good.
Kitten Tongue Chocolate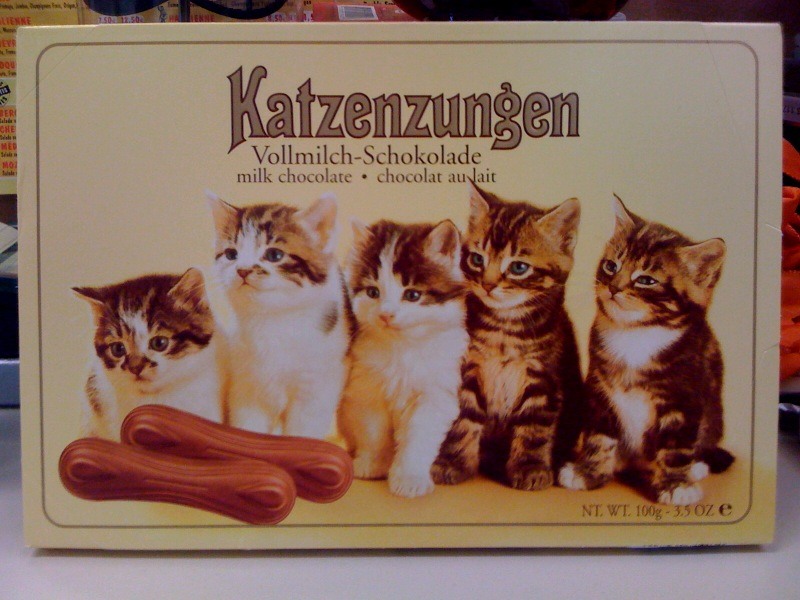 These German treats are famous throughout Europe and are particularly popular for children. The strange thing here isn't the taste, as we're just talking about milk chocolate.
But, for whatever reason, the chocolate is vaguely shaped like a kitten's tongue and is marketed as such. There's even a collection of kittens on the box.
Alteno Super Pepino With Chili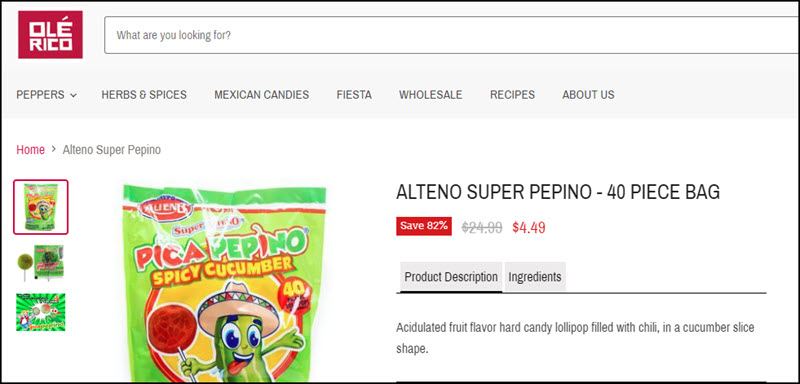 It's hard to go past Mexican candy when you want an unusual treat. After all, many products have a strange balance of flavors and textures.
Alteno super pepino highlights this perfectly, as the candies are cucumber flavored, with added chilis. This isn't a normal candy flavor at all, yet sweet, spicy, and tangy balance works perfectly.
If you're ordering these online, make sure that you get the correct flavor, rather than a variety pack. The variety version combines cucumber spiced candies with sweet pineapple ones.
Thanksgiving Gumballs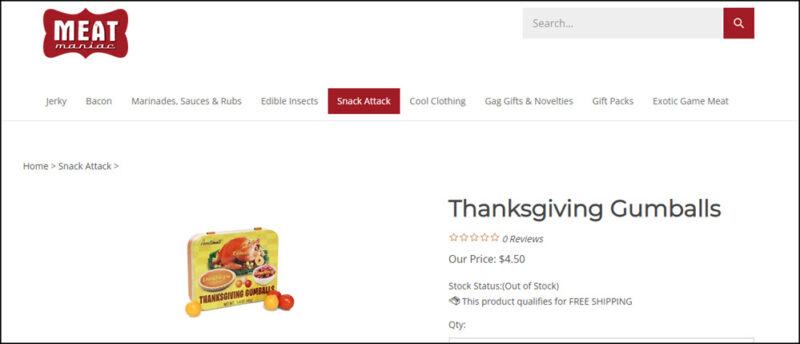 Thanksgiving gumballs are one of those treats that no one ever asked for and few people want. They're a little like the gum from Charlie and the Chocolate Factory, one that's meant to taste like a full dinner (hopefully without turning you into a giant blueberry!).
Unlike the movie version, there are three different gumball flavors – cranberries, pumpkin pie, and turkey. Reviews suggest that the pumpkin pie and cranberry versions aren't too bad. The turkey one is a different story and seems to be weird from start to finish.
They're also surprisingly hard gumballs with a short lasting flavor. None of those features does much to recommend the gumballs. Still, the bizarre style makes for a fun gag gift.
Turkey Dinner Candy Corn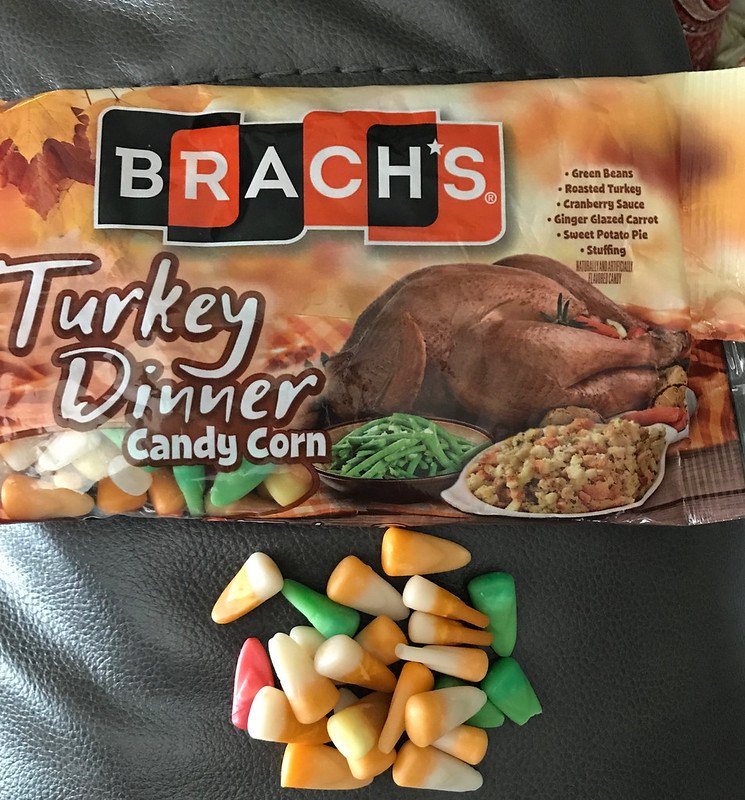 Most of the other meat-focused candies on this list came from small companies and don't take themselves too seriously. The turkey candy corn from Brach's is a little different.
Just like the gumballs, they have a few different flavors, including sweet potato pie, green bean, stuffing, roast turkey, apple pie, coffee, and cranberry. Reviews suggest that the flavors are distinct, but not overwhelming or too concerning. Even the stuffing and roast turkey versions are mostly just savory, rather than being intensely flavored.
Grilled Lamb Caramel
This treat also goes by the name genghis khan caramel. The name isn't a reference to Genghis Kahn the conqueror, but rather a mutton dish of the same name.
This isn't a gag treat though. It's one that is sold regularly and some people love. There even is a meaty aspect to the treats, plus a surprising amount of flavor. Of course, this is one of those hit and miss desserts. You might love it or you might hate it.
Vegemite Chocolate
Vegemite itself is controversial. It's a yeast-based spread that's black, thick, and sold in small jars. The flavor is intense and it's one of those things that you either love or you loathe.
Cadbury took the idea one step further by producing a limited edition vegemite chocolate flavor. The flavor wasn't just milk chocolate stuffed with vegemite though (that would have been intense!). Instead, the chocolate had a caramel-like filling with a mild vegemite flavor.
Reviews were mixed, but even most of those who liked the chocolate said that it wasn't quite right.
Spicy Skittles
These discontinued Skittles are too cool to ignore. They were exactly what the name suggests – sweet skittles with a distinct spicy kick. The Skittles came in flavors like fiery watermelon, flamin' orange, and lemon spark.
The Skittles were fairly popular when they were available, partly because they spice wasn't too extreme. They were still sweet like regular Skittles too, which gave them a fantastic sweet-spicy balance.
Breast Milk Lollipops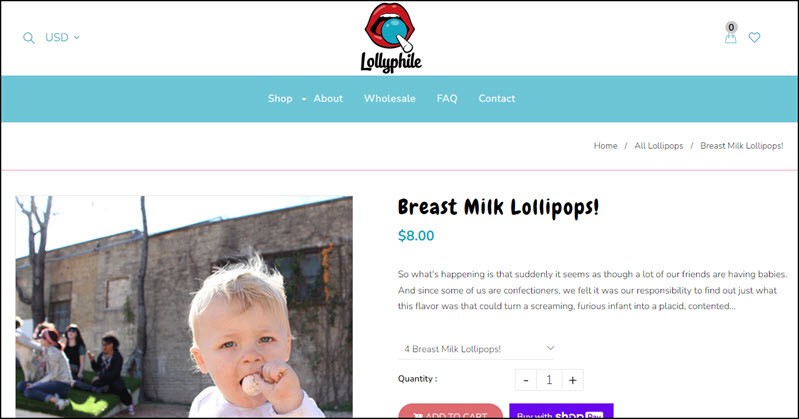 These lollipops come from a company called Lollyphine that specializes in many unusual lollipops, including cabernet sauvignon, chai tea, absinthe, and blue cheese.
Ingredient information isn't provided for the breast milk lollipops, but we're pretty sure that they only taste like breast milk. They probably don't include breast milk as an ingredient (although anything is possible).
Salsagheti
Here's another Mexican entry. This treat includes hot strips of watermelon-flavored candy coupled with a tamarind sauce for extra flavor.
When fresh, the candy tastes fantastic and is consistently popular. Just be cautious if you're buying online, as some companies ship out-of-date products that don't taste nearly as good. Thankfully, local stores in some states will sell the candy, so you might get lucky.
Nerds Candy Corn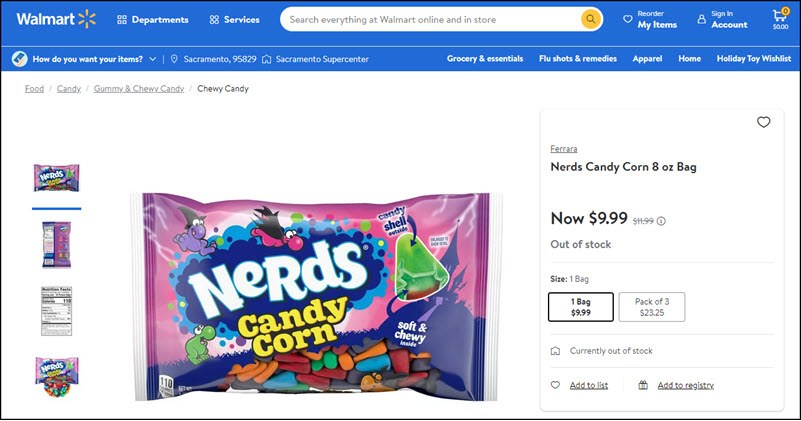 This is a Halloween version of Nerds that attempts to turn the classic candy into candy corn. It has some of the tanginess that normally comes with Nerds, in the form of a soft and chewy treat.
It's an interesting intermediate between Nerds and candy corn. While some people may love the candy, most see it as a novelty that's just okay. It might be better to stick with regular Nerds and regular candy corn.
Vampire Hershey's Kiss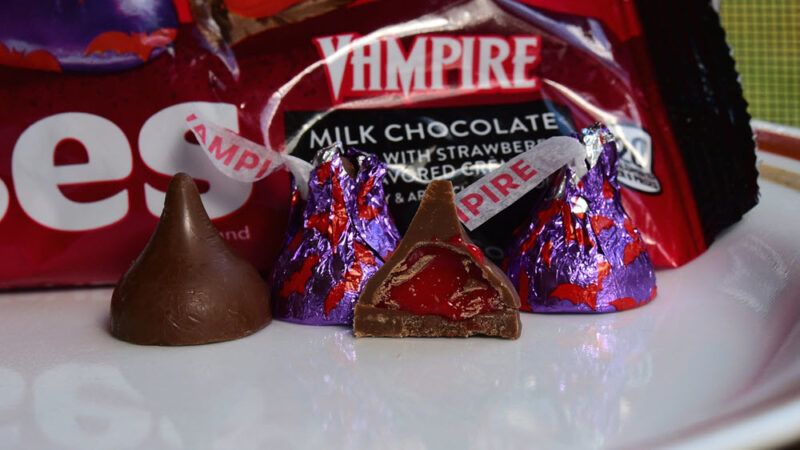 Here's another mainstream company that has been getting creative with its products. The Vampire Hershey's Kiss is essentially a regular chocolate Hershey's Kiss, with a bit of red sugar syrup in the middle.
The red sugar syrup is meant to look like blood and has a vaguely strawberry flavor. The flavor isn't strong though, so you'll mostly just be tasting the sugar.
Really, the chocolates are simply disappointments from start to finish. There are tastier Halloween themed treats and most versions of Hershey's Kisses taste better than these.
Thrills Gum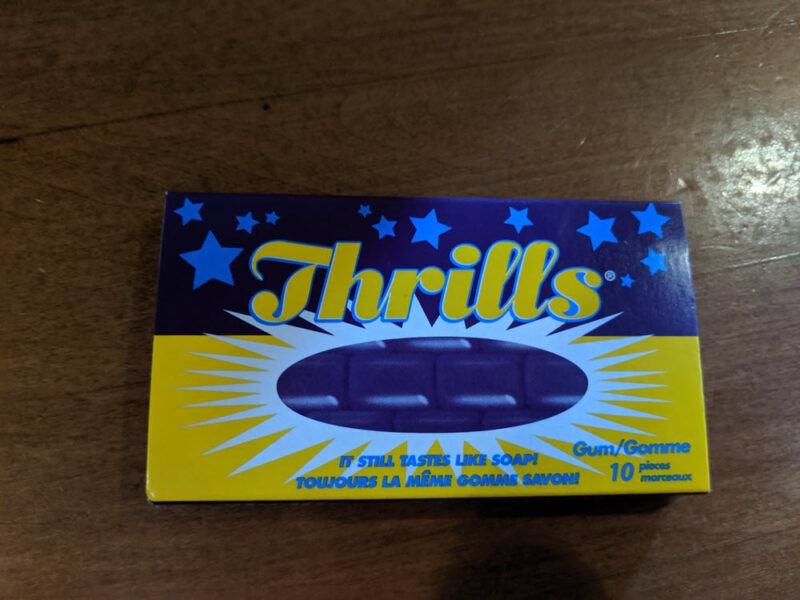 Thrills Gum has a surprisingly long history for a product that is famous for tasting like soap. In fact, recent product packaging even excitedly claims that "it still tastes like soap!".
It's hard to imagine why anyone would make soap-flavored gum, much less why said gum is still popular.
Vero Mango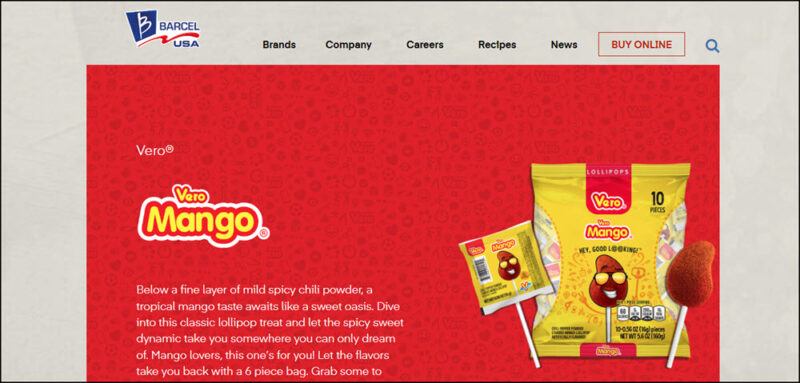 These are some of the most famous Mexican candies on the market. They're also surprising, as they're basically a mango flavored lollipop that's been covered in chili powder.
The chili provides some spice without being too overwhelming. It also adds an interesting sweet-sour flavor contrast that often goes down well.
The candy isn't for everyone, but it's worth trying once or twice. You might be one of the many people who loves these.
Moko Moko Moklet
Have you ever wanted to eat candy out of a toilet? It's a strange idea, yet Moko Moko Mokolet actually allows you to build a tiny plastic toilet bowl and fill it with foaming candy.
There are even stickers provided that allow you to customize the toilet. It's a lot of work and waste for a little candy, but the tiny toilets could be a popular gift.
C. Howards Violet Mint Candy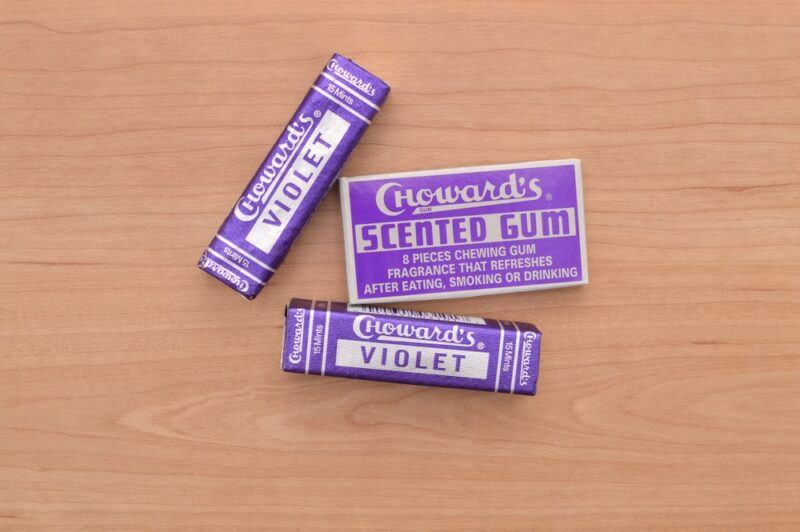 This candy is surprisingly common in New York, although you might never have noticed it before. The strangest thing is the scent, as these end up smelling much like lavender soap. Not something you want to be putting in your mouth, right?
The flavor isn't as bad as the scent. Even so, there are plenty of better and more exciting candies out there.