What's a better way to combine your adulthood and childhood than with candy flavored alcoholic drinks? Seriously. You get plenty of fun flavors, many that you remember from your own past, plus the twist of having booze at the same time.
There are already many dessert cocktails out there, including those that rely on candy flavors. You might see other examples pop up on lists of cocktails, particularly vodka cocktails, as vodka is such an easy spirit to work with.
This time though, we're not going to give you cocktail recipes. After all, you don't need a recipe to make a delicious drink, you just need good ingredients. The rest can come from your imagination.
Instead, this post focuses on the alcohol that you can use to build your drink. Some of the entries will be familiar, while others may be unexpected. Don't worry though, they're all delicious. Sometimes you can even skip the cocktail entirely and sip the alcohol straight or serve it on the rocks.
P.S. If you're a fan of candy, why not join a candy of the month club or perhaps hunt out some exotic candy? You might even be able to incorporate some of these treats into your cocktails.
Candy Flavored Alcoholic Drinks
Cotton Candy Vodka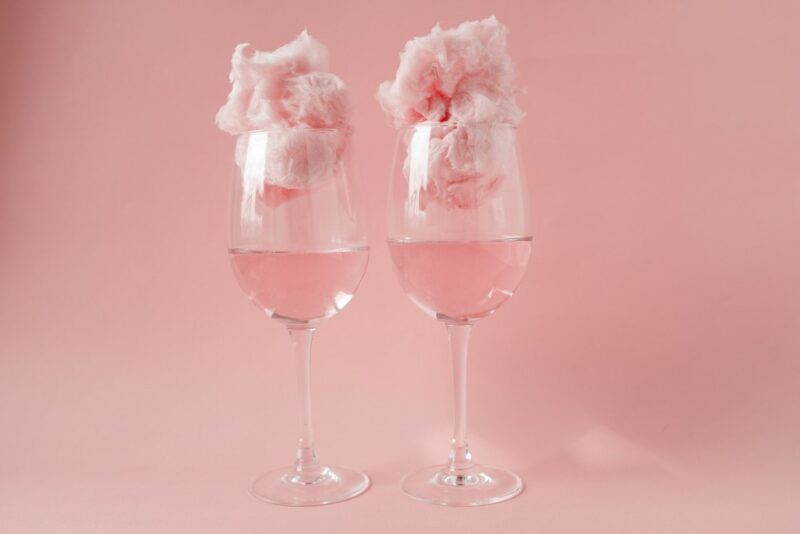 Vodka is the classic choice for flavored alcohol. After all, the base spirit has very little flavor of its own, so any added flavors can easily shine through.
While cotton candy vodka is relatively rare, the company Pinnacle does a delicious version. It carries with it the sweetness of sugar, along with a clean smell and a smooth finish.
Reviewers suggest that this vodka works well in simple drinks, like mixing it with lemon lime soda or club soda.
Caramel Vodka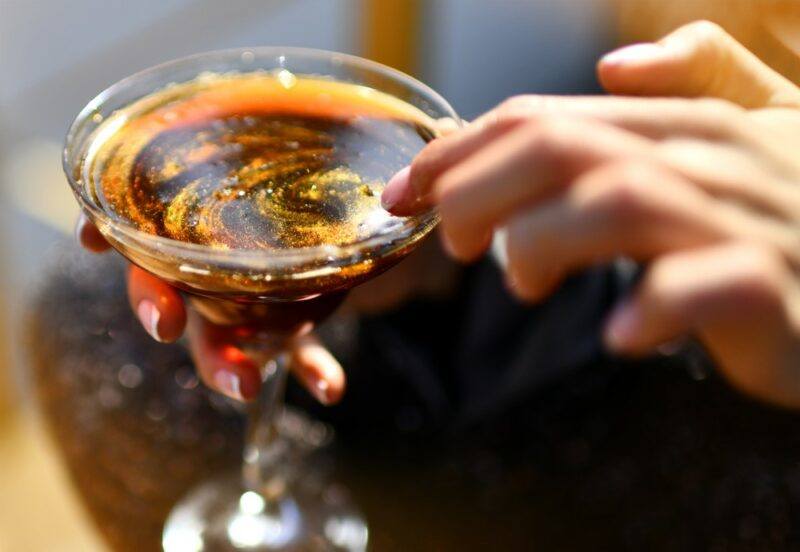 Caramel vodka should be a more familiar option and there are plenty of delicious expressions to try. Given the recent popularity of salted caramel, it shouldn't be surprising that many of these expressions use salted caramel. However, there are some plain caramel versions to be found as well, if you're willing to do some hunting.
Smirnoff Kissed Caramel is often a good place to begin. This expression is easy to find and offers some sweetness, without being overwhelming. It's an excellent addition to warm cocktails and works well in most fall drinks as well.
Don't be afraid to experiment with other brands too. Some have richer caramel flavors than others. The products also vary in their levels of sweetness, making them useful in different situations.
Caramel Liqueur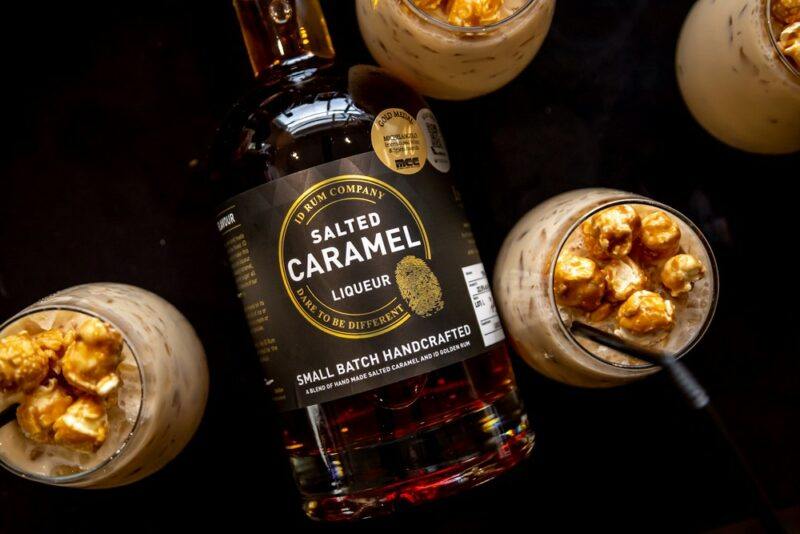 Liqueur is infinitely versatile. It can be made using any type of spirit as a base and can feature plenty of different flavors. This is why caramel liqueurs are often so different from one another.
For one thing, you'll see caramel versions of old classics. Kahlua, for example, has a salted caramel version. The drink still uses Kahlua's coffee liqueur as a base, giving you a delightful combination of coffee and caramel flavors.
There's a salted caramel version of Baileys too, along with salted caramel products from other Irish cream brands, like O'Mara's. Or, for a different approach, you could try Godiva Caramel Liqueur, which combines caramel with chocolate flavors.
There are doubtless other types of caramel liqueur out there for the tasting as well. Making good cocktails from them will take some experimenting, as the various caramel liqueurs can have vastly different flavor profiles. A liqueur that uses Irish cream and caramel, for example, won't work in all the same drinks as a chocolate-based caramel liqueur.
Still, experimenting is half the fun when it comes to building cocktails.
Candy Infused Vodka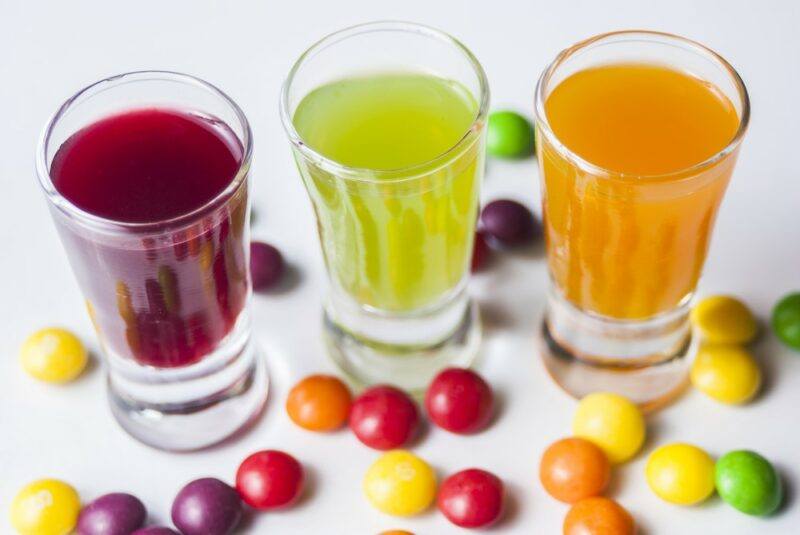 If you have a specific flavor that you want, why not infuse it into vodka yourself? You can easily make options like Jolly Rancher vodka, Skittles vodka, and Starburst vodka.
In most cases, you'll be separating out the candy by color. So, you might make one bottle of blue Jolly Ranger vodka and another with green Jolly Rancher vodka. You could theoretically combine all the flavors together, but the resulting vodka probably wouldn't taste that good.
Jolly Rancher vodka is actually a good place to start, as you're working with a hard candy that doesn't have a waxy coating. You don't need to skim anything off the infusion or even filter the vodka.
If you're trying a different type of candy infused vodka (and there are countless options to try), look for a recipe to get you started. This is important, as there are extra steps or things to consider to make sure your drink ends up tasting good.
Marshmallow Vodka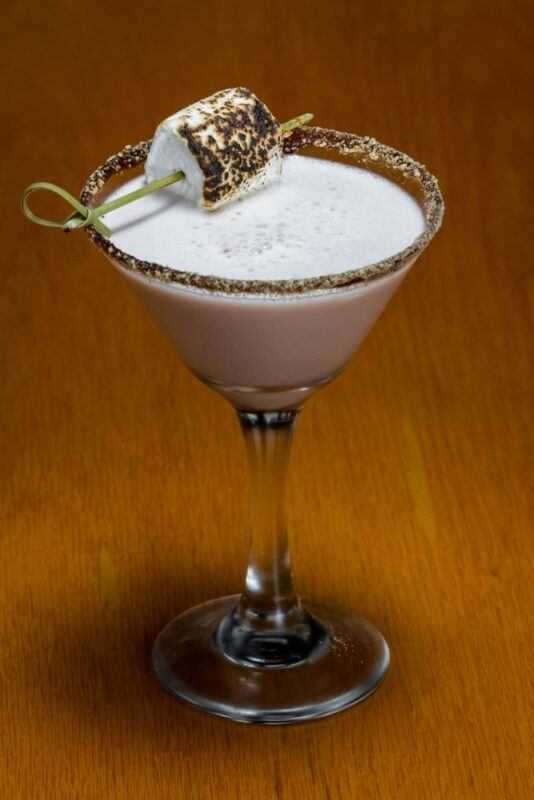 Marshmallow isn't the most common flavor in vodka. But, why not?
Pinnacle is one brand that offers marshmallow vodka. Their version relies on French vodka as the base, vodka that is produced in small batches and has been quadruple distilled.
Smirnoff too has entered the marshmallow vodka game, with their Smirnoff Fluffed Marshmallow Vodka. The base vodka has been triple distilled, then filtered ten times, for optimal smoothness.
Smirnoff's version doesn't just include marshmallow, as there are also notes of vanilla and caramel – creating a flavor profile that's reminiscent of s'mores. You can use the vodka to create a s'more cocktail, by including ingredients like Irish cream liqueur or chocolate liqueur, and chocolate syrup.
For something even simpler, try combining the vodka with orange juice. This gives you a creamsicle-like flavor with barely any effort on your part.
Beckford's Rum And Caramel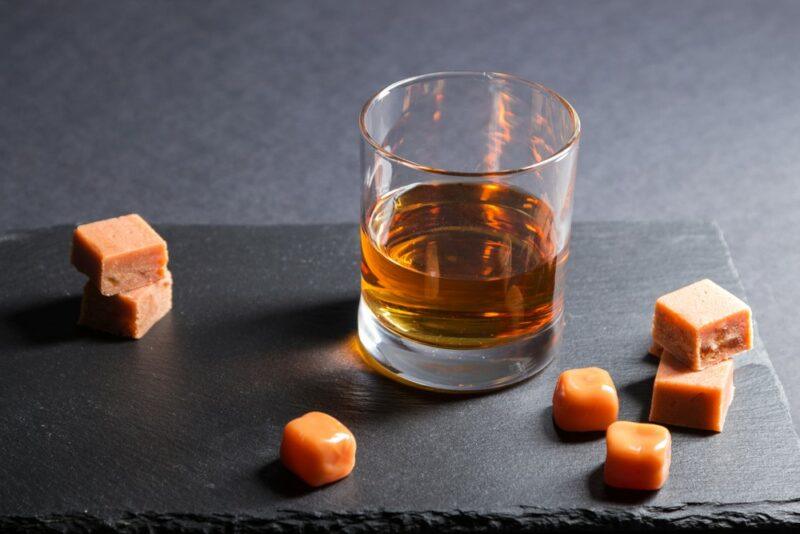 Here's something a little different. Beckford's Rum and Caramel is a blended drink, with an ABV of 25%. It combines the flavors of white rum, salted caramel, and a little orange juice, to give you a truly delicious treat.
The flavor profile is interesting and complex enough that you could easily sip this drink on its own. Try serving it on top of ice cream for some extra depth.
Chocolate Liqueur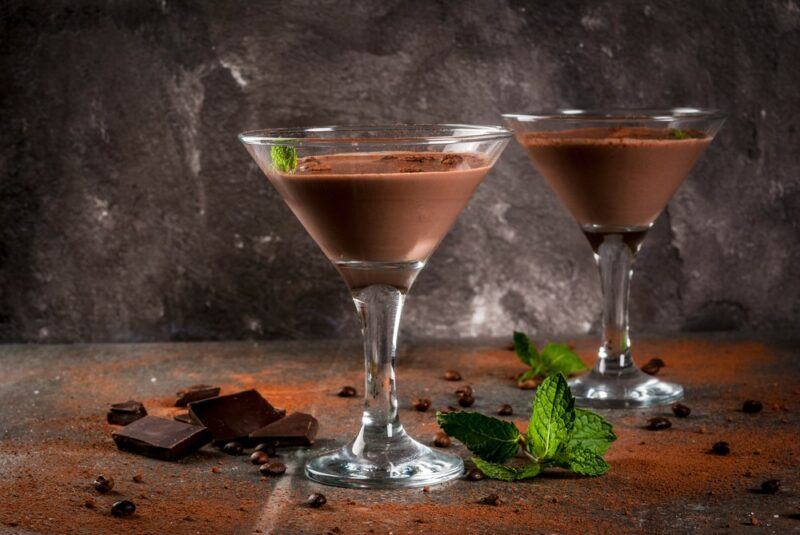 Chocolate liqueur is one of the most famous entries on this list. The trick is finding a good product, as there are so many different ones to choose from.
Patron, for example, offers a dark chocolate version that uses silver tequila as the base and includes coffee, along with chocolate, and vanilla. Then there's Dorda Double Chocolate Liqueur, which uses vodka as the base, along with dark chocolate and milk. This one is an incredibly rich expression, as it uses twice as much dark chocolate as vodka.
Those are just two examples, but they highlight some common themes. For example, chocolate liqueur often includes coffee flavor notes. While coffee and chocolate are delicious together, this flavor combination isn't everyone's preference. Vanilla often features in chocolate liqueur too, as this helps to balance out the chocolate flavor.
There are also differences in how sweet the chocolate liqueur is, along with the richness. The best trick is to experiment for yourself. Look for brands with good reviews, then try one to see whether you enjoy it. After all, reviews will only ever take you so far.
White Chocolate Liqueur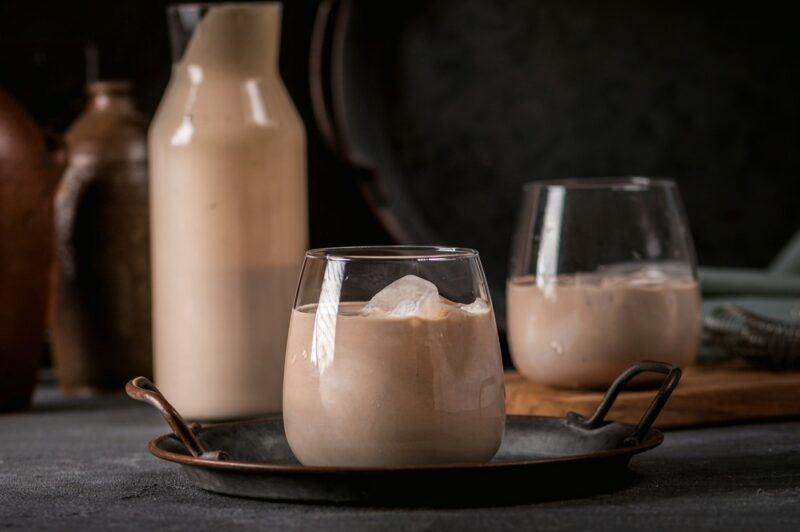 Chocolate liqueur generally relies on milk chocolate, but this isn't always the case. Some versions use white chocolate instead, like Sheelin White Chocolate Liqueur.
The idea is fantastic. After all, sometimes you just want a subtle flavor in your drink, rather than all the richness that comes with regular chocolate liqueur.
The Sheelin expression uses Irish whiskey as a key ingredient, which perfectly balances out the sweetness of the white chocolate. This is ideal, as white chocolate can easily end up being too sweet.
Why not experiment and use white chocolate liqueur in a cocktail that normally uses regular chocolate liqueur, like a chocolate martini or a chocolate margarita? Using white chocolate liqueur will change the flavor profile somewhat, but almost always in a good way.
Vanilla Vodka

Some candy and desserts use vanilla as the main flavor. Other times, vanilla is used to make the sweet treat even more delicious. Vanilla and chocolate is a classic example, where the vanilla helps to balance out the chocolate and make it seem less overwhelmingly sweet.
It's not surprising then that vanilla vodka is incredibly popular. The flavor is often strong enough to stand out when used as part of a cocktail, but subtle enough to not overpower the other ingredients.
The best versions make sure that their vanilla flavor is aromatic, authentic, and isn't overly sweet. To do so, companies often focus on using real vanilla beans when creating the vodka, rather than artificial flavors.
Smirnoff and Absolut both offer a vanilla version, where the vodka tastes exactly as you might expect. While the vodka can be sipped on its own, it really shines when used as a cocktail ingredient.
Try combining vanilla vodka and orange juice to make a vanilla orange creamsicle. You won't be disappointed. Vanilla vodka also works well in a white Russian or a chocolate martini.
Vanilla Rum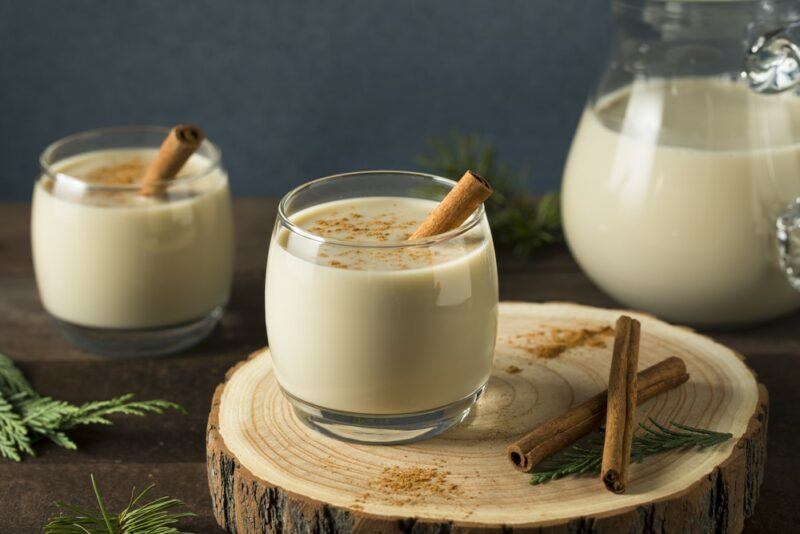 Vanilla is common in rum too. In fact, many spiced rums use vanilla in their flavor profile, even if they're not billed as being vanilla rum.
The trick is to look for rum expressions that use vanilla beans rather than artificial flavors. You can check out reviews as well, to find products where the vanilla flavor truly shines. There are even a few delicious products like Blue Chair Bay Vanilla Rum, where the vanilla is significant enough to feature on the label.
Of course, rum has a much stronger flavor than vodka, so the vanilla will never show through as much as it does for vanilla vodka. Still, the added complexity doesn't need to be a bad thing.
Baileys Red Velvet Cupcake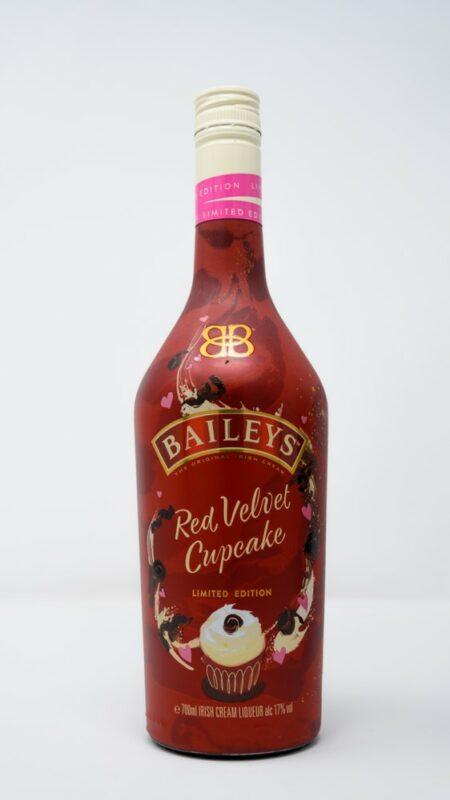 Here's a delicious and unusual choice. Baileys Red Velvet Cupcake is indeed designed to taste like a red velvet cupcake. It's a limited edition flavor, so you might struggle to find it. Still, it's well worth trying out. Few drinks taste like dessert out of a bottle quite like this one.
That said, this is a drink to enjoy slowly and in small amounts. Like many dessert drinks, Baileys Red Velvet Cupcake often ends up relying a little too much on sugar and chocolate, and not enough on the whiskey.
Some people get around that problem by using the liqueur in baking or as part of a cocktail. Combining it with vodka, for example, gives you a red velvet martini, one that contains more alcohol and is less overwhelmingly sweet than the Baileys on its own.
Strawberries And Cream Liqueur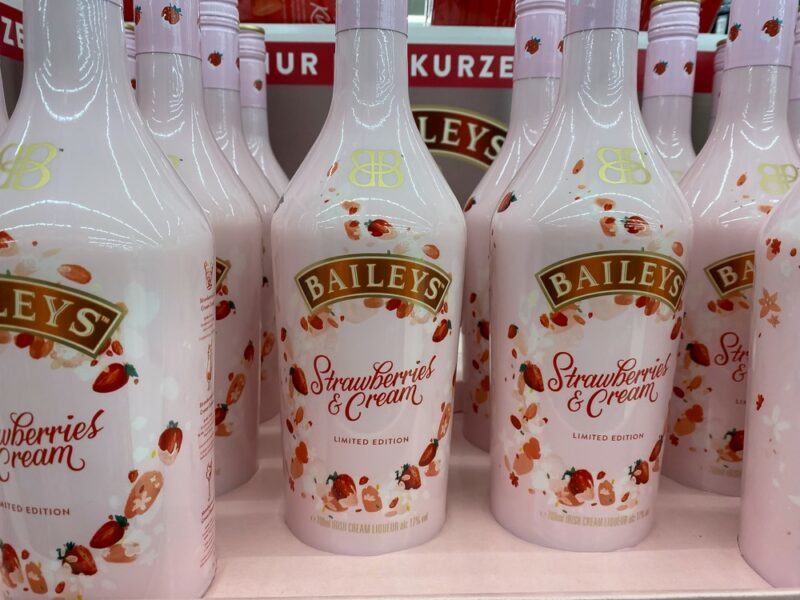 You may have seen Baileys Strawberries & Cream as well. Like the red velvet version, this drink still has the underlying taste of Irish cream. This time, strawberries and vanilla feature as well.
The drink even has a light pink color, making it a fun liqueur to serve at parties. Reviews suggest that this is a sweet and creamy drink, one that works well on its own or in cocktails.
Some other brands produce strawberries and cream flavors as well, like a strawberries and cream flavored gin liqueur. However, strawberries and cream isn't a common flavor, so you'll need to do some shopping around to find it.
Butterscotch Schnapps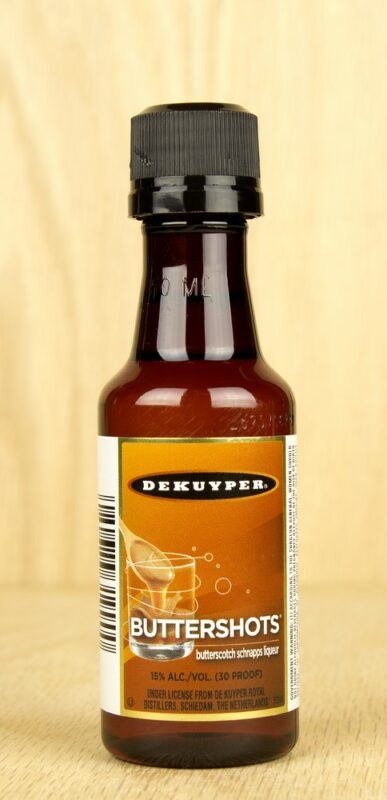 Who doesn't love butterscotch? It's such a rich and delicious flavor, often made using a combination of brown sugar and butter.
While you can drink butterscotch schnapps on its own, the liqueur is even more enjoyable when included in a cocktail or as part of a layered shot. If you're making a shot, expect the schnapps to end up as the bottom layer, as it is often very sugary, which makes it heavy.
In cocktails, butterscotch schnapps is often combined with ingredients like cinnamon and apple. You'll sometimes see cream liquors used as well. For example, you can make a simple layered shot using butterscotch schnapps and Baileys Irish Cream.
Hazelnut Liqueur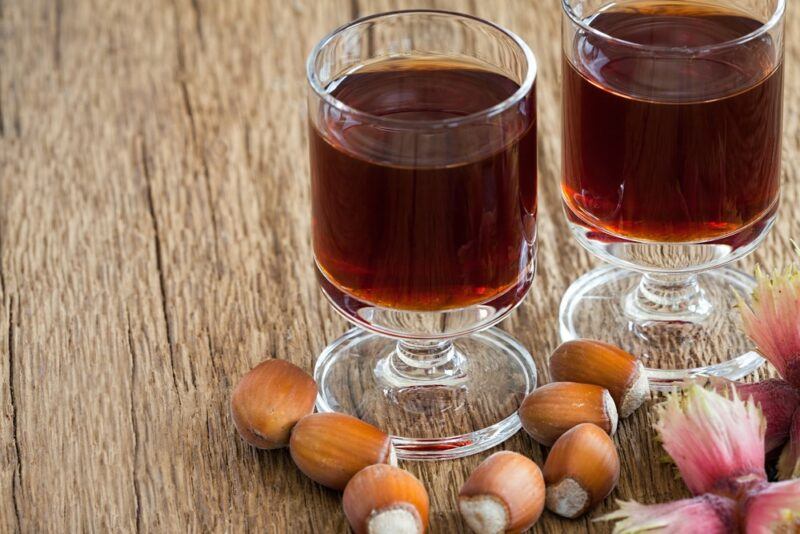 The flavor of hazelnuts often features in desserts and candy, making hazelnut liqueur a great addition to your liquor cabinet. The most well-known expression is Frangelico Hazelnut Liqueur, which is an Italian product that includes vanilla, coffee, and cocoa extracts. These extracts all add complexity to the drink, making it all the more delicious.
Another option is Drago Hazelnut Liqueur. This company keeps things simple and the flavor of hazelnuts dominates the liqueur.
It's even possible to make your own hazelnut liqueur, using brandy and vodka as the base ingredients. Doing so takes a decent amount of work, but you do end up with a delicious liqueur. It might make an excellent holiday gift.
Chocolate Gin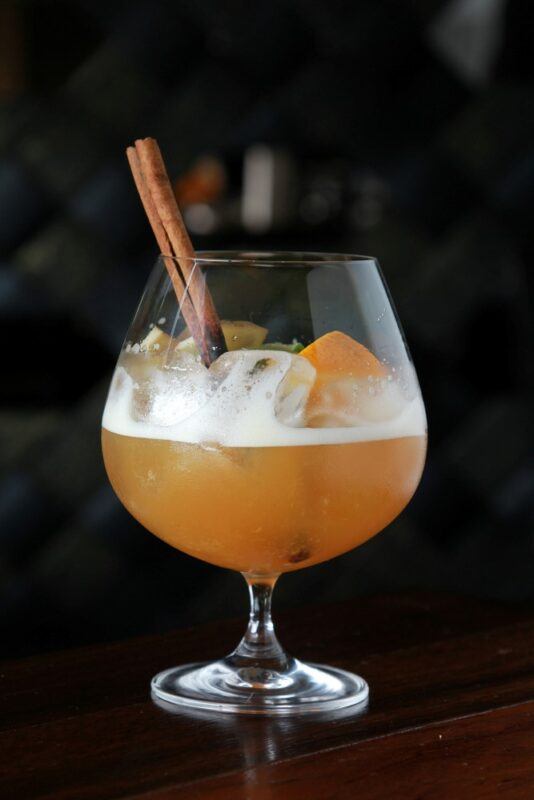 Chocolate and gin aren't normally combined, but that hasn't stopped some companies from trying their hand at the idea. One version is Dancing Sands Chocolate Gin, which includes tea and juniper botanicals, along with the underlying chocolate flavor. It's certainly an unusual gin, but one that's worth trying at least once.
Lee Spirits offers a cocoa gin that looks amazing. It's made using the company's dry gin and organic cocoa nibs. The resulting gin is dark brown in the bottle, complex, and delicious. The company recommends using it to make cocoa versions of regular cocktails, like a cocoa old fashioned or a cocoa negroni.
Chocolate Vodka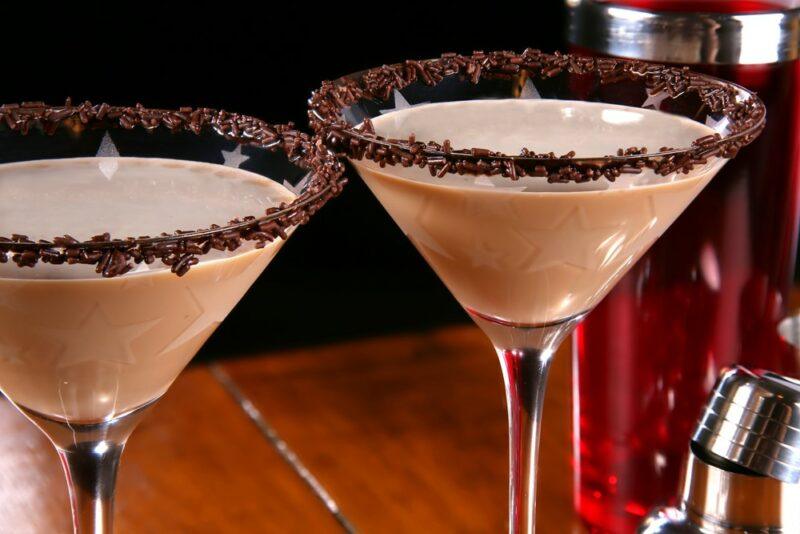 If chocolate gin is a thing, then it would be surprising if chocolate vodka wasn't. Most products are exactly what you'd expect, clear vodka with underlying chocolate flavors. Pinnacle offers one version and Mozart offers another.
There's even a chocolate whipped vodka from Pinnacle, which attempts to combine the flavors of chocolate and whipped cream.
To be honest, chocolate vodka isn't as amazing as it seems. Many people opt for chocolate liqueur instead. Still, chocolate vodka could be a fun choice if you feel like experimenting a little.
Salted Caramel Gin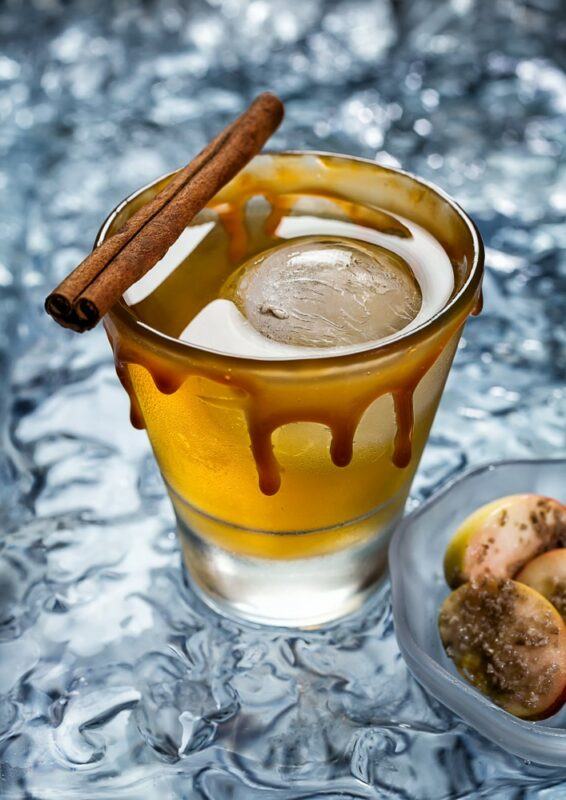 Want to jump on the salted caramel bandwagon? If so, salted caramel gin is an excellent place to begin. You get the classic salted caramel flavor, combined with the botanicals of gin. That fusion gives you a truly complex spirit that can be sipped or used in cocktails.
You can also find liqueur versions, like Aldi's Salted Caramel Cupcake Gin Liqueur (which reviews say tastes much like biscotti). Liqueurs like this tend to have a lower APV than regular gin and may have more complex flavors. The lower ABV isn't necessarily a bad thing though, as it helps to make the drink more accessible.
Gingerbread Vodka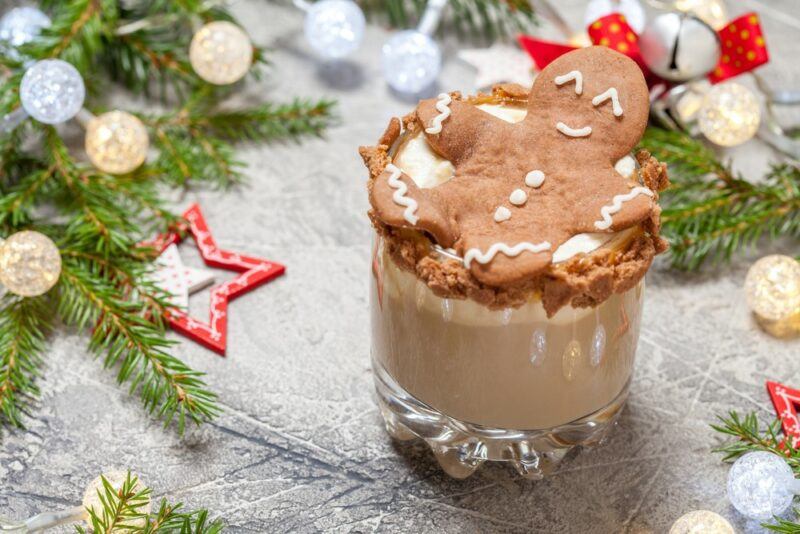 Who can say no to gingerbread? It's such a delicious flavor and one that's perfect for fall. A few brands do produce gingerbread vodka, although these are few and far between.
Thankfully, you can easily make your own version by infusing vodka with ginger and cinnamon. Really, it's that simple. When doing so, make sure that you begin with a neutral vodka, so the flavors of your infusion really shine through.
Gingerbread Liqueur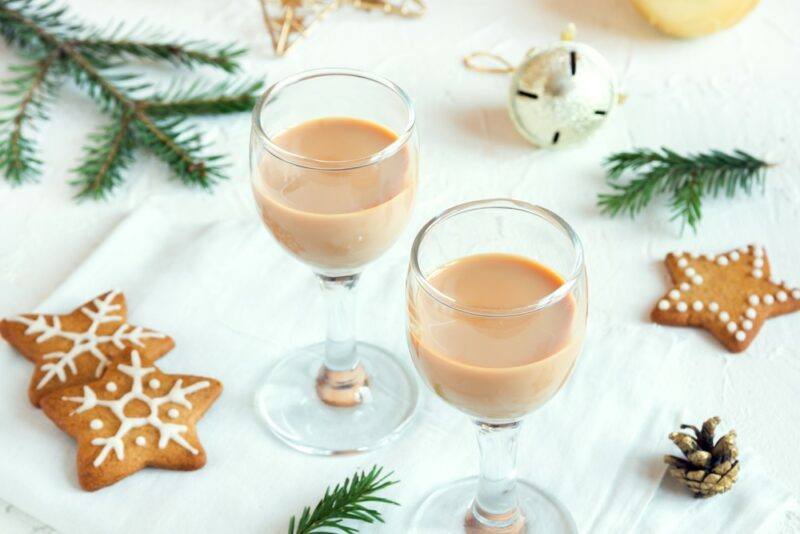 You can also turn to gingerbread liqueur, which is much easier to find that gingerbread vodka. Seriously, Trader Joe's even offers a version and it gets surprisingly good reviews.
Kahlua has offered a limited release version of gingerbread liqueur as well. As you might expect, that one maintained a strong coffee flavor. There's no need to rush out for that version, it wasn't well-reviewed and probably won't come around again.
The idea of seasonal drink flavors is taking on, so you may see other companies offering their own gingerbread versions (like Baileys, perhaps?). There's even been a Captain Morgan Gingerbread Spiced Rum before.
Baileys Apple Pie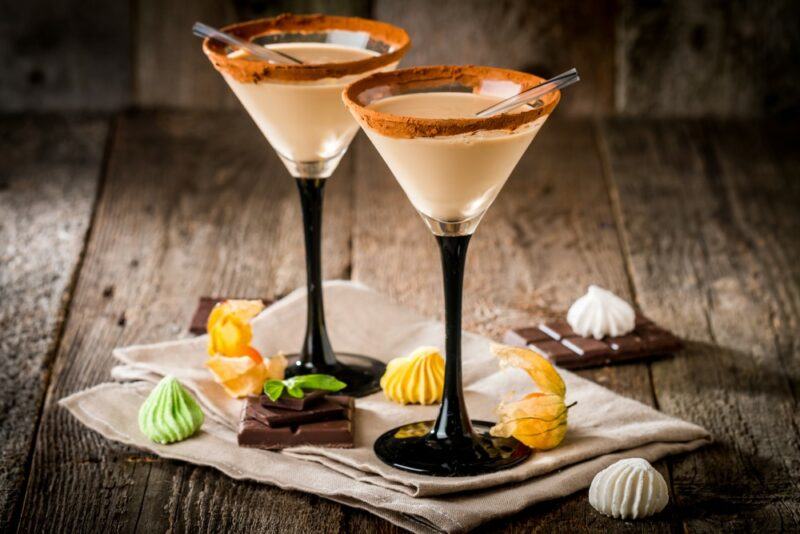 Baileys is a dessert drink all on its own – and the company seems to love creating flavor variations for every occasion, including Baileys Apple Pie. The flavor doesn't need much introduction, as everything you need to know is in the name. There are flavors of apple, cinnamon, vanilla, and Irish cream, to give you the taste of apple pie with ice cream – in your glass.
Honestly, could anything taste more like fall than this?
You don't even need to make a cocktail with this one, simply pour it over ice and sip away. Or, why not make an easy dessert by serving the liqueur affogato-style, poured over ice cream?
Whipped Cream Vodka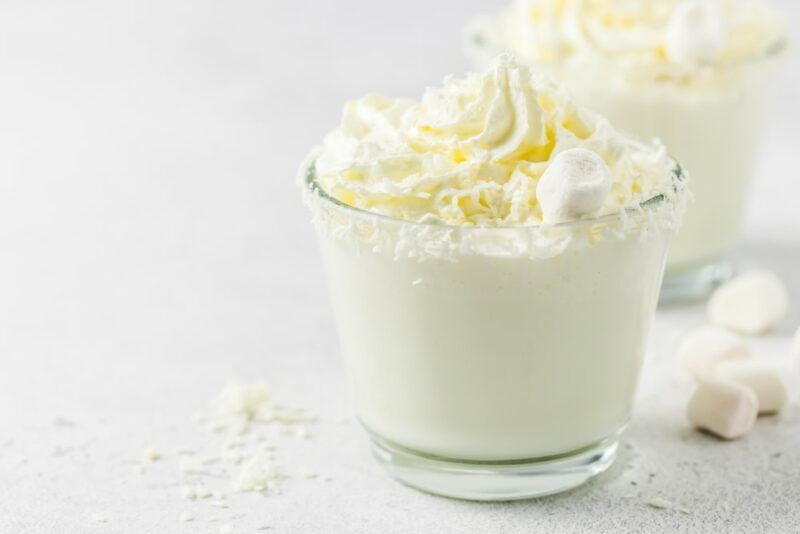 We've already talked about cotton candy and marshmallow vodka, so whipped cream vodka shouldn't be surprising at all. The trick is to choose your products carefully, as some companies rely on artificial flavors or create excessively sweet drinks.
Thankfully, some reliable brands offer whipped cream vodka, including both Pinnacle and Smirnoff. Smirnoff's version is particularly good for cocktails, as it is sweet and creamy, with no complex flavors, so it mixes well with plenty of ingredients.