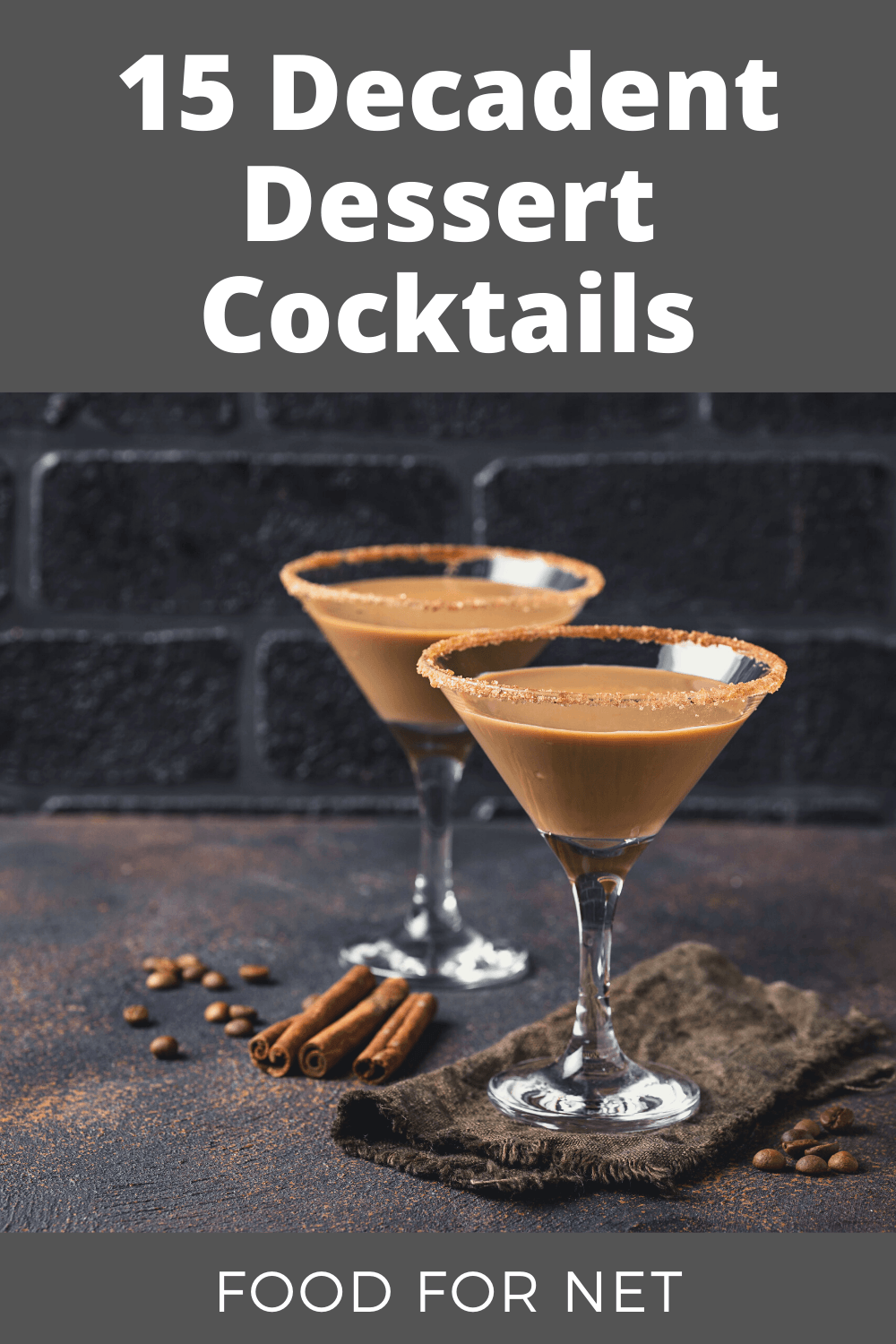 The heaviness of desserts can often be somewhat overwhelming after a decent dinner, yet avoiding dessert entirely might not feel right either. Most of us love having something sweet to finish the night off. Dessert cocktails are a fantastic way to do this, as they're much lighter than a regular dessert.
Plus, there are many different dessert cocktails to choose from. Some of these rely on chocolate and cream to create something that is rich and decadent. Others take a simpler approach, perhaps by relying on liqueurs.
A few of them aren't even creamy at all. These cocktails rely on other dessert-like flavors and ingredients instead, like mint or caramel tones.
In this list, we're focusing on some of the classic dessert cocktails, along with some modern variations. There are, of course, many other versions out there. You can even use the cocktails on this list as a starting point. They will give you an idea of the types of ingredients and combinations that you can use.
If these cocktails don't quite do it for you, you can check out our other lists, like fruit-based cocktails, summer cocktails, and even shots.
Dessert Cocktails (With Pictures!)
Chocolate Martini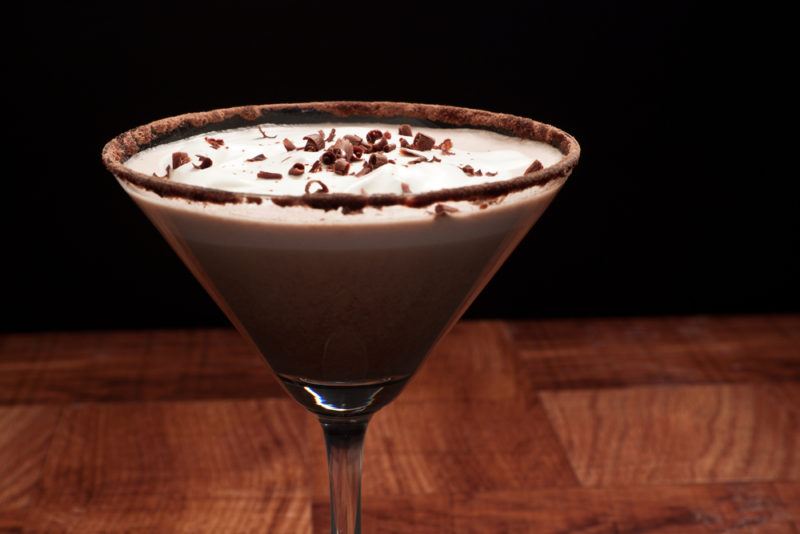 For something truly decadent, what about a chocolate martini? One version of this recipe can be made using three parts of chilled vodka, three parts white crème de cacao and one part dark crème de cacao.
The vodka and white crème de cacao are shaken together with ice in a cocktail shaker. The dark crème de cacao is placed in the bottom of a cocktail glass and then the strained mixture from the shaker is poured over the top.
Other versions rely on vanilla vodka, chocolate liqueur, Baileys and/or half and half. The rim of the glass is often dipped in chocolate syrup too. You could even drizzle syrup along the sides of the glass for even more chocolatey goodness.
Toblerone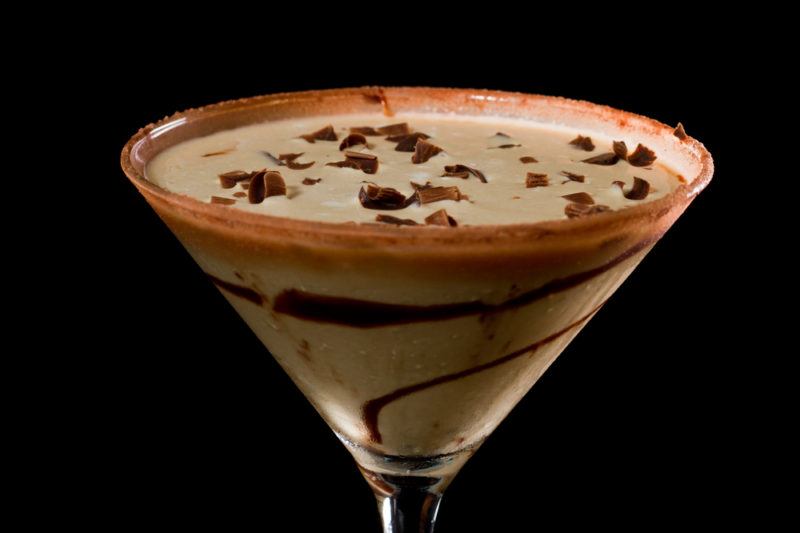 A Toblerone cocktail is another decadent example. This one uses brandy as the spirit of choice. Other alcoholic ingredients are included too, such as Kahlua, Cadbury Cream, Baileys Irish Cream, and even schnapps.
Cream is included too, creating a drink that is rich and dessert-like. You'll often find the cocktail served in a glass with chocolate sauce along the rim or down the sides.
The ingredients can be easily changed up too. For example, some versions use white crème de cacao and Frangelico. There is no single way to make the drink, as you're just mimicking the flavors of a Toblerone. Plenty of ingredient combinations will have a similar effect.
Bushwacker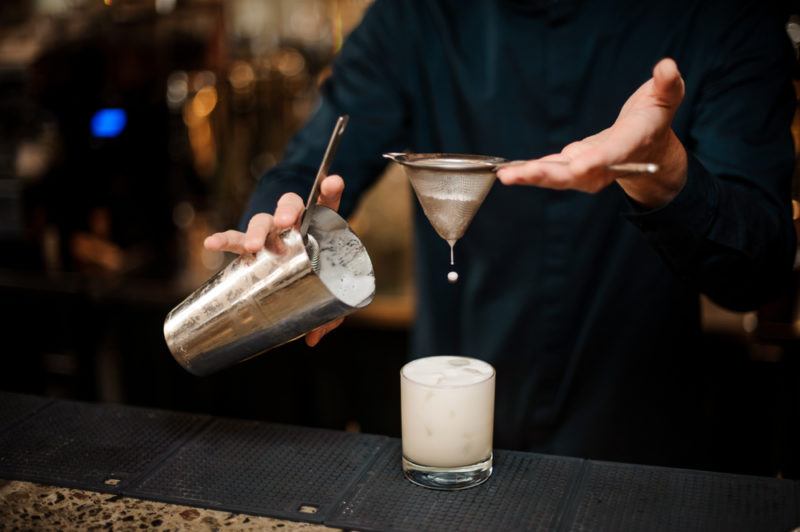 This cocktail is ideal if you want something that is sweet, but not overbearingly so. The cocktail relies on dark rum, Kahlua, and crème de cacao, along with coconut cream and full fat milk.
These ingredients are blended together with ice until you get a milkshake-like consistency. The cocktail ends up having flavors of coconut, chocolate, and coffee, not to mention the spicy undertones that come from the dark rum.
Mudslide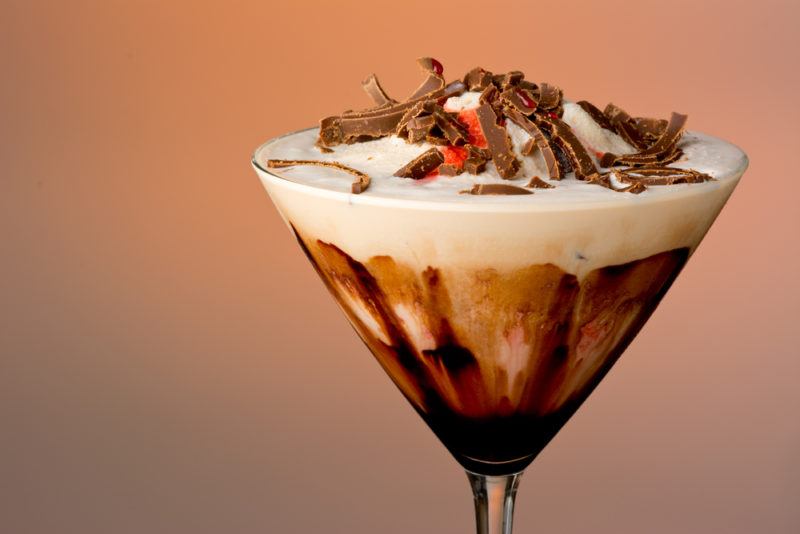 At this point, mudslide has become a generic name for milky dessert-like cocktails. There is no single recipe to follow and the recipes that are out there tend to be vastly different than one another.
A simple approach to start off with relies on vodka, Kahlua, and Bailey's Irish Cream, in roughly equal proportions. This combination creates a creamy drink that isn't excessively sweet.
While you can get extravagant with the presentation, doing so isn't necessary. The cocktail tastes just as good when you present it simply. The simple presentation can even be better in some ways, as the flavors of the cocktail get a chance to shine.
Grasshopper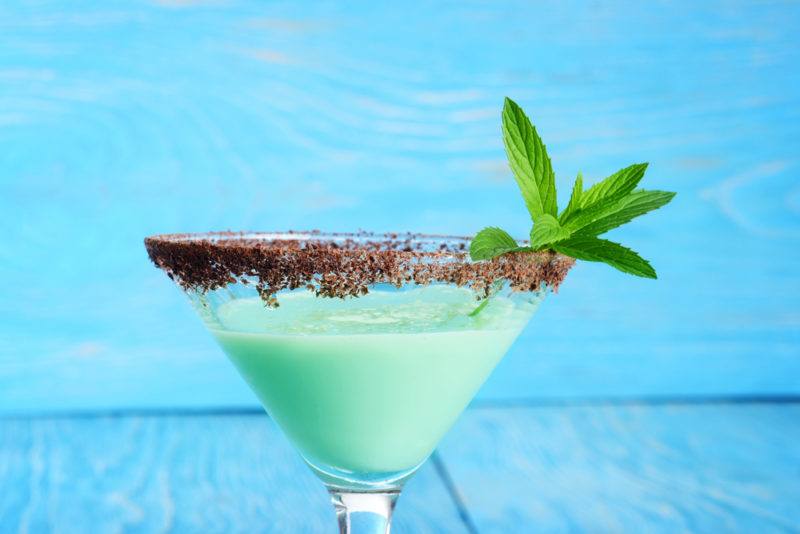 The grasshopper shows that dessert cocktails don't all need to follow the same style. This one relies on green crème de menthe as a key ingredient, which is what provides the green color and mint flavoring of the cocktail.
Equal parts of white crème de cacao and heavy cream are included as well.
The ingredients are typically combined in a cocktail shaker and shaken over ice, then strained into a cocktail glass. A sprig of mint is the most common garnish, which seems perfect given the flavors of this cocktail.
White Russian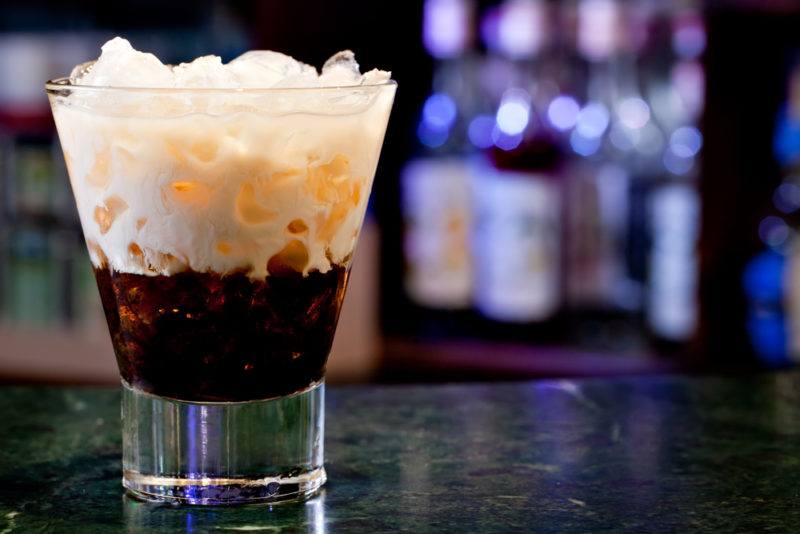 A white Russian could be a good choice if you want a dessert cocktail that isn't too intense. The drink relies on vodka, Kahlua, and cream. This combination of ingredients creates a creamy coffee drink.
This could be perfect if you want a relaxing creamy drink at the end of the day. Plus, the cocktail is only using a coffee-flavored liqueur rather than coffee itself, so it shouldn't leave you buzzing.
Tequila Don Coco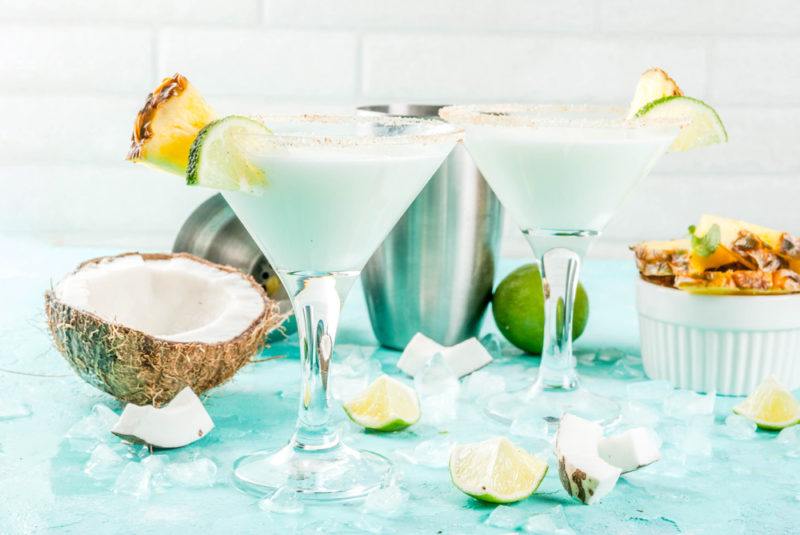 This fun recipe uses tequila as the spirit of choice, along with equal parts of coconut liqueur and cocoa liqueur. The use of just three ingredients makes this an easy cocktail to prepare at the drop of a hat.
There are no complicated steps either. Simply stir the ingredients together with ice, strain, and then serve. The end result is a delicious cool drink that takes full advantage of the flavors of tequila.
Dulce de Tequila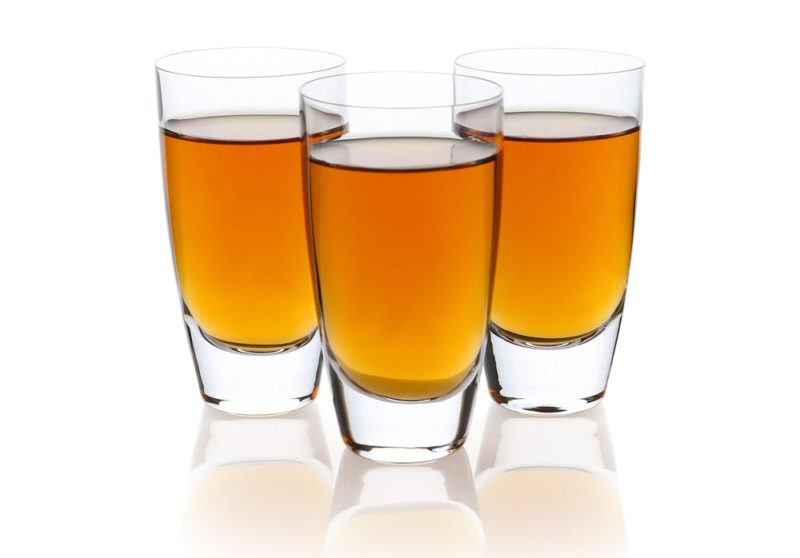 Here's another tequila option. The cocktail name actually translates tequila candy, yet the cocktail isn't even all that sweet. Instead, it has a pleasing balance of flavors that serve to make the drink dessert-like without being overwhelming.
There are three alcoholic ingredients: tequila, cognac, and orange liqueur. Agave nectar and lime juice are the other key flavors, with the agave providing sweetness and some engaging flavors, while the lime juice offers a sharp contrast.
Brandy Alexander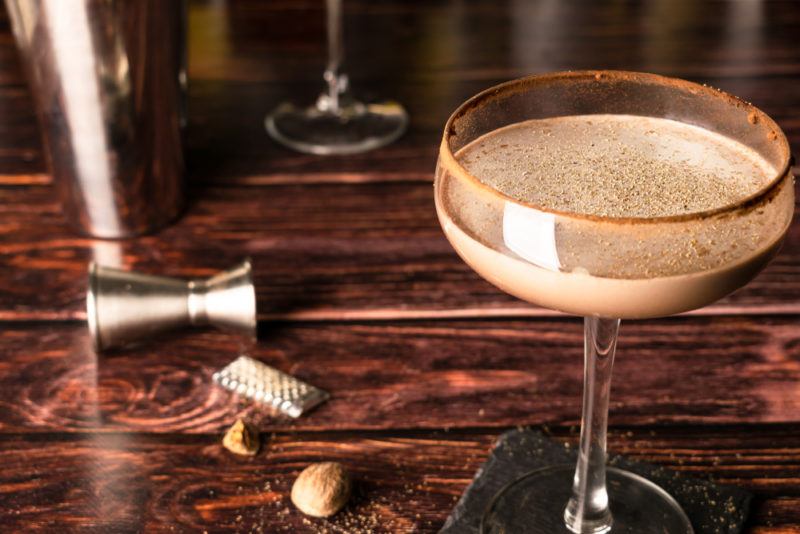 A brandy Alexander is a simple dessert cocktail, as it just relies on three ingredients, cognac, dark creme de cacao, and fresh cream. Equal parts of each ingredient are shaken together over ice and then strained into a cocktail glass.
The cocktail is delicious and creamy without being overly chocolaty. This balance can make the cocktail more appealing than some of the excessively sweet dessert cocktails on this list.
You can also change the balance of ingredients slightly. For example, some people include more brandy than cream and crème de cacao. A lighter version of the drink can be made by replacing the cream with milk.
Tiramisu Martini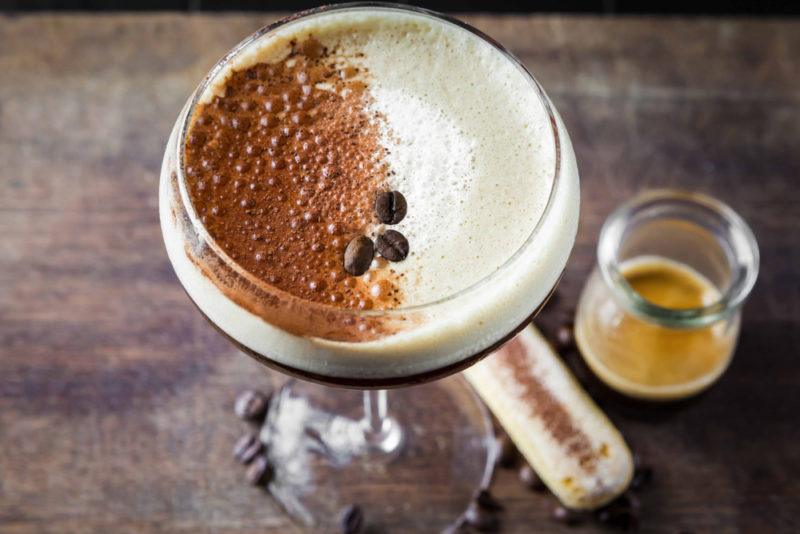 This cocktail is designed to mimic the flavors of a tiramisu dessert – and does a fantastic job at achieving the goal. There are, of course, many versions of the cocktail and plenty of flexibility in the ingredients that you use.
One version relies on equal parts RumChata, Kahlua, chocolate liquor, and heavy cream. The cocktail can be served as-is in a cocktail glass or with garnishes. Ladyfingers, chocolate shavings, whipped cream, and ground cocoa are all possible garnishes. However, you probably wouldn't use them all at the same time.
Needless to say, this drink isn't really a martini variation at all, but the name is so common that there really is nothing else to call it.
Banana Cream Pie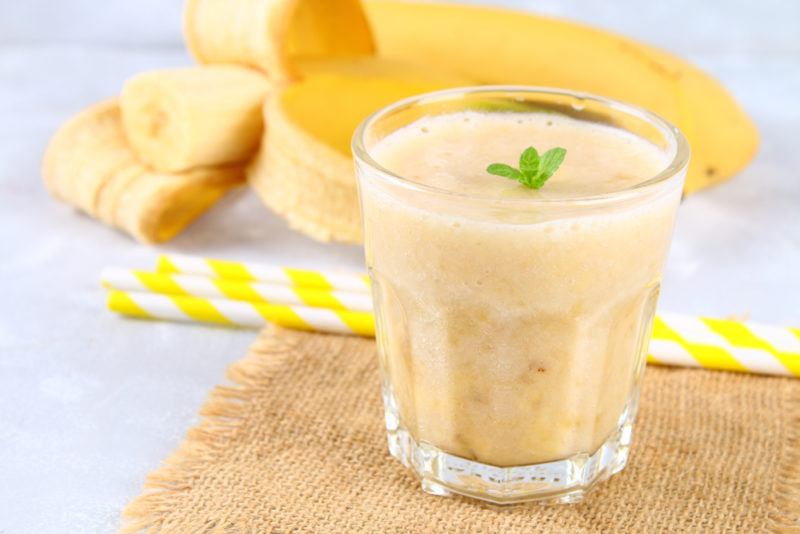 Let's move away from chocolate for a little and talk about a banana cream pie cocktail. This is often called a martini too, perhaps because it is served in a martini glass.
The cocktail relies on RumChata, which is a cream liqueur, along with banana liqueur. Relying on two liqueurs like this creates a mild cocktail, where the alcohol content is relatively low.
If you find the alcohol content to be too low, try adding in a shot of rum or vodka. Flavored versions can work too, such as vanilla vodka.
To make the banana cream pie cocktail extra special, try using crushed graham crackers along the rim of the glass. While this step does involve more effort, the end result certainly makes the drink stand out.
Lemon Drop Martini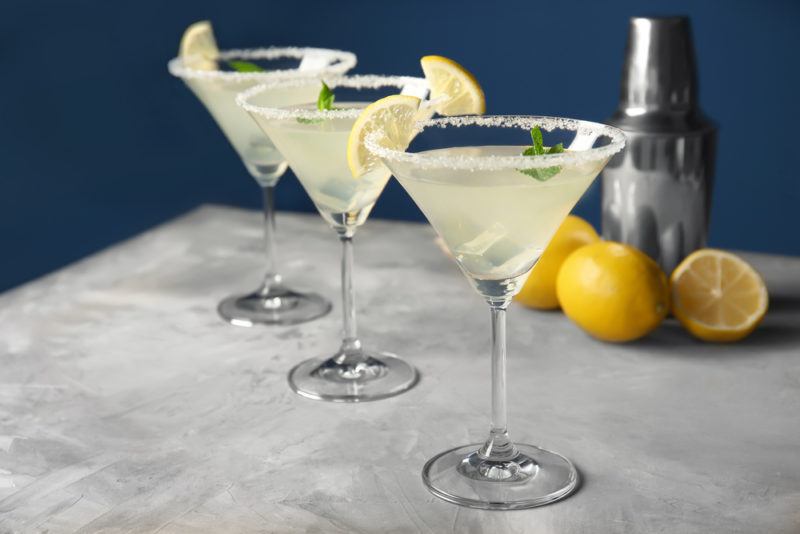 A lemon drop martini uses a delicious combination of sweet and sour, creating a treat that plays on the tongue. The cocktail relies on vodka as the main spirit, along with either triple sec or Cointreau for an extra boost.
Simple syrup is included for sweetness and fresh lemon juice is present too. Using fresh lemon juice is an important part of this cocktail. Bottled lemon juice just doesn't have the same bright flavor that you need.
The drink is traditionally served with a sugar rim. This rim enhances the sweet and sour balance. You can take the idea one step further by rubbing some lemon zest into the sugar, which makes it slightly yellow and provides a lemony flavor.
Pumpkin Spice Martini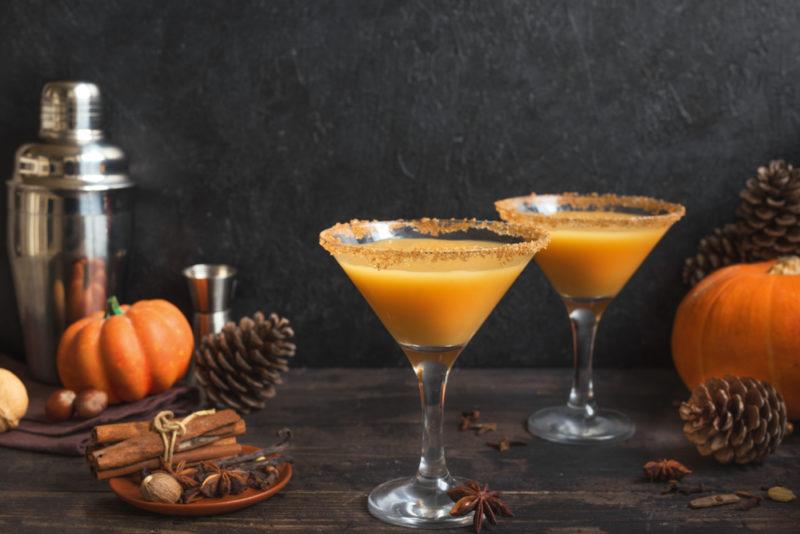 Here's a great seasonal dessert cocktail. There are many different versions to the drink and plenty of differences between them. The main common feature is that most pumpkin spice cocktails are creamy and use pumpkin spice flavors.
Vodka is the most common spirit of choice, although some recipes add in rum as well for additional complexity. The pumpkin flavor often comes from the use of pumpkin pie spice, pumpkin puree, or perhaps both.
Some recipes increase the pumpkin flavor still further by relying on ingredients like pumpkin liqueur or pumpkin pie vodka. Spices might be added into the mix as well, along with cream and some type of sweetener, such as maple syrup.
With so many recipes out there, it's worth taking the time to try out a few of them. This way you get a sense of the changes that can be made to the recipe and learn which versions you like the best.
White Chocolate Grasshopper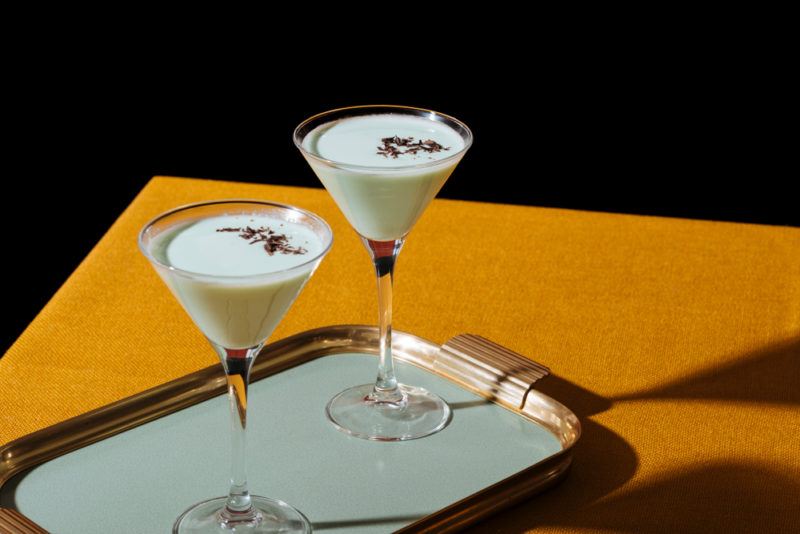 We mentioned the grasshopper earlier in this list, which has an interesting green color and a strong mint flavor. The white chocolate grasshopper, or white grasshopper, follows similar themes, but uses different ingredients. While the cocktail still has a notable mint flavor, it is white instead of green and has other aspects to the flavor profile.
A simple way to make this cocktail is with equal parts white crème de cacao, cream, and acqua bianca liqueur. Acqua bianca liqueur is clear and has a strong peppermint flavor, along with aromatic notes. This liqueur provides complexity to the finished drink.
As with other similar cocktails, you can make a lighter version of this drink by using half-and-half or even milk, instead of the cream. Doing so changes the texture somewhat, while also reducing the calorie content.
Orgasm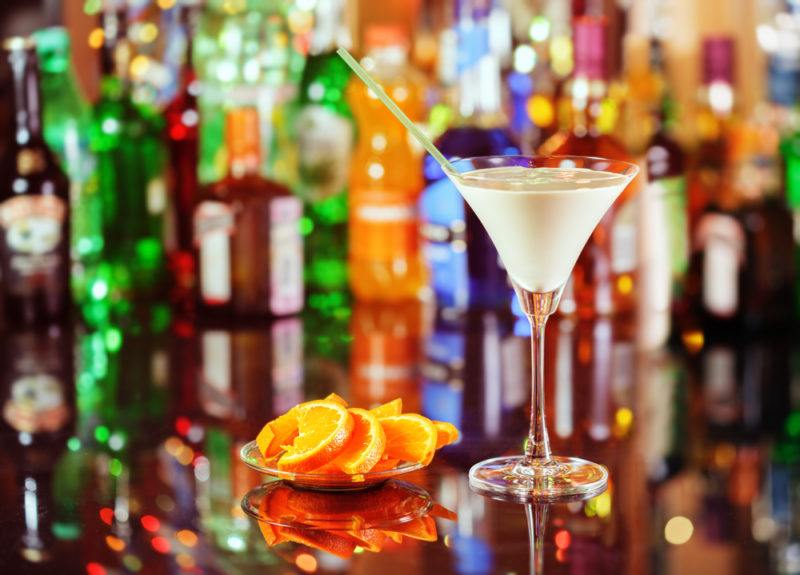 This cocktail isn't just fun to order, especially as it sometimes goes by the name screaming orgasm, but it is also delicious. It is another drink that can be found in many versions. The cocktail is no longer part of the IBA official list, which is one reason that the different versions vary so much.
One popular version relies on equal parts Bailey's Irish Cream, Amaretto, cream, and Kahlua. The four ingredients give the acronym 'back', which seems fitting (the phrase 'made on your back' is sometimes used).
Another version adds vodka into the mix as well. This version uses both cream and milk too, rather than one or the other. A quick Google search will turn up plenty of other variations. Try a few out and see which combination of ingredients you enjoy the most.
White Chocolate Martini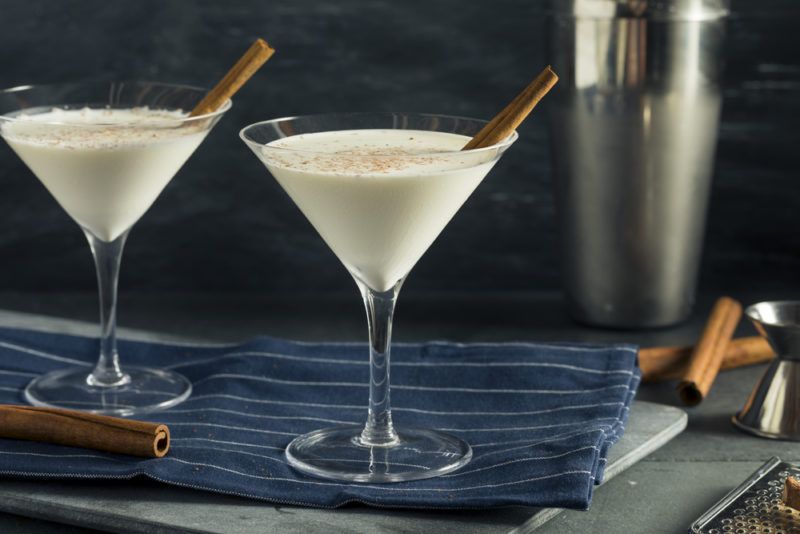 Here's a classic to round the list off – a white chocolate martini. White chocolate drinks often end up sweeter than their milk chocolate counterparts and can also have a more interesting flavor profile.
This particular cocktail relies on white chocolate liqueur and vodka. Vanilla vodka or white chocolate vodka makes the flavor profile even more impressive. Milk or cream is added in too, which provides the creaminess that we've come to expect from dessert cocktails.
Some versions of the cocktail use white crème de cacao, along with a white chocolate liqueur. While these two ingredients are similar, using both makes the drink more interesting and creates a fantastic texture.
Related Content