Serving sparkling white wine is always a fantastic way to make holidays special. And, while champagne might be the most upper-class choice, prosecco can be just as good, if not better. Making holiday drinks with prosecco is an exceptional idea, as you get the bubbles that come with the wine – and avoid the hefty price tag from champagne.
So, what's the difference anyway?
The first is the region. While champagne is produced in France, prosecco comes from Italy instead. Of course, champagne isn't more expensive just become it comes from France. Champagne also uses a more intensive production method, which raises the price.
The price differences don't mean that champagne is always a better choice. Prosecco has a fruitier taste and lighter bubbles, features that work well in cocktails.
Besides, most of us would feel guilty about including an expensive bottle of champagne in a cocktail. Prosecco, on the other hand, is cheap enough that making a cocktail with it doesn't feel like a waste.
As you can probably guess, prosecco isn't your only choice when making these holiday drinks. Most of them could easily be made with a different type of sparkling white wine. Of course, the flavor profile will change depending on the wine that you're, so you might need to experiment to find a combination that you enjoy.
Holiday Drinks With Prosecco
Bellini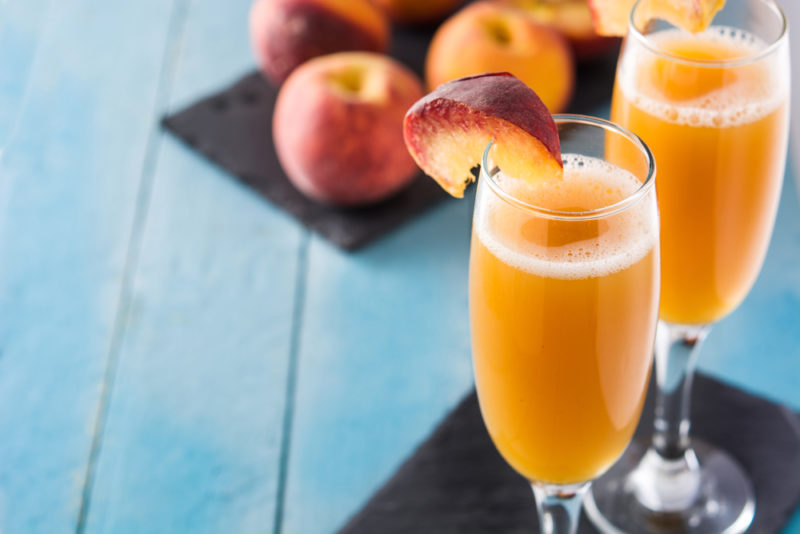 The bellini is a classic prosecco cocktail. It relies on peach puree, which is mixed with sugar syrup and placed in the bottom of a champagne flute. Prosecco is then gently poured into the glass so that the puree is not disturbed.
The ingredients are only mixed right before you serve the cocktail.
You can make the peach puree yourself by using fresh pieces that are peeled, blended and then strained. You could also buy peach puree or even just rely on peach juice. Regardless of the ingredients you use, the cocktail will always end up delicious.
Lychee Bellini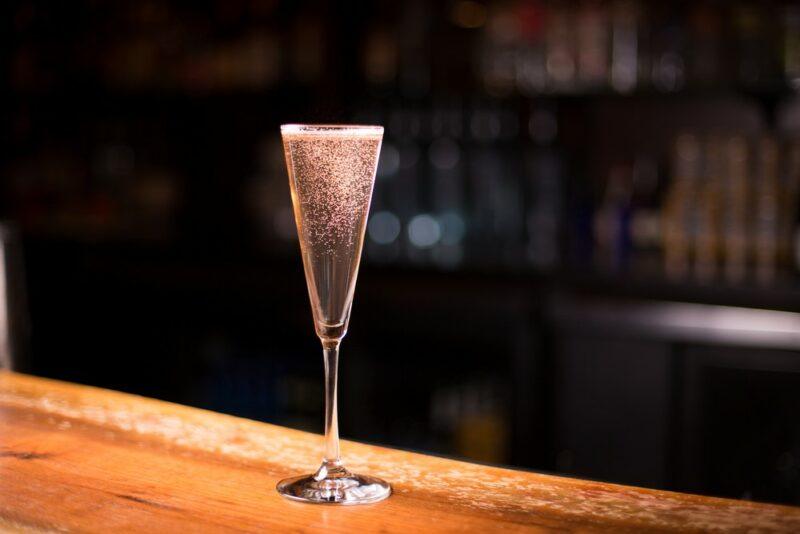 The name lychee bellini should tell you exactly what to expect with this drink. You're basically making a bellini, except that you're relying on lychee liqueur and puree rather than peaches.
This time you'll need to mix the liqueur and the puree together in a cocktail shaker, then double strain it into your champagne flute. The finished cocktail often ends up having a rose hue.
Aperol Spritz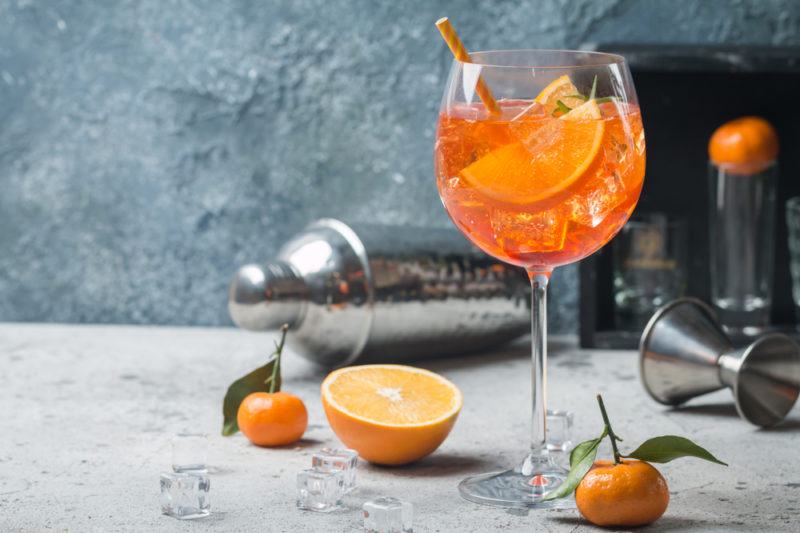 The Aperol spritz is a delicious and refreshing cocktail that is worth trying at least once. Aperol is, as the name suggests, a key ingredient. This is what provides the bright orange color of the cocktail, along with its distinctive flavor.
Prosecco makes up roughly half of the cocktail, while a little soda water is added too. The soda water helps to slightly dilute the cocktail and also makes it a little more bubbly. Both outcomes are key reasons for the refreshing nature of the drink.
Sherbet Mimosa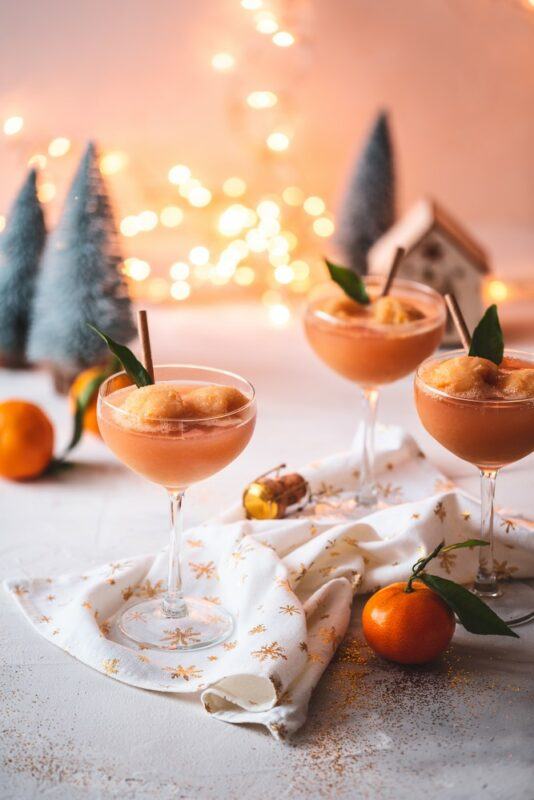 Regular mimosas are delicious but, let's face it, they get boring after a while. Sherbet mimosas are an excellent way to mix things up – especially when the weather is warm.
Plus, the cocktail is endlessly flexible. The simplest version is to just combine any sherbet, ice cream, or sorbet that you like with sparkling white wine. Some recipes include fruit nectar as well or perhaps a splash of fruit juice.
The pictured version of the recipe uses clementine sherbet, which provides excellent color and flavor to the drink. Lemon sorbet is another fun choice, as you get a delicious tanginess from the lemon.
Prosecco With Fruit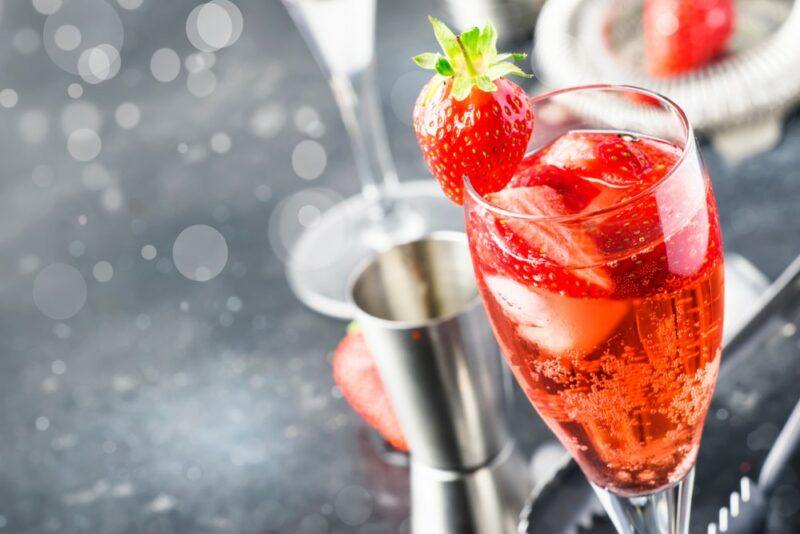 You don't need a 'real' cocktail recipe to make a delicious drink with prosecco. Simply combine the sparkling white wine with some fruit juice and/or pulp. Even just a little juice is a delightful complement to the flavor of the prosecco. This approach lets you play around with flavors too. Why not experiment to see which ingredients you enjoy the most?
Tequila Sunrise Mimosa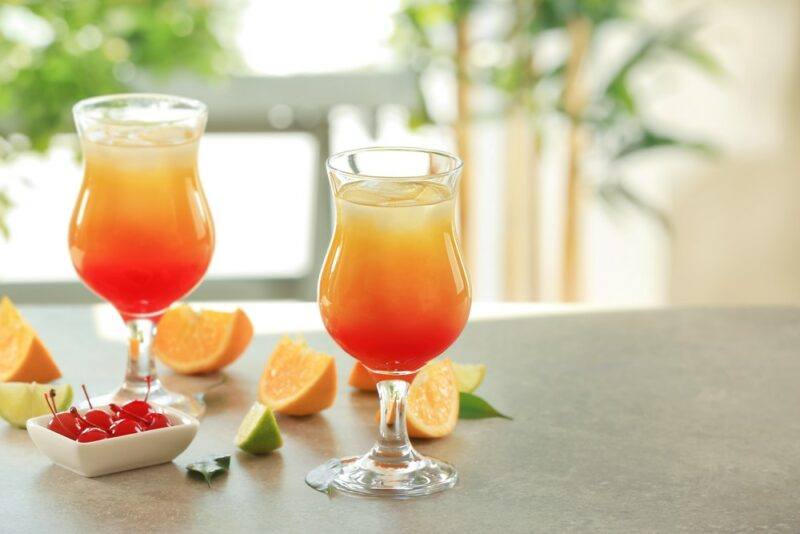 The name says it all here. This cocktail combines the features of a mimosa and a tequila sunrise, to give you a surprisingly delicious and refreshing drink.
While the ingredients to the cocktail are simple, you do need to use them in the right order. Start off with tequila in the bottom of each glass, then fill around halfway with sparkling white wine. Then, top each glass with orange juice and a little bit of grenadine.
The finished cocktail doesn't look quite as stunning as a regular tequila sunrise, but it is more refreshing. You might even prefer this version – and it's certain to impress your guests.
Champagne Cocktail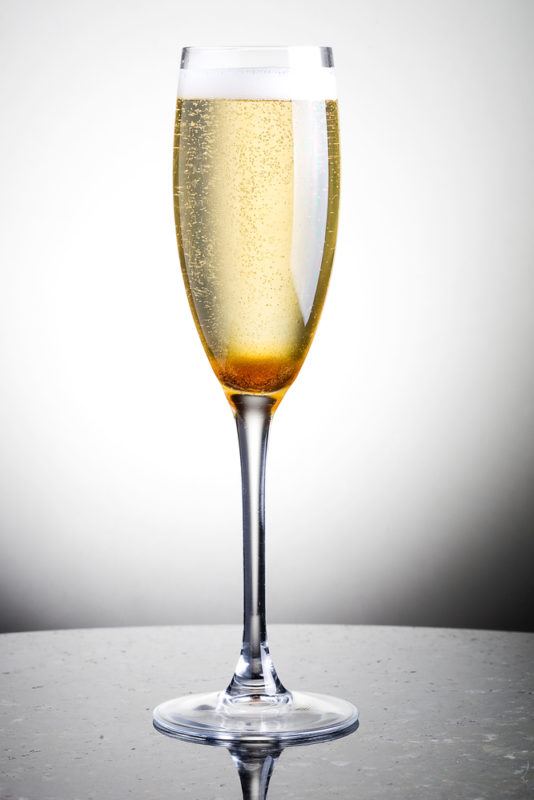 The classic champagne cocktail is a simple way to make your champagne taste more interesting, without getting too complicated. You start off by soaking a sugar cube in some Angostura bitters, then pour champagne over the top.
The sugar cube should still be dissolving after you've poured the champagne, so the cocktail ends up looking fantastic in the glass.
As the name suggests, a champagne cocktail is meant to use champagne as the wine of choice. Honestly though, another type of sparkling wine can be just as delicious. Prosecco can work well here and is a much less expensive option than champagne.
Golden Dram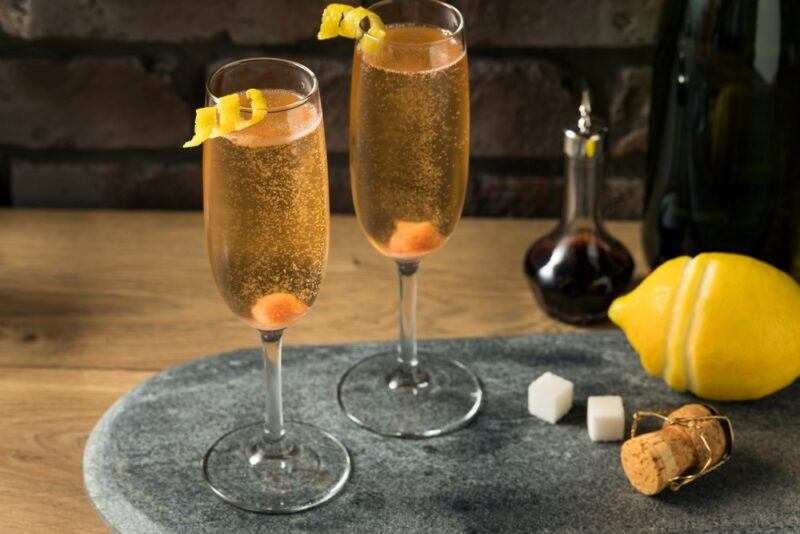 This cocktail is a variation on the champagne cocktail from above, with two key differences. First, you're meant to be using prosecco with this version, rather than champagne. Second, the cocktail adds in some Scotch whisky.
Both cocktails start out the same way, by soaking a sugar cube in bitters at the bottom of a champagne glass.
But, the golden dram has an extra step, as you need to then add a little Scotch whisky to the bottom of the glass. Once you've done so, you stir the ingredients together, just enough to combine the flavors without breaking the sugar cube apart too much.
Once you've done this, you can pour the prosecco over top of the other ingredients – giving you a cocktail that tastes just as good as it looks.
Cranberry Pomegranate Sparkler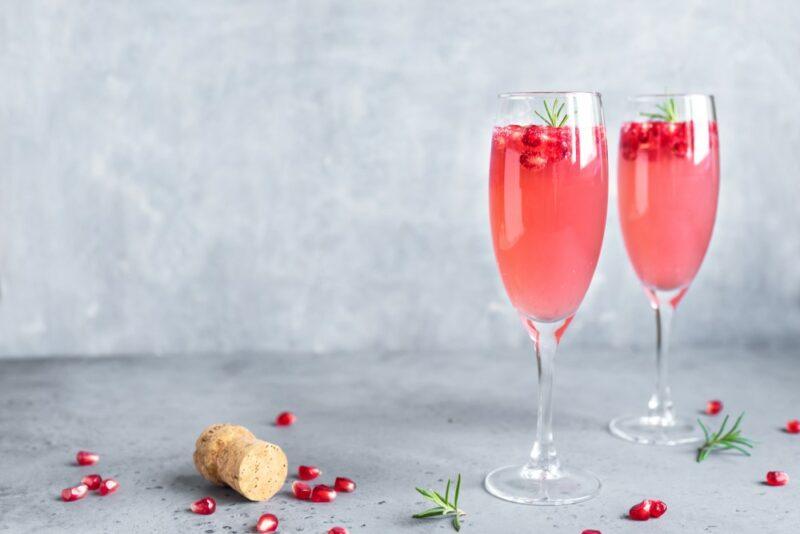 What could be more seasonal than a sparkling cocktail that uses pomegranate and cranberries? You could make this cocktail using pomegranate juice and fresh cranberries, which would give you a rich red color.
Another version involves making a pomegranate cranberry simple syrup. You then use the simple syrup as an ingredient. Doing so adds some cranberry and pomegranate flavors to the cocktail, without overwhelming it.
Gingerbread Bellini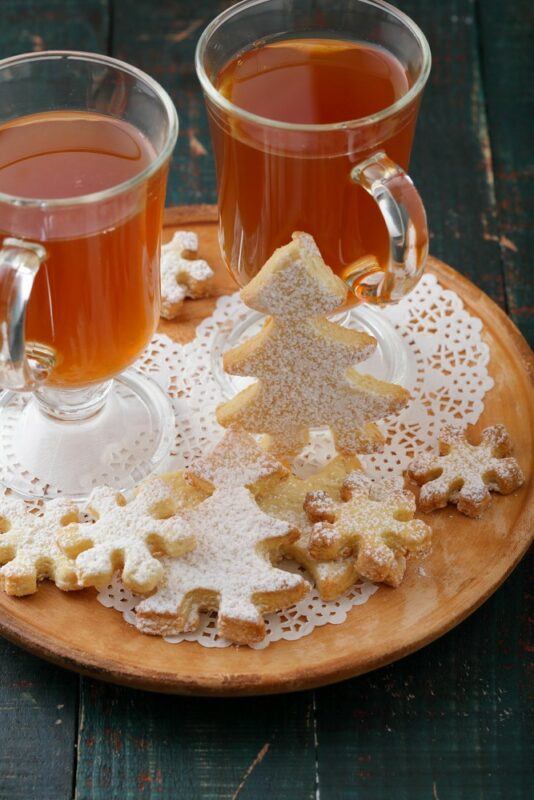 This simple cocktail is a twist on the classic bellini, where you're trying to mimic the flavor of gingerbread, rather than relying on peach. An easy way to do so is to combine concentrated ginger syrup with hazelnut liqueur, then top the glass up with prosecco.
A cinnamon stick would be an easy garnish for the cocktail. Or, you might get more complicated. One version of the recipe even suggests making a miniature gingerbread man to use as a garnish.
Spice 75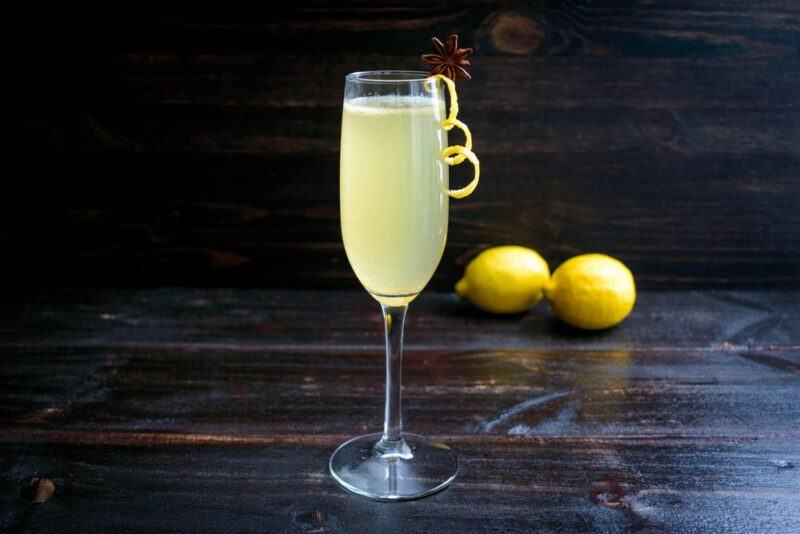 This cocktail is a nice twist on the French 75 cocktail. It combines allspice, rum, lime juice, and golden caster sugar with sparkling wine. The golden sugar and allspice add to the color and flavor of the cocktail.
The cocktail is particularly good if you have a low-quality bottle of prosecco, as the spices will mask any unappealing flavors in the wine.
However, there is a trick to making this drink. You can't simply mix the sugar and the allspice into the cocktail itself. That would just give you a grainy drink.
Instead, you need to use the sugar and allspice to create an infused simple syrup. You then strain this simple syrup into the cocktail shaker, along with the other ingredients.
Poinsettia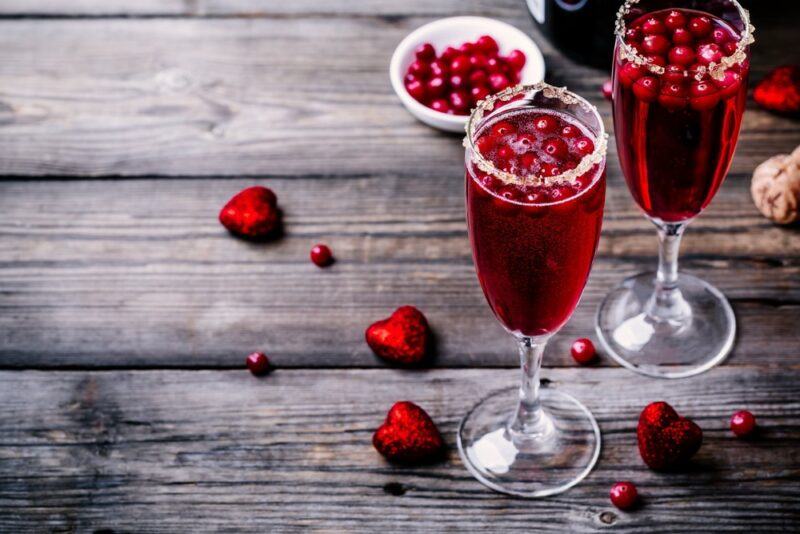 You'll sometimes see this cocktail called a poinsettia, but other writers call it a cranberry mimosa instead. The approach is the same either way. You're simply combining cranberry juice with sparkling white wine, like prosecco.
Some people also use a little simple syrup to provide extra sweetness. After all, cranberry juice is much tarter than the orange use normally used in a mimosa.
You can even combine the two ideas, using cranberry juice and orange juice in the same cocktail. That version ends up with a pink color and a lovely balance between sweet and tart.
Sparkling Margarita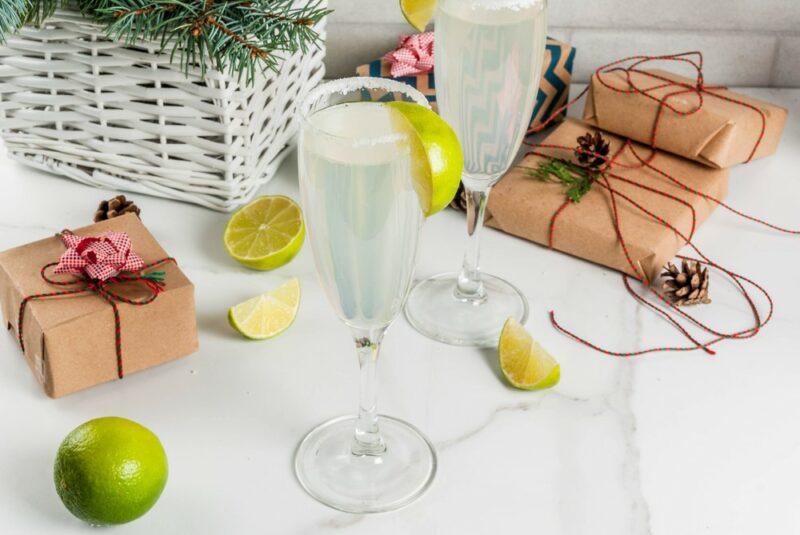 Want to make a more exciting margarita? Why not use some prosecco as well?
The idea here is simple. You just need to make a margarita as normal, then top it up with prosecco.
This would also be an easy cocktail to make for a party too. You could combine the lime juice, tequila, and triple sec ahead of time and leave it to chill. Then, when it's time to serve, pour the margarita into champagne glasses and top up with the prosecco.
Mimosa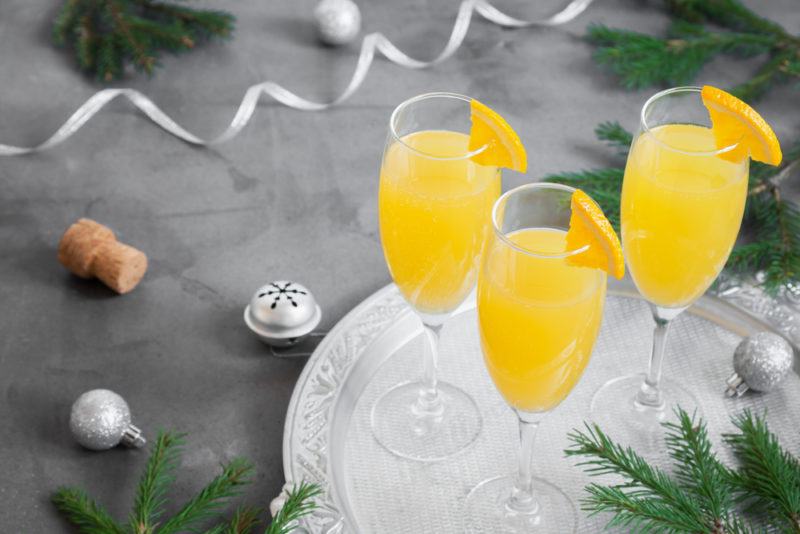 You could be forgiven for getting bored of mimosas. They're such a classic drink for celebrations after all, partly because you only need two ingredients – orange juice and sparkling wine.
Still, mimosas can be delicious if you make them well.
The trick is to focus on the quality of your ingredients. Because you've only got two of them, the quality really does make a difference. So, make sure you're using a bottle of prosecco that you like the taste of. If you don't enjoy the prosecco on its own, then it won't get any better when you include it in your cocktail.
Don't forget about the orange juice. Freshly squeezed orange juice will always give you the best cocktail. Anything less just won't taste as good.
Why not play around with the ratios too? Some people prefer to have drinks that are heavy on the orange juice, while others look for a 50/50 ratio.
Negroni Sbagliato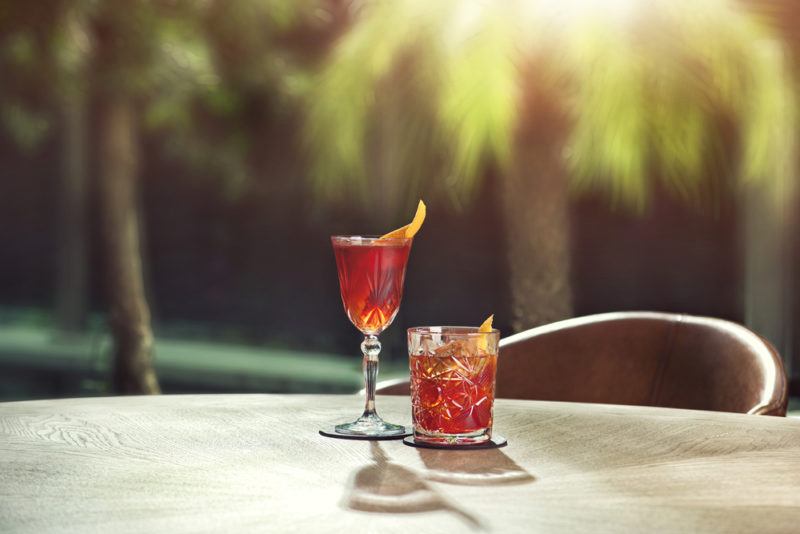 In Italian, the word sbagliato translates to broken, mistake, bungled, or something similar. A negroni sbagliato then can be seen as a broken negroni.
The broken part comes from the fact that you're using sparkling white wine in the cocktail (a negroni calls for gin instead). There are only two other ingredients to worry about – sweet vermouth and Campari.
Swapping gin for sparkling wine gives you a drink that's lighter and more refreshing than the traditional negroni. The ABV is lower too, which could make this drink even more perfect for holiday celebrations.
Kir Royale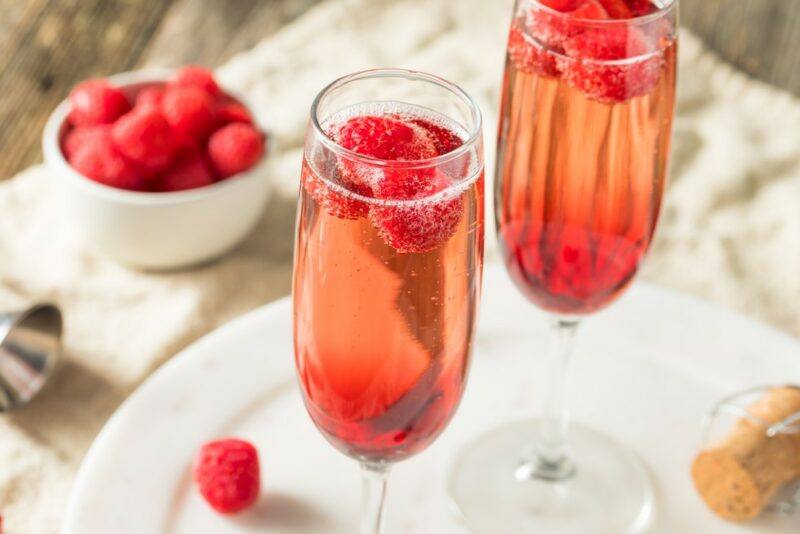 When you're looking for something delicious and stunning, the kir royale never disappoints. The cocktail just uses two ingredients – sparkling wine and crème de cassis.
Champagne is the traditional wine here, but prosecco tastes just as good. Try using a bottle of dry prosecco, as crème de cassis is quite sweet.
If you don't have crème de cassis on hand, you could play around with another fruit liquor. Crème de framboise is another good choice. This is a raspberry liqueur, so it still gives you a similar rich color.
Lillet Spritz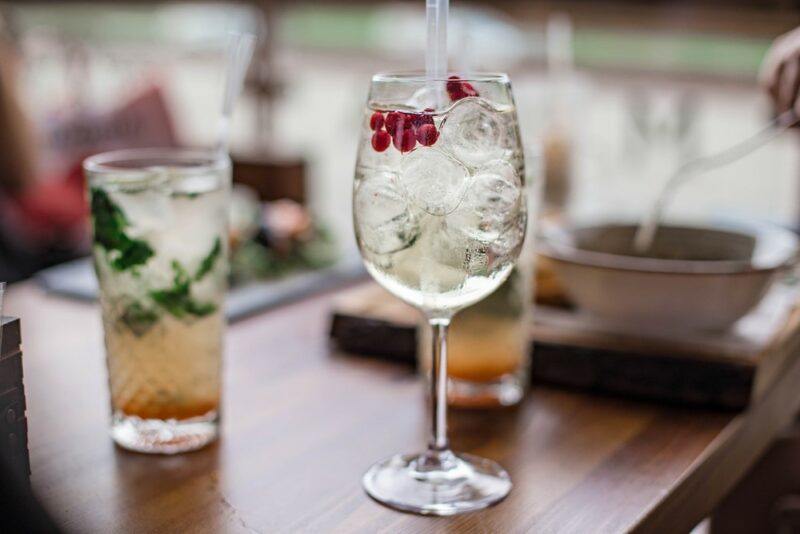 This spritz cocktail relies on Lillet blanc, prosecco, and orange juice. You end up with a bright and refreshing cocktail, one that would be ideal in the summer.
Once again, using fresh orange juice gives you a much better cocktail than bottled orange juice. Seriously. Once you've tried this cocktail with fresh orange juice, you won't want it any other way.
Jack Frosties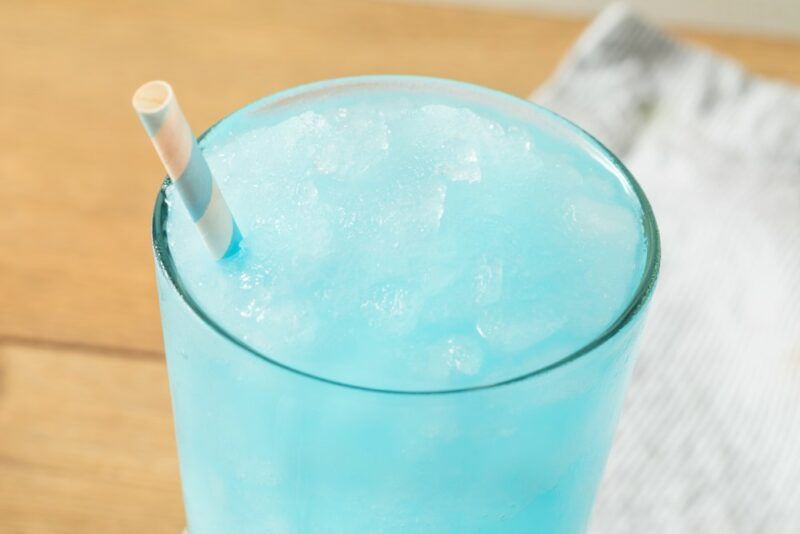 Appearances can be deceiving, as this cocktail doesn't look like it uses prosecco at all. It does though – along with vodka, blue curacao, and lemonade. That combination gives you a sweet cocktail that's surprisingly tasty.
The drink is even better if you make it as a slushie. Doing so is easy. Simply combine the ingredients together with ice and blend until the mixture is smooth.
Peppermint Bark Mimosas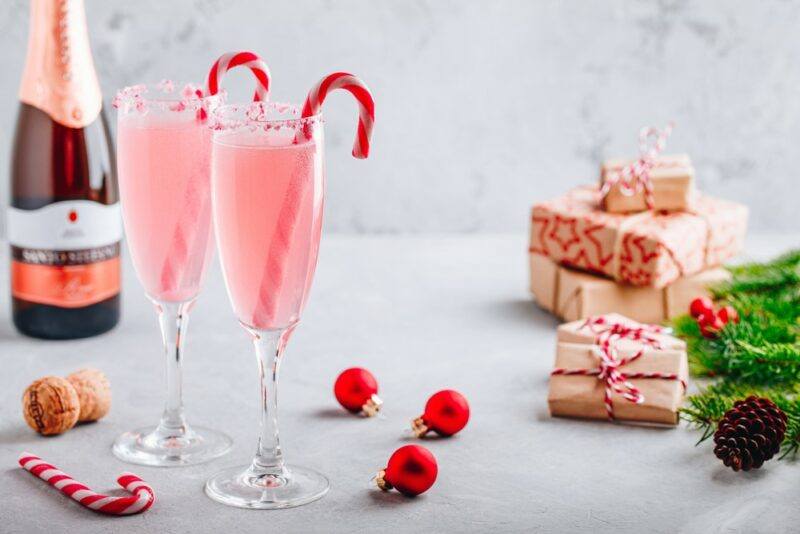 While this holiday drink is called a peppermint bark mimosa, there isn't any fruit juice used at all. Instead, you're combining peppermint schnapps and sparkling wine. Doing so gives your wine a peppermint tinge, one that's right on theme for the holidays. To bring the peppermint bark idea up further, try rimming the glasses with chocolate and crushed candy canes.