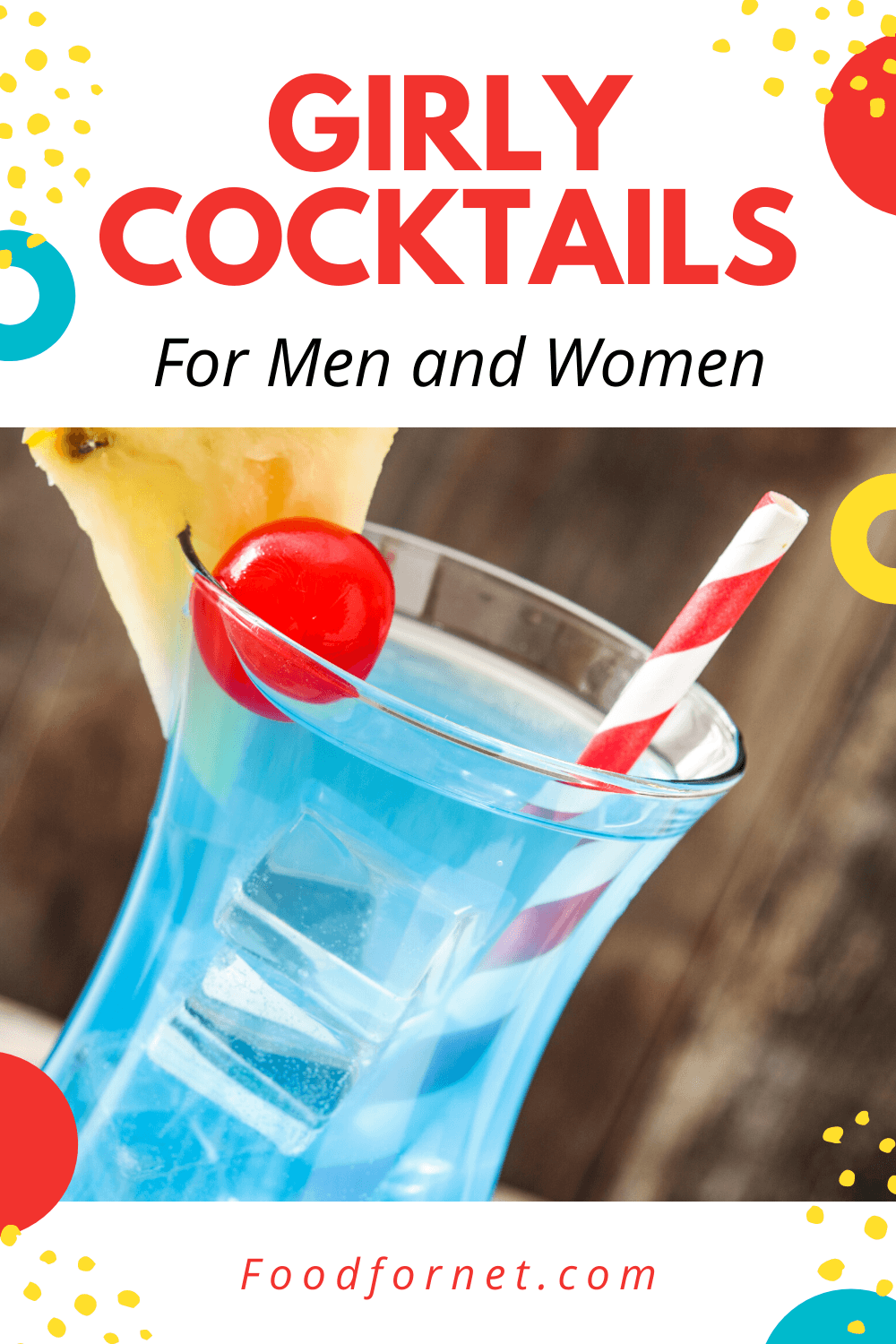 There are many so-called girly cocktails out there. You know the ones, they're often pink or bubbly and might have a cocktail umbrella for good measure. Others, like Long Island iced tea, are considered girly despite the appearance of the drink.
Men often suffer ridicule if they choose to order 'girly' drinks. They're often expected to stick to straight spirits, beer, or a relatively small selection of masculine cocktails. While men do drink cocktails, they're certainly in the minority. The number of men who drink cocktails that look girly is even lower again.
Here's the thing. There's nothing wrong with girly cocktails. Many of them taste amazing. And, perhaps more relevantly, these cocktails often pack a punch. Cocktails may include multiple types of alcohol, often in a surprisingly large drink.
Besides, why should the appearance of the drink matter? Torturing yourself with a drink that you don't particularly like just seems silly, especially when there are so many delicious alternatives out there.
Girly Cocktails
Cosmopolitan

Despite being the quintessential girls drink, a cosmopolitan has only slightly less alcohol than a martini. More relevantly, the drink also tastes much better than a martini, as martinis are intense and are honestly quite difficult to enjoy.
Even if you like martinis, you could easily go through multiple cosmopolitans before finishing your first martini.
For the most part, a cosmopolitan is a combination of vodka and cranberry juice. A classic example of the recipe involves using two parts vodka, one part Cointreau or triple sec, two parts cranberry juice and the juice from half a lime.
Blue Hawaiian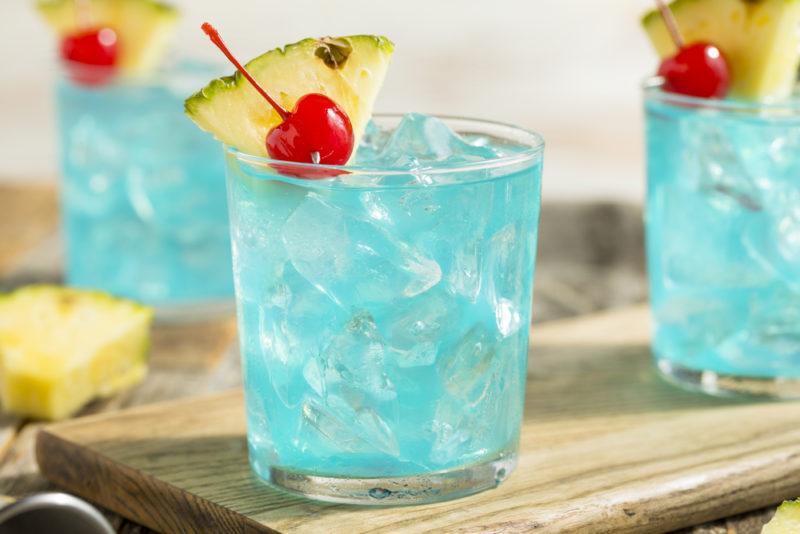 The blue color of this cocktail is one reason that it is often considered to be girly. The fruity flavor is another.
For that matter, the blue Hawaiian has a distinctly tiki-type flavor, as it relies on pineapple juice, cream of coconut, and light rum as key ingredients. The cocktail is traditionally served with crushed ice, which makes it a refreshing drink.
The blue flavor comes from the use of blue curacao. Despite the color, blue curacao has an orange flavor, which adds a little something extra to the cocktail.
Appletini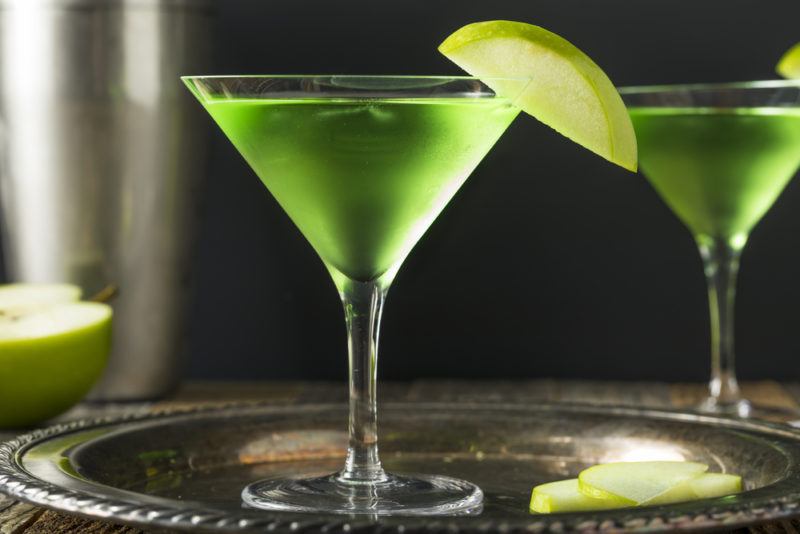 An appletini, or an apple martini, is another quintessential girly cocktails, despite the high alcohol content of the drink. Many versions of the drink aren't especially sweet either, as they rely on a combination of sweet and sour flavors instead.
For example, one variation on the drink uses vodka and green apple schnapps as the key ingredients, with a little lemon juice added in too. The green apple schnapps can be substituted for another apple-containing ingredient, with apple cider or apple brandy being some common alternatives.
Sweeter versions of the cocktail use ingredients like simple syrup or maple syrup to make the drink easier to consume. Even if you make the cocktail sweeter like this, you're still getting a strong cocktail that tastes pretty nice.
Daiquiri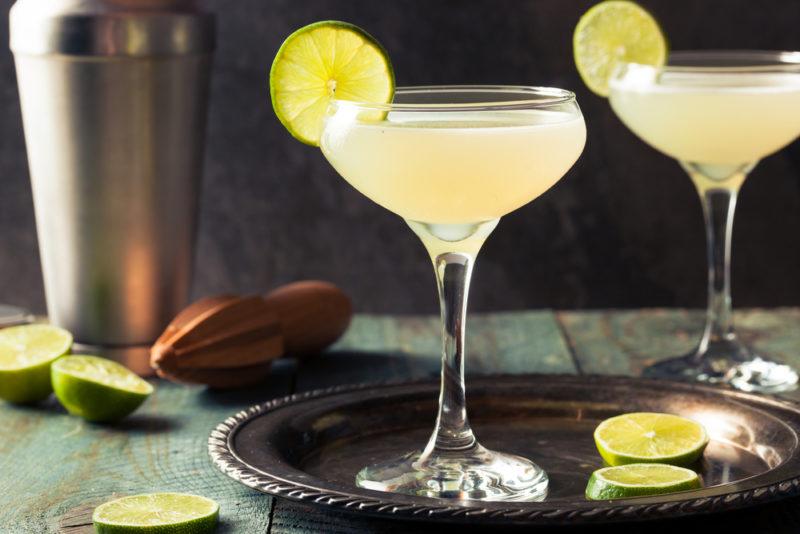 The light yellow color of a daiquiri can easily make this seem like a girly drink, but honestly, the cocktail is more rum than anything else. The only other ingredients are fresh lime juice and sugar or sugar syrup.
These three ingredients combine together well, giving you a cocktail that is slightly sweet and also fresh. As there aren't many flavors present, it's important to rely on quality ingredients. The ingredients that you choose can make a huge difference to how the finished drink tastes.
It's also important to measure the ingredients when you're making the cocktail. Otherwise, you risk overdoing one flavor, such as making the daiquiri too sweet or too acidic.
Strawberry Daiquiri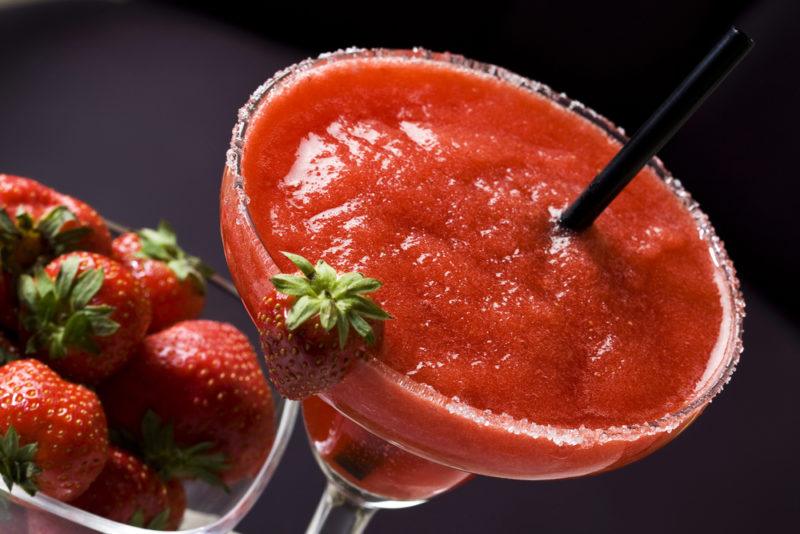 This variation on the daiquiri manages to look even more girly than the original. It follows the same style as a classic daiquiri, except that this version skips the sugar syrup and uses strawberries instead. The strawberries provide fruitiness and sweetness, changing the flavor of the cocktail considerably.
Most of the time, strawberry daiquiris are served semi-frozen, like a slushie. This texture can be easily achieved by blending the ingredients together with ice.
An alternative is to use frozen strawberries, along with the rum and the lime juice. Blending frozen strawberries gives a similar result to blending fresh strawberries and ice, except that your cocktail doesn't get as diluted if you rely on frozen strawberries.
Sex On The Beach

Many people would consider this cocktail to be girly simply from the name alone. Sex on the beach also happens to be a particularly fruity cocktail, as it relies on cranberry juice, grapefruit or orange juice, peach schnapps, and vodka.
The various juices and peach schnapps all provide fruitiness to the cocktail, while the vodka increases the alcohol content without impacting the flavor much at all.
Blue Lagoon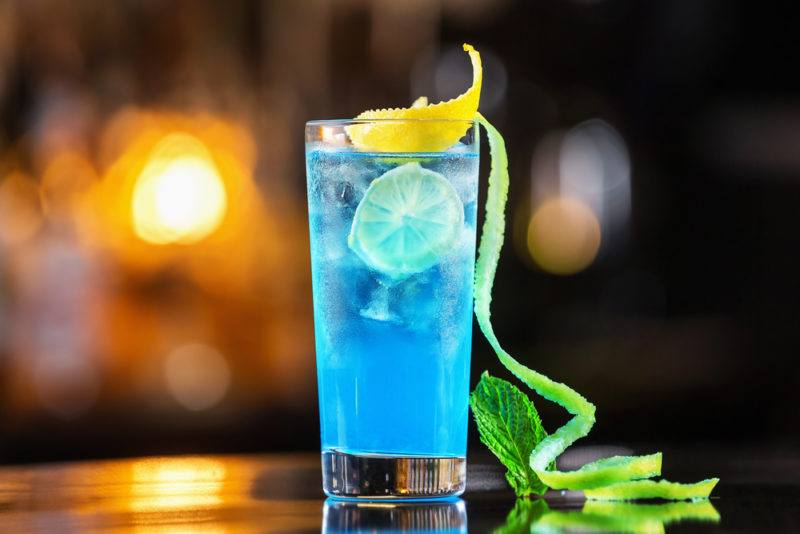 The bright blue color of this cocktail does make it seem like a girly drink and, in fact, this is a fairly light and refreshing cocktail. The drink uses curacao and vodka as the alcoholic ingredients, then is topped up using lemonade.
Despite the blue color, the drink has an orange flavor from the curacao, along with the sweetness from the lemonade. It's a great drink if you want to relax and enjoy yourself, without worrying too much about getting drunk.
Sea Breeze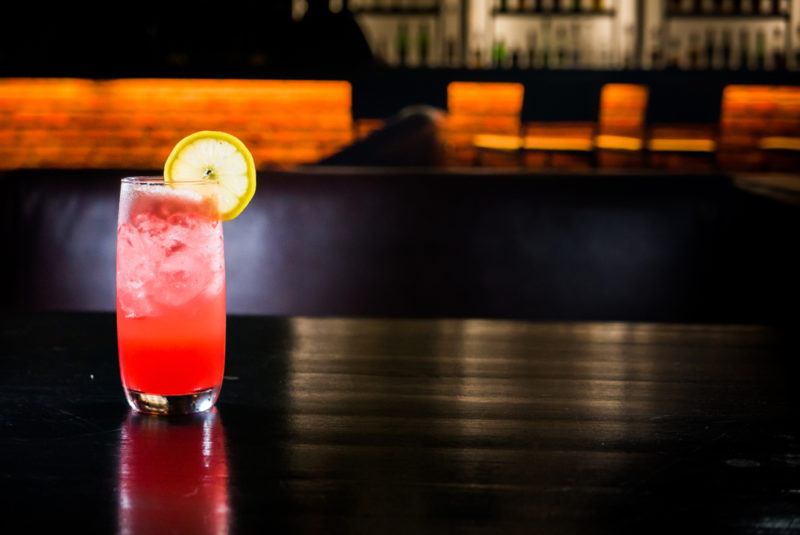 The sea breeze is a refreshing and fruity cocktail. Vodka is the spirit of choice, while cranberry juice and grapefruit juice are included as well. Finally, there is some lime juice, which provides some extra depth of flavor.
The inclusion of grapefruit juice and lime juice means that this cocktail isn't as sweet as many of the others on this list.
Pina Colada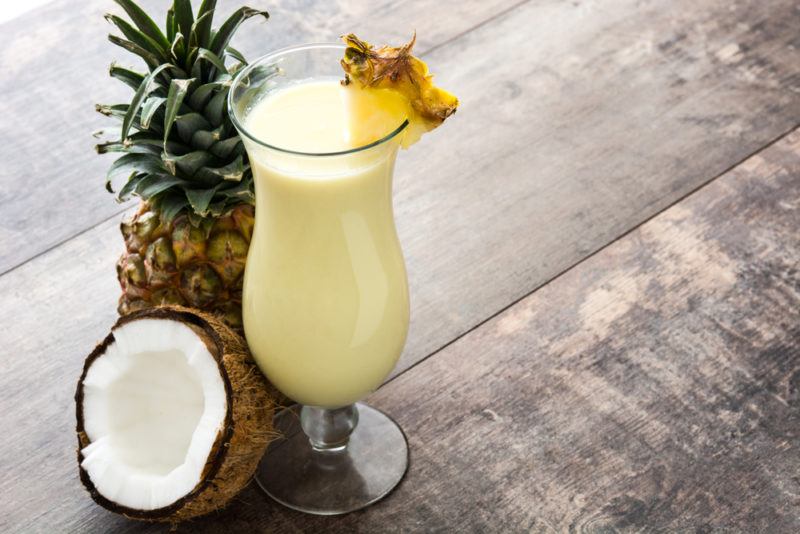 The sweet and delicious pina colada is often considered a woman's drink or a holiday drink. It relies on coconut cream and pineapple juice, along with white rum and dark rum.
The drink is often made in a blender with ice, which creates a creamy consistency. If this isn't an option, you can serve the cocktail over crushed ice in a tall glass.
The alcohol content of this cocktail is relatively low, as rum is the only alcoholic ingredient. This often means the proof of the cocktail is around 13%.
While the alcohol content is low, this isn't necessarily a bad thing. Cocktails like this are perfect for when you want to relax, but don't want to be strongly affected by the alcohol.
Fuzzy Navel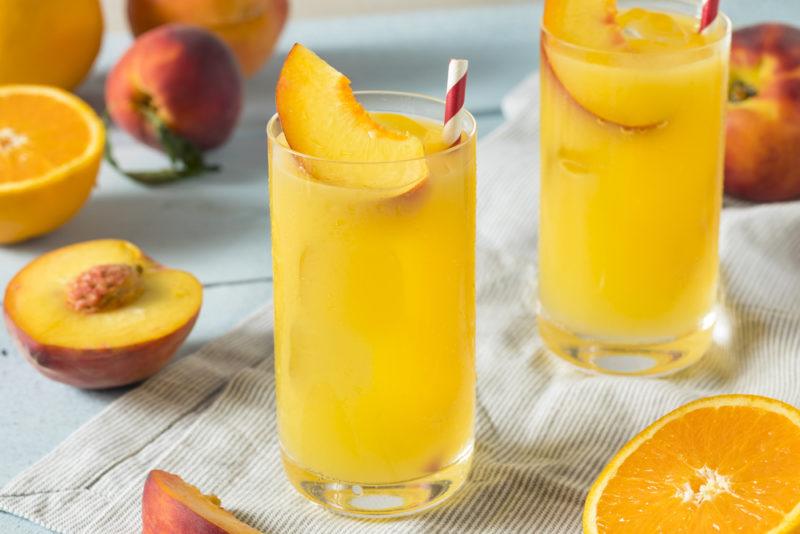 As a two-ingredient cocktail, the fuzzy navel is extremely easy to make. You just need to use equal measures of peach schnapps and orange juice. This creates a fruity drink that isn't too strong.
If you want to vary the recipe up, try substituting half of the peach schnapps for vodka. This creates a different flavor profile and gives you a cocktail called a hairy navel.
Tequila Sunrise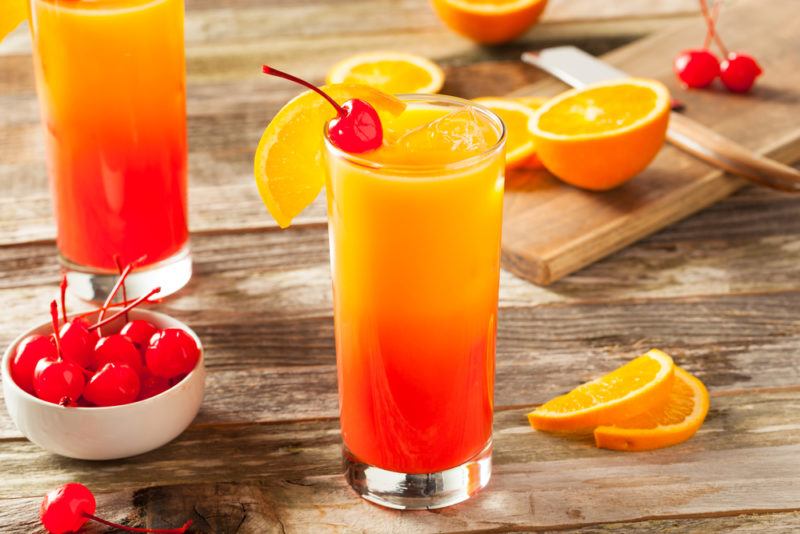 The tequila sunrise is a popular holiday drink, especially on cruises and beach vacations. The combination of orange and red makes the drink look fun in the glass too. Plus, it's not that hard to make, with only three ingredients to rely on.
To make it, you need to combine two parts orange juice with one part tequila in a tall glass over ice. Stir these together and then add the grenadine, which will sink.
You can use a different type of glass or change the ratio of ingredients if you prefer. For example, some people will find the 2:1 ratio creates a drink that is too sweet, while increasing the tequila or grenadine content gives a more desirable balance.
The orange juice that you use matters too. Freshly squeezed orange juice tends to have a better texture and more tartness. Orange juice from the store, on the other hand, can be overwhelmingly sweet.
Long Island Iced Tea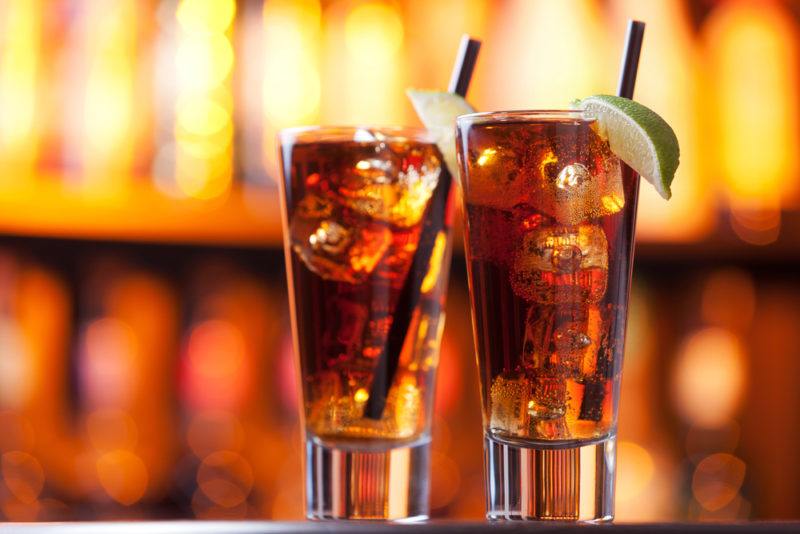 A Long Island iced tea isn't as girly as some of the drinks on this list, but it's still fairly rare to see a man ordering it. This is somewhat surprising, as the cocktail is packed with five different types of spirits and uses cola as the main mixer.
Despite the number of different spirits, the cocktail ends up tasting delicious. It's easy to drink too.
One interesting aspect to mention is the amount of alcohol. A Long Island iced tea can be boozy indeed, often consisting of more alcohol than mixer. For example, some recipes call for 3/4 an ounce of each of the five spirits. The amount of soda in such recipes often ends up relatively low, especially as the drink is normally served with plenty of ice.
On the other hand, other recipes use 1/2 ounce servings, which drops the total alcohol content down to two and a half ounces.
Lemon Drop Martini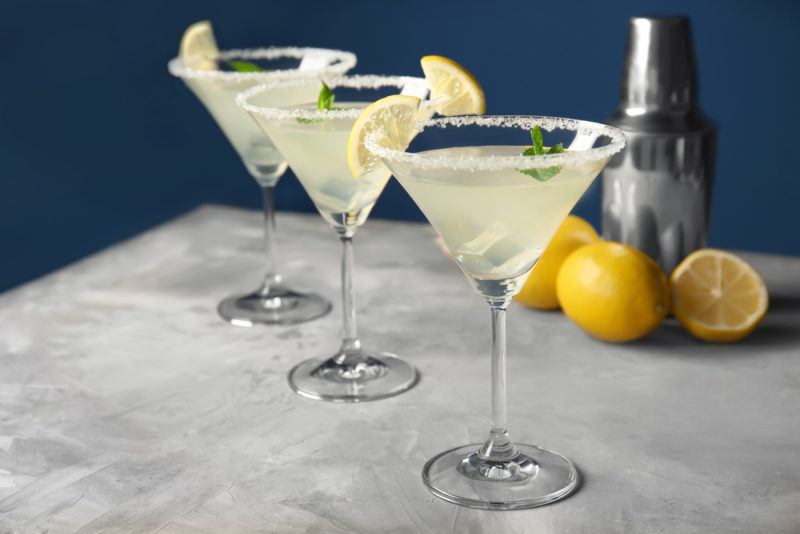 While a lemon drop martini is more complex than most martini variations, it is also incredibly popular and is well worth the effort. The recipe relies on vodka, squeezed lemon juice, simple syrup, and either Cointreau or triple sec.
This is a cocktail whether the quality of your ingredients makes a large difference. For example, the cocktail will taste much better with freshly squeezed lemon juice than lemon juice from a bottle. Using a decent bottle of vodka helps as well.
On a side note, this cocktail isn't really a type of martini at all. Some people call it a lemon drop cocktail or just a lemon drop because of this. Still, the name lemon drop martini seems to have stuck.
Mai Tai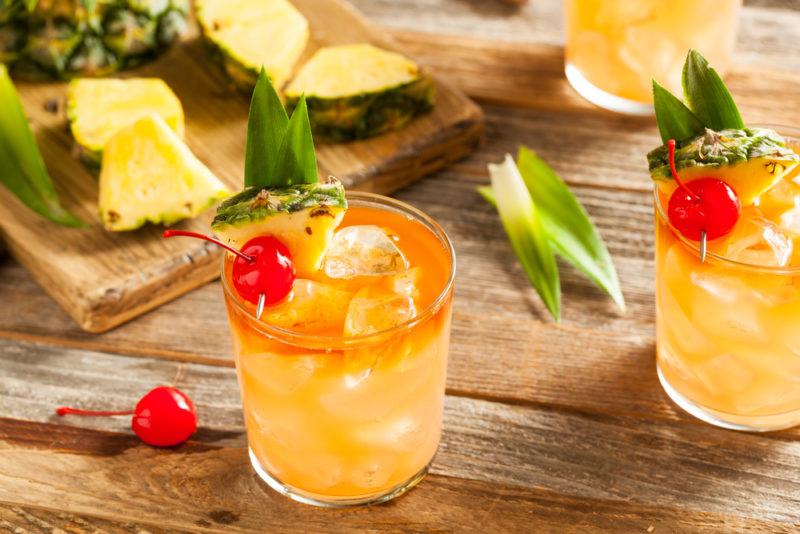 With its bright yellow color, it's easy to see why a Mai Tai is considered a girly drink. While a Mai Tai might look like a simple and vibrant cocktail, it also packs an alcoholic punch.
The traditional version of the cocktail relies on run, curacao liqueur, lime juice, and orgeat syrup (which is almond-flavored). Simple syrup is often used as well.
Some versions include fruit juice, as well, such as pineapple juice or orange juice. These add a fruity punch to the mix.
Regardless of how it is made, a Mai Tai tends to taste fresh and delicious. The drink is also deceptive, as it can contain a decent amount of alcohol. For example, one version relies on two parts white rum, two parts dark rum, and one part curacao.
Bronx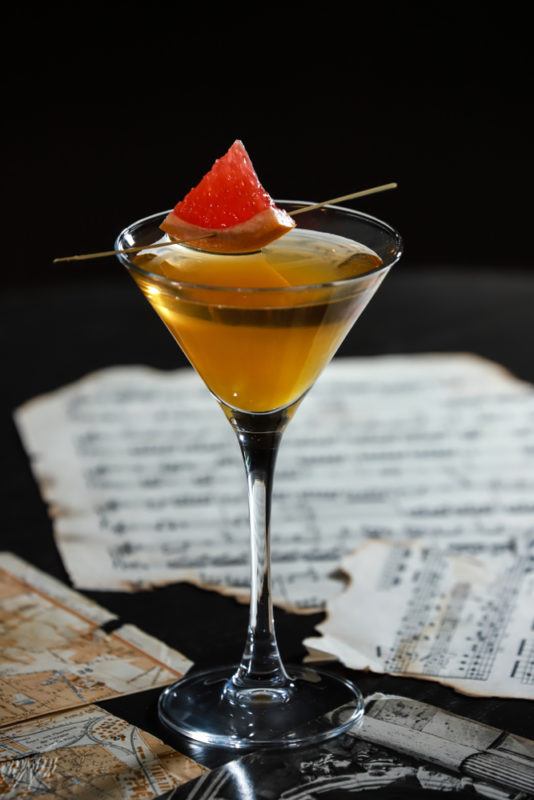 The Bronx cocktail might seem like a lame version of a martini at first, as the cocktail is essentially a martini that has orange juice added and sometimes orange bitters as well.
However, the idea is a powerful one, as the sweetness from the orange perfectly complements the gin and vermouth. Plus, the cocktail ends up being more accessible and easier to enjoy than a martini.
Toblerone

A Toblerone cocktail follows an entirely different style. Rather than being fruity, the cocktail is rich and decadent. It's a little bit like an adult chocolate milkshake.
The style can feel girly, especially as the cocktail is often sweet. In particular, honey is sometimes added to make the cocktail sweeter and you may find chocolate syrup in the glass.
But, sweet or not, the cocktail has a considerable alcoholic hit. This isn't surprising, as there are multiple sources of alcohol included, such as brandy, Baileys Irish Cream, Kahlua, and even schnapps.
Angel Face

The name angel face and the light color of this cocktail make it seem innocent. Yet, this is a knockout cocktail, made from equal parts gin, apricot brandy, and Calvados (which is an apple or pear liqueur).
With three sources of alcohol and no mixers, this cocktail isn't one that you'll soon forget.
Bushwacker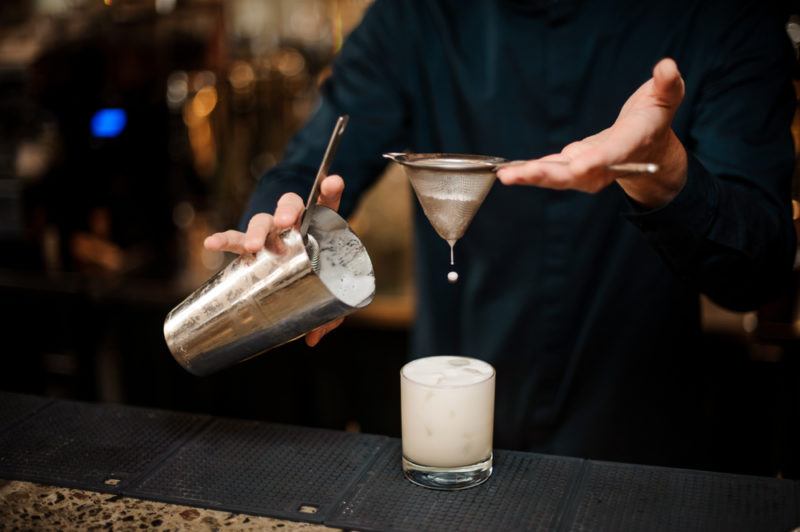 The bushwacker is basically an alcoholic milkshake. It is a delicious drink, especially in the summertime when the weather is hot. Of course, the nature of the drink can make it seem like a bit of a cop-out if you're ordering a bushwacker at a bar.
Don't worry though. This cocktail tastes so good that it's well-worth any sideways looks. Besides, you can always increase the alcohol content if you want a bit more of a kick.
The cocktail itself relies on coconut cream and milk as non-alcoholic ingredients. Then you have rum, Kahlua, and crème de cacao. Dark rum is the best choice, as this provides spicy notes that contrast nicely against the sweetness in the rest of the drink.
Singapore Sling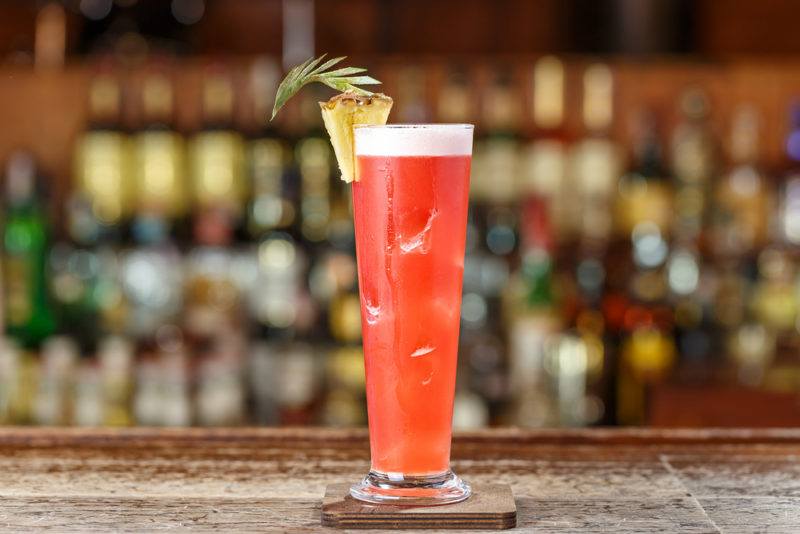 The Singapore sling gets extra points because the cocktail has a feminist history. As the story goes, the cocktail was originally developed to give women in Singapore the ability to drink alcohol in public. The cocktail also happens to taste delicious, which is always a bonus.
The drink worked well as a way to hide drinking because of its bright red color. This color choice is normally found with fruit punches.
To make it, you need equal parts of gin, Benedictine, cherry heering (which is a type of cherry-flavored liqueur), and lime juice. A few dashes of bitters are added too, then the drink is topped up with soda water.
Hurricane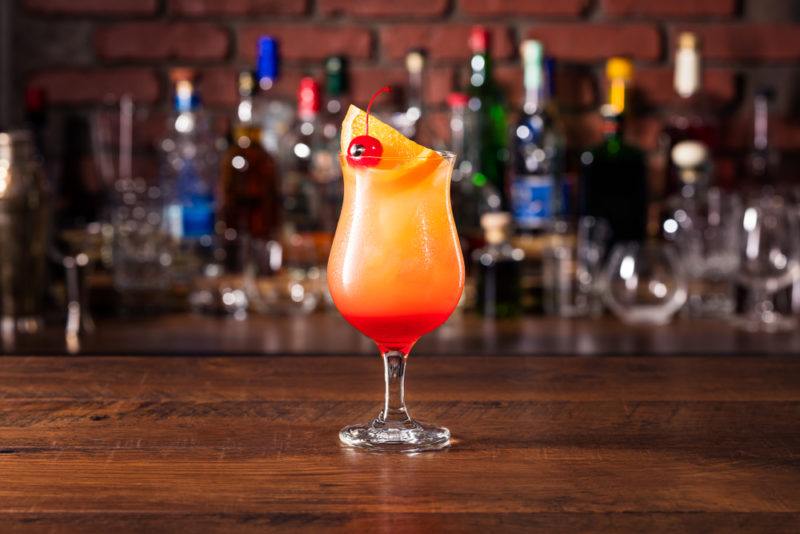 The hurricane is a deceptive cocktail. It looks sweet and innocent, but it packs a considerable punch.
While there are countless variations out there, most follow the theme of the original and include a double serving of rum. Passionfruit syrup and fresh lemon juice are other key ingredients, which create a sweet and sour flavor combination.
Some versions of the cocktail add in other sweet ingredients, such as sugar syrup, which creates a sweeter cocktail still. Others simply include a wider variety of ingredients, with grenadine, orange juice, pineapple juice, and lime juice also being other potential ingredients.
Which version you enjoy the most will depend on your own preferences, but it's worth trying the basic version at least once. Sticking to rum, passionfruit syrup and lemon juice ensures that your drink isn't too sweet.
Pink Lady

How can we get more girly than a cocktail called the pink lady? This is made using gin, egg white, and lemon juice, which essentially makes it a gin sour. Then there's some grenadine syrup added to provide the pink color.
Of course, some recipes mix it up, like including triple sec in the mix or using applejack brandy instead of gin. Regardless, you end up with a cocktail that's both sweet and tart – which is a nice change from excessively sweet girly cocktails.
Aviation

The aviation straddles the line of being girly or masculine, as it often has a lovely purple color, along with a masculine-sounding name. This is another gin cocktail and it relies on lemon juice, maraschino liqueur, and creme de violette.
The creme de violette is what gives this cocktail it's purple coloring. However, the coloring isn't always the same. Some versions of the cocktail end up being bright purple, while others only have a purple tinge.
Vodka Spritz

A vodka spritz is basically a way to tone down vodka and make it easier to drink. The simplest version of the cocktail is a combination of vodka and sparkling water. Some lemon juice might be added as well. This version is very low in calories too, making it perfect for anyone watching their weight.
There's endless room for variation. Fruit juice or sliced fruit is often added to a vodka spritz to make it more interesting. Fresh herbs might be included as well, to provide extra flavor without many calories.
Strawberry Daiquiri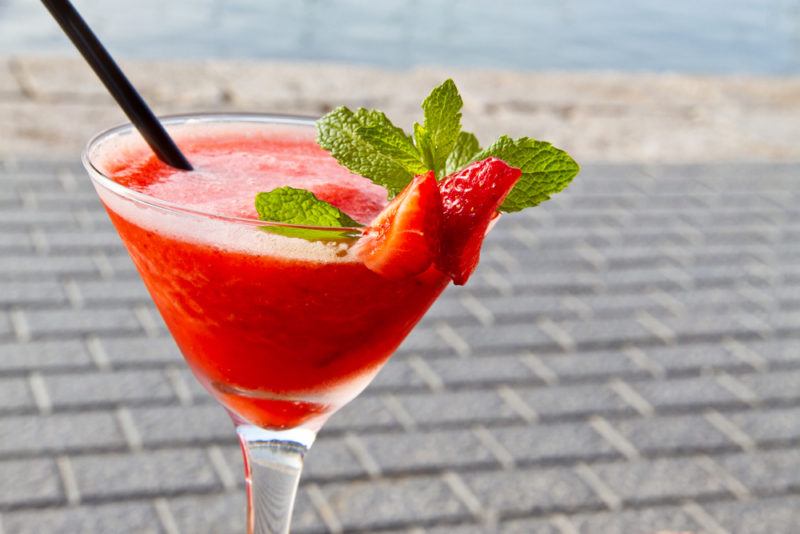 This cocktail is bright red and fruity, so how could it not be a girly drink? It's also an incredibly popular cocktail, found at bars throughout the world.
Most versions of this cocktail are frozen, made using frozen strawberries or strawberries plus ice. Frozen cocktails like this are always fantastic in the summer and are also nice simply as a change of pace. Of course, non-frozen versions are sometimes made as well and these are still delicious.
Flavored Margarita

Some people say that all margaritas are girly and that the only manly way to drink tequila is to drink it as a shot. While that claim is heavily debatable, flavored margaritas are certainly considered feminine.
These are also fun cocktails, as there are so many different styles to try, like mango margaritas, passion fruit margaritas, spicy watermelon margaritas, chili-infused margaritas, and countless others. Some margarita riffs are more feminine than others, but they're all worth trying at least once.
Silk Stocking

The silk stocking is pink, sweet, and creamy, making it a fairly elegant girly cocktail. The cocktail wraps all of this up with a fun and very feminine name.
The cocktail itself relies on an interesting combination of tequila, crème de cacao, heavy cream, and either raspberry liqueur or grenadine syrup. The last ingredient gives the drink its signature pink color and adds a touch of color.
Bellini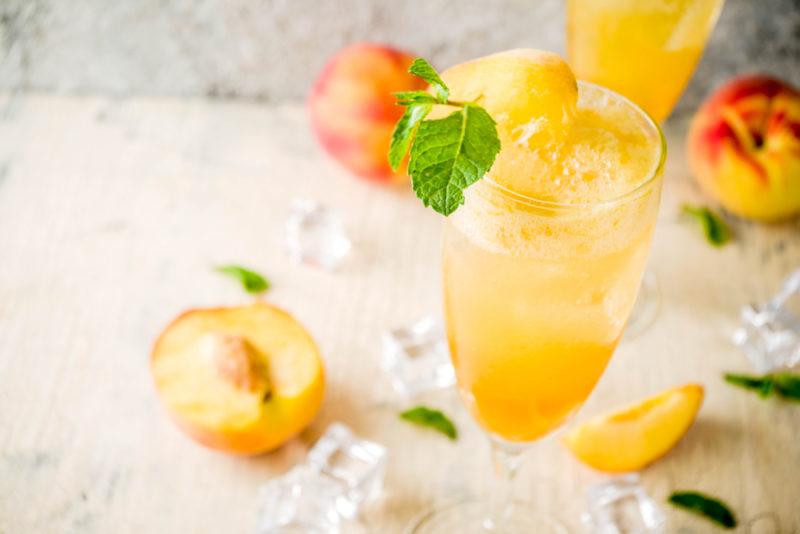 How can you go wrong with a classic bellini? The drink is a little like a mimosa, except that it uses peach puree rather than orange juice. These ingredients give you a sweet celebratory drink that tastes delicious too.
Amaretto Sour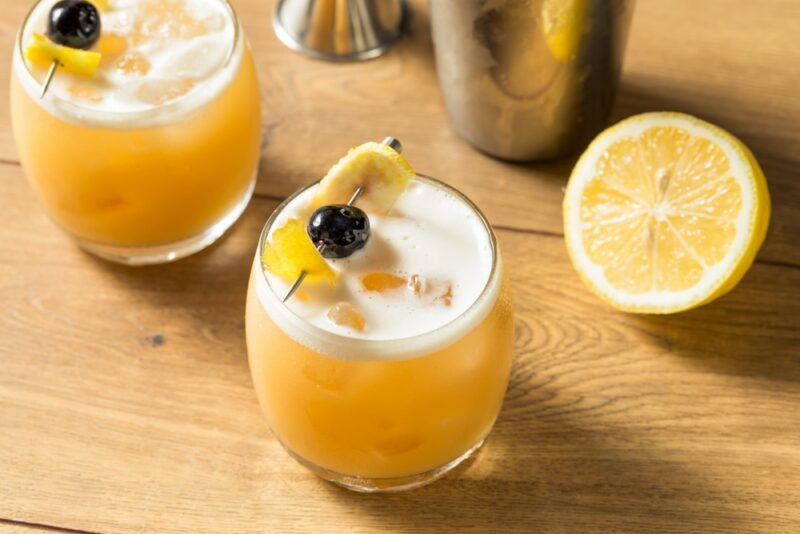 The amaretto sour doesn't look or sound girly, as it's a riff on the classic sour, made using bourbon, egg whites, lemon juice, and amaretto liqueur. However, it's often considered girly because it is sweet and has a low alcohol content.
In fact, the amaretto sour can be overwhelmingly sweet when you order it at a bar and may seem excessive, even if you normally enjoy sweet drinks.
What Are Girly Drinks Anyway?
There are endless debates about what makes drinks girly or manly and no clear cut answer. Manly drinks are often dark colored, are more likely to be sour than sweet, and often have a manly name – like the rusty nail.
In contrast, girly drinks tend to be fruity, sweet, and are sometimes pink. They often rely on many different ingredients that partly mask the taste of the alcohol. Some have feminine names too, like the pink lady and the silk stocking. Some follow a different style entirely and are designed to be low calorie, like the vodka spritz.
Still, for every rule there are exceptions – like the aviation (which sounds masculine), the amaretto sour (which looks much like a whiskey sour), and all the manly tropical drinks. Some drinks are even considered manly by some people and girly by others, like the aviation and the Long Island iced tea.
Interestingly, girly drinks are surprisingly good for serious drinkers anyway as they're often high in alcohol. The sweetness and flavors of the cocktails masks the taste of the alcohol, making it easy to drink a lot of booze quickly.
What Are The Strongest Girly Drinks?
The Long Island iced tea is one of the strongest girly drinks – and one of the strongest drinks in general (as it relies mostly on spirits and has barely any mixer). The same is true for any of the Long Island iced tea variations, like the electric iced tea and Miami iced tea.
Margaritas, cosmopolitans, mai tais, and hurricanes are all deceptively strong as well. However, the strength entirely depends on where you get these from, as some bartenders make them excessively sweet or use too much mixer.
Girly Drinks You Can Order At A Bar
Many of the drinks on this list are classics that most bartenders should be able to prepare. A few may even be featured, especially if the bar focuses on making women feel comfortable.
The cosmopolitan and vodka spritz are easy places to begin, as bars will always have the ingredients for these. The pina colada and margarita are classics too. Many bars will even have an in-house flavored margarita that they serve regularly.
Of course, many of the featured cocktails are well-known anyway, so most bartenders will be able to prepare them. This includes appletinis, daiquiris, sea breeze, sex on the beach, and most others.
Just be aware that many of these drinks can be made in a variety of ways and will taste better from some bars than from others.