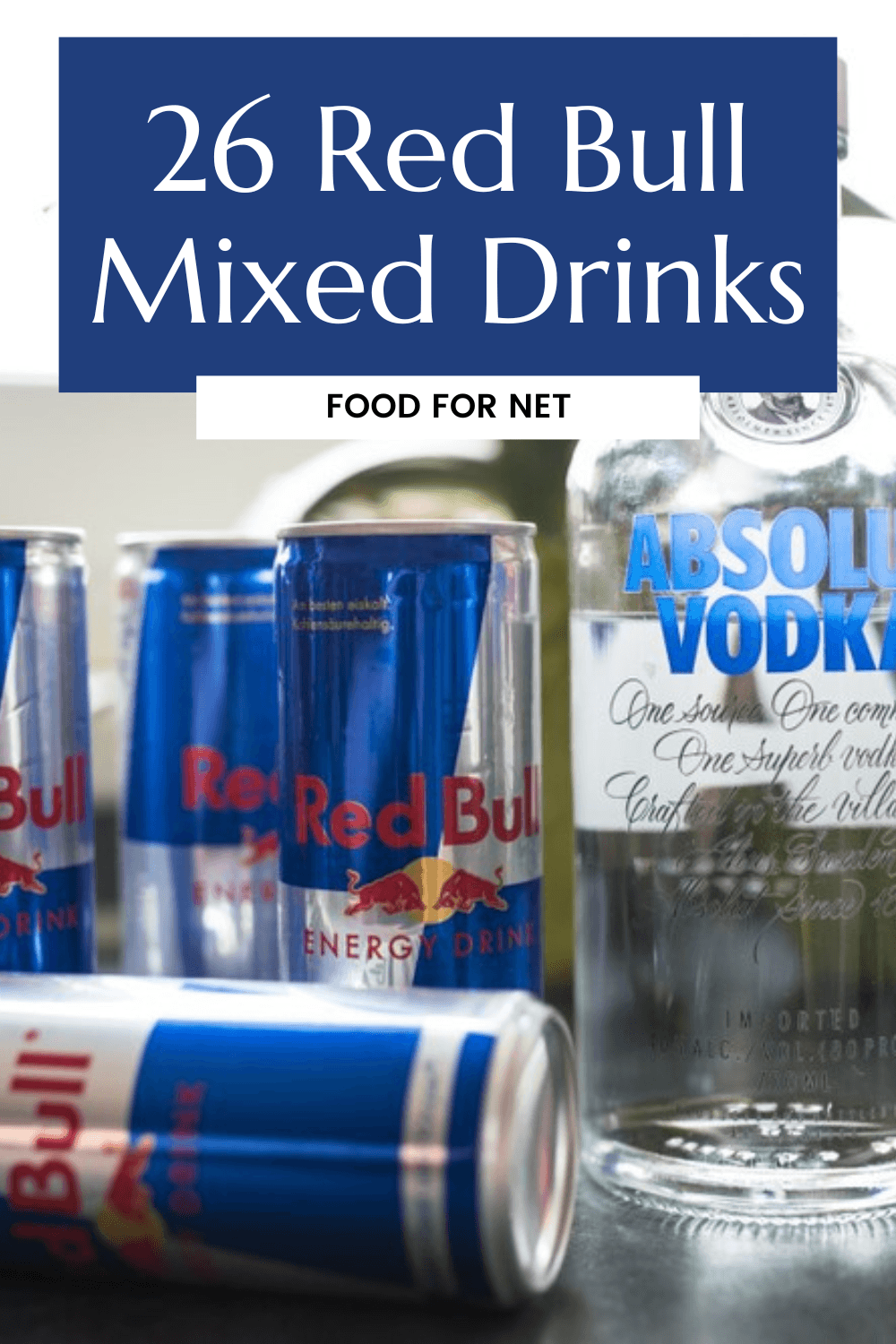 Mixing energy drinks and alcohol makes for an exciting night, as energy drinks mask some of the sedative impacts of alcohol – keeping you alert and engaged for much longer. Red Bull mixed drinks are one of the most popular things to order at a bard. This can be ideal on a night where you simply want to go out and have a good time.
The Red Bull mixed drinks on this list all get the job done. Some of them simply aim to get booze and energy into as quickly as possible – sometimes by creating incredibly potent drinks. But, many also taste good. There are even a few surprisingly nuanced cocktails in the mix.
Before we delve into the cocktails themselves though, let's talk about risk. Combining Red Bull with alcohol means you're consuming caffeine and alcohol simultaneously, which can increase your blood pressure and perhaps raise heart disease risk.
Decreasing the slow-down effects of alcohol has a dark side too, as this makes it easier to consume more than you mean to. This can be particularly bad in a party situation, where you're not paying that much attention to your drinking.
Such risks don't mean you need to avoid energy drink cocktails entirely. Instead, it's simply important to be cautious. Keep an eye on the amount you drink and try not to have too many energy drinks in a night. Honestly, even a single energy drink cocktail should be enough for most situations.
Mixed Drinks With Red Bull
Vodka Red Bull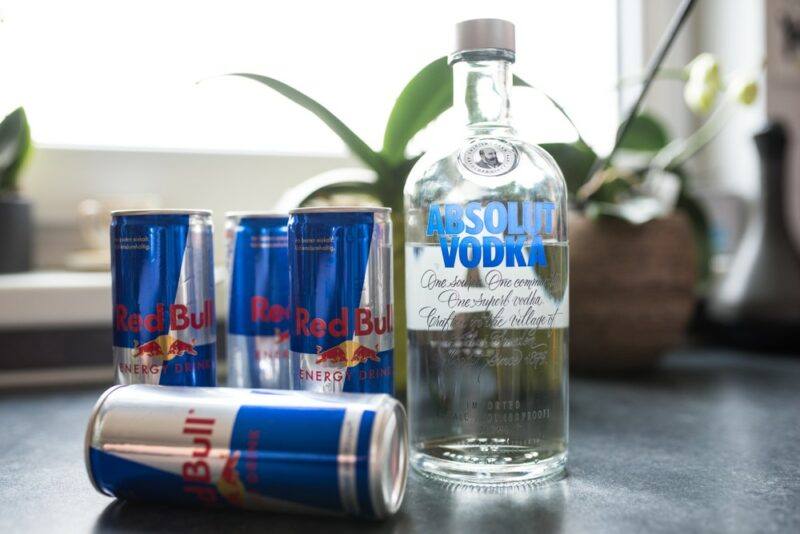 A vodka Red Bull is one of the simplest energy drink cocktails you can make. It is exactly what the name suggests – just vodka and Red Bull. Nothing else is added.
The ratio of the two varies depending on where you buy the drink. Sometimes you get just one shot of vodka and a full can of Red Bull. Other times you might get two shots to a can of Red Bull. Or, the same can might be used to make multiple drinks.
Regardless of the ratio, the flavor of the Red Bull dominates the drink. Sometimes it's even hard to notice the Red Bull.
The cocktail is traditionally made using regular Red Bull. However, you could easily use one of the flavored versions instead. Doing so would add a little more depth to the drink.
Energy Long Island Iced Tea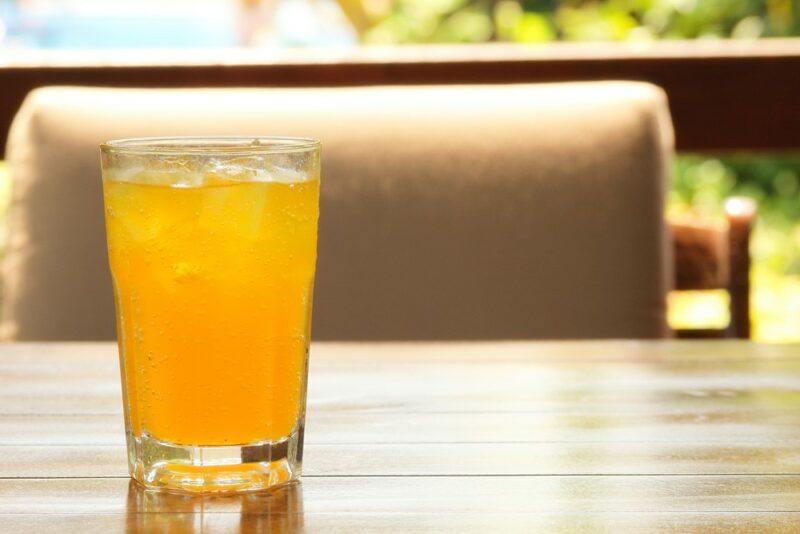 This cocktail is one of the strongest mixed drinks that you'll come across. That's not surprising though, as it's a riff on the Long Island iced tea, which is very strong in its own right.
This version uses the classic ingredients of vodka, rum, gin, tequila and triple sec. There's also a sweet and sour mix, plus a little lemon lime soda.
The whole thing is then topped up with an energy drink. Any type of energy drink will work, but Red Bull is the classic choice, as it is complemented by the other flavors.
Tractor Fuel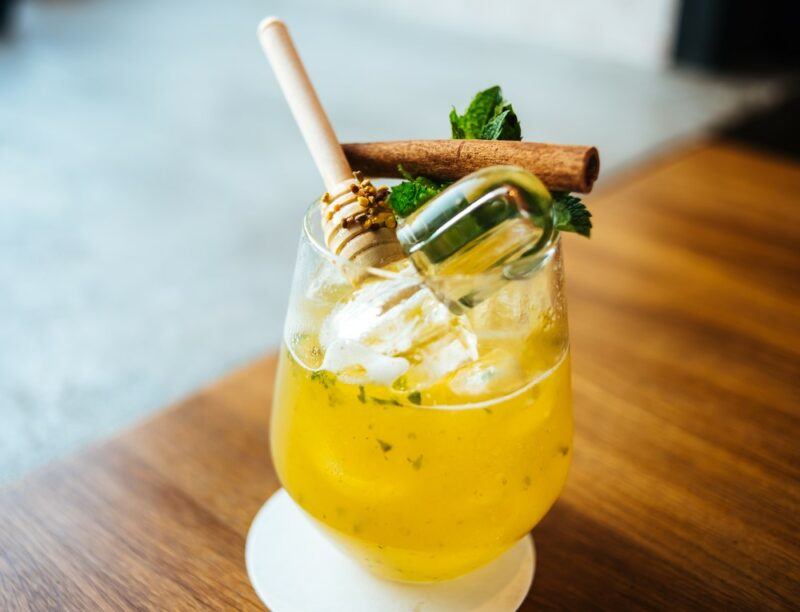 Speaking of strong drinks, here's an even more impressive one. It uses the same four spirits as before, plus triple sec and apple whiskey. For mixers, you have a little simple syrup, some lemon juice, and the energy drink.
The simple syrup and lemon juice provide a similar sweet-sour balance as the previous cocktail (without the artificial sweet and sour mix). You've also got some extra flavor from the apple whiskey, which makes the whole thing even better.
The Irish Trash Can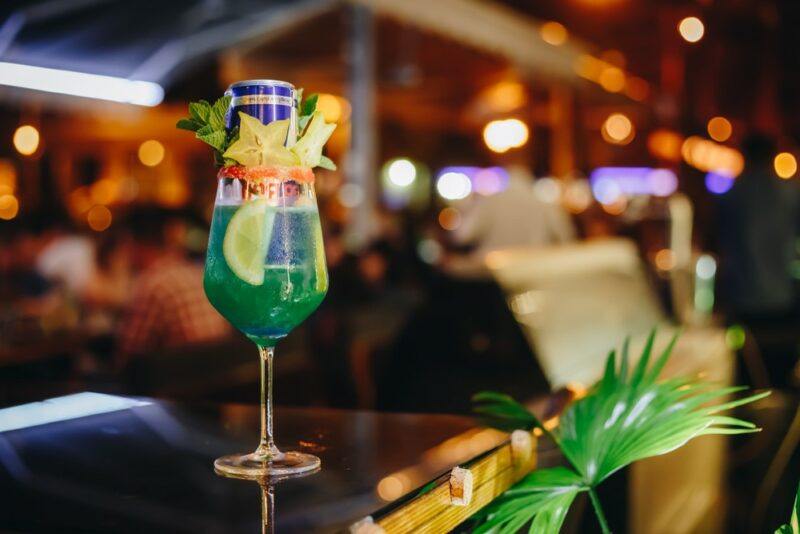 This bright cocktail is famous and is actually another riff on the Long Island iced tea. There's no tequila though. Instead, the recipe relies on vodka, gin, rum, blue curacao, peach schnapps, and triple sec.
The triple sec, blue curacao, and peach schnapps all add complexity to the flavor profile. This time, Red Bull is the only mixer and it's generally added last.
If you order the Irish trash can at a bar, the can of Red Bull will normally still be in the drink.
While the recipe can be tweaked in countless ways, most versions have a blue or green tinge. There are also other trash can riffs that change the ingredients, but still leave a can of Red Bull stuck on top of your cocktail.
Jägerbomb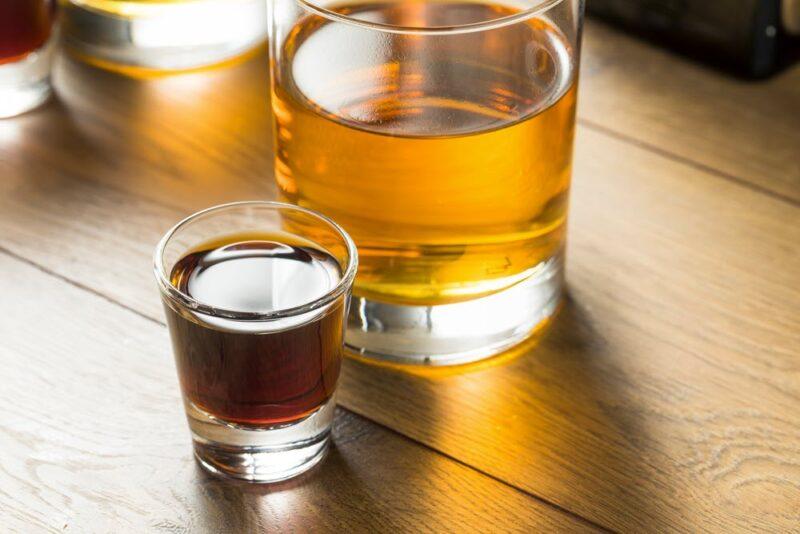 The jägerbomb is simple and famous. It's just made by mixing together Jägermeister and an energy drink (normally Red Bull).
Some versions serve this as a bomb shot, which means you're dropping a shot of jäger into your Red Bull. However, the combination works as a mixed drink too.
Either way, the drink is interesting, as Jägermeister has a unique flavor that includes herbal notes and an anise finish. This flavor profile is a fantastic contrast to the sweetness of your Red Bull.
Atomic Jägerbomb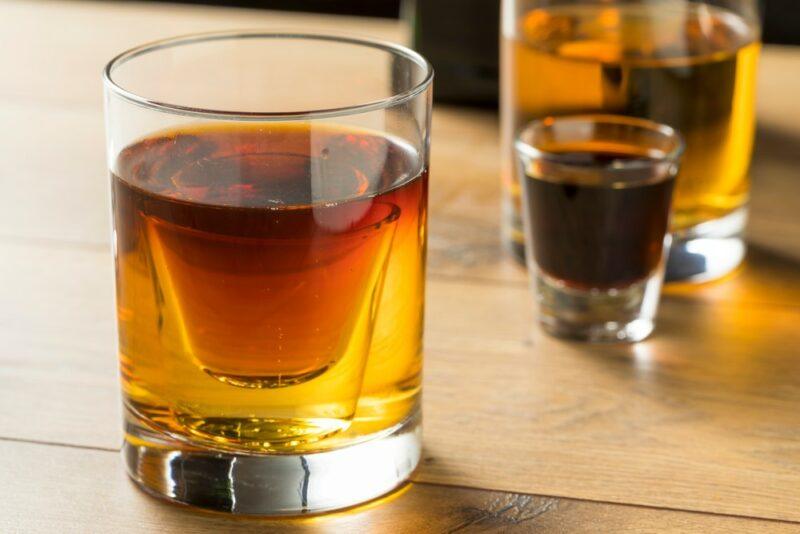 This cocktail riffs on the jägerbomb idea. It's still a bomb shot, but this time, you're including a shot of Jägermeister and one of vodka. The vodka is often mixed into the Red Bull, then the Jägermeister added as a shot.
The vodka makes the drink stronger, without changing the flavor profile too much.
You can also mix things up. For example, an atomic jägerbomb trash can is a mixed drink, where the can of Red Bull is left in place (much like with the Irish trash can).
You can also experiment with an atomic jägerbomb fish bowl, which involves using more of each ingredient in a fish bowl. This gives you an intense drink, especially if you're using a decent amount of Jägermeister in the mix.
Colt 45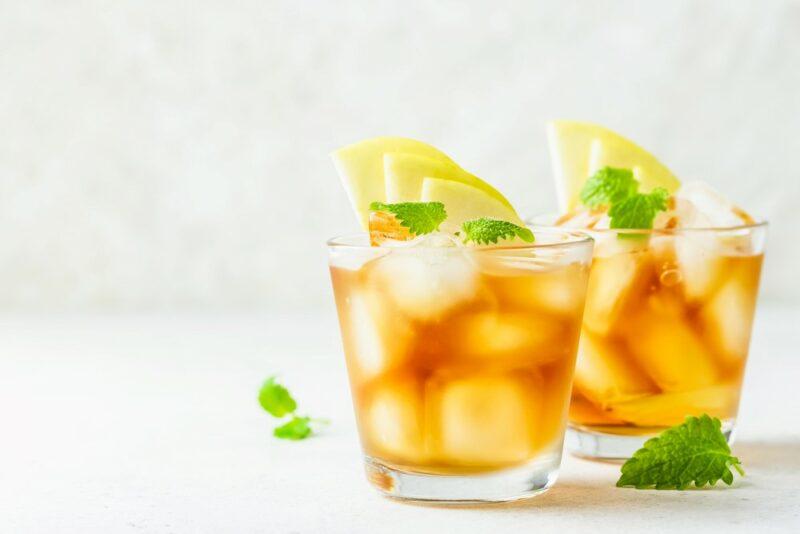 The Colt 45 is a tall cocktail that combines Jägermeister, vodka, and gin. You're getting herbal and botanical notes from both the Jägermeister and the gin, which gives you a surprisingly complex cocktail.
You can vary the amount of Red Bull based on your preferences. Most of the time, you'll be able to get two full cocktails from a single can of Red Bull.
Vegas Bomb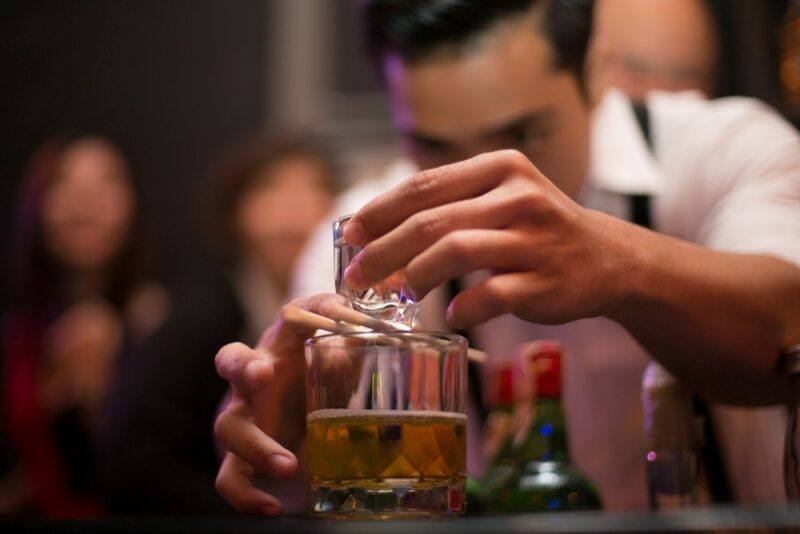 This is another bomb shot. This time, three types of liquor are combined in a single shot glass, which is then dropped into your Red Bull.
For the shot glass, you're mixing together Canadian whisky, coconut rum, and peach schnapps. While this isn't the most refined cocktail, it can be fun for parties.
If the bomb shot idea isn't that appealing, you can always simply mix the four ingredients together. The flavor profile is the same either way. Mixing the ingredients simply gives you the chance to take your time with the drink.
Fire Bomb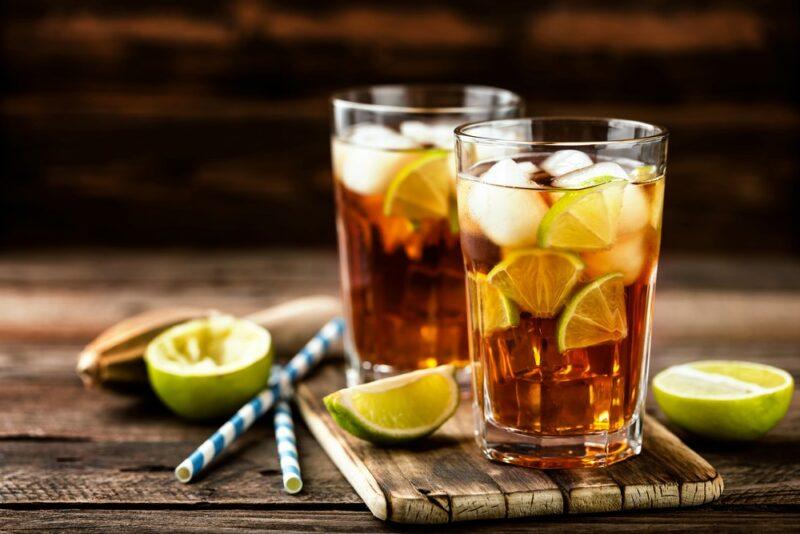 Once again, you can enjoy this one as a bomb shot or as a mixed drink. It's basically a riff on the vodka Red Bull. The only difference is that you're using Everclear rather than vodka, which increases the alcohol content dramatically.
The use of Everclear means you should be extremely cautious with this cocktail. It's probably best to stick to just one per night.
Cabo Bomb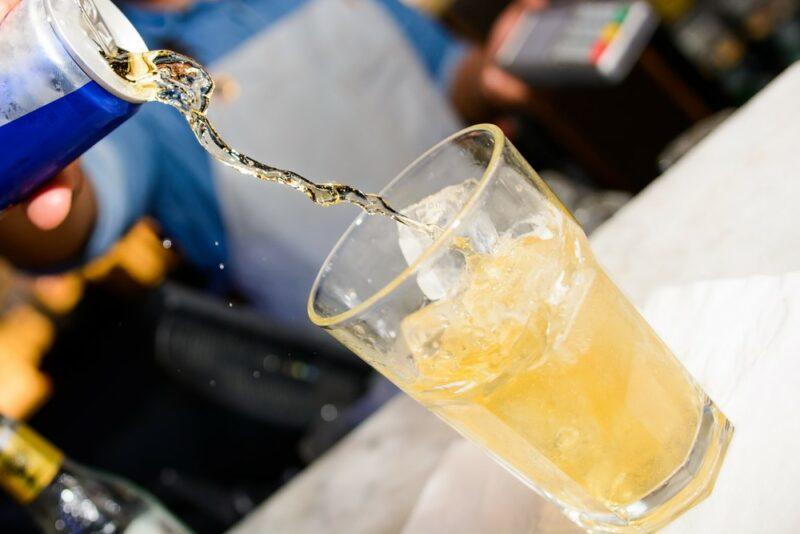 The Cabo bomb gets its name from Cabo Wabo, which is a brand of tequila. However, you can easily swap out for another type of tequila.
Basically, we're just talking about a riff on the vodka Red Bull, where you're using anejo tequila rather than vodka. Once again, you can choose the amount of Red Bull based on your preferences.
Southern Hospitality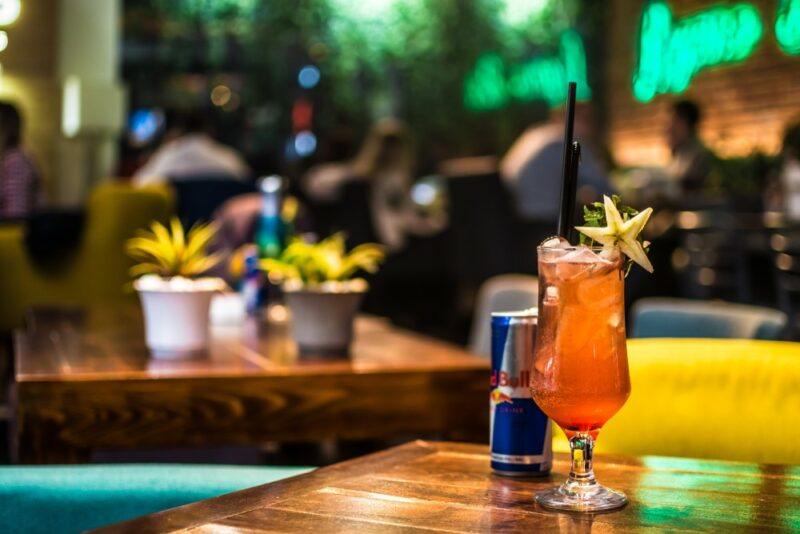 Another way to switch up the vodka Red Bull is to use a shot of Southern Comfort. This creates a richer flavor, where the fruitiness of the Southern Comfort works well with the flavor of the Red Bull.
There's also a more complex cocktail with the same name. This one combines Southern Comfort with watermelon pucker, amaretto, triple sec, and Red Bull. It's a tall drink that's often served with ice, so you can sip it slowly.
Reverse Jägerbomb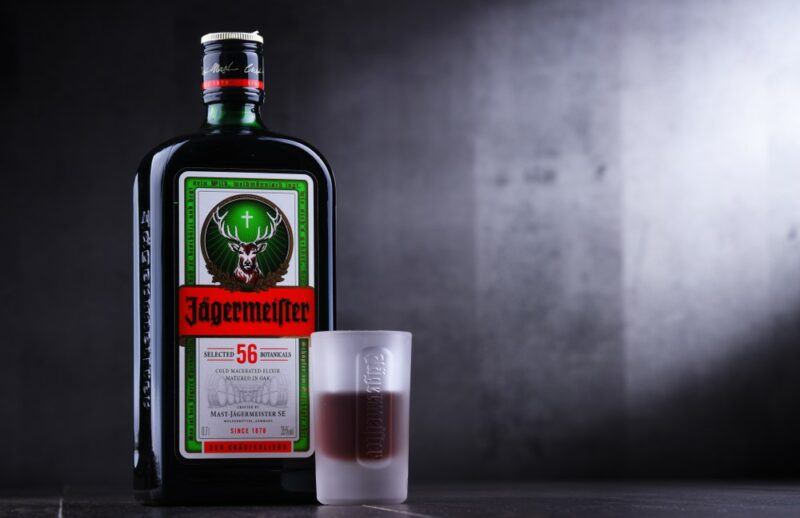 The classic jägerbomb combines a shot or two of Jägermeister with a decent amount of Red Bull. A reverse jägerbomb simply reverses that trend, where you're getting a lot of Jägermeister and much less Red Bull.
Swapping the ingredients like this gives you a more alcoholic drink with a stronger flavor.
Bullfrog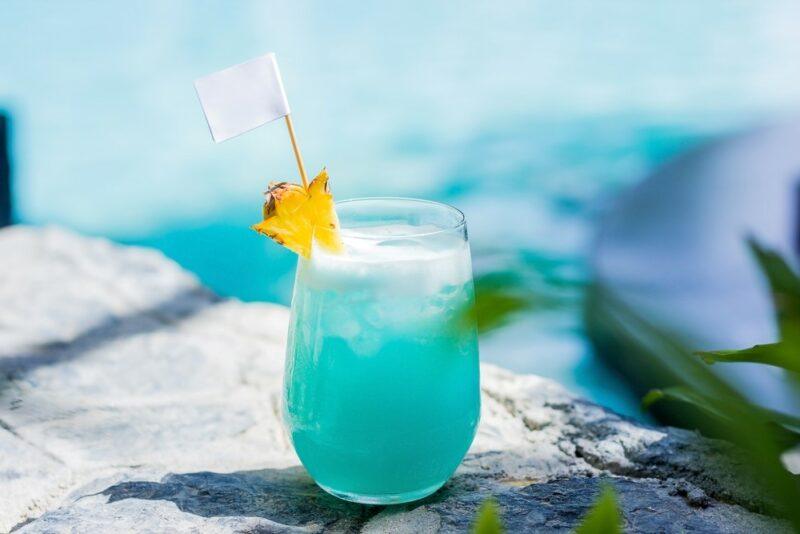 This bright blue cocktail is another twist on the classic Long Island iced tea. This one adds blue curacao and lemon juice to the traditional base of vodka, tequila, rum, and gin. Then, you top the whole thing off with Red Bull.
You're using 1 oz. (or 30 ml) of each of these ingredients, including the Red Bull. This gives you a very strong drink, as you have 5 oz. of alcoholic ingredients and only 2 oz. of mixers.
Bitter Bull Caipirinha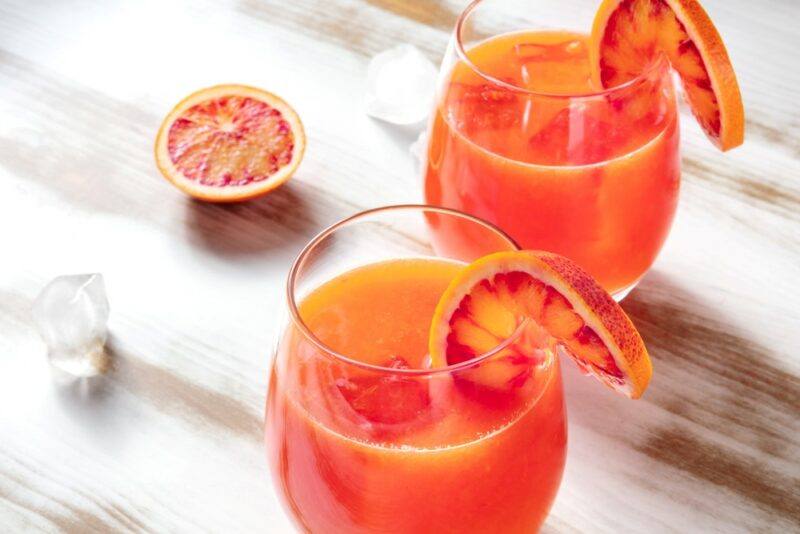 This cocktail is much more complex. It relies on cachaça and Campari, mixed with orange juice and Red Bull.
The cachaça provides grassy and herbal notes to the cocktail, while the Campari adds a distinct bitterness. The combination is delicious and is much more interesting than yet another Red Bull vodka cocktail.
Land Mine
Here's a vibrant and strong cocktail to experiment with. It combines orange vodka with crème de banana, sour apple pucker, Everclear, and just a little grenadine. Then Red Bull is used to top the drink off.
This is often served as a trash can cocktail, meaning that the can of Red Bull is left on top of the drink. If you add the grenadine before the other ingredients, it should settle on the bottom, giving you a fun layered cocktail.
Bull & The Bee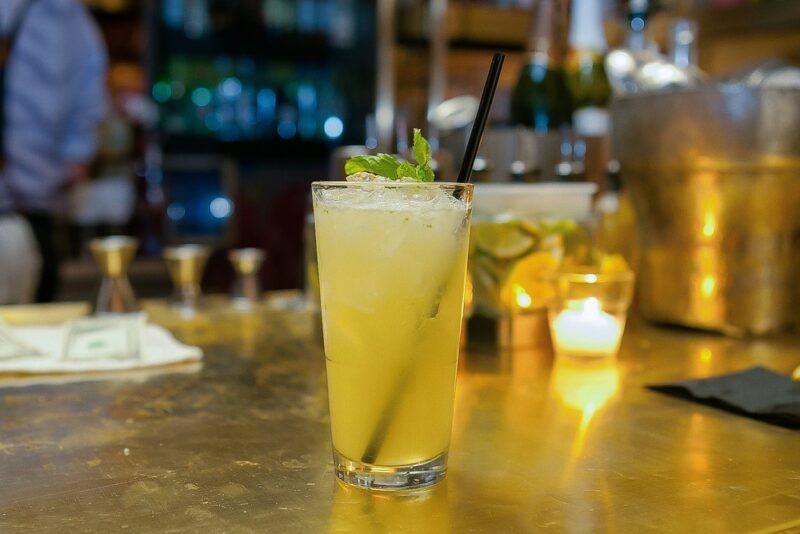 This is one of the few Red Bull cocktails that actually tries for nuanced flavors. It was developed by Patrón Tequila and combines their Patrón Reposado with lime juice, simple syrup, and Red Bull Blueberry.
The combination of Red Bull Blueberry and tequila gives the cocktail a light purple color that looks fantastic in the glass. The lime juice also tones the cocktail down and stops it from being too sweet.
Calabasas Cooler

This cocktail also experiments with flavored Red Bull. This time, Red Bull Yellow addition is combined with vodka and San Pellegrino Aranciata Rossa (which is a type of blood orange sparkling soda).
If you can't find San Pellegrino Aranciata specifically, you could experiment with another type of orange soda. A blood orange one would be ideal, but even regular orange soda would work, as long as it isn't too sugary.
Jägerbomb Jello Shots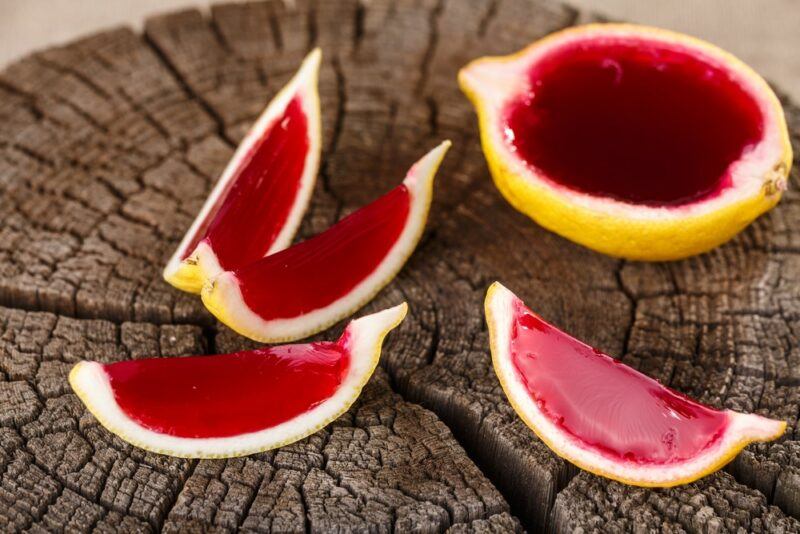 We can't forget about jello shots, can we? True, their popularity has declined over the years, but they're still delicious and fun.
These particular ones take inspiration from jägerbombs, so they combine Red Bull with Jägermeister and gelatin. You can use a maraschino cherry as part of each shot too, to make them easier to eat, but this is completely optional. Or, why not make them in orange peels? This is a fun style and means you can avoid cups entirely.
Red Bull Mojito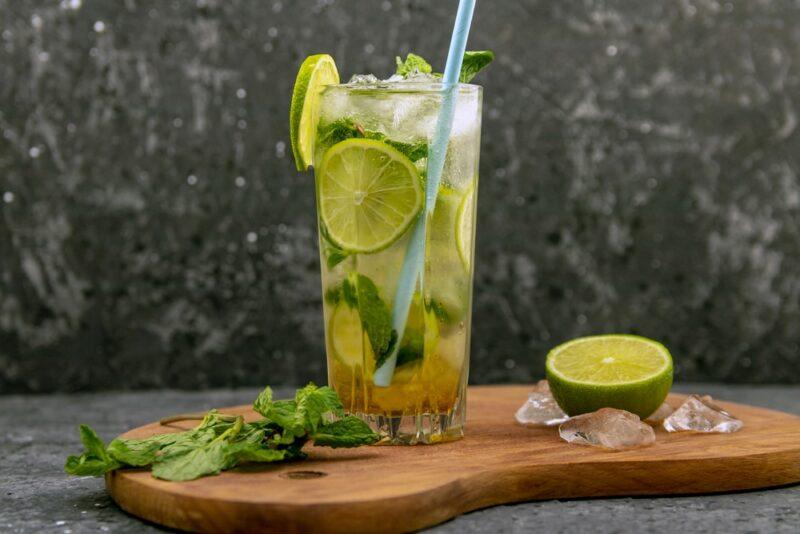 A Red Bull mojito doesn't need much introduction, as it is exactly what the name suggests. You're simply making a regular mojito, except that you use Red Bull instead of sparkling water in the final step.
The Red Bull adds some complexity and sweetness to the cocktail, but doesn't take much away from the dominant flavors.
TVR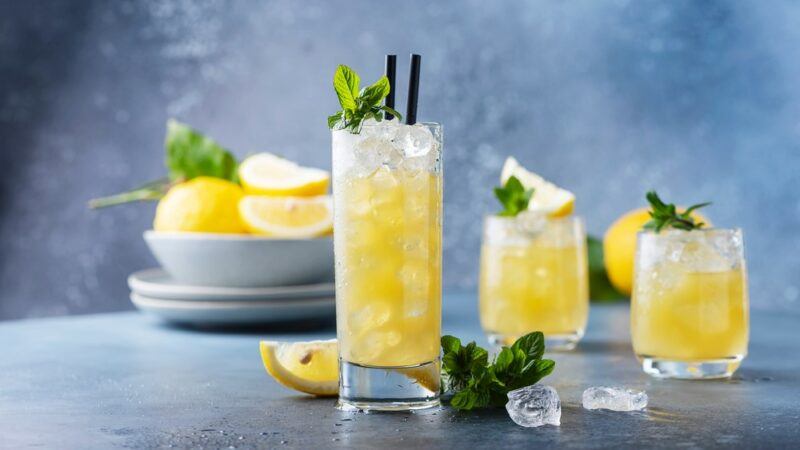 The TVR cocktail just contains three ingredients – tequila, vodka, and Red Bull (which is where the name comes from). You use one shot of each spirit and plenty of Red Bull, so the Red Bull dominates the flavor profile.
To make things a little more nuanced, try using anejo tequila. This provides a little dryness that helps to balance the Red Bull.
The flavor still won't be amazing, but honestly, taste isn't the point here. You're getting a decent amount of alcohol from the shots and plenty of energy too.
The Adrenaline Shot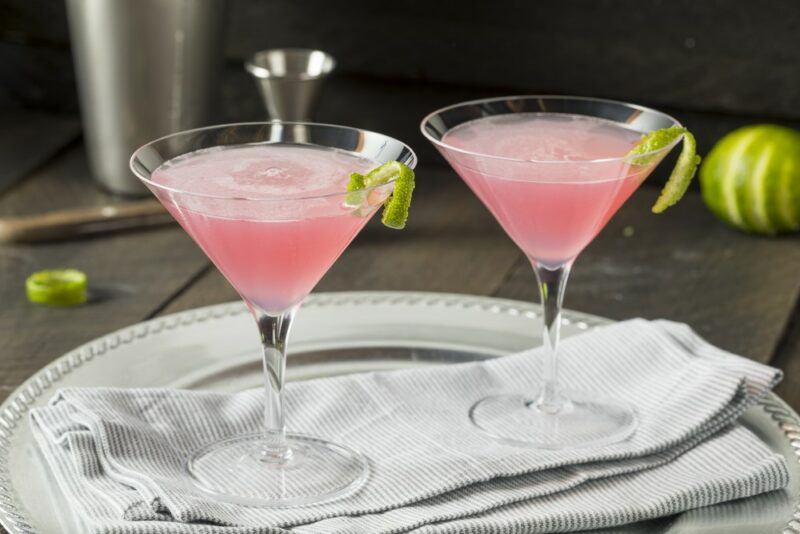 This cocktail was inspired by Pulp Fiction. It combines cherry vodka with Red Bull, and amaretto to give you a fruity drink with a decent amount of kick.
The drink's color will vary depending on the vodka you choose. Some types of cherry vodka are red or even dark red, which will deepen the color of your drink. If you choose a clear cherry vodka instead, you'll end up with a lighter drink that mostly just looks like Red Bull.
Bull Rider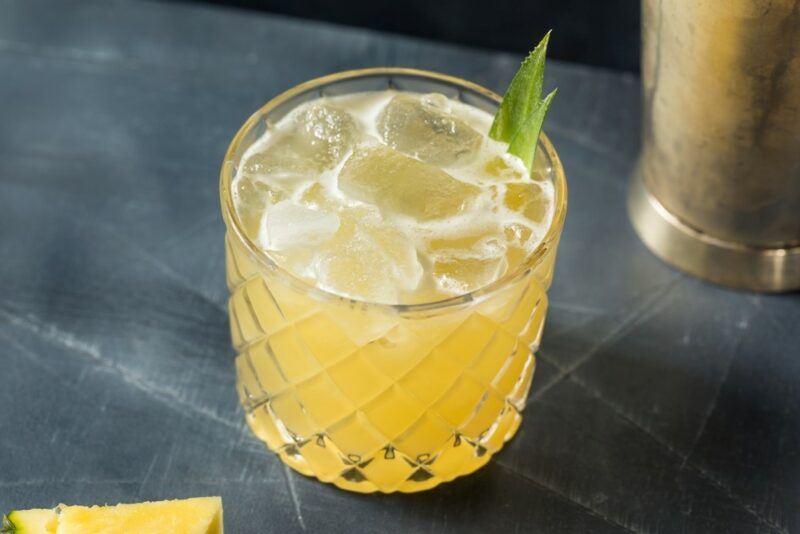 Here's an interesting and surprisingly complex cocktail to try.
It relies on reposado tequila, orange liqueur, pineapple juice, yuzu juice, and even toasted coconut syrup. These ingredients are shaken together, then the cocktail is topped up using Red Bull Orange.
Red Dead Redemption 2 Bomb Shot
Energy drinks and gamers just go together, don't they? This bomb shot was inspired by the game Red Dead Redemption 2, so you know it was created by true gamers.
It's an unusual drink too, as there are three different shots to make, one with Jack Daniels and Johnnie Walker, one with Fireball Whisky and strawberry pucker, and a larger one with Jameson, Red Bull, and black food coloring.
A bit of work goes into making the cocktail and then drinking it. Honestly though, the shot is worth trying at least once. You might be surprised at how much you enjoy it.
F-Bomb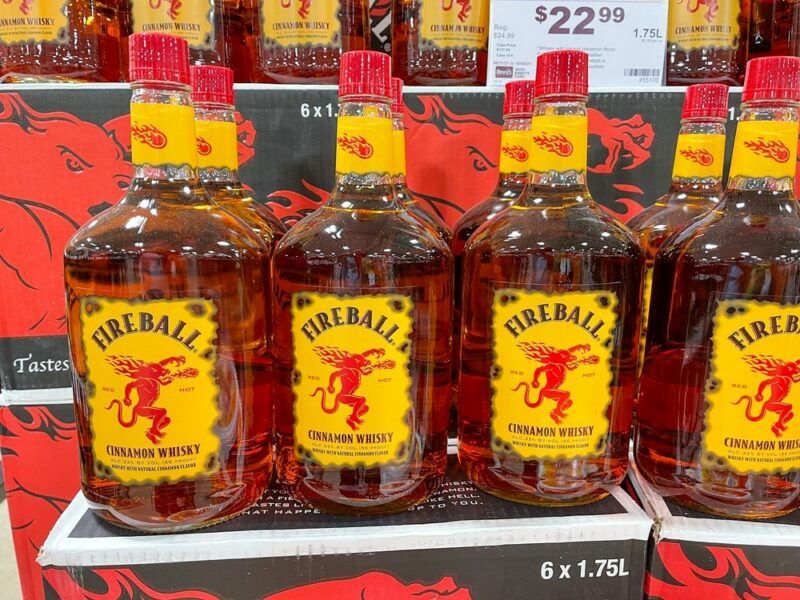 This simple cocktail can be made with any type of energy drink, but Red Bull is the traditional version. The combination of Fireball and Red Bull gives you quite a flavor kick. Plus, you're getting the familiar boost of energy from the Red Bull.
Be warned, though, Fireball Whisky does pack quite a flavor punch. Some people love the taste, but others can't stand it. The flavor might catch you by surprise if you've never tried Fireball before.