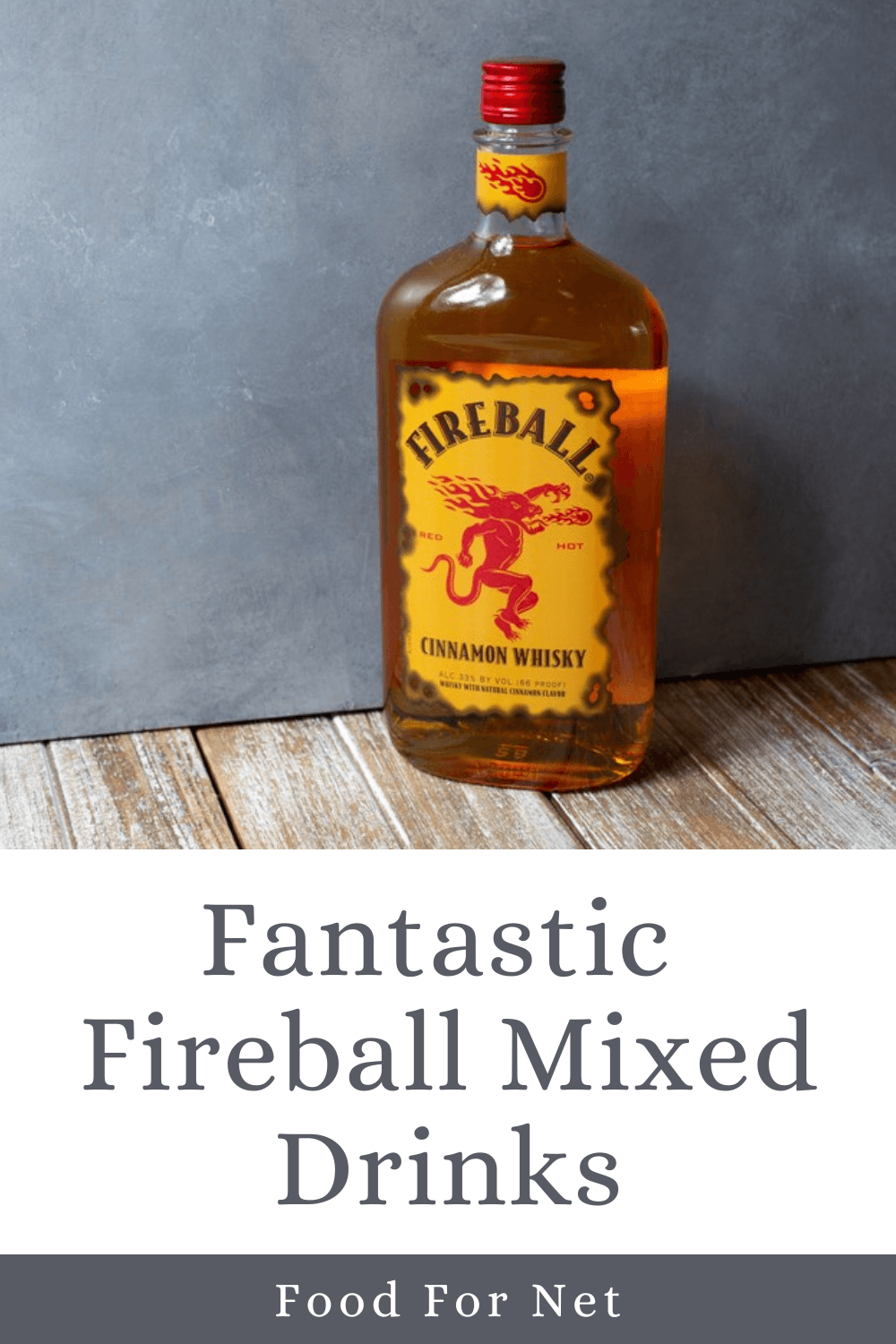 Fireball Cinnamon Whisky is an unexpected treat (it's written whisky, not whiskey, as this is a Canadian product). We're not talking about whisky with a slight cinnamon flavor either. Instead, the cinnamon is spicy and in your face, giving you a drink you won't forget any time soon. That's why fireball mixed drinks are one of the most popular items at a bar.
The vibrant flavor means you'll often be drinking Fireball on its own, perhaps as a shot or over ice. But, you can use Fireball in other ways too, including Fireball mixed drinks. Fireball actually works surprisingly well in mixed drinks, which is why there are so many to choose from.
Some of these drinks highlight the flavors in Fireball, making them even more intense. Others attempt to mellow the Fireball out, giving you something easier to drink.
Whatever the style, most of these aren't incredibly strong mixed drinks. This is because Fireball itself is a whiskey liqueur rather than straight whiskey. It is only 33% alcohol by volume (ABV), while whiskey itself is generally around 40% ABV.
There is even a lower proof version, at just 21% ABV. This is useful if you want the flavor of Fireball Whisky without overdoing it on the alcohol content.
Regardless, these mixed drinks come in plenty of different styles. You're certain to find at least a few that you love. And if you're not convinced about cinnamon, why not try drinks made with peanut butter whiskey or honey whiskey?
Fantastic Fireball Mixed Drinks (With Pictures!)
Manmosa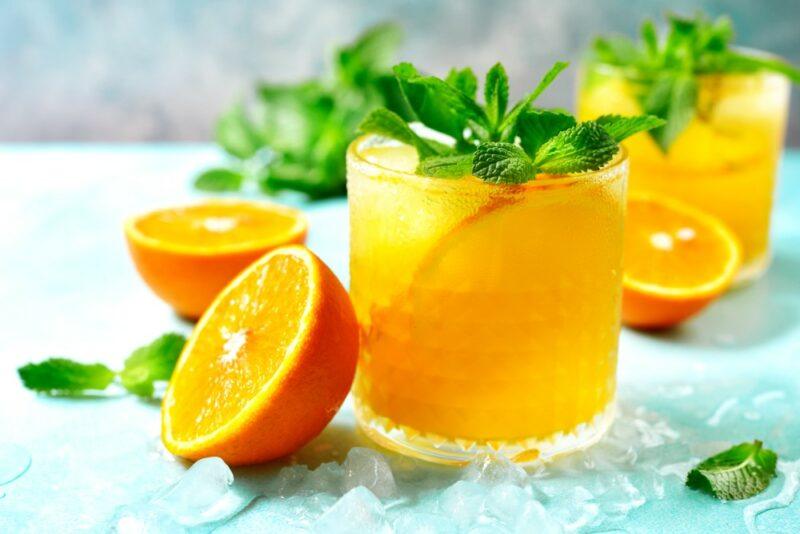 The manmosa is simply an attempt to turn a mimosa into a masculine drink. There are endless variations, including many that include beer in some form or another.
The one we're interested in uses two parts champagne to one part Fireball, with just a splash of orange juice. The orange juice makes the drink look like it should, but you don't taste it much at all. Instead, the Fireball overtakes the flavor profile.
If the cinnamon flavor is too strong, try three parts champagne to one part Fireball.
Dragonade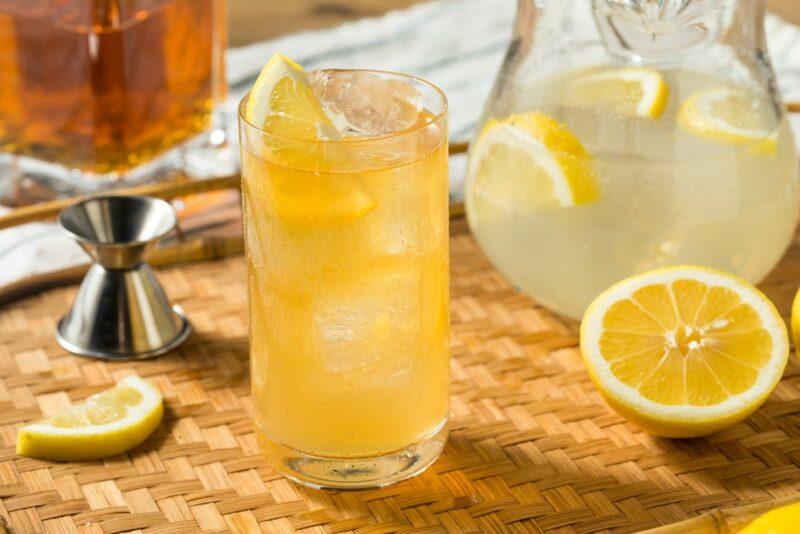 This is a useful way to mellow out your Fireball. It's also a good tall drink for the afternoon, especially when you're trying not to drink too much.
The ingredients are simple, just one part Fireball to four parts lemonade, plus plenty of ice. Of course, you could experiment with the ratios. Why not try a shorter version with more Fireball and less lemonade?
Angry Balls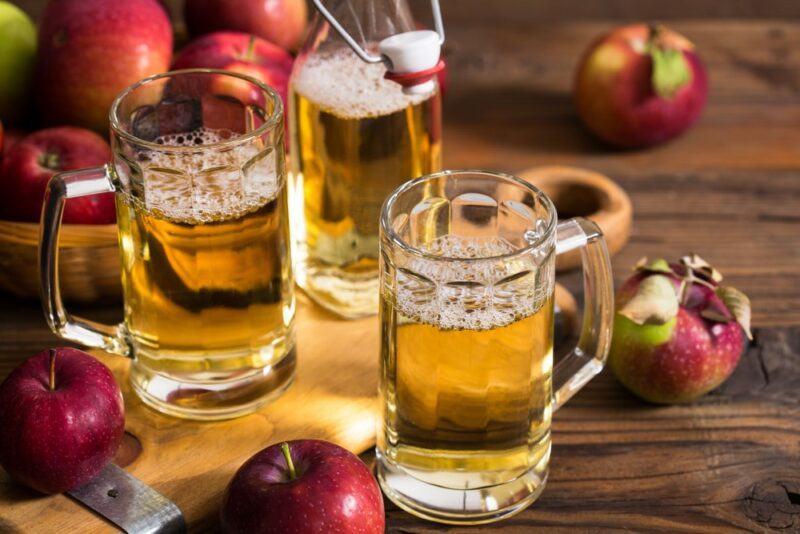 Here's a pattern you'll see often – Fireball cocktails like to play on the 'ball' part of the name. Immature, perhaps, but it does create some fun drink names.
This version is a delicious fall drink that combines a fall pint of hard apple cider with a single shot of Fireball Whisky. You end up with a low ABV drink that's surprisingly delicious.
Some versions of this cocktail suggest using Angry Orchard Apple Cider (which must be where the name comes from). However, you could easily use a different type of hard cider instead.
For that matter, mixing Fireball with regular apple cider would be delicious too. The cocktail would just have a much lower ABV.
Fireball Old Fashioned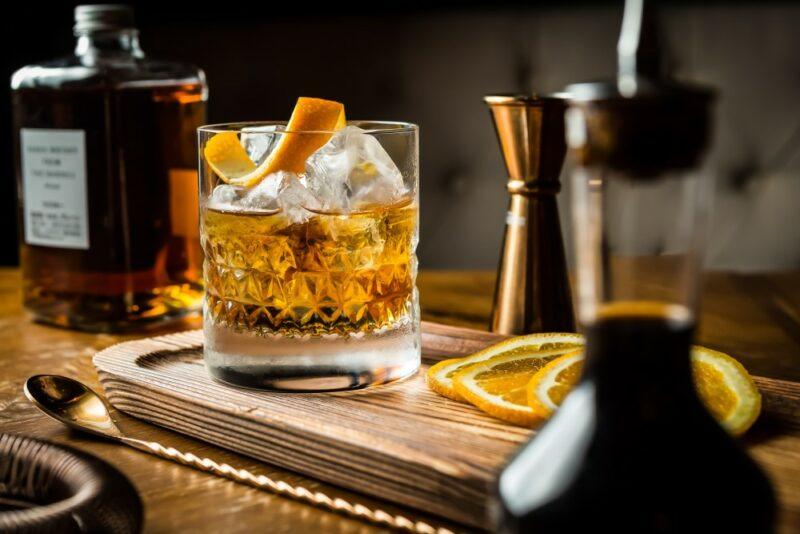 The old fashioned is a classic cocktail, one that's traditionally made by muddling together sugar, water, and bitters, then adding whiskey. The sugar and bitters knock the edge off the whiskey, without taking too much away from the flavor. You end up with a short and delicious drink that's easy to make at home.
A Fireball old fashioned can be made in two ways. One is to simply replace the regular whiskey with Fireball. Doing so gives you a lower ABV drink and you get a strong flavor kick from the Fireball.
The other is to use two parts whiskey and one part Fireball Whisky. Doing so means you get some flavor from the Fireball, without the Fireball being too overbearing.
Fire Away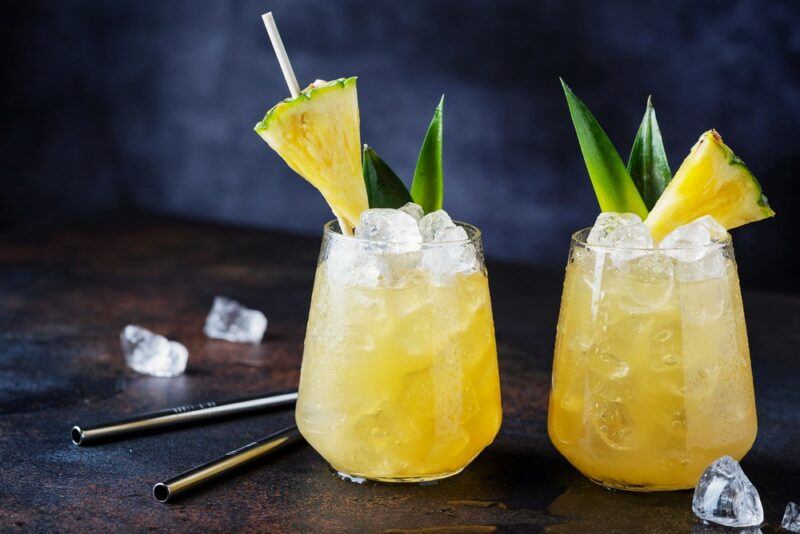 This is an interesting cocktail. It uses equal parts cinnamon whiskey, apple whiskey, pineapple juice, and triple sec, along with just a little sweet and sour mix and lemon lime soda.
You end up with a surprisingly delicious drink, one that has plenty of flavor to go around. The apple whiskey and cinnamon whiskey work particularly well here. They would, wouldn't they? After all, apple and cinnamon is a classic flavor pairing.
Dirty Doctor Pepper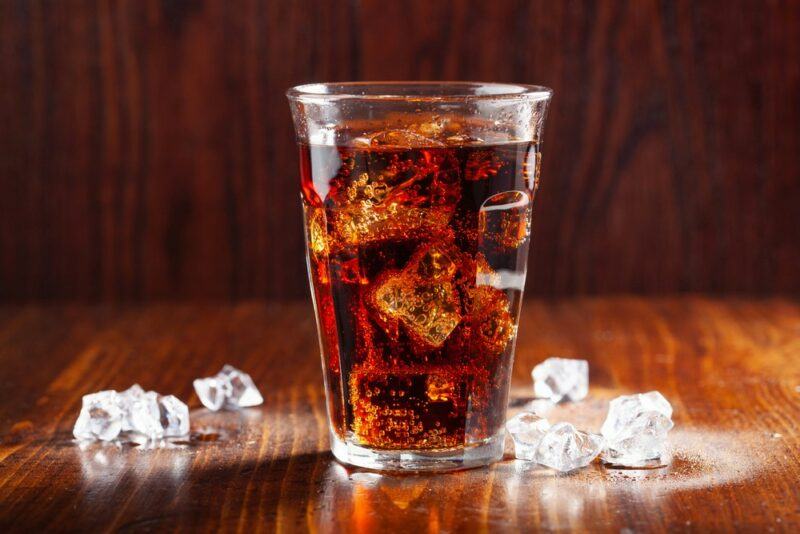 Despite the name, this cocktail doesn't actually use Doctor Pepper at all. Instead, it relies on an unexpected combination of beer, cola, cinnamon whiskey, and amaretto.
These ingredients don't sound like they should work together, yet somehow they do. The finished cocktail even ends up tasting much like Doctor Pepper, which is where the name comes from.
The beer is optional. You can easily skip it and use more coke if you want less alcohol in your drink (or aren't convinced about the idea of combining beer and cola).
Fireball Smash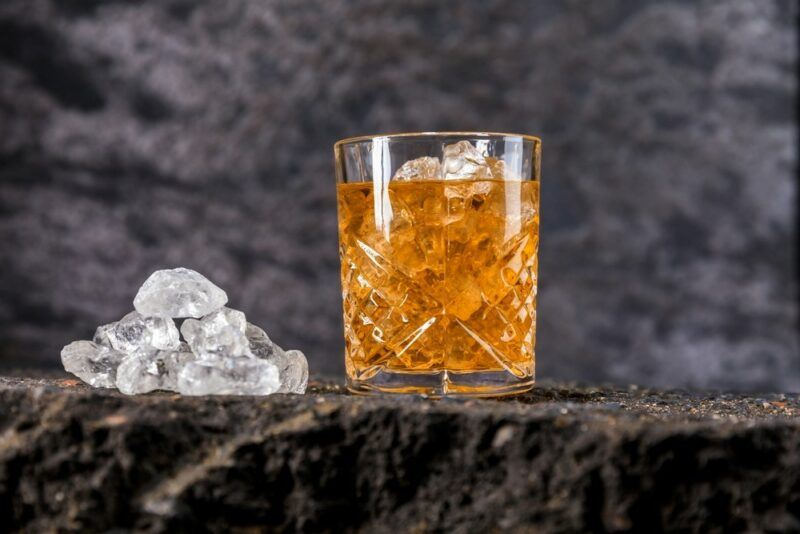 Smash cocktails are fantastic when the weather is warm, as they're delicious and refreshing. This particular version is simple, just relying on Fireball Whisky, lemon juice, and a tiny bit of simple syrup. Muddled mint leaves finish the whole thing off.
The use of lemon juice and Fireball Whisky gives the drink quite a flavor kick. The simple syrup will offset this a little, but you still end up with an intense drink. This is one to sip slowly. You might even need to let it stand for a little, while some of the ice melts.
Blackberry Fireball Whisky Fizz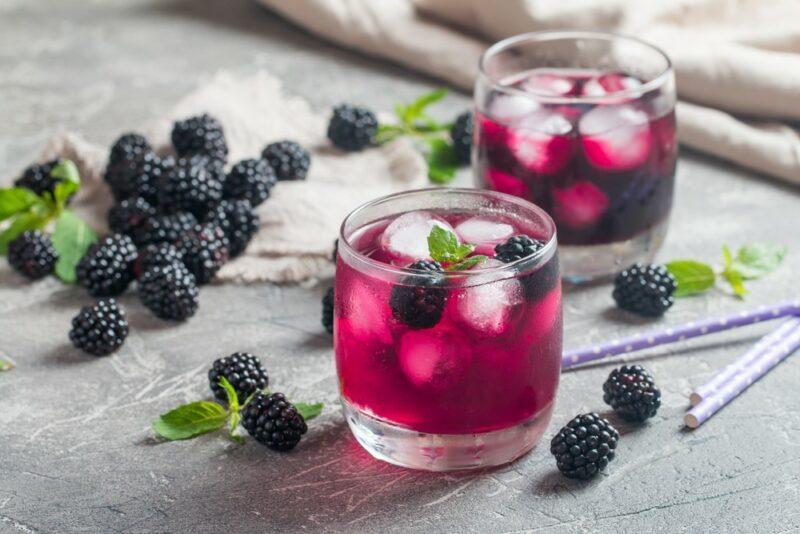 The deep color of this cocktail would make it an excellent seasonal drink (the cinnamon flavor helps with that goal too).
This is also a great party drink as it's so easy to make. There are only three ingredients to worry about – fresh blackberries, cinnamon whiskey, and ginger ale.
You could also make this a low calorie cocktail by using diet ginger ale rather than regular ginger ale. It's going to taste delicious either way.
Fiery Eggnog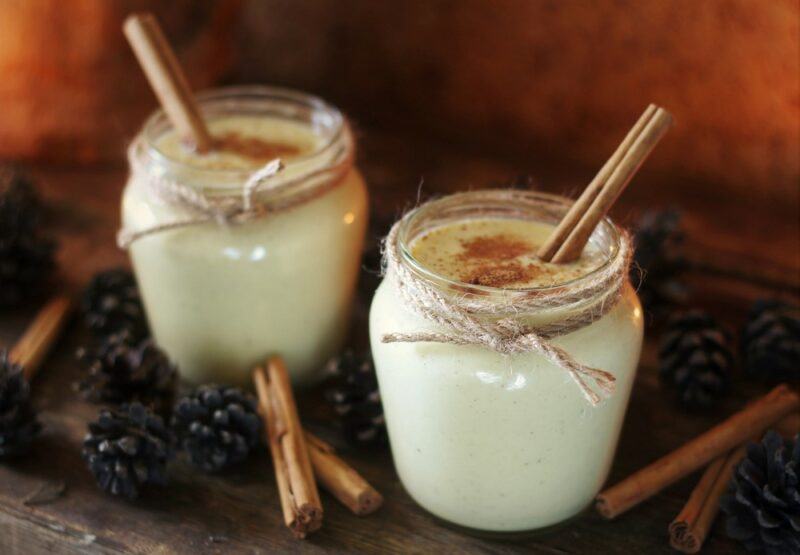 Here's another traditional drink that's been spiced up with cinnamon whiskey. And honestly, why not? Eggnog often includes cinnamon as an ingredient anyway.
Fireball simply takes things a step further, providing extra sweetness and spiciness that is a perfect balance against the creaminess of the eggnog. This version includes amaretto liqueur as well to provide a touch of almond flavor.
You could choose to make your own eggnog or simply mix amaretto and cinnamon whiskey in with store bought eggnog. Either way, the drink will be delicious.
If amaretto isn't your style, you could skip it and add vanilla vodka instead. The combination of vanilla and cinnamon is exceptional, plus you're getting a decent amount of alcohol per drink.
Fireball Root Beer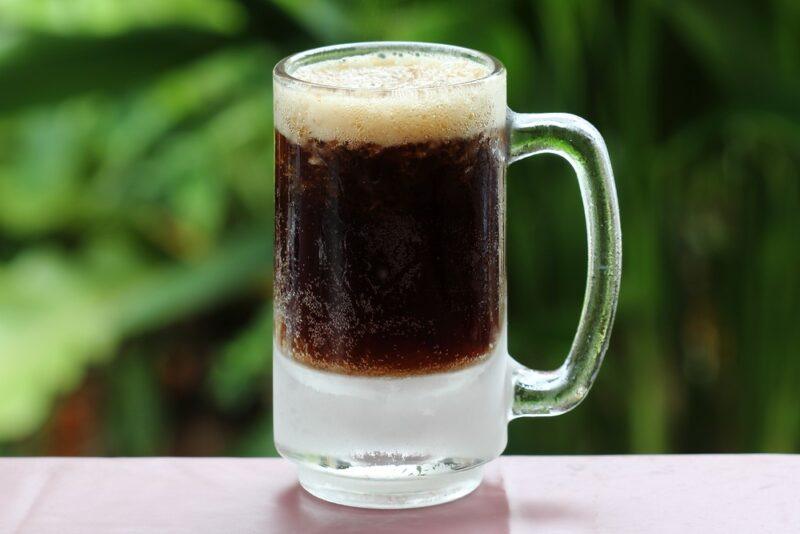 This simple drink is surprisingly tasty. It just combines a mug of root beer with a shot or two of Fireball Whisky. The vanilla flavor of the root beer is a perfect complement to the spiciness of the Fireball.
Because root beer isn't alcoholic, you end up with a low ABV drink. This can be good, though. After all, your cocktails don't always need to be strong.
The Angry Bee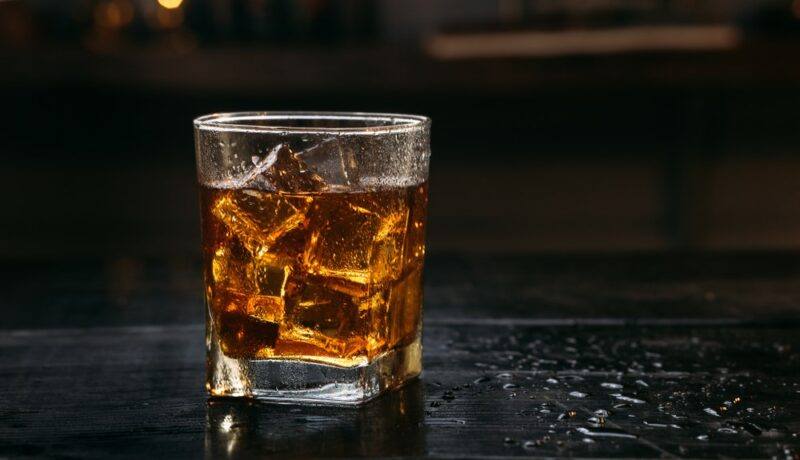 Speaking of simple recipes, here's another fun one to try. There are just three ingredients – honey whiskey, cinnamon whiskey, and cola.
There's a fantastic balance of flavors going on, especially as the cinnamon and honey complement each other so well.
If you want an intense drink, you could use plenty of whiskey and serve it in a short glass. This would keep the mixer levels low.
Alternatively, you might serve it in a tall glass and cut down on the whiskey. The flavor profile changes depending on which approach you take, but the drink should be delicious no matter what.
Pumpkintini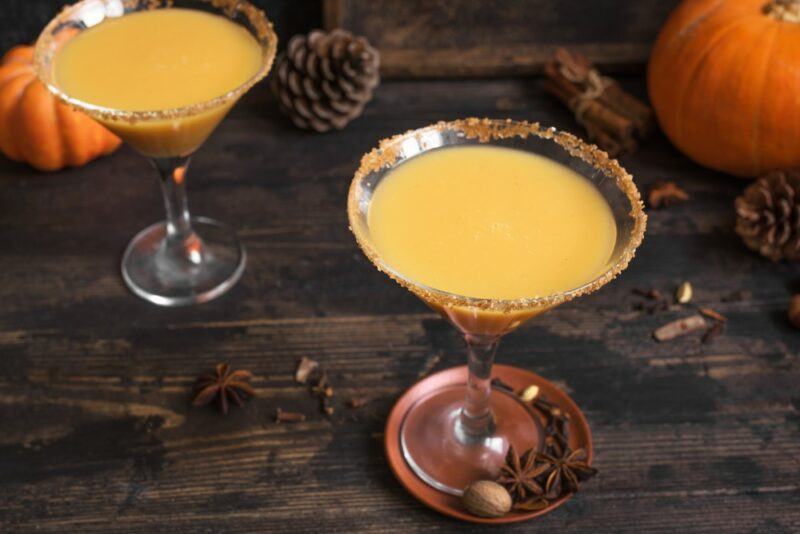 Why have an appletini when you can have a pumpkintini instead?
This is a creamy cocktail that relies on cinnamon whiskey, rum cream, pumpkin spice liqueur, and half & half. You can make it even more special by creating a graham cracker rim and garnishing the drink with whipped cream.
While this is called a pumpkintini, the flavor profile isn't strongly pumpkin-focused. After all, you're getting a decent cinnamon hit from the Fireball, which pushes the pumpkin into the background.
Fireball Orange Sweet Tea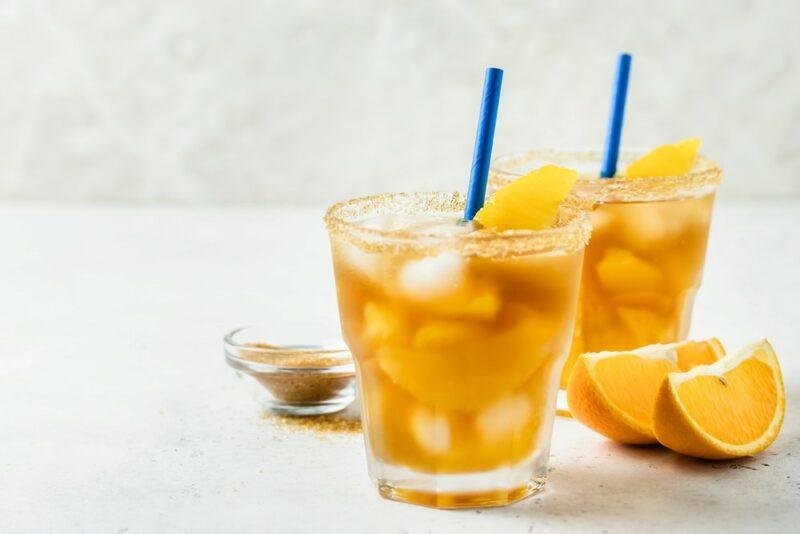 The name of this cocktail tells you exactly what to expect from it. So, you're simply mixing together Fireball whisky, orange juice, and sweet tea.
The recipe just calls for 1.5 ounces of Fireball, along with six or seven ounces of mixers, so this is a fairly low ABV drink. That's not a problem though, as such drinks are perfect on a hot summer's day.
Orange juice cocktails like this always taste better when you use freshly squeezed orange juice. This provides tartness and vibrancy that you'll never get with the bottled stuff.
F-Bomb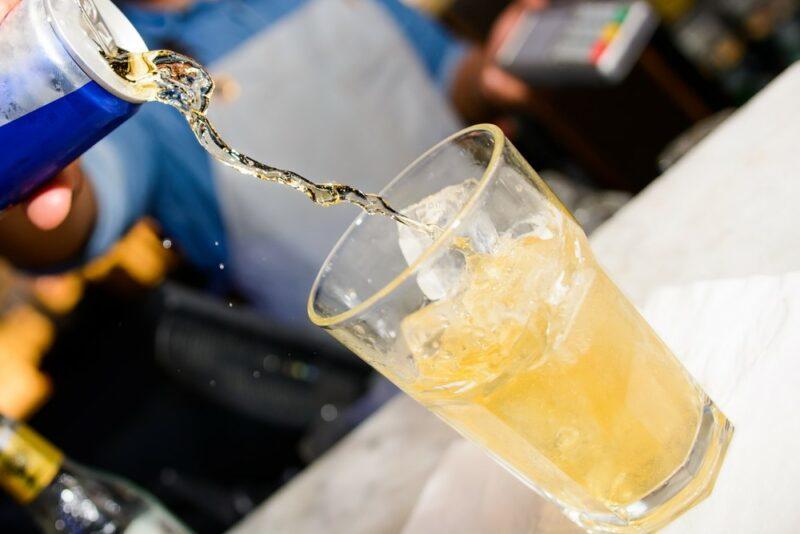 While this mixed drink is simple, it certainly packs a punch. You're just combining two ingredients – a shot of Fireball and a can of energy drink.
You can use any type of energy drink here, although Red Bull is an excellent starting point. Just be warned. The flavor is going to change dramatically from one energy drink to the next.
Cinnamon Toast Crunch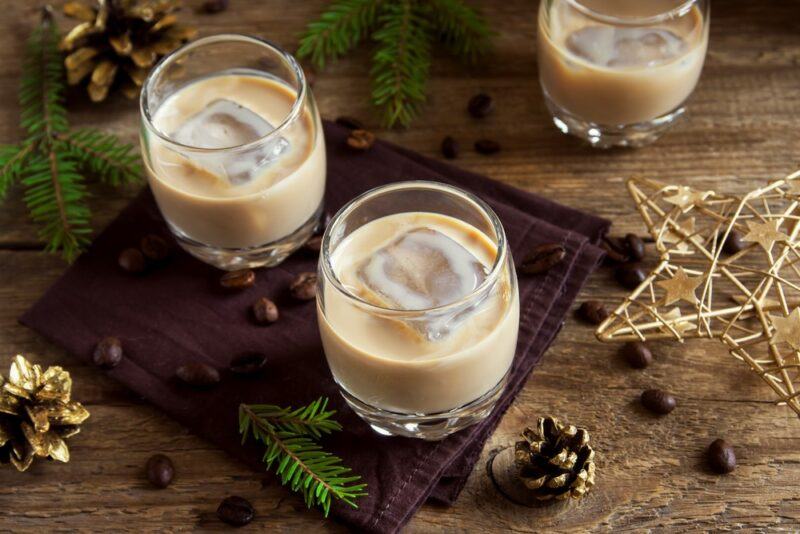 It was only a matter of time before someone made a cinnamon toast cocktail that uses Fireball Whisky. Actually, there are quite a few versions. Some of them are full cocktails, while others are shots instead.
RumChata and Fireball are the most common ingredients. If you want a shot, those two are actually enough.
For a larger drink, you'll need some extra ingredients. Some people add vanilla vodka to improve the flavor balance and raise the alcohol content. You could also mix in milk or half & half to tone down the drink. Plant-based milk works fine too.
Giant's Milk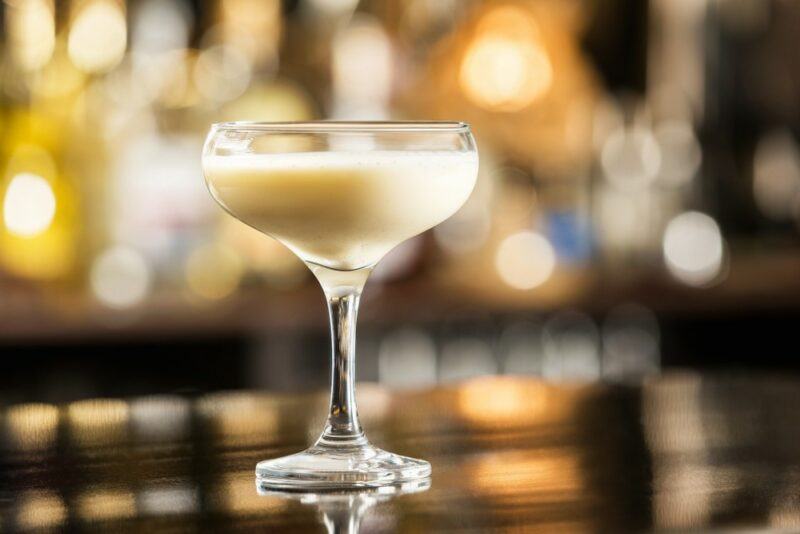 This creamy drink looks like a milk cocktail, but it relies on a different combination of ingredients. You're looking at cognac, cinnamon whiskey, cinnamon schnapps, and a few other ingredients.
The combination gives you an exceptionally rich and creamy drink. The richness could even be a bit much for some, especially if you try to drink a full serving (which looks to be roughly a pint).
Of course, you can easily dilute the drink or simply have a smaller serving. Adding some milk would be an easy way to tone it down.
Fireball, Ginger Beer, And Apple Cider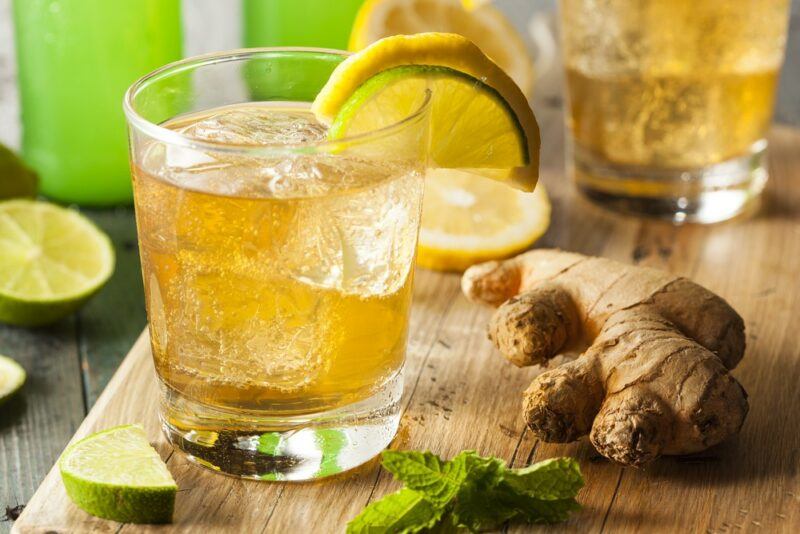 This mixed drink simply involves adding a shot of Fireball and a shot of grenadine to a glass, then filling it up with apple cider and ginger beer. The flavors of the four ingredients mix together surprisingly well, giving you a flavorful drink that's easy to enjoy.
You can serve the drink straight or mix it over ice. The ice version is perfect for summer. Plus, your drink gets a little mellower as the ice melts, which can be helpful.
A Hot Toddy With Fireball

A hot toddy is already a warming fall drink, so why not add some Fireball to the mix? The whiskey gives you a sharp cinnamon kick that makes the hot toddy even more powerful.
And honestly, the cinnamon in a regular hot toddy often gets drowned out by the other flavors. Fireball changes this by bringing cinnamon to the forefront of the shot.
Fireball Sangria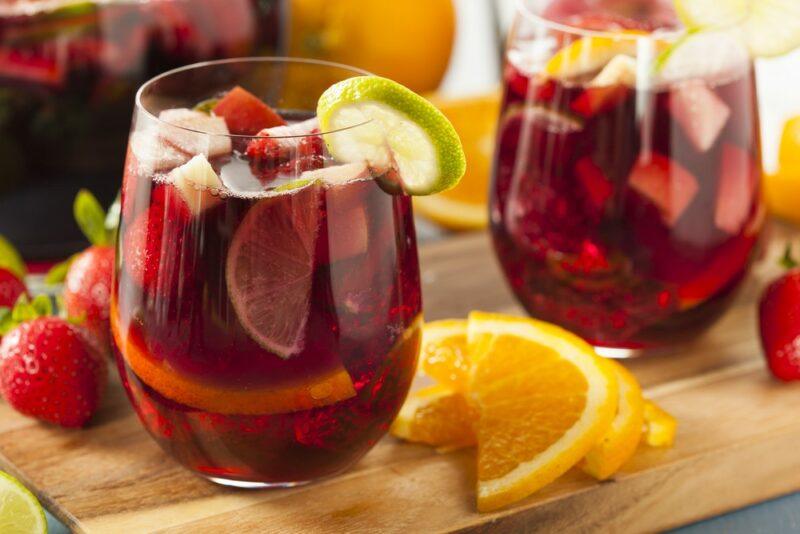 Fireball Whisky can be surprisingly good in party recipes too, as this Fireball sangria recipe shows.
Well, to be honest, a complete recipe isn't really needed here. You're basically just making a regular sangria, then adding a decent amount of Fireball Whisky to the mix.
The Fireball adds a fantastic cinnamon flavor, making the drink much more interesting than regular sangria. You can ramp this up even further by adding cinnamon sticks.
Fireball should work well with most sangria recipes, so don't be afraid to experiment.
Apple Pie Cocktail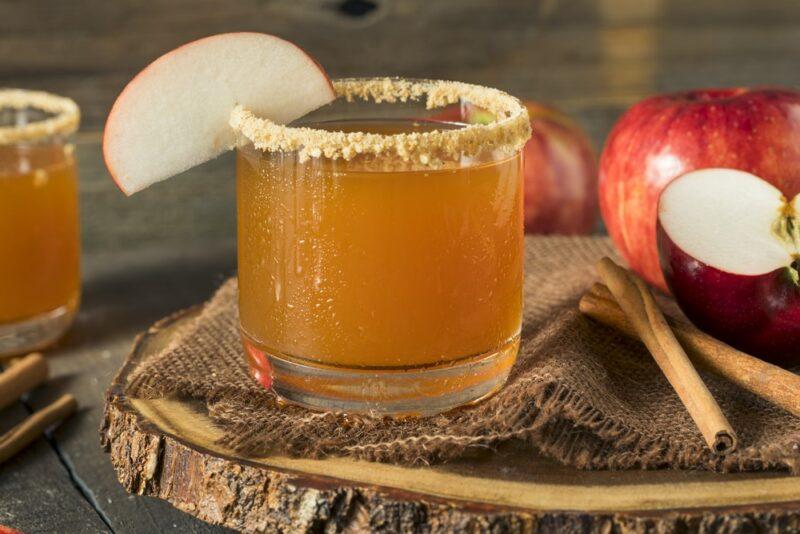 The combination of cinnamon whiskey and apple is both obvious and delicious. There are plenty of ways to do so combine the two flavors.
A simple approach is a cocktail that mixes Fireball Whisky with apple juice and some spices. You could add vanilla vodka in too, giving you an ice cream like tone to the drink.
Such a cocktail could be served hot or at room temperature. You could even make a slushie version for something just a little bit different.
Firebapple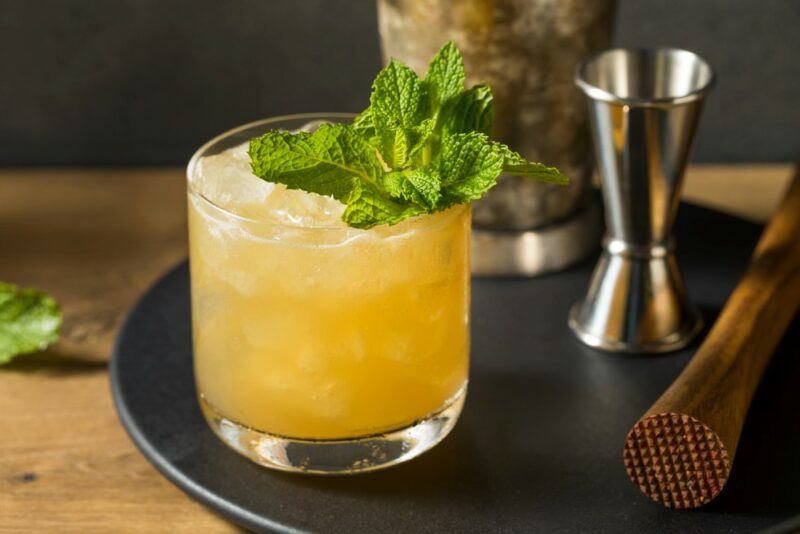 Here's another cocktail that combines apple and cinnamon. This one is incredibly simple. It just relies on Fireball, apple juice, and lemon juice.
The lemon juice is a useful ingredient, as it stops the cocktail from being too sweet.
Hot Tamale Fireball Cocktail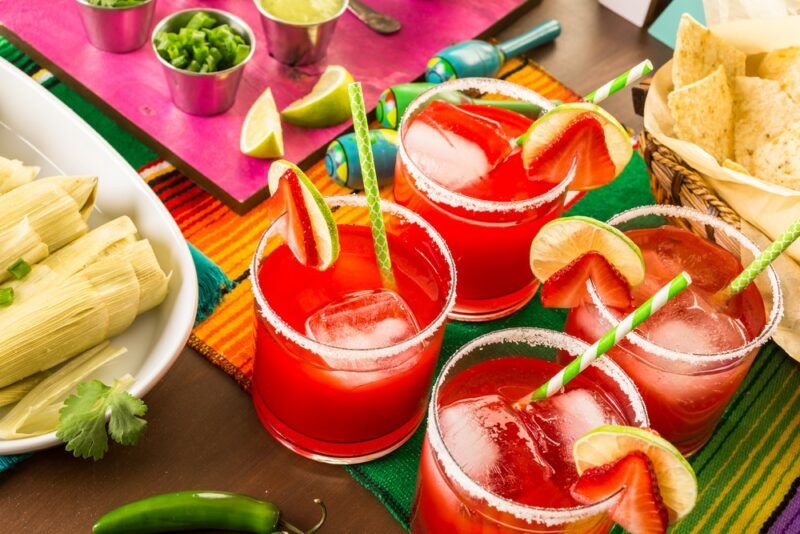 This cocktail gets its name from Hot Tamale candy and it does have the familiar bright red coloring. Fireball Whisky provides the cinnamon aspect to the flavor profile, while grenadine is used for color.
Finally, there's ginger ale, which helps to balance the drink out and stop it from becoming too overbearing. Because there are just three ingredients, this would be an easy party drink.
Pumpkin Fireball Latte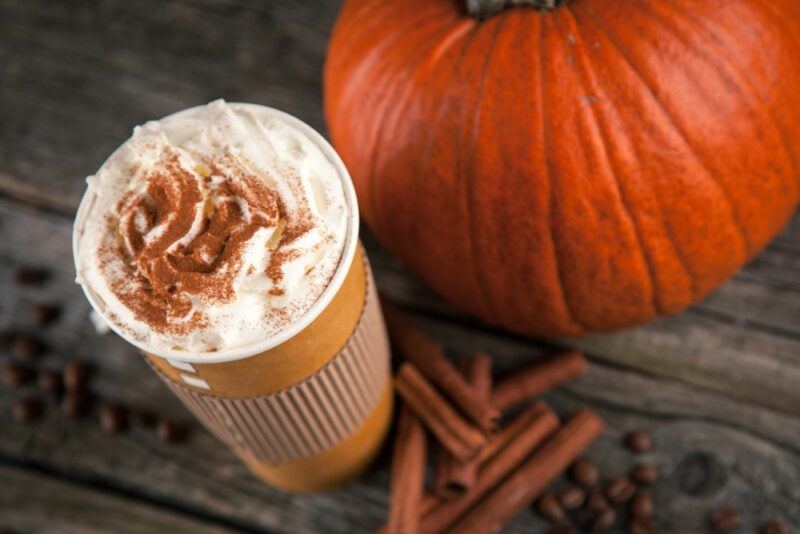 This cocktail riffs on the idea of a pumpkin spice latte. Well, let's be honest – you are basically making a pumpkin spice latte and then adding Fireball Whisky to it.
This could be a very popular cocktail, given that pumpkin spice lattes end up trending every single year. You could even make the drink even creamier by adding some Bailey's Irish Cream into the mix.
Fireball Mule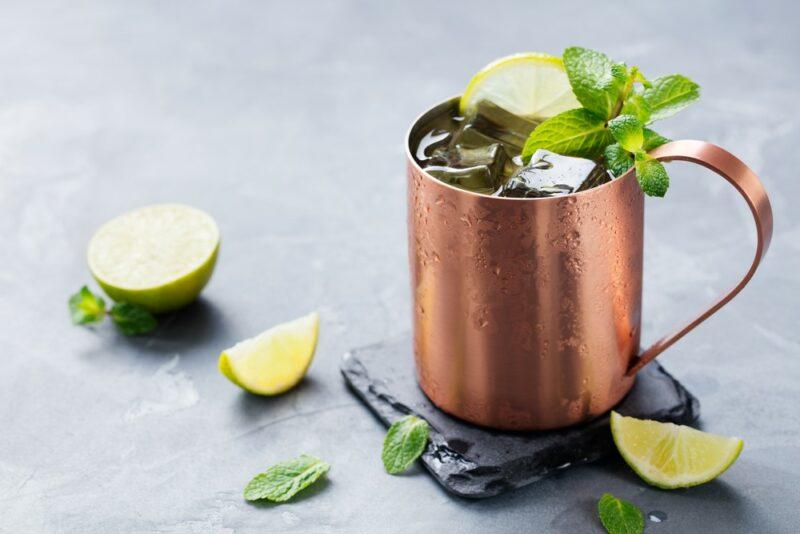 As the name suggests, here you have a Moscow mule spinoff, one that uses Fireball Whisky instead of the traditional vodka. There's a dash of bitters in the mix too – helping to balance out the flavors.
Fireball Sour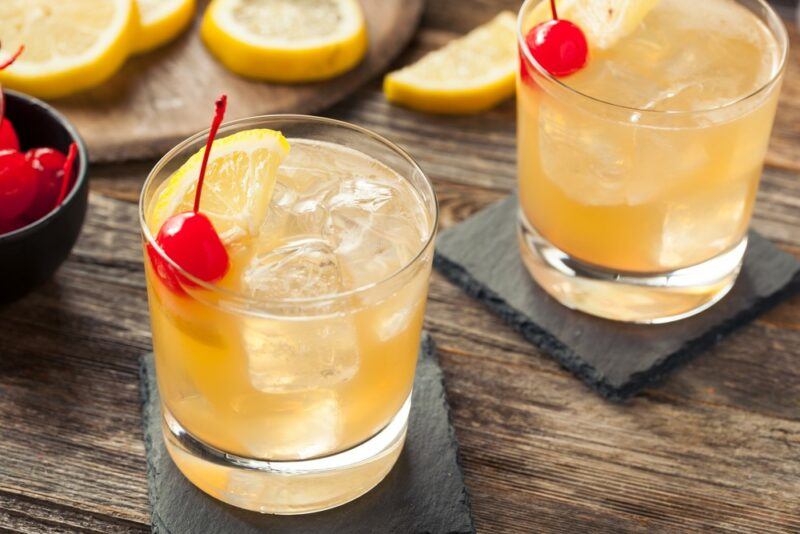 The sour family of cocktails are classics. Most combine a spirit, with a source of sweetness, and a sour ingredient. For the classic sours, you're often looking at the spirit, simple syrup, and lemon juice.
Some recipes use an egg white for extra textures, while others skip it. That egg white is always optional though, as the drink tastes just as good without it.
A Fireball sour follows these traditional patterns. You can use a combination of Fireball Whisky, simple syrup, and lemon juice to create a sweet and sour concoction with a cinnamon kick. A dash or two of bitters helps to balance the whole thing out nicely.
Fireball Float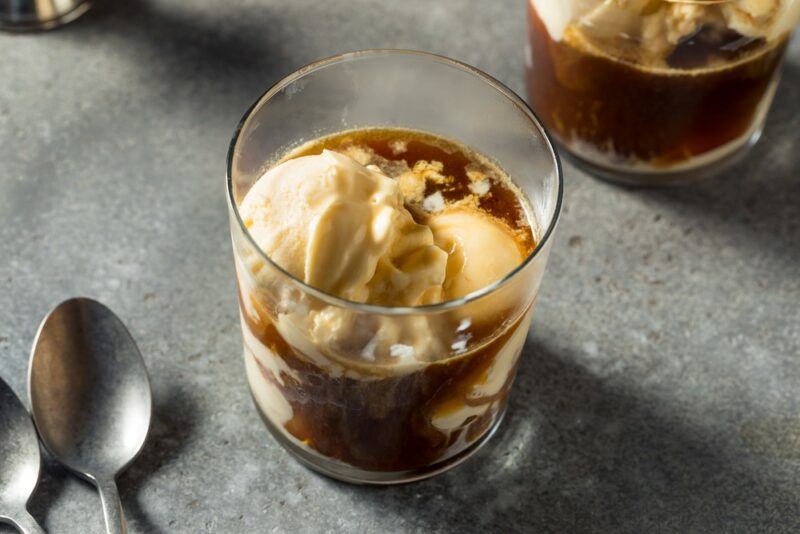 Float cocktails are often cloyingly sweet. A Fireball float gets around this, as you get such a strong kick from the Fireball Whisky.
The rest of the cocktail is simple indeed. You're just mixing the whiskey with cream soda and topping it off with vanilla ice cream. Adding a few garnishes makes the drink even more exciting.
Fireball Margarita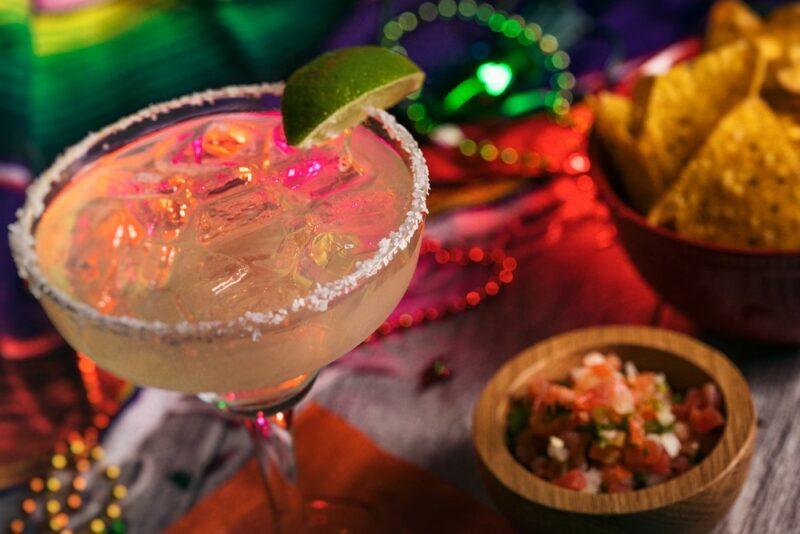 The name gives this cocktail away. You're basically making a margarita with added Fireball Whisky. The Fireball changes the flavor of the cocktail, giving it a sharp cinnamon intensity that you don't normally get.
Why not try this next time you have margaritas? You could even bring a small bottle of Fireball and simply spike already prepared margaritas. Doing so ups the alcohol content too, which is always fun.
Fireball French Toast Cocktail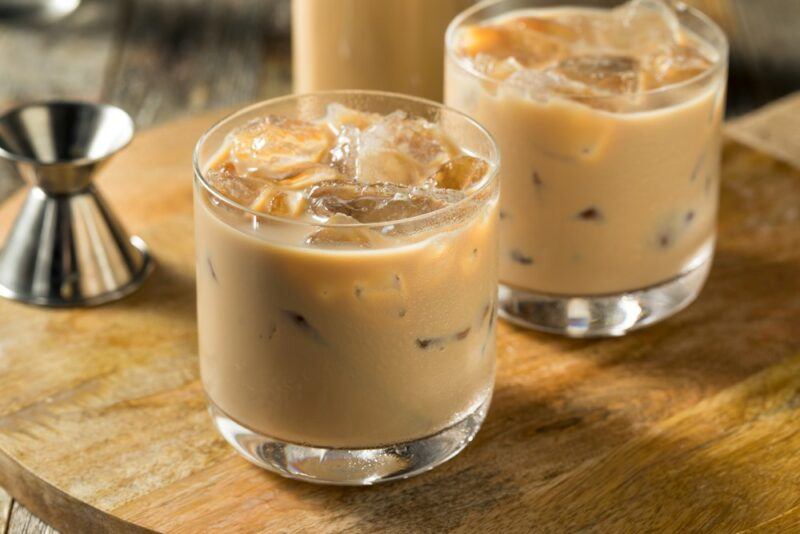 French toast is a strange flavor inspiration for a cocktail, but why not? It's always nice to see drinks that break the mold a little.
This particular cocktail relies heavily on creamy ingredients, including Irish cream and heavy cream. There's also butterscotch schnapps, Fireball Whisky, and cream soda.
You'll need to be careful when prepping this drink, as it's easy to make the cream curdle when you add the Fireball and schnapps. Still, once you get a handle on the process, you end up with a delicious dessert cocktail that can't be beaten.
Manhattan Fire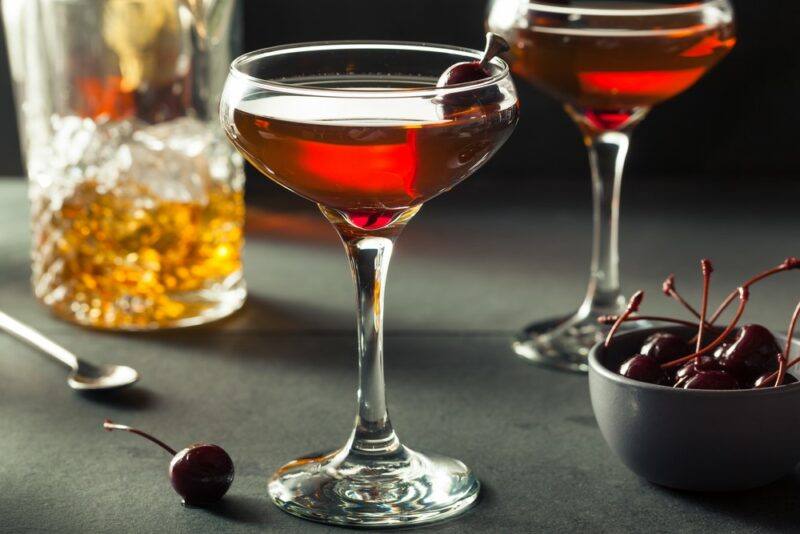 Some cocktails tone down the flavor of Fireball, giving you a more balanced drink. This isn't the case for the Manhattan fire at all. Instead, the Fireball shines in its full intensity.
The cocktail itself is a riff on the classic Manhattan, including equal parts of Fireball Whisky and bourbon, with some sweet vermouth and angostura bitters thrown into the mix.
It's an intense drink that's normally served neat. You'll want to take your time with this one.
Bonus: Fireball Shots
These shots are technically mixed drinks as well. The difference is that you're only drinking a small amount at a time, normally from a shot glass. You really need to, as the alcohol content and flavor can be intense.
Buffalo Balls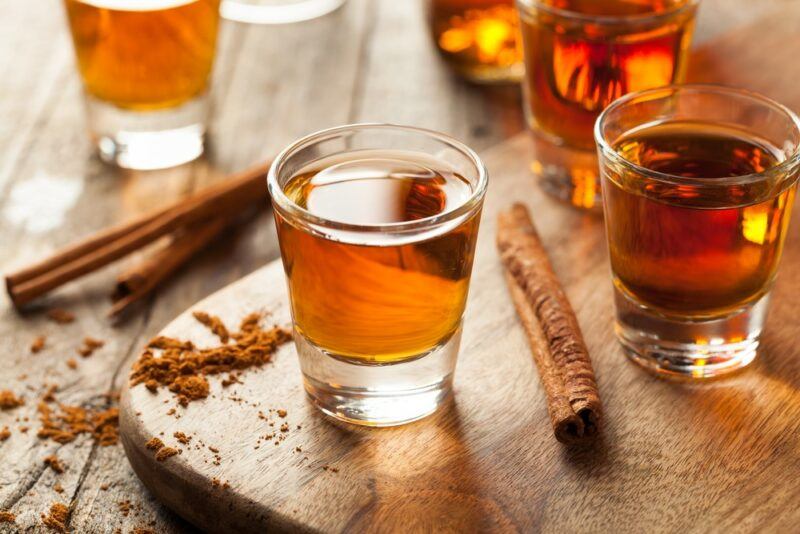 This is one of many official recipes from Fireball itself. It's a simple and delicious one too, as it just combines one shot of Fireball Whisky with a shot of bourbon.
The shot is meant to be made using Buffalo Trace Bourbon. You're not restricted to this though. Any other type of bourbon will work. You'll just get a slightly different flavor profile depending on the bourbon you choose.
You could even change things up further by using an entirely different type of whiskey.
Fire Alarm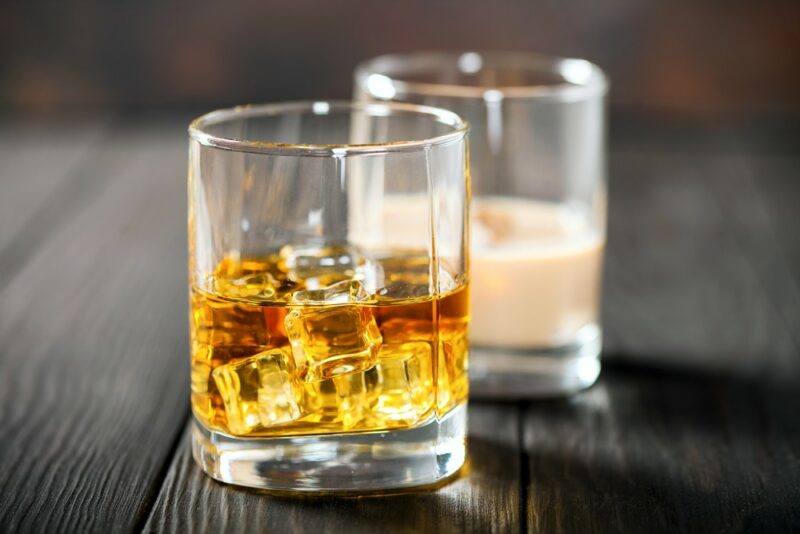 This is another shot that the Fireball company developed. There are two ingredients here too. This time you're looking at Fireball Whisky and Irish cream.
Add the Irish cream to your shot glass first, then carefully layer the Fireball Whisky on top. Doing so makes the shot look fantastic, while giving you a delightful contrast of textures and flavors.
Angry Badger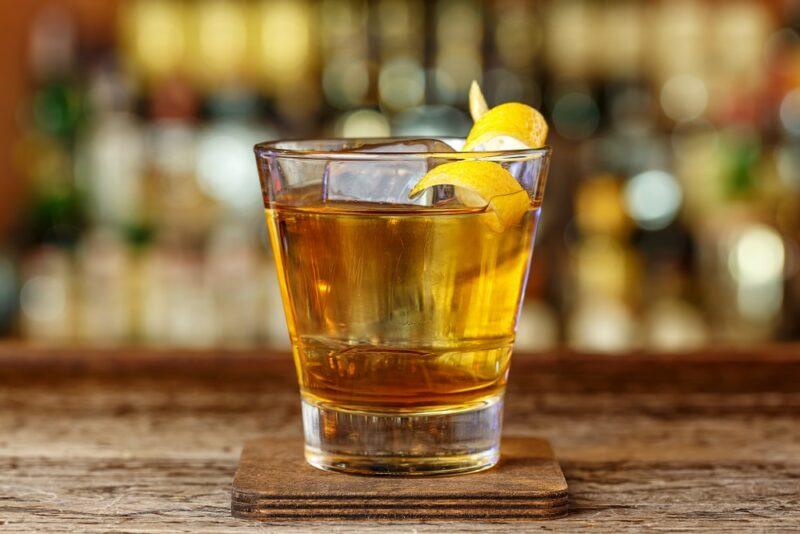 This simple shot combines honey whiskey and Fireball, making it perfect for whiskey lovers.
Cinnamon dominates the flavor profile, as Fireball is such a strong drink. However, nuances from the honey creep through, providing some much needed balance.
Hell's Fury Shot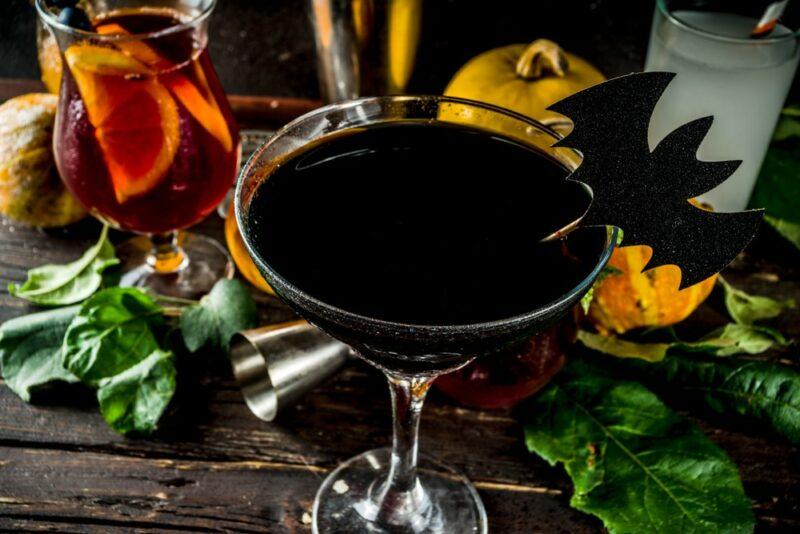 Few shots pack a punch like this one. Seriously. You're mixing equal parts of Everclear, Fireball, black absinthe, and 151 proof rum. If all of that wasn't enough, there's also a habanero pepper in the mix.
The shot looks amazing in the glass too, as it's almost black. Just be sure to drink responsibly. Even just one of these shots may leave your head spinning. Two or more could easily spell disaster.
Char'd Pineapple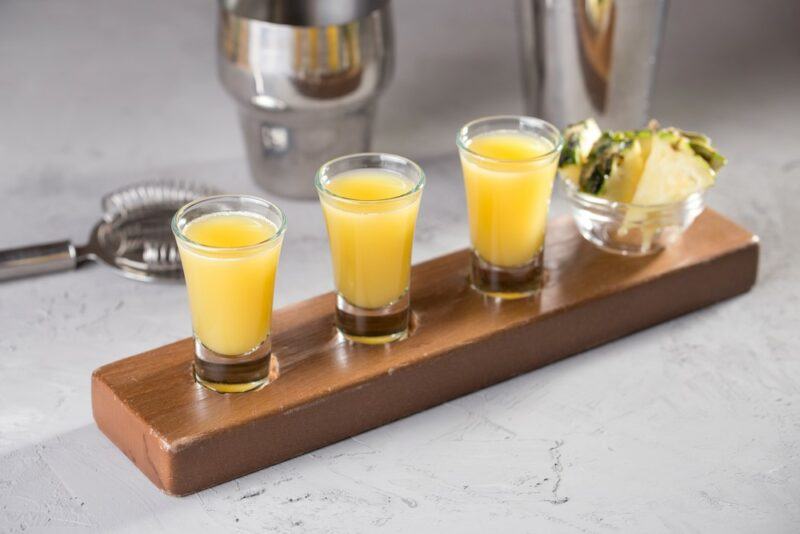 Here's one last official Fireball shot. It's another two-ingredient one – combining Fireball Whisky and pineapple juice.
The shot uses a 1:2 ratio of Fireball to pineapple juice, making it an easy way to tone down your Fireball. Don't worry though, you're still going to get a serious cinnamon kick.
You could also make more and serve this as a cocktail over ice.
Red Dead Redemption 2 Bomb Shot
Our final entry is this bomb shot cocktail from Tipsy Bartender. Not surprisingly, the drink was inspired by the game Red Dead Redemption 2. The drink is made up of three shots, each with two or three ingredients. You're getting plenty of whiskey in the mix, along with some strawberry pucker and Red Bull. The Red Bull is perfect for long gaming sessions or for keeping going during a night on the town.