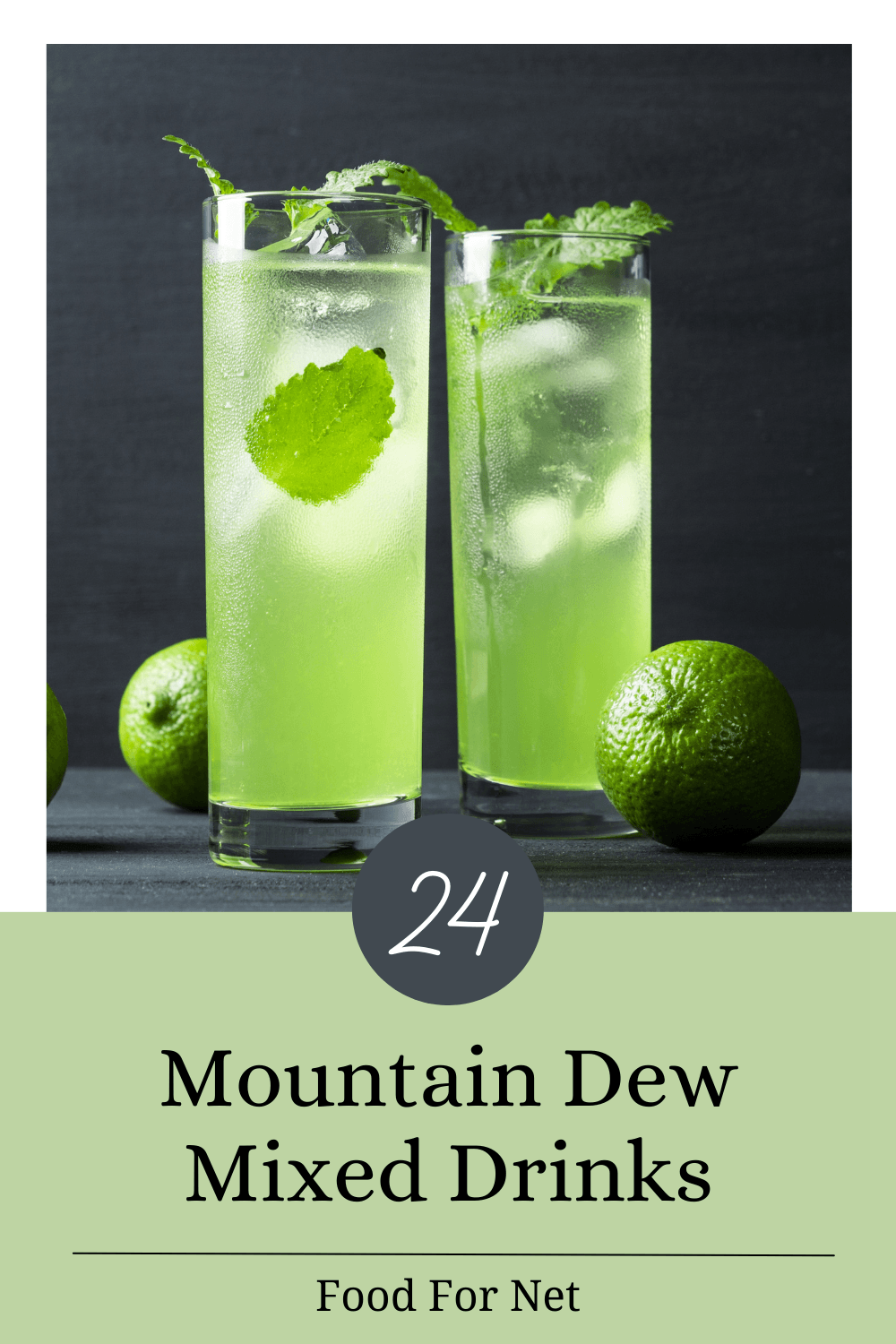 Mountain Dew is sugary, with an intense flavor. It doesn't seem like something you could add to a cocktail. Yet, there are many Mountain Dew mixed drinks out there.
Some of these are bright, very sweet, and play up the lime green color of the soda. Others are quite different. In fact, the best Mountain Dew mixed drinks are nuanced. They rely on Mountain Dew, but they don't allow the flavor or sweetness to dominate the drink
While many of these drinks are highballs with relatively little alcohol by volume, there are some surprisingly strong drinks in the mix too. Mountain Dew actually works well in such drinks, helping to mask the potency of the alcohol and giving you something that's easy to enjoy.
Of course, Mountain Dew isn't the only type of soda cocktail. Root beer, lemon-lime soda, and ginger beer also feature in many cocktail recipes.
Mountain Dew Mixed Drinks (With Pictures!)
Swamp Frog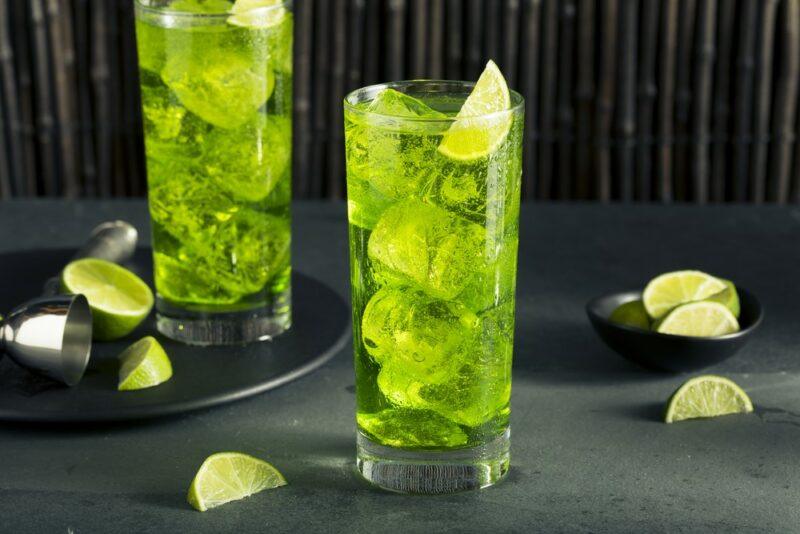 Some cocktails are nuanced, with a subtle balance to their flavors and ingredients. This isn't the case for the swamp frog. Instead, the cocktail seems to live by the idea of 'go big or go home'.
The recipe is designed to be used as a party punch, so you're combining 750 ml each of vodka, Everclear, and sour apple pucker. A can of concentrated lime mixer is added too, then the whole thing is topped with Mountain Dew.
Not surprisingly, the drink ends up being strong and quite sour.
Mountain Dew Me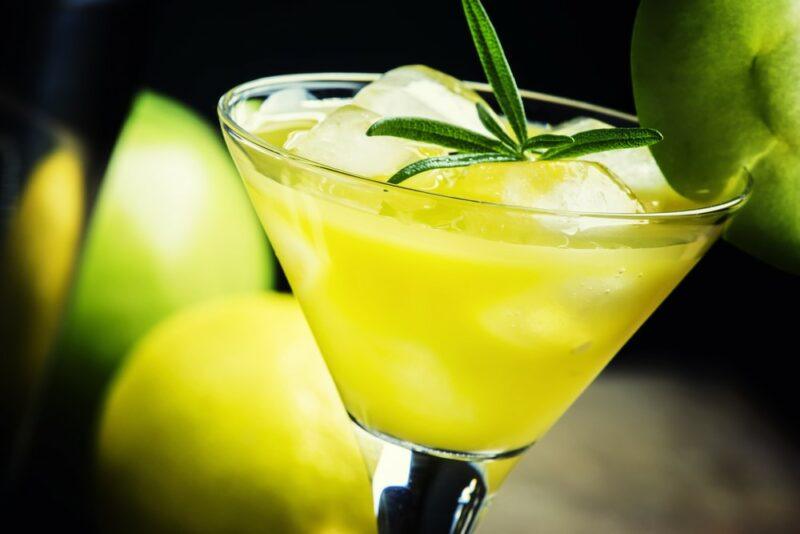 The name of this drink leaves much to be desired. Still, the cocktail itself is fun if you want something bright and fruity.
To make it, you need both Mountain Dew and melon liqueur. This combination gives the drink an incredibly bright green color. Triple sec and pineapple juice feature as well. These both add to the fruitiness of the drink.
The alcohol content isn't particularly high for this drink, but you still wouldn't want more than one at a time, as the flavors are seriously intense.
Honey Dew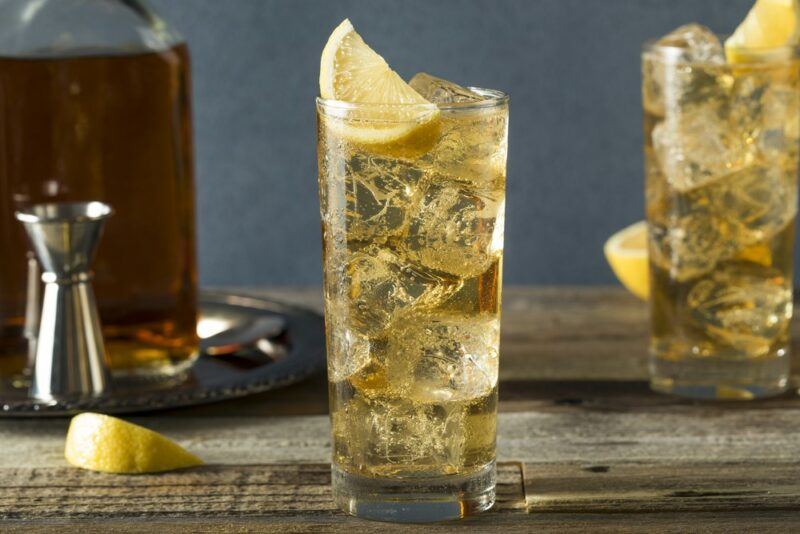 This two ingredient cocktail simply combines honey whiskey and Mountain Dew in a 1:3 ratio. You get plenty of sweetness from both ingredients, plus extra depth of flavor from the whiskey.
The cocktail is even more delicious if you garnish it with whipped cream.
While this drink should work with any type of honey whiskey, the flavor profile will change depending on the product you choose.
Maladew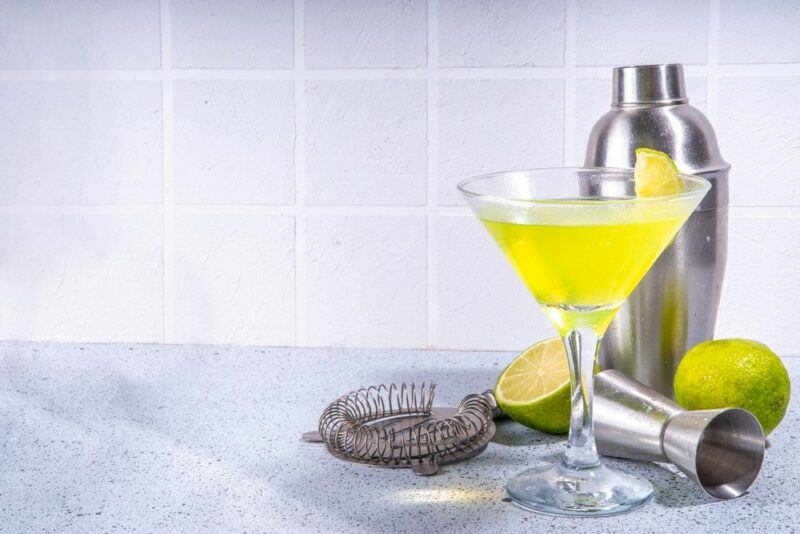 Here's another easy drink. This one combines coconut rum with Mountain Dew.
You may need to experiment to find your ideal ratio of the two ingredients. However, the 1:3 ratio from the previous cocktail is a good place to begin.
Rum And Dew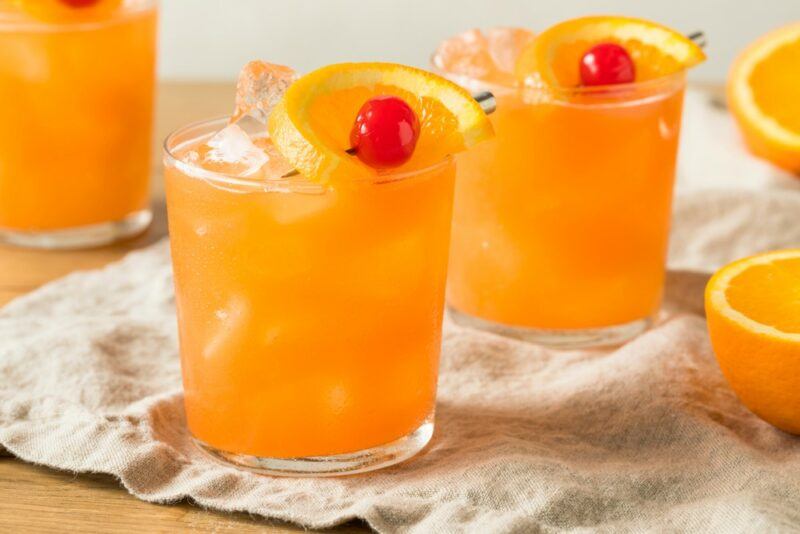 This cocktail doesn't sound like it should work. Yet, you end up with a refreshing drink with a slight spicy complexity.
To make it, you combine spiced rum with orange juice and Mountain Dew. The orange juice makes this taste a bit like a screwdriver, but you're getting extra flavor and complexity from the rum and the Mountain Dew.
Dew Garita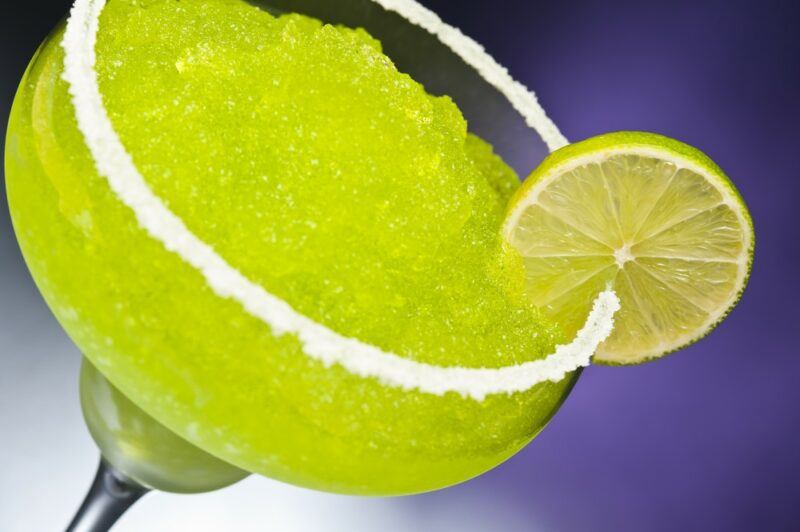 A couple of years back, Red Lobster made headlines for creating a Dew Garita – a bright green Mountain Dew twist on the margarita. The cocktail was even rimmed with Cheeto dust, rather than salt.
While Red Lobster keeps the actual recipe of their cocktail to themselves, copycat versions of the cocktail have sprung up, which may be close to the real thing.
One way to make the drink involves tequila, Midori, sour mix, and triple sec. The Midori is what makes the drink so bright green and is an essential ingredient. The combination of tequila and Midori also helps with the cocktail's flavor, by preventing the Mountain Dew from getting too overwhelming.
In fact, there isn't even a huge amount of Mountain Dew in this cocktail. The soda is mostly just used to add nuance, rather than being the star of the show.
Tropical Mountain Punch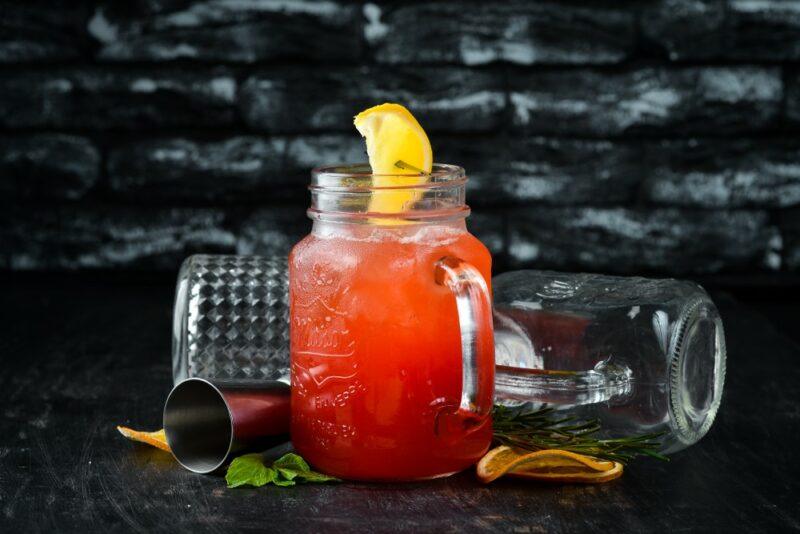 Mountain Dew cocktails don't need to be bright green. This version relies on grenadine, which makes it orange instead.
There's also white rum and dark rum in the mix, plus pineapple juice and lime juice. These ingredients create a fruity tropical drink, where the Mountain Dew is simply one more layer of flavor.
Baja Blast Mojito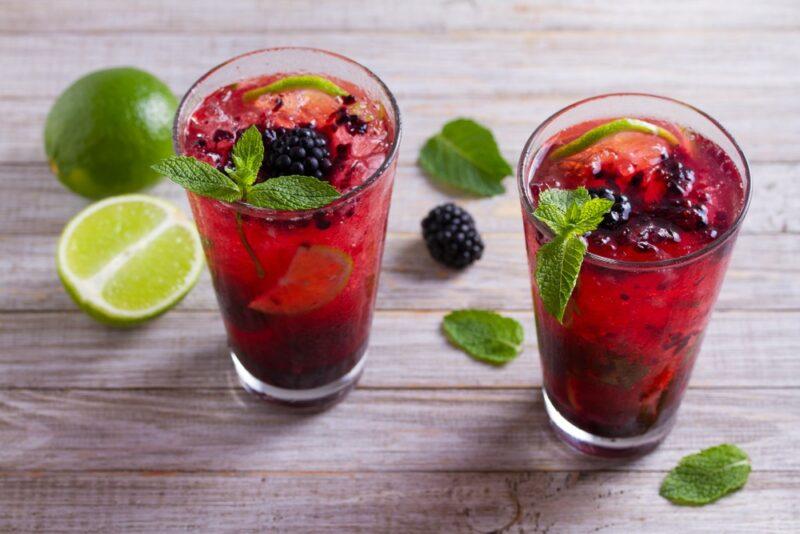 This cocktail is different than most others, as it relies on the Baja Blast flavor of Mountain Dew, rather than the regular version. This flavor is designed to be tropical, so it perfectly complements the rum used in this recipe.
There aren't many other ingredients – just a little lime juice, simple syrup, mint, and fresh berries. As such, the flavors of the Mountain Dew really get the chance to shine.
Rocket Fuel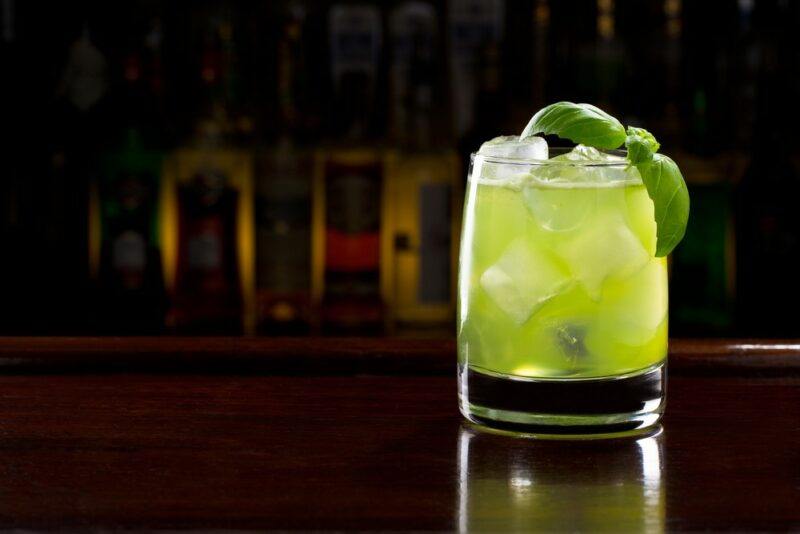 This cocktail was featured in Mad Men, although it can barely be called a cocktail, as it features just two ingredients – one of which is vodka.
That's right, rocket fuel simply involves mixing vodka and Mountain Dew together.
There's nothing even remotely nuanced about the cocktail, as it literally just tastes like Mountain Dew. Still, if you enjoy Mountain Dew and want alcohol, what's wrong with taking a simple approach?
Or, for some variation, why not add vodka to one of the many Mountain Dew flavors, like Baja Blast, Voltage, or Code Red?
Sea Foam
This layered cocktail is surprisingly easy to make. You start out by mixing together coconut rum, Hpnotiq, triple sec, banana liqueur, and a little cream of coconut.
Once mixed, the ingredients are poured into a cocktail glass, then topped with Mountain Dew. You get a fantastic contrast of textures and colors.
There are some interesting flavors too, including coconut from the rum, orange from the triple sec, banana, and the citrus flavors of Mountain Dew. Yet, surprisingly, the cocktail comes together well.
Sue's Italian Margaritas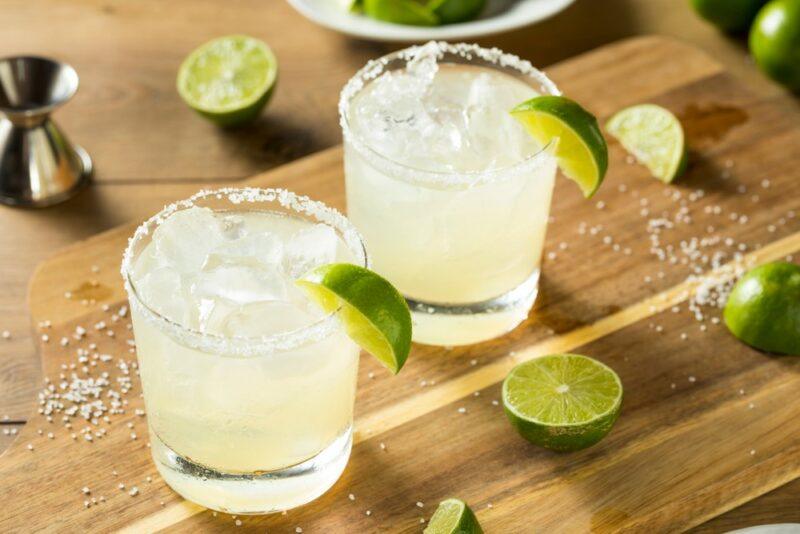 These margaritas are unusual because they don't look like they contain Mountain Dew at all. They're also surprisingly well-balanced, relying on tequila, triple sec, lime juice, and amaretto.
The amaretto is the most unusual ingredient. While it's often used in cocktails, it isn't normally paired with Mountain Dew. Still, the almond flavor of amaretto is an excellent contrast to the other ingredients and stops your cocktail from getting too sweet.
Mountain Cider High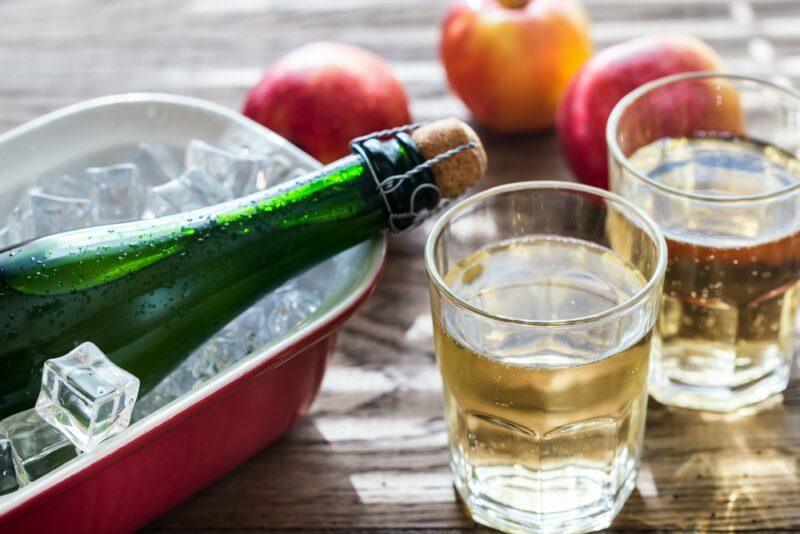 The green color of Mountain Dew gets displaced by the light brown of apple cider in this cocktail. In it, you're simply combining apple vodka, apple cider, and Mountain Dew to get a seasonal drink.
To make the cocktail boozier, try using hard apple cider instead of the non-alcoholic version. Doing so changes the color and flavor profile of the cocktail. Who knows? With the right hard cider, the new version could taste even better.
Nuclear Hulk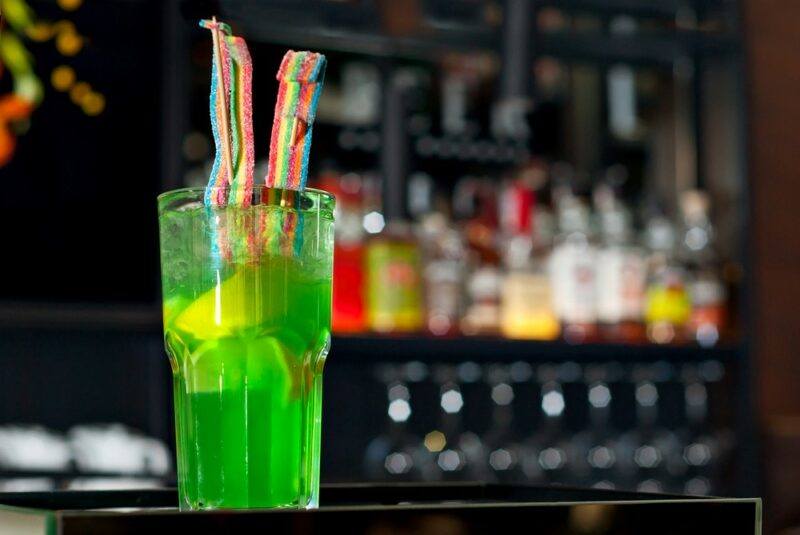 Here's another cocktail that really highlights the green of Mountain Dew. It's a surprisingly potent drink too, as it relies on equal measures of Hpnotiq, vodka, and tequila. A can of Mountain Dew is then used to top the whole thing off.
You could even serve the drink with the can of Mountain Dew resting on the top, just like with many of the Red Bull trashcan drinks.
Snake In The Grass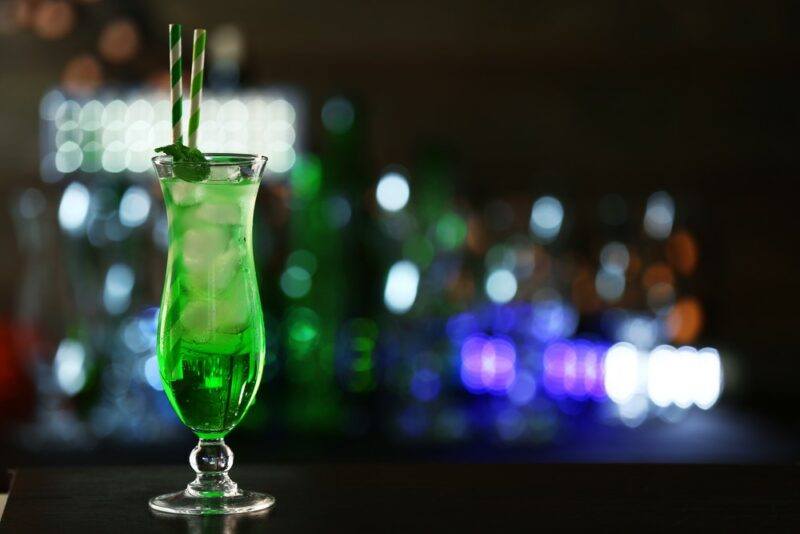 This fun cocktail uses equal measures of peach schnapps, Midori, sweet and sour mix, and triple sec, plus some lemon-lime soda and Mountain Dew. The resulting drink is bright green, fruity, and a bit tart.
Mountain Dew Mojito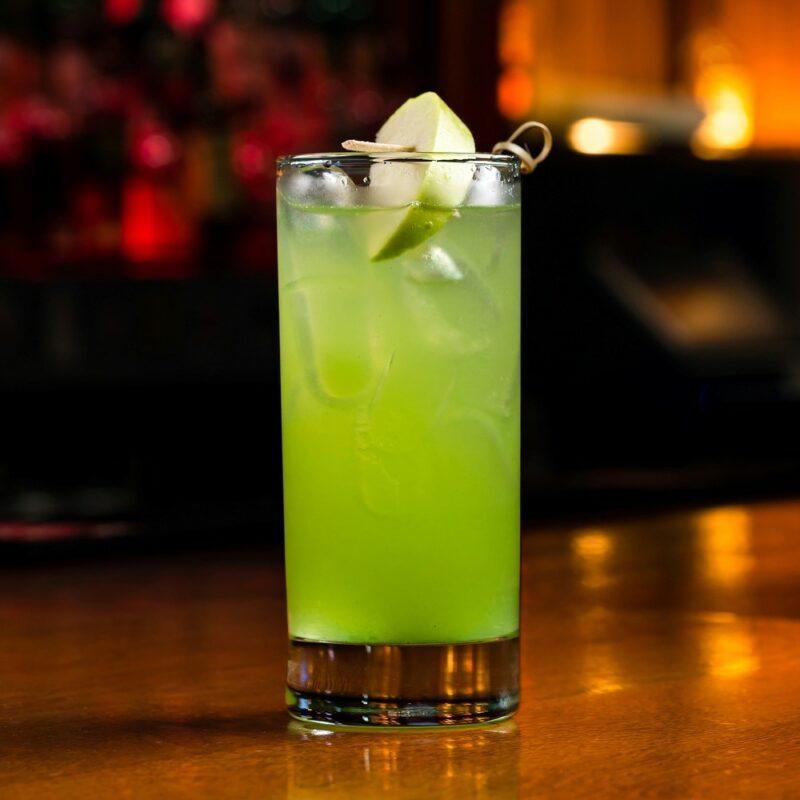 This cocktail is exactly what the name suggests – a mojito that includes Mountain Dew.
The recipe still uses all the classic mojito ingredients, including white rum, mint leaves, and simple syrup. The only difference is that you top it up with Mountain Dew, rather than soda water.
The Mountain Dew is particularly good if regular mojitos are too minty or intense for you.
Jungle Juice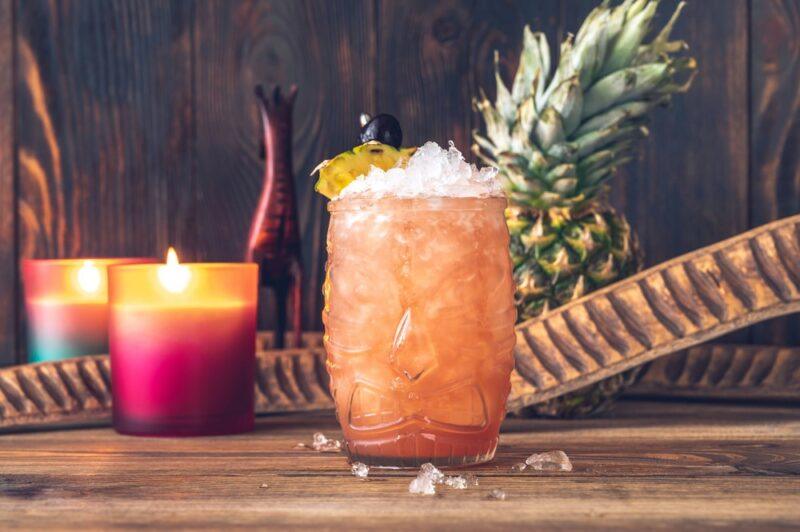 Jungle juice is a classic party drink that is easily varied. It often relies on some type of soda, so why not use Mountain Dew?
One version of the drink combines rum, vodka, and orange liqueur with cranberry juice, lime juice, and Mountain Dew. The resulting cocktail is fruity, boozy, and perfect for celebrations.
You can also make a much simpler version by using Kool Aid packets, vodka, and Mountain Dew. This three ingredient version doesn't taste nearly as good as the more complex cocktail, but it's useful in a pinch.
Southern Comfort And Mountain Dew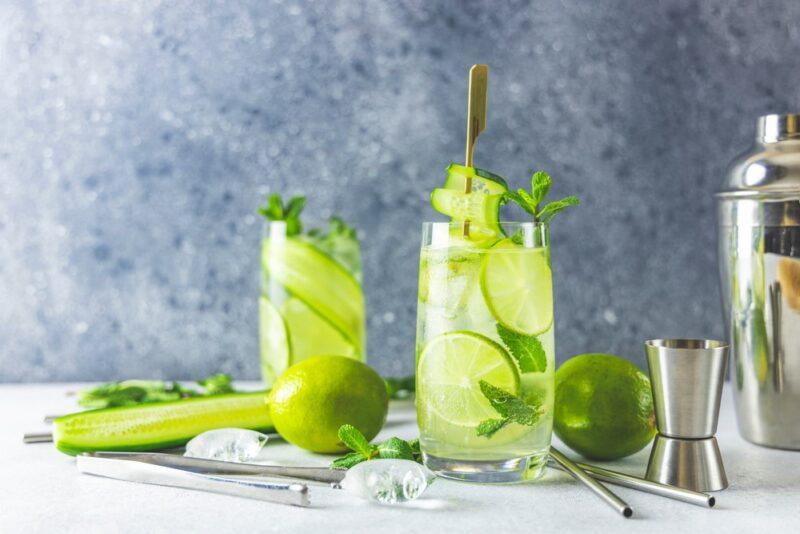 We've talked about mixing rum or whiskey with Mountain Dew, so what about Southern Comfort? The cocktail also includes some lemon juice, mint leaves, and sugar.
The lemon juice provides an important citrus burst to the cocktail, while the sugar stops the cocktail from getting too tart. That said, you could easily leave out the sugar, as Mountain Dew has a plenty of sweetness on its own.
Blue Lightning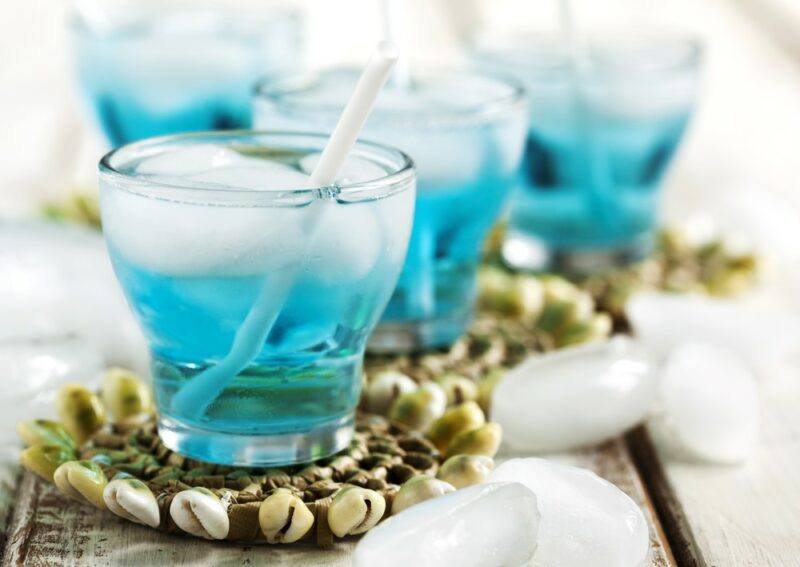 This cocktail uses Mountain Dew Voltage, pairing it with a simple combination of blue raspberry vodka, orange liqueur, simple syrup, and lime juice.
The blue raspberry vodka complements the blue raspberry flavor of Mountain Dew Voltage, while the other ingredients help to balance the flavors out.
The cocktail looks particularly good if you use blue curacao. This still provides an orange flavor, while also enhancing the blue color of the drink.
Mountain Dew Moscow Mole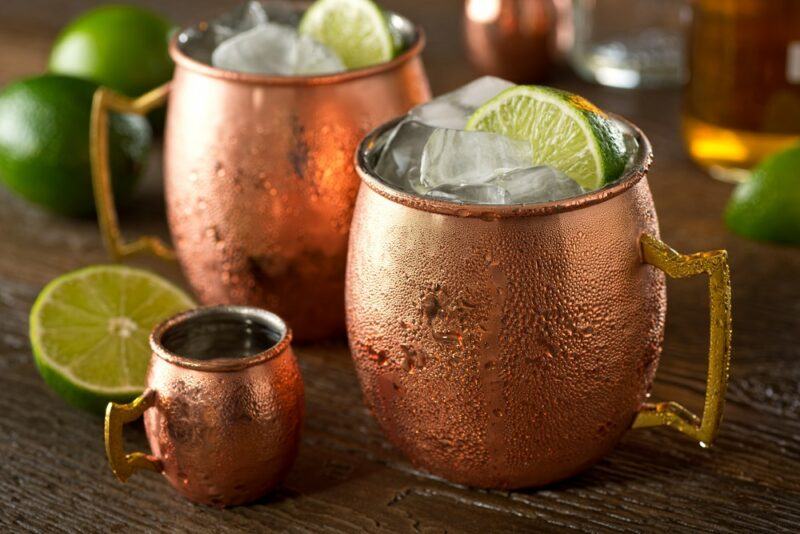 The Moscow mule is a famous cocktail of ginger beer, vodka, and lime. This version makes one obvious change – it swaps out the ginger beer for Mountain Dew.
The cocktail isn't for everyone. Many people prefer the kick of the ginger beer to the sweetness of Mountain Dew. However, if you love Mountain Dew, you might be a diehard fan of this drink.
Bourbon And Dew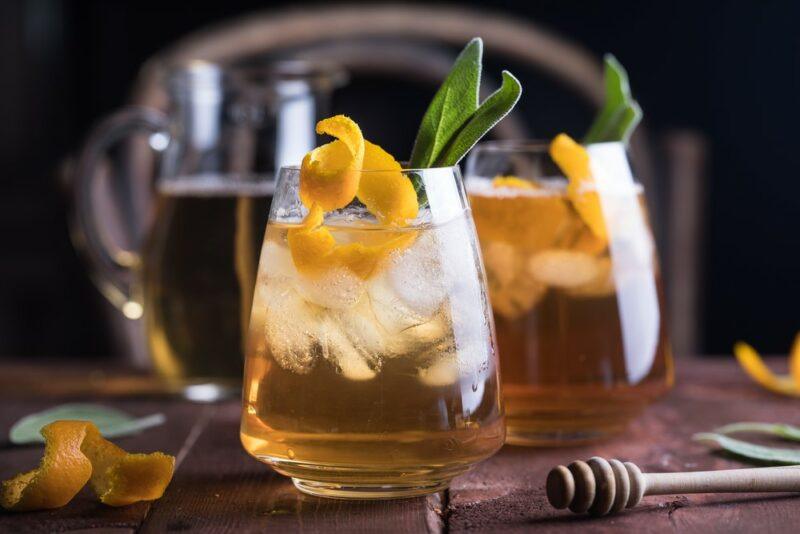 This cocktail really does combine bourbon and Mountain Dew. The only other ingredient is fresh lemon juice.
These flavors work well together, which isn't as surprising as you might think. After all, Mountain Dew was originally developed as a mixer to make whiskey taste better.
Even the name is a reference to this fact, as mountain dew was once slang for moonshine.
The combination of Mountain Dew and bourbon also gives you a light brown drink. This looks much more refined than the many bright green, red, and blue drinks we've been talking about so far.
Mountain Dew Sunrise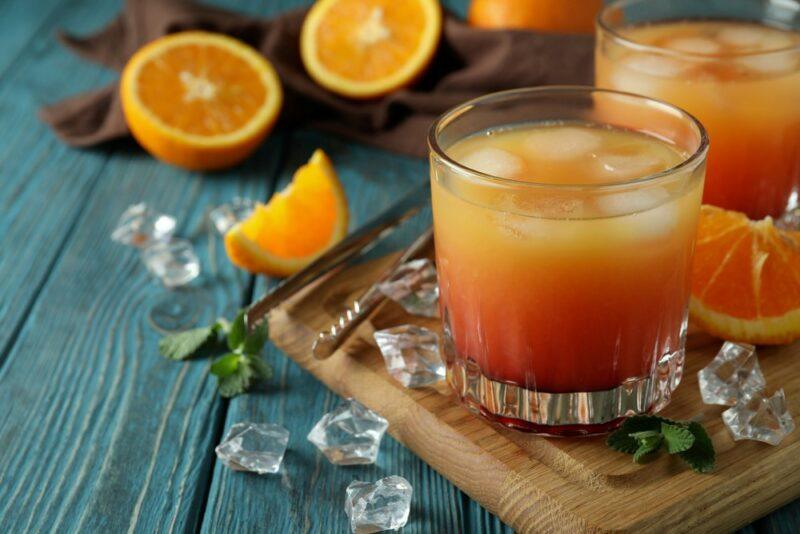 Not surprisingly, this cocktail riffs on the classic tequila sunrise. It uses all the familiar ingredients, except that it tastes even better if you can find coconut tequila (or just stick with classic).
The other difference between this and a regular tequila sunrise is the addition of Mountain Dew. But, we're not talking about regular Mountain Dew. Instead, this cocktail shines when you combine it with Mountain Dew Livewire.
Patron Dew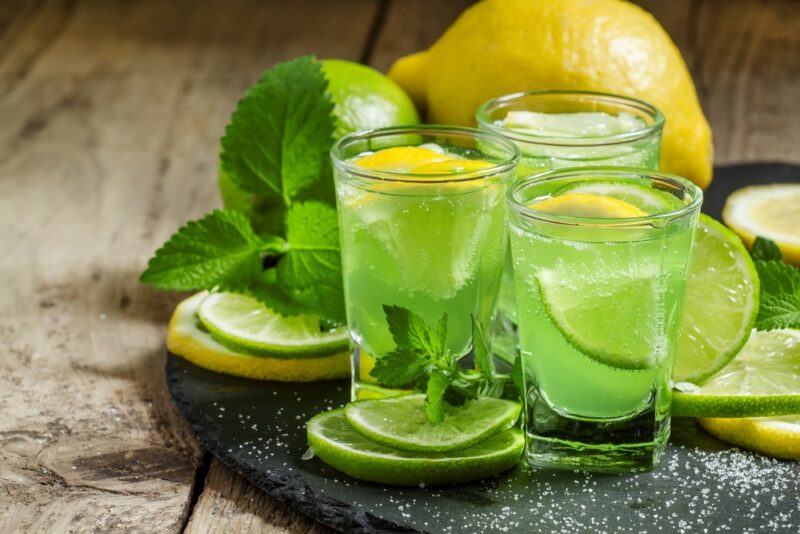 This tequila cocktail is a little complex, but don't worry; it's tasty and worth the effort.
The drink starts off with limoncello, Mountain Dew, and lime juice, which are all stirred together. Don't use a shaker, or you'll lose all the fizz in your Mountain Dew.
Next you top these ingredients with Island Punch Pucker and use a mini Patron bottle as a garnish. You end up with a pretty intense cocktail. There's also flavor variation, as the pucker and tequila don't get stirred in.
Dew Brew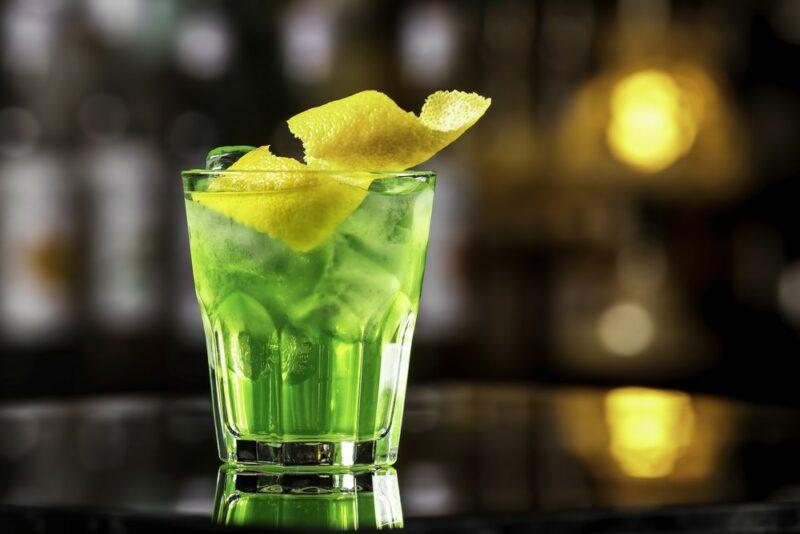 Citrus flavors always work well with Mountain Dew. This cocktail focuses on them by using orange vodka, orange liqueur, a little orange juice, plus plenty of Mountain Dew.
This cocktail is heavy on the Mountain Dew, to the point that the other ingredients become background flavors. That's not too surprising though, as this is an official Mountain Dew cocktail.
Sour Apple Mountain Dew Cocktail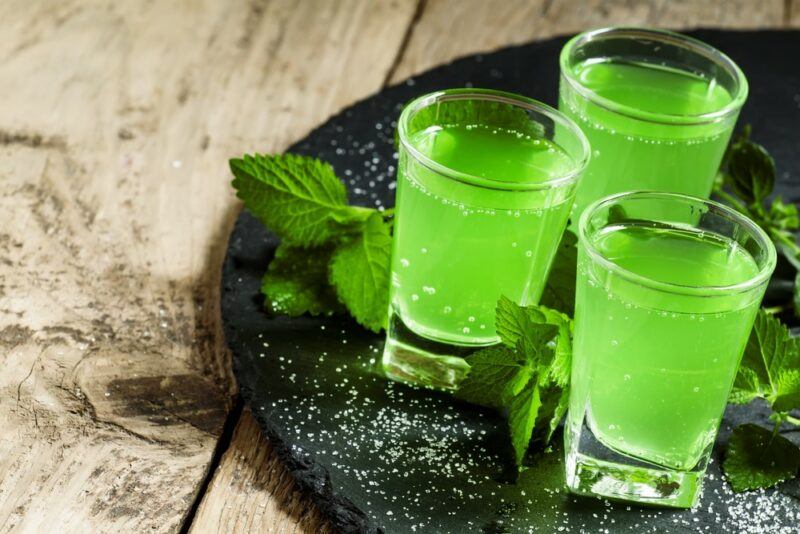 This cocktail is similar to previous entries, except that you're using sour apple schnapps. The schnapps adds a distinct sourness to your drink. It's a perfect contrast to the sweetness of the Mountain Dew.
Sour apple schnapps is often bright green as well, which adds to the color of the finished cocktail.
You've also got some pineapple juice in there for a tropical feel and lime juice for a flavor contrast. As always, the cocktail will taste better with freshly squeezed lime juice, rather than the bottled stuff.
Related Content