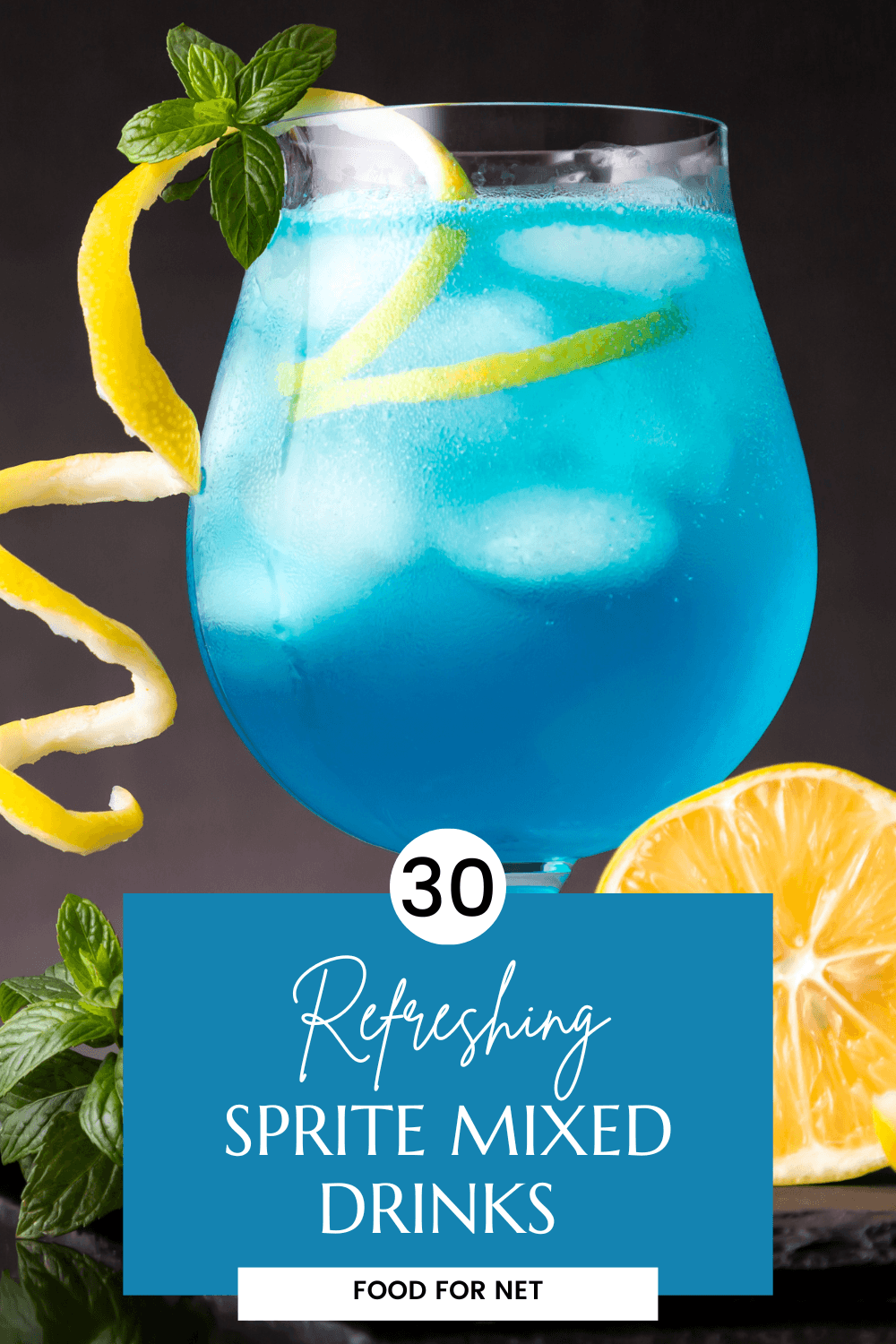 Sprite is simple and delicious. Fizzy, sweet, colorless, and lemon-lime flavored, it's an almost perfect cocktail ingredient. This is why there are so many different Sprite mixed drinks out there.
Some of these mixed drinks are bright and sweet, reminiscent of something you might see during college or at a 90s party. Others are much more nuanced, striking a careful balance between their various ingredients.
There are also some strong cocktails in the mix, normally ones that only use a small amount of Sprite (like variations on the classic Long Island iced tea).
Some of the recipes on this list were written with Sprite itself in mind. Not all of them though. Most simply specify lemon-lime soda. You get a similar result from using Sprite, 7-Up, or any other brand of lemon-lime soda.
Sprite Mixed Drinks (With Pictures!)
Lynchburg Lemonade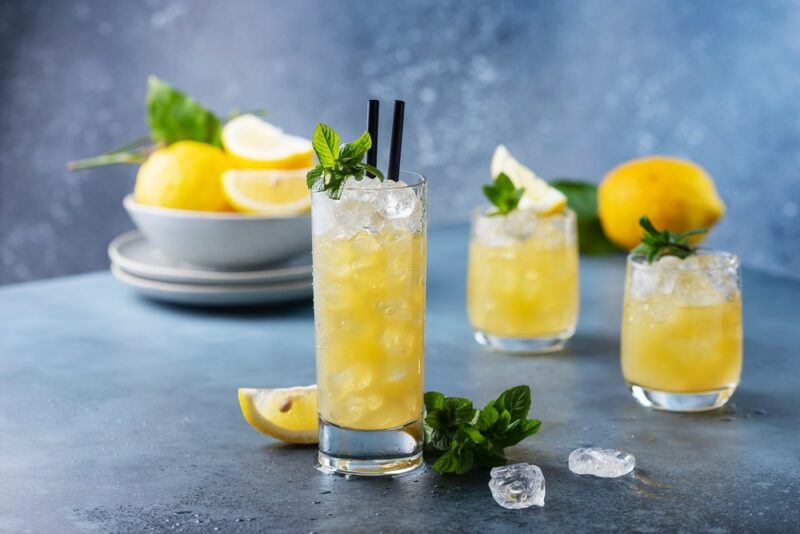 This famous cocktail gets its name from Lynchburg, Tennessee (where Jack Daniel's comes from). Indeed, the cocktail is meant to be made using Jack Daniel's, although any type of Tennessee whiskey will do the trick.
Beyond the whiskey, you simply need some triple sec, lemon juice, and lemon-lime soda. The whiskey, triple sec, and lemon juice are first mixed together, then they're topped with the lemon-lime soda.
The quality of lemon juice and triple sec makes a huge difference for this cocktail. It's best to use fresh lemon juice whenever possible. You don't need all that much juice anyway (even half a lemon might be enough).
As for the triple sec, steer clear of the incredibly cheap products. These tend to be excessively sweet and can ruin the flavor of your entire cocktail.
Seven & Seven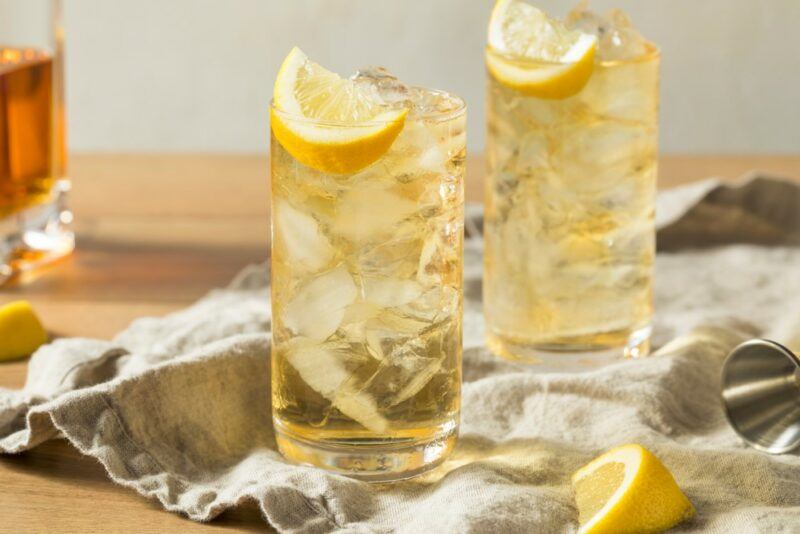 This highball is one of the classic ways to use lemon-lime soda. It's a two ingredient cocktail containing Seagram 7 Crown Whiskey and 7-Up (hence the name seven & seven).
These days, the cocktail is simply made with any type of whiskey and any lemon-lime soda, including Sprite.
Ratios of the two ingredients vary depending on your preferences. A 1:2 ratio of whiskey to soda is a good starting point. You can then increase or decrease the soda content from there. Even a 1:1 ratio works, although the flavors may be a bit too intense for some people.
Golden Fizz No. 2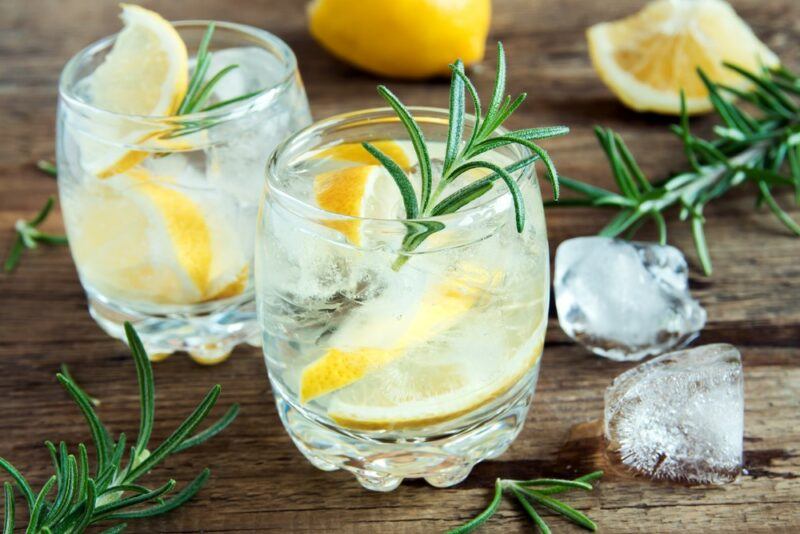 This is a fairly refined Sprite cocktail, one with an interesting sweet-sour balance of flavors. It relies on both gin and triple sec, with pink grapefruit juice, lemon juice, and lemon-lime soda adding fruitiness to the drink.
Some honey is used as well for sweetness and extra depth.
This isn't a dump and stir cocktail. Instead, you need to first stir the honey with the gin until all of the honey dissolves. Then you add the triple sec, lemon juice, and grapefruit juice and shake over ice.
Finally, the ingredients are strained into a cocktail glass and the Sprite is poured over top. These steps help ensure that the ingredients are all well mixed, without the Sprite losing any fizziness in the process.
Blue Kool-Aid Jungle Juice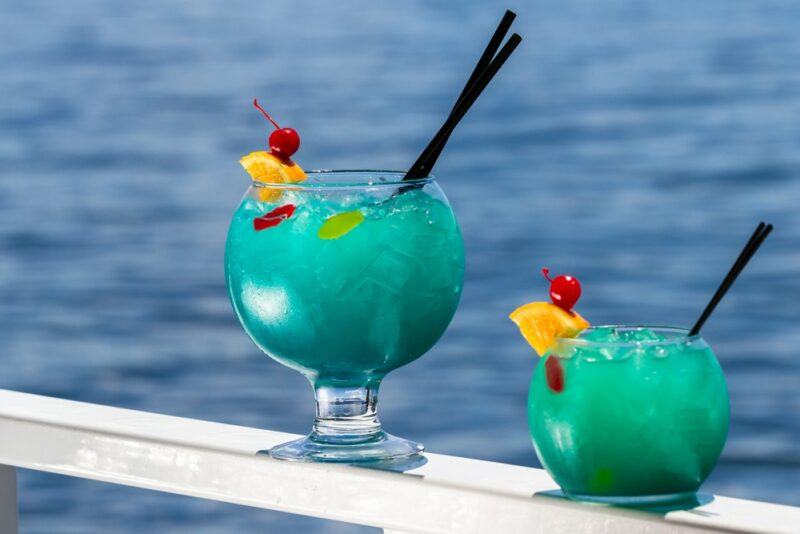 Sprite is often popular in party punches – like this one. It's a fun drink for flavor, color, and alcohol content, as it includes tequila, coconut rum, Everclear, and blue curacao.
There's a decent amount of mixers in the recipe too, which stop the drink from being excessively strong. Even so, it would be best to warn guests about the alcohol content, especially as Everclear packs a punch and is easily underestimated.
Strawberry Lemonade Party Punch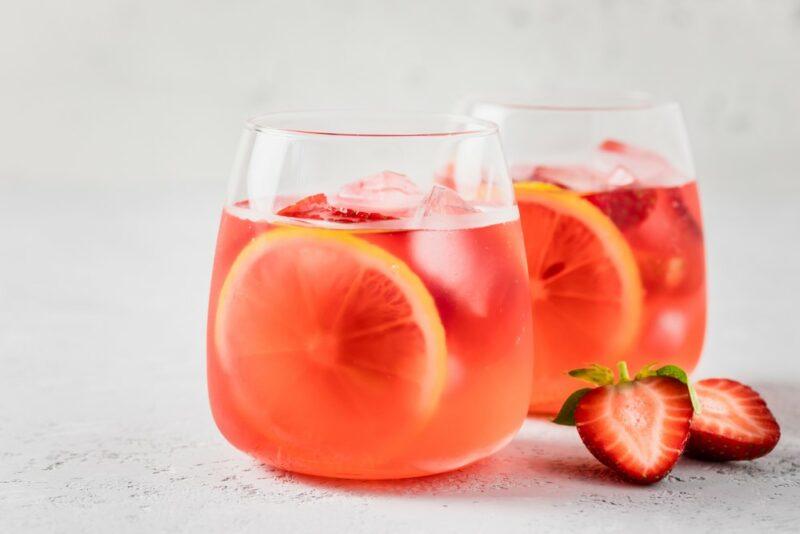 Compared to the previous recipe, this one looks and tastes much more like a traditional punch. It's also a simple and inexpensive one to make – as Everclear is the only alcohol present.
Relying just on Everclear works well, as you're getting plenty of alcohol from this single spirit. Plus, this way you don't need to use your expensive spirits just to make punch for a party.
Citrus Rum Cooler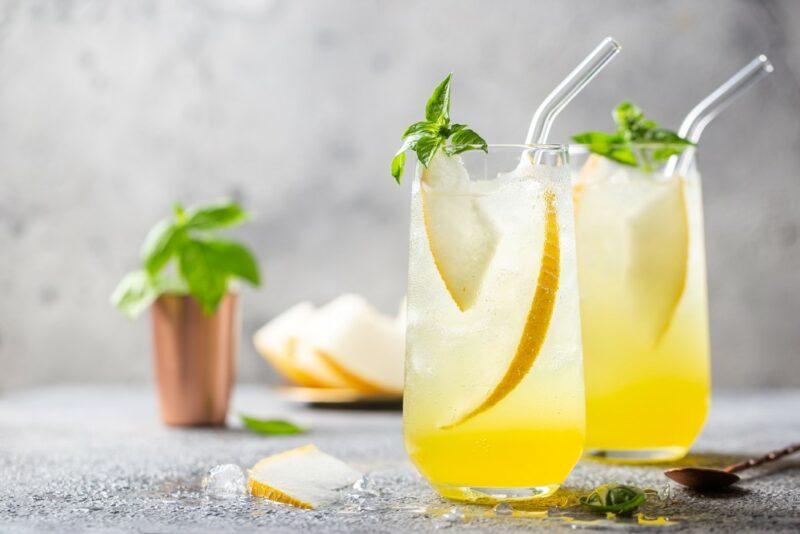 This bright drink is fruity and delicious. It combines light rum with orange liqueur, orange juice, and lemon-lime soda.
It's a great cocktail to experiment with, as it's easy to drink and relies on familiar ingredients.
Boozy Cherry Limeade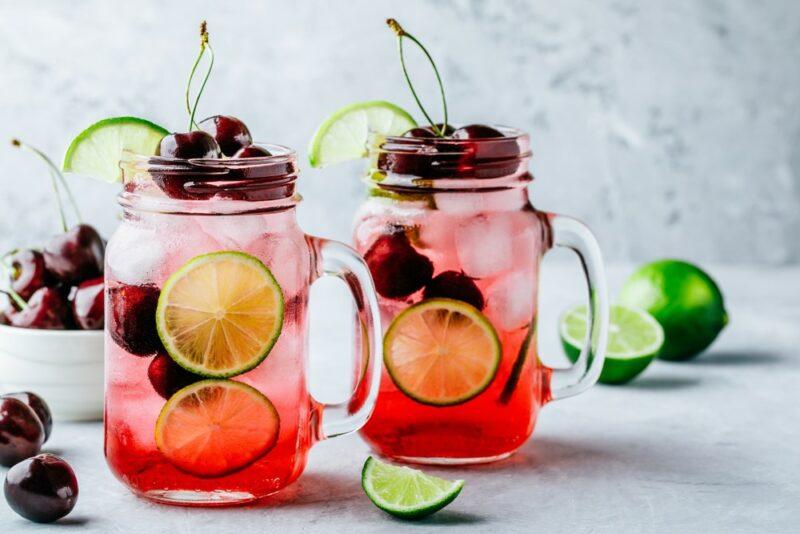 This recipe requires a little prep work, as the first step is to make your own homemade limecello (which is similar to limoncello, except that you're using limes rather than lemons). You can make limecello using vodka or Everclear, but either version takes a few months to infuse.
Once you have it, the cocktail is as simple as combining the limecello with cherry syrup and a can of Sprite.
Is the cocktail worth the effort of making limecello? Probably not on its own, but this isn't the only use of limecello. Once you've made the liqueur, you can use it in plenty of other cocktails.
In fact, limecello would work perfectly in many of the cocktails we've been highlighting today.
Electric Blue Iced Tea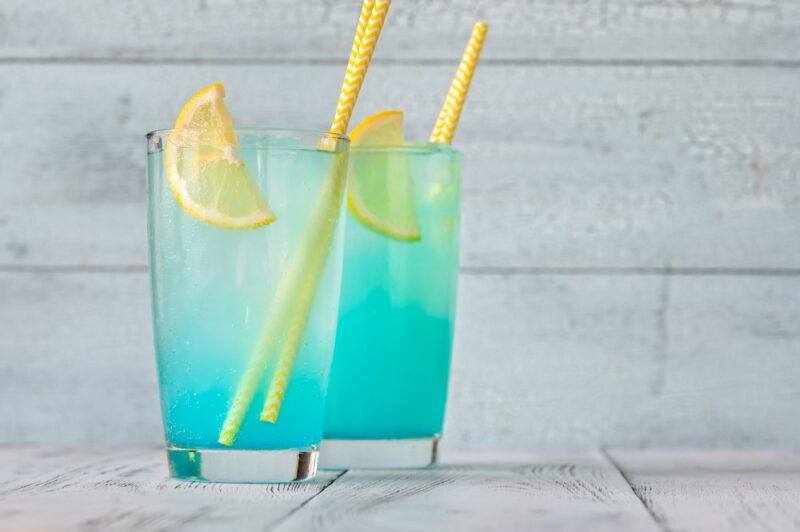 This cocktail is a simple twist on the Long Island iced tea. Both cocktails rely on gin, rum, tequila, and vodka.
However, the original version uses triple sec, while the electric blue iced tea relies on blue curacao instead. Those two liqueurs both have an orange flavor, so all that changes is the color of the drink.
You're also swapping the cola for lemon-lime soda. This perfectly complements the color of the curacao, giving you a bright blue drink.
There's also a related variation called Adios Motherf*cker (or AMF). This one simply drops out the sour mix and uses a combination of lemon juice, lime juice, and simple syrup instead.
The change in ingredients makes the AMF more complicated to prepare, but the finished drink does taste better.
Black Superman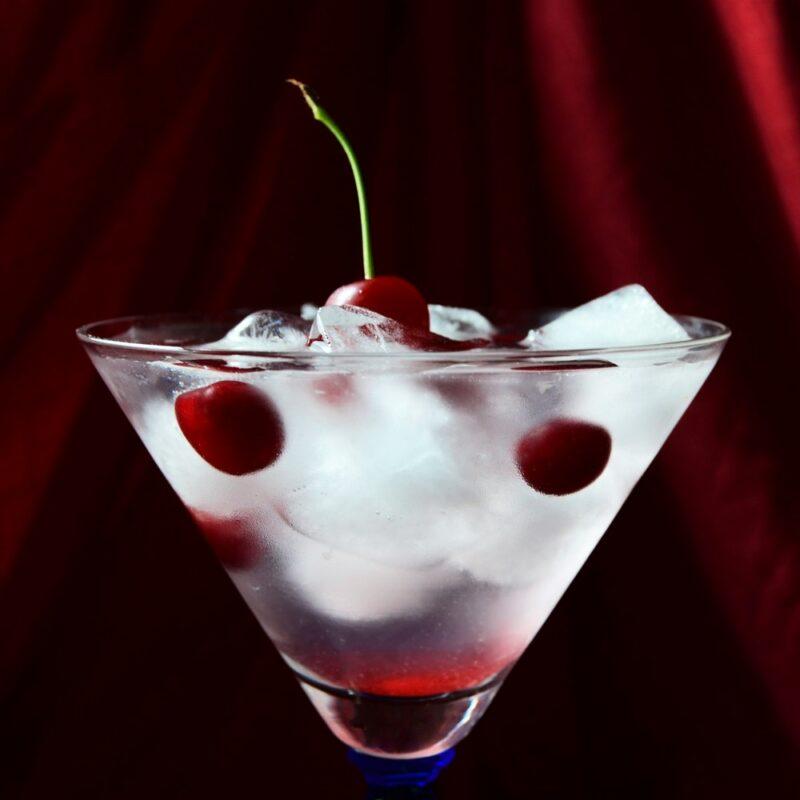 This cocktail is another riff on the Long Island iced tea. It uses most of the same ingredients as the electric blue version, except that it adds in Chambord as well.
Chambord is a raspberry liqueur that works well with the lemon, lime, and orange flavors already present.
Interestingly, you'll see some versions of the drink with both blue curacao and triple sec included. Doing so is a waste, as blue curacao is simply a blue version of triple sec anyway. You can easily skip the triple sec and just use the blue curacao.
Blue Lagoon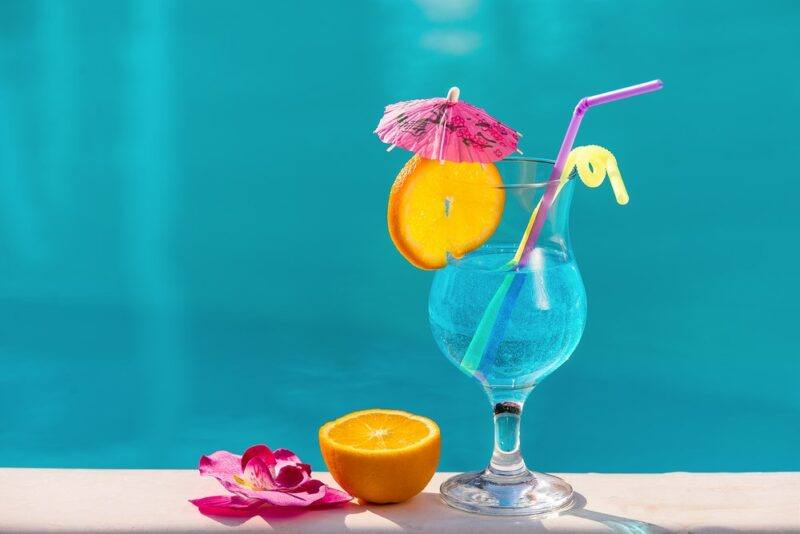 This cocktail is a famous use of lemon-lime soda, partly because it looks so amazing in the glass.
Not surprisingly, the bright color comes from blue curacao. The remaining ingredients are vodka, lime juice, and lemon-lime soda.
Because these ingredients are all clear (or close to it, in the case of lime juice), the blue from the curacao gets the chance to really shine. Citrus flavors stand out too, as blue curacao itself has an orange flavor.
You can prepare this one as a simple mixed drink or blend it with ice for a slushie drink that's even more delicious.
Pacific Breeze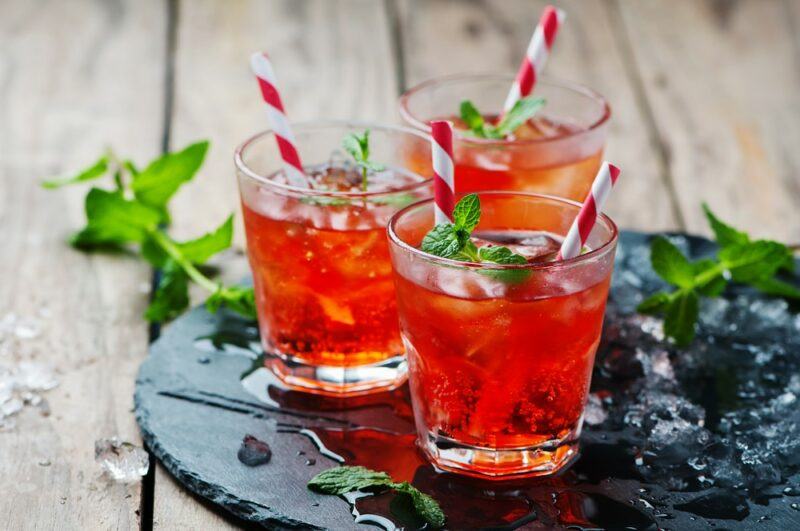 The Pacific breeze is just as bright as the blue lagoon. This time, the color mostly comes from cranberry juice and watermelon liqueur. Some triple sec, lemon-lime soda, and lime juice are added as well, which bump up the citrus flavor.
This cocktail is perfect when you want something light, as there aren't any shots of spirit in the mix. It only averages to around 8.3% ABV, lower than many other cocktails.
Sex In The Driveway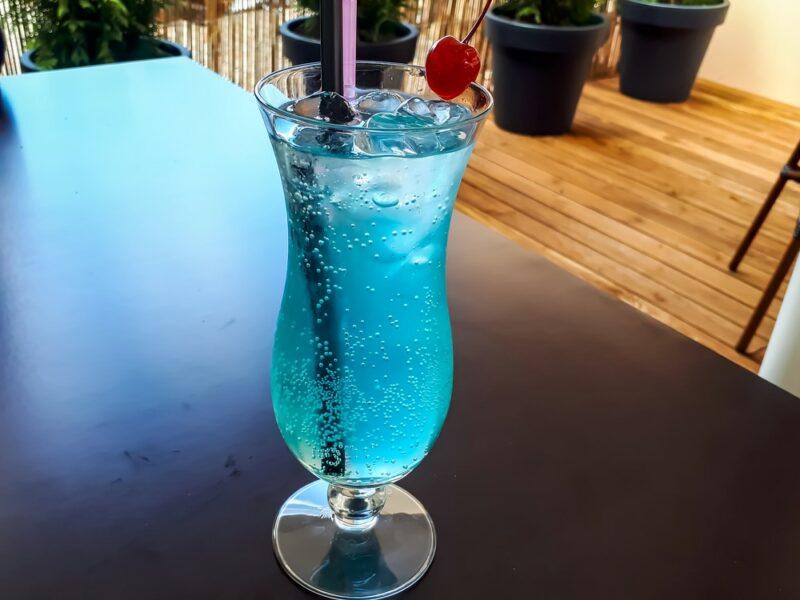 The name gives it away – this drink is a riff on the classic sex on the beach cocktail. Sex on the beach involves a mix of vodka, peach schnapps, orange juice, and cranberry juice. A small amount of lemon juice is sometimes added to offset the sweetness, but this is optional.
In contrast, sex on the driveway drops out the cranberry juice and uses blue curacao instead. Doing so gives the drink an amazing bright blue color, while amping up the citrus flavor.
There's another interesting feature too. While sex on the beach and sex in the driveway are both sweet and easy to drink cocktails, they're also surprisingly potent. So, if you serve these at a party, guests might end up drinking a bit more than they intend to.
Pulp Fiction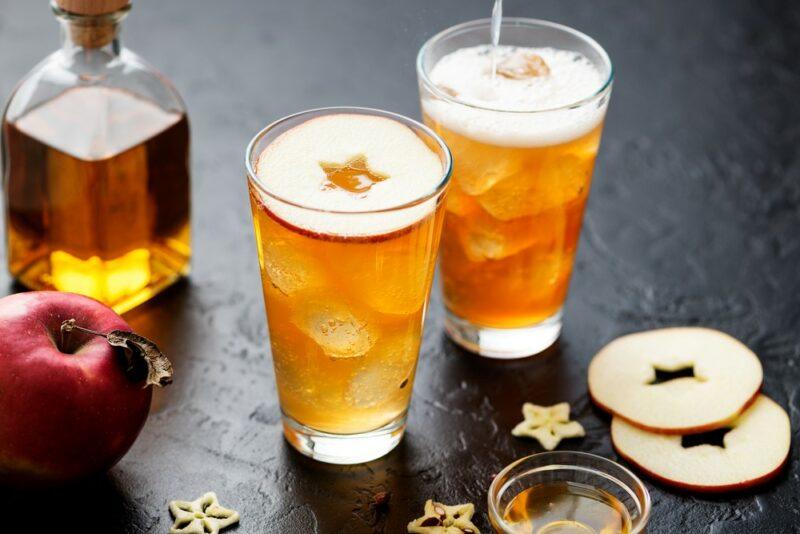 You guessed it, this modern cocktail was inspired by the movie Pulp Fiction. It's an apple-based drink that combines cognac with apple juice, apple schnapps liqueur, and lemon-lime soda.
This combination of apple and citrus isn't common, but seems to work well, giving you a bright and refreshing drink.
Electric Lemonade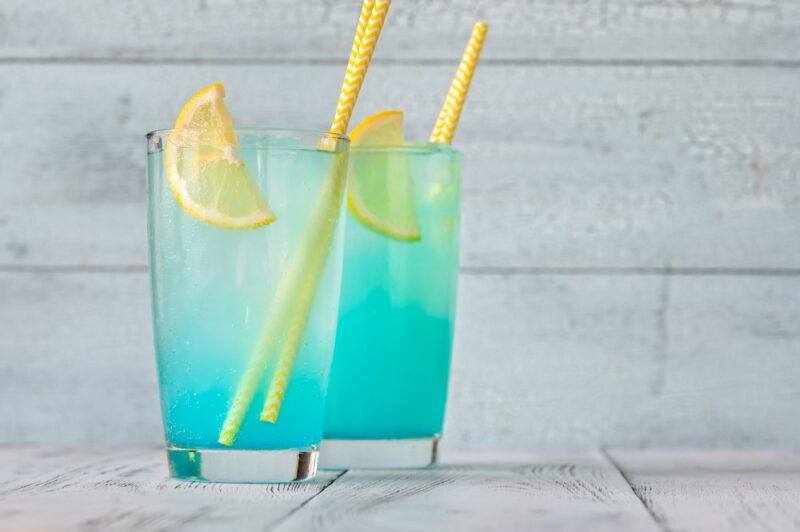 Here's another cocktail that relies on the bright blue color of blue curacao. It's similar to the blue lagoon, except that you're using lemon juice rather than lime juice.
As such, you're basically making blue lemonade with a dash of vodka.
To make this drink even more interesting, you can try leaving the blue curacao out until the end, then drizzling it into the drink. Doing so creates a type of bleed effect that looks fantastic.
Fresca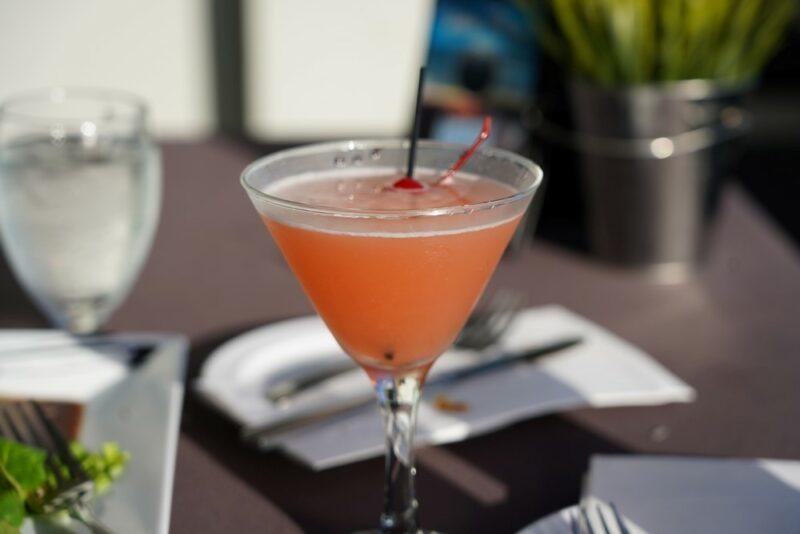 This vodka cocktail is traditionally served in a martini glass, so you don't use all that much lemon-lime soda. There is just enough of the soda to elevate the drink and balance the flavors.
You're also adding raspberry liqueur and pink grapefruit juice in the cocktail. These both provide distinct flavors, while giving the drink an interesting color.
Port Royal Punch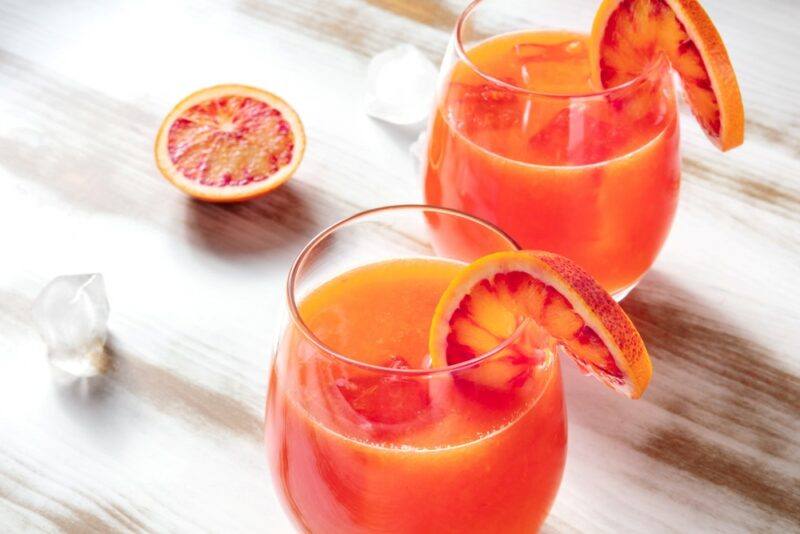 If you want a drink to serve at a party, the Port Royal punch is certain to work well. It relies on Captain Morgan spiced rum for the alcoholic kick and plenty of complexity.
The rum is then balanced out by pineapple juice, mango juice, a little grenadine, and plenty of Sprite. This combination doesn't just taste good, it also gives the drink a magnificent orange color that's certain to impress.
Blue Breeze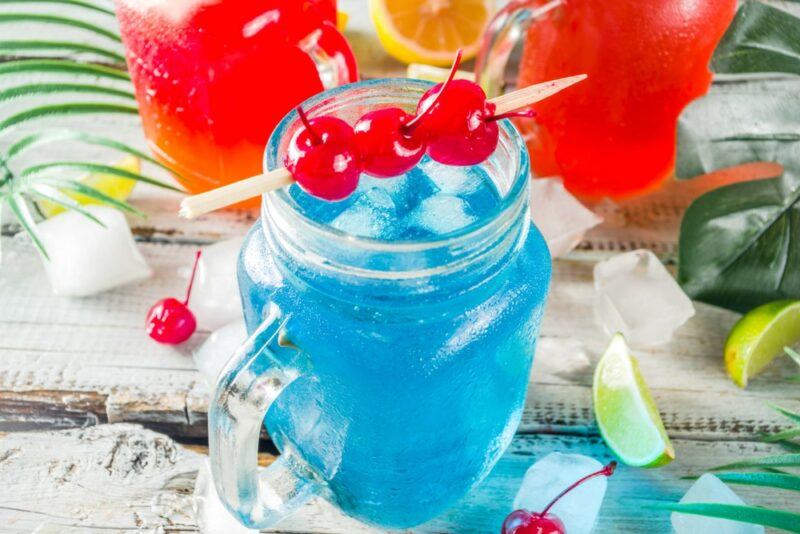 Here's another blue curacao cocktail, but we're not using vodka at all this time. The cocktail relies on coconut rum instead.
The rum is combined with blue curacao, pineapple nectar, and Sprite, to give you a tropical drink that's easy to prepare. If you can't find pineapple nectar, no worries, the cocktail works well with pineapple juice too.
Red Wine Spritzer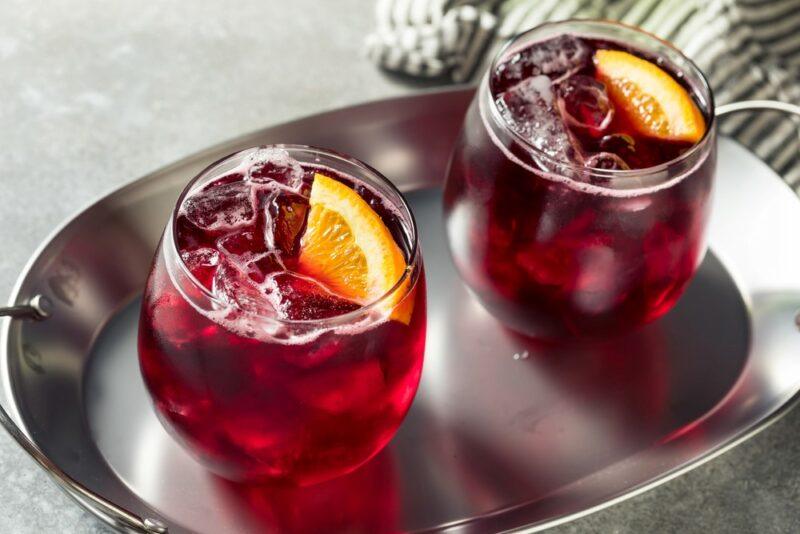 Wine spritzers traditionally rely on white wine, but you can make them with red wine as well. You're not limited to soda water either.
In fact, spritzers often taste better if you use soda with some sweetness to it, like Sprite or even ginger ale. Why not experiment with this idea? Even adding a little Sprite to your red wine might help to make it more interesting.
Lucky 7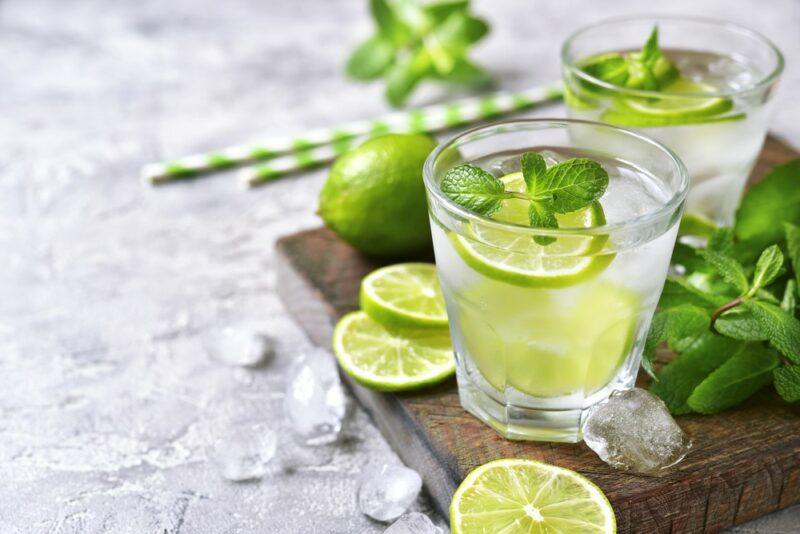 This cocktail is a little like the seven & seven, except that you're mixing 7-Up (or Sprite) with vodka rather than whiskey. Doing so gives you a clear drink that's dominated by the flavors of the Sprite.
You can easily tweak the cocktail by focusing on flavored vodka, particularly citrus vodka, which complements the flavor of your soda.
Get Down Greyhound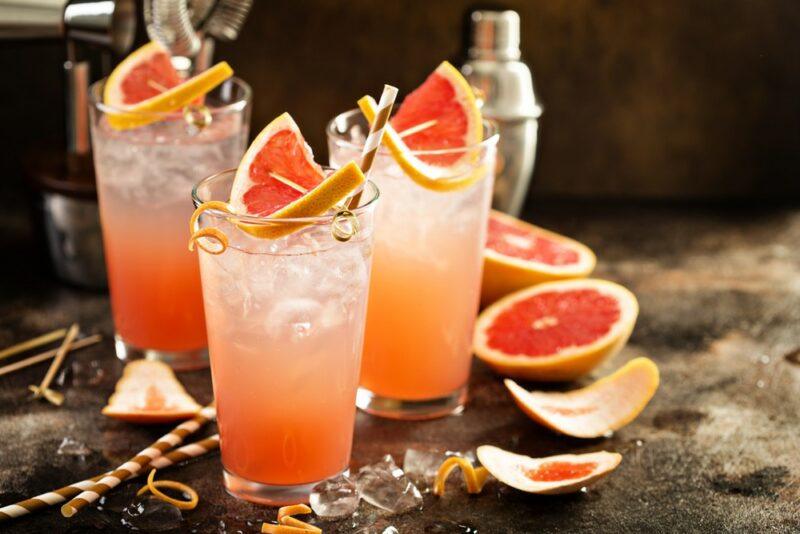 The greyhound cocktail traditionally combines grapefruit juice with either gin or vodka.
This cocktail riffs on that idea by adding a splash of lime juice and plenty of lemon-lime soda. Doing so creates a fizzy and refreshing drink, one best served over ice in a highball glass.
Nuclear Sludge Bomb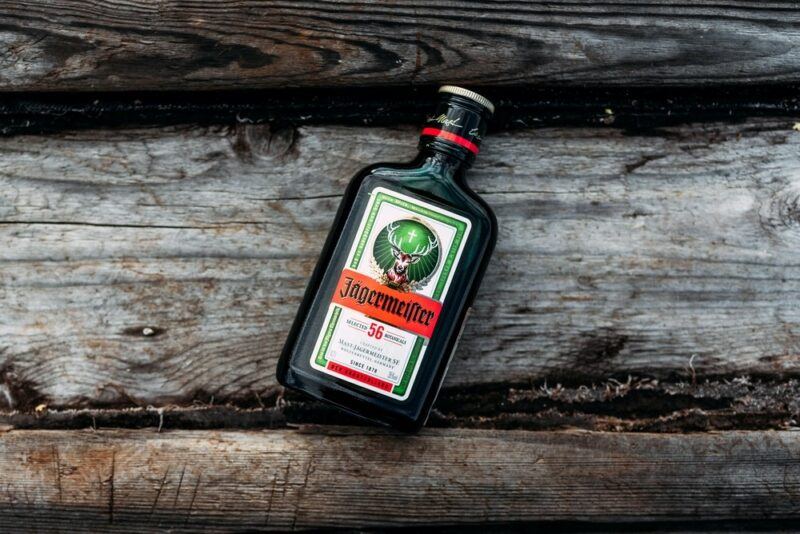 This is a bomb shot style drink, which means that you're dropping a shot glass full of alcohol into a larger glass, then drinking both together. The style is fun, although you need to be careful to avoid chipping your teeth when you drink it.
Here, the shot glass contains Jägermeister, while the larger glass is full of Sprite. Not surprisingly, the intense flavors of the Jägermeister dominate the cocktail.
You can also serve the same cocktail as a mixed drink. Doing so gives you the same flavor profile, without any shot glass to worry about.
White Sangria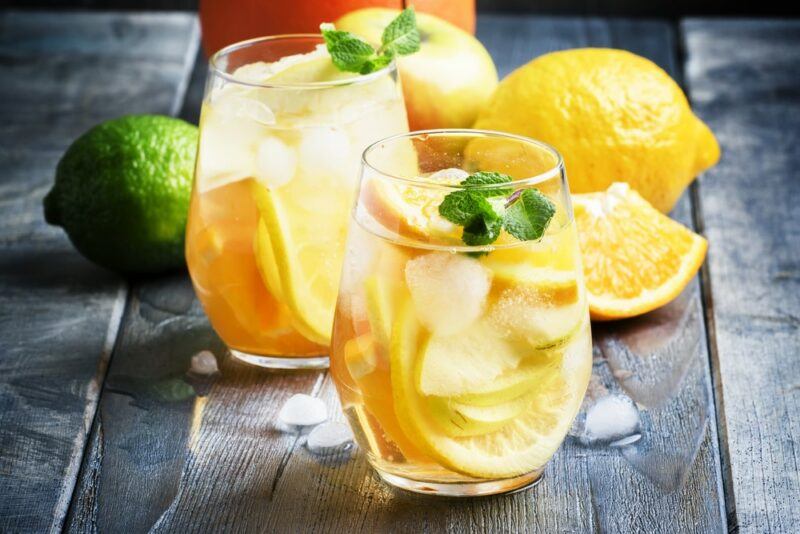 While sangrias are popular, they also get boring. This cocktail mixes things up by using white wine, orange liqueur, white cranberry juice, and lemon-lime soda.
The orange liqueur adds an interesting flavor to the drink, without bumping up the alcohol content too much.
You could prepare a large batch of this sangria for a party, but the flavor profile is better suited towards making a glass or two of the sangria for yourself after a long day of work.
Dirty Shirley Temple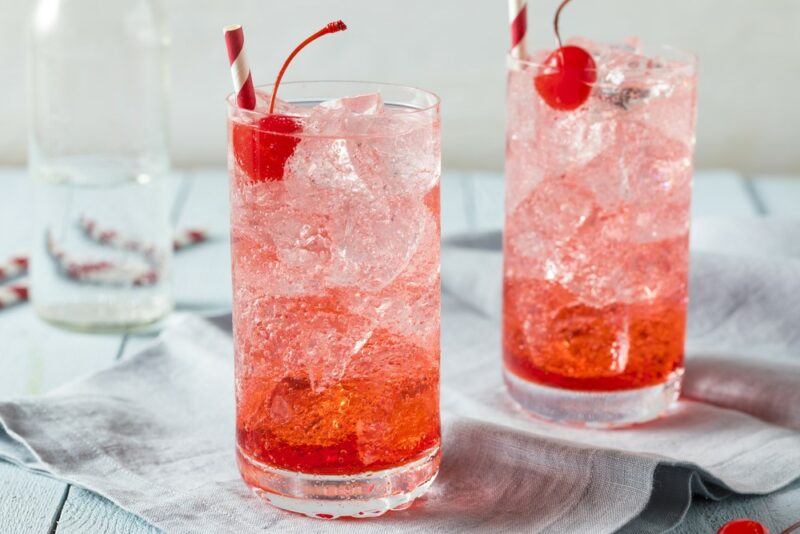 The Shirley Temple is probably the most famous mocktail in the world, even though Shirley Temple herself didn't like them at all.
The traditional version of the drink relies on ginger ale, lemon juice (or lime juice), and grenadine. These days, the mocktail often uses lemon-lime soda instead of the ginger ale or in addition to it.
A dirty Shirley Temple is simply the same drink with vodka added. This gives you all the flavors of the original, while turning it into a full cocktail.
Razzitini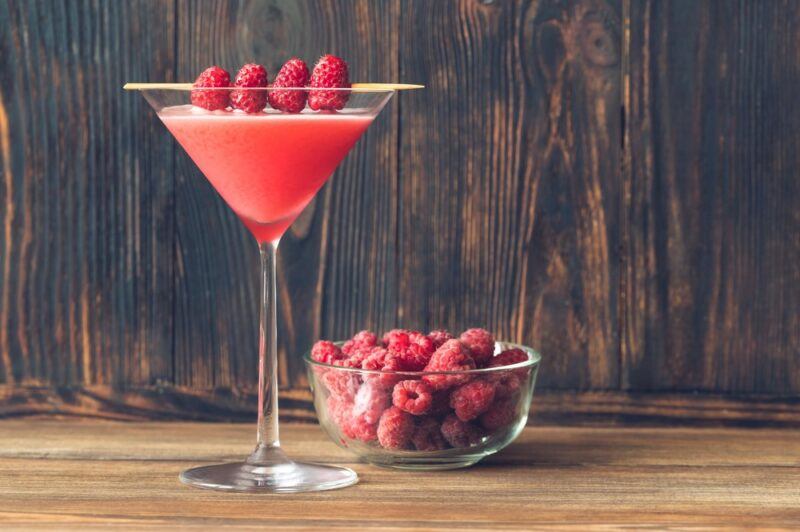 This cocktail is a simple riff on the raspberry martini – combining raspberry liqueur with vodka and a little lemon-lime soda. These ingredients give you a slightly sweet drink that looks fantastic in the glass.
The cocktail works well with flavored vodka too. While you could turn to raspberry vodka, citrus vodka works better, as this further highlights the flavor of your soda.
Shandy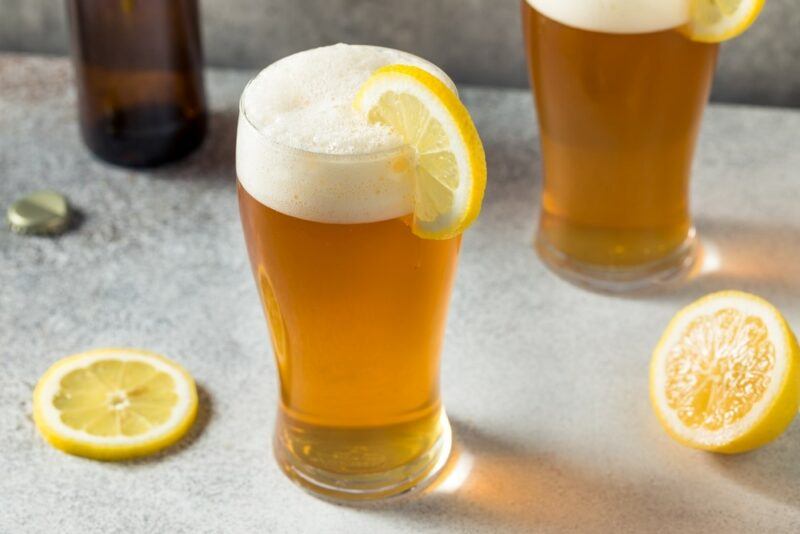 Shandies are popular in Britain and you'll sometimes see them in the United States as well. The simple cocktail just combines any type of beer with soda.
Lemonade is the most popular choice here. By this, we mean the British interpretation of the word, which is a fizzy drink that's similar to our Sprite.
So, you can easily make a shandy at home by combining Sprite with any beer. The sweetness of the soda helps to offset any intensity in the beer, giving you a light drink that's easy to enjoy.
Guinness And Sprite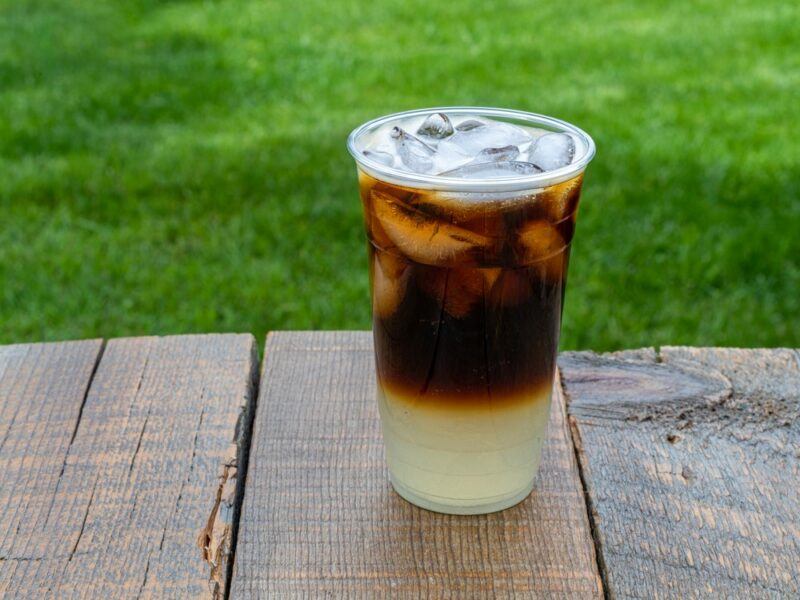 Combining Guinness and Sprite still technically gives you a shandy. The drink is also more controversial than most other shandies.
After all, Guinness is a rich and intense beer. Combining it with a sweet soda like Sprite seems like an odd idea. Some people say that the mixed drink tastes horrible and is a waste of good Guinness.
Despite this, people do still order Guinness and Sprite, suggesting that the combination has some fans out there.
7-Up Rum Rambler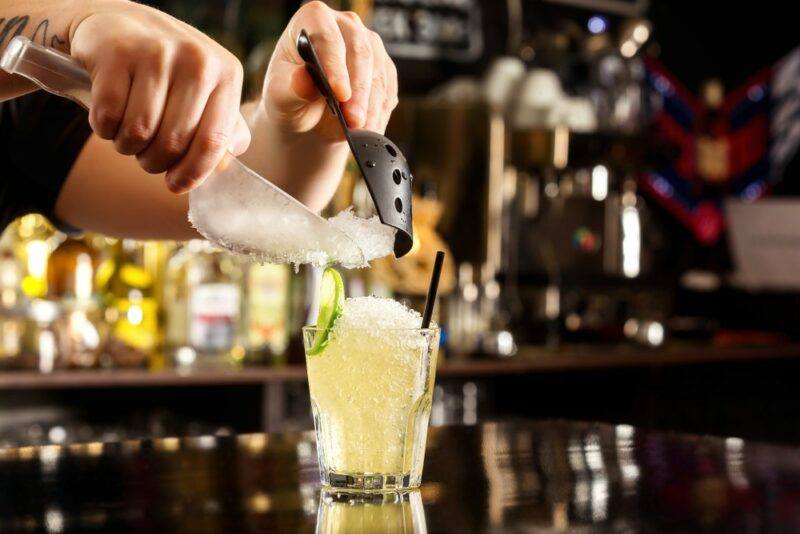 This cocktail was developed by 7-Up, but works just as well with Sprite. It's basically another riff on the Long Island iced tea.
But, as the name suggests, this version is rum heavy. It includes three types of rum, vodka, and triple sec. Then pineapple juice, sour mix, and lemon-lime soda are added to balance the flavors.
You can create a short version of the drink and serve it in a rocks glass or a taller version. Either approach is fun and delicious.
Vodka Lemon, Lime, and Bitters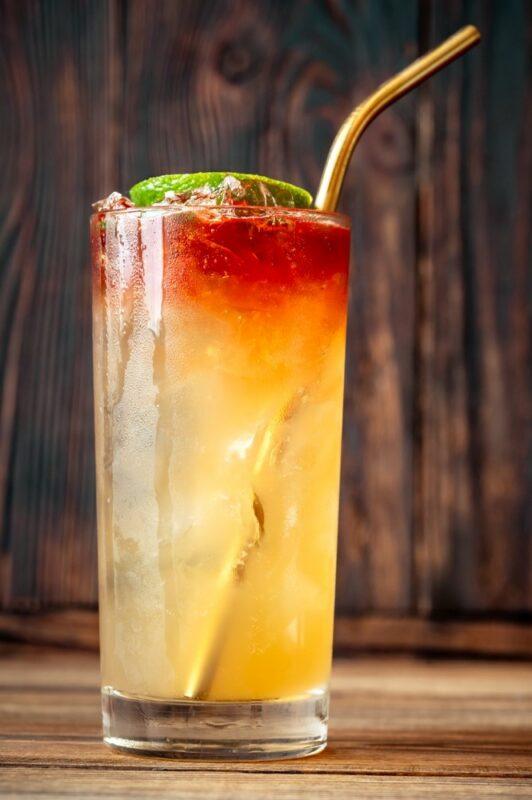 Lemon, lime, and bitters is a classic drink, relying on lime cordial, lemon-lime soda, and bitters. The balance of citrus and bitters creates a surprisingly refreshing drink.
While the drink is often served as a mocktail, it does contain a tiny amount of alcohol from the bitters (except for prepared products that use bitters flavoring, rather than true bitters).
You can create a more adult drink by simply spiking the lemon, lime, and bitters with vodka. The vodka perfectly balances out the other ingredients, without adding much flavor.
Lemon, lime, and bitters is best when you make it yourself using real bitters. However, for a fast cocktail, you can easily buy a premade lemon, lime, and bitters, then spike this with vodka.
Wrecked Pirate Tropical Cocktail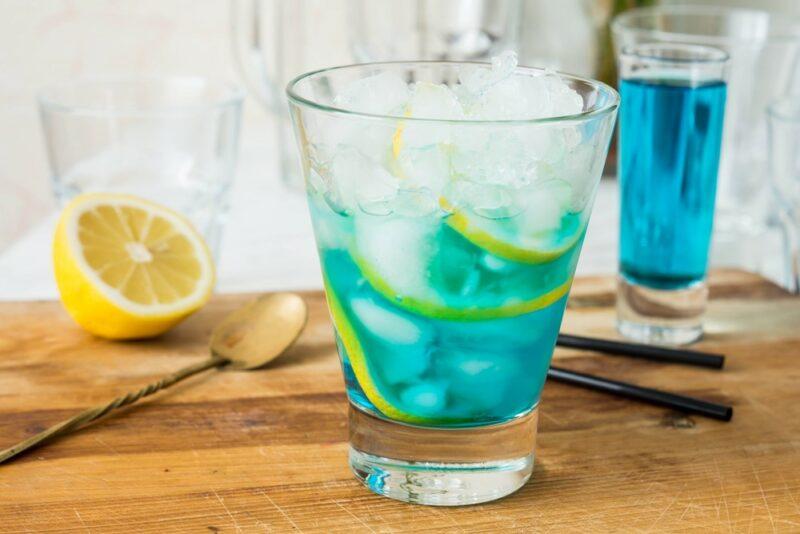 This cocktail doesn't just have a fun name; it's also surprisingly delicious. The pirate theme comes from the use of both spiced rum and coconut rum.
Pineapple juice is added for a tropical flavor, plus some blue curacao, lime juice, and lemon-lime soda. You don't need to use much curacao to create a fantastic light blue color.
Pink Lemonade Vodka Punch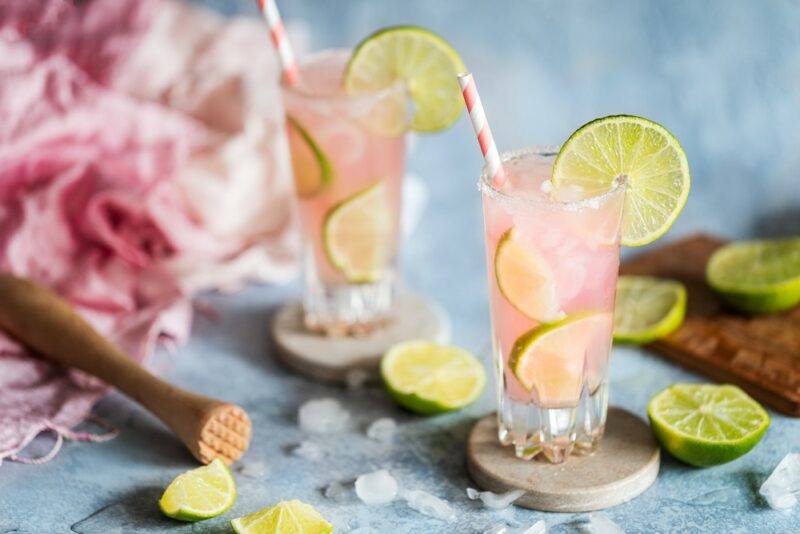 This final drink is simplicity itself, making it ideal for parties. To prepare it, you just combine pink lemon concentrate with lemon-lime soda, and citrus vodka.
The flavors aren't particularly nuanced, but this hardly matters. After all, party drinks don't need to be refined – they just need to be enjoyable.