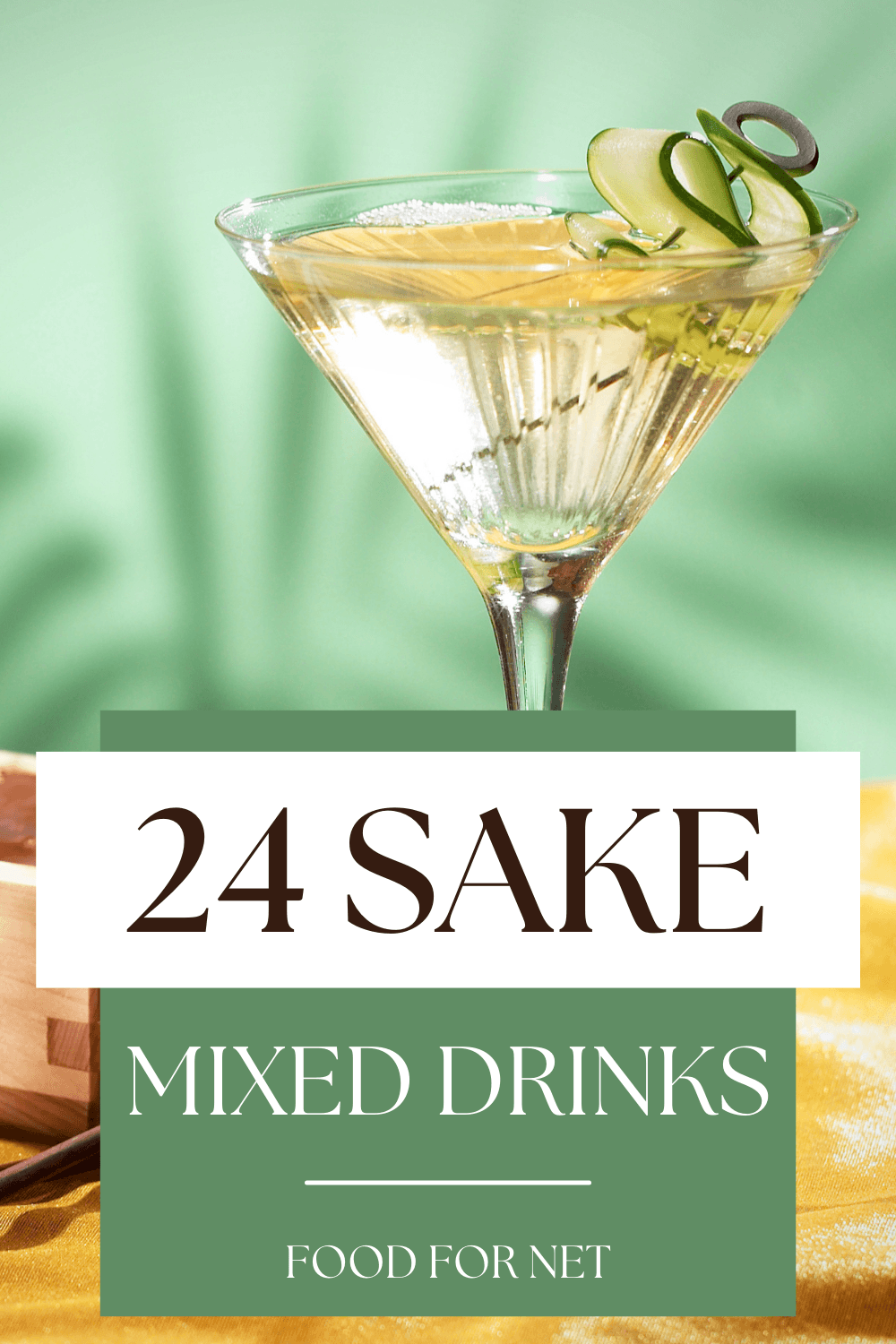 Sake is the national beverage of Japan but has been increasingly making its way onto our shores as well. The drink itself varies in style and taste, often with an alcohol content of between 15% and 22%. The low alcohol and sweet flavor makes sake an easy drink to sip. There's a surprising number of sake mixed drinks that you can experiment with.
Sake isn't just for sipping though. It's nuanced flavor also makes it an excellent cocktail ingredient.
Most of these aren't strong drinks, as sake itself is low in alcohol. They're often delicious though, providing a fantastic interplay of flavors. Many are also quite unusual and give you a brand new cocktail experience.
If you're new to sake, you could start with a sake of the month club. These give you the chance to experience different types of sake, while educating you about sake at the same time. You could even use sake from these clubs to prepare some of the cocktails on this list.
One word of warning though – sake has as much variation as different types of wine. So, simply changing the sake will often give you an entirely new drink. Because many cocktail creators don't specify the type of sake, you might need to experiment for yourself.
Also, it's best to avoid high end sake in your cocktails. The nuances of such sake get easily amongst the other ingredients, plus your cocktail will quickly get expensive.
Sake Mixed Drinks (With Pictures!)
Sumo In A Sidecar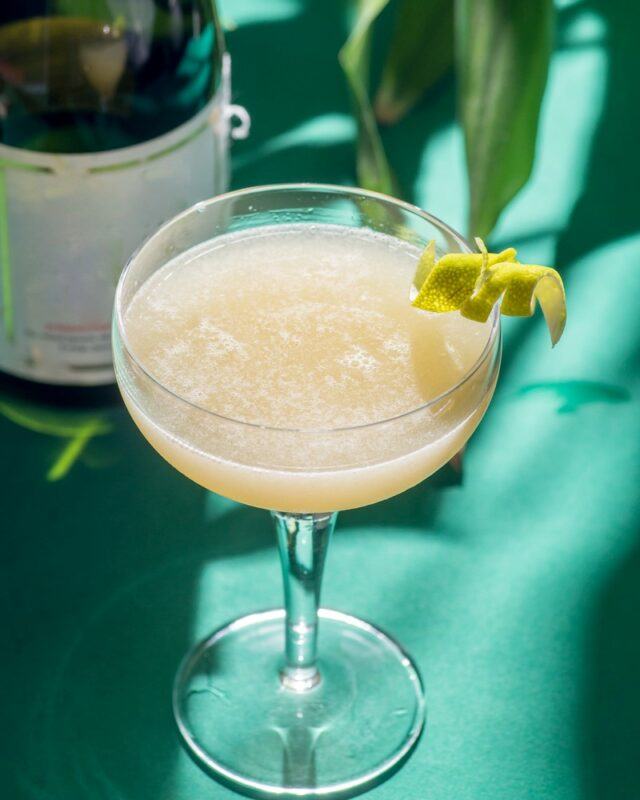 This drink gets its name from the classic sidecar, but has some clear differences. The sidecar itself uses cognac as the spirit, with triple sec and lemon juice to provide a sweet and sour balance.
For the sumo in a sidecar, you're using apricot brandy liqueur for the sweetness and sake as the spirit. The sake provides a subtle flavor to the final drink, while the apricot dominates.
Sake Sour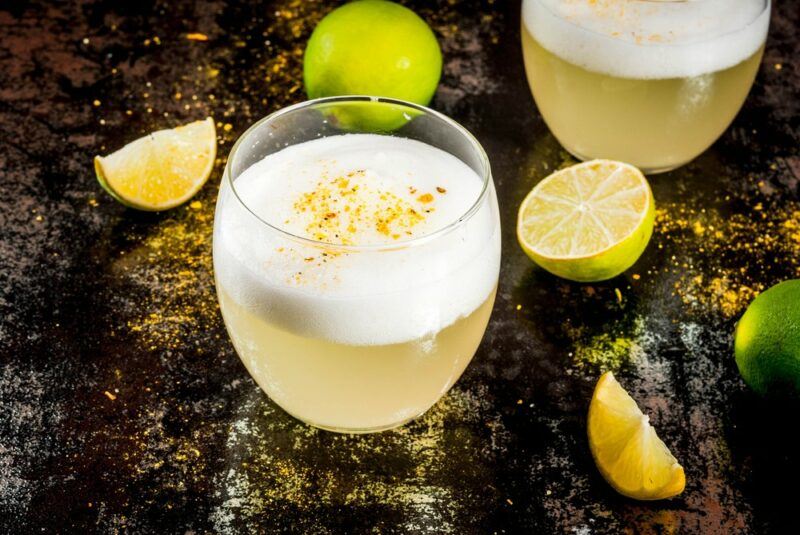 You've heard about the classic sours, right? Drinks like whiskey sour, bourbon sour, and even tequila sour, are all famous.
They rely on a similar approach, a spirit combined with lemon or lime juice, plus some sugar syrup for sweetness. Many recipes use an egg white as well, which provides texture and some froth on the finished drink.
A sake sour does just this. Because there aren't many ingredients, the flavor of the sake really shines through. This also means that the cocktail changes depending on the type of sake you choose.
Plum Sour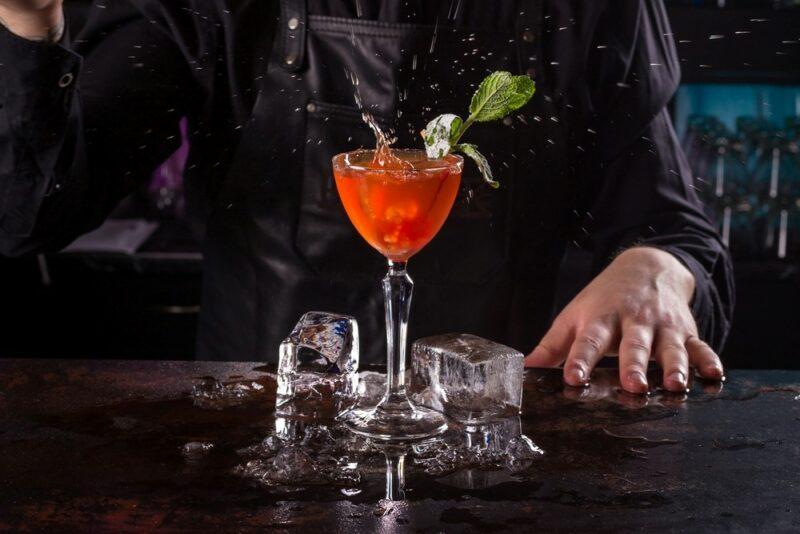 This is also a sour cocktail, but the ingredients are different. For one thing, the recipe doesn't just use sake. It also calls for shochu, which is another type of alcoholic beverage.
These two ingredients are combined with lemon juice and Aperol. The finished cocktail looks a little like a negroni, but the flavor profile is less intense and has a better balance.
Sakura Smash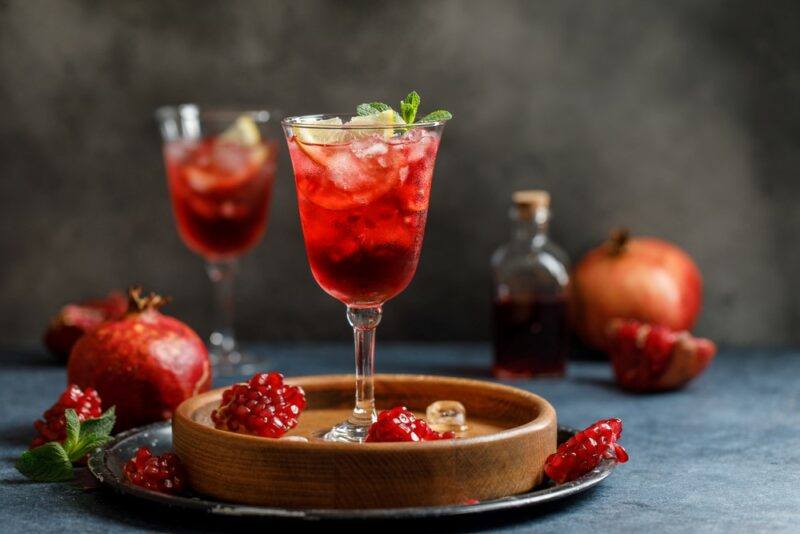 Here's a fruity take on sake. This time, the cocktail combines plum sake with pomegranate juice, lemon juice, cherries, and mint leaves. The whole thing is finished off with a little soda water.
The cocktail tastes best if you muddle the cherries and the mint leaves together, then add the other ingredients. By combining lemon juice, pomegranate juice, and plum sake, you get a cocktail that's fruity without being too sweet.
Kyoto Sour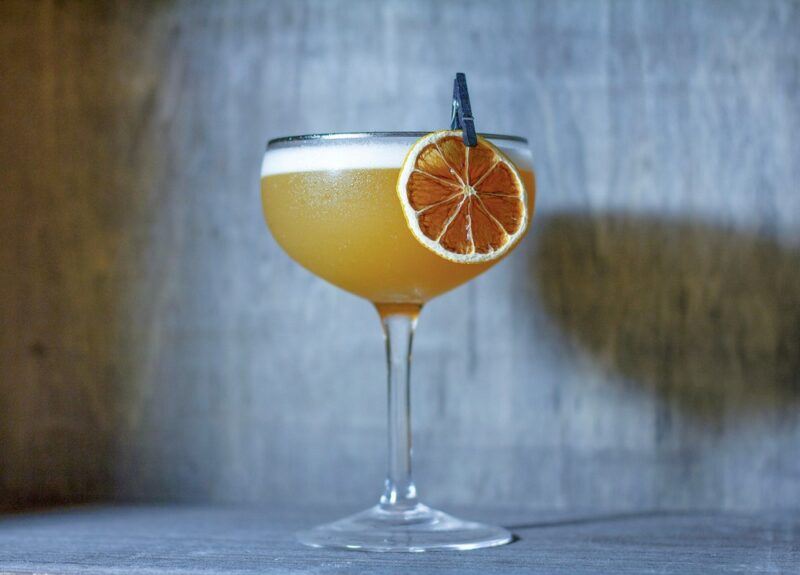 This drink takes the sake sour and notches it up. There are some familiar ingredients, including the sake, lemon juice, and agave nectar.
But, the recipe also calls for muddling grapefruit slices with green Tabasco sauce. These ingredients give the cocktail an unexpected depth of flavor – making it a little spicy too.
Coco Geisha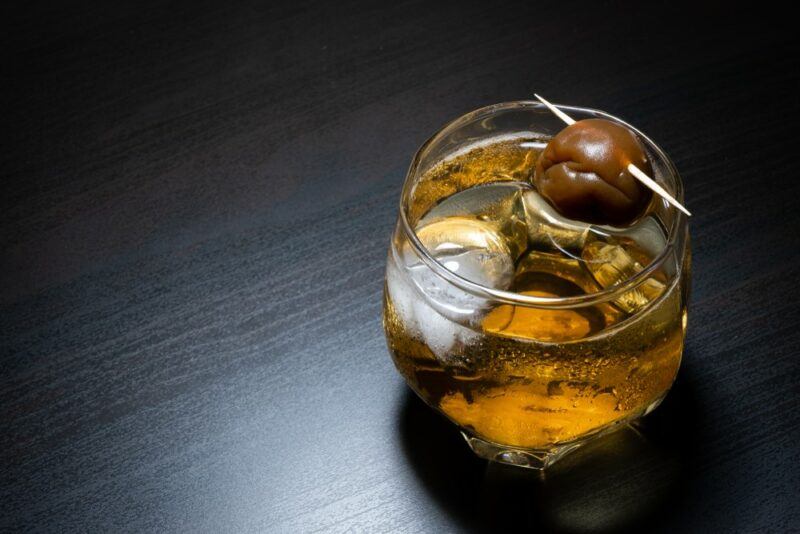 Here's another drink with an unusual combination of ingredients. This time we're looking at Japanese whisky, coconut water, and sake.
The coconut water gives the drink a slight coconut tone, which is perfectly balanced by the whiskey and the sake. A splash of orange bitters and some sugar syrup is added to complete the cocktail.
The amount of sugar syrup will depend on your personal sweet/sour preferences. If you prefer your drinks on the tart side, you could even leave the sugar syrup out entirely.
Lemon Tea Sake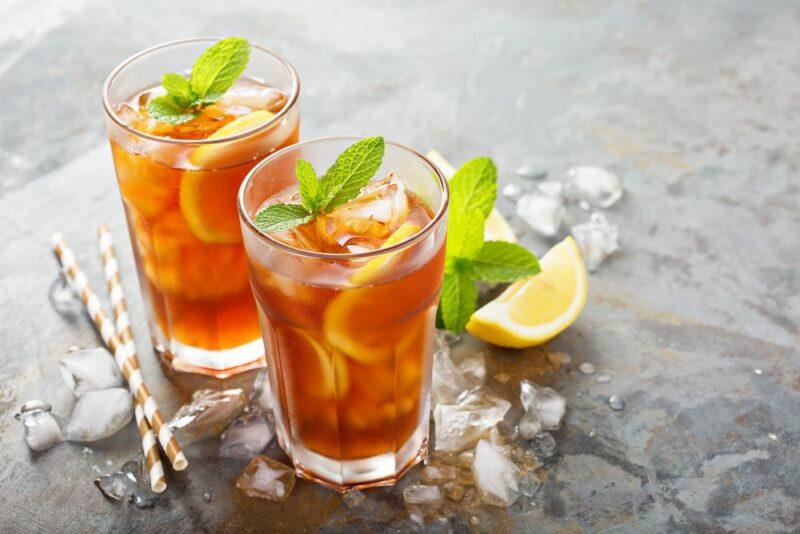 This simple cocktail is a great place to start your sake journey, as it just uses two ingredients – lemon tea and sake.
The trick is the ratio. Don't use large amounts of tea and hardly any sake. If you do so, you'll barely taste the sake.
Instead, you're going to want a sake to lemon tea ratio of 4 to 1 or something similar. This allows the lemon tea to complement the sake without overwhelming it.
Damn It Jimmy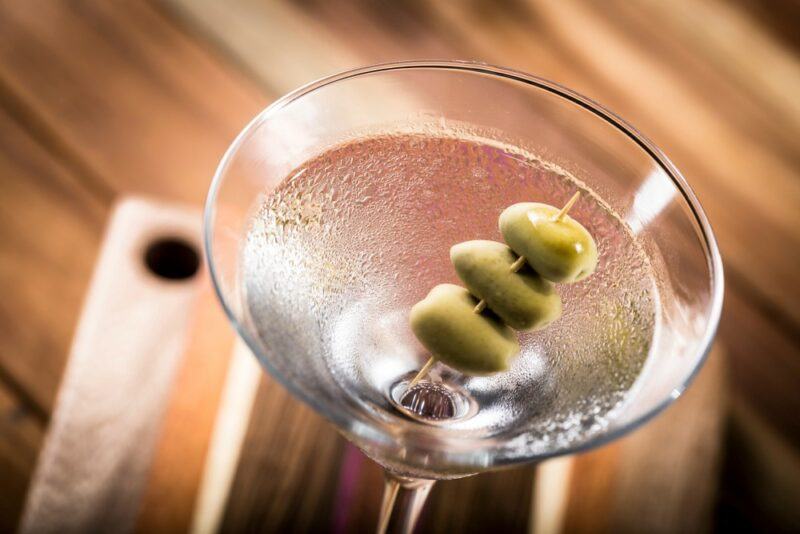 This modern cocktail mixes sake with light rum, sherry, dry vermouth, and just a touch of sugar syrup. These are all clear ingredients, so the cocktail ends up looking much like a martini.
However, the flavor profile is more interesting and nuanced than a martini. It's also a fairly strong drink, which could be another reason for giving it a try.
For Sake's Sake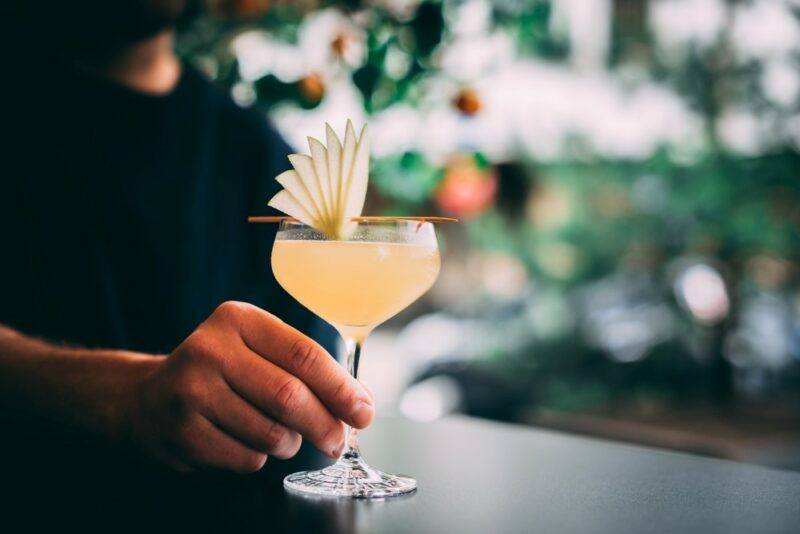 There are some similarities between this and the previous cocktail, as they both use light rum and sake.
However, this version turns to orange curacao liqueur and Italicus liqueur. The Italicus liqueur is particularly interesting, as it adds a slight lemon flavor, plus some interesting herbal notes.
There's no sugar syrup, so this ends up being a fairly tart cocktail – perfect for sipping.
Aokigahara #2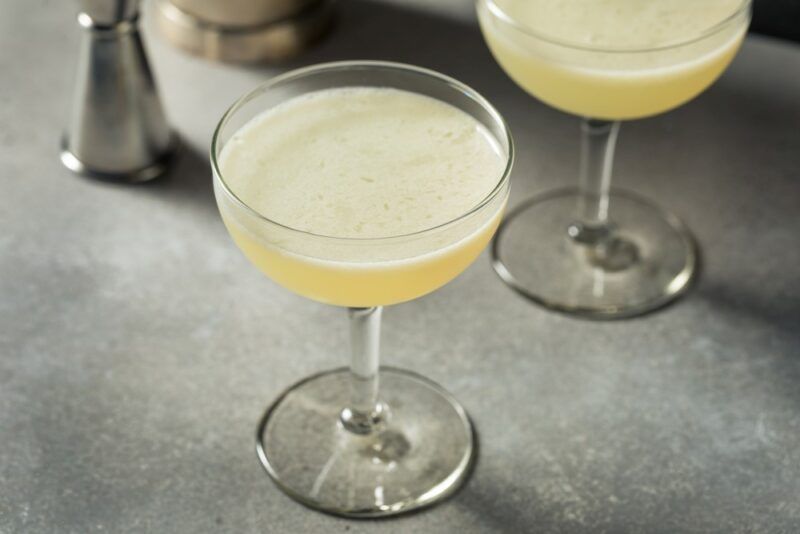 As this cocktail shows, one of the best ways to start with sake cocktails is to rely on the classics. In particular, you can take a regular cocktail and use sake instead of a similar spirit (particularly gin or vodka).
This particular cocktail does exactly that, by taking the classic corpse reviver #2 and using a nama sake instead of the lillet blanc that normally features in the drink.
Lotus Blossom Martini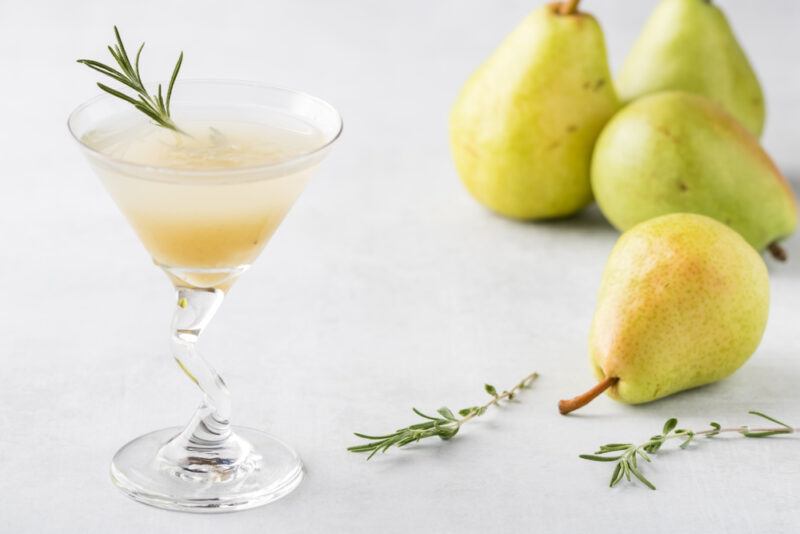 While this drink is more complicated than the traditional martini, it's easily worth the effort. It starts with adding fresh lychees, a wedge of lime, and some simple syrup to your cocktail shaker, then shaking these together.
Then add both sake and pear vodka and shake again, this time over ice. After this, you just need to strain the cocktail into a glass.
The lychees and pear vodka add fruitiness to the cocktail, while also providing a nice subtle color.
White Wedding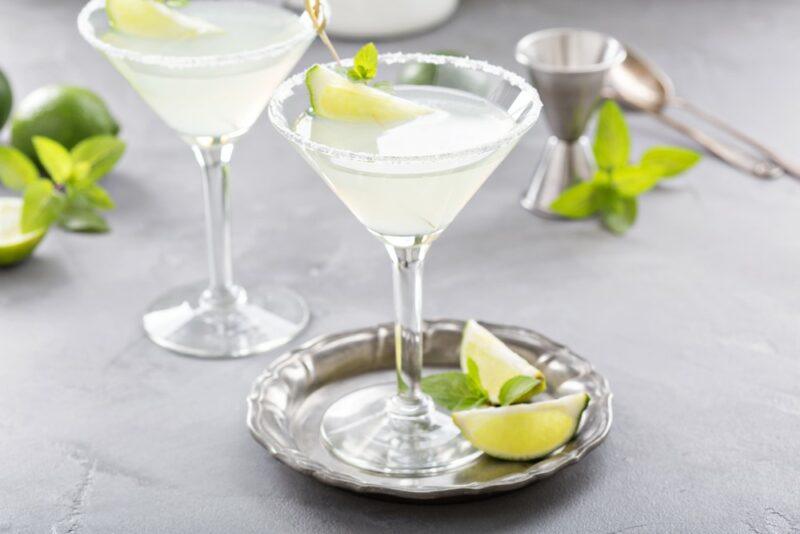 This surprising cocktail is well worth the effort. It uses both sake and gin to create a nuanced flavor profile, which is complemented by fresh lime juice and cucumber.
You can take the whole thing one step further by preparing cucumber ice cubes. These actually rely on almond milk, honey, lime, and cucumber, and give the cocktail even more depth.
When you make the cocktail, half of the ice cubes are blended into it, creating a slushie-like texture. The other half can be used in the drink itself.
Ume Spritz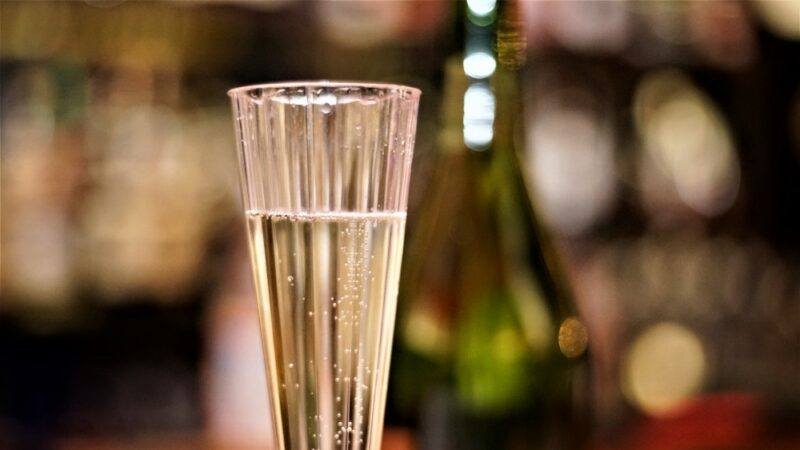 There are some pretty complex cocktails on this list. So, what do you do if you want something simple instead?
The ume spritz is a good option, as you're just mixing sake with sparkling mineral water. If you use plain sparkling water, then all the flavor comes from the sake itself.
Alternatively, you could look for flavored sparkling water. The products from La Croix are excellent, as their flavors are subtle and natural.
Red Sun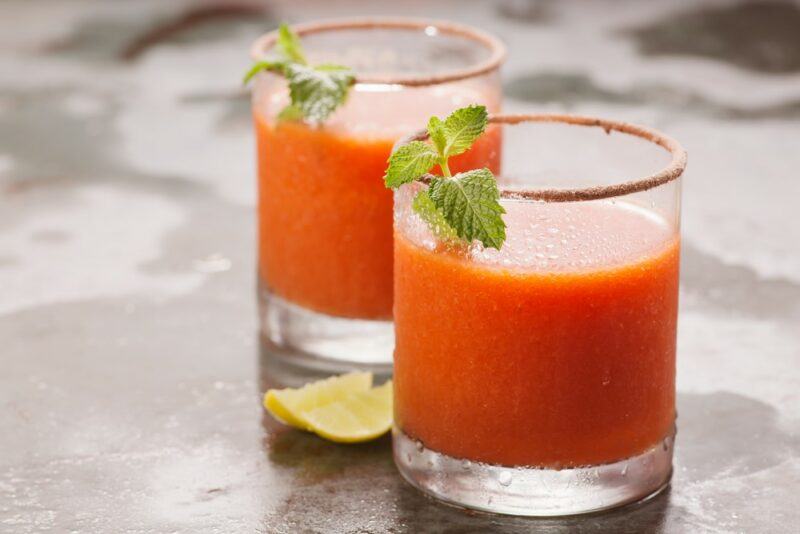 This drink gets its name from the red eye cocktail. The simplest version of that drink combines beer and tomato juice (other versions add ingredients like an egg white, horseradish juice, and seasoning).
This version drops the beer and uses sake instead. The tomato juice dominates the drink, while the flavors of sake are relegated to the background.
Other ingredients can easily be added, but it's important to be cautious. Sake doesn't have a particularly strong flavor, so it's easily overwhelmed by other ingredients.
Tea Of Wisdom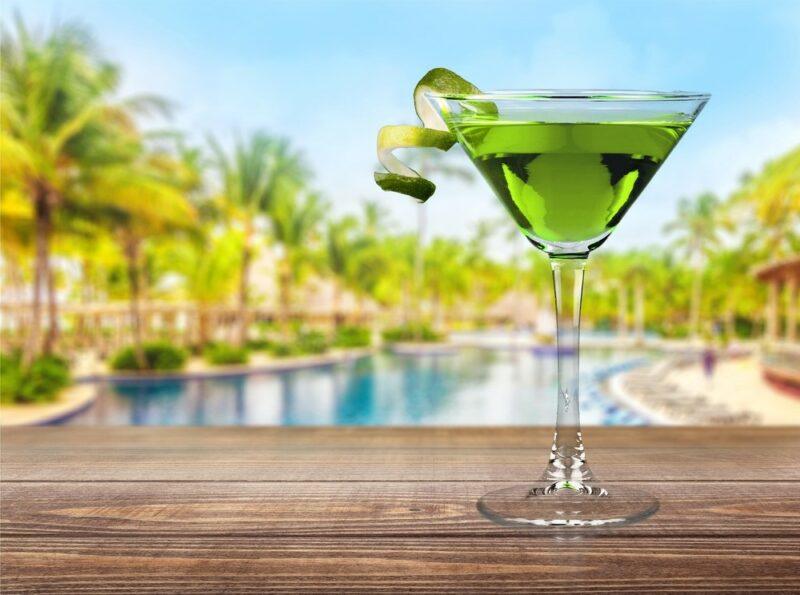 This cocktail does contain tea, but not in the way you'd expect. It actually uses a 1:1 ratio of sake and cold green tea.
While this combination is unusual, there's a fantastic interplay between the flavors of the tea and the sake.
To make the drink even better, try muddling some cantaloupe pieces and simple syrup, then shaking this together with the other ingredients. Doing so gives you some sweetness and subtle fruitiness, without taking away from the other flavors.
Sake Martini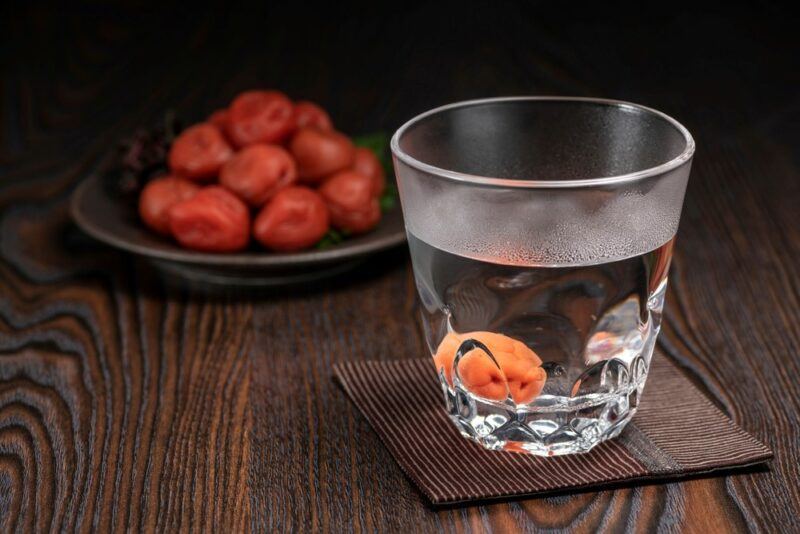 A regular martini is simply a combination of gin or vodka and vermouth. This creates an intense drink that remains incredibly popular.
You can make a sake version by simply combining sake and vermouth.
An even better cocktail involves equal measures of gin and sake, plus a little dry vermouth. This combination still gives you the aromatics from gin, which naturally complement the sake.
An alternative version combines vodka, sake, and vermouth. This version doesn't offer the botanicals of gin, so sake dominates the flavor profile.
Saketini

This cocktail is a little like a martini, except that you're skipping the vermouth entirely. Instead, you combine sake and vodka.
Most of the flavor comes from the sake, while the vodka simply raises the alcohol content of the cocktail.
Garnishing the drink with cucumber helps to make it more interesting and provides a little extra flavor.
Saketini #2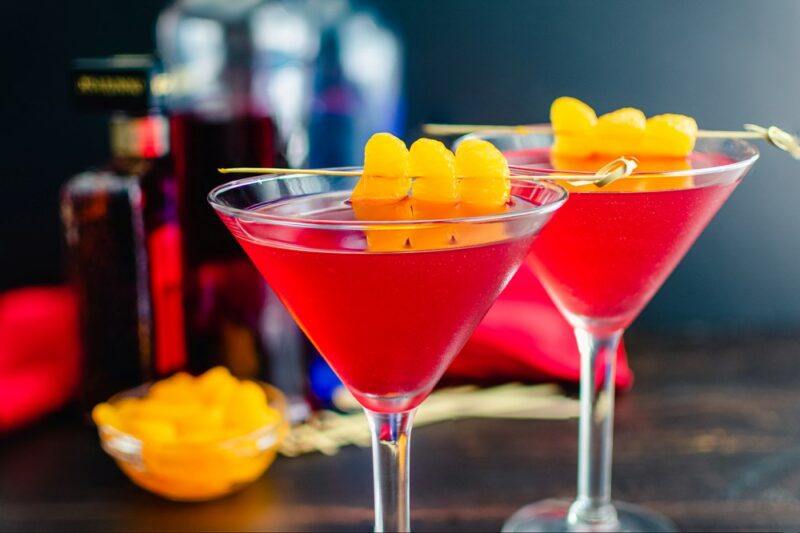 The saketini #2 is a twist on the previous cocktail.
You're still using vodka and sake, but this time you're adding cranberry juice and plum liqueur. These two ingredients provide a delightful color to the drink, while also enhancing the flavor.
Kiss of Sake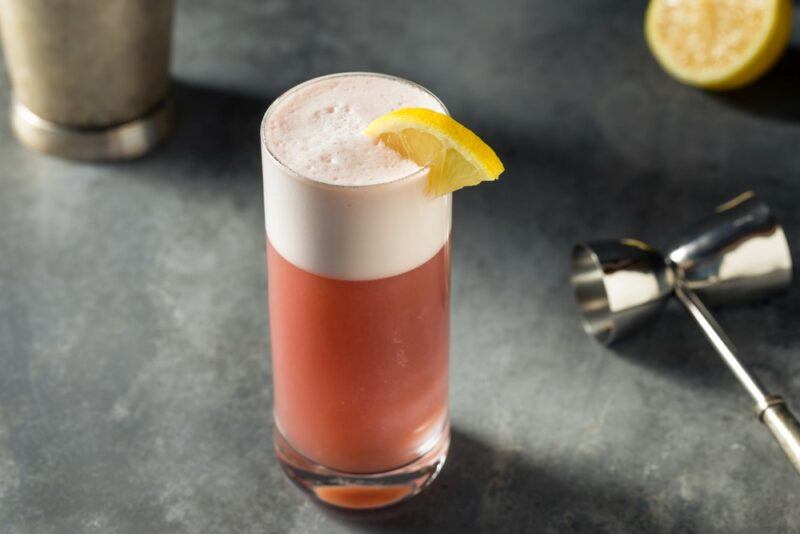 This cocktail takes inspiration from the classic sours, but it's more complex. The difficult part is that you first need to make a fruity stock that includes sake, vodka, egg white, and fruit juices. The ingredients need to infuse together for roughly an hour before you're ready to build your cocktail.
The finished drink is certainly worth the effort. Besides, having similar drinks time and time again gets a bit boring. Why not add something new into the mix?
Sake Manhattan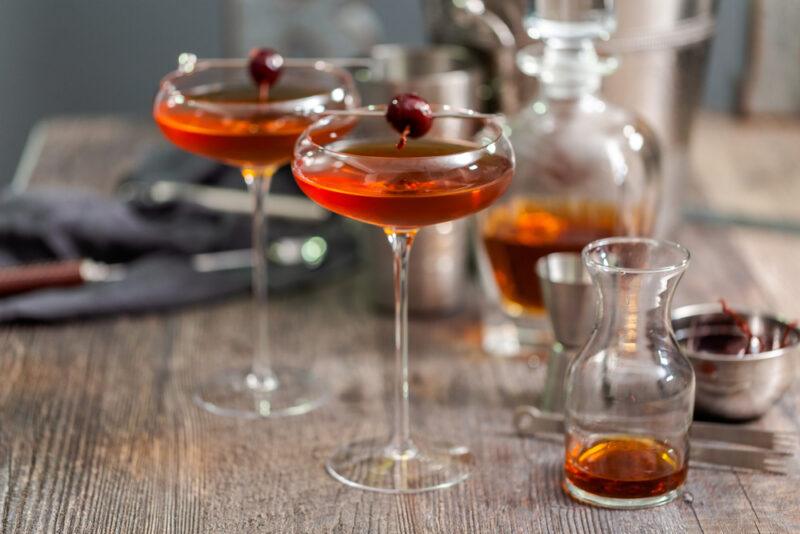 A Manhattan traditionally combines whiskey with sweet red vermouth and Angostura bitters. You could simply add sake to the drink, but the flavors of the sake wouldn't be that noticeable.
Instead, it helps to riff on the cocktail. One version does this by adding maraschino liqueur, cherry brandy liqueur, and Peychaud's bitters into the mix. Some whiskey is used as well, but sake becomes the dominant type of alcohol.
This balance of ingredients gives you a much lighter cocktail, one where the sake and other ingredients provide interesting complexity.
Little Venice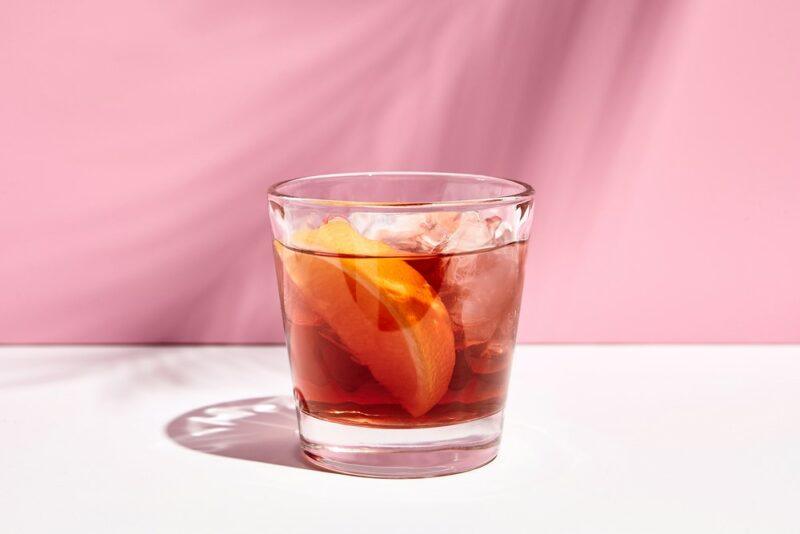 This cocktail is a little like a Manhattan, as it includes whiskey and vermouth. However, it's much simpler, as you're just combining those two ingredients with sake.
The sake dominates the drink by volume, making it a key part of the flavor profile too.
Original Sin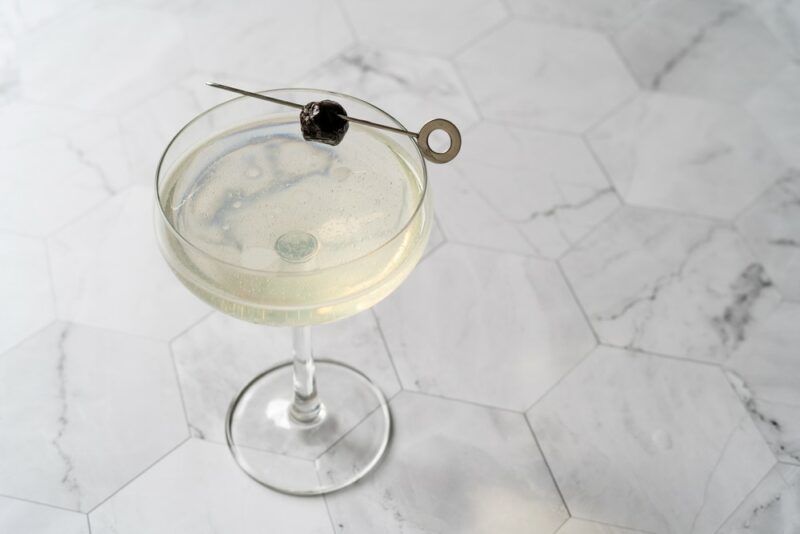 This cocktail looks a little like the last word, but the ingredients are quite different. You're actually combining vodka, honey syrup, and sake, in a glass that's been rinsed by absinthe.
The absinthe provides an anise undertone to the drink, one that nicely complements the nuances of your sake and honey syrup.
Sake Bomb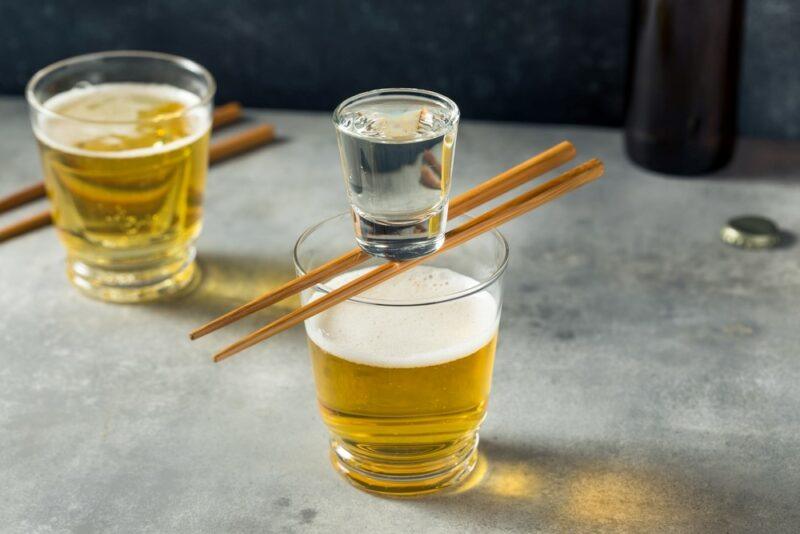 Bomb shots are a bit gimmicky, but they can be fun too. As the image shows, you're simply including one ingredient (or set of ingredients in a shot glass) and the rest in a larger glass.
You then drop the shot glass into the larger one and drink them together.
A sake bomb most often drops a shot glass of sake into a glass of beer. Any type of beer will do, although light beers are ideal, as you can still taste some of the sake's flavors.
A twist on the recipe is to use a shot glass of warm sake and drop it into ice cold Red Bull. This gives you quite a different drink, plus a decent energy hit from the Red Bull.
Eastern Raspberry Sidecar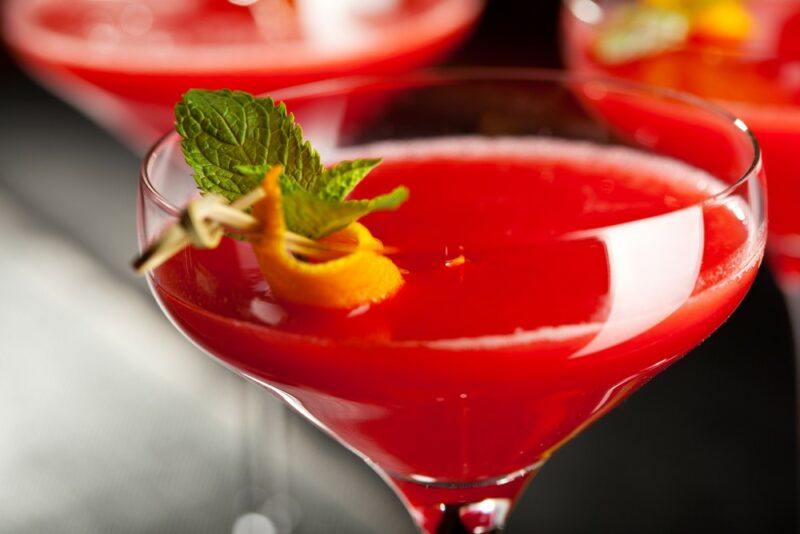 The sidecar is a classic. It combines triple sec with cognac, lemon juice, and angostura bitters for a vibrant orange cocktail that's both sweet and sour.
This version keeps all the traditional ingredients, but adds sake, sugar syrup, and muddled fresh raspberries. The raspberries give it an amazing red color, while the sugar syrup makes the cocktail a bit sweeter.
The sake acts as a background flavor, providing extra complexity to this delicious drink.