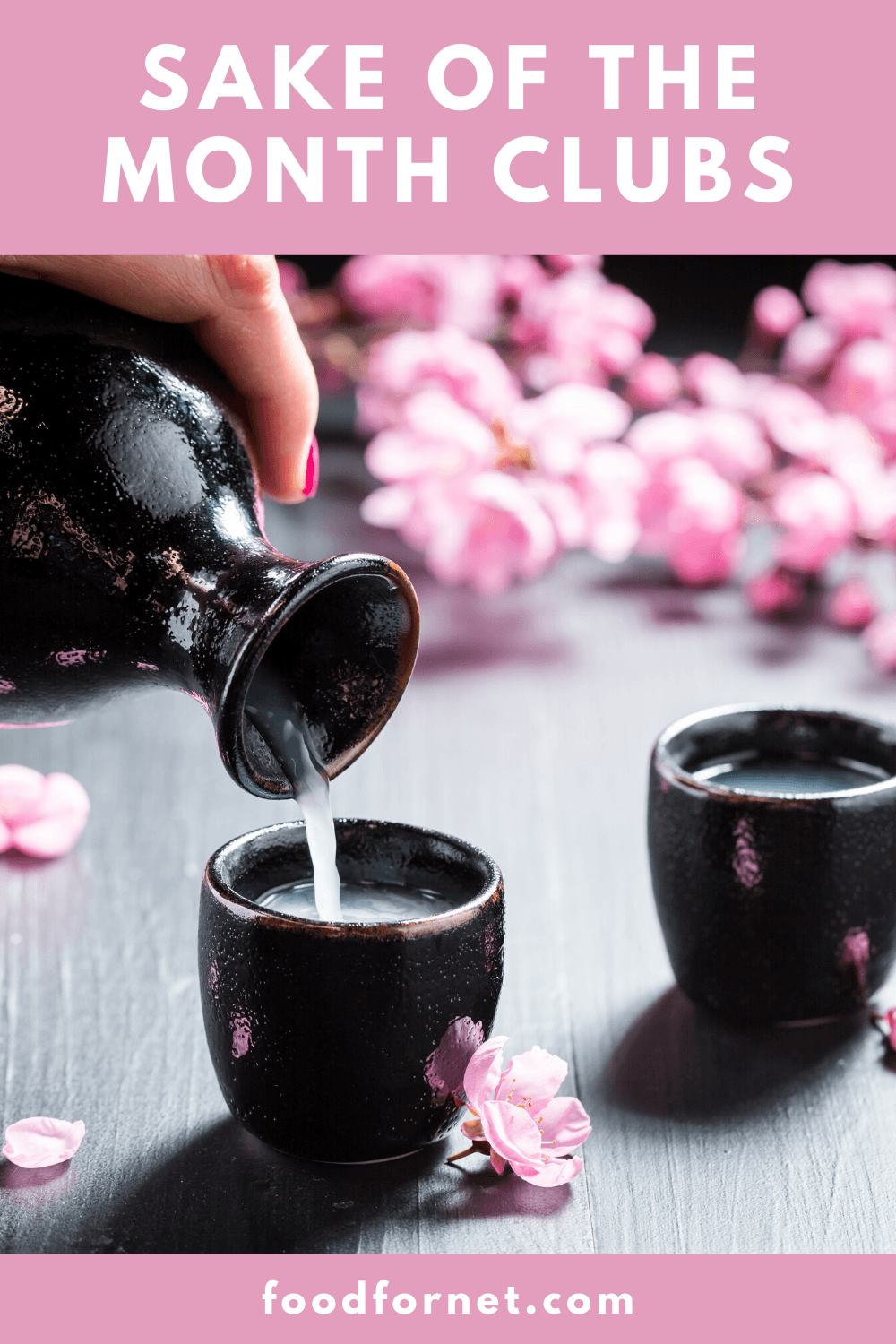 Regarldess of whether you are new to sake consider yourself a sake connoisseur, a sake of the month club is a particularly unique yet perfect gift. Sake of the month clubs allows the recipient to try a variety of sake flavor profiles and grades all from the comfort of their home. You can enjoy the sake on its own or even use some to prepare cocktails.
Before we delve into the clubs themselves, let's talk a little about sake.
Sake is made from the fermentation process of rice and is a traditional Japanese beverage that has been part of the Japanese culture since about 300 BC.
Sake was once created by the Sake-no-Tsukasa organization for the imperial court. However, it was also produced at temples, shrines, and even by the public. Eventually, the sake industry grew so large that the Japanese government began to tax sake sales.
This fermented drink is both complicated, labor-intensive, and time-consuming to create, but well worth all the work in the end.
The process starts with brown rice, which is first polished. After this the rice is washed and soaked before steaming it. The steaming process aids in keeping the rice from sticking to itself.
The steamed rice is then cooled, and koji mold is spread over it, then thoroughly mixed to ensure the rice is well coated. As the koji grows, the rice is mixed and covered to ensure the temperature and humidity are kept at regulated levels.
The koji transforms the starch into sugars, creating the needed food for the yeast and fermentation process. On the fourth day of the fermentation process, water is added to the mixture, which makes up 80% of the sake. And not just any water is used, the water's chemical makeup needs to adhere to strict guidelines to ensure the taste and color are not polluted.
After the sake is fully fermented, it is then pressed to remove any remaining solids from the rice or koji. Next, it undergoes pasteurization and aged for up to six months. Once purchased, sake should be kept in a cool dark place to ensure it retains its optimal flavor over time.
Sake comes in five different grades:
Junmai-shu – rice only
Honjozo-shu – rice with a small amount of distilled alcohol added
Ginjo-shu – Highly milled rice that may or may not have alcohol added
Daiginjo-shu Highest level of milled rice that may or may not have alcohol added
Nama-zake – non-pasteurized

Sake of the Month Clubs
Tippsy
Sake Social
Umami Mart
Sake Gift Sets
Tippsy

Tippsy, located in California, has one of the largest online sake selections. At Tippsy, it is their goal to help bring back the sake industry, which has seen a significant decline over the years. Tippsy's desire to educate and introduce new sake flavors and brands to the US is what motivated the creation of the Tippsy online store.
Tippsy's website is easy to navigate. You can sort their sake based on taste, price, or category. Also, they offer sake brands from both Japan and US breweries.
However, if you are looking for a variety of sakes to sample, their Sake Box is perfect! Each month you will receive three 10 oz bottles of different sakes, a card detailing the flavor profiles of each of the various sakes for that month, recommended serving temperatures, and recommended pairings.
Each month the sake box ships out on the 15th unless you choose to skip that month's selection.
There are four different sake subscription box options available. If you pay as you go, then a box costs $59. If you pay for 3 months, then the cost is $56. This goes down to $52 per box if you pay for 6 months and $49 per box if you pay for 12 months instead.
The sake is shipped using UPS to most states, though some areas use FedEx. Not all states allow sake to be shipped in, so be sure to check the guidelines before ordering.
Sake Social

The Sake Social website was initiated in 2008 when the founder realized the opportunity for making sake easier to purchase, while at the same time educating and overcoming barriers they felt held consumers back from enjoying sake.
Some of the barriers Sake Social is attempting to overcome are:
Aiding consumers in finding the right sake flavor profile that best suits their palate
Creating a shared space for people to share and discuss sake with others who have the same love of the drink
Offer a sake of the month club to help introduce new sakes to those who are looking to delve deeper into the sake world
Sake Social offers three different sake kits for those looking to learn more about what types of sake types they enjoy most. There is a beginners kit with three different varieties that are good for those looking to ease into the experience, also there is the red wine kit and a white wine kit, both offer sakes that offer a similar taste experience to those wines.
And their sake of the month subscription comes in two different varieites:. The Emperor Package costs $149.99 per month and focuses on Daiginjo and Ginjo sake varieties, while the Samurai Package costs $119.99 per month instead and focuses on Junmai, Honjozo, and Ginjo sake varieties.
Both clubs include two 720 ml bottles of sake each month. Each club is available in a month-to-month, 3-month, 6-month, or 12-month option. Also, you may choose to have shipments arrive every month or every other month.
Umami Mart

Umami Mart, founded in 2012, is owned by two Japanese-American women out of California. When the market first opened, it focused on bar tools, glassware, and Japanese alcohols. However, since then, it has evolved into a home goods import business, in addition to their original goods.
Umami Mart is not just an online store but also has a store on Broadway in Oakland. Plus, in 2019, Kayoko and Yoko opened a bar in the back of their retail store, which hosts a variety of events and gatherings.
The Umami online store offers a wide array of products such as:
Home goods like totes, linens, and vases
Tea and tea accessories
Shochu and other Japanese imported alcohol
Kitchen sets such as dishes, utensils, and serving plates and bowls
Imported Japanese foods and drinks
Also, they offer the Sake Gumi club. Every month you will get two 300 ml bottles of sake accompanied by tasting notes, pairing recommendations, and invitations to exclusive events. The sake of the month club comes in two different options:
Level 1 – Introductory Monthly Membership $40/month
Level 2 – Premium Monthly Membership $85/month
Included in the first-month shipment, you will receive a 2-bottle canvas tote for your sake. Plus, when you sign up for the sake of the month club, you will have access to limited edition bottles of sake available only to members. And as a member, you will receive a 10% discount on sake accessories and instore sake sales.
Both clubs are available in month-to-month, 6-month, or 12-month options.
Sake is also available for sale by individual bottles and single-serve cups.
Sake Gift Sets
SAKE.treat

For those who know their sake, likely, you are also familiar with the importance of presentation. How sake is served and in what vessels is an essential part of truly enjoying the full sake experience.
SAKE.treat is a unique sake accessories store. They only carry artisan-crafted sake sets made by those who share in the passion of Japanese detail and tradition. SAKE.treat is a store that prides itself on understanding and promoting the Japanese sake heritage and culture.
Their extensive sake sets are exceptional in quality and selection. Offering every variety imaginable such as wooden, imari porcelain, kutani ware, mino ware, hagi ware, and glass.
The styles range from modern to traditional and come in every imaginable color. A sake set is an ideal gift to accompany any sake of the month club. Plus, when you order through SAKE.treat, you automatically receive $10 off your first month's sake box through Tippsy.
Spirited Gifts

Spirited Gifts focuses on helping their customers find the perfect gift; whether it is for one person or hundreds of people, Spirited Gifts can help. They offer a unique selection of fine wines, luxury champagnes, high-end spirits, premium foods, gift sets, and more. Spirited Gifts are perfect for corporate gifts or events that you want to be memorialized with a personalized present.
Also, depending on the gift, you choose you can have it customized with engraving, whether its a decanter set or the recipient's favorite bottle of wine or spirits.
Their sake gift set includes:
Tokubetsu Junmai grade Matsunoi "Wishing Well"
Junmai Ginjo grade Rihaku "Wandering Poet"
Junmai Daiginjo grade Kontiki "Pearls of Simplicity"
Each bottle is 300ml. Plus, you can choose from a cigar sampler or a two-glass sake set with a carafe as an add on.