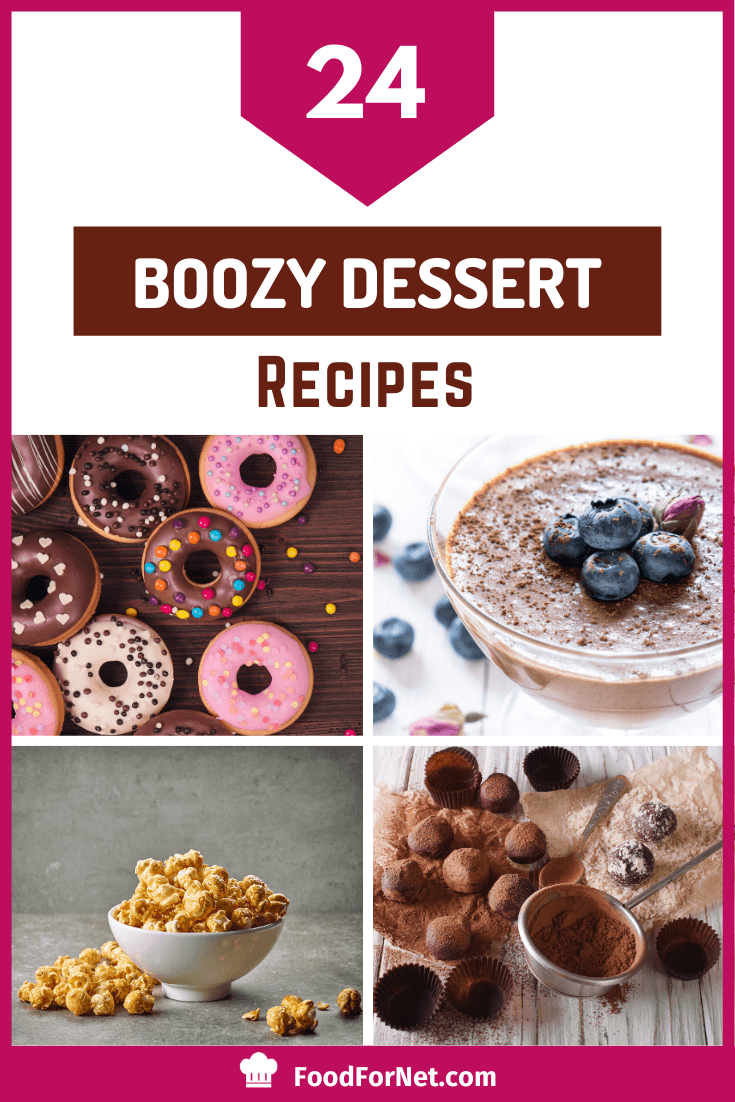 In their own right desserts can be wonderful and alcohol can be just as appealing. But, something amazing happens when you combine the two together. After all, alcohol does have the tendency to alter food in unexpected ways, often making it more appealing and certainly changing the flavor profile. These boozy dessert recipes highlight that delicious combination.
This list is a collection of some of the best alcohol laced desserts out there. These desserts come in all shapes and sizes. Some of them might be good just as a sweet snack, while others might make the perfect dessert to serve at a party.
Typically the alcohol in these desserts won't be enough to make anybody drunk, but it may be enough to break the ice, especially if people are drinking anyway. You could even pair them with drinks to make the experience even more interesting. Regardless, including alcohol in desserts is always a recipe for a good time and this is a great way to kick your dessert up a notch.
On a side note, I want to point out that in most cases alcohol doesn't actually burn off in cooking. There are some circumstances where it will but generally speaking you will still get some alcohol in cooked food and cooked desserts, regardless of how long they are cooked for.
Also, don't forget we've published our own boozy dessert recipes with things like whiskey, bourbon, cognac, gin, rum, vodka, and more. We made these especially for those that love cooking with alcohol. Personally, I LOVE desserts with alcohol in them because they're fun to make and always a crowd pleaser.
And if you love these desserts with alcohol, you'll really like these boozy sweet sauces, like whiskey caramel, Irish cream fudge, and chocolate brandy.
Boozy Dessert Recipes
24. Rum Caramel Corn
This popcorn uses rum to add to the flavor. I imagine this dish would be a great option for an adult movie night or just for a snack when you want something a little bit different.
I personally love the fact that the popcorn just looks like normal caramel popcorn but you would probably notice the difference as soon as you gave the popcorn a try. You can find details about how to make this snack along with the exact amounts of the various ingredients over at rachelcooks.com.
23. Salted Chocolate Pistachio Cookies
I love the way these cookies immediately look different than anything you typically see, although without a doubt that is connected to the pistachio aspect of the cookies. All-in-all though, this is actually quite a fun recipe, especially because it takes advantage of Bailey's Irish Cream.
Of all the different types of alcohol out there, Bailey's is one of the best options for desserts just because of its creamy nature and I imagine that it would be absolutely perfect in these cookies. However, you'd have to go and check out the recipe at wildflourskitchen.com to find out.
Of course, this is just one of the many different unexpected cookie flavors out there.
22. Vodka Root Beer Floats
I love the way this recipe is a twist on something that many of us would have had as kids (and as adults, for that matter). In fact, the idea of making adult versions of some of the old classics is pretty appealing in general.
The recipe itself is from minimalistbaker.com and as you can probably imagine from the type of recipe, it's pretty simple to make. The recipe also gives a few potential variations for the liquor, just in case you aren't a big vodka fan.
Personally, I like to use porter or imperial stout craft beer to make beer floats!
21. Rum Spiked Carrot Cake Donuts
Including alcohol in desserts is a fairly common trick, but there are some desserts that seem more suited to alcohol than others. Donuts are certainly one recipe that I didn't expect to find alcohol in, but there you go.
I found this recipe at tattooedmartha.com and I was immediately taken by the idea. In this case, it was probably the flavor combination that I found the most appealing. Overall, the recipe reminds me of carrot cake and rum, which isn't a bad combination of flavors at all.
20. Chocolate, Caramel, Marshmallow, Whisky and Bacon Bark
Okay, the title for this one is a bit of a mouthful, but I really couldn't leave any of those flavors out. Personally, I think this slice looks absolutely amazing and the fact that it includes alcohol just makes it so much better. With all of those flavors, you'd expect this one to be a complicated recipe, but it actually isn't.
In fact, the recipe includes just six different ingredients and has really clear instructions. You can find all of the information at thekitchenprepblog.com and judging by the comments list after it, this has been a pretty popular recipe.
19. White Chocolate Mousse
I confess, I love chocolate mousse, but I don't have much experience with white chocolate mousse. However, this is one recipe that I might have to try, because it looks like it would taste even better than traditional chocolate mousse. Besides, it's got Baileys in the mix, what's not to love?
Actually, I think any liquor like Baileys would go perfectly in a creamy dessert like this one and would be a great way of making the whole thing that much richer. If you want to try this one, you can find the recipe at peasandpeonies.com.
18. Amaretto Cheesecake
Amaretto cheesecake seems to be of the more common desserts out there that include alcohol and anything with that kind of reputation has got to be good. I did find a lot of different recipes for an amaretto cheesecake online, but I ended up picking this one to share.
It comes from spicysouthernkitchen.com. I really love the way that this cheesecake looks visually and the recipe would be am amazing choice for any dinner party.
17. Vodka and Rum Gummy Bears
Who says that sweets can't be desserts? As you might imagine from the title, this is an incredibly simple recipe. In fact, you mightn't call it a recipe at all. Regardless, these gummy bears were too good to leave out of this list.
Besides, as I mentioned before, there is something amazing about making adult versions of our childhood favorites. If you want to try out this one, you can find all of the information at abeautifulmess.com.
16. Chocolate and Kahlua Donuts
Earlier I mentioned that the idea of alcohol in donuts surprised me, but here's a second recipe that takes the same approach. This time, the recipe uses Kahlua as the alcohol of choice, in the donuts themselves and also in the glaze.
Combining chocolate and Kahlua is a perfect idea and the combination of flavors would work really well. You can find all of the details for the recipe at sugardishme.com if you're thinking about giving these treats a try.
15. Gluten Free Pecan Cupcakes
Thankfully, boozy dessert recipes aren't just limited to those among us who can eat gluten. This recipe, from a healthylifeforme.com, is a perfect example of a gluten free dessert recipe that looks just as good as any alternative that contains gluten.
You can't tell from the image, but these cupcakes have their centers scooped out and are filled with a far-too-good filling. So, go ahead, check the recipe out.
14. Double Chocolate Bourbon Brownies
I love chocolate brownies. And brownies with bourbon? Well, that sounds too good to be true. This is actually another recipe that uses the alcohol twice, once in the brownies themselves and once in the frosting. One great thing with this recipe is that it isn't any more complicated than making brownies normally.
So, it's an easy one to follow even if you don't typically include alcohol in your dinners or in your desserts. This time, the recipe comes from bromabakery.com, so you can head over there to try it for yourself.
13. Chocolate Rum Truffles
Truffles can be fun and oh so popular for desserts and for parties. Rum truffles are fairly common, but most of the time you see these made with rum essence rather than actual rum.
This recipe, from serenabakessimplyfromscratch.com, is a bit different because it is designed to use actual rum as an ingredient. The combination of toppings is also interesting, although you could just pick one or the other if you were so inclined.
12. Buttercream and Bacon Cupcakes
The combination of bourbon, bacon and dessert sounds strange, but it seems to be fairly common as a flavor combination. Personally, I love the idea, but that's partly because I'm a big fan of bacon and bourbon to start off with.
More than anything, this seems to be a particularly manly version of a cupcake, although it would probably appeal to many women as well. I was surprised to find that it's also a simple recipe. You can have a look for yourself at wonkywonderful.com.
11. Strawberry Red Wine Popsicles
I am completely in love with this idea. Strawberry popsicles are pretty amazing in their own right, especially if you make them yourself instead of buying them at the store. But, the idea of adding wine into the mix just takes the whole thing to the next level, as does chocolate dipping the popsicles.
At the end of the day, the combination of flavors is just perfect and these would be a great choice for a summer day. The recipe comes from spoonfulofflavor.com if you're thinking these are something you might want to try.
10. Chocolate Rum Truffles
If you like the idea of chocolate rum truffles, here is another variation on the approach. I think this is probably the simplest truffle recipe that I've ever come across, but it still sounds like it would be really good.
As Evan from thewannabechef.net notes, you could also try this with another type of alcohol. He mentions Kahlua as an alternative, but I imagine that Baileys would also work exceptionally well.
9. Bourbon Chocolate Cupcakes
The idea of adding bourbon into chocolate cupcakes does make a lot of sense. Cupcakes can often be a bit too sweet and bourbon is a way to offer a depth of flavor and reduce some of that sweetness. The cupcakes also look especially good in the image.
The choice of buttercream frosting seems to work really well here, especially when contrasted against the color of the cupcake. All of the ingredients for this recipe can be found at willcookforsmiles.com and that includes information for the cupcakes themselves, the frosting and even the bourbon glaze used in the image.
8. Mojito Cupcakes
Chocolate and bourbon might be a common flavor, but here's a completely different alcohol-based flavor combination. This time, the cupcakes get their inspiration from a mojito.
But, that's not all. The cupcakes include some of the ingredients that you would actually find in a mojito, including mint, lime and (of course) rum. If you're interested in this one you can see all of the details at therusticwillow.com.
7. Bourbon Peach Bread Pudding
If you want to use bourbon in cooking, there are a lot of different options, so here's another one. This recipe is a major twist on traditional bread pudding, adding in bourbon along with peaches. Personally, I think the end result looks so much better than a typical bread pudding.
The author does also provide information for how to make this without the alcohol. However, if you're reading this list, you're probably interested in actually including the alcohol. Either way, all of the information you need is at culinaryconcoctionsbypeabody.com.
6. Salted Whisky Caramel Sauce
Okay… this is a sauce rather than a dessert, but you can see the potential, right? Salted caramel has become incredibly popular recently and this recipe takes full advantage of that flavor. As flavors go, salted caramel is pretty amazing, because you get that balance of sweet and savory all at once.
This recipe just turns all of that up a notch with the use of bourbon. I can imagine this sauce as a topping for ice cream or chocolate cake, but really, the options are endless. All of the information you need to try this one comes from thedreameryevents.com.
5. Spiced Walnut and Rum Biscotti
Biscotti often seems like a more refined dessert option, but that shouldn't mean that you can't include dessert. In this case, I think the recipe would actually be amazing even if it didn't contain alcohol. However, the addition of rum just serves to make the whole thing that much better (doesn't it always).
Don't worry if you haven't made biscotti before. All of the directions are available at savoringeverybite.com and they are easy to follow regardless of your experience with making biscotti.
4. Apple Bourbon Bread Pudding
I did have a bread pudding recipe earlier in this list, but this one is different enough that I want to include it as well. This time, the recipe uses apples along with the bourbon. The end result is something that would look and taste quite different than most other examples of bread pudding.
That difference is a good thing though and the flavor combinations in this recipe do work very well with each other. I found the recipe at thewhiskingkitchen.com, so you can head over there if you want a look at it.
3. DIY Spiked Lollipops
And we're back to another treat from childhood. Well, to be honest, most of us didn't have lollipops that looked quite this cool as children, but you get the idea. I really love the way these lollipops look, especially as every single one would end up being unique.
Another cool thing with this recipe is that you can pick the liquor that you use. The creators used rum for some of them and tequila for the others, but you could choose based on your own preference. The information for this recipe comes from sugarandcloth.com and there are actually two versions of the recipe given. One of those versions is easier than the other, so you can pick whichever suits you.
2. Baileys White Chocolate Fudge
Baileys fudge is fairly common, but this recipe is a little bit different than other variations. For one thing, it's white chocolate fudge. That isn't normally the case for Baileys fudge, but honestly, white chocolate is a perfect match to Baileys.
The other thing is that this recipe isn't really fudge at all, not in the traditional sense of the word. Kirsten explains all of this at highteawithdragons.com and the end result is a 3-ingredient fudge recipe that pretty much anyone can make.
1. Hard Cider Apple Pie
Let's end this recipe off with a classic and what's more classic than an apple pie? Of course, this isn't any apple pie, but one that is spiked with alcohol (given the nature of this list, I'm pretty sure you already knew that). This time, the recipe uses two different types of alcohol, which is fairly unusual.
One type of alcohol is used for the filling and the other for the crust. Hard cider is one of those alcohol types, but you'll have to check out the recipe at bakeitwithbooze.com to find out the second type of alcohol.