If you had too much the night before, a hangover is almost unavoidable. Symptoms include exhaustion, dehydration, dizziness, nausea, and a headache. There's no magic formula for getting rid of a hangover, partly because we still don't understand all the science behind hangovers. But, choosing the best hangover food can make a large difference.
After all, food always works wonders. It gives your body the nutrients that it needs, along with plenty of energy. The right food at the right time will often make you feel much better than you did before.
Not convinced? Try some of these foods for yourself and see what effects they have.
You should also pay attention to how you feel about each food before you try it. Your cravings, likes, and dislikes are powerful indications of what your body needs.
So, if you're craving one of the foods on this list, that's the best place to start. On the other hand, if thinking about a type of food makes you feel nauseous, it's best to give that one a complete pass.
Best Hangover Food
Eggs
Bananas
Pickles
Avocados
Watermelon
Crackers
Toast
Veggies
Nuts
Meat
Fish
Chicken Noodle Soup
Other Types Of Soup
Smoothies
Cereal
Oatmeal
Sandwiches
Pasta
Eggs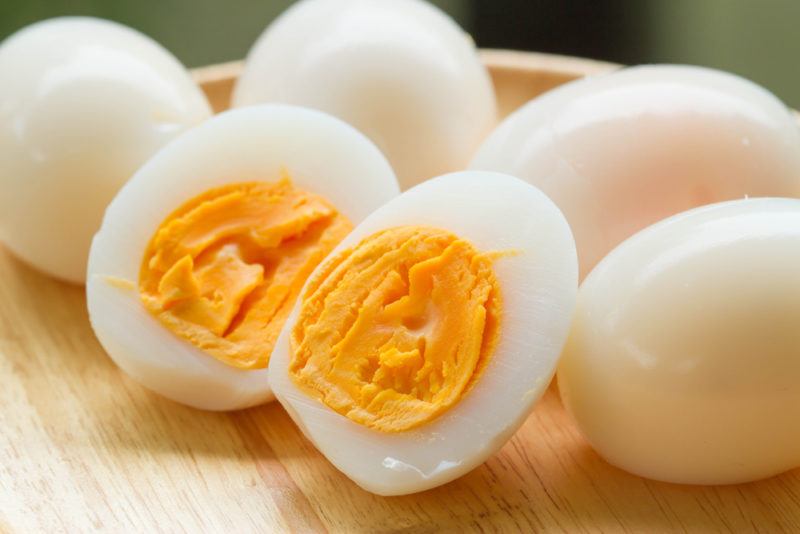 Eggs are packed with protein and nutrients. They're a fantastic way to feel full without eating too much, which might be perfect after a night on the town. The nutrients also help to give you energy and get your body working as it should.
Eggs contain cysteine too. This is important, as the amino acid helps in glutathione production. Your glutathione levels often decrease when you drink alcohol and this decrease may make it harder for your body to recover from a night of heavy drinking.
Having eggs is an easy way to get your glutathione levels back up to a good level.
Besides, eggs are extremely versatile. There are countless ways to prepare them, so you should be able to find some approach that you can stomach – even if your hangover is an awful one.
Bananas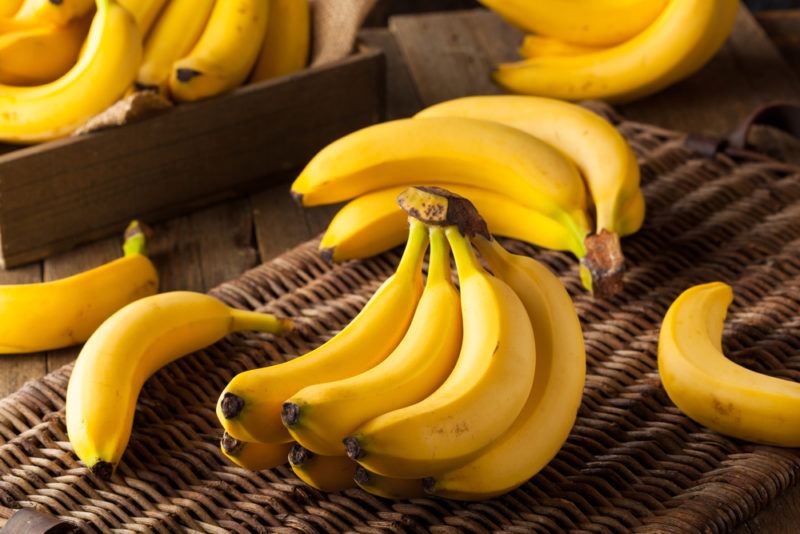 Bananas are an even easier choice. You can just grab one and eat it on the go. A banana might not be as filling as an egg or two, but at least you're getting something into you.
Bananas are important because drinking too much often leaves you dehydrated. That dehydration can make your hangover symptoms much worse.
While bananas aren't going to rehydrate you directly, they're powerful because of their electrolytes, including potassium and sodium. You often lose electrolytes when you get dehydrated, but you don't get them back if you're simply drinking water. Having a banana is an easy and delicious way to bring your body back into balance.
Pickles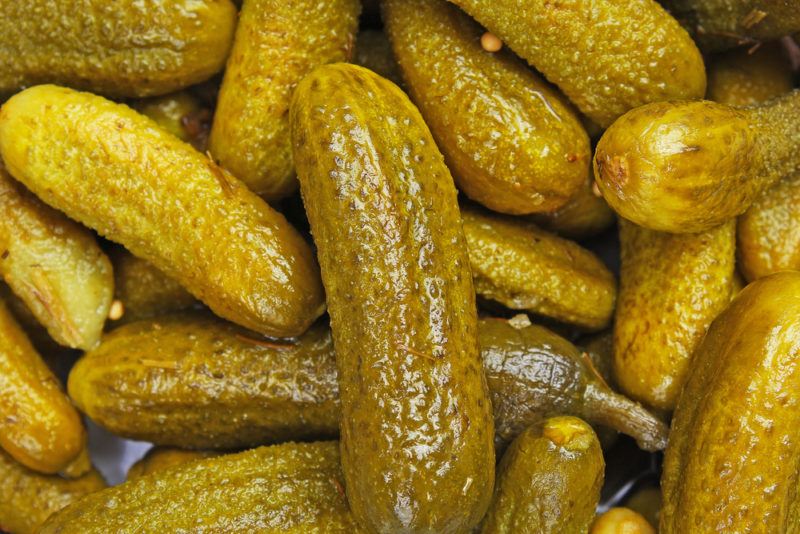 Pickles and pickle juice are another electrolyte-rich option. This time, the main electrolyte is sodium.
Sodium has a bad reputation these days. Many of us consume too much of it, especially from processed foods. Even so, there are times when you need to get more sodium into your body – and after excessive drinking is definitely one of those times.
You'll need to read the ingredients label for any pickles you buy, as some brands will use more sodium than others.
If pickles don't appeal to you, there are many other sodium rich foods that you can focus on instead.
Avocados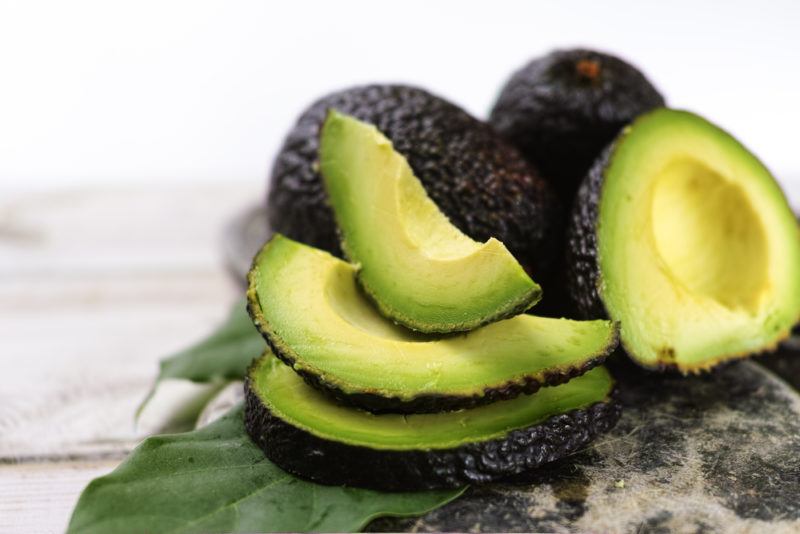 Avocados are delicious and nutritious, so it's no wonder that they're so popular. The fruit is popular for hangovers too, as it contains a decent amount of potassium.
Avocados could also help to protect your liver. This is always good if drinking sessions are a regular habit for you.
You could try the popular idea of avocado on toast. While this gets mocked a little these days, avocado on toast is delicious. You're also getting some fast energy from the toast, which is surprisingly powerful.
Watermelon

We've mentioned foods that help with your electrolyte balance, but you do need to rehydrate as well. Watermelon can help here, as the fruit has a high water content.
It is also a rich source of L-citrulline. This nutrient could improve blood flow to the brain, which could then help decrease hangover symptoms.
The effects will depend on how dehydrated you are to begin with. Still, if nothing else, watermelon is delicious. It's refreshing and easy to eat too, so why not give it a try?
Crackers

Crackers have a few different advantages.
One is that they're carb-laden. The carbs are fast acting, so they increase your blood sugar levels quickly. This effect is normally a bad thing, but when you're hungover, you sometimes need a blood sugar boost.
Crackers will often be high in sodium too. This helps to get your electrolytes back in balance.
Plus, dry crackers are very easy to eat. Most of us can stomach them even when we're very queasy, which is why they're such a common food for nausea.
Toast

Dry toast is another option for when your stomach simply won't settle. You're not getting as much sodium as you do with crackers, but there are still plenty of fast-acting carbs.
If your stomach is a little more settled, then you could try using some spreads with your toast. Honey is a good choice for boosting your blood sugar levels. The fructose in honey could even help your body to break down alcohol faster.
A protein-based spread can work well too – like peanut butter or almond butter. This is an easy way to feel satisfied and give your body the amino acids that it needs. For many of us, eating peanut butter on toast might be much easier than heavier sources of protein like eggs or meat.
Veggies

Vegetables can be a powerful choice for hangovers too. Your body needs nutrients to function well and all that heavy drinking didn't help your nutrient balance at all. Get some more good stuff into you and you'll feel better soon.
Dark leafy greens are an especially good choice here, as they provide many of the compounds that you need. Spinach, for example, offers folic acid, vitamin C, and sulfur, which are all very important.
Beets are helpful too, as these green veggies are rich in plant-based compounds and help increase nitric oxide levels.
Don't forget broccoli either. While it isn't a common choice first thing in the morning, the vegetable has a fantastic balance of nutrients. It'll quickly get you on the road to recovery.
Nuts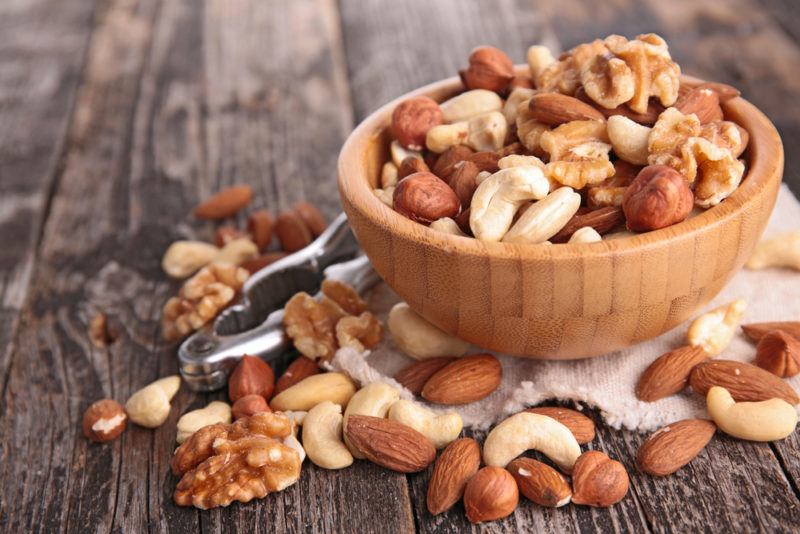 Nuts, of any type, offer a fantastic balance of nutrients and protein. Almonds are especially good when you're hungover, as they're high in magnesium.
Increasing your magnesium levels matters, as magnesium levels can be depleted after drinking. A handful of nuts is one of the easiest ways to deal with this imbalance.
Look for salted nuts, as these will provide you with sodium to help with your electrolyte levels.
Meat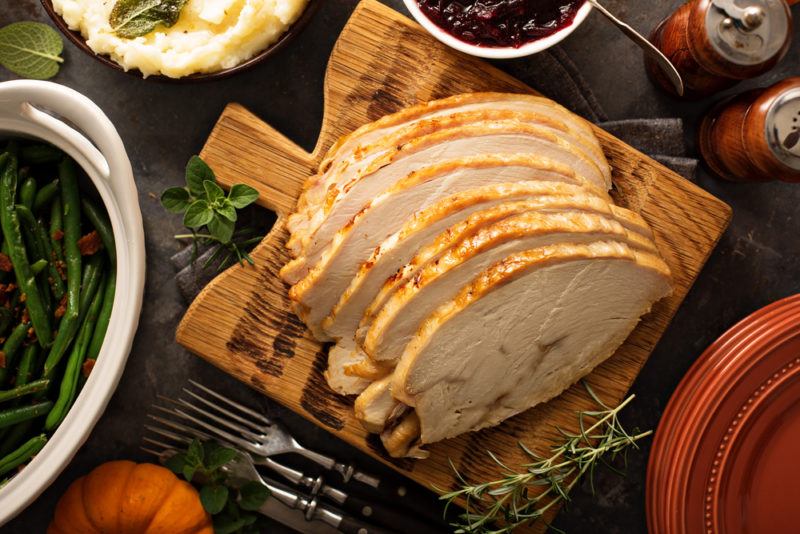 While eating meat or a meat-heavy meal might seem like a horrible plan when you're hungover, many people find that doing so helps. There's something powerful about getting something hearty into your stomach. Doing so seems to help settle everything down and can make you feel much better.
There's some science behind this idea too – as alcohol can affect your body's ability to absorb amino acids.
This could mean that after a heavy night, you're a little low on some important amino acids. Meat is a complete source of protein, so your body is able to get all the amino acids it needs from breaking down the protein in meat.
If eating meat on its own sounds like a bit too much, you could combine it with some of the other items on this list. Ham and eggs, for example, is a fantastic combination. You could make an omelet or even just a simple egg cup. How about making some scrambled eggs on toast? This is an easy meal that is delicious and surprisingly filling.
Be wary of greasy meats, including bacon, sausage, and fatty cuts of steak. While many people turn to greasy food to cure a hangover, the grease can do more harm than good. You might just end up feeling sicker than you did before.
Fish

Fish is another source of protein and also offers you plenty of omega-3 fatty acids. These omega-3s may help to decrease inflammation and help with hangover symptoms that way.
You'll get the most benefits by focusing on fatty fish. Lean white fish are much lower in their omega-3 fatty acid content, although they are a good source of protein. Salmon is an easy go-to fatty fish, especially as you can buy smoked salmon and canned salmon, along with the fresh fish.
Of course, eating fish when you're hungover is a controversial idea. Some people will be able to do so without any problems, while others will feel sick at the thought.
If you're not convinced about eating fish when you're hungover – skip it. There are plenty of other options.
Chicken Noodle Soup

This soup isn't just good for when you have a cold or flu. It's also excellent for hangovers – partly because it is rich in sodium and contains plenty of water. You get to rehydrate and rebalance your electrolytes at the same time.
Many of us find chicken noodle soup easy to eat too. It's a soothing meal and the flavors aren't too overpowering. You could easily sip a mug of it slowly while you're waiting for the worst of your hangover to pass.
The soup will also provide you with some carbs from the noodles and protein from the meat. These features will both help with your hangover as well.
Other Types Of Soup

Bone broth is another good choice. This can be a fairly light soup that's easy to eat. Even better, if your'e still nauseous, you can still drink the broth for some recovery nutrients, without making your stomach situation worse. While the soup does take time to prepare, some companies offer versions that are ready-to-go. You just need to reheat them.
Why not turn to miso soup? Miso soup can have a strong flavor, but this isn't a bad thing at all. Some versions have some sweetness to them, which makes them easier to eat.
Miso paste is fermented, so the soup is a fantastic source of probiotics. The soup is high in sodium too, making it useful for your electrolyte balance.
Other types of soup can be helpful too, as most will help to rehydrate you and should contain many important nutrients, including electrolytes. In the end, the best soup is whatever type you can eat easily. So, if you have a regular favorite, go with that.
Smoothies

Smoothies are basically liquid food. When made right, they're a fantastic way to quickly boost your nutrient intake. This is perfect when you're hungover and really don't feel like eating.
Smoothies can also be incredibly healthy. You're getting plenty of nutrients from fruit, vegetables, nuts, seeds, superfoods, and whatever else you add in. You can use protein powder or protein-packed ingredients to make the smoothie very satisfying too.
But, if you're going to rely on smoothies, you need to think about your ingredients. It's easy to make smoothies that are calorie bombs and don't offer all that many nutrients.
Cereal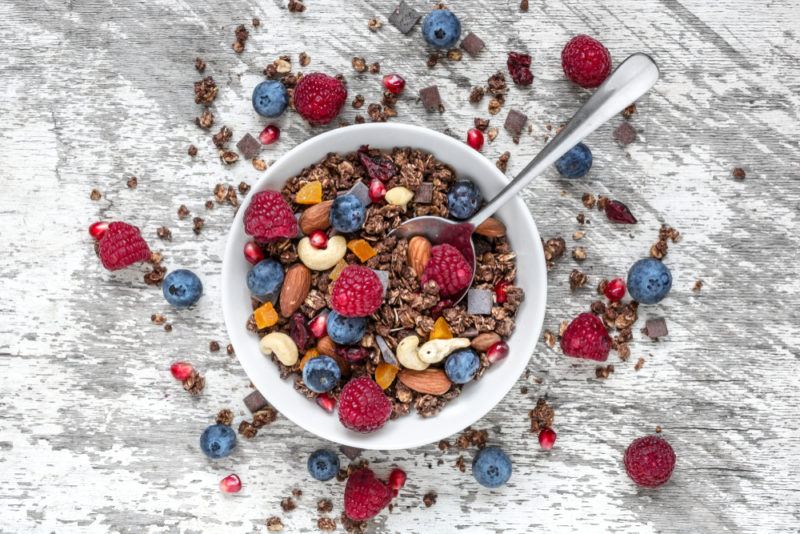 Cereal can be an interesting choice too, as it does contain many important nutrients. You can eat it with milk or even just munch on handfuls of dry cereal if eating a full bowl feels like too much.
The trick is to choose your cereal well. Look for something nutritious that you actually enjoy. Checking the ingredients label can help. You want products that have a decent amount of protein and fiber, but not too much sugar.
And, as you can probably guess, the less processed the better. While healthy cereal tends to cost more than other types, it's likely to make you feel better.
Oatmeal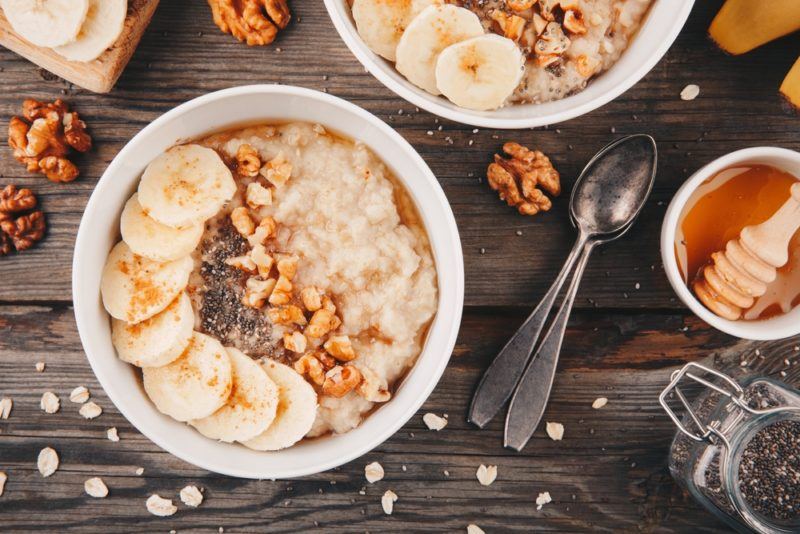 Oatmeal is another classic breakfast option and it can work well as a hangover cure. After all, oatmeal is another good source of nutrients. It's also a slow-releasing source of energy and will often keep you full for longer than cereal will.
You can play around with the toppings for your oatmeal too. For example, scattering some nuts across the top can make your breakfast more filling.
You can even use savory toppings for oatmeal, like a poached egg or some salmon. Both of those additions can help to fight hangovers too.
Sandwiches

Sandwiches are rarely a first choice for fighting hangovers, but they're much more powerful than most people expect. One reason is that the bread is easy to digest, which gives your body the energy that it needs.
Bread often has a surprising amount of sodium too, along with other helpful electrolytes.
Then there are all the fillings that you use in your sandwiches. You can focus on fresh ingredients, like lettuce, tomatoes, cucumber, and the like. These can all help you feel refreshed. Adding some meat might help with your protein intake too.
Pasta

Pasta is easy to digest, which makes it useful for hangovers too. However, you're not getting as many healthy ingredients with a pasta dish as you do when making a fresh sandwich.
Many pasta dishes will use creamy sauces too, which isn't always helpful. Despite popular assumption, rich or greasy foods don't help with hangovers much at all. They tend to make you feel sick and fat isn't actually going to help 'soak up' alcohol. Human metabolism doesn't work like that.
So, if you're going to use pasta, focus on light meals that don't use creamy sauce.
You could even turn to ramen and many people do. Ramen isn't technically pasta, as it is made from durum wheat, but the noodles are similar enough and have many of the same advantages.
Ramen is inexpensive too. It's the classic choice for broke students and times when you don't have much food in the house.
What About Hangover Drinks?

Although we're focusing on food with this post, it's worth touching on the idea of drinks for hangovers too. The principles are the same here. You're looking for drinks that will help you to hydrate, to rebalance your electrolytes, or to provide other advantages.
Water is the most obvious starting point. It helps you replace the fluids that you lost, although it mightn't help with electrolyte imbalances. On the other hand, coconut water is a natural source of electrolytes, so it might be even more powerful for rehydration.
Tomato juice is a popular choice too, either on its own or as part of a 'morning after' cocktail. The juice is even thought to help protect your liver and might speed up alcohol breakdown in your body, although evidence for that effect is limited.
Any type of tea can help too, partly because of the water content. Tea offers antioxidants too, which could help your body to cope with the alcohol. Green tea may be the most potent choice here, but go with whatever type you enjoy.
One final choice is coffee. It's a go-to hangover drink for many people, partly because it makes them more alert. Coffee can be beneficial too. It's an antioxidant and may decrease inflammation too. And, if nothing else, many of us can drink coffee regardless of how we're feeling.