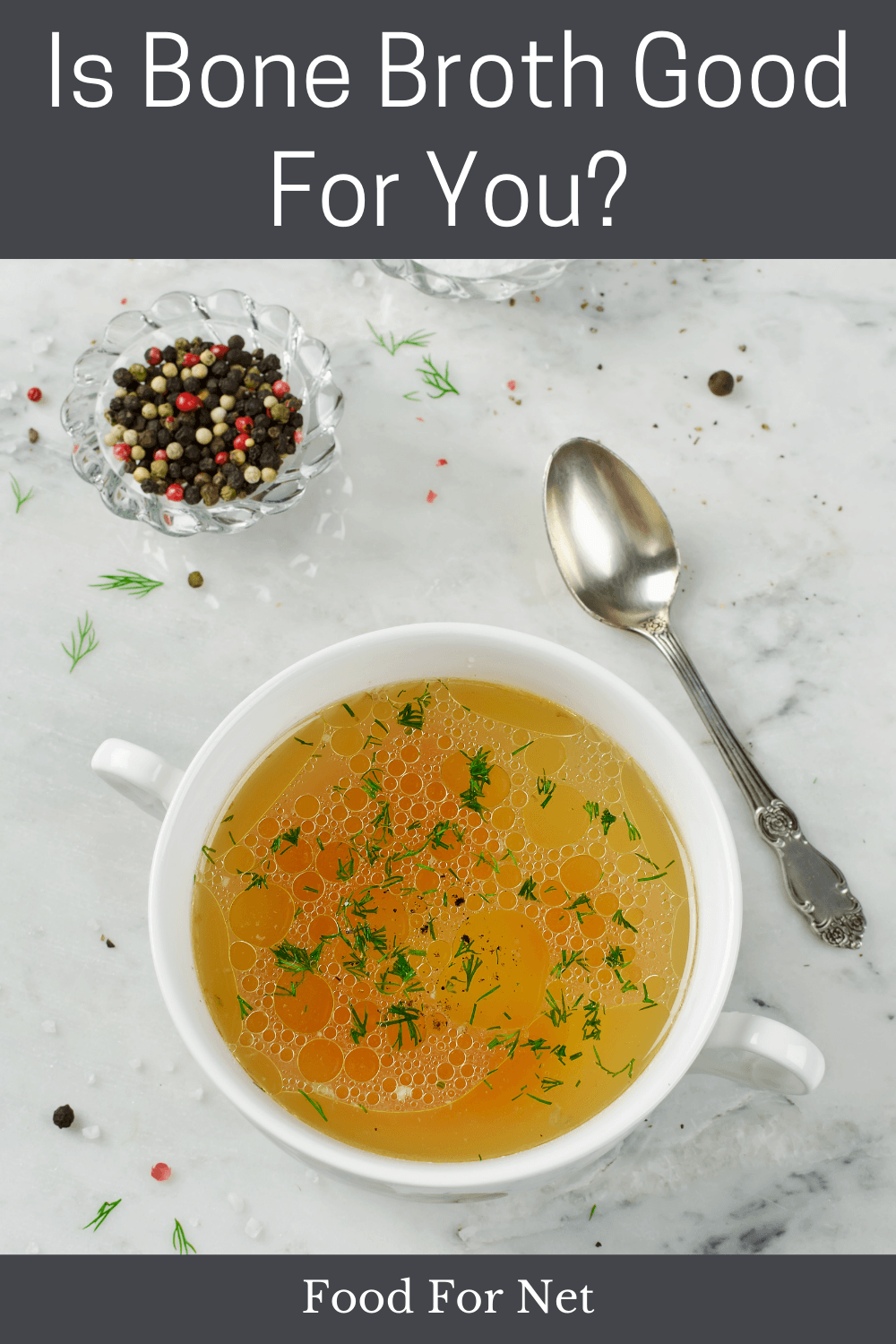 Bone broth is one of the latest health trends and, like many of them, it sounds amazing. The broth is hailed as a way to make your skin look better, improve your gut, promote joint health, and more. Plus, it's a whole food that's filled with nutrients. This should make 'is bone broth good for you' an easy question – right?
Perhaps not. Fashionable food often isn't as good as it sounds and bone broth fits right into that trend. For that matter, most of the bone broth hype is simply because bone broth seems like it should be powerful.
After all, you're boiling bones for a long time, which means that the broth contains nutrients from those bones, including some that aren't a common part of modern diets. Those nutrients, however, aren't the whole story. We need to look at bone broth much more closely to see whether it's healthy or not.
Is Bone Broth Good For You?
What Is Bone Broth?
Potential Benefits Of Bone Broth
Risks Of Bone Broth
Bone Broth Myths
So, Is Bone Broth Worth Using?
How To Make Your Own Bone Broth
Should You Buy Bone Broth
Final Thoughts
What Is Bone Broth?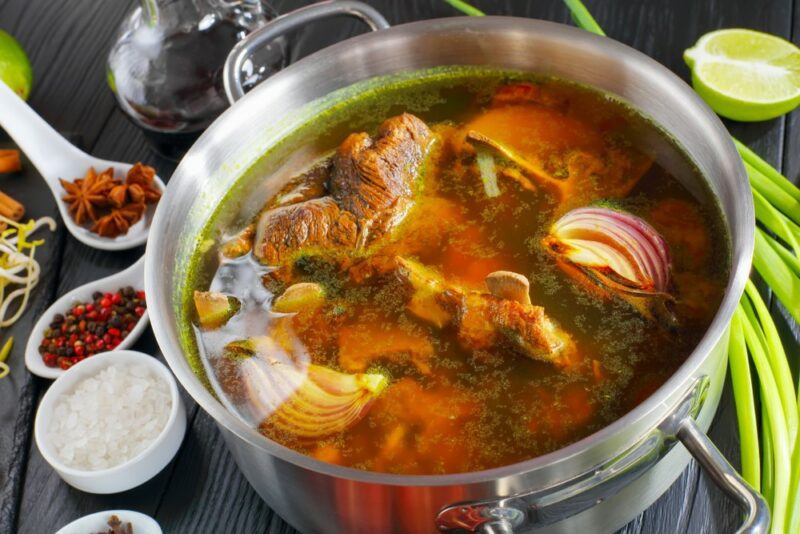 Let's start at the beginning. Bone broth is basically a type of soup that is made by simmering bones in broth for a long time, often at least 24 hours. This long slow simmering releases some important compounds from the bones, including gelatin and collagen, along with some minerals and amino acids.
You also end up with a thicker and richer broth than one that's only been simmered for a little while.
The simmering time changes the nutrients in the finished broth too. A long simmer will give you many more nutrients than a short one.
Potential Benefits Of Bone Broth
May Help With Weight Loss
Bone broth is naturally low in calories and isn't sweetened. Those features alone are important for weight loss. Plus, slowly eating hot soup is satisfying, helping you to feel full, even though you're not consuming many calories.
You could even use bone broth as a type of between meal snack, one that keeps your hunger at bay and your diet on track.
There's a chance that some features of bone broth could help with weight loss directly too, like by increasing metabolism or by improving how your body functions. However, there's little evidence to prove such an effect.
Can Be A Good Source Of Nutrients
The long simmering time means that some nutrients from the bones leach into bone broth itself, but not as many as you might expect. You're often just getting trace amounts of most nutrients.
But, you don't need to drink bone broth on its own. You can easily use it as the base of a soup instead. This is where it starts to become more powerful, as you can include a variety of nutrient-dense ingredients, including plenty of vegetables and perhaps some meat.
If you turn bone broth into a full soup like this, it can be much more powerful nutritionally.
Still, even just bone broth on its own could be helpful, perhaps helping to fill some nutrient gaps.
Keeps You Hydrated
Like other broth-based soups, bone broth is mostly made up of water. As such, it's an easy way to stay hydrated. That's a powerful outcome too, as getting enough liquid really is essential to your health.
Besides, getting hydrated through your food is a useful trick. Doing so decreases the amount of water that you need to drink each day and makes it easier to hit your hydration targets.
May Help With A Sore Throat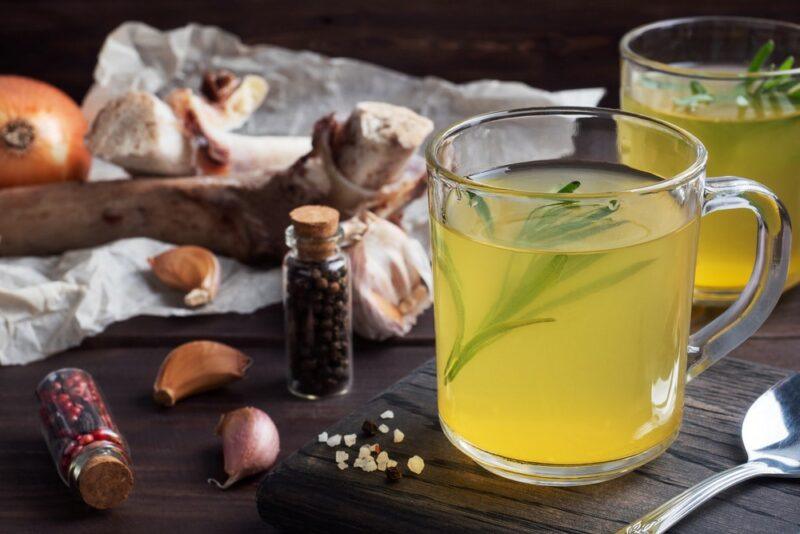 Warm liquids are excellent ways to make a sore throat feel better. Many drinks rely on honey, ginger, and lemon, but why not try bone broth instead? The broth can be just as effective. Besides, it's always nice to have a savory option as well as sweet ones.
Can Be Useful In Cooking
Bone broth is mostly used on its own or as the base for a soup, but there are other options too. For example, you can use it when cooking pasta, rice, couscous, or quinoa, to add extra flavor.
Why not use bone broth as part of a casserole too? Doing so keeps the casserole moist and creates a tastier meal too.
Works Well For Most People
Bone broth avoids most major allergens, including soy and dairy. It also fits well into most diets, including keto, paleo, and low calorie approaches.
The main exception is if you're vegetarian or vegan. Because bone broth relies on animal or fish bones, vegetarians can't use the broth at all (although, you can make vegetarian soups that have many of the same benefits, like this one).
Might Help With Your Joints
Bone broth is sometimes promoted as a way to improve your joints. The idea makes sense, as you're getting many of the nutrients that your bones use anyway, like magnesium and calcium. There are other important compounds too, like glucosamine and hyaluronic acid.
If you listen to the anecdotes, then bone broth does sound amazing. Many people have seen their joint pain decrease. The effect could be due to the compounds in bone broth, to an anti-inflammatory effect, or something else.
Or, the decrease in joint pain might be a placebo effect – as there isn't much evidence in this area yet.
It May Promote Gut Health
Finally, bone broth is sometimes thought to improve gut health. It's sometimes promoted as a way to heal irritable bowel syndrome and remedy a leaky gut.
Whether this is the case or not is debatable. For example, one theory suggests that the gelatin in bone broth can literally fill some of the intestinal holes that cause leaky gut syndrome. That claim seems incredibly unlikely and certainly hasn't been proven.
Still, you are getting some minerals, protein, and other compounds from bone broth. Plus, it's a natural food that hasn't been heavily processed and doesn't contain much sugar. Those features all mean that it shouldn't cause any harm to your gut.
Risks Of Bone Broth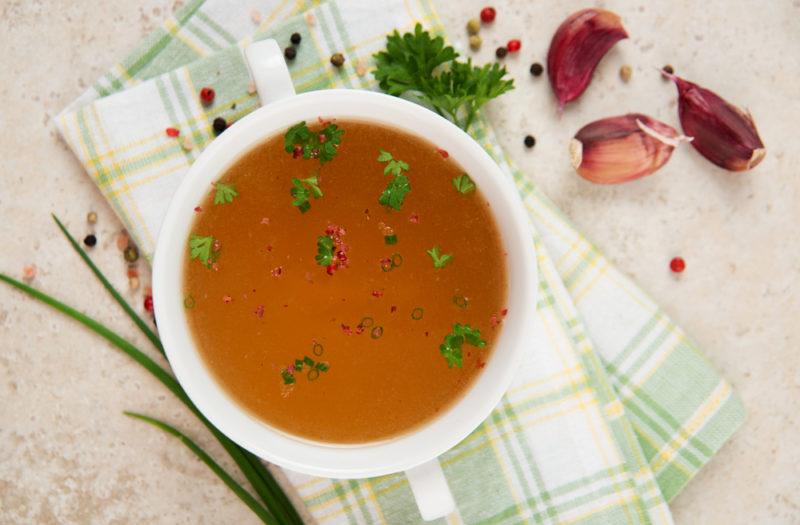 While bone broth is generally healthy, it can be a problem for anyone sensitive to glutamates. Glutamates come from glutamine, which is an important amino acid. While it's important to have some glutamine in your diet, too much might lead to symptoms like brain fog, headaches, mood swings, and gut problems.
The risk of such problems is worse if your diet is high in synthetic glutamates as well as naturally occurring ones. Monosodium glutamate (MSG) is a key problem here and is often found in canned soups and broths, along with other processed foods.
If you focus on natural foods, then bone broth shouldn't be a problem. Still, you might experience side effects if you're drinking a lot of it or if your health is compromised in some way. Children can be vulnerable too, so be cautious if you're giving bone broth to kids.
Issues with bone broth might arise for other reasons too.
This is why you need to pay close attention to how your body responds. If you start getting migraines or feeling sick after drinking bone broth, for example, then it mightn't be the right choice for you.
You could also experiment with how long you simmer the bones for. Bone broth is most nutritious when simmered for 24 hours or more, but the risk for side effects is higher here too. So, if you're experiencing problems, try just simmering the bones for a couple of hours. You'll still get many of the same benefits and may dramatically decrease the side effects.
Bone Broth Myths
While bone broth doesn't have many major risks, there's another topic we need to talk about – the myths surrounding bone broth. Because, as you'll see, bone broth mightn't be as amazing as many people think.
The biggest problem comes from an assumption – that the components of bone broth directly impact your health. In practice, while bone broth does contain collagen, various minerals, and amino acids, these don't always have the effect we assume they do.
The Collagen Improves Your Skin Health
Collagen is the most common protein in your body. It is present in various forms and, not surprisingly, plays plenty of roles in your body. One aspect of this is your skin, where collagen helps to promote skin elasticity, strength, and smoothness.
Our ability to produce collagen decreases with age. That's why many anti-aging skin products focus on collagen.
There's a problem though. Simply rubbing collagen on your skin or getting more in your diet doesn't mean that your body is going to use that collagen. And, even if it does use the collagen directly, it may not do so in the way or places that you hope.
Instead, most of the time your body will break down any collagen, giving you the amino acids that it is made of. When collagen is needed, this is created from amino acids. The process also relies on minerals. You get more of these from vegetables and nutrient-dense foods than you do from bone broth.
While that process might sound inefficient, it's important, as collagen is too large of a protein to be easily transported around your body. Breaking collagen down and remaking it is the main way to get the protein where it needs to be.
Bone Broth Is Like A Collagen Supplement
Bone broth might seem like a cheaper and more natural alternative to collagen supplements. This can be appealing, as research has linked collagen supplements to some health improvements.
But, bone broth isn't the same thing at all. Supplements tend to be higher in collagen and contain different forms of collagen than bone broth.
So, while some studies have found that collagen supplements offer benefits, like decreasing joint pain, bone broth mightn't have the same effect at all. Similarly, while bone broth contains gelatin, it won't have the same benefits as supplementing with gelatin.
Bone Broth Is Rich In Nutrients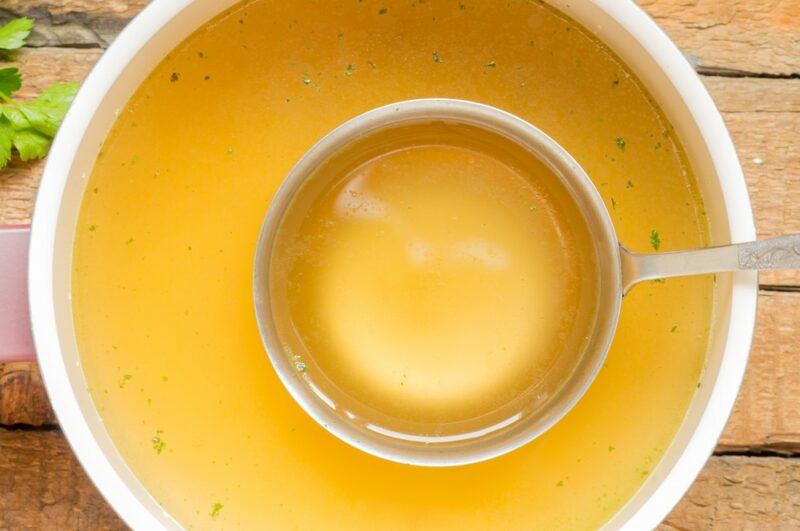 You do get some nutrients from bone broth, along with protein. However, the nutrient levels aren't amazing.
Take calcium as an example. Bone broth seems like it should be an excellent source of calcium. It's made from bones, after all. Yet, you may only get 5% of your calcium intake from bone broth. That's not much.
The protein content isn't all that significant either. After all, most of us get plenty of protein in our diets. The protein from bone broth will only really matter for people who are protein deficient.
You could boost the nutrients in bone broth by using it as the base for a more complex soup. Including plenty of vegetables and perhaps some meat would give you more nutrients and extra benefits. Doing so is much more useful than just drinking bone broth on its own.
It Will Detoxify You
Bone broth is sometimes promoted as a way to detox. The bone broth producer Kettle and Fire even promotes a 21 day bone broth diet that's meant to detox you. That version combines intermittent fasting, the paleo diet, and bone broth, to cleanse your body.
Our bodies do need to get rid of toxins, that much is true. Our liver and kidneys do the bulk of the work here, but there's little we can do to make them more efficient.
The most powerful thing is to simply focus on nutrient-dense foods, as these ensure your body has all the resources it needs to function well. Staying hydrated helps too.
Bone broth helps a little with the nutrients and keeps you hydrated, but that's it. There's no magic to it and bone broth itself certainly won't flush toxins out of your body.
So, Is Bone Broth Worth Using?
There's little evidence for most of the claims around bone broth. Plus, as we've seen, some of those potential health benefits are unlikely.
Still, you needn't write bone broth off just yet. While the soup might not be an amazing health tonic, it is still a healthy choice for most people. Bone broth is also warm and comforting, making it excellent when you're sick and on a winter's day.
You might even drink a cup of it every so often instead of tea or coffee. There's nothing wrong with that. You might even get some benefits if you're choosing bone broth over a sugary drink.
Besides, research studies have their limits. They're great for looking at the big picture and seeing whether specific foods are linked to specific benefits.
But, they can't tell you much about how a particular food will affect you. After all, we're all different and the health impacts of food are influenced by many things, including genetics, the other foods we eat, our activity levels, our gut microbes, and so on.
This means that even if studies haven't found much, bone broth could still be helpful for you.
How To Make Your Own Bone Broth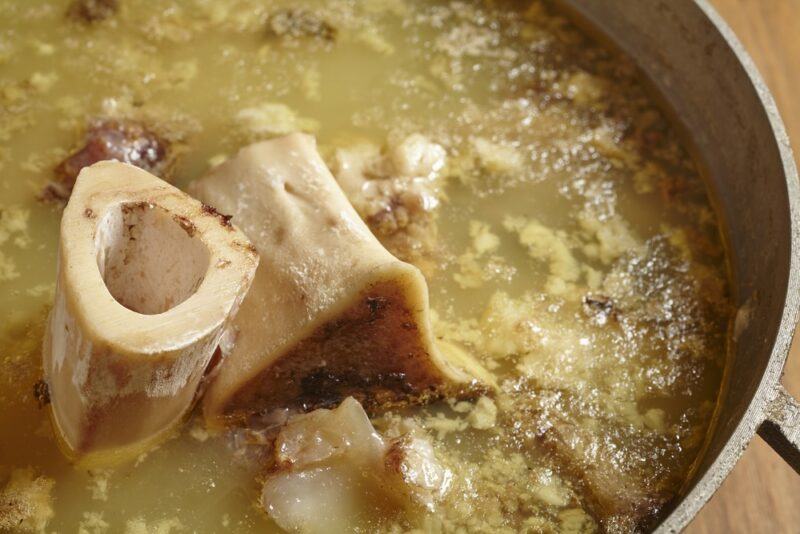 Bone broth is incredibly easy to prepare. You just need to fill a large pot with water, add animal bones, and bring the whole thing to boil. Once it has boiled, you lower it down to a simmer and allow the whole thing to simmer for at least 12 hours. Many people simmer their bone broth for 24 hours or even longer.
You can play around with the simmering time. Shorter simmers of just a few hours still provide many benefits and might be more practical. Also, if you're using fish bones, you should only be simmering them for an hour or so.
Finally, once it is all boiled, you allow the broth to cool and strain out all the bones and animal tissue.
You can choose the type of animal bones you use. Most people rely on beef, pork, or chicken, but you can include more obscure bones or bones from multiple types of animal at the same type. Connective tissue can be added too, which provides different nutrients.
While the broth takes on some flavors from the bones, you'll probably need to add other ingredients to make the broth more interesting. Classic additions include thyme, garlic, salt, and pepper, along with celery and carrots. The vegetables are best added towards the end of the cooking process, but you can experiment to find the best timing for you.
Should You Buy Bone Broth?
If simmering broth for 12+ hours sounds like too much, you could buy a bone broth product instead. Some are similar to a liquid stock that you can mix with water, while others are ready to drink as-is.
Purchased bone broth will always be more processed than anything you can make yourself, but there are healthy brands out there. Look for companies that use minimal processing and few additives. Kettle and Fire is a well-known example and is popular in the industry.
Final Thoughts
Contrary to all the hype, bone broth isn't that powerful. It does contain some compounds that are rare in other foods, but there's little evidence that these will directly affect your health. You certainly can't expect bone broth to give you glowing skin, take away your joint pain, or make you drop pounds overnight.
Still… bone broth will hydrate you and it can be quite comforting. The risks are few, so most people can drink bone broth regularly without an issue.
Frequently Asked Questions
Does Bone Broth Break A Fast?
Bone broth often contains around 40 or 50 calories in a cup, which means it certainly will break a fast.
However, some fasts do allow bone broth or even focus on it. For example, an intermittent bone broth fast can involve just consuming tea, water, and bone broth for anywhere between 24 hours and 3 days.
This means that you'll need to think about the reasons for your fast and the rule set that you're following.
How Long Does Bone Broth Last In The Fridge?
Most of the time, homemade bone broth lasts roughly 5 days in your fridge. Following a hot fill technique or adding a little acid can make the bone broth last longer.
Store bought bone broth will often last longer, if unopened. Once you've opened it, you have 5 days or so to use the broth.
Can You Buy Low Sodium Bone Broth?
While bone broth will never be sodium free, some brands produce no added sodium bone broth. Such products often contain between 70 mg to 90 mg of sodium per serving. However, because there's less sodium, such bone broths might have a shorter shelf life than normal.
Does Bone Broth Help You Lose Weight?
Bone broth does indeed help with weight loss. This is partly because it's relatively low in calories, but still contains a decent amount of protein. Some commercial bone broth contains upwards of 15 grams of protein per serving.
This balance is fantastic for weight loss, as the protein keeps you full, without leading to weight gain.
Does Bone Broth Have Collagen?
Yes. Some of the protein from bone broth is in the form of collagen. In fact, bone broth may be one of the best ways to consume collagen, as it is made from whole food ingredients and is easy to digest.