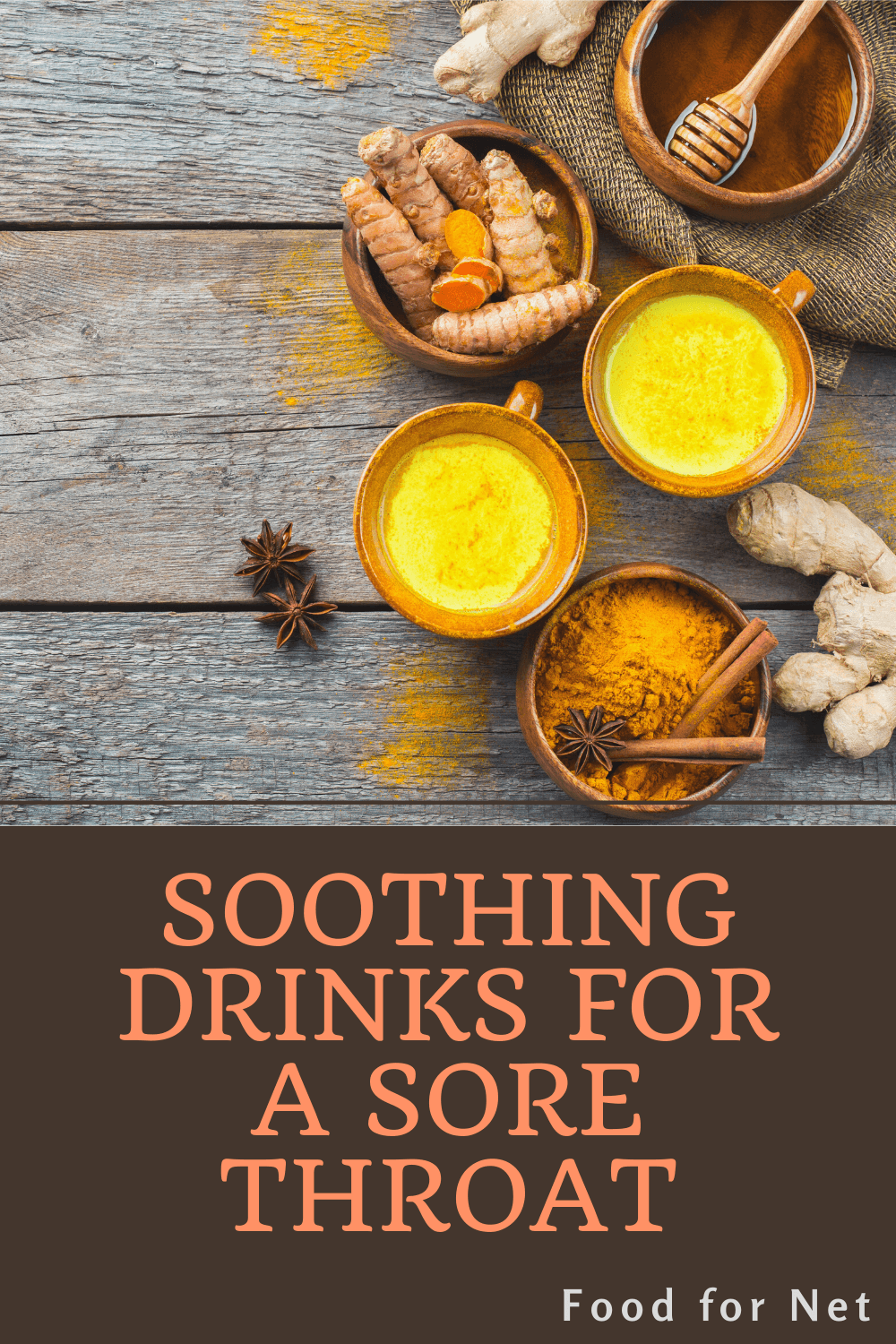 Having a sore throat can be painful and frustrating, especially when it drags on and on. While over-the-counter painkillers and medications can be helpful at times, natural approaches are often more appealing. Thankfully, there are many drinks for a sore throat that you can try.
These drinks tend to be soothing – helping to taste the edge of your pain and discomfort. Some of them may even help your sore throat disappear faster.
Others are mostly beneficial because they're an easy way to increase your fluid intake. After all, staying hydrated is very important when you're not feeling too good.
Drinks For A Sore Throat
Lemon And Ginger Green Tea
Hot Tea And Honey
Hot Lemon And Honey
A Hot Toddy
Ginger Tea
Hot Blackcurrant Drink
Coffee With Honey
Golden Milk
Peppermint Tea
Licorice Root Tea
Marshmallow Root Tea
Lemon Water
Cinnamon Almond Milk
Any Type Of Tea
A Ginger And Lemon Slushie
Lemon And Ginger Green Tea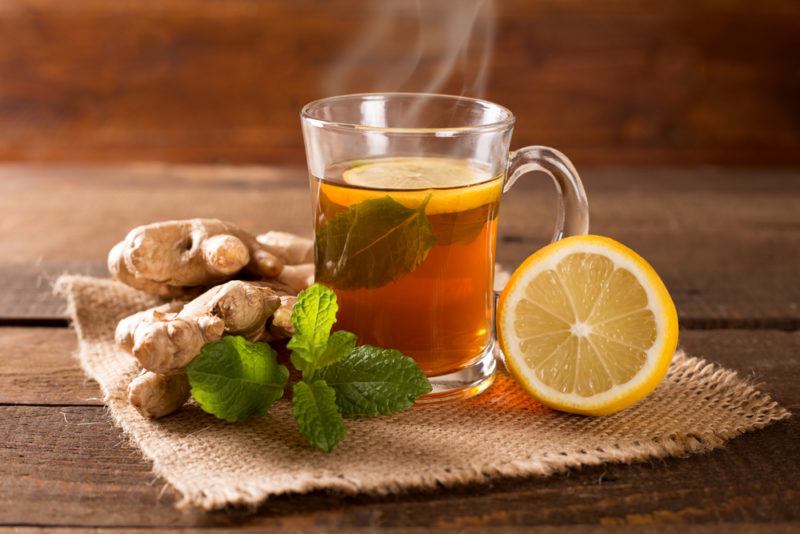 This hot drink combines a variety of healthy ingredients all in one go. As the name suggests, you're using ginger, green tea, and lemon juice. Other ingredients can be added too, such as turmeric, cinnamon, honey, and even cayenne pepper.
Some of these ingredients, particularly the honey and the lemon, will be directly soothing for a sore throat. That's not all. The ingredients are often linked to other advantages too, such as the potential to help your body to fight off the current bug.
Hot Tea And Honey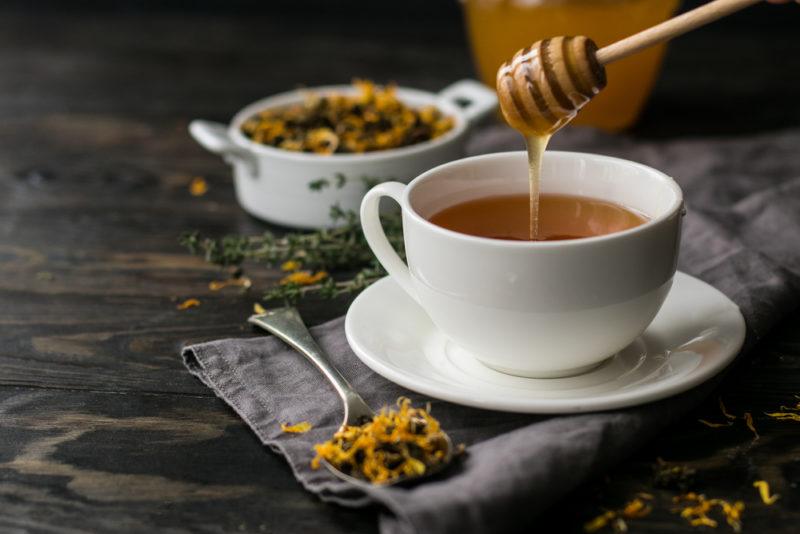 Honey is a classic sore throat remedy, to the extent that some people simply suck honey off a spoon to help with their sore throat. Hot drinks with honey are even better, as you're getting the soothing properties of the hot liquid too, along with the benefits of any other ingredients.
Adding honey to hot tea is one of the simplest ways to use honey to soothe your sore throat. The flavor of honey complements almost any herbal tea well. You can use it with black tea or green tea too.
When you're choosing honey, look for raw honey rather than refined. Raw honey tends to be less processed and has a better flavor profile.
You could also consider manuka honey, which may have more antibacterial properties than other types of honey. On the other hand, manuka honey is expensive and you'll see most of the same benefits from other types of raw honey – so either approach will work well.
Hot Lemon And Honey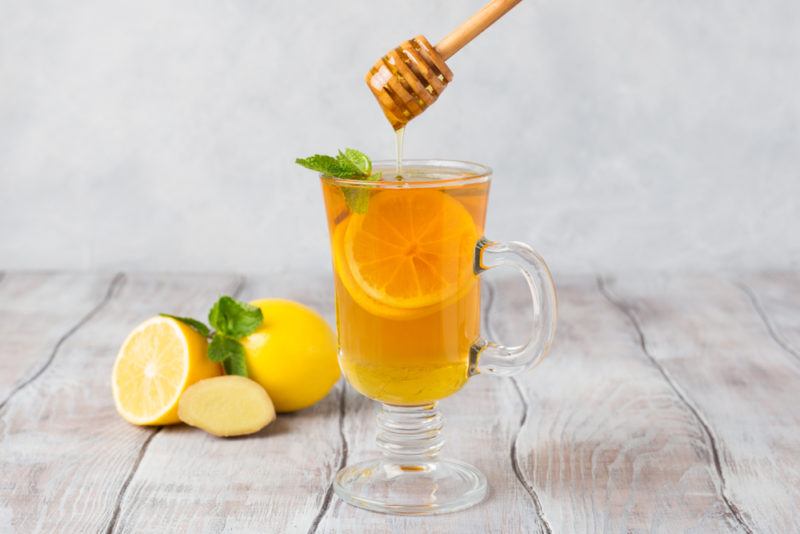 If you're looking for an easy fix, it's hard to go past a simple lemon and honey drink. You can make this using just lemon, honey, and hot water. The lemon and honey work well to soothe your throat.
Lemon juice and honey have both been linked to antibacterial properties, which could make them even more useful.
There are many variations on this idea too. For example, the site Oh How Civilized offers a recipe for lemon ginger tea, which involves using fresh ginger root as one of the key ingredients. The ginger adds extra complexity to the drink and may be good for your throat too.
A Hot Toddy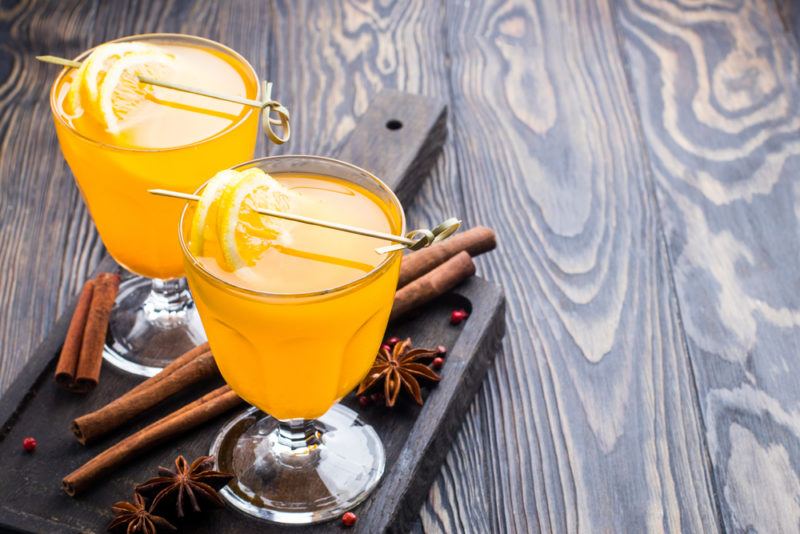 If you want to take a hot lemon and honey drink one step further, try adding in a splash of whiskey as well. Whiskey can help with the pain of a sore throat. It is also especially useful if you're having the drink at night, as the whiskey can make it much easier for you to nod off to sleep.
There are many other ingredients that you might include in a hot toddy too, like ginger, cinnamon or even cayenne pepper. You can easily play around with ingredient combinations until you find a balance that you enjoy.
One thing to pay attention to is the sugar content. Hot toddies sometimes end up being very sweet, especially if the recipe relies on apple cider. A high sugar drink won't do your sore throat any favors.
Ginger Tea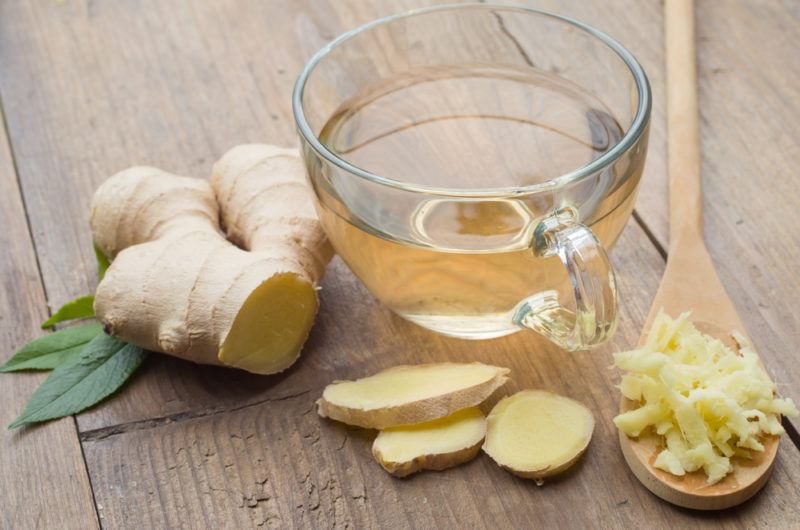 Ginger is one of the most common ingredients for helping with a sore throat, along with lemon and honey. For people who are particularly interested in ginger, then ginger tea is the way to go.
If you've never tried this before, the site Cookie + Kate has a fantastic step-by-step guide. That guide focuses on using fresh ginger. Doing so takes more work than using powdered ginger, but you're likely to see better outcomes too.
As that post suggests, you can add extra ingredients to the hot drink, such as honey to make the flavor less intense or cinnamon to give the tea a stronger warming quality.
Hot Blackcurrant Drink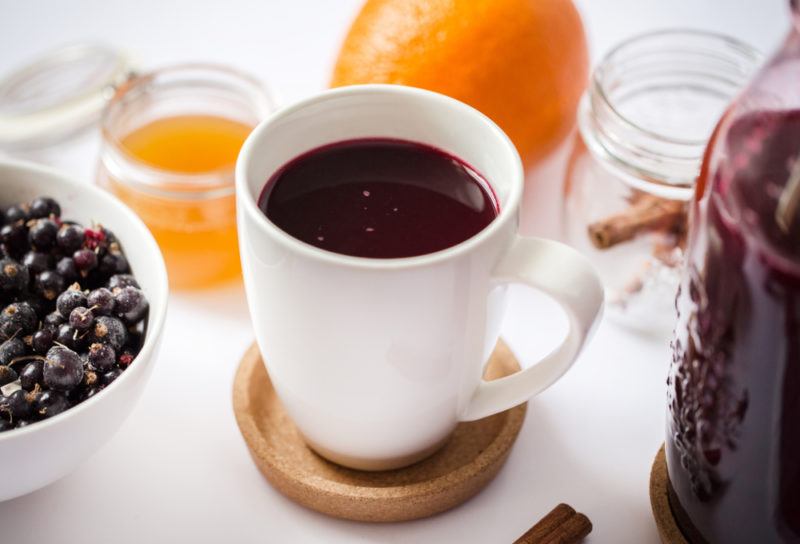 While any type of hot drink will soothe your throat to a degree, hot blackcurrant remains a particularly popular option. This type of drink is easy to make too, if you can get your hands on blackcurrant concentrate, like Ribena.
Doing so is more difficult if you are in the United States, as blackcurrants aren't nearly as well-known or as popular as they are elsewhere. Despite this, you can sometimes find Ribena in the imported section of some stores or order it online.
Coffee With Honey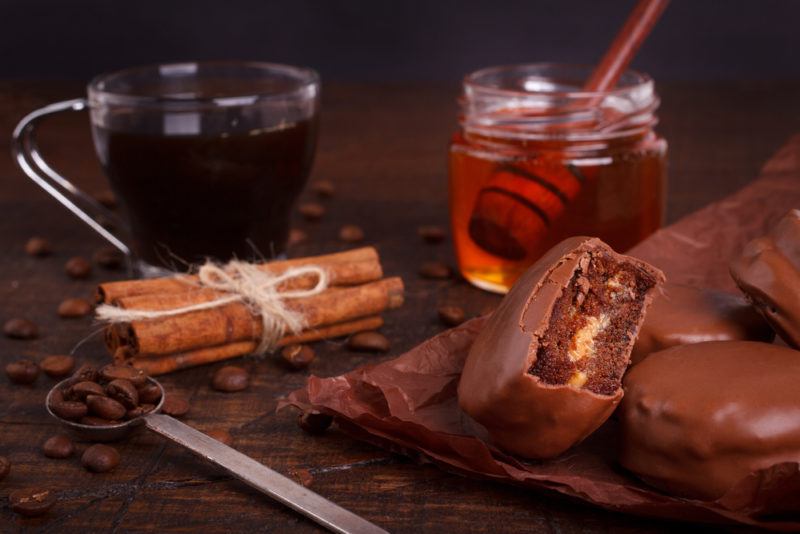 Adding honey to coffee is an unusual approach, but it can be effective at reducing coughing and relieving a sore throat. This style could be perfect for anyone who doesn't like sweet drinks, as the coffee largely offsets any sweetness from the honey.
Golden Milk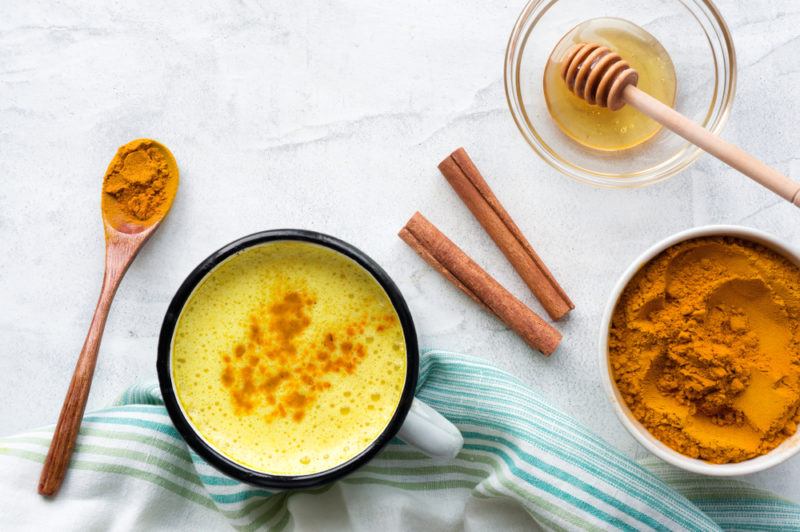 Also known as a turmeric latte, golden milk is mostly a way to get extra turmeric into your diet. The drink can also be exceptionally good for a sore throat as it is soothing and contains multiple beneficial spices, such as ginger, cinnamon, and turmeric. Many versions include black pepper as well, as this helps to promote turmeric absorption.
Honey can be included too, which adds a little sweetness into the mix. This is a useful addition, as turmeric and ginger are fairly pungent ingredients.
The honey is also perfect if you have a sore throat because of honey's soothing properties.
Peppermint Tea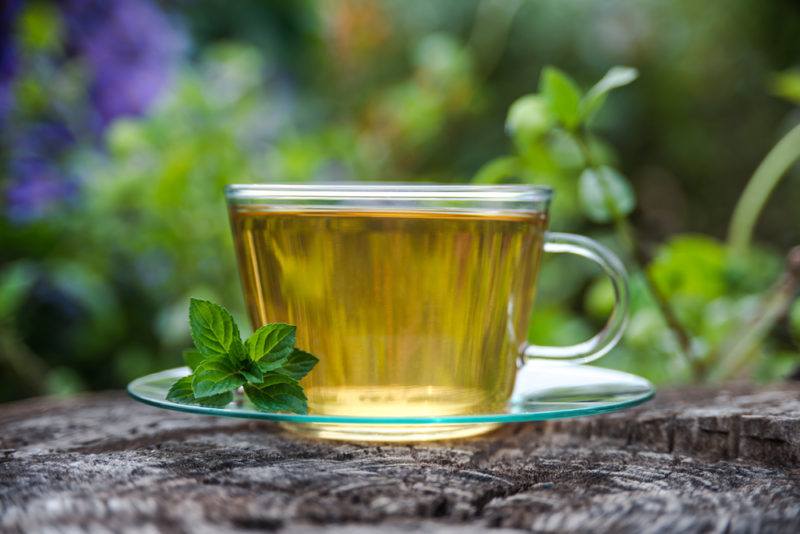 Peppermint contains the compound menthol, which can help to soothe inflammation and make your throat feel much better. This is one of the reasons that peppermint is often used in throat lozenges.
Peppermint tea is probably the best way to get the benefits of peppermint, as the heat from the drink will help with your throat as well. You can make this tea yourself by steeping fresh or dried peppermint leaves in hot water. You can also buy peppermint tea bags from various brands.
As with other types of hot drinks, you can easily add in other ingredients to give you more benefits still. Lemon and ginger are common additions. You could also use honey, as honey has powerful soothing properties.
Licorice Root Tea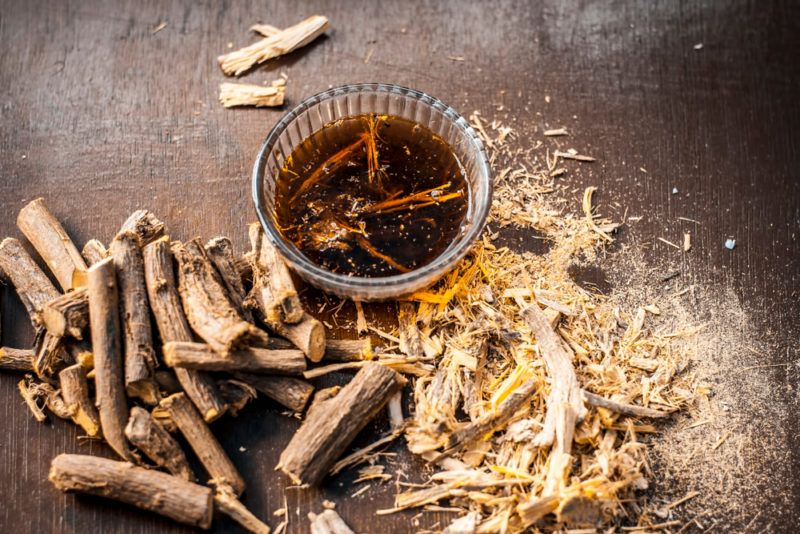 Licorice root tea is sweeter than most other types of tea – so you can skip the sweetener. The tea can help to soothe your throat and may even help to reduce coughing.
Because licorice root can interact with some medications, it's normally best to consult with your doctor before trying this tea out for yourself.
Marshmallow Root Tea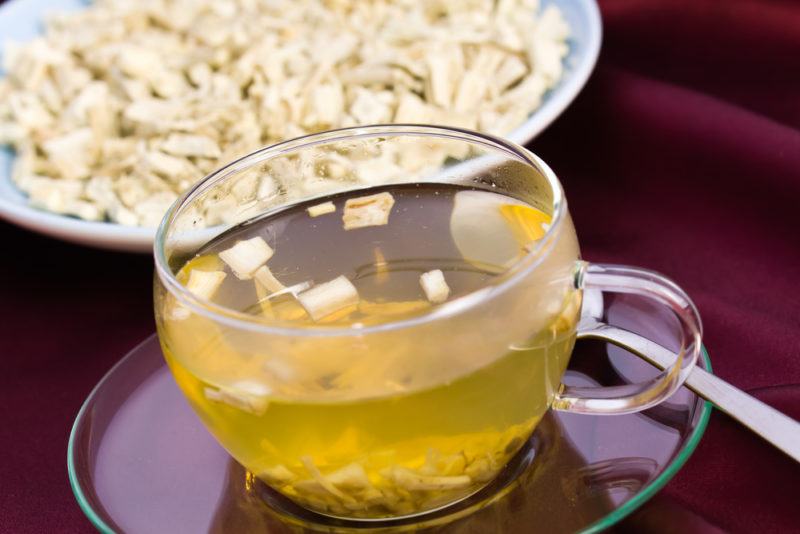 Here's a less common option. Marshmallow root has notable soothing properties, partly due to a compound called mucilage. The tea may offer some of these benefits
Marshmallow root tea is generally made from the dried root, which may have been powdered first. Making the tea is as simple as pouring hot water over the root and then steeping for around ten minutes. Marshmallow root tea bags can also be used.
Lemon Water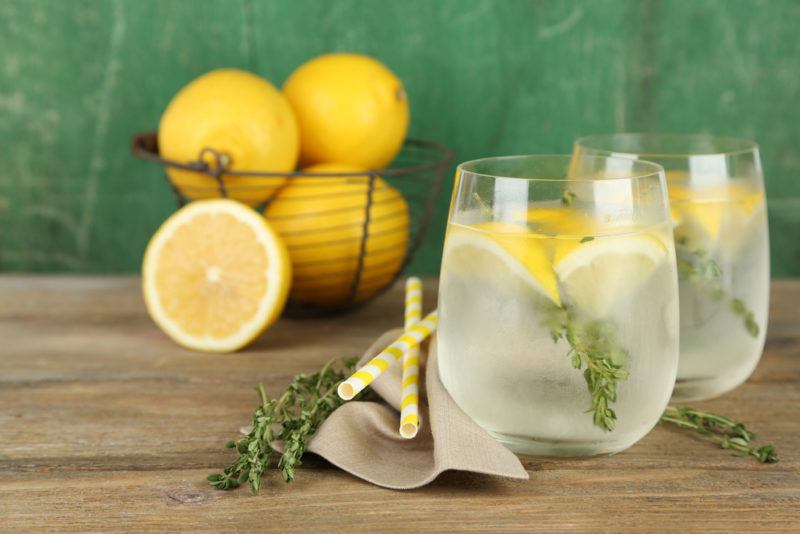 Staying hydrated is important when you're sick, even if your sore throat makes it difficult to do so. Lemon water can help in this regard, as the lemon helps to soothe your throat, making the water easier to drink.
Plus, you're getting some vitamin C and antioxidants from the lemon. These beneficial compounds could help you to fight off infection and get better faster.
Lemon water tends to be consumed cold, but you can heat it up as well. Warming the water may make it even easier to drink, especially if you add in a little honey as well.
Cinnamon Almond Milk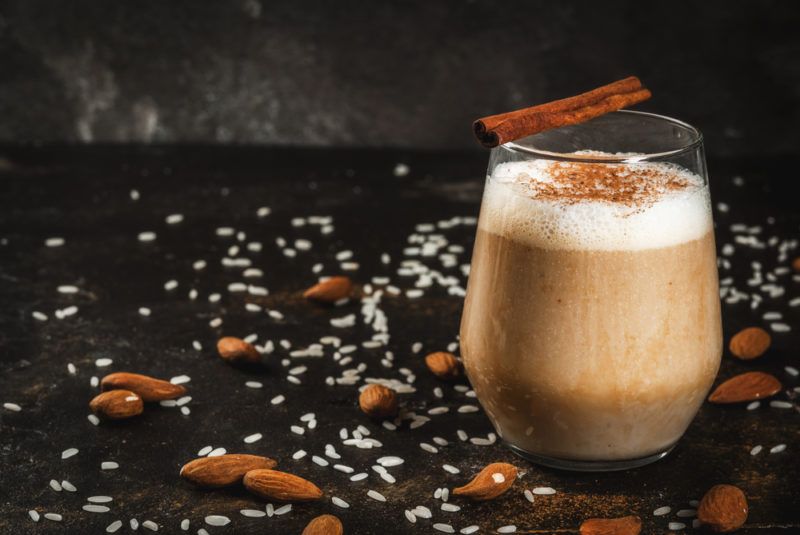 Cinnamon almond milk is a soothing drink that you can make at home. The main ingredients are simply what the name suggests – cinnamon and almond milk. You can simmer these together in a saucepan and then pour the mixture into a cup.
Stirring in some sweetener can make the drink taste nicer. Honey is a perfect choice if you have a sore throat.
Any Type Of Tea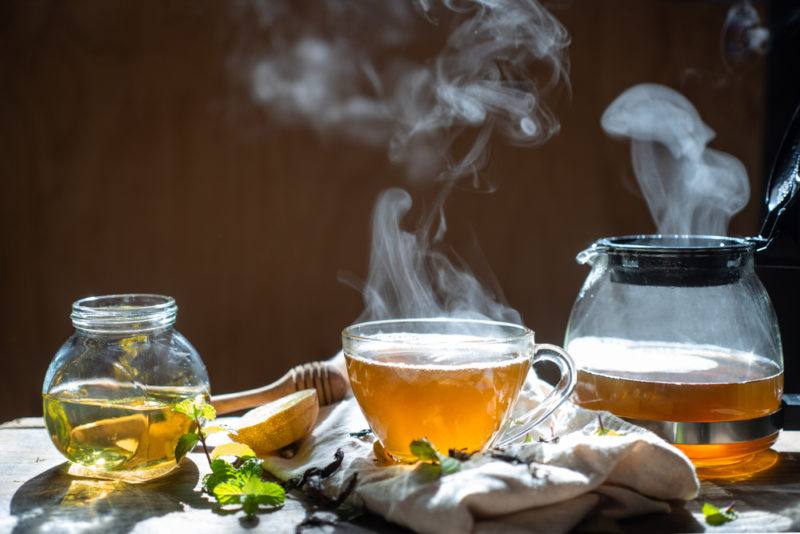 Regardless of the type, tea is going to help your sore throat. After all, tea tends to be a hot drink that is mostly water. The heat will help to soothe your throat, while staying hydrated is even more important.
Green tea is a particularly good choice, as it is loaded with antioxidants. Some of the compounds may even help you to fight off your infection.
The benefits of tea aren't limited to tea made with tea leaves either. Herbal teas have similar advantages. They can be even more useful in some cases, as herbal teas tend to be caffeine free, so you can still enjoy them in the evening.
There are a couple of limitations to mention here.
The first is that, if you're on medication, you should check with your doctor before drinking a new herbal tea. Some herbs interact with medications. They could make your medication less effective or cause side effects.
It's also worth avoiding any teas that contain senna leaf (or any that are marketed as detox). Senna leaf is a natural laxative. Laxatives aren't a good idea when you're under the weather, especially as diarrhea can lead to dehydration.
A Ginger And Lemon Slushie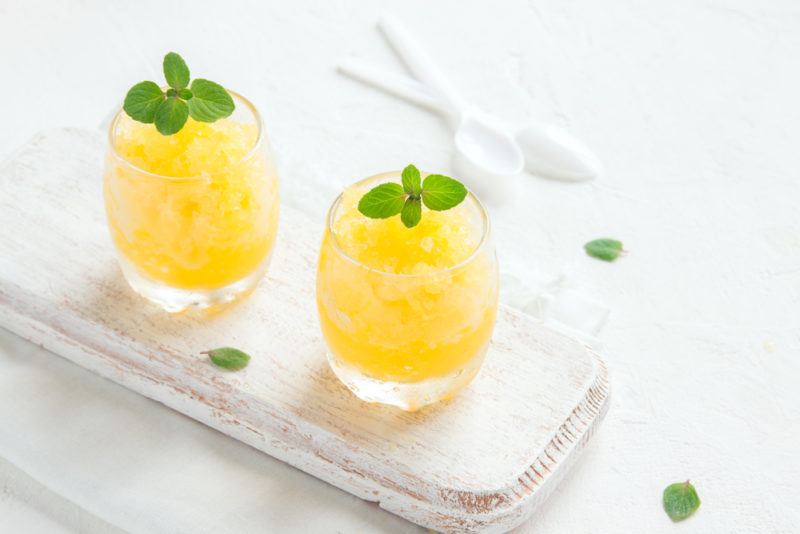 This interesting idea comes from the site The Kitchen Girl. The recipe author focuses on making a blended ice drink that contains some of the popular ingredients for a sore throat, like honey, ginger, and lemon.
Having a cold drink like this can work well for your throat, as the coldness helps to numb the pain. This is the same reason that articles often recommend sucking on a popsicle.
A cold drink could be particularly important if you're having no luck with hot ones. You could easily change some of the ingredients too, so that you end up with a flavor combination that you enjoy.