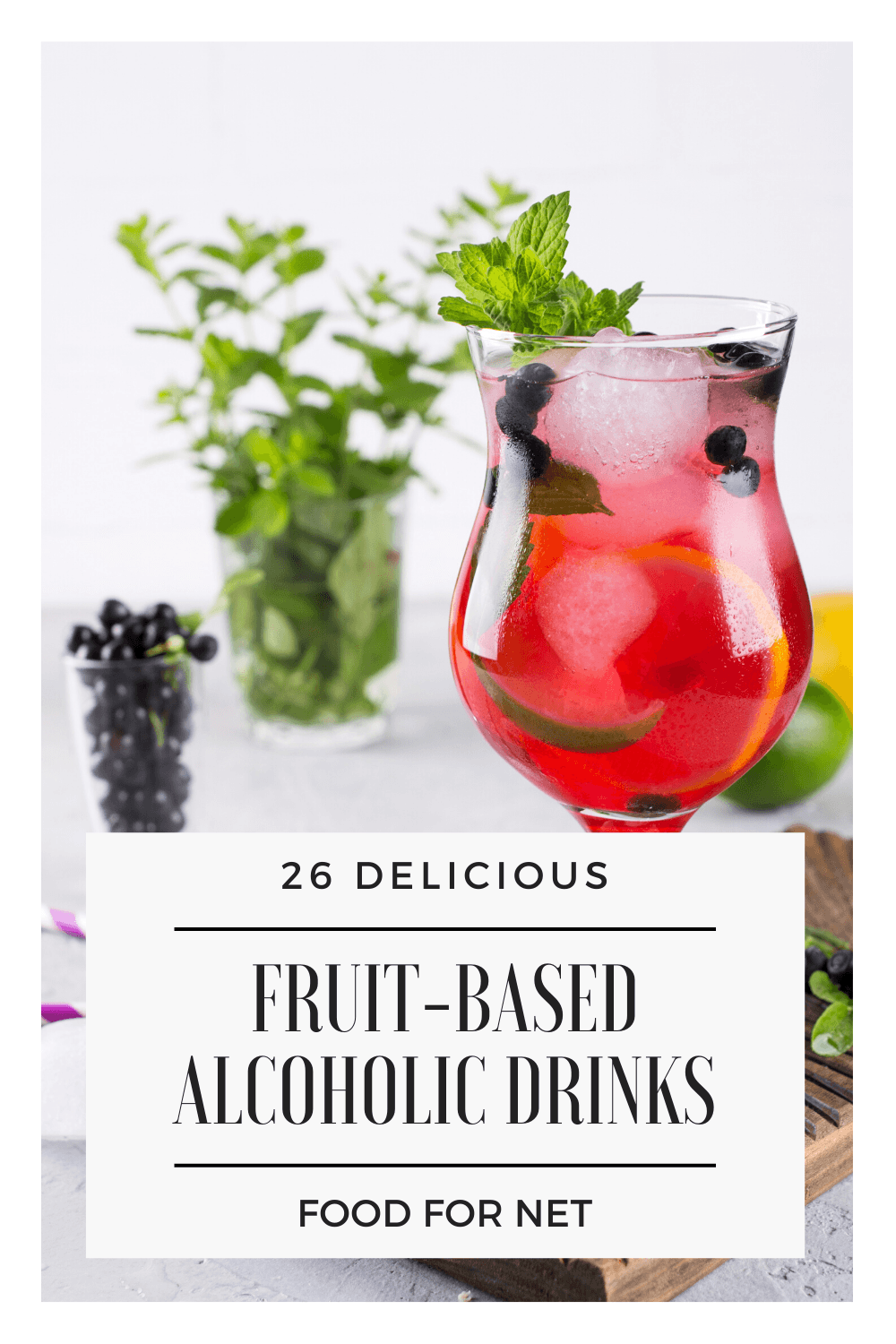 If you want a cocktail that is vibrant and fresh, fruit-based alcoholic drinks are a perfect solution (especially if you want something to drink before noon). These can still provide a strong kick of alcohol, but the flavors of the alcohol don't overwhelm the other ingredients.
Fruit-based drinks can be much more appealing than something like whiskey on the rocks or a martini. While both of those drinks are popular, they also have intense flavors and can be difficult to drink casually, especially if you don't have alcoholic drinks all that often.
There are countless fruity cocktails out there and we're not even going to attempt to include them all on this list. Instead, we're aiming to showcase a variety of flavors and styles, including some cocktails that are very sweet and others that are lighter and more refreshing.
Similarly, some of the cocktails on this list are deceptive and contain a surprisingly high amount of alcohol. Others contain more mixer than alcohol, which is perfect if you're planning to have multiple drinks.
One final note before we get started. With this list, we're largely focusing on classic cocktails and a few modern ones. Many of these cocktails, and others, have fruity variations, such as a blackberry gin and tonic, a strawberry mojito and a blood orange old fashioned.
But, if we focused on those variations too, we'd have a never-ending list. The truth is that you can tweak most cocktails to make them fruity if you want to. You could even include exotic fruit in cocktails. Still, why bother, when there are so many amazing fruit-based cocktails to choose from already?
Fruit-Based Alcoholic Drinks
Bellini
Scarlett Miss Charlotte
Mimosa
Screwdriver
Harvey Wallbanger
Martini Variations
Mai Tai
Planter's Punch
Zombie
Sea Breeze
Bloody Mary
Strawberry Daiquiri
Pimm's Cup
Paloma
Matador
Bronx
Painkiller
Rum Runner
Hurricane
Tequila Sunrise
Sex On The Beach
Apple Martini
Cosmopolitan
Woo Woo
Old Glory
Fuzzy Navel
Bellini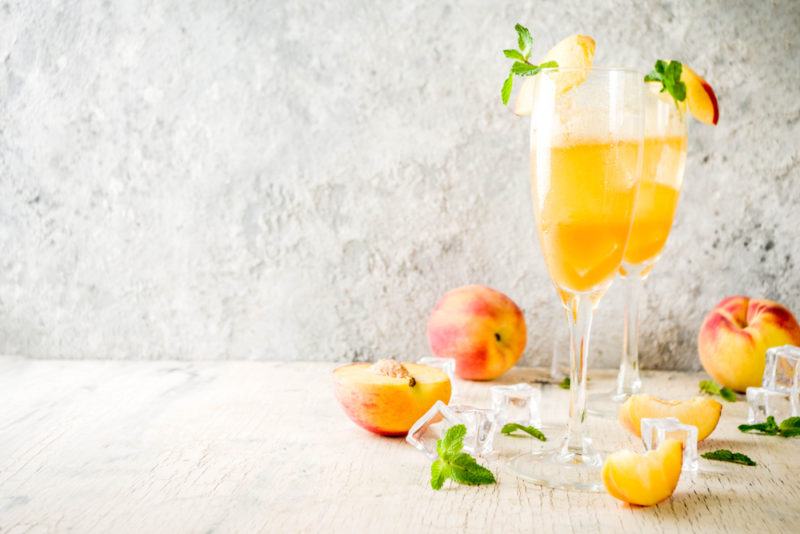 A bellini is a classic cocktail that relies on peach puree and prosecco. It is incredibly simple to make, as you're just mixing one part of sugar syrup to two parts of peach puree and placing it at the bottom of a champagne glass.
You'll normally use around 20 ml or so of the puree and then gently top the glass up with champagne. Leave it like that until it is time to serve the drink, then give it a stir to mix the ingredients together. The resulting drink is fresh and delicious.
As for the puree, you can easily make this yourself using fresh peaches and your food processor. Blend the peach flesh until it is pureed, strain it and then place it in the fridge. Once the puree is chilled, you're all good to make the cocktail.
Or, if you want a simpler approach still, skip the peach puree and use peach juice. This will change the color and texture of the cocktail, but it will still taste amazing.
Scarlett Miss Charlotte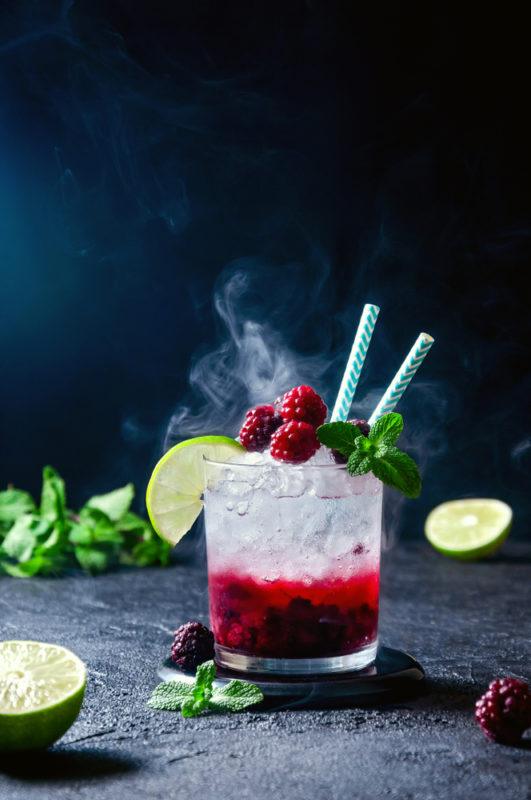 This cocktail is thought to have its origins at The Hush Bar, in the Mayfair district of London.
The cocktail takes fruitiness to a whole new level by relying on two parts strawberry pulp, two parts fraise, and one part Cointreau. These ingredients are placed in a cocktail shaker, shaken together, and then double strained.
The drink is then topped up using champagne or sparkling white wine to give it a delicious finish.
Mimosa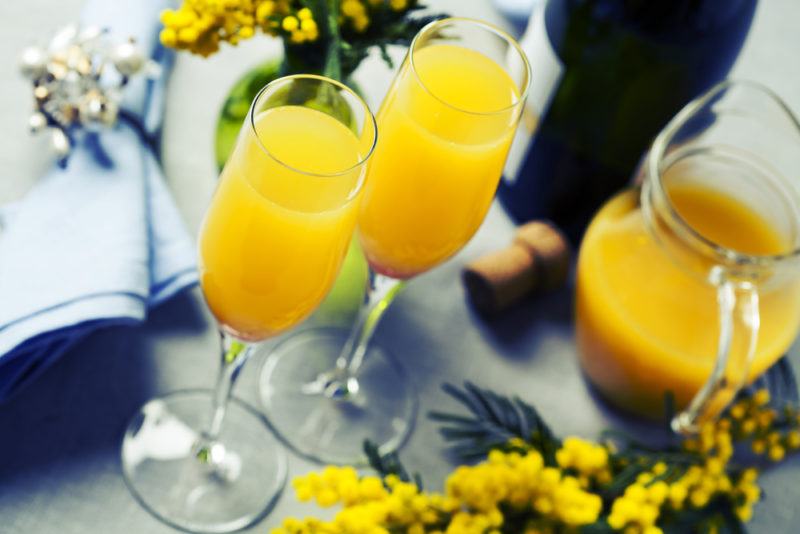 A mimosa is one of the most famous fruity cocktails. It is also very easy to make, as you're just relying on orange juice and sparkling white wine (or champagne).
The drink turns out especially well if you use fresh orange juice and a dry sparkling white wine. This combination means that the sweetness from the orange juice isn't too overbearing.
You can choose the ratio of orange juice to wine based on your preferences. For example, some people recommend a 50/50 split, which keeps the alcohol content relatively low and is perfect if you're serving mimosas as part of brunch.
You could also lean towards four parts wine to two parts orange juice. This ratio gives you a more intense hit of alcohol. The cocktail also ends up being less sweet, which could be appealing too.
Mimosas are easily modified. Adding in a splash of another type of fruit juice works well. Some people lean towards using chopped fresh fruit or fruit puree instead. If you're using fruit puree, it's best to place this in the bottom of the glass before you add the other ingredients.
Screwdriver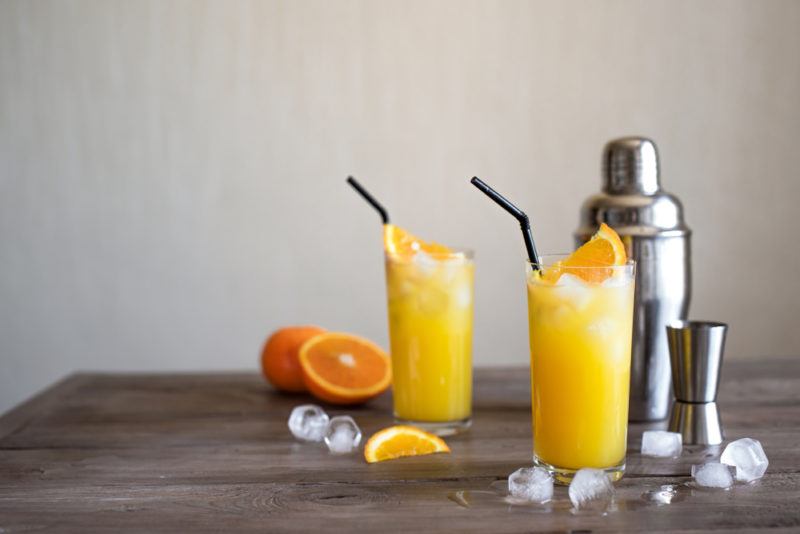 A screwdriver follows a similar idea to a mimosa, except that you're using vodka instead of champagne. As with a mimosa, the cocktail will taste better if you use freshly squeezed orange juice, but this isn't a requirement.
Harvey Wallbanger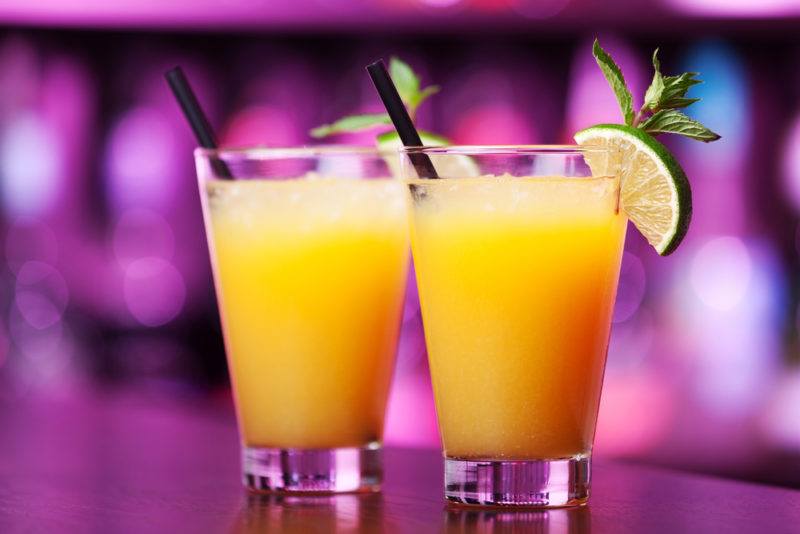 If you like the idea of a screwdriver, but want something a little more complex, then a Harvey Wallbanger might be the cocktail for you. Like a screwdriver, this cocktail relies on orange juice and vodka. And, once again, the drink will taste best with fresh orange juice.
With a Harvey Wallbanger, you're also adding in a small amount of Galliano. In some versions, orange juice, vodka, and ice are mixed together and then the Galliano is added on top. Others simply call for all of the ingredients to be combined.
Either way, you end up with a cocktail that tastes much like a screwdriver, but with some added complexity.
Martini Variations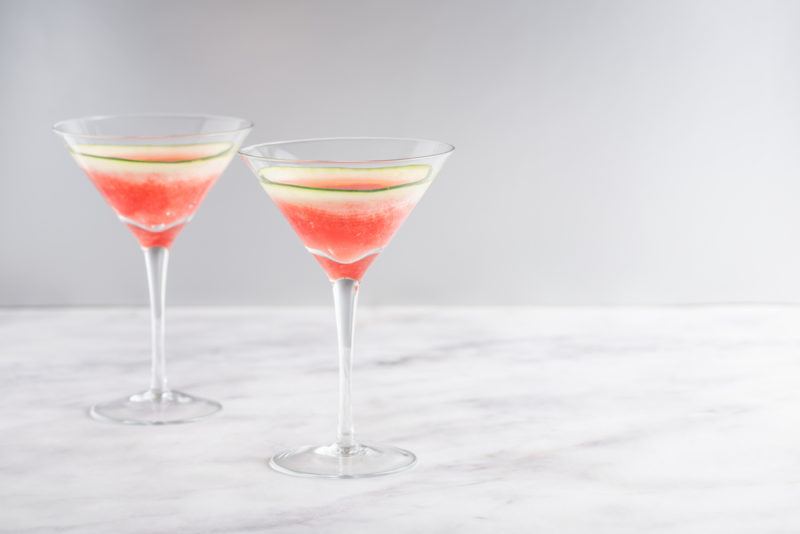 The classic martini is simply made by stirring together gin and dry vermouth, often in a 3:1 ratio. Vodka can be used instead of the gin but, either way, the cocktail is relatively plain.
Some martini variations change this by adding extra ingredients to create interesting flavors, some of which are fruity. For example, a raspberry martini relies on fresh mashed raspberries, one part raspberry liqueur, and four parts vodka. The cocktail bursts with the flavor of the fresh raspberries.
An apple martini, on the other hand, uses green apple liqueur and vodka, along with a little Cointreau, lime juice, and simple syrup. You can also make a cherry martini with four parts cherry vodka, two parts cherry liqueur, and three teaspoons of cherry juice.
There are many other options out there too. You could also just play around and create your own. The main thing to remember is that a classic martini tends to be stirred, not shaken, but martinis made using fruit juices or simple syrup should be shaken.
P.S. Many of these cocktails can be easily ordered at a bar.
Mai Tai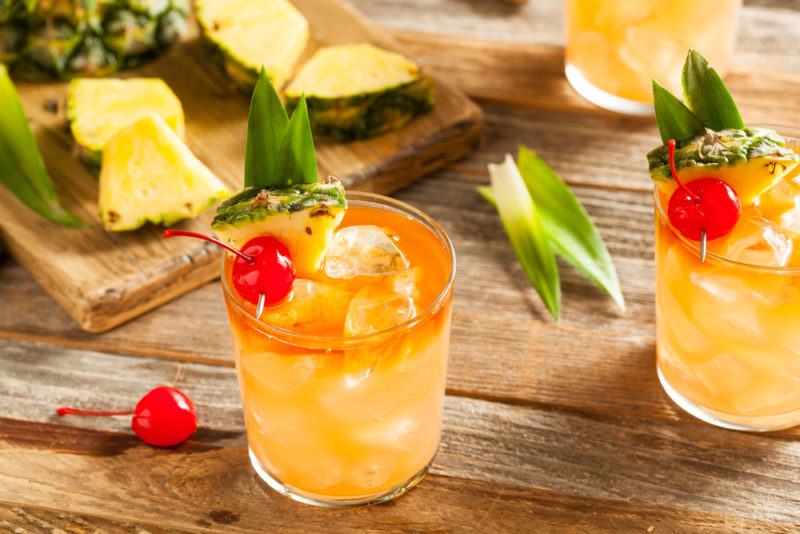 The Mai Tai is a slightly unusual addition to this list, as the classic cocktail isn't very fruity at all. It relies on rum (often white rum and dark rum), along with curacao, almond-flavored syrup, simple syrup, and lime juice.
Despite this, the Mai Tai is often made entirely differently. Many recipes heavily rely on fruit juice or syrups. Orange juice and pineapple juice are the most common examples, giving the drink a distinct tiki feel.
Planter's Punch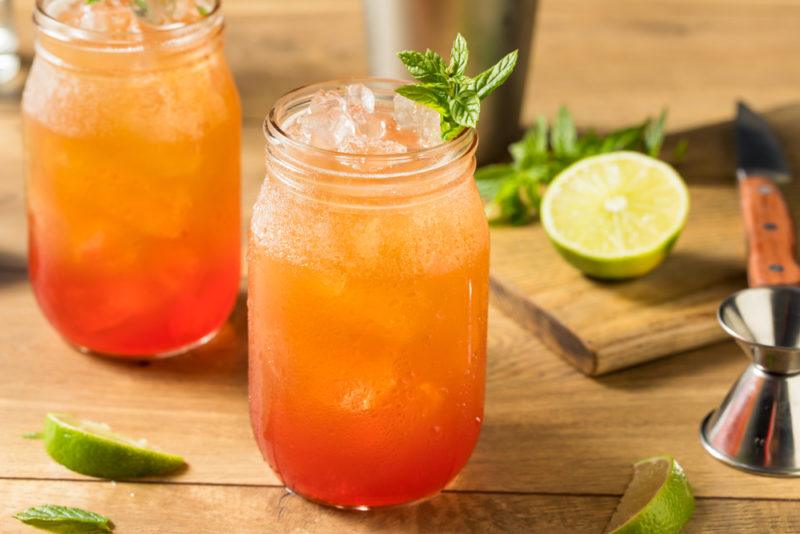 Planter's punch is a highly customizable cocktail, giving you the chance to play around with flavors and ingredients. The main goal is that the cocktail includes four flavor aspects: strong, weak, sour, and sweet.
In many versions of the cocktail, the sweet aspect of the flavor profile comes from fruit juice of some type. Orange juice is one common choice, while pineapple juice is another. There are more obscure examples too, such as passionfruit juice.
Zombie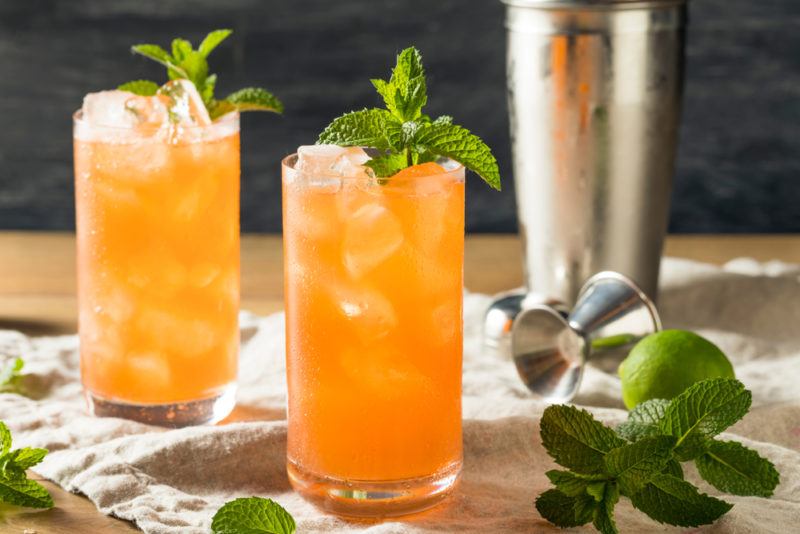 Here's an interesting cocktail to consider. It is certainly fruity – as the zombie contains three types of fruit juice, along with extra sugar. It ends up having a fairly intense tropical flavor.
Then, there's the rum. The zombie uses four different types of rum. The quantities aren't small either, so the cocktail has a considerable alcoholic hit.
One version of the recipe can be found here. As the author of that recipe mentions, you can even take a match to the cocktail and set it on fire. Just make sure to blow it out before drinking the cocktail.
Sea Breeze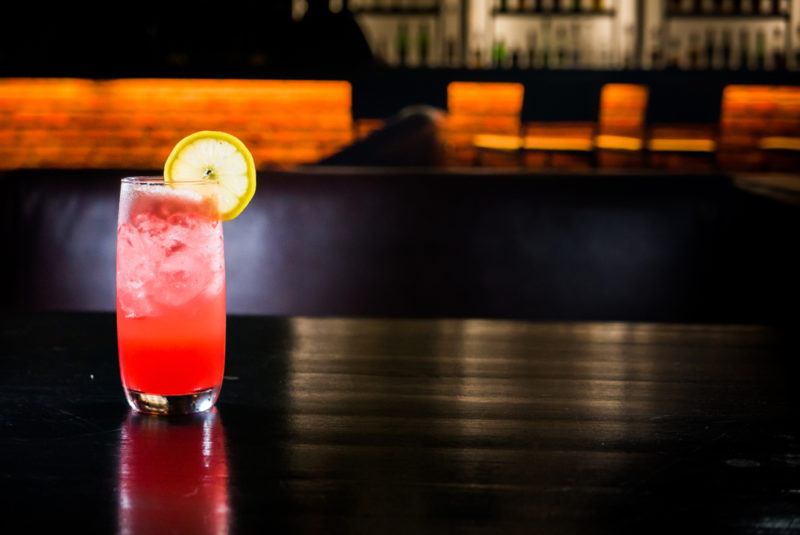 The sea breeze is a simple cocktail that uses cranberry juice, grapefruit juice, and vodka. This makes it easy to create, especially as you're using the same amount of each ingredient.
The drink is typically made by pouring the ingredients over ice one after the other, starting with the vodka. The use of grapefruit juice makes this drink much less sweet than many other fruity cocktails.
Bloody Mary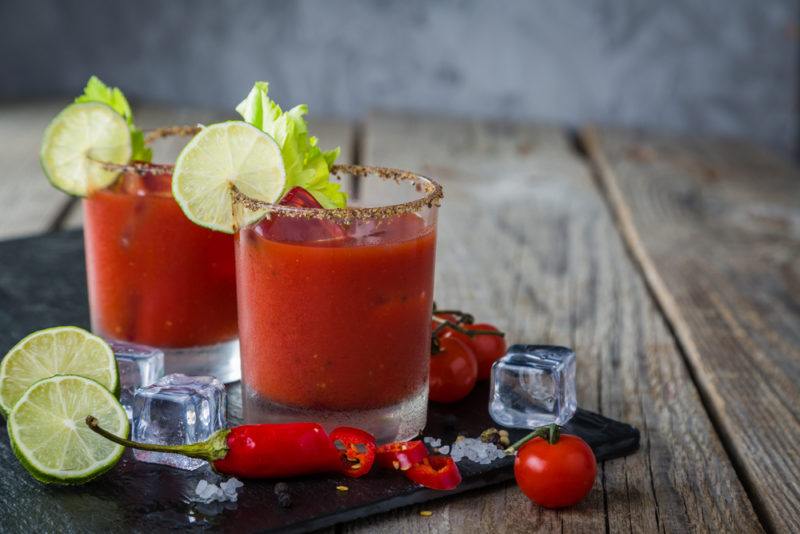 Tomatoes are technically a type of fruit, so a bloody Mary easily makes its way onto this list. The famous cocktail is one that people either love or taste. It's easy to see why too, as the flavors of a bloody Mary are certainly distinctive.
The drink relies on vodka and tomato juice as the main ingredients, often in equal proportions. Other ingredients provide the drink's kick. These can include lemon juice, Worcestershire sauce, Tabasco sauce, salt, black pepper, and possibly celery salt.
However, there are many variations on the amount of alcohol that the drink contains. Some recipes suggest that you use much less, such as 1.5 ounces of vodka to half a cup of tomato juice (or even three quarters of a cup).
Strawberry Daiquiri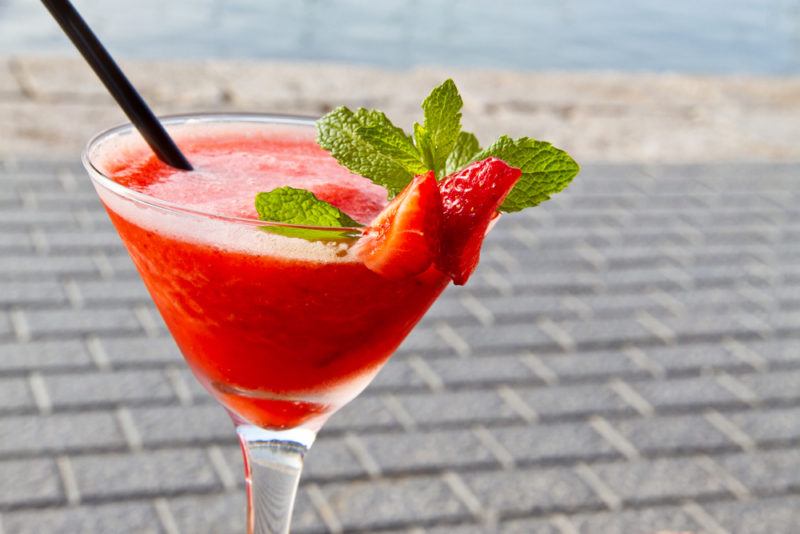 As the name suggests, a strawberry daiquiri is a variation on the traditional daiquiri recipe. It still involves the key ingredients of lime, simple syrup, and white rum.
The difference is that you use fresh chopped strawberries when you're making a strawberry daiquiri too. These are muddled with the lime juice and simple syrup in your cocktail shaker, then shaken together with ice and rum.
Once shaken, the drink is double strained into a glass. The finished drink has the refreshing flavors of a daiquiri with added sweetness from the strawberries. Because it has been strained, the texture of the drink remains similar to a regular daiquiri.
Pimm's Cup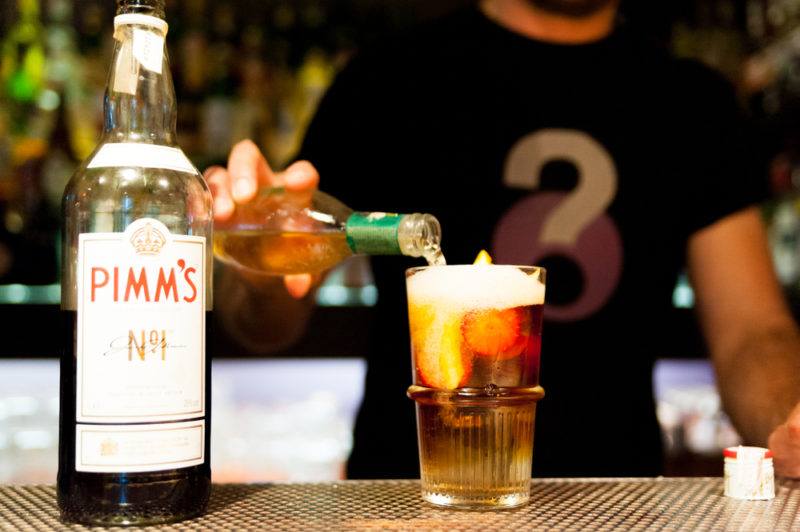 A Pimm's cup is an easy fruity cocktail to make, as you're relying on Pimm's as the key ingredient. Pimm's is a gin-based spirit that is 25% ABV. Just like other types of gin, Pimm's is infused with various botanicals. However, the lower alcohol content makes Pimm's perfect in many situations.
While many cocktails can be made with Pimm's, the Pimm's cup is one of the most well-known. This cocktail combines one part of Pimm's with three parts lemonade. Fresh fruit is included in the cocktail too, such as orange and strawberries.
While there's no fruit juice in the cocktail itself, Pimm's itself is fruity. As such, the combination of Pimm's and fresh fruit does create a refreshing fruity drink.
Paloma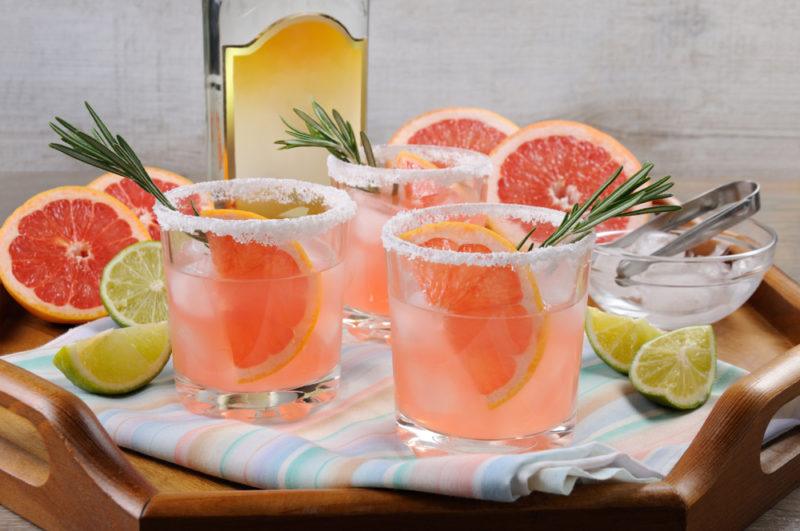 A paloma has the advantage of being a fruity cocktail that isn't too sweet. This outcome isn't surprising, as the paloma recipe relies on tequila, lime, and grapefruit. Those flavors combine together beautifully to create a vibrant and refreshing drink.
Traditionally, the paloma is made using grapefruit soda. This helps the drink to remain refreshing and keeps the flavors mild.
A combination of grapefruit juice and soda water works just as well. While this changes the flavor balance, the finished drink still tastes delicious.
Matador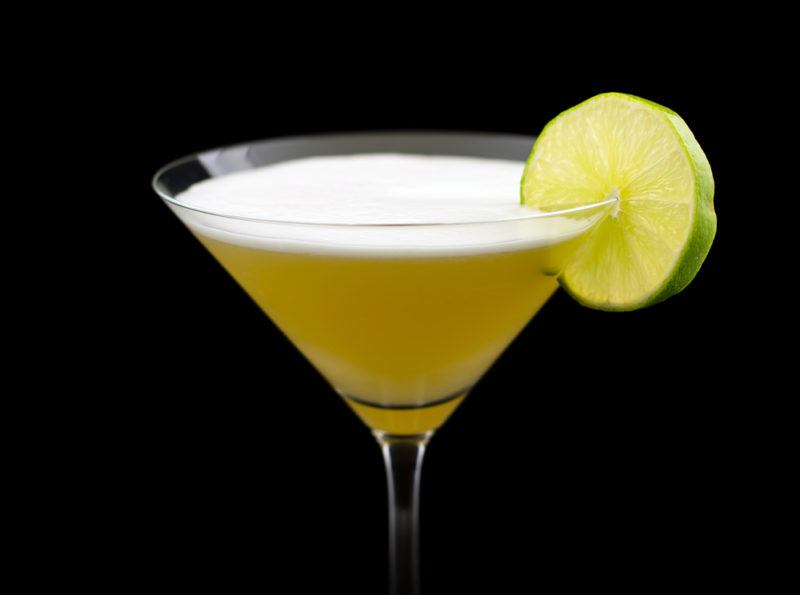 The matador is an easy-to-prepare tequila cocktail, one that just relies on three ingredients. The first of these is blanco tequila. Don't rely on aged tequila for this cocktail, as the flavors would end up being too strong.
The other two ingredients are lime juice and pineapple juice. Some versions add in triple sec as well, but this is entirely optional.
The combination of lime juice, tequila, and pineapple juice works well. You end up with a cocktail that is sweet and fruity, but not excessively so. If you include the triple sec, then the flavor profile ends up being more complex again.
Bronx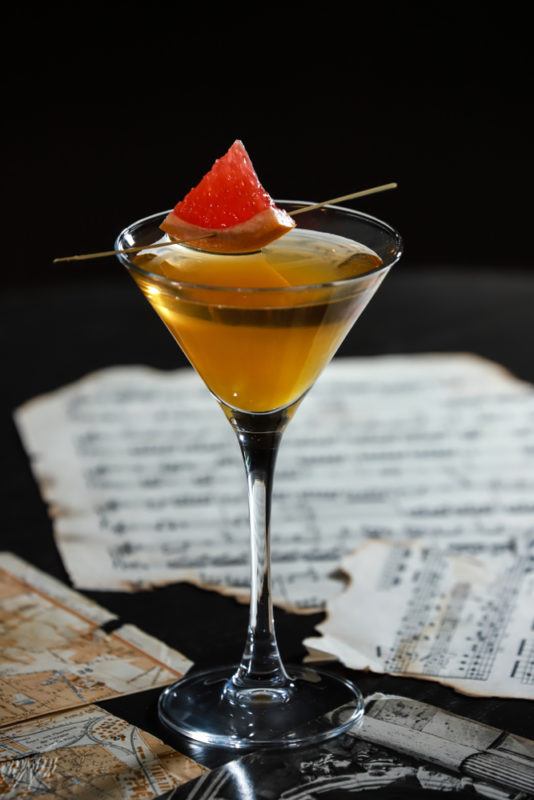 We've mentioned a few orange juice cocktails already and the Bronx is another one. This cocktail is a variation on a perfect martini, so it includes equal parts gin and vermouth.
The difference is that the Bronx also includes orange juice and sometimes orange bitters. These ingredients make the cocktail much fruitier. It is also easier to drink than a traditional martini, as the alcohol content is lower and the flavor is less intense.
Painkiller

The painkiller is a variation on a pina colada. As with the pina colada, the painkiller uses pineapple and coconut as key flavors, while rum is the alcohol of choice.
However, a painkiller doesn't have added cream. Orange juice is used instead, which creates an entirely different taste and texture to the finished drink. You end up with a fruity cocktail that is tropical and refreshing.
The rum you choose has a large impact on the drink. If the rum is too smooth, it gets lost in the other flavors of the drink. Choosing a rum with notable flavors helps to bring this drink to a new level.
The garnish you use can help too. A painkiller is traditionally served with nutmeg as a garnish. This surprising choice helps to make the drink that little bit different.
Rum Runner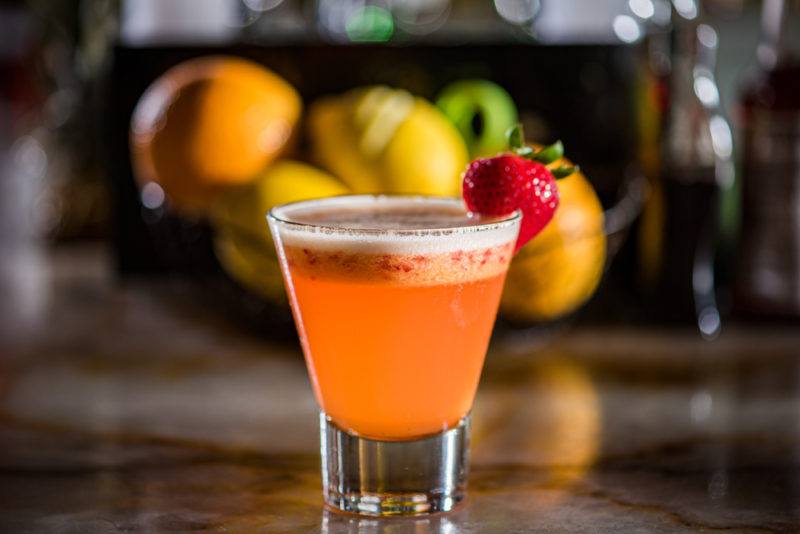 If you want a variety of fruit flavors, then a rum runner could be the perfect cocktail for you. As the name suggests, the cocktail uses rum as the main spirit. Many versions use light rum and dark rum.
The rest of the ingredients tend to be fruity. The cocktail relies on various fruit liqueurs and fruit juices. Other sources of fruit flavor might be used too, such as apricot brandy.
Recipes vary dramatically from each other, so you can play around with the ingredients to get a flavor balance that you enjoy. One version to get you started can be found at esquire.com.
Hurricane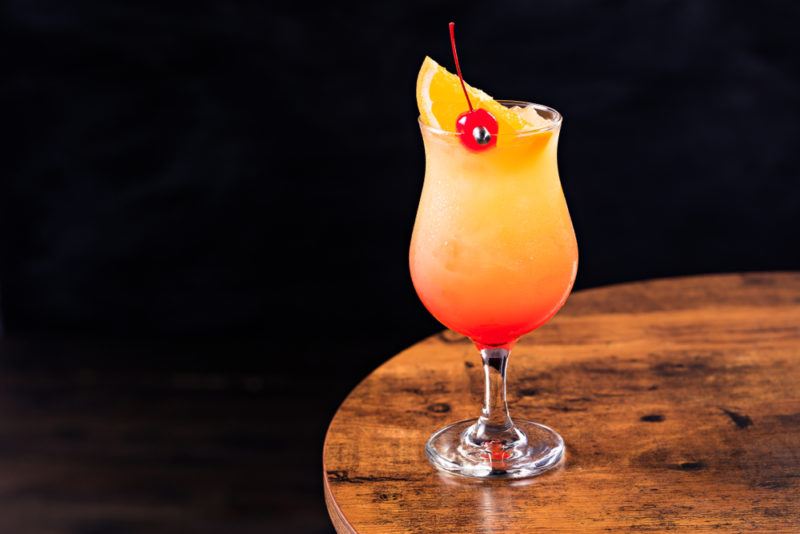 Here's another fruity rum-based cocktail. This one is much simpler to make, as it just relies on passionfruit syrup, fresh lemon juice, and dark rum. The finished cocktail is served over ice, often with orange slices and a maraschino cherry as a garnish.
The cocktail ends up being surprisingly strong. For example, one recipe uses two parts dark rum, one part passionfruit syrup, and one part fresh lemon juice. In this case, the cocktail ends up being half spirit and half mixer.
The flavor balance is interesting too. After all, passionfruit syrup can be quite sweet, while lemon juice is tart, and rum has its own interesting flavor profile.
Tequila Sunrise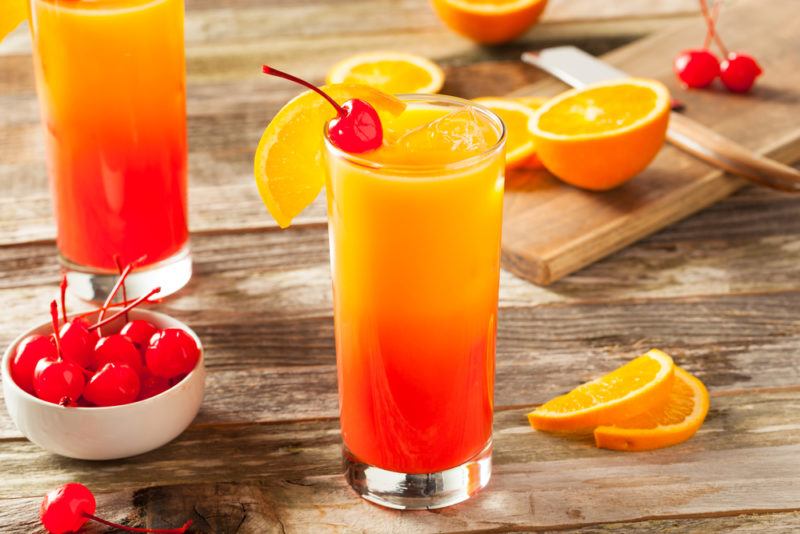 A tequila sunrise is a great introductory tequila drink, as the other flavors help to balance out the strength of the tequila, making this an easy fruity drink.
The cocktail just features three ingredients – orange juice, tequila, and grenadine. To make it, you first add the orange juice and the tequila to a tall glass with ice, typically in a ratio of two parts orange juice to one part tequila.
Stir the drink to combine the ingredients and add a little grenadine on top. The weight difference means that the grenadine will sink, creating a pretty drink.
Sex On The Beach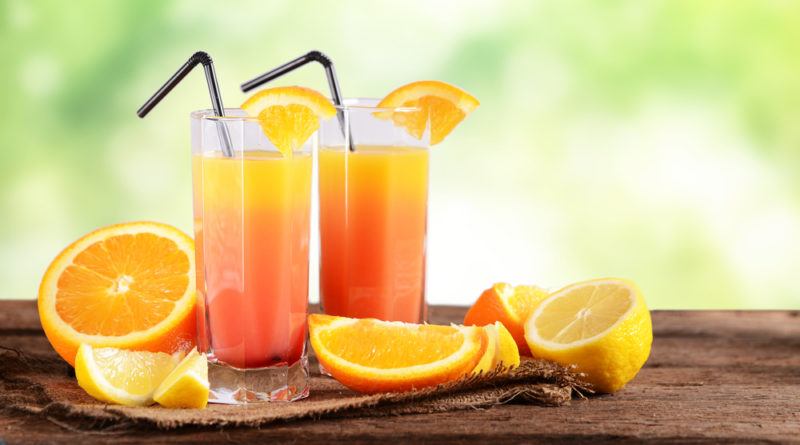 If you're looking for something fruity and fun, it's hard to go past a cocktail that is called sex on the beach. The drink relies on vodka and peach schnapps, along with grapefruit juice and cranberry juice (you can swap the grapefruit juice out for orange juice if you would like).
Using vodka is perfect in this cocktail, as the spirit is flavorless, which gives the fruity ingredients a chance to shine. The peach schnapps helps in this way too.
Apple Martini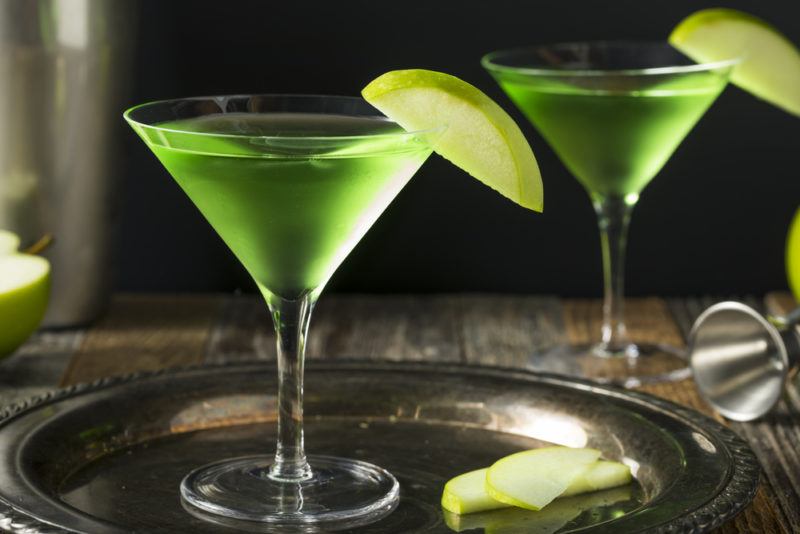 This cocktail doesn't generally use fruit as an ingredient. Instead, the apple martini (or appletini) tends to rely on green apple schnapps, along with vodka and lemon juice.
You can swap for apple juice or apple cider instead of the green apple schnapps. Doing so would change the flavor profile of the drink, but either way, the appletini ends up having a nice fruitiness.
Cosmopolitan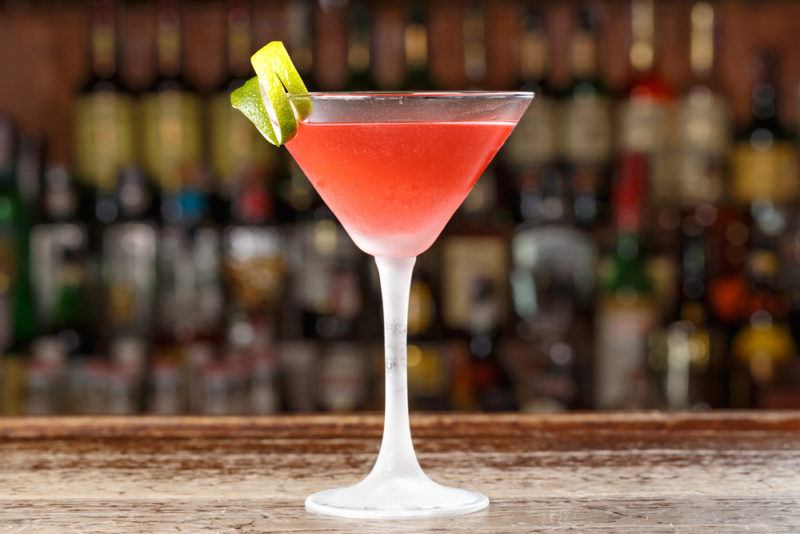 The cosmopolitan is a vodka-based cocktail that continues to be popular. It has a delicious balance of sweet and sour flavors, so you get a fruitiness that isn't overwhelming.
The cocktail relies on cranberry juice, triple sec, lime juice, and vodka. It can also be varied by using flavored vodka, like lemon vodka.
Woo Woo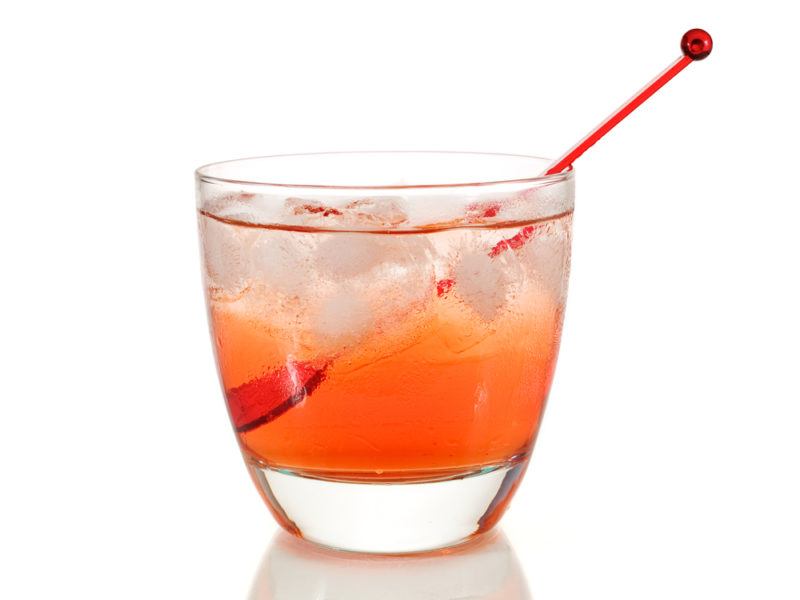 Despite having similar flavors to the cosmopolitan, the woo woo cocktail isn't nearly as well-known. This cocktail uses cranberry juice and vodka too, along with peach schnapps.
The peach schnapps is what makes the cocktail stand out, giving it a fun balance of flavors. The cocktail works well regardless of how you serve it too. This means that you can have it as a shot, over ice, straight up, or even as a punch for a party.
Old Glory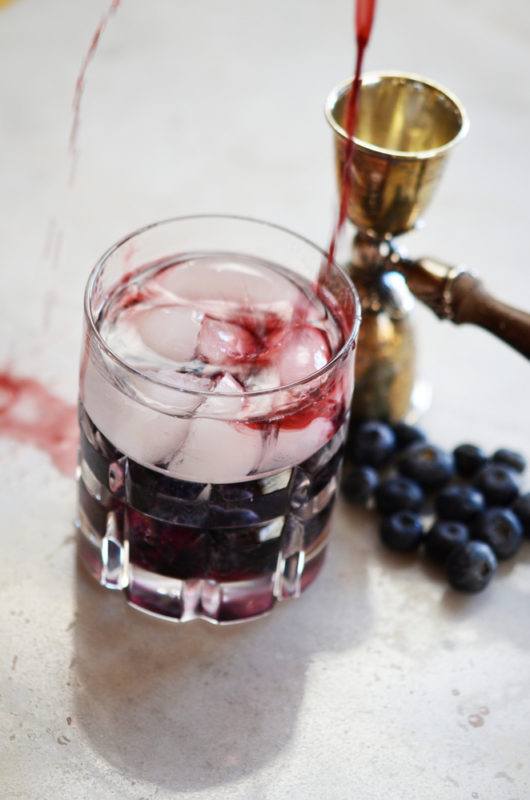 Old glory includes an ingredient not often seen in cocktails – wine. Specifically, the cocktail relies on one to two ounces of pinot noir, along with two ounces of vodka. Fresh lemon juice and simple syrup are included as well to give an appealing sweet and sour combination of flavors.
The fruity aspect of this drink comes from the use of fresh blueberries, which are muddled at the bottom of the glass. Muddling the berries is the first step, after which you add ice, vodka, simple syrup, and lemon.
The ingredients are generally shaken together. After this, the cocktail is strained over ice and fresh blueberries, and the wine is poured in over a spoon, to create a layered effect.
You can also mix the ingredients together as you make the cocktail. The flavor profile is similar either way, but the finished drink does look better if you take the layering approach.
Fuzzy Navel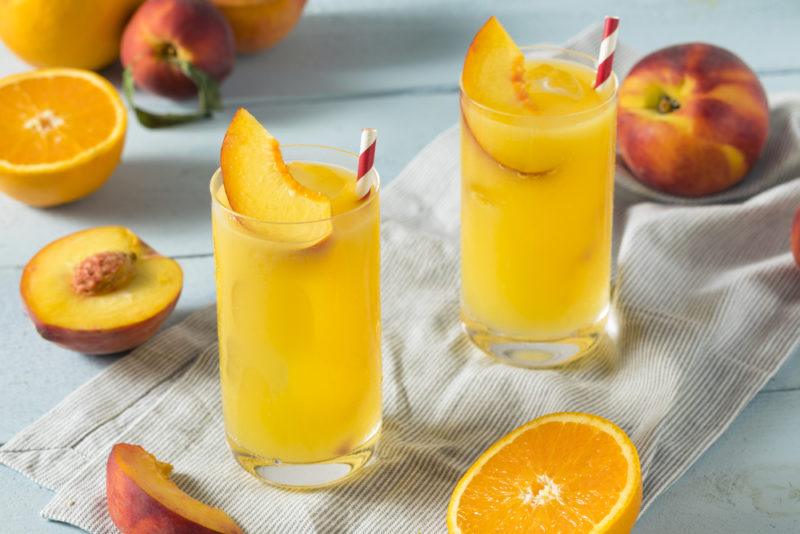 Here's an extremely easy fruity cocktail to try. The fuzzy navel simply involves an equal combination of peach schnapps and orange juice. The combination of peach and orange flavors is interesting, creating a fruity drink that is a little unusual.
A famous variation to the cocktail is a hairy navel. This version involves swapping half of the peach schnapps for vodka. Doing so gives you a three-ingredient cocktail that is still very fruity.