You've probably either said a variation of it yourself or you've heard it said: "I need some Baileys in this coffee!" What this means is, you want the coffee spiked with some sweet and boozy Irish cream liqueur. But, the Baileys brand has made such an impact that their name is now synonymous with the drink.
There's no doubt that Baileys is top-notch. It wouldn't be so successful if it weren't. But, there are other options, many with their own unique flavors and textures to enjoy. While it's a simple combination – Irish whiskey and dairy cream – the specific whiskey and cream used can make a huge difference in the flavor.
For example, some products include dark chocolate, some have white chocolate instead, and some have no chocolate at all. Baileys is akin to chocolate milk which is why so many love it. But, the best Irish cream liqueur is simply one that does the job well – enhances your coffee, tastes great neat, and makes a great cocktail.
The following five options present an array of liqueurs that are both high-quality and diverse. There's something here for every Irish cream fanatic.
The Best Irish Cream Liqueur
1. Baileys Original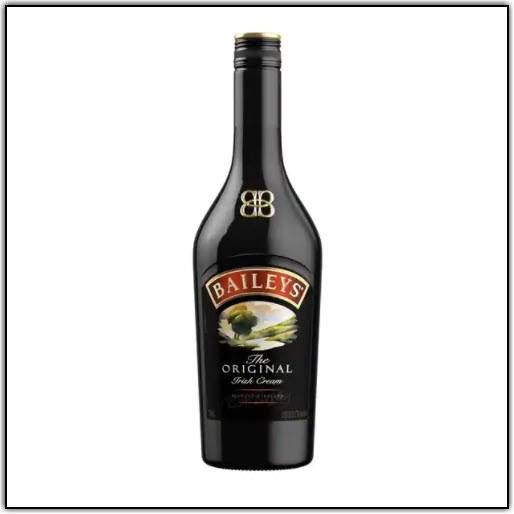 Baileys Original is traditionally Irish, preserving the classic taste of Irish dairy cream while still appealing to the masses. The spirit is a perfect blend of Irish whiskey with traditional Irish dairy cream and decadent chocolate. The taste is unmatched, making its popularity in more than 180 countries around the world unsurprising.
Not only is it popular but it's the world's bestselling cream liqueur brand. The spirit is a popular addition to warm drinks like coffee and hot chocolate, but that's just the beginning. Many pour it over ice cream or add it to a milkshake. It's a delicious and easy way to booze up any sweet treat.
It offers a simple aroma of sweet milk chocolate. The palate follows with a similar milk chocolate flavor. Notes of the Irish whiskey come through on the finish, but the Irish whiskey flavor is subtle. This is why Baileys is the perfect mixer or addition to a sweet treat. The flavor is simple and sweet with very little alcohol flavoring.
2. Five Farms Irish Cream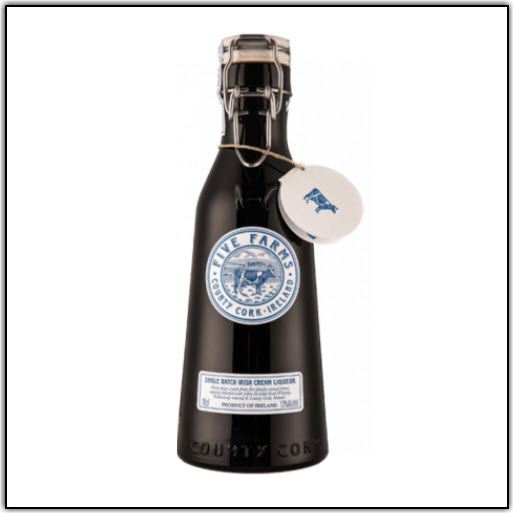 Not far behind Baileys is Five Farms Irish Cream. It was given the Chairman's Trophy at the Ultimate Spirits Challenge in 2018 as well as a score of 97. This is the highest score given to an Irish cream liqueur at this competition and this was only the beginning of their momentum.
Not to skimp on quality, they use a triple-distilled Irish whiskey that brings a smoothness and complexity to the drink. The liqueur is the color of coffee but it offers a thick, creamy texture. The nose offers a strong and somewhat complex aroma.
To start, you'll notice butterscotch, chocolate, cherries, and caramel. There's also a note of whiskey on the nose. This may be surprising given the sweetener nature of this category, but it'll make traditional whiskey-lovers happy.
The palate is smooth and velvety – thick without being syrupy or overbearing. On the front are notes of cream, caramel, and butterscotch. In the middle, you'll find some chocolate flavors with a little whiskey coming through near the end. The finish is sweet again, with notes of butterscotch and cherries.
While it's unmistakably an Irish cream, it's more complex than what you get with Baileys.
3. The Whistler Select Irish Cream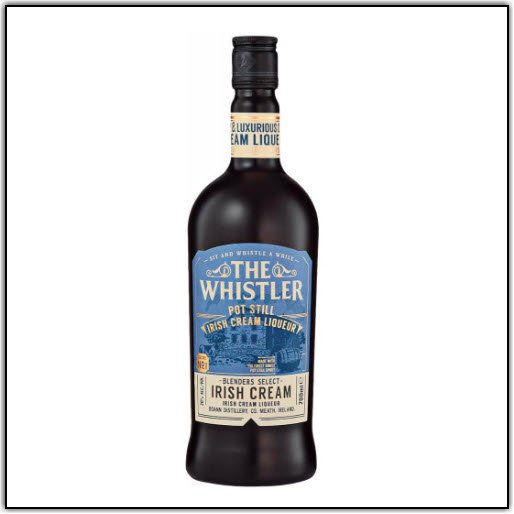 The Whistler Select Irish Cream is another one that lets the whiskey characteristics shine through. Its base is an Irish whiskey made from a single pot still. It's the first of its kind to use such a traditional Irish whiskey. Mixed with fresh Irish cream, the result is something creamy, delicious, and traditional.
The distillery was founded by Patrick "The Whistler" Cooney along with his wife and family. They were all passionate about spirits and Patrick already had 40 years of experience in the industry. Using their long history they combined traditional methods with innovation to create top-notch Irish whiskey.
They only use 100 percent natural ingredients and barley that's locally grown. Even the cream comes from well-treated, grass-fed cows. The process is overseen by Ireland's youngest Master Distiller who has gathered much expertise and experience in the years he's been in the industry.
The aroma is creamy and fresh with notes of vanilla and chocolate shining through and a traditional Irish whiskey undertone with a touch of spice.
The palate is just as creamy with a velvety mouthfeel. It offers flavors of milk chocolate, toffee, and a bit of coffee. It all comes together in a warm and creamy finish with a little kick of spice on the end.
4. Saint Brendan's Irish Cream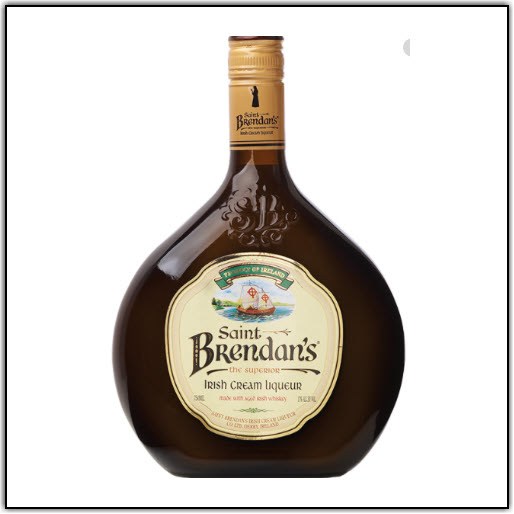 Saint Brendan's Irish Cream was named after a fifth-century Irish apostle who later became a saint. He was well known for a seven-day voyage that's gone down in Catholic history and become a popular myth.
Their motto is "simple by design" and their Irish cream definitely follows through. It's made from Irish whiskey and fresh, natural cream and nothing more. Its flavors come from the cream itself and the careful crafting of the whiskey. This product boasts a higher butterfat content than their competition, meaning their version of this popular spirit is among the creamiest.
The aroma is simple, sweet, and vanilla-forward. Despite the inviting aroma, the palate is not overwhelming. The body is rich with a buttery texture and a pleasant, subtle hint of whiskey to balance the sweetness.
The finish offers a slight touch of spice with chocolate notes that linger. It's perfect for a cup of coffee, though many enjoy this one sipped neat as well.
5. Coole Swan Dairy Cream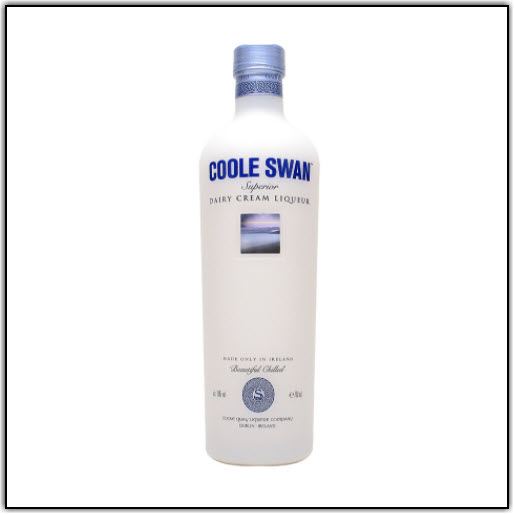 The Wine Enthusiast gave Coole Swan Dairy Cream an impressive 96/100 in 2020. This is only one of the many awards given to this sweet, decadent, and delicious Irish cream. The company uses a high-quality single malt Irish whiskey, fresh dairy cream, and premium Belgian white chocolate.
The white chocolate gives this expression an edge as it's a unique take on the liqueur that so often tastes quite similar to regular chocolate milk.
The drink is completely natural and known to many as the best-tasting Irish cream liqueur on the market. Sipping it neat is wonderful and it's even better when chilled. It also offers your drinks and cocktails a delicious white chocolate undertone that you can't get from many other mainstream Irish liqueurs.
Its profile is simple, with chocolatey vanilla aromas leading into a similar palate. The mouthfeel is velvety and so smooth with the fresh cream just melting in your mouth. The silky white chocolate is sweet but not cloying and the warm, well-rounded notes of whiskey are present but well balanced.
Fun Ways to Mix Irish Cream Liqueur

While it defaults as a coffee additive or part of a coffee cocktail, there are many fun ways to enjoy this creamy delight of a liqueur. From cocktails to shots, it's sure to sweeten up any party.
Chocolatini
Chocolate martinis are a sweet, popular dessert drink that can be made in a few ways. To make this creamy, decadent version, your alcohol of choice should be vanilla vodka. Full ingredients include:
1.5 ounces vanilla vodka
1.25 ounces Irish cream Liqueur
¼ ounce chocolate liqueur
Chocolate shavings to garnish
Once you have the ingredients, it's an easy martini to whip up:
Add all ingredients to a shaker with ice and shake well.
Strain into a chilled martini glass.
Sprinkle with chocolate shavings.
Ghost-tini
Another fun take on the classic martini, this creamy, spooky drink is the perfect fall treat. Great for a cozy night in or your Halloween party, it's as sweet as candy.
2 ounces vanilla vodka
1.5 ounce pumpkin spice liqueur
1 ounce Irish cream liqueur, ideally one with caramel in the profile
1 finely crushed chocolate cookie for the rim
3 gummy worms for garnish
Instructions:
Rim a chilled martini glass with your cookie crumbs.
Add the ingredients into a shaker with ice and shake well.
Put the gummy worms into the glass and balance half of them over the edge for maximum spook effect.
Some tips:
Pumpkin spice liqueur can be hard to find and some brands are seasonal. You can use pumpkin spice vodka or pumpkin spice syrup instead for much the same result.
Get the cookie crumbs as fine as possible. A blender or food processor on a low setting will do the trick!
If your favorite Irish cream liqueur isn't too heavy on the caramel, use it anyway and add a dash of caramel syrup instead.
Fun Shots
The sweet flavor and creamy texture make for some interesting shots. Spruce up your party offerings by trying one of these great combinations:
The B-52: Kahlua, Irish cream, and Grand Marnier, in that order.
Butterball: Irish cream and butterscotch schnapps. Goes down really easy!
Oatmeal Cookie: true to the name, this combination of Irish cream, Jagermeister, and butterscotch, and cinnamon schnapps really does taste like an oatmeal cookie.
Mudslide: Coffee liqueur, Irish cream, and vodka. Have fun with this one and see how it does with different vodkas.