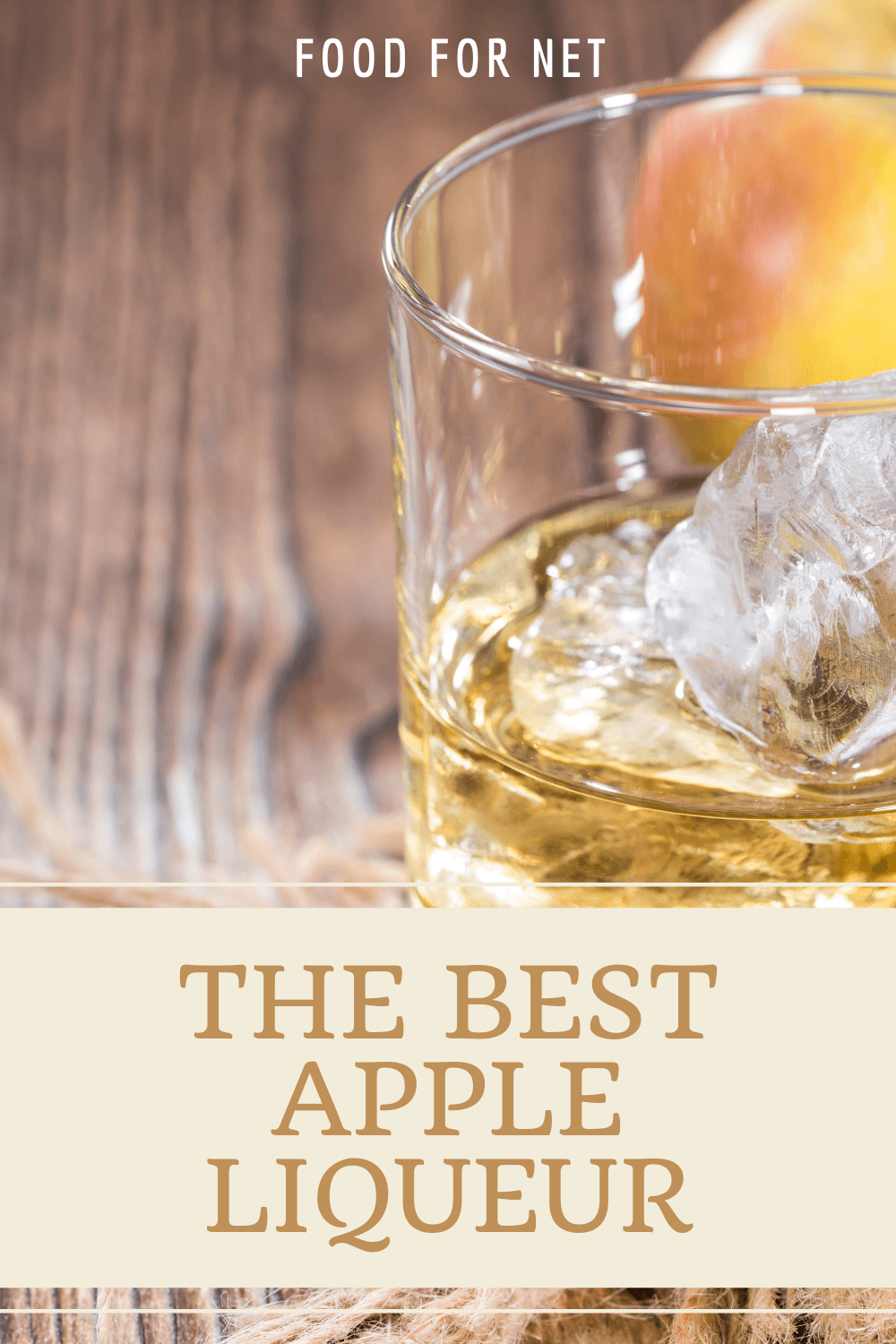 Apple liqueur is known for its inclusion in the now world-famous sour appletini. It's also popular as a great cocktail drink in general for its fresh, sweet flavors and low alcohol content. There is alcohol in there, but there isn't as much as your average spirit. Whether you're sipping it neat, enjoying it on the rocks, or making cocktails, you can have more of what you're making without worrying about it.
The best apple liqueur is natural and made with real apples. The popular sour apple spirits are made with green granny smith apples, whereas the sweeter drinks are made with any number of other apples. Either way, using fresh, whole apples or at least the juice that comes from them, gives you the freshest and most authentic flavor.
Adding sugar or using artificial flavors can create a cloying, sugary-sweet, almost medicinal taste that isn't pleasant. The good news is that apples are a cheap and common fruit in most places of the world, so even good-quality apple liqueur isn't terribly expensive.
Sweet, fruity cocktails take an apple liquor well, but so does a nice warm, boozy apple cider. Apples are a classic fall flavor so don't be afraid to take full advantage when the weather starts to cool and you want to kill two birds with one stone by spiking the cider.
The Best Apple Liqueur
1. Berentzen Apple Liqueur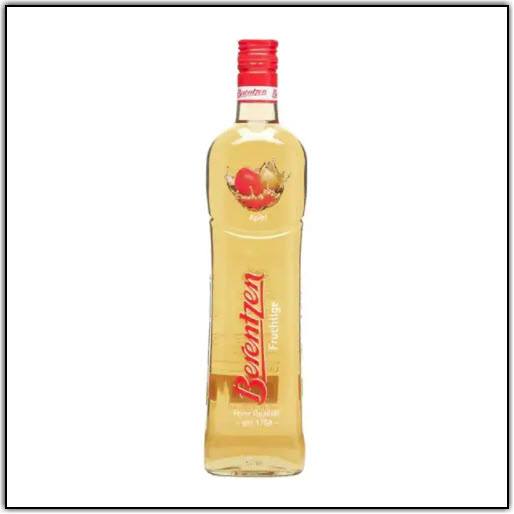 The House of Berentzen is one of Germany's oldest distilleries – more than 250 years old. They produce a range of products, including three tasty liqueurs – apple, pear, and wild cherry. Their Apple Liqueur uses a wheat spirit base that is taken from the original House of Berentzen recipe. It's then blended with sun-riped apples before being sweetened.
The aroma is full of rich, sweet candied apples like you're about to eat a Jolly Rancher. The first sip features a similarly candy-sweet taste, but it's not overwhelming or too intense. This mellows into flavors of smooth, fresh apples with a crisp, fresh finish.
The apples they use to sweeten this liqueur are carefully handpicked to ensure that the freshest, cleanest, best-quality taste goes into every bottle. It's pleasant when chilled or enjoyed on the rocks but what it's really made for is cocktails. With such a sweet, strong apple flavor, it goes well with many staple cocktails and pairs nicely with whiskey and cognac.
2. Bols Sour Apple Liqueur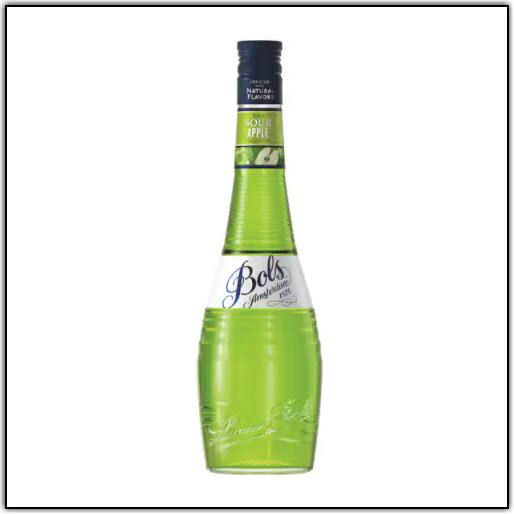 Bols is a well-established company with a sizable portfolio of flavored spirits. There is no disputing their impressive quality, great flavors, and general impact on the world of spirits. They also claim to be the oldest distillery brand in the world, having started in 1575. While their history is long and illustrious, record-keeping back then certainly wasn't what it is now.
Whether you believe they are, in fact, the oldest distillery or not doesn't take away from the tasty treat that is their Sour Apple Liqueur. In the bottle, the expression is a bright, translucent green color very close to that of green apples. On the nose, you'll find crisp green apple skin with a soft touch of woody cinnamon in the background.
The palate is strong with fresh, full-flavored, sweet and sour apple flavor imparted from the juice of carefully selected fresh green apples. There is a subtle note of spice mid-palate which fades away into a clean, tangy finish filled with green apples and fresh apple juice.
3. Stirrings Apple Liqueur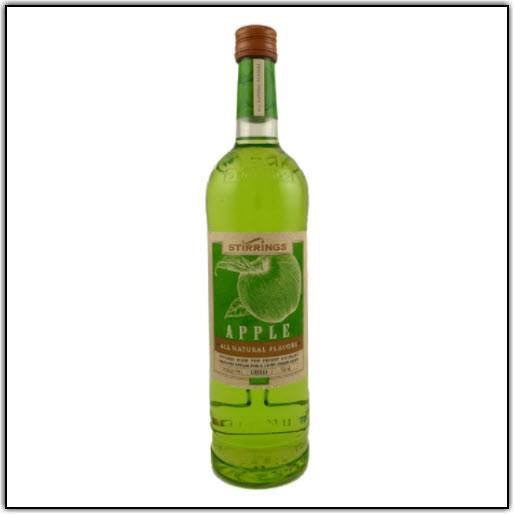 Stirrings Apple Liqueur really goes for it when it comes to the tartness of green apples. They claim that "even Granny Smith would pucker." This intense apple expression is one of many delicious drinks they've come up with. Founded in 1997, the goal has always been to use the best possible ingredients to create the best drinks and cocktail mixers they possibly could.
They've stuck to their guns over the years, using premium, natural ingredients and crating authentic spirits that offer the flavor they're supposed to.
The apple liqueur is sour and tart because that's what they meant to do. Green apple is as intense on the nose as it is on the palate – the flavor is unmistakable and unbelievably mouthwatering. The finish is incredibly smooth for how sour the body is, making it a good addition to many cocktails.
4. DeKuyper Sour Apple Pucker Liqueur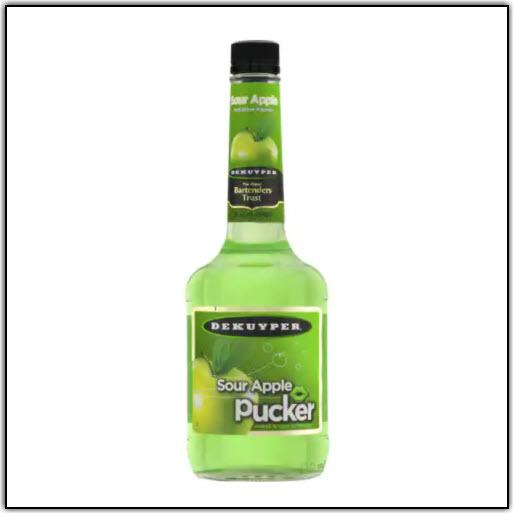 DeKuyper Sour Apple Pucker Liqueur is most often the culprit for the sour apple flavor in the infamous sour appletini. Its perfect combination of sweet, sour, and tangy makes it an excellent candidate for many fresh, fruity cocktails. They use fresh, premium granny smith apples for this one.
DeKuyper has a portfolio filled with other sweet and sour schnapps flavors, so they know a thing or two about creating the perfect balance. The palate is filled with sharp, sour, green apples, though you'll find a burst of delicious sweetness when you first take a sip. The sourness follows soon after.
It'll give you the perfect appletini or do well in any number of other martinis, daiquiris, punches, and more. But, the sweet-then-sour nature of each sip makes it perfect for taking some fun, colorful shots, too. You'll get that flavor combination each time, and it'll be fun seeing the face everyone makes when it's time to pucker up!
5. Siegburg Apfel Apple Schnapps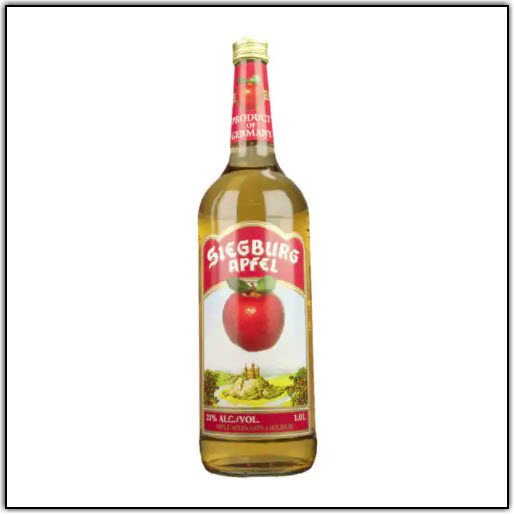 Sieburg Apfel Apple Schnapps is a German spirit that's a bit softer and mellower than many of the intense and exciting sour apple drinks out there. As great as those are, it's nice to have a few spirits that also appreciate and celebrate the sweeter side of apples.
This one is lovely to enjoy chilled or on the rocks while performing well in sweet, fruity cocktails. It makes a nice mellow appletini if you're not into the pucker-inducing sour apples. It's also a nice choice for when you want to add some booze to a warmer drink like a nice hot cider.
The aroma is sweet and juicy with mild notes of tart apple. The palate follows with crisp, sweet notes of fresh apples with no noticeable alcohol taste. They use no artificial flavors or coloring, so what you get is completely natural and all from the apples.
The Best Apple Liqueur Cocktails
Apples are undoubtedly versatile, so the possible cocktail combinations are probably in the hundreds. Whether you like sweet, tart, or a little of both, you can play around with your favorite apple liqueurs and other flavors to come up with all kinds of new drinks.
If you're not feeling creative, though, we have a few delicious recipes here that you can start with:
The Apple Mule
The Moscow mule is a classic, well-loved by many. This is a fun fall rendition that offers up a unique set of flavors that work surprisingly well together.
Ingredients:
4 ounces hard cider
4 ounces apple liqueur
4 ounces cinnamon whiskey
4 ounces ginger beer
Juice from 2 limes
Apple wedges, lime wedges, and/or cinnamon sticks for garnish
Instructions:
Combine your liquid ingredients in a pitcher or large cup and stir them well.
Roll your limes on a hard surface to release all their juices.
Slice the limes in half and squeeze the juice right into your drink.
Once combined, pour everything into your final glass and add your garnish(es).
It's worth noting that the recipe here is more of a guideline. You can play around with the ratios to create a taste more suited to your preference. If you want to add a little extra kick, some fresh ginger zest sprinkled on top of the drink is a really nice touch, too.
Cranapple Fizz
This sweet, fruity cocktail is plenty bubbly and definitely has a holiday feel. The cranberries make it a bright red color, too, which is very festive. That said, you're free to enjoy this concoction any time of the year – and you might want to once you give it a taste!
Full of berries, bubbly, and sweet apple, you won't be able to get enough.
Ingredients:
1 ounce apple liqueur
2 ounces cranberry juice. If you can squeeze fresh juice yourself this is ideal, if not make sure it's natural cranberry juice without added sugar or artificial flavors.
Prosecco
Sugared cranberries
Instructions:
Pour the apple liqueur into a champagne glass.
Top with cranberry juice and stir well.
Fill the rest of the glass with prosecco.
Add your garnishes and enjoy!
This drink will taste good no matter what, but you can have a lot of fun with garnishes to make it look even more festive for the holidays. For the best look, slide a large apple slice onto the rim of the glass. Add three to four of the sugared cranberries to a toothpick, and slide the toothpick into the apple. It'll look super fancy.