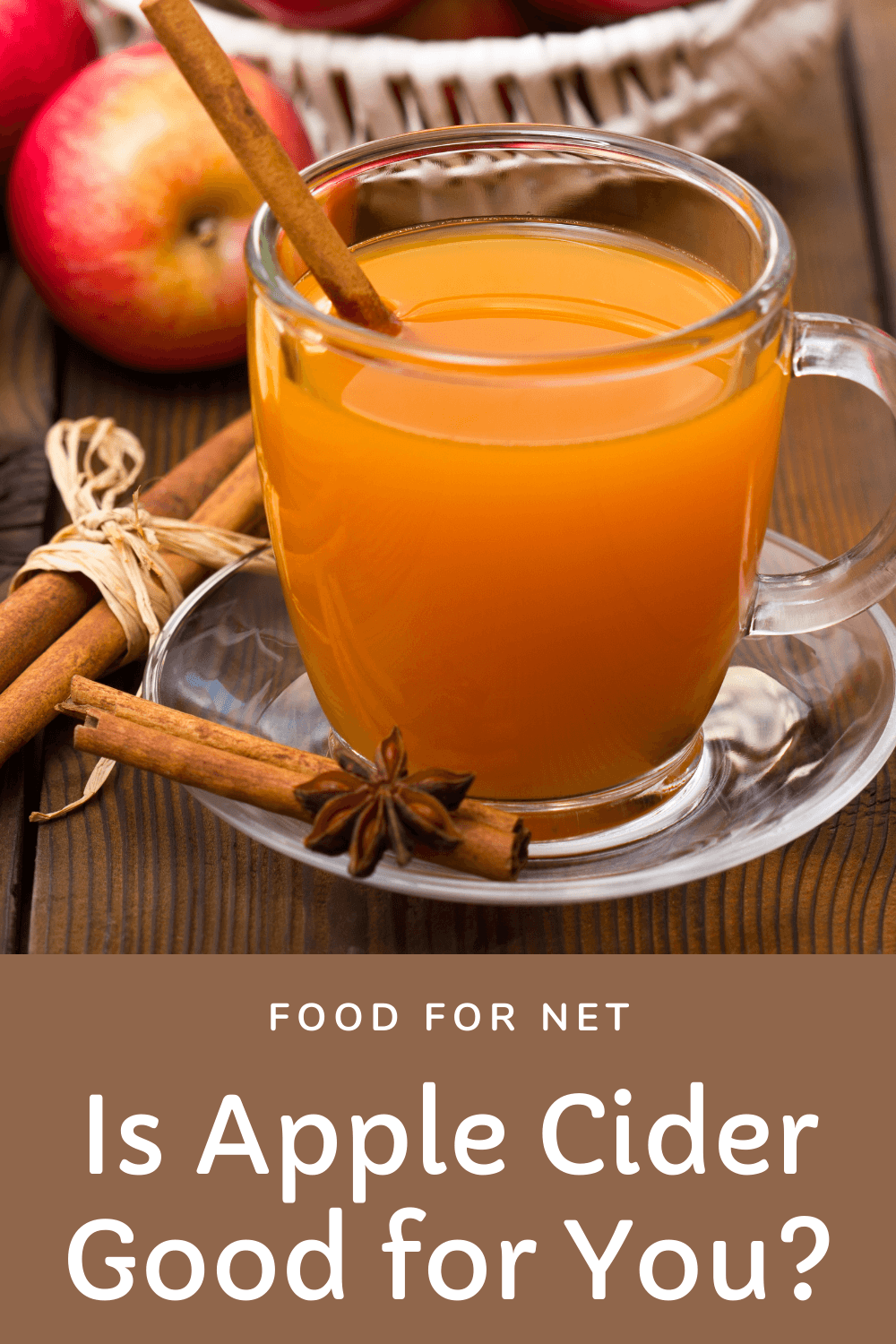 Who doesn't love apple cider? It's almost the perfect drink for fall, especially if you're buying unpasteurized apple cider that's been freshly made. That delicious flavor might make you ask, is apple cider good for you?
It should be, right? After all, the best apple cider is made almost in front of your eyes and still contains plenty of pulp from the apples. That should mean you're getting plenty of nutrients from the fruit. What could be better than that?
Of course, apple cider is simply a type of fruit juice. While fruit juice sounds healthy, it has some notable problems, like being high in sugar and low in nutrients. To answer the question about apple cider, we need to take a close look at the features of the drink, to see where its strengths and limits.
Is Apple Cider Good For You?
Apple Cider Versus Apple Juice
The Benefits Of Apple Cider
Why Apple Cider Isn't As Healthy As You Might Expect
How Much Apple Cider Should You Drink?
Final Thought
Apple Cider Versus Apple Juice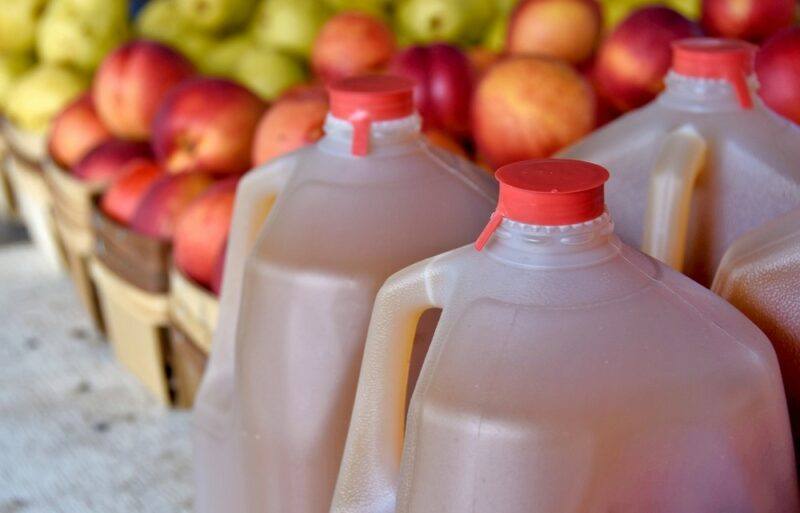 Before we talk about the benefits of apple cider, let's look at what we mean. If you live in the United States, then apple cider is similar to apple juice. But, while commercial apple juice tends to be filtered, is often sweetened, and additives, apple cider is a natural product.
Apple cider tends to be cloudy, as there are still apple particles present. The differences in processing also make apple cider less sweet than apple juice and give it a subtle tang.
Of course, the appearance and flavor of both apple juice and apple cider are strongly influenced by the types of apples that are used.
Pasteurization is another difference. Apple juice is generally pasteurized (heat-treated), while apple cider may be or may not be. For example, store brought apple cider tends to be pasteurized, while any apple cider you buy from a farm probably isn't.
Finally, there's availability, apple juice can be found at any time of the year, while apple cider is typically just produced in autumn.
Despite these variations, apple cider and apple juice have similar impacts on health. While apple cider might contain more nutrients, the difference is rarely dramatic.
What About Hard Apple Cider?
Hard apple cider is largely just alcoholic apple cider. It's created by fermenting apple cider. In fact, leaving unpasteurized apple cider at room temperature for long enough can make it ferment.
There are many brands and products to choose from. Some are semi-sweet and maintain strong apple flavors. Others have less sugar, with an alcohol content of up to 7% or so.
If you're not in the United States, the term apple cider may refer to the alcoholic drink, while non-alcoholic apple cider is simply a type of apple juice.
What About Apple Cider Vinegar?
There's also apple cider vinegar, which we've talked about elsewhere. This is a type of vinegar that's produced from apple juice, one that's often promoted as a health tonic.
The potential benefits of apple cider vinegar may come from the fermentation, microbes, and acetic acid, so the vinegar has very different health impacts than regular apple cider.
If you're going to try apple cider vinegar, be cautious and watch the amount that you consume. Despite the potential benefits, the vinegar is acidic and can cause side effects, even if you use it carefully.
The Benefits Of Apple Cider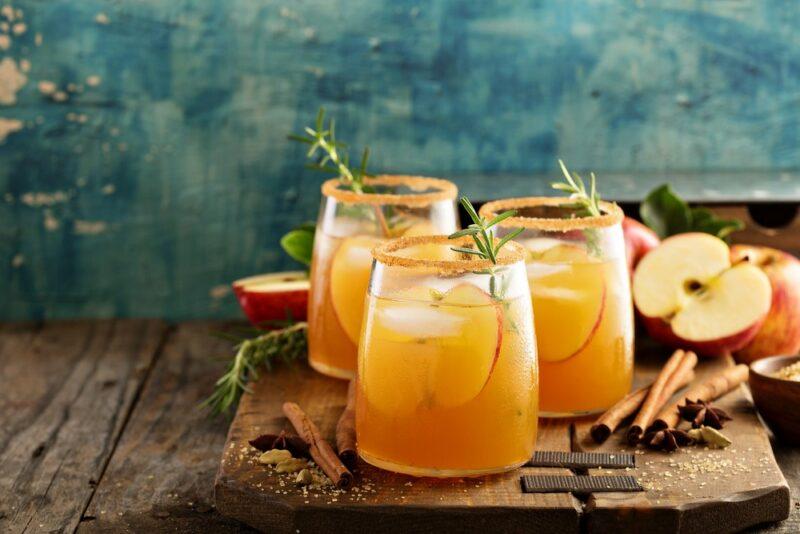 A Source Of Polyphenols
Apple cider contains most of the beneficial compounds found in apples, including the polyphenols. These compounds are important, as they can have antioxidant and anti-inflammatory properties, making them crucial for your health.
Such compounds are one reason that we need fruit in our diet regularly.
Can Hydrate You
Apples are mostly water so, not surprisingly, cider is a decent source of water too. This simple benefit is a crucial one. Our cells need water to function well, yet we can easily end up dehydrated.
Apple cider isn't the best way to rehydrate, as it's relatively high in sugar and doesn't contain many electrolytes. Still, it does the job and is much better than nothing.
The sweetness of apple cider can be useful for anyone who desperately needs to hydrate and struggles to do so. To make the hydration effect even better, try diluting the apple cider. This way you still get the delicious flavor, but there's more water and less sugar in each serving.
There Are Some Nutrients
Let's not forget the nutrients. Apple cider contains fewer nutrients than whole apples, but more nutrients than apple juice (as it still retains some of the pulp). Important vitamins and minerals include potassium, iron, vitamin C, and vitamin A.
Vitamins and minerals like these are all essential for health. Apple cider isn't the only place to get them, of course, but the cider helps to top up your nutrient intake.
Why Apple Cider Isn't As Healthy As You Might Expect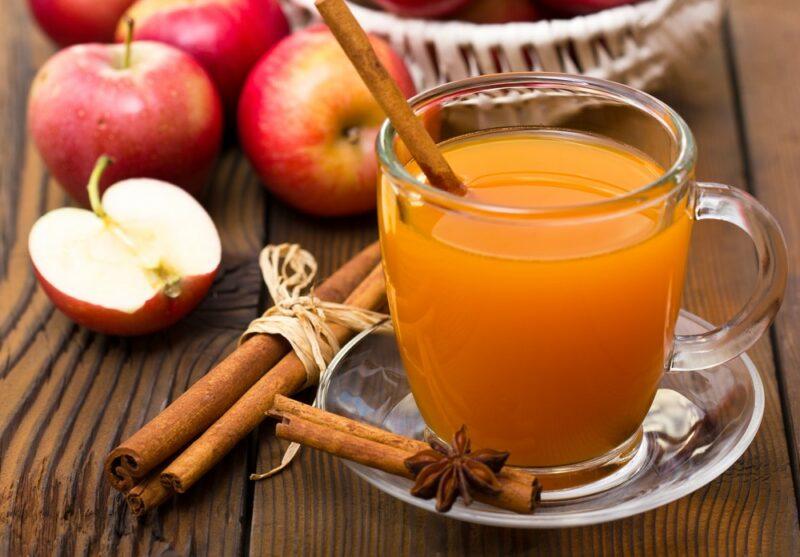 Fruit juice is a natural product that goes through little processing. That should make it healthy, right? While that claim is accurate enough, apple cider has its issues too.
You Lose Most The Fiber
When you eat an apple, you get a large amount of fiber, along with water and nutrients. If your apple cider is unfiltered, then you may still get some of this fiber, but much less than if you ate the apples themselves.
Fiber is important, as it helps with your digestion and keeps you healthy.
Plus, fiber is partly why you feel satisfied after eating an apple. You don't get the same effect with apple juice and apple cider. Instead, many of us drink a glass or two of cider, or perhaps even more.
The Sugar Content
Apples can be high in sugar. That's where their delicious sweetness comes from. This isn't a problem when you're eating apples whole, as the sugar is offset by the fiber. Plus, eating a whole apple takes time, so you're not likely to eat too much.
Apple cider follows a different pattern. You might get around 27 grams of sugar per serving, along with little fiber and few nutrients. This is natural sugar rather than added sugar but, in the end, it's still sugar.
Let's not forget that sugar has been linked to many problems, including inflammation, obesity, and increased disease risk. High sugar intake is never a good idea, even if that sugar comes from a natural product.
It's Easy To Consume Too Much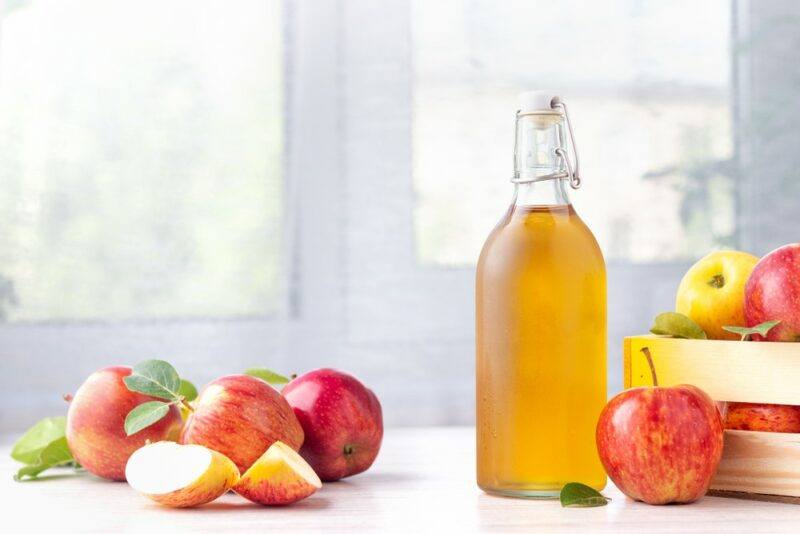 Fruit juice is never as healthy as it seems. You end up with less fiber and more sugar per serving than with whole fruit. Plus, the juice is extremely easy to drink.
These features mean that many of us overdo it with apple cider. We might have a large glass of the cider, or even two, without really thinking about the calories at all.
Apple cider doesn't tend to leave you satisfied either, making it easy to go back for another glass.
The Carb Content
With so much sugar, it shouldn't be surprising that apple cider is high in carbs too. In fact, the cider is mostly carbs, as there is little fat or protein present.
While research suggests that complex carbs may promote health, apple cider is rich in simple carbs instead. These are the carbs that quickly spike your blood sugar and are linked to the most health risks.
Plus, the high carb content makes apple cider a poor choice for low carb and keto dieters.
Could Make You Gain Weight
Liquid calories are often a problem. Our bodies don't respond to them in the same way as calories from food and it takes much longer to be satisfied.
This is a serious issue for products like apple cider, which are high in calories and don't offer many nutrients. Drinking apple cider regularly could easily lead to weight gain.
The issue is even worse if you're enjoying the cider during an event. After all, when there's a lot going on around you, it's harder to keep track of the amount that you're eating and drinking. You might drink more cider than you realize, especially if there aren't many healthier drinks available.
It Doesn't Contain Many Nutrients
As we mentioned earlier, apple cider does contain some nutrients from apples, along with polyphenols. But, even if you're drinking unfiltered apple cider, the nutrient content isn't amazing. You'll still get more nutrients by eating an apple than you will ever get from apple cider.
Could Be Contaminated
Unpasteurized apple cider is popular. It's seen as a healthy and natural drink. While those claims are true enough, pasteurization is also a way to protect your health by killing any harmful bacteria.
If you're buying unpasteurized juice, there's always the chance of contamination. This risk is higher if the cider is made using some apples that were picked from the ground. If all the apples were harvested from the tree, contamination is much less likely.
Researching the company or talking to sellers about how the cider was made can help you to figure out the amount of risk. High-quality companies should be able to tell you how they avoid contamination. If the cider seller can't tell you specific steps or processes, then their product is one to be wary of.
How Much Apple Cider Should You Drink?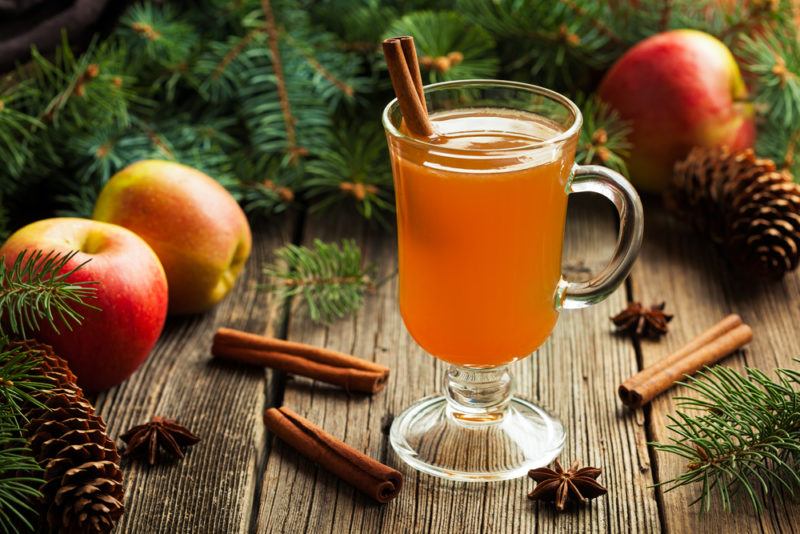 Apple cider is calorie dense. An 8 fl. oz serving of the drink can provide around 120 calories, most of which come from sugar.
In fact, that same serving size might give you 28 grams of sugar. That's more than half of your daily recommended sugar intake.
This means that at most a single glass of apple cider is all you should drink per day. Most of us really should be drinking much less than that.
Final Thoughts
Apple cider is a delicious fall drink, one that many of us love. There's no need to give it up, but natural as it might be, apple cider can never be considered a health drink. It is too high in sugar for that title and doesn't offer that many nutrients.
Lovers of apple cider should pay close attention to their serving size. Not only is the drink high in sugar and calories, but it's also easy to drink much more of it than you intend to.
In the end, this drink is best reserved as a treat, something to have occasionally, rather than a regular part of your diet.
Related Content
Frequently Asked Questions
How Long Is Apple Cider Good For?
Apple cider has a short shelf life, which is why it's sold seasonally. The fresh familiar flavor only lasts for roughly two weeks when the cider is kept in the fridge. The shelf life is even shorter once the bottle of cider has been opened and it will often last just a week.
Does Apple Cider Have Alcohol?
If you're in the United States, regular apple cider is non alcoholic and is fairly similar to apple juice. Hard apple cider is alcoholic instead. This version tends to have a lighter color, plenty of bubbles, and a mild apple flavor.
If you're elsewhere in the world, the term apple cider often refers to the alcoholic version, while non-alcoholic apple cider is simply another form of apple juice.
Does Apple Cider Need To Be Refrigerated?
Commercial apple cider in a sealed container is generally safe outside the fridge, especially as it has been pasteurized. However, once the cider has been opened, it should be kept in the fridge.
How Is Apple Cider Made?
Like apple juice, apple cider is made by crushing and pressing washed apples. Many companies use multiple varieties of apples to create a balanced sweet and tart flavor profile.
The big difference between apple cider and juice is that the juice is typically filtered, which makes it relatively clear. Apple cider isn't filtered and tends to have fewer additives, making it a more natural product.
Is Apple Cider Acidic?
Apple cider is acidic, often even more so than apple juice. This can make it problematic if you experience acid reflux symptoms. The higher acidity compared to apple juice also means you can't always swap apple juice for apple cider in a recipe.