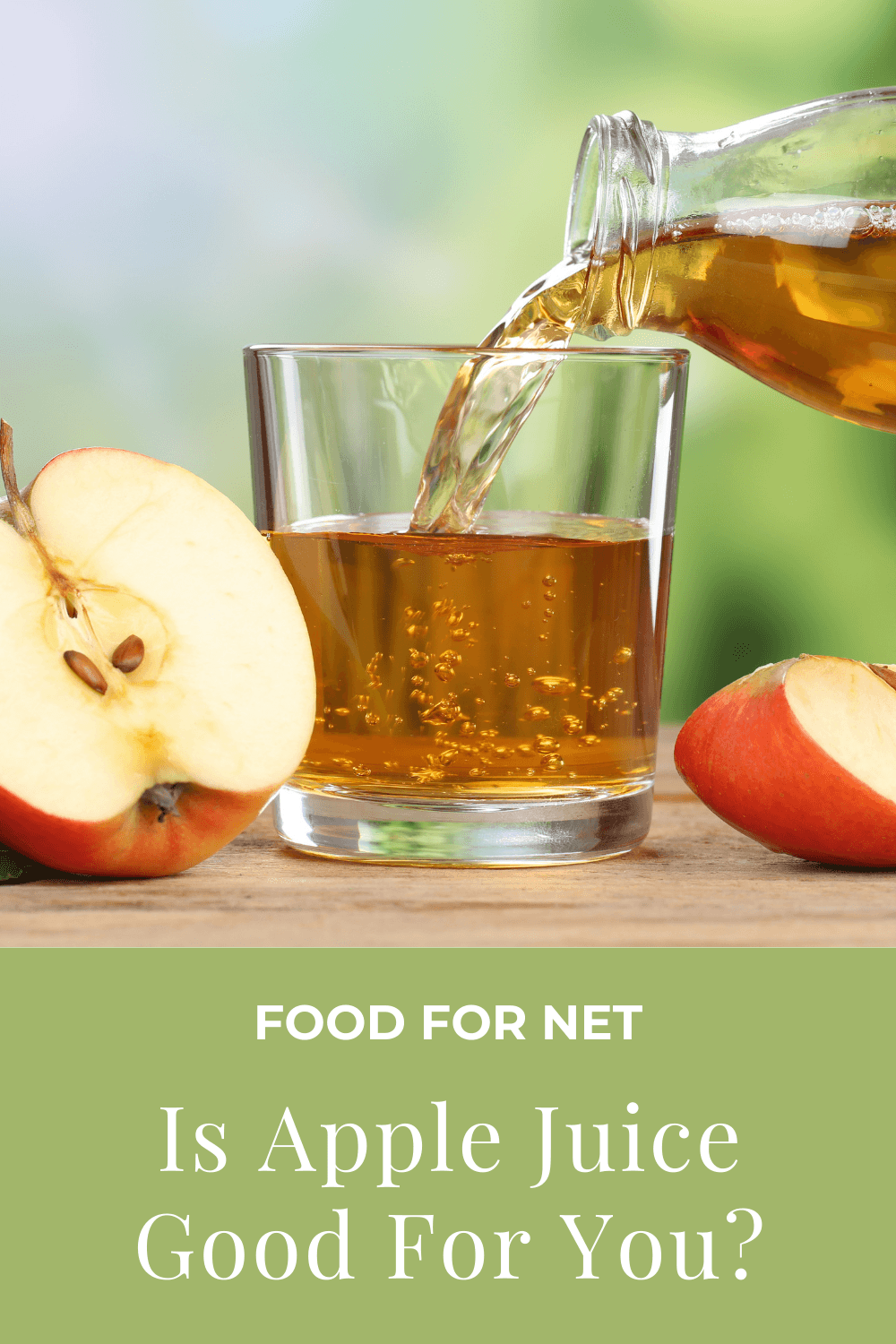 An apple a day keeps the doctor away. You've heard that one before, right? It's a classic saying that makes a lot of sense, as apples do have many benefits. But, those benefits apply to apples themselves. What about the juice? Is apple juice good for you or is it simply a calorie-packed drink?
There are two schools of thought here. The first is that fruit juices are healthy (or, at least, healthier than soda). This is one reason that many people turn to orange juice, apple juice, cranberry juice, and the like. Makes sense, right? There are plenty of antioxidants present.
Of course, there are some concerning aspects too. In this post, we're digging into both sides of the debate to see whether apple juice is worth drinking or whether it's something you should be cautious with.
Is Apple Juice Good For You?
Benefits Of Apple Juice
The Problems With Apple Juice
Apple Juice Versus Apple Cider
Can Apple Juice Hydrate You?
Types Of Apple Juice
Is Apple Juice Healthier Than Soda?
Final Thoughts
Benefits Of Apple Juice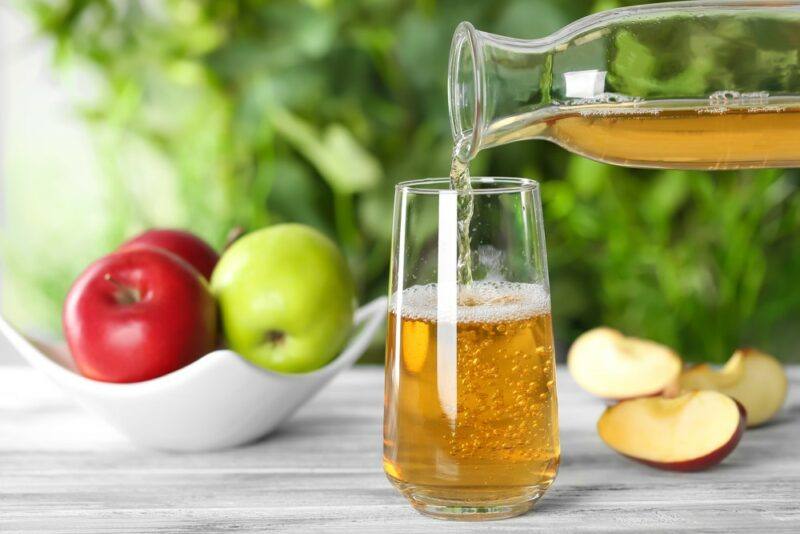 The Plant-Based Compounds
Like apples, apple juice is a useful source of plant-based compounds, including polyphenols. These compounds may reduce levels of oxidation and inflammation in your body, protecting your health in the process.
While apples contain more polyphenols than apple juice, studies have shown an antioxidant effect from the juice as well (along with a variety of other fruit juices). This is helpful, as it's often easier to get kids to drink apple juice than to eat an actual apple.
You'll get the most out of cloudy apple juice rather than clear, as the cloudy versions will contain more antioxidants.
May Improve Health In Some Ways
Apple juice does give you many of the same compounds found in apples. So, theoretically, it could offer some of the same benefits. This includes reducing the risk of anemia, decreasing diabetes risk, promoting a healthy liver, improving the appearance of your skin.
Some studies have even linked apple juice to improved brain health. The effect is likely to be associated with the antioxidants in apple juice, although much more research is needed.
However, apple juice will never be as powerful as fresh apples, as it's often been heavily processed.
You'll also need to keep a close eye on option sizes. After all, apple juice is high in sugar and the sugar content could easily offset any of the above benefits.
Can Improve Iron Absorption
Citrus-based fruit juices, including orange juice, are known to help improve iron absorption. This is an important effect, as iron deficiency is still relatively common and the iron found in plant-based foods can be difficult to absorb.
Research shows that the iron absorption effect isn't limited to citrus juice. Instead, apple juice can be just as effective. This is great news for parents, as many children prefer apple juice over orange juice.
The Problems With Apple Juice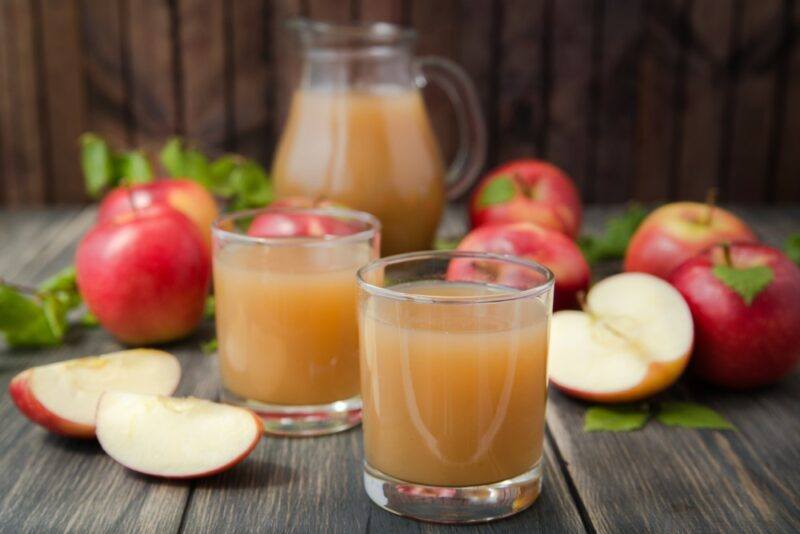 The Sugar Content
With the sweet deliciousness of apple juice, it's hardly surprising that the drink is high in sugar. This is easily the biggest problem with the juice, as sugar presents so many health problems, including higher inflammation and an increased risk of many health problems, including diabetes and obesity.
It's easy to assume that apple juice is fine, as the sugar comes from fruit.
This isn't the case though. Sugar is still harmful, regardless of where it comes from, especially if you're consuming a large amount.
Plus, the power of fresh fruit is in the fiber content. This helps to balance out the sugar and slows down the effect on your blood sugar levels. Without that fiber, you're mostly just drinking sugar.
The Nutrient Content Is Relatively Low
Fruit juice does contain some of the nutrients that you find in fresh fruit, but there aren't that many of them. You don't even get more than 10% of your recommended daily intake for any vitamin or mineral.
Nutrients tend to degrade over time too, so the processed apple juice in the store will contain fewer nutrients than anything you made yourself.
The main exception is vitamin C, as many apple juice products are fortified with vitamin C. If so, you might get more than 100% of your daily vitamin C requirements in a single serving. Still, vitamin C isn't difficult to find. You can easily get it from fresh fruit and vegetables without turning to fortified juice.
Pesticide Contamination
Pesticides are extremely common in the apple industry and small amounts can make their way into apple juice as well. There have even been cases of organic arsenic species in apple juice.
The levels of these compounds have been extremely low and aren't thought to cause harm.
Even so, is incredibly difficult to determine the long-term effects of compounds like pesticides, partly because there are so many factors to think about. To stay healthy, it's often best to cut down on the questionable compounds as much as you can.
Doing so might involve focusing on organic apple juice, particularly from companies that regularly test for contamination.
Can Lead To Weight Gain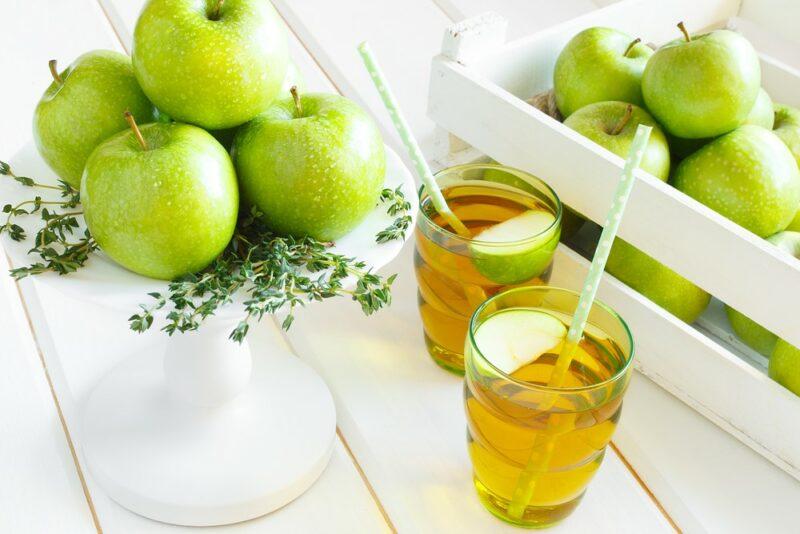 Fruit juices won't do your diet any favors at all. For one thing, they're high in sugar and calories. If you're trying to lose weight, you need to cut down on your calories, not add more.
We're also talking about liquid calories.
We don't get the same satisfaction signals from calories in drinks as from calories in food. You can easily have a couple of glasses of soda or fruit juice, without even noticing it.
Yet, an 8 fl. oz serving of apple juice can contain around 120 calories and almost 30 grams of sugar (or even more, if there is added sugar). Imagine having two or three glasses of that! You'd be looking at 240 or 360 calories.
It's even easier to overdo it with the juice if you've been assuming that it is good for you.
Promotes Tooth Decay
The sugar content of fruit juice makes it damaging to your teeth. This is true for all sugary drinks, but apple juice is actually one of the worst. Drinking the juice through a straw and avoiding swishing it around in your mouth can reduce the risk of tooth decay.
It's also worth rinsing your mouth out with fresh water after your juice.
Apple Juice Versus Apple Cider
If you're in the United States, then apple cider is basically raw apple juice, which hasn't been through any filtration. Apple juice, on the other hand, is often filtered and may also be pasteurized and have other ingredients added. These differences mean that apple juice is generally clear, while apple cider tends to be cloudy instead.
These differences make apple cider a more natural and perhaps healthier drink than apple juice (as there are more natural compounds and antioxidants present). However, the lack of pasteurization does increase the risk of contamination, so it's important to purchase from vendors that you trust.
If you live outside of the United States, the terms may mean something different. In particular, many countries use the term apple cider or simply cider to refer to the alcoholic drink that we know as hard cider.
While non-alcoholic apple cider might be slightly healthier than regular apple juice, it's still just as high in sugar, so keep an eye on your portion sizes. This is particularly important if apple cider is being served at a fall event, as the cups might be larger than you expect.
Can Apple Juice Hydrate You?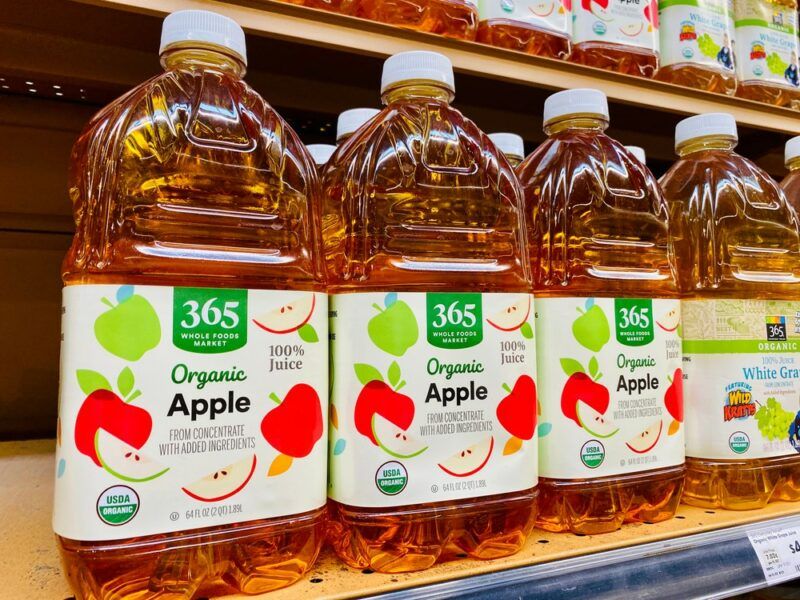 Apples contain a decent amount of water, so it's not surprising that apple juice is rich in water too. This is true even for pure apple juice products, ones that haven't been diluted at all.
The sugar in apple juice makes the juice less powerful than water on its own, as sugar does have a dehydrating effect. Because of this, you'll generally get more hydration from plain water (or lemon water) than you do from apple juice.
That said, the amount of water in apple juice means that it should still help to hydrate you. Plus, the flavor can be helpful for anyone who doesn't enjoy plain water.
To maximize the hydration benefits, try diluting your apple juice with water. This gives you fewer calories and less sugar per serving, along with plenty more water. Even a mixture of 50% water and 50% apple juice can be delicious (and is a fantastic choice for kids).
Types Of Apple Juice
If you're going to drink apple juice, then choosing the right product is essential, as some are much better than others.
The first step is to make sure there's no added sugar. Yes, really. Despite how sweet apple juice is on its own, some companies add sugar to make the drink even sweeter.
Next, pay attention to the added ingredients. For example, CapriSun Apple Juice includes apple juice from concentrate, citric acid, and natural flavor as ingredients.
The addition of natural flavor is the least appealing feature. While such flavors are normally seen as safe, you never get to know exactly what ingredients they used. Besides, shouldn't the flavor of apple be enough on its own?
Mott's, on the other hand, relies on apple juice from concentrate and ascorbic acid (vitamin C).
Some brands also avoid using concentrate and use fresh apple juice instead, often with apple juice as the only ingredient. These products are easy to spot, as they often need to be kept in the fridge.
Products that rely just on apple juice should offer the most benefits. However, they will be more expensive than brands like Mott's, so you'll need to decide based on your budget.
Finally, you can always try homemade apple juice. This often involves cooking the apples first, then mashing them, and straining them.
Making apple juice in this way gives you full control. You know exactly what's going into it and can be certain that there are no additives.
Is Apple Juice Healthier Than Soda?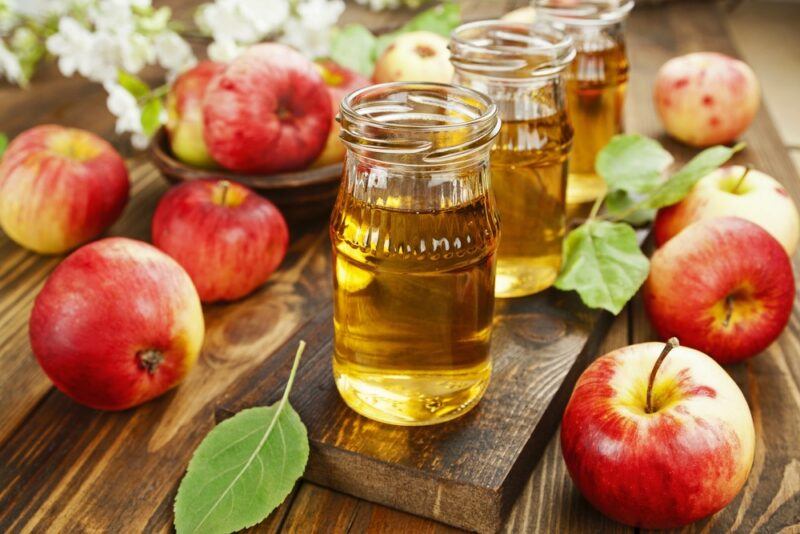 Fruit juice is often presented as being much healthier than soda. Not too surprising, right? After all, soda is heavily processed, while fruit juice at least starts off with fruit.
In some ways, the claim is true. You do get more antioxidants and nutrients in apple juice than you do with soda and fruit juice tends to contain fewer additives.
Yet, some glasses of apple juice actually contain more sugar than soda. That's deeply concerning.
Soda and apple juice both contain a decent amount of fructose, which may have a variety of negative impacts, like promoting inflammation and disrupting the microbiota in the gut.
In practice then, apple juice is only slightly better than soda. Both drinks will quickly spike your blood sugar and it's easy to drink too much.
Final Thoughts
Apple juice does have some positive features. It could be okay in small quantities, particularly if you rely on minimally processed products that are free from additives. Still, even if you focus on the healthiest product possible, we're still talking about a high sugar drink that doesn't give you that many nutrients.
Honestly, you'll get many more benefits from eating apples themselves, rather than drinking apple juice.
The main exception is if you're diluting the apple juice. Creating a 50-50 mixture is a useful way to keep kids hydrated (and adults!), particularly if they don't enjoy water on its own. Diluting water like this reduces the risks and increases the benefits – although drinking straight water is still a much healthier choice.
Frequently Asked Questions
Is Apple Juice Acidic?
Apple juice is indeed acidic, often with a pH of between 3.3 and 4. This low pH is why fruit juices often trigger acid reflux symptoms.
People with acid reflux will do better by focusing on juices with reduced acidity, including carrot juice, cucumber juice, and pear juice.
Does Apple Juice Go Bad?
Apple juice will eventually go bad and degrades in quality before this happens. As a result, you'll notice some mild changes in flavor before the milk is actually risky.
The shelf life of apple juice is influenced by how it is made and whether there are any preservatives. For example, unrefrigerated apple juice from the store will last longer than apple juice purchased from the refrigerated section, which lasts longer than fresh apple juice.
Regardless of the type, opened apple juice in the fridge will last no longer than 10 days. It will generally lose quality before this and may go bad sooner if the apple juice spends time outside the fridge.
Is Apple Juice Good For Constipation?
Apple juice isn't as powerful as prune juice for constipation, but it can have some mild laxative-like effects. This is because apple juice is relatively high in fructose and sorbitol, both of which help with constipation.
Is Apple Juice Good For Diabetics?
While whole apples are a good choice for diabetics, apple juice doesn't work nearly as well. You end up with less fiber and more sugar per serving, which quickly leads to blood sugar spikes.
In fact, most juices are poor choices for diabetics and you'll always get more benefits from the fruit itself (the main exceptions are lemon and lime juice, as these are both low in sugar). If you are going to use apple juice as a diabetic, you'll need to keep your serving size low.
Is Apple Juice Good For Your Kidneys?
Apples and apple juice are often recommended for people with chronic kidney disease, as apples are low in potassium. Of course, whole apples are a better choice than apple juice, as these also contain pectin, which offers additional benefits.