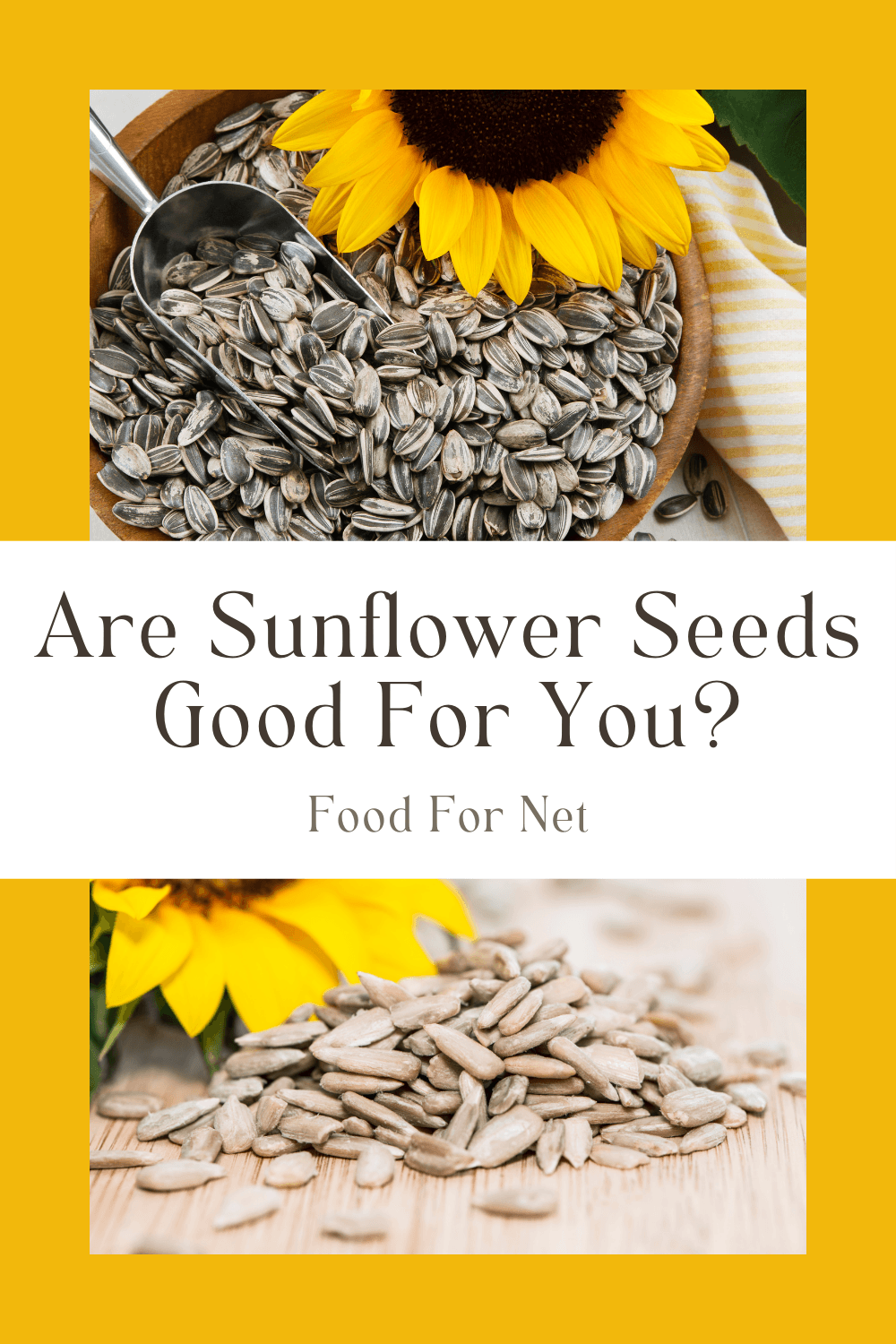 Sunflower seeds are an easy and delicious snack. You can even grow sunflowers, harvest the seeds, and roast them yourself – for the ultimate home-grown snack. It's easy to assume that they're healthy too, as nuts and seeds are often associated with health these days.
So, is that really the case? Are sunflower seeds good for you?
To begin with, let's talk about the seeds themselves. As the name suggests, the seeds are found in the heads of sunflowers. They have tough black and white striped shells, while the seed in the middle is white and tender.
Sunflower seeds are normally eaten roasted, but they're safe and delicious raw too. You should be able to find both types at your local grocery store or health food shop. If you don't want to eat the seeds on their own, you could easily scatter them on top of a meal or find a recipe that relies on them.
Are Sunflower Seeds Good For Your Health?
Sunflower Seed Nutrition
Benefits Of Sunflower Seeds
How Sunflower Seeds Could Be Harmful
How Many Sunflower Seeds Should You Eat
Sunflower Seeds Versus Pumpkin Seeds
Can You Eat Sunflower Seed Shells?
Final Thoughts
Sunflower Seed Nutrition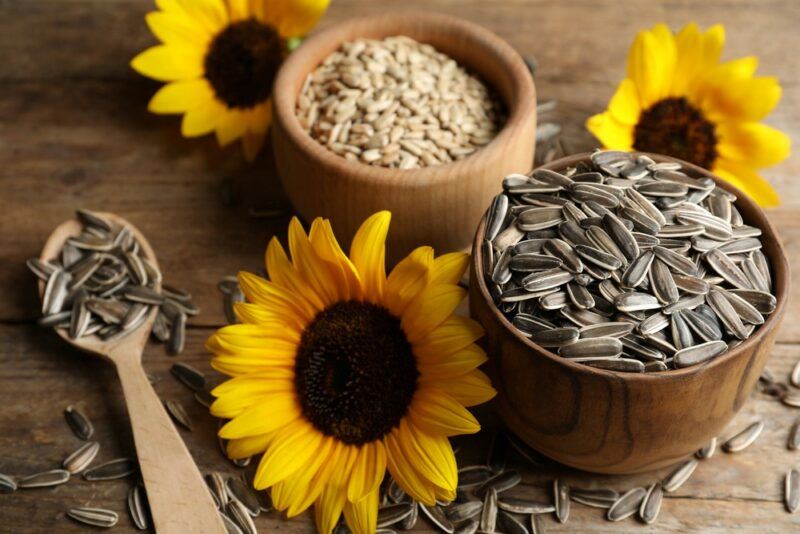 An ounce of dry roasted sunflower seeds provides you with 163 calories, 6.7 grams of carbs, 3.1 grams of fiber, 13.9 grams of fat, 5.4 grams of protein, and 1.5 grams of saturated fat.
There are also some important nutrients present, including vitamin E, phosphorous, manganese, selenium, copper, and folate, plus smaller amounts of many others.
However, the balance of nutrients and calories isn't always the same. For example, the calorie content increases when sunflower seeds are roasted in oil versus when they're dry roasted.
If you're buying sunflower seeds from the store, check out the back of the package. The nutritional details provided there should make the nutrient content clear.
Benefits Of Sunflower Seeds
We've already talked about the nutrient profile of the seeds. Those vitamins and minerals are all important, helping your body to function well – and are enough of a reason to eat sunflower seeds regularly.
Even so, there's more going on than just nutrients.
Plant-Based Compounds
Sunflower seeds also offer a host of plant-based compounds, including phytosterols. These compounds may help to decrease cholesterol levels and lower the risk of heart disease.
While phytosterols are present in other nuts and seeds too, the levels in sunflower seeds are particularly high. This makes sunflower seeds one of the best ways for you to improve your heart health.
Let's not forget about the antioxidants either. These are vital in decreasing levels of oxidation throughout your body. By doing so, antioxidants may lower disease risk and help to protect you.
Offer Plenty Of Healthy Fats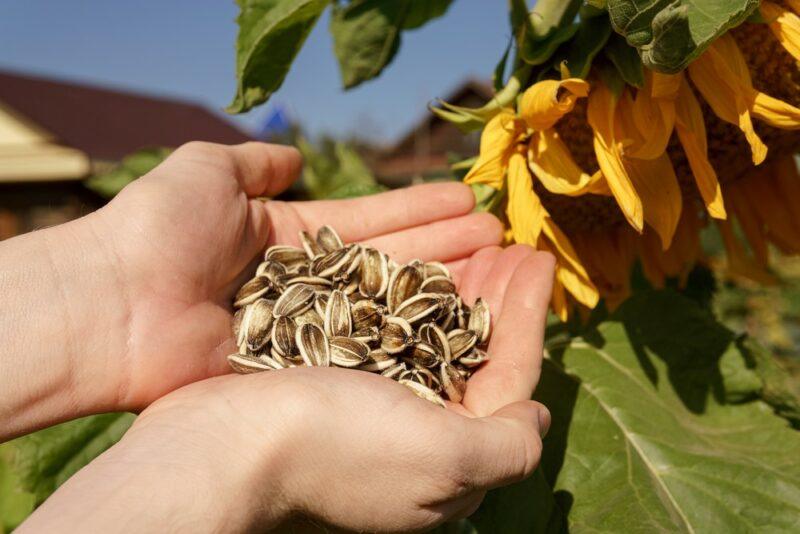 While sunflower seeds are high in fat, most of this fat is healthy, including monounsaturated and polyunsaturated fats. Both types are linked to improved health, potentially decreasing your heart disease risk.
There is some saturated fat present too, but you only get 1.5 grams of it in a 1-ounce serving.
Remember too that fat really isn't the enemy anyway. Fat is simply a source of energy, just like carbs and you need some fat to stay healthy. For that matter, weight gain is most strongly connected to the calories you consume, rather than your fat intake.
Sources of healthy fat, including sunflower seeds, can even promote weight loss, as they're more satisfying than many high carb foods.
An Excellent Source Of Protein And Fiber
A 1-ounce serving of sunflower seeds gives you around 3 grams of fiber and almost 5.5 grams of protein. Those figures are both impressive, especially for such a small snack.
The benefits of fiber and protein are well-known. Protein helps with your muscles, with structure and function throughout your body, and in plenty of other areas.
Fiber is essential for digestion – and is often underestimated. In fact, many of us aren't getting as much fiber as we need, which can lead to constipation, blood sugar fluctuations, and plenty of other issues.
There are many ways to boost your fiber and protein intake. But honestly, what could be simpler than eating a tablespoon or two of sunflower seeds?
May Help You Lose Weight
Sunflower seeds can be relevant to weight loss too – if you're careful.
They're helpful because the protein helps to keep you satisfied. So, having a handful of seeds as a snack might decrease your cravings for unhealthy treats and help you make it to the next meal.
Indeed, high protein diets are often much better for weight loss than low protein ones. This is partly because they're easier to follow, as you don't feel hungry all the time.
However, sunflower seeds will only help if you keep a close eye on your portion size. If you don't, there's a risk that you end up gaining weight instead, given that sunflower seeds are quite high in calories.
How Sunflower Seeds Could Be Harmful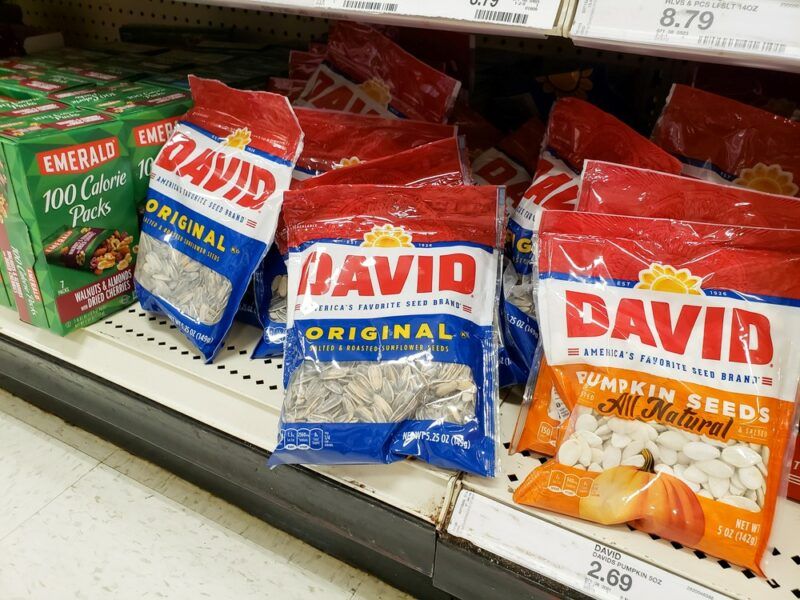 The Sodium Content
While sunflower seeds themselves don't contain a lot of sodium, salt is often added to them after roasting to provide extra flavor. That salt is often what keeps you coming back for more, but isn't great for your health.
In fact, many of us are already consuming too much sodium. Doing so can easily lead to health problems, including an increased risk of heart disease and fluid retention.
Also be aware that processed sunflower seeds might contain unwanted additives as well. Some even rely on artificial flavors to make the seeds taste better.
The healthiest option is to look for unsalted sunflower seeds. If plain sunflower seeds seem a little boring, you can dry roast sunflower seeds yourself, then add spices rather than salt.
Can Be Contaminated
Sunflower seeds mightn't be as safe as you might expect. Some research suggests that they're often contaminated with aflatoxin.
This is a dangerous toxin, one that's been strongly linked to liver disease.
Aflatoxin doesn't have immediate and obvious impacts on your health, so you can't easily tell when your sunflower seeds have been contaminated. The best way to stay safe is to buy sunflower seeds from reliable suppliers, ones that focus on quality throughout their processes.
High In Fat
Fat was once seen as incredibly unhealthy and something to be avoided whenever possible. We now know that's not the case. Instead, fat can be a useful source of energy, especially if you focus on monounsaturated and polyunsaturated fats.
Still, sometimes a low fat diet is important, like for patients with gallbladder disease who cannot absorb fat well. If you do need to keep fat intake low, then sunflower seeds aren't a great choice.
Easy To Overdo It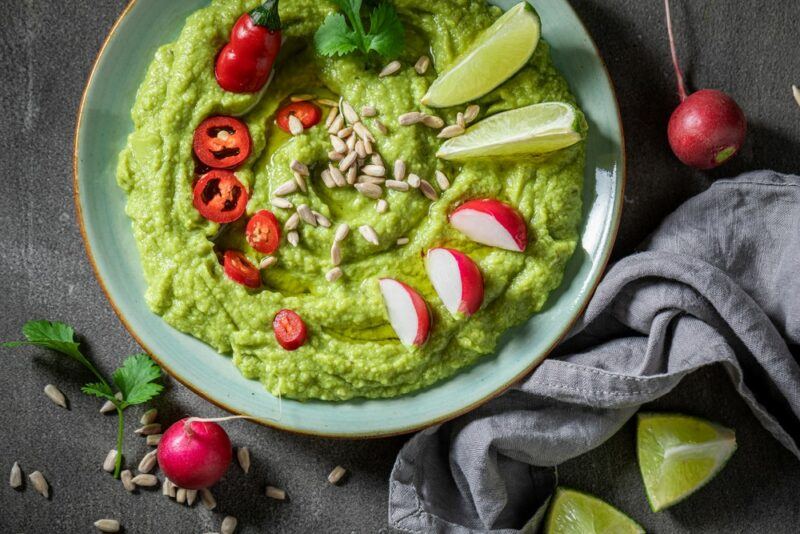 Whether a type of food is healthy or not often comes down to the portion size. Consume too much and you end up doing more harm than good.
This is certainly true for nuts and seeds, as they provide a lot of calories in a small serving. Having an ounce of sunflower seeds per day could easily provide benefits. But, if you have 2 or 3 ounces instead, you might end up gaining weight.
That's not the only issue either. Nuts and seeds are often seasoned and covered in salt. The salt is enough to keep you reaching for more.
To avoid the problem, try portioning out your sunflower seeds before you start eating. This way you can't easily grab more seeds when you've finished your portion.
May Consume Too Much Selenium
The selenium in sunflower seeds is generally a good thing. Still, too much selenium can cause harm and might even increase your risk of diabetes.
There isn't too much to worry about here, as you get a little over 20% of your daily selenium intake from an ounce of the seeds. Still, it's worth being a little cautious if you're eating multiple servings of sunflower seeds per day or relying on other selenium rich foods.
The Omega 6 Content
Sunflower seeds are rich in polyunsaturated fat. Some of this is in the form of omega 3 fatty acids, but most is omega 6 fatty acids instead.
While both types are healthy and offer benefits, omega 6 fatty acids aren't always what you need.
The problem is your ratio of omega 3 to omega 6 fatty acids. A high intake of omega 6 and not enough omega 3 may increase inflammation, which can then raise your risk of some diseases.
Unfortunately, modern diets are rich in omega 6s from vegetable oils and processed foods, while omega 3 levels are much lower. As a result, many people already have a concerning ratio of omega 3 to omega 6. Pumpkin seeds just make that ratio worse.
How Many Sunflower Seeds Should You Eat?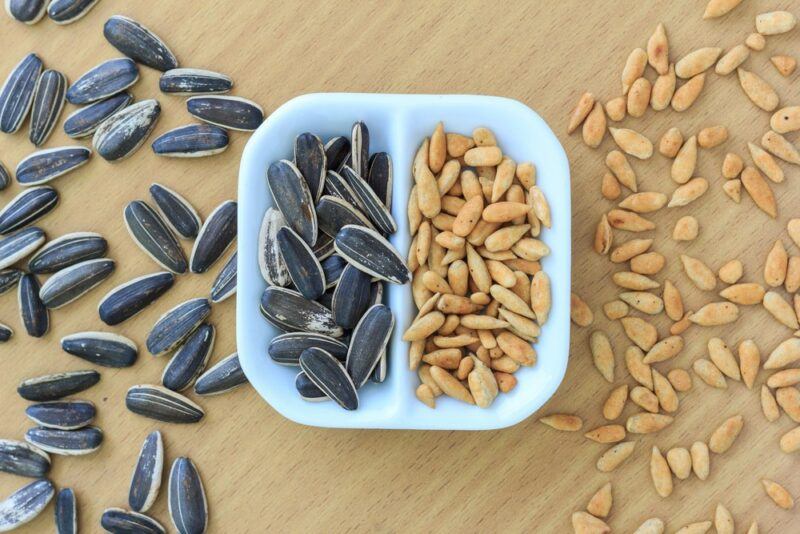 Most recommendations suggest having an ounce of nuts and/or seeds per day. For sunflower seeds, an ounce is roughly quarter of a cup of the seeds or between 1 and 2 thumb-sized portions of the seeds.
You might need to adjust this amount based on your needs.
There's one important catch though. The 1-ounce recommendation applies to your total nut and seed intake each day.
This means that you shouldn't be eating an ounce of sunflower seeds, then another ounce of almonds, one of peanuts, and one of pumpkin seeds. The calories would add up very quickly if you did that.
Sunflower Seeds Versus Pumpkin Seeds
Sunflower seeds and pumpkin seeds are both easy and delicious snacks. While they look and taste different from each another, their nutritional profiles are surprisingly similar.
Still, pumpkin seeds do provide a little more protein and a little less fiber per serving than sunflower seeds. Pumpkin seeds are a better choice for phosphorous, magnesium, and tryptophan too, but sunflower seeds shine in other areas.
In the end, neither type of seed is better than the other. They're both full of nutrients, protein, and healthy fats. If you can't decide, why not have some of each type?
Can You Eat Sunflower Seed Shells?
Sunflower seeds themselves are white and tender, with a nutty flavor. You'll often find them sold in their black and white striped shell, which you'll need to remove before eating the seed.
Some people do this by cracking the seed with their teeth, separating out the components, spitting out the shell, then eating the seed. This process doesn't take too long once you get used to it and is a great way to prevent you from over-eating sunflower seeds.
The shell itself shouldn't be eaten, as it is fibrous and cannot be digested. Eating it can easily lead to symptoms like constipation and stomach pain. Plus, the shells can split into small pieces that risk cutting your digestive tract and causing serious issues.
Many people eat the shells and don't experience any issues at all. But, this doesn't mean that you should try it for yourself – the risk of harm is too high. Besides, there aren't any real benefits to eating sunflower seed shells, so why take the chance?
Final Thoughts
Sunflower seeds are a decent snack, giving you plenty of protein and nutrients in a small serving size. The biggest issue is simply that it's so easy to overdo it, so you need to be cautious with the amount that you eat.
Still, this is hardly a new problem. Other nuts and seeds are calorie dense as well, as are some other healthy foods, including avocado.
As long as you're watching your serving size, there's no reason that you can't enjoy sunflower seeds regularly.