Lentils aren't the most exciting ingredient. There's no denying that. They certainly don't have the same amazing reputation as chia seeds, dark leafy greens, or olive oil. They're also a type of legume, so they're subject to no end of controversy. That begs the question, are lentils good for you?
As the legume debate implies, the answer is complicated.
Before we get into that though, let's talk about lentils themselves. They're seeds of the lentil plant, which are always dried before being used.
Lentils are incredibly important. They're a staple food in many countries, acting as a convenient plant-based source of protein, one that's often inexpensive and easy to find. You'll often see them in your local grocery store and there are multiple types to choose from.
So then, it's easy to see why lentils matter. Let's now look at what they mean for your health.
Are Lentils Good For Your Health?
Types Of Lentils
Benefits Of Lentils
How Lentils Could Be Harmful
Do Lentils Need To Be Cooked?
Do You Need To Soak Lentils?
Are Lentils Better Than Beans?
How Do You Use Lentils?
Final Thoughts
Types Of Lentils

Like beans, there are plenty of different lentils to choose from. While these all offer similar benefits, there are notable differences in their flavor and texture.
Green lentils. These lentils also go by the name French lentils. They're tricky, as they take around 45 minutes to cook. Still, the lentils have a delicious nutty flavor and keep their shape well after cooking, making them worth trying.
Black lentils. Not surprisingly, these lentils have an earthy flavor. They're perfect in dishes that use red meat or mushrooms. Their cooking time is just 25 minutes, which isn't too bad at all.
Brown lentils. These lentils are earthy too, but this time the flavor is mild. They're one of the most popular types of lentils and are used in countless recipes.
Red and yellow lentils. These lentils are sweeter than the other varieties. You'll often see them in Middle Eastern and Indian meals. They're fast to prepare, but don't hold onto their texture. As such, they're best used in pureed meals.
The differences in texture and flavor mean that you'll need to match your lentils to the type of meal that you're making. If you're not sure, look for a similar recipe and see which type of lentil they suggest.
Benefits Of Lentils
Provide Plenty Of Nutrients
Lentils are exceptional for nutrients, offering a large range of different nutrients, without that many calories. B vitamins, magnesium, iron, and potassium are all stand out nutrients here, although there are plenty of others as well.
Beyond the nutrients are the plant-based compounds, including polyphenols. Red and yellow lentils may be particularly good choices for these compounds, although all types of lentils will contain some.
Vitamins, minerals, and plant-based compounds all influence your health in a myriad of ways. They help your body to function as it should, decrease inflammation, reduce the risk of some diseases, and have many more helpful effects.
They Help Boost Your Fiber Intake
Lentils are also important for fiber, offering both soluble and insoluble types. Indeed, adding a handful or two of lentils to a soup or stew is a very easy way to boost your fiber intake.
Fiber is interesting, as it passes through us relatively unchanged, yet is essential for our digestive systems.
Too little fiber can lead to serious issues, including constipation, fatigue, and getting hungry quickly after meals. Low long-term fiber intake can cause even more problems, including higher cholesterol levels and an increased risk of cancer.
With so many issues related to low fiber intake, getting more fiber in your diet is a no-brainer. Lentils are one easy way to do so.
They're Low In Fat

Lentils are very low in fat. In fact, a cup of cooked lentils often contains less than a gram of fat (that same serving size gives you more than 15 grams of fiber and close to 18 grams of protein).
While fat isn't the enemy, low fat foods can be helpful in many situations. They may help to reduce heart disease risk and promote weight loss. You might also need to keep fat intake low if you have issues with your gallbladder or are recovering from gallbladder surgery.
Not only are lentils low in fat, but they can often be used to replace higher fat sources of protein. For example, you can make burger patties and 'meatballs' using lentils rather than meat, or use lentils in a stew instead of meat.
They Act As A Vegan Source Of Protein
We must talk about the protein in lentils as well. After all, protein is essential throughout our body, playing roles in our muscles, nerves, and many other places.
You get a decent amount of protein per serving with lentils – and that's not the only benefit. Lentils are also useful because they're so easy to add to meals. You can throw them in a stew, a soup, or whatever else you feel like.
Plus, are excellent as a vegan source of protein. Some people even use them to make vegan meat alternatives, like burger patties made using lentils and a variety of other ingredients. Such patties will never have the same flavor and texture as meat-based ones, but they can still be delicious.
They're Useful For Weight Loss
High protein diets can be a useful way to help you lose weight. This is partly because protein helps you to feel full, so you're less likely to crave unhealthy snacks.
Indeed, protein rich meals can easily decrease the amount you consume in your next meal.
The protein isn't the only feature to think about. The fiber is helpful for weight loss too. Plus, lentils are fairly low in calories, making them an easy addition to your diet.
Finally, there's the fact that lentils are often used in healthy meals, ones that are rich in veggies, herbs, and spices, and perhaps some lean meat.
Legumes Are Linked To Many Health Benefits

Legumes are interesting. The category includes a variety of familiar foods, including beans, soybeans, chickpeas, and even peanuts. They're basically edible seeds that have a surrounding outer skin that helps to protect them.
You'll find them sold and used in a variety of ways, depending on the type. Soybeans, for example, are sometimes sold in the shell and eaten as a snack called edamame (although only the seeds are eaten, not the outer shell).
Legumes are often controversial and are sometimes seen as an ingredient to avoid. Yet, plenty of studies have also linked legumes to benefits. For example, a healthy diet that includes legumes may decrease blood pressure and blood sugar levels, along with lowering the risk of heart disease and diabetes.
There's also no denying the power of diets that are rich in plant-based foods. Such diets provide you with plenty of plant based compounds that are useful for your body.
They Have A Low Glycemic Index
Glycemic index (GI) is a measure of how food influences a person's blood sugar levels. Low GI foods have a lower impact, so your blood sugar doesn't end up bouncing all over the place.
A food's GI is most relevant to people with diabetes, but you might also focus on GI if you're worried about blood sugar for other reasons or if you're trying to lose weight.
Lentils are an excellent choice, as they have a GI of 32. This puts them well within the low GI category.
They're Inexpensive And Practical
There are plenty of nutrient dense foods out there, but few are as practical and inexpensive as lentils. When stored well, dried lentils often last for two or more years, making them an easy addition to your stores.
Lentils can also be used in many ways.
Some recipes use lentils as they are, while others puree the lentils instead. The latter approach gives you a smooth texture and can lead to some delicious meals.
Lentils work just as well in meat-based dishes as they do in vegetarian ones. In fact, using lentils and meat in the same meal is a fantastic way to make your meat stretch further.
You can also find canned lentils. These only last a few days once opened, but they're already cooked, making them easier to use than dried lentils, especially if you're short on time.
How Lentils Could Be Harmful

Can Lead To Side Effects
The fiber in lentils is generally a good thing. Even so, it can lead to some significant side effects, including constipation, stomach cramps, bloating, and a sense of feeling too full.
Sometimes this happens because you're consuming too much fiber, particularly if you need to be following a low fiber diet. However, most of the time the side effects are related to a sudden change in fiber intake.
The best way to avoid problems is to start slowly. Increasing your fiber intake a little at a time gives your body the time it needs to adjust.
People with digestive issues might see additional side effects, some from the fiber and others from the antinutrients. Such issues are another reason to start slowly with lentils and see how things go.
The other ingredients will make a difference too, as lentils are often used as part of a spicy dish. While spicy foods do have their benefits, the spices can also lead to indigestion for some people.
They Contain Antinutrients
As we highlighted earlier – legumes are controversial. Part of the issue is a set of compounds called antinutrients.
Antinutrients get their name from the way they decrease the absorption of some nutrients, including zinc, calcium, and iron. There's also the chance that antinutrients harm health in other ways, like by increasing the risk of some diseases and raising inflammation.
The first effect, decreasing nutrient absorption, isn't a problem in most situations. If you're eating a balanced diet, then you should be getting plenty of nutrients already. A slight decrease in your absorption of a few nutrients shouldn't have much of an impact at all.
Soaking lentils before using them can help decrease their antinutrient content, making this issue even less significant.
You can also make sure that you don't include legumes and grains in every meal. This way you're still getting optimal nutrients from some meals.
The other effect is more debatable. Right now, there's plenty of evidence that diets rich in legumes and whole grains offer many benefits – and little evidence of any risks. Some antinutrients could even have some benefits, like decreasing cholesterol levels.
Even so, research has its limits. Studies easily miss subtle effects, especially when we're talking about food. Nutritional science is always complex anyway, as people follow mixed diets and vary in their genetics, their lifestyle, and plenty of other factors.
Plus, every type of food contains a variety of compounds, which can all impact health in different ways.
This means there are still many gaps in our knowledge. The best approach is to pay attention to your needs and your body. You might need to be cautious when using legumes if you're getting side effects or if your nutrient intake is limited.
Lentil Allergies Are Becoming More Common
It's possible to be allergic to almost any type of food – including lentils. Symptoms of a lentil allergic reaction can vary considerably, ranging from mild symptoms all the way to symptoms that require emergency room treatment.
While lentil allergy isn't talked about all that often, it's getting increasingly common in some parts of the world.
So, if you're new to lentils, it's important to start slowly. Pay attention to how your body responds and make sure you aren't getting any serious side effects.
They're High In Carbs

Lentils are considered complex carbs, as they contain plenty of fiber and nutrients, along with relatively little sugar. This balance is often seen as healthy – and is partly why lentils are so highly recommended.
However, there's still ongoing debate about whether carbs are healthy or not.
For one thing, carbs all influence your blood sugar levels. Complex carbs take longer to break down, so the blood sugar effect is less dramatic, but it's still there. There are also concerns that carbs contribute to inflammation and increase the risk of some diseases.
If you're following any type of low carb diet, lentils are an ingredient to be careful with. You might need to cut them out altogether or only consume small quantities.
Lentils Don't Fit On Some Diets
While many people eat lentils regularly, they're not always a good fit. Multiple diets exclude legumes entirely or require you to be careful with the amount you consume.
A low FODMAP diet is one example. This type of diet is often crucial for people with digestive issues, helping to decrease many of their symptoms. Lentils contain some of the fermentable carbs that low FODMAP diets try to avoid.
This means that lentils might not work well if you have digestive issues. Similarly, you'll need to avoid lentils if you're following a low fiber diet.
Legumes are also entirely excluded from paleo diets.
Keto dieters can theoretically eat lentils, as long as they watch the amount that they consume. However, some keto dieters avoid legumes because of the antinutrients.
Do Lentils Need To Be Cooked?
There's a simple answer here – yes, you need to cook lentils. The lectins in lentils aren't that serious when lentils have been cooked, but they're dangerous when lentils are raw.
You may see some serious side effects, including diarrhea and vomiting. There isn't any good reason to eat lentils raw anyway, so why take the risk?
Do You Need To Soak Lentils?
Many people recommend soaking legumes before you use them. Doing so decreases their antinutrient content, which should mean that you get fewer side effects (particularly if you have a sensitive stomach).
Soaking lentils first also decreases the cooking time. However, the difference isn't dramatic – as lentils don't take that long to cook anyway (often between 15 and 30 minutes).
If you do soak them, then it only takes a few hours to see the benefits. You can soak lentils overnight if you want to, but even just two hours should be fine.
That said, soaking lentils isn't essential. Many people use lentils as-is, without any problems at all. Skipping the soaking step is certainly more convenient, as this means that you don't need to plan ahead.
The best approach will depend on your needs.
If you're looking for a convenient ingredient, unsoaked lentils are the way to go. They're fast to cook and can be stored in your cupboard for months (or even years!) before you use them.
If you have a sensitive stomach or are worried about antinutrients, then soaking could be a better approach. This way you decrease the risk of side effects and still get to enjoy all the good features of lentils.
Are Lentils Better Than Beans?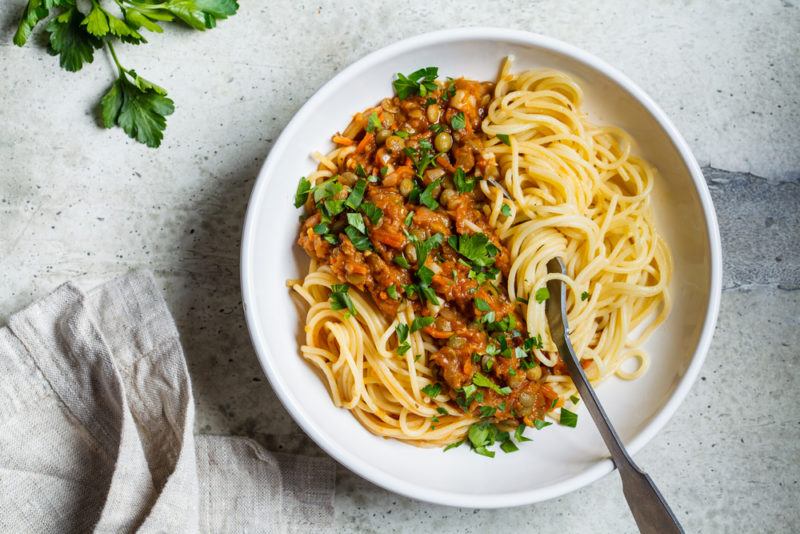 Lentils and beans are both popular legumes that provide protein and can help bulk out your meals. Both options offer plenty of nutrients and protein, but also contain antinutrients.
Lentils have some advantages, as they tend to be lower in phytate, one of the key antinutrients. This is particularly true for red lentils, which are surprisingly low in phytates.
Plus, lentils are much faster to cook. You don't need to soak them before cooking either (although you can if you want to). The faster cooking time makes lentils are more practical than beans for many families.
How Do You Use Lentils?
Lentils are easy to prepare. You simply put them in a pot of water, bring the water to boil, then reduce the heat until the water is simmering. Then, just cook the lentils until they are tender. This often takes somewhere between 15 minutes and half an hour, depending on the type of lentil and how soft you need them to be.
Including lentils in a meal can be even easier, like dropping lentils into a soup or a stew as it is cooking.
It is, however, important to choose the type of lentil well. Yellow and red lentils, for example, don't hold their structure well. This makes them excellent in pureed dishes, but not so good when you need them to stay relatively firm.
If you haven't worked with lentils much before, try looking for recipes that rely on them, like this slow cooker beef and lentil stew. Starting with recipes will help you to get familiar with the flavor and texture of lentils. Then you can start experimenting on your own.
Lentils are often associated with plant-based meals, but this isn't the only way to use them. You can easily use lentils and meat in the same dish. Doing so helps to stretch your meat out, giving you more value for money. Plus, you end up with a more plant-heavy meal, which is never a bad thing.
Final Thoughts
With all the debate surrounding legumes, avoiding lentils entirely may seem like the safest choice. This way you avoid the antinutrients and the high carb content. Plus, you can get fiber, antioxidants, and nutrients from plenty of other plant-based foods, including dark leafy greens.
Avoiding legumes like this is certainly possible. Many people do without putting their health at risk.
However, when doing so, you also lose out on the practical benefits of lentils. After all, lentils last longer than fresh fruit and vegetables. They're also incredibly versatile, as you can include them in plenty of different meals.
Legumes, including lentils, tend to be inexpensive too.
So, you end up with nutrient dense ingredients that are versatile, last a long time, are inexpensive, and are linked to many health benefits. These benefits often outweigh the slight risks that come with the antinutrients and carbs.