It's easy to see cheese as a treat food – a delicious, high fat product, that makes every meal taste much better. Many of us can't imagine going without it, even if we think that we should. But, is this treat as bad as it seems or is cheese good for you instead?
After all, nutrition science is rapidly advancing. We're beginning to question assumptions about many foods, including eggs and butter. We're realizing that fat isn't as bad for health as we long assumed, while carbs might be a serious problem. Such patterns suggest that cheese might be better than we once thought.
There have also been huge debates about the benefits and problems of individual foods. What foods should you eat regularly? Which ones should you cut out instead?
The answer partly depends on your diet as a whole, along with your health, medications, and a variety of other factors. Still, knowing the health benefits and risks of individual foods is an important starting point. This way you have the information you need to make a wise decision.
In this case, we're talking about delicious cheese – in all its various forms.
Is Cheese Good For You?
The Benefits Of Cheese
Why It Might Be Good To Limit Your Cheese Intake
Which Types Of Cheese Are Best?
What About Processed Cheese?
Should You Avoid Cheese?
Final Thoughts
The Benefits Of Cheese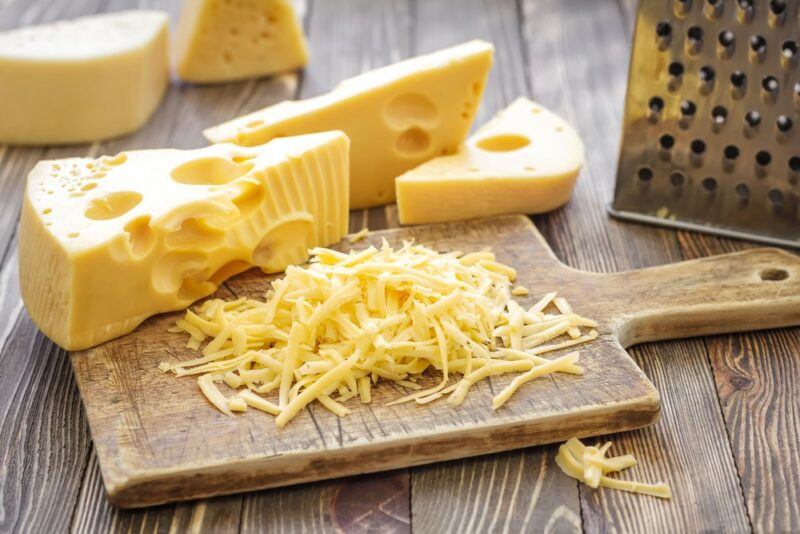 It's A Whole Food
Cheese is often called a whole food. This means that it's a natural product that's been through little processing. You certainly won't see all the additives and concerning ingredients that you find in highly refined foods, like many frozen meals from the grocery store.
Whole foods are generally healthy, even the ones that are high in fat. They all provide plenty of vitamins, minerals, and macronutrients, not to mention other important compounds.
Of course, whole foods are only beneficial if you keep your portions in check. Even the healthiest food isn't that good for you if you consume an excessive amount.
Offers Plenty Of Nutrients
Cheese is well-known as a source of calcium. It also offers plenty of vitamin B12 and vitamin A, along with minerals like riboflavin and zinc. The calcium and vitamin D levels in cheese are often focused on, as this combination of nutrients can promote bone health.
Don't forget about the protein either. Protein is important for many functions in your body and helps to keep you full too.
The levels of nutrients and protein vary notably depending on the type of cheese you choose. Parmesan contains more protein per ounce than most other types of cheese, but you probably won't eat a large amount at a time.
American cheese and brie contain much less, while feta is lower in protein again.
A Source Of CLA
High fat animal products often contain conjugated linoleic acid (CLA). CLA is a type of fatty acid that has been linked to a variety of benefits. It may even help you to lose weight.
The CLA content of cheese is influenced by the diet of the cow, sheep, or goat, along with the fat content of the cheese. High fat cheeses, like brie, tend to contain more CLA than low fat cheeses. The CLA levels are also higher when the animals are fed grass rather than grain.
Even if you're focusing on high fat cheeses, the amount of CLA isn't huge. Still, every little bit counts and CLA is one more reason to eat cheese regularly.
It Doesn't Seem To Cause Chronic Disease
It's easy to assume that cheese is unhealthy, as it's high in calories and saturated fat. Yet, careful research suggests that regular cheese consumption isn't strongly linked to disease risk and other negative health effects.
Even full fat dairy products may be beneficial, as they offer better nutrition and contain more CLA.
Concern about cheese often focuses on the saturated content. Yet, studies suggest that the saturated fat in cheese acts differently than from other sources. Cheese doesn't seem to affect risk factors for metabolic disease or cardiovascular disease. That's an impressive outcome.
Large studies also suggest that regular cheese consumption doesn't increase the risk of major diseases. This isn't so surprising, given that cheese is a whole food that features in many traditional diets. The effect shows that cheese can easily be part of a healthy diet.
Some of this effect might come from how cheese is produced, including the fermentation steps.
Why It Might Be Good To Limit Your Cheese Intake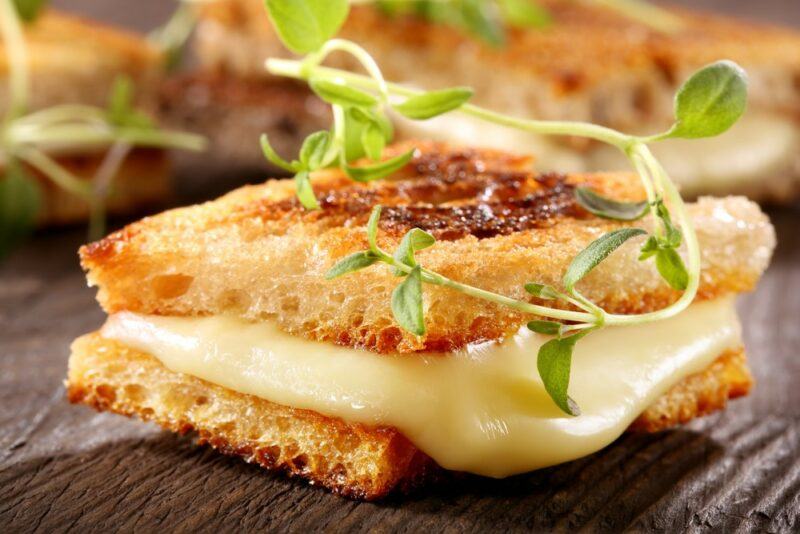 First of all, cheese is mostly made of fat and protein. It's a calorie-dense food and it's far too easy to eat more cheese than you intend to. This can quickly become a problem, even more so if you're trying to lose weight.
The issue doesn't just lie with cheese on its own either. Meals that rely on cheese can easily become calorie-dense too, like omelets and pizza. Use cheese sparingly to take advantage of the benefits without getting too many calories.
Of course, the calorie level does vary depending on the type of cheese. Ricotta, feta, mozzarella, and cottage cheese are all relatively low on the calorie scale, while options like cheddar, Colby cheese, and asiago cheese are much more calorie-dense.
Cheese Is High In Saturated Fat
If you're trying to decrease heart disease risk, you'll probably be told to cut down your saturated fat intake. While this advice is common, it's also highly controversial. The underlying theory is that too much saturated fat in your diet leads to increased levels of cholesterol, which makes heart disease more likely.
However, as many authors have discussed, the link between saturated fat, cholesterol, and heart disease might not be as strong as we often assume. One reason is that while saturated fat increases heart disease risk factors, it may not actually increase heart disease risk.
While this might sound contradictory, various large-scale studies have failed to find a direct link between saturated fat and heart disease.
There's still much work to be done in the field and experts are divided about saturated fat. Still, the current evidence suggests that saturated fat can be part of a healthy diet. The trick is to watch your intake. After all, this is a field that's being actively researched and we know little about the long-term impacts of a high saturated fat diet.
Cheese Contains Lactose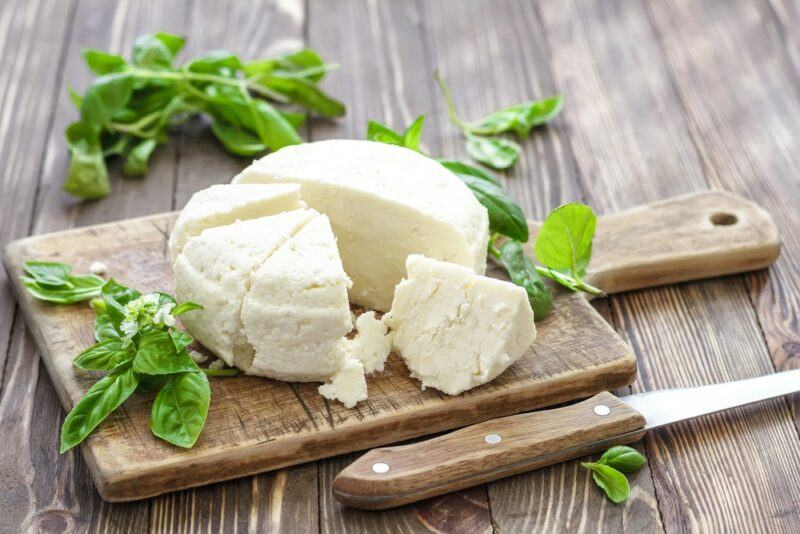 Because cheese comes from milk, it contains lactose. And, as you probably know, many people cannot digest lactose. Basically, lactose is made from two sugars that need to be broken apart during digestion. If this doesn't happen, the lactose continues to pass through the digestive system whole, where it then ferments and causes a variety of unpleasant side effects.
Lactose intolerance is a common problem. Close to 70% of the world's population cannot digest lactose. This is partly because the ability to digest lactose as an adult is the result of a mutation.
Your likelihood of being lactose intolerance depends on your ethnicity and where you live. In the United States, less than 40% of the population does not absorb lactose well. Some of these people will be lactose intolerant, but not all of them.
If you are lactose intolerant, then cheese may lead to side effects like gas, bloating, stomach cramps, and diarrhea.
People vary in exactly how much lactose they can consume before they experience symptoms. You might be able to have a little cheese now and again, especially if you focus on low lactose options like aged cheese. Parmesan is an excellent choice, as there is barely any lactose present.
Lactose intolerance can be difficult to spot at first. The strongest indication is if you start to experience stomach pains or related side effects after eating a decent amount of dairy.
If lactose intolerance seems likely, you can try cutting dairy out of your diet for a while and letting your body readjust. If you are lactose intolerant, you should start to feel better. Don't stop there though. Once your body has adjusted, you can slowly reintroduce dairy and see how you feel. If the symptoms reappear, then you can be certain that dairy products were the cause.
It Comes From Animal Milk
There's a decent amount of debate about the idea of drinking milk from another species (or making foods like cheese from that milk). After all, milk is normally used to help young mammals grow. It's not something that adults mammals normally drink and they certainly don't drink milk from another species.
On top of that is concern about exploitation and mistreatment of animals. For many, such issues are reason enough to avoid all animal products, including meat, eggs, and dairy.
Whether this area is a problem depends on your point of view. If you're mostly concerned about animal welfare, then you might avoid meat and only buy dairy products from animals that are humanly raised.
If your concerns focus on the idea of milk from another species, then you'll need to skip milk and cheese entirely.
It Might Cause Inflammation
Dairy products are often thought to cause inflammation, largely because of their saturated fat content. This is an area that's been debated and studied intensely. Thus far, there isn't a clear cut answer.
Instead, there is evidence on both sides of the equation.
A website for the U.S. dairy industry highlights a variety of studies that show that dairy doesn't make inflammation worse. They're biased, of course, but the science in those studies is sound.
Dairy may even be helpful in some cases. Other authors point out that there are many gaps in the research and much that we don't know. Even so, the evidence linking dairy to inflammation isn't strong.
However, even if dairy products don't cause inflammation in the general population, they may still be inflammatory for some people, including anyone with a milk allergy (which isn't the same as lactose intolerance) and people with irritable bowel syndrome.
If you're concerned about the effects of dairy on your body, an elimination diet is often the best approach. This involves cutting out foods you're worried about and then seeing how the body responds over time. Then try introducing the foods slowly and watch for reactions.
In the end, you should always trust how your body responds. Research is useful, but it focuses on averages. The information found in studies won't always apply to you directly.
Cheese Is Often High In Sodium
While sodium content varies from one type of cheese to the next, you're often getting a lot of sodium per serving. This can be a serious issue for anyone with high blood sugar and anyone else who needs to follow a low sodium diet.
Besides, let's face it, with so many sodium rich foods out there, many of us are already eating more sodium each day than we should be.
Which Types Of Cheese Are Best?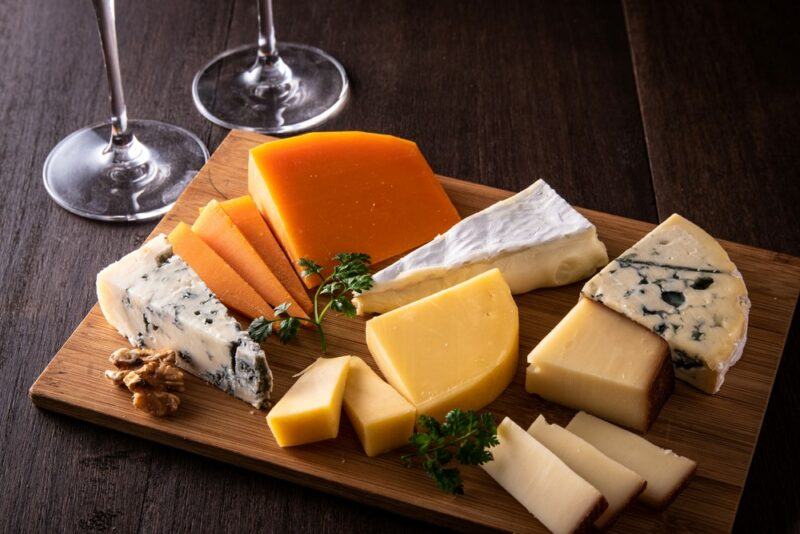 There are countless types of cheese to choose from, including fresh cheeses, soft cheeses, hard cheeses, smoked cheeses, blue vein cheeses, and plenty of others. These vary dramatically in how they are made, which leads to a variety of nutritional profiles.
The best type depends on what you're looking for.
Ricotta is often recommended, as it is a high protein cheese that can be excellent when you're trying to lose weight. Cottage cheese is another high protein choice.
Any goat's milk cheese may be appealing too, as goat's milk is lower in lactose than cow's milk and can be easier to digest.
Parmesan is another healthy choice. It's low in lactose, contains a surprising amount of protein, and is a decent source of calcium too. The cheese's distinct flavor means you can easily avoid overdoing it.
One final type to consider is mozzarella. This cheese is relatively low in sodium and calories, making it an excellent choice for dieters. String cheese is similarly healthy, as it is made from mozzarella.
Of course, any type of cheese can be healthy if you're eating it in moderation.
Is Grass-Fed Cheese Better?
Cheese is produced from milk, so the nutrients in cheese is partly influenced by the nutrients in the milk. This is important, as animals can be fed different diets and those diets influence the nutrients in milk.
In particular, cows in commercial farms are often given feed mixes. These mixes help to keep costs low for those farms, but the nutrients in the feed aren't the same as the cows would naturally be eating.
Other farms feed their cows grass instead. Milk from grass-fed cows tends to contain more nutrients and a greater amount of omega-3 fatty acids. This can mean that cheese made from grass fed milk offers more nutrients than if the cows were fed grain.
A similar pattern could be true for cheese made from goat's milk or from sheep's milk. However, those animals are more likely to be grass-fed anyway.
What About Processed Cheese?
Processed cheese goes by a variety of names and is even called cheese food or cheese product, rather than cheese. Not surprisingly, processed cheese contains an array of additives, many of which aren't helpful at all.
You're often looking at refined vegetable oils, coloring agents, potassium phosphate, and large amounts of sodium. Some types of processed cheese are better than others. Even so, why bother? There's no doubt that real cheese is a healthier option.
Should You Avoid Cheese?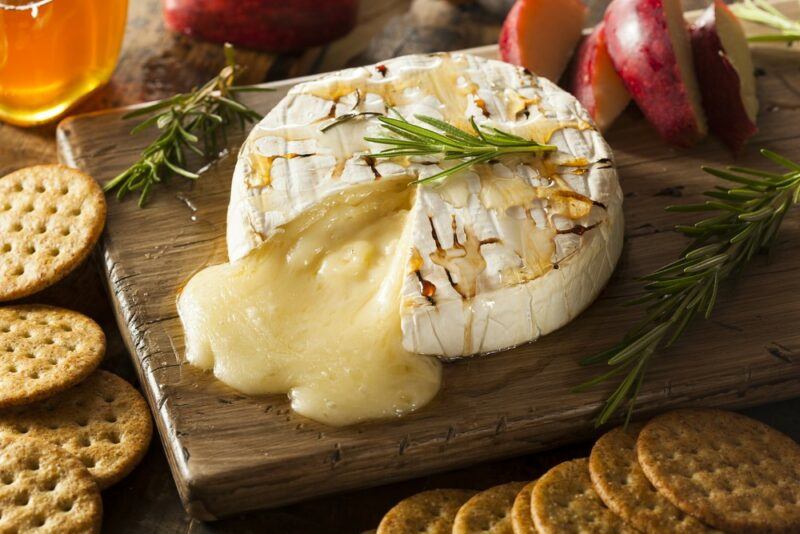 It's easy to suggest that cheese is unhealthy and that you should cut it out entirely. That's a misleading idea because, as we've seen, cheese does have benefits too.
Besides, cheese is delicious as a snack and as an ingredient. Let's not forget that it pairs well with wine too. It would be a shame to give up something with so many good features.
Instead of avoiding cheese, it's best to focus on keeping your portions in check and choosing your cheeses well. For example, cheese like mozzarella and cottage cheese are useful when you're focusing on weight loss, while cheese like brie and camembert might be better as the occasional treat.
Final Thoughts
Cheese is one of those foods that can be good for you, as long as you don't have too much. Unfortunately, it is easy to overdo it, so you may need to plan your meals or measure out portions before you get started.
It's also important to think about your diet as a whole, including your calorie intake and your other sources of saturated fat. If your diet is already high in saturated fat, you might want to cut down other sources of saturated fat before increasing your cheese intake.
On the other hand, if your diet is relatively low in calories and saturated fat, then cheese mightn't be an issue at all.
Frequently Asked Questions
Is Cheese Bad For Cholesterol?
The saturated fat in cheese makes it seem like a poor choice for your cholesterol levels and heart health. However, there's plenty of evidence that cheese doesn't notably impact cholesterol for many people.
You can also be wise in the type of cheese you consume. For example, mozzarella is much lower in cholesterol and saturated fat than cheddar or blue cheese.
Watching your portion sizes helps too. This stops you from overdoing it and means you can still enjoy cheese regularly.
Is Cheese Healthier Than Meat?
If we're talking about red meat specifically, then cheese might be a healthier source of protein of the two. After all, there are plenty of concerns about red meat, including the potential to raise cancer risk.
However, cheese is still high in saturated fat, more so than many cuts of meat. Meat and cheese also differ in their nutrient balance, with cheese offering plenty of calcium, while meat provides some minerals that aren't prevalent in cheese.
Still, the question isn't really a fair one. There's no either or decision with meat and cheese. Both can be included in a healthy diet without a problem. If you're concerned about the effects of red meat, you could always focus on white meat instead.
Is Cheese Good For Weight Loss?
Like many foods, cheese can be good for weight loss. It can also promote weight gain. Which of these is true depends on your level of cheese consumption and the rest of your diet.
One issue is that cheese is calorie dense. It also tastes fantastic and it's easy to keep reaching for more. This combination of features increases the risk that you'll overconsume cheese and gain weight from it.
Still, if you watch your portion sizes, cheese is a healthy and satisfying way to add extra flavor to meals.
What Is The Unhealthiest Cheese?
Unhealthy cheeses are normally defined by their calories and saturated fat content.
Blue cheeses often fare badly here, as they tend to be high in saturated fat. Their sodium content is considerable too. That's a problem for anyone with high blood pressure. Thankfully, blue cheese has an intense flavor, so you can keep your portions small and still enjoy it.
Anything labeled as a 'cheese product' is also a poor choice. This term is used for products that don't meet the criteria to be considered cheese. In particular, their cheese content is less than 51%. This means cheese products are heavily processed and often packed with additives.
Also be cautious with any product that's labeled as light, low fat, or is brightly colored. Those features all suggest a considerable amount of processing, which could mean your cheese contains far too many additives.
That said, some such cheese isn't too bad, so it's worth carefully reading the ingredients label to find out exactly what you're getting. Look for products with familiar ingredients and no additives.
What Is The Healthiest Cheese?
Mozzarella is one of the healthiest types of cheese, as it's naturally low in both fat and saturated fat. Cottage cheese is popular as well, particularly among dieters, as it is high in protein, despite being low in calories.
Then there's parmesan. This often features on lists of unhealthy cheese, as it's fairly high in saturated fat. However, the saturated fat doesn't matter too much because you only need a little parmesan at a time.
Parmesan also contains a decent amount of phosphorous and calcium, which have both been linked to bone health. Plus, parmesan's long aging means it's also extremely low in lactose. Even people with lactose intolerance can often consume it without a problem.