Flaming Cheese Saganaki
Prep this fancy appetizer for your guests. They'll surely enjoy this greek dish long after those flames cool down.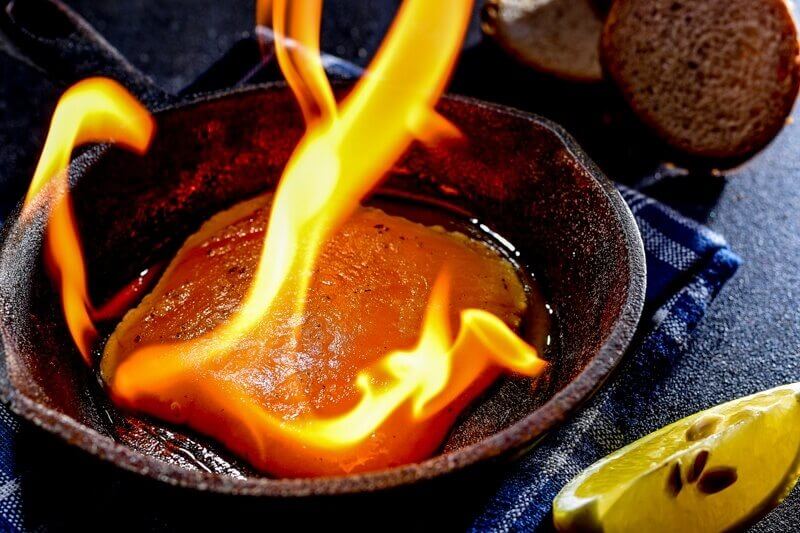 Ingredients
1

1" Slice

Provolone Cheese

2

Tablespoons

Flour

1

Tablespoon

olive oil

1

Tablespoon

Brandy

1

Wedge

Lemon
Instructions
Dredge the cheese in flour

Heat olive oil in a cast iron skillet

Brown the flour-coated cheese for about a minute per side

Flambe with brandy

Serve with a squeeze of fresh lemon juice
Though more popular for this flaming cheese appetizer, this Greek specialty is actually named after a saganaki, a diminutive of a sagani, or a small frying pan with two handles. In fact, it would also be common to see a shrimp or a mussel saganaki as part of a Greek restaurant's menu.
The dish is actually nothing more than a pan-fried slice of cheese, meant to be served with some dipping bread as an appetizer. The idea of being flambeéd by the guest's table, to be extinguished with a squeeze of fresh lemon juice, is believed to have its origins from the Parthenon restaurant in Chicago based on a customer's suggestion way back in 1968.
There really is nothing more to dredging a good slice of cheese in some flour and pan-frying it in a neutral-flavored oil until brown and bubbly on the outside while perfectly melted on the inside. A successful attempt at saganaki would be more dependent on your choice of cheese, for which hard yellow varieties would work best.
Traditional Greek cheeses such as graviera, kefalograviera, halloumi, kasseri, kefalotyri, or sheep's milk feta would be best but not without substitutes which you may find more locally available in your area. Pecorino Romano and Provolone would be good substitutes but do keep in mind that cheese intensifies in flavor after cooking so you may want to look for less salty varieties.
The only other point worth noting would be to work with fairly thick slices of cheese, about 1.5cm at the least, to keep it from completely melting away in the pan.

A cast iron skillet would be perfect for the job because of the higher temperature that it can achieve and maintain. Allowing the cheese to pan-fry relatively low and slow would increase its chances of melting away in the pan before it gets that good brown crust that we're after.




To complete the whole Greek restaurant dining experience, take the hot pan right to the dining table, pour in a shot of Ouzo(other types of liquor such as brandy would do), and set the pan on flames with a lighter. And of course, don't forget to shout out "Opa!".
If you're really new to flambeéing in the kitchen, let me tell you that those flames can rise really high from your pan. It would be worth checking on the height of your ceiling(yes, I'm serious) and getting the pan at a safe distance from your guests. Also, pour your alcohol from a shot glass rather than straight from its bottle.