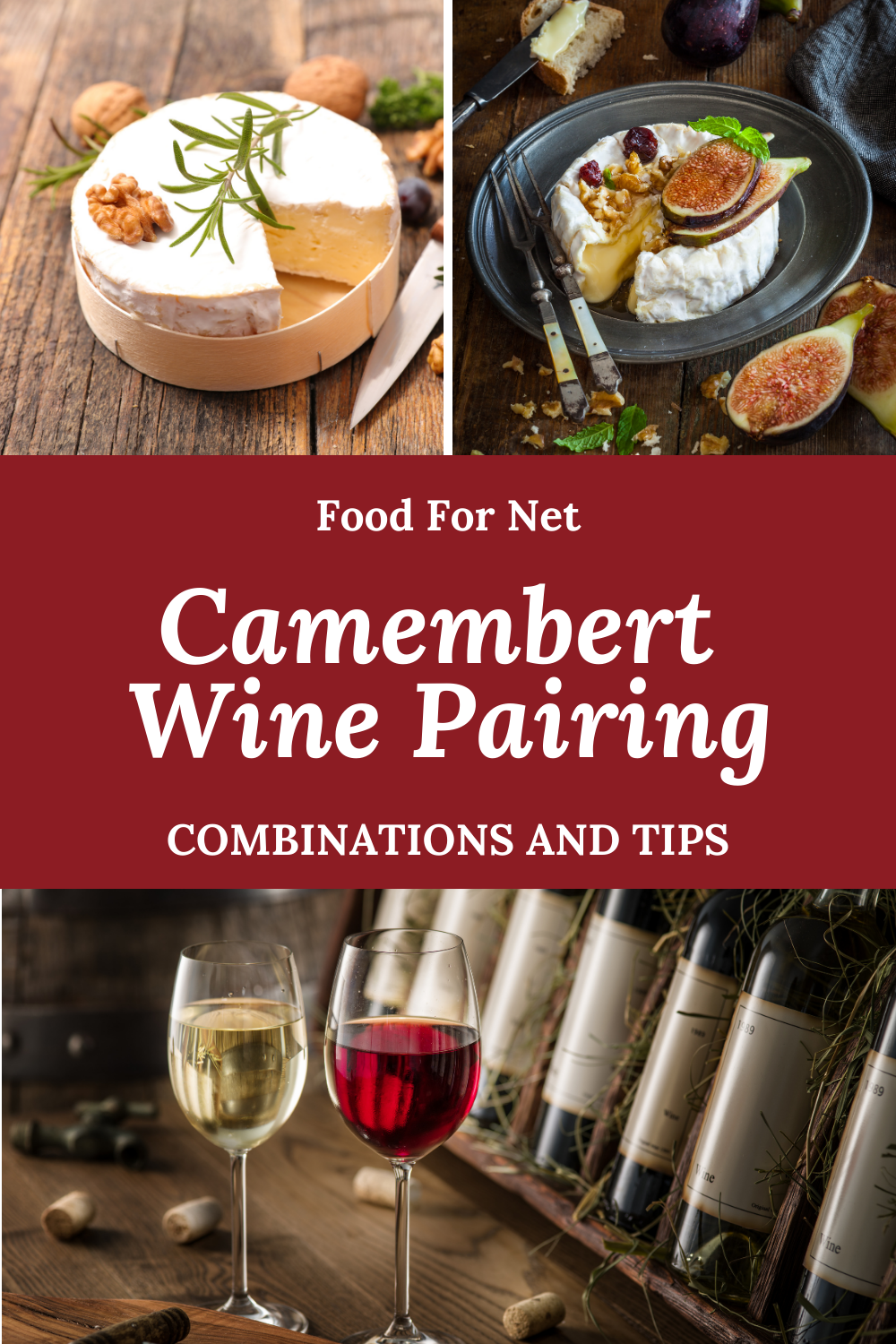 Pairing wine with cheese is always a little bit of an art. You need to consider the characteristics of the wine and the food that you're eating. This gets especially complicated when you're focusing on wine and cheese, as there are so many different types of each to choose from. That's why, in this post, we're taking a narrower look at the topic and talking about camembert wine pairing.
The topic might seem strange in some ways. After all, we're just focusing on a single type of cheese. Working out which wine to pair with it should be pretty easy, right?
The challenge is that there's never a single ideal type of wine to serve with a given food. Instead, there are multiple types of wine to consider, each of which pairs slightly differently with the food.
Then there is the cheese to think about. Camembert isn't always the same. Young versions of the cheese tend to be relatively mild, with a rich buttery flavor, a slight sweetness, and earthy undertones. Interestingly, the interior of the cheese tends to be firm when it is young. Camembert tends to become softer and creamier as it ages.
You'll also see some variation in the cheese from one company to the next. This variation means that your experience will be slightly different each time, which isn't a bad thing at all.
So, without further ado, let's dig into your main options for pairing camembert cheese with wine.
Camembert Wine Pairing
Chardonnay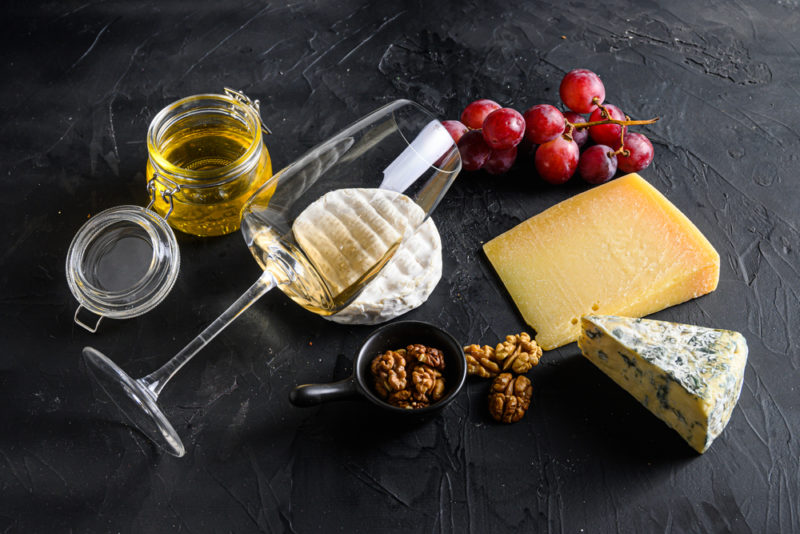 Young cheeses like camembert generally pair best with white wines and chardonnay is a classic go-to choice. One reason is that the acidity of the wine cuts through the creaminess of the cheese, creating a complementary pairing that you won't forget any time soon.
The wine and cheese are also similar in intensity, with both containing subtle flavor tones. This similarity prevents one from overwhelming the other. Instead, the wine helps you to enjoy the flavors of the cheese more – and vice versa.
When choosing your chardonnay, look for one that has experienced little oaking. Too much oakiness in the wine tends to mean less fruitiness, which then makes the wine a poorer match to the cheese.
Also, this combination is best with young versions of camembert. The flavor and texture of camembert do change as the cheese ages, which can influence the way that it pairs with wine. So, for mature camembert, you may turn to a chardonnay that has been through a little oaking.
Torrontés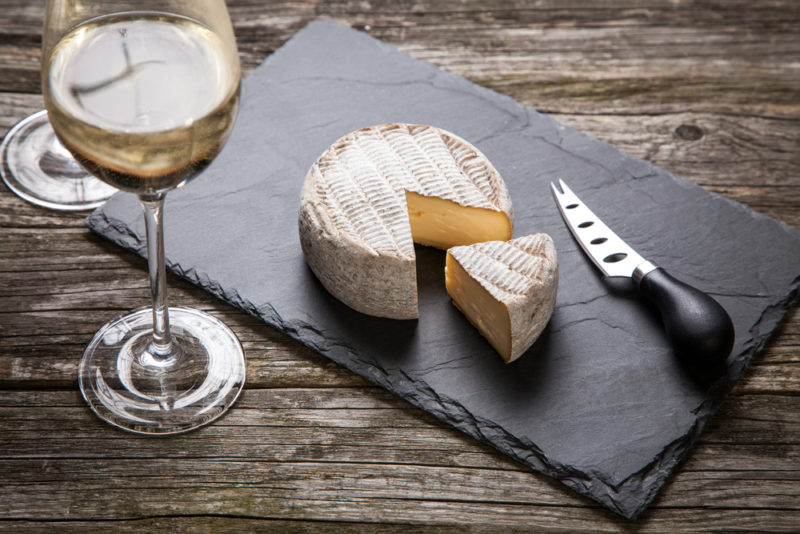 Torrontés is another dry white wine. It has a medium to light body and medium acidity. Key flavors include lemon, citrus zest, and peach, making this a vibrant choice. One unusual feature is that the wine smells sweet, but this scent doesn't carry through into the flavor of the wine.
The wine itself comes from Argentina and is generally a combination of three grape varieties. It is often recommended as a pairing companion for foods that are rich in herbs, spices, or fruit flavors. However, camembert has enough complexity that you can pair it with torrontés, without overwhelming the flavor of the cheese.
Chenin Blanc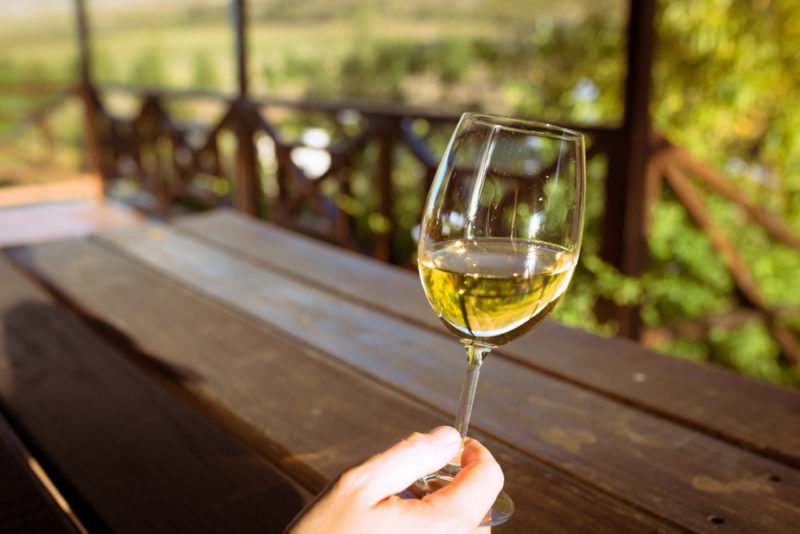 Chenin blanc can be made in a variety of styles, but tends to be a light-bodied wine regardless. The light body alone makes the wine a good choice with camembert, as there's no risk that the wine will overwhelm the cheese.
Another advantage is that chenin blanc tends to have apple flavor notes. This flavor profile naturally complements the camembert cheese.
Focus on young cheese for this particular pairing. The combination won't work as well if you're using mature camembert instead.
Champagne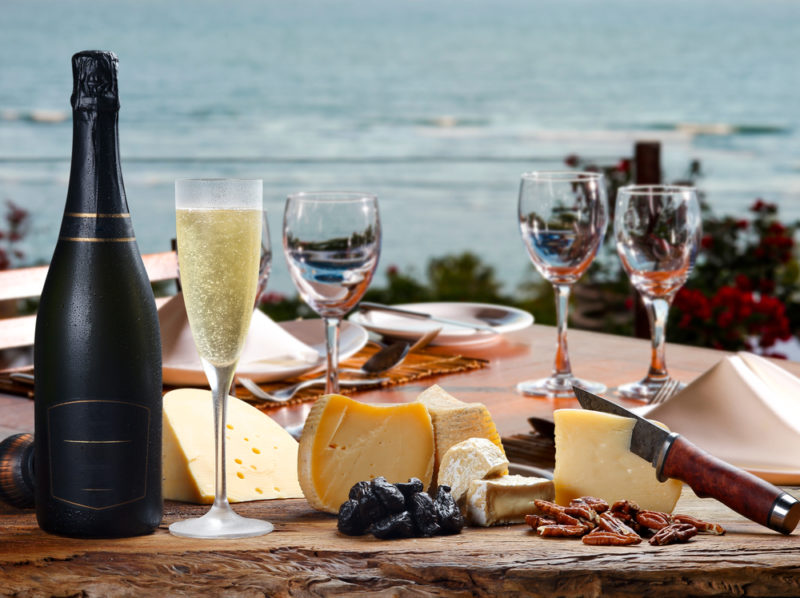 Champagne isn't an especially common choice for pairing with camembert, but it really should be. The bubbles in the champagne work well with the creaminess of the cheese, while the combination of flavors is exactly what you need too.
Brut champagne is one of the best choices here, as the ideal is to be relying on a dry white wine rather than a sweet one.
Don't worry if champagne is outside your budget. Other types of dry sparkling white wine are just as appealing and complement camembert in a similar way. Cava is one example. This is a Spanish wine that uses a similar production process to champagne. You end up with some of the characteristics to champagne, along with some differences.
Pinot Noir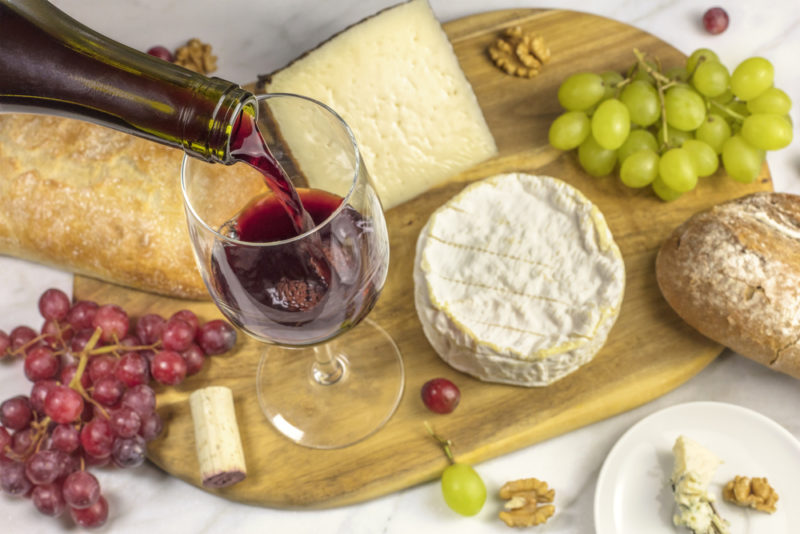 White wines tend to be the best choice for soft young cheeses, but you can sometimes turn to a light-bodied red as well. Pinot noir is one of the go-to choices here, as this red wine tends to be low in tannins and doesn't have a strong body.
Pinot noir has other advantages too. It tends to be a popular wine, even among people who focus on white wine rather than red wine. Many vineyards produce the wine, ensuring that there plenty of different types of pinot noir to choose from.
When pairing the wine with camembert, it's often best to look for a fruity pinot noir, which isn't an unusual style. A combination of fruit and cheese like this is always a hit.
Beaujolais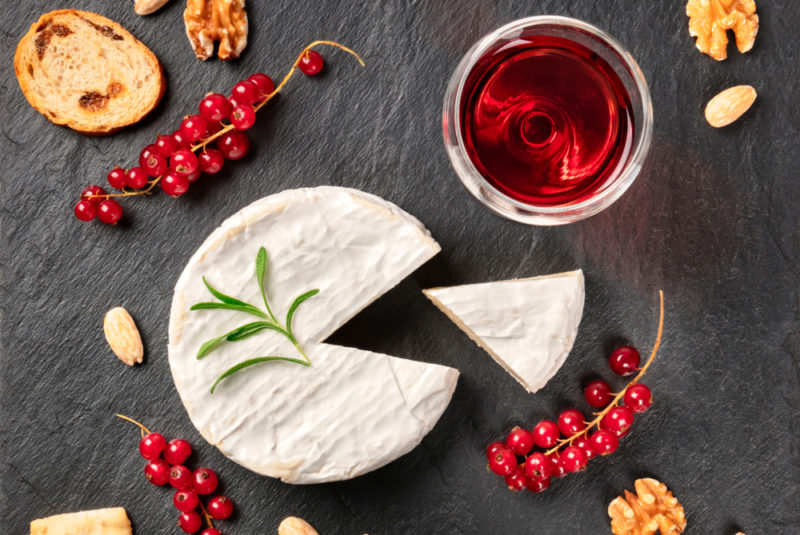 This wine variety might be less common than pinot noir, but isn't any less appealing. It is a French AOC wine, one that is created using the gamay grape. Like pinot noir, beaujolais wine tends to have a light body and low tannins.
The acidity of the wine is relatively high, which is another reason why it pairs so well with camembert.
Riesling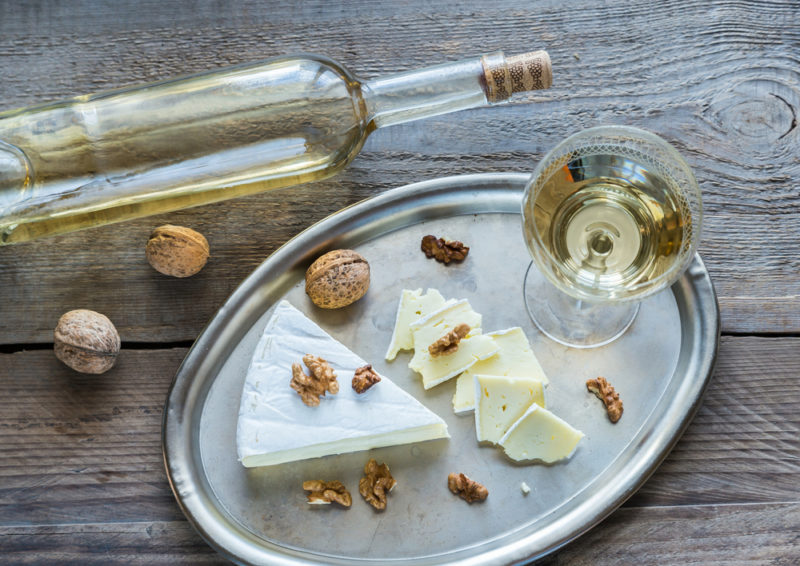 While a light bodied pinot noir can sometimes be paired with camembert, most people rely on a white wine instead. This isn't surprising, as white wines have a freshness to them that you don't often find with red wines. They're perfect for getting through the fattiness and creaminess of the camembert.
A dry riesling is a classic choice with camembert, partly because of the crispness and acidity that it offers. Riesling can also be slightly sweeter than other dry wines, which can be appealing.
Sauvignon Blanc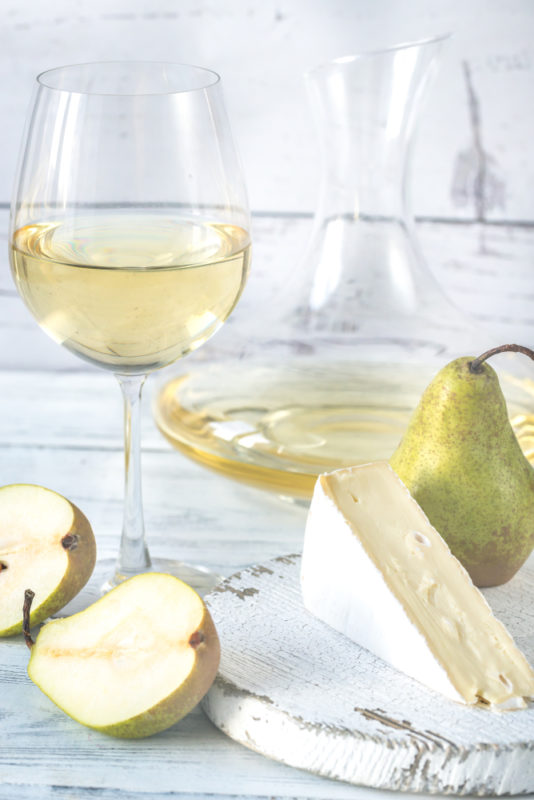 Sauvignon blanc is another white wine that seems to show up everywhere. You'll often find a large section dedicated to it in a grocery store, as this is a wine that many different vineyards produce.
With so many bottles of sauvignon blanc out there, it shouldn't be surprising that the wine can sometimes vary dramatically. Some bottles, for example, tend to have a much fuller body of flavor than others.
Still, in general, sauvignon blanc tends to be a dry wine with high acidity, and a medium-light body. This combination makes it especially interesting with fatty and creamy foods, as the wine is another one that basically cuts through some of the richness. By doing so, it can help the cheese feel less overwhelming.
There are also key fruit flavors present in the wine, which can include passionfruit, gooseberry, and grapefruit.
So then, it's no wonder that sauvignon blanc is often used as a pairing wine, especially for cheese.
Gewürztraminer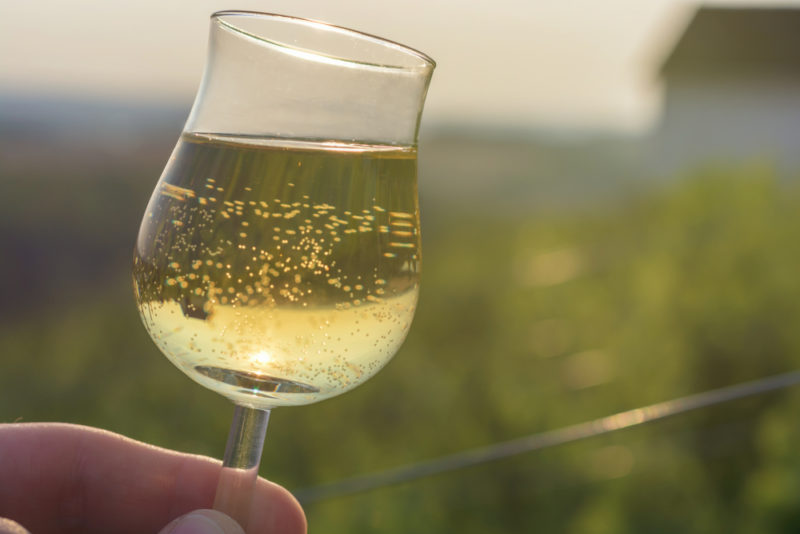 Gewürztraminer often falls into the category of being a dry white wine too, although it can be more vibrant than some of its counterparts.
While any type of gewürztraminer will pair well with camembert, take the time to look for one that is both fruity and aromatic. That combination of features will bring your wine pairing to an entirely new level, as you're getting more flavors and nuances to enjoy.
This type of pairing is especially relevant when you're serving mature camembert. The changes to texture and flavor that come with age mean that a more complex wine tends to be a better choice.
Cabernet Sauvignon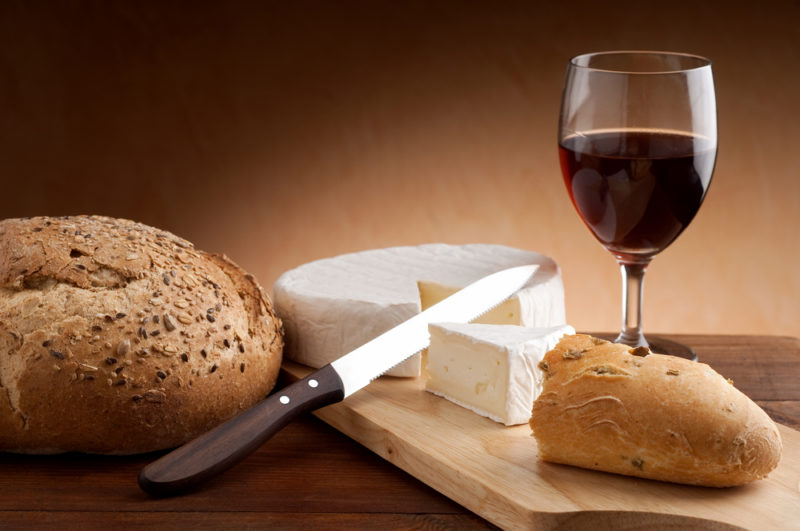 Interestingly, while most people recommend a relatively light wine with camembert, some writers take a completely different approach, suggesting cabernet sauvignon instead.
Cabernet sauvignon is a much more intense wine, with a full body, medium to high tannins, and medium acidity. This combination of characteristics creates a different type of wine and cheese pairing, as the nuances of your cheese stand out less than with the other combinations.
Still, the rich flavor of cabernet sauvignon does have some advantages too. You end up with a combination that tastes both delicious and decadent.
Baked Camembert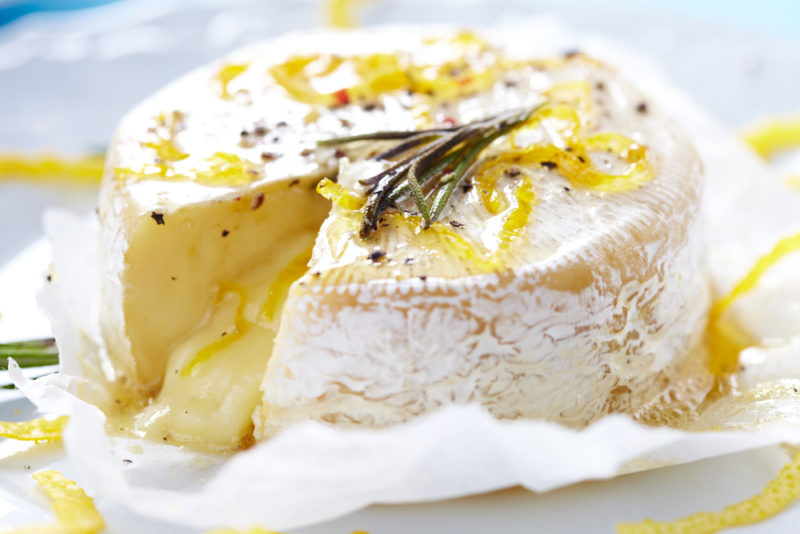 Some of camembert's popularity comes from the way that you can bake the cheese. When done well, baked camembert ends up being creamy and gooey. You can top it with herbs, nuts, honey, or other ingredients to create an even more interesting flavor profile.
Many of the wines that we've featured so far will pair just as well with baked camembert as they do with the fresh cheese. But, riesling is a particularly good choice. This has a freshness that easily cuts through the richness of the baked camembert, creating a combination that is easy to enjoy.
Champagne is another especially good choice with camembert. This pairing is powerful once the cheese has been baked, as the bubbles from the champagne contrast delightfully with the wine.
Tips for Camembert Wine Pairing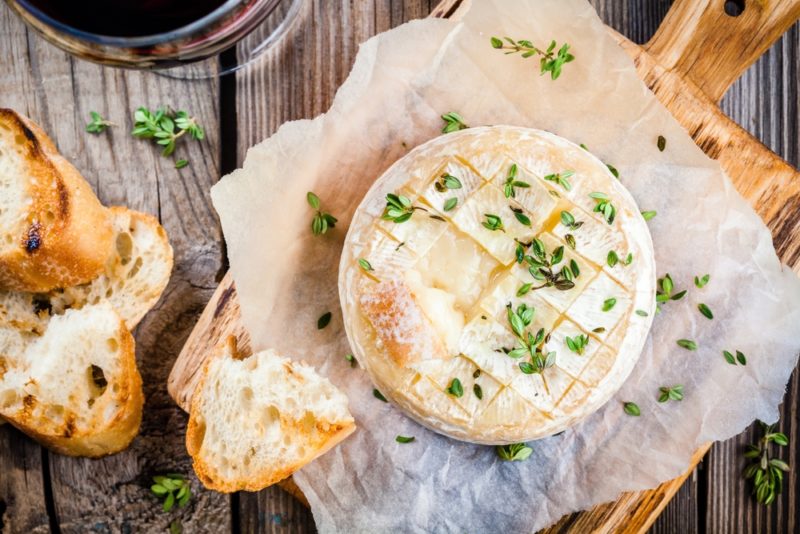 Camembert is similar to brie, so many of the wines that pair well with brie will also work with camembert. But, of the two, camembert tends to be more difficult to pair, as the earthy notes can sometimes clash with wines. For the most part, you want to be pairing white wines with the cheese.
Some light bodied reds can work and occasionally a full bodied red like cabernet sauvignon. However, the combination of a full bodied red with camembert is much less common than using white wine. This suggests that the combination won't appeal to everyone.
Related Content