Lobster is a premium dish, where you can enjoy the delicate sweetness of the meat, along the crispiness of the tendons. The flavor is similar to shrimp or crab, but also ends up being very distinctive. While lobster isn't for everyone, if you do enjoy it, there really is no substitute. And so, finding the best wine pairing with lobster is important, which is where this post comes in.
You probably already know the classic combination of chardonnay with lobster. This is the most commonly recommended approach and is perfect for beginners. Still, it's far from your only option. Other wines can be served with lobster too.
Each wine and lobster combination has its own distinct qualities. Some of the wines make your meal taste more vibrant, while others bring forward the flavors of the lobster even stronger. There are even a few unusual combinations in the mix.
Best Wine Pairing With Lobster
Chardonnay
Viognier
Sauvignon Blanc
Chenin Blanc
Riesling
Gewurztraminer
Pinot Gris
Chianti
Rosé
Chardonnay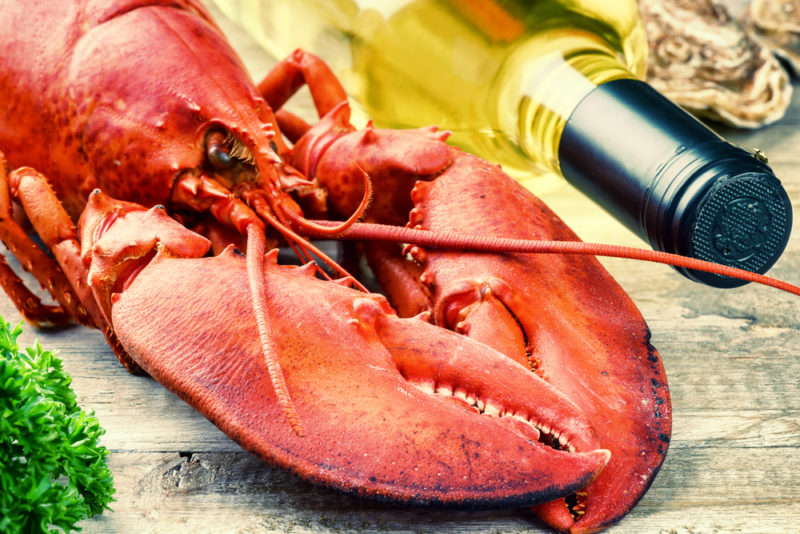 Perhaps the most classic pairing here is lobster with chardonnay. This combination is particularly good when the lobster is served with butter sauce, as you end up with complementary flavors.
Chardonnay works better for this pairing than any other type of dry white wine because it has buttery flavor notes. So, the flavor of butter is present in the wine and the food, and is one reason why this pairing works so well.
And, of course, as a dry white wine, chardonnay isn't going to overwhelm the flavors of your lobster. It has enough body to hold its own and no more than that.
Chardonnay comes in many different styles. Some versions end up with oaky and buttery flavor tones. Others are crisper instead, where the flavors of the fruit shine through the most. Thankfully, the style doesn't matter too much here. Just about any type of chardonnay will pair well with lobster, just in different ways.
You can even look for white burgundy. This is a special type of chardonnay that is produced in Burgundy, France. It is often considered better than any other type of chardonnay, which makes it an excellent choice for lobster pairing.
Viognier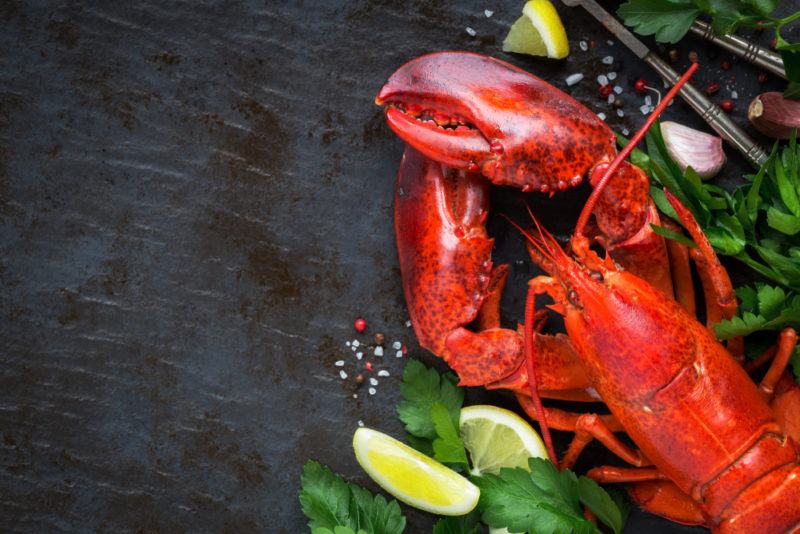 Viognier has some similarities to chardonnay, which is why many dishes that pair well with chardonnay can be paired with viognier just as easily. Like chardonnay, you can find viognier in oaked or unoaked styles.
Oaked viognier tends to have a creamier flavor than unoaked versions, and often has some spice notes present. The features of oaked viognier can be a natural complement to lobster, helping to highlight the richness of the meal without overwhelming the delicate flavors.
Viognier also has fruit flavor notes, including honeysuckle and tangerine. These are most notable in dry and unoaked versions of the wine, which can even have a slight bitterness.
This type of viognier can pair well with salmon too. The difference is that the profile of unoaked viognier tends to have an appealing contrast against the lobster, rather than being fully complementary.
Sauvignon Blanc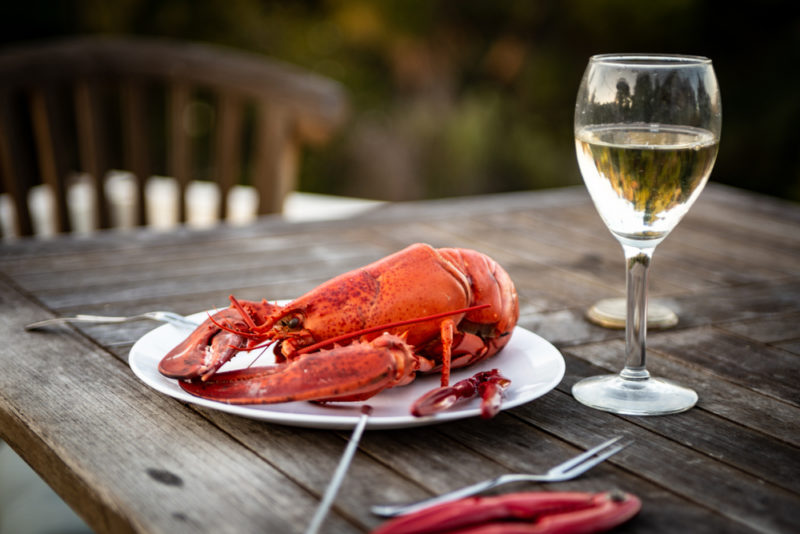 Sauvignon blanc is a dry white wine and is notable for its high acidity content. Like chardonnay, sauvignon blanc often has citrus notes. The combination of acidity and citrus means that the wine easily pairs with steamed lobster or boiled lobster.
There's another reason for focusing on sauvignon blanc too. The wine tends to have natural herb flavors. These are an easy complement to lobster, especially as you will often be serving herbs or other savory ingredients with the lobster.
Besides, sauvignon blanc is a popular wine, one that is easily found in local stores or as part of a white wine club. This means that you'll never need to scour stores or look for obscure websites to try and find a bottle.
Chenin Blanc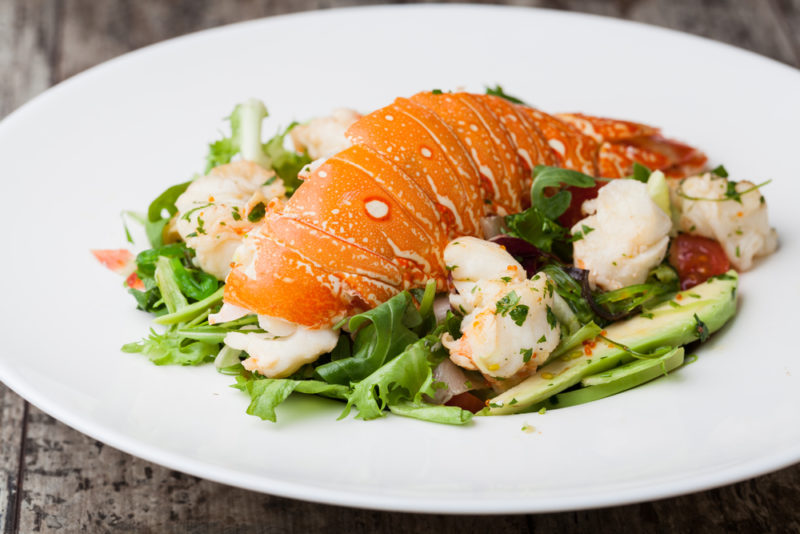 Chenin blanc is another light white wine. Like chardonnay, it comes in many styles. You can even find some that have been aged in oak and others that are sparkling. Once again, most of these styles will pair well with lobster, especially if you're focusing on still rather than sparkling wine.
Chenin blanc is similar to sauvignon blanc in some ways, except that it is often a little lighter and doesn't have the same herbaceous notes. Those aspects can both be appealing, especially if you're a little bored with sauvignon blanc.
Pairing with chenin blanc may involve some trial and error, as this wine can come in many different styles. And, to complicate matters further, the words chenin blanc often aren't on the label. Still, those that do use the words chenin blanc are often the dry style, which is the type that you're looking for when pairing with lobster.
Riesling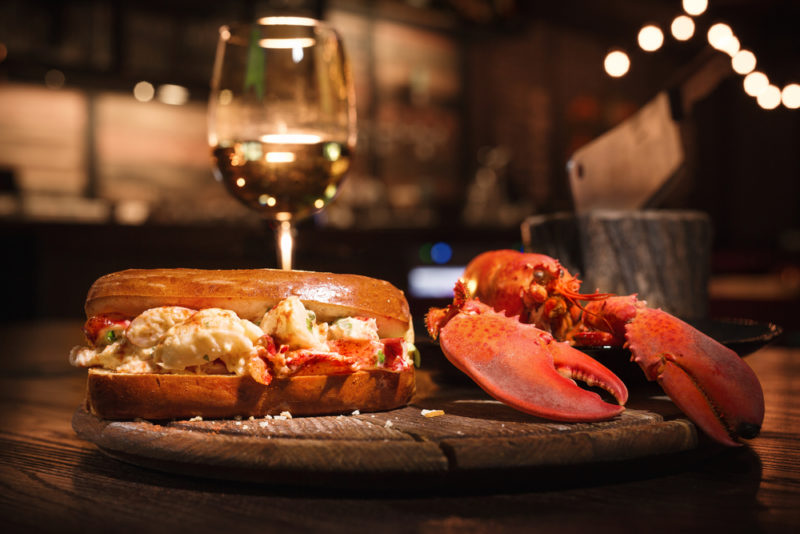 Speaking of white wines, here's another classic that you can't miss. Riesling tends to be acidic, with natural fruity and floral notes. The natural sweetness in the wine tends to go well the slight sweetness that lobster offers too.
Riesling is an especially good choice, as the wine isn't limited to a single way of preparing lobster. Instead, you could just as easily serve a glass of riesling with broiled lobster as you can with baked lobster. The wine even works well when you're serving lobster with some type of spicy sauce.
However, when you're looking at riesling and lobster, try to focus on a dry version of the wine. While you can find sweet and off-dry versions of riesling, these aren't going to work as well with the flavors of your lobster.
Gewürztraminer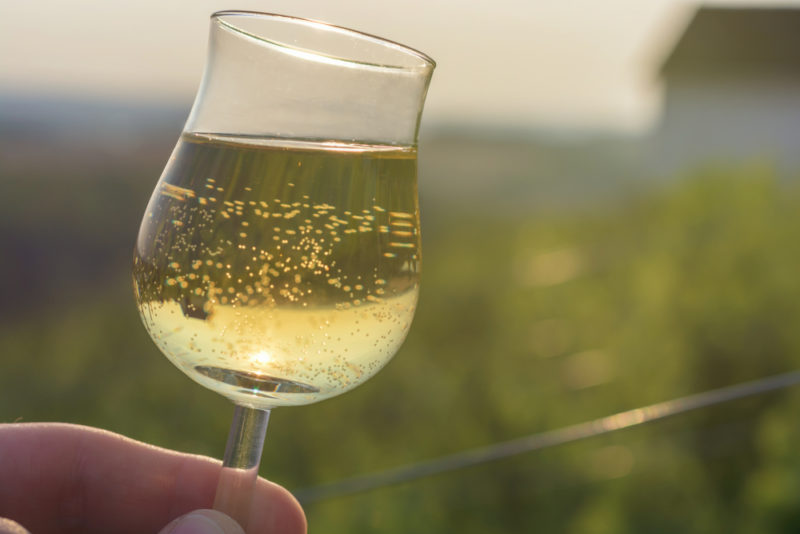 Gewürztraminer wines tend to be similar to riesling, except that a gewürztraminer also has spicy-sweet notes. While gewürztraminer is often produced as a dry white, it tends to be a little sweeter than other types of dry white wine.
The spicy-sweet characteristics of the wine are perfect with lobster, as you're complementing the sweetness of the meal while also providing some contrast. The acidity in gewürztraminer isn't too high either, which is useful if you're not fond of highly acidic wines.
Pinot Gris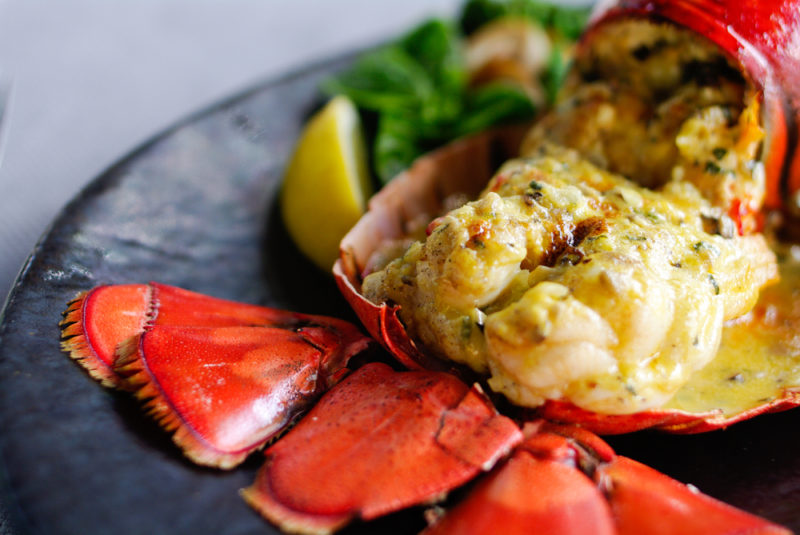 Pinot gris is lighter than the other white wines on this list, but that doesn't make it a bad choice. The lightness of the wine allows the nuanced flavors of the lobster to really shine. This is even more important if you're not serving your lobster with a rich sauce.
Plus, pinot gris wines tend to have citrus notes in their flavor profile, just like sauvignon blanc. These citrus notes are important, giving you a delicious complimentary flavor that you don't want to miss.
You could also turn to a pinot grigio. Pinot gris and pinot grigio are made from the same type of grape. They're similar enough that they're sometimes considered to be the same type of wine. But, pinot grigio does tend to be lighter and simpler of the two options.
The lightness of a pinot grigio is a good choice with lobster, as you're truly allowing the flavors of your seafood to shine.
Champagne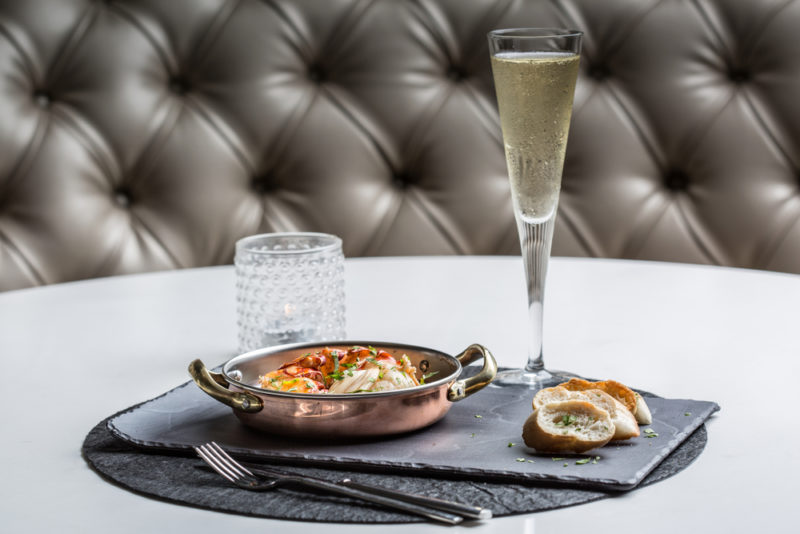 We can't ignore sparkling white wines either, particularly champagne. The vibrancy of sparkling wines easily complements the delicate flavors of lobster. This is especially true if you are serving lobster in a rich sauce. Here, the champagne works well with the lobster, while stopping the whole meal from feeling too rich.
If you're having lobster for a special occasion, then splashing out for champagne could be an ideal move. But, don't stress if champagne is out of your budget. Other sparkling white wines can be just as good (even better, in some cases).
An easy approach is to look for sparkling versions of the wines that we've already highlighted on this list. Many of these will be exactly what you're looking for.
Chianti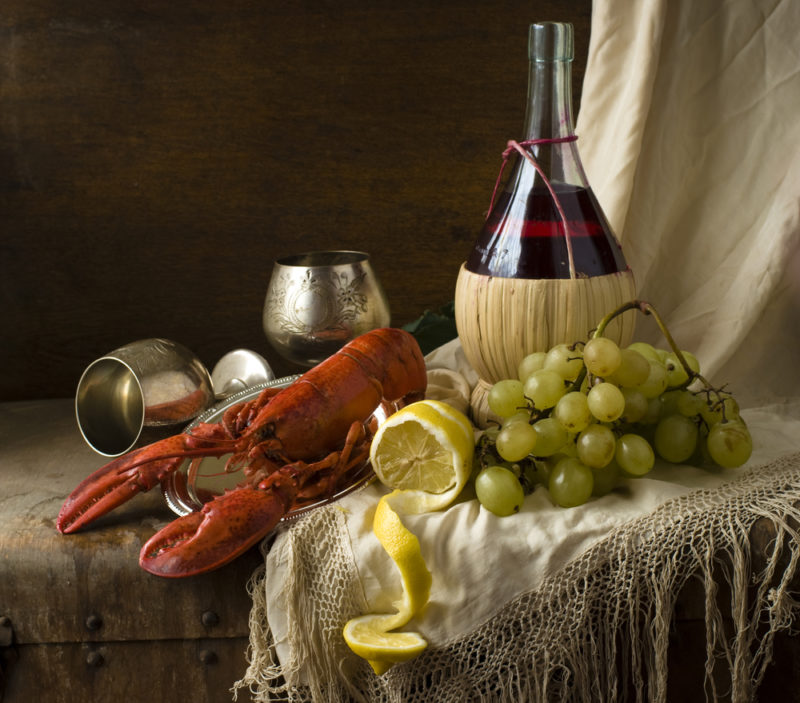 White wine is the classic choice for seafood dishes. You don't often see red wines used instead, especially not with lobster. Even so, some red wines can be appealing, especially if your meal relies on a tomato-based sauce.
Chianti is an easy choice here. It has high acidity and low tannins. The low tannin content is critical, as tannins can easily overpower the flavors of the lobster and sauce.
Chianti also has some herbaceous notes. These naturally complement the tomato flavors in the sauce.
Rosé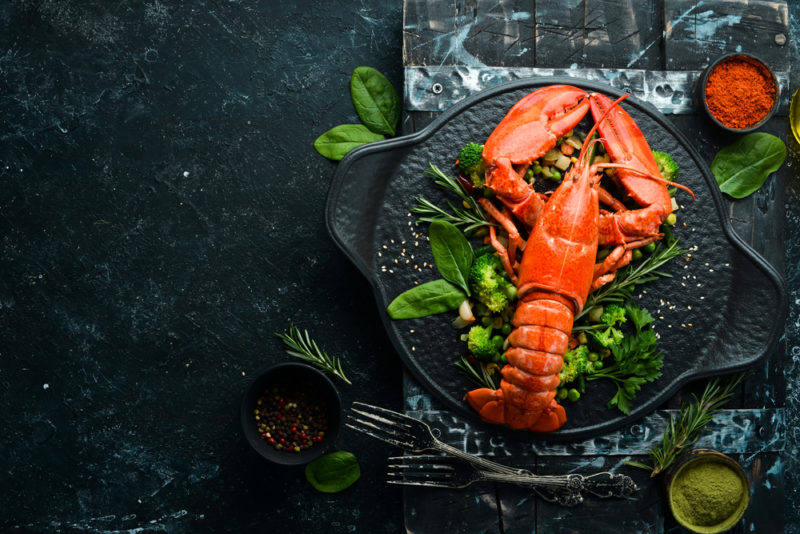 Let's round the list off with one more unusual choice. Like red wine, rosé isn't a traditional choice with lobster. Yet, it can be a good one, as the wine offers more complexity than many whites and an interesting depth of flavor. Rosé wines often have herbaceous notes too, which is ideal if you are serving your lobster with some greens.
For that matter, rosé wines are versatile. They pair well with plenty of foods and adequately with many others. This makes rosé wines an easy choice if you're serving many types of food at the same time, like at a party.
When pairing with lobster, look for a dry rosé, rather than a sweet one. This will give you the best balance of flavors.
Tips For Pairing Wine With Lobster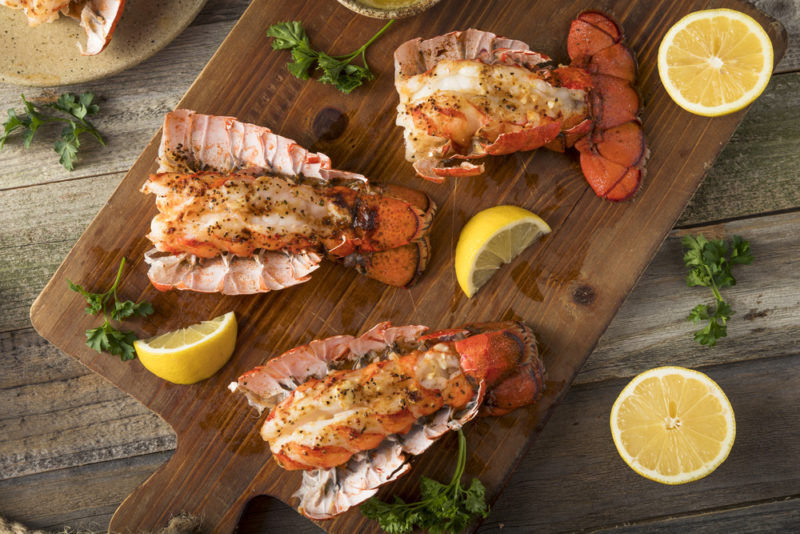 As always, the wines on this list aren't your only options for pairing with lobster. After all, food and wine pairing is always an art. It's strongly influenced by your personal preferences and by the individual bottles of wine that you focus on.
This means you'll easily be able to find other types of wine that pair well with lobster as well. A good way to do this by starting with one of the wines on this list and branching out from there. Look for other wines that have similar characteristics, then see what you do and don't like about the combination.
You can then start to go broader and experiment with new ideas. Don't be afraid of off-the-wall combinations either. Some of the best food and wine pairings are ones that you would never have about previously.
Here's another tip – think about how your lobster is cooked. Cooking style tends to influence the flavor and texture of your lobster. For example, when lobster is boiled, it tends to have a fresh taste and a relatively soft texture. On the other hand, when lobster is baked, the flavor becomes richer and the texture meatier.
Not surprisingly, you might use a different type of wine for boiled lobster rather than baked lobster. Think about your entire meal too. The sauce that you use and the other ingredients will change the flavor of the dish, which can then influence the best wine to use.
You'll find that lobster works well enough with many types of wine. However, be careful with wine that is too rich. For example, a rich and okay chardonnay can overpower the flavors of the lobster, while brut champagne can be too dry. When in doubt, choose subtle over bold.