While wine is delicious and is easy to enjoy, it can also be incredibly confusing. After all, there are countless different types of wine out there, not to mention all the variations between individual wines. This confusion is why today's focus is on some of the best red wine pairing combinations. 
We aim to show you the key concepts of red wine pairing and provide you with various examples to get you started. Once you have these ideas under your belt, you'll be able to experiment on your own. 
The first thing to mention is that red wine tends to pair best with bold flavors. Plus, bitter wines tend to be best when served with fat, and red wines are generally bitter. These two 'rules' are why red wine is often combined with red meat and with rich sauces. 
There are other so-called rules to consider too, like the idea that your wine and food should have roughly the same intensity and that wine should be both more acidic and sweeter than the food it is served with. Of course, these rules don't need to be strictly followed. You can start to experiment with your own combinations once you get more familiar with the way that different red wines and foods combine. 
After all, as you'll see, there is considerable variation between the different types of red wine. Some, like pinot noir, are relatively light and often pair well with foods that seem a little delicate. Others are more intense and could easily overwhelm a delicate or nuanced dish.  
Best Red Wine Pairing Choices
Cabernet Sauvignon with Steak

Let's start the list off with a classic. The way that red wine pairs with red meat isn't a secret at all. While most red wines work well with most red meats, the combination of cabernet sauvignon with steak is a particularly good one. 
There's something just perfect about the tannins and fruitiness of cabernet sauvignon when you're enjoying a glass of the wine with steak. And, for that matter, cabernet sauvignon will combine just as well with many other cuts of beef.  
Cabernet sauvignon from Napa is often thought to be the absolute best choice for pairing with steak. But, don't be too quick to dismiss other options. Red wines from other regions can be just as appealing and may complement your steak in their own particular ways. 
Pinot Noir and Roast Salmon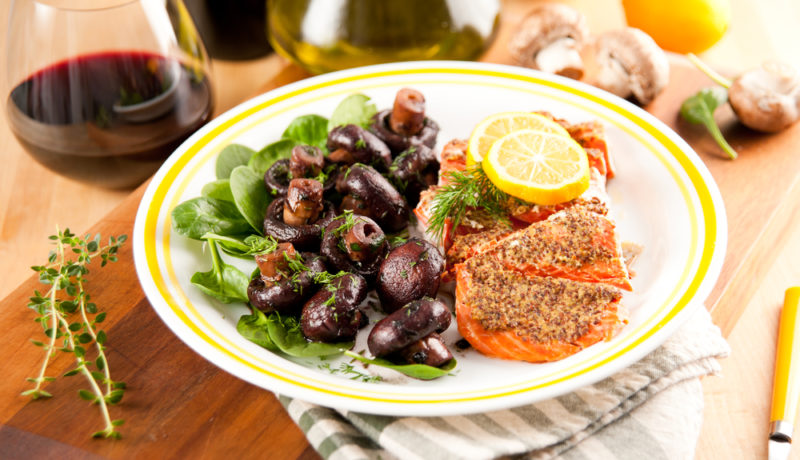 Fish is generally served with white wine rather than red wine, but the combination of roast salmon and pinot noir is simply exceptional. One reason may be because salmon is fattier and has a richer flavor than many other types of fish.
A red wine like pinot noir also has more body and complexity than a white wine, which helps it to stand up against the depth of flavor that salmon offers. If you rely on a white wine instead, there's a risk that the nuances of the wine would be drowned out.
Duck and Pinot Noir

Here's another pairing that you might not expect, as white wine is normally served with poultry. However, the fruitiness and savory tones of pinot noir are a perfect complement to the way that duck has somewhat earthy flavors. 
The flavor of duck is strong anyway, much more so than other types of white meat. So, perhaps it's no surprise that duck works well with red wine. 
Pinot noir isn't even the only type of red wine that you can use. Other types of light bodied red wines are a safe bet or you can look for something with a bit more body to it, like a merlot. Merlot tends to sit in the middle of the red wines, with a medium body, medium-high tannins, and medium acidity.
While a medium bodied red might seem like too much for duck, the meat does have enough richness to avoid being overwhelmed by the wine. The result is a rich combination that works much better than you might expect.
Pinot Noir and Cheese

If you want an easy wine pairing – go with pinot noir and cheese. The cheese you choose doesn't matter at all. Pinot noir pairs well with any type of cheese. 
Why not take advantage of the combination and create a delicious cheese board that you serve with pinot noir. Add some crackers or fresh bread to the mix, along with other complementary foods, like olives and marinated mushrooms. It doesn't take much effort to create a meal that looks stunning and tastes even better than it looks. 
Chianti with Spaghetti and Meatballs

Chianti is an Italian red wine with a fruity and bold flavor. This combination works perfectly with the acidity that the tomatoes offer. A dish like spaghetti and meatballs is rich with tomato flavors, so it's easy to see why chianti is such a good choice. 
This combination is also a good example of how red wine complements red meat. So, you end up with a wine and food pairing that works well on multiple levels. 
Pinot Noir With Rare Steak

Earlier on, we mentioned the classic pairing of cabernet sauvignon with steak. That combination is always popular, but it isn't your only option.
If you're serving your steak on the rare side, then you can choose a lighter red instead. Doing so allows the texture and flavor of the steak to shine through.
Pinot noir is a good choice here. It is light enough to complement the steak, while having enough flavor to stand on its own. You could consider a gamay as an alternative.
Beef Bourguignon and Burgundy

This is a classic combination of wine and food. It isn't surprising either, as beef bourguignon is often made using burgundy red wine as an ingredient. The flavor of the wine is a perfect choice for the meal, as the wine is rich enough to complement the meat, but isn't so full-bodied that it masks the flavor of the meat entirely. 
Burgundy wine does tend to be expensive, especially if you're looking for a bottle that has been aged a little. If burgundy is out of your price range, you could try a gamay or pinot noir instead. Both wines have similar advantages and it will often be easier to find a well-priced bottle of pinot noir. 
Roast Chicken and Pinot Noir

Chicken is classically paired with white wine, as it is a light meat that doesn't have a strong flavor. But, white wine isn't always the right choice.
For a roast chicken, try a light red instead, like a pinot noir. This combination works because roast chicken does end up with a fairly strong flavor, especially if the chicken has been seasoned or brined.
Flavor intensity like that will often overwhelm a white wine, while pinot noir easily stands up on its own.
Beef Stew With Bold Reds

Beef stew tends to be a rich meal that's packed with many amazing flavors. So, it's not surprising that an intense red wine is your best choice.
Cabernet sauvignon is an easy go-to here, as the high tannin content and strong flavors will complement your stew well. A syrah is another good choice and will provide many of the same advantages.
You can also focus on the ingredients that are in your stew. If you've used burgundy wine as a base, for example, pairing the stew with the same burgundy is the logical choice.
Beef stew is one of the few meals where the other ingredients that you use aren't going to influence the wine pairing too much. After all, the slow cooking process tends to meld the various flavors together, so any veggies that you add aren't going to affect the flavor profile very much in the end.
Malbec and a Hamburger

The ingredients that you add to your hamburger will influence the best wine to choose. Still, malbec is a good place to start and will complement most burgers well. 
One reason is that malbec tends to be an easy-to-drink red, one that isn't overwhelming in terms of tannins or acidity. Despite this, it isn't a boring wine. Malbec contains enough interesting flavors to stand on its own, even when paired with a burger, which has plenty of intense flavors of its own. 
You can also combine a cabernet sauvignon with a burger. This combination tends to be more common than malbec and works just as well. The main limitation is that some of the nuances of the wine get lost due to the strong flavors of the burger. 
Pinot Noir and Mushrooms

Pinot noir is a rich and earthy wine. It is also a fantastic choice for red wine pairing, as the wine is simply so versatile. The earthiness of the wine means that pinot noir pairs well with means that have a similar earthiness to them. 
This means that pinot noir naturally complements many dishes that have a dominant mushroom flavor, like mushroom risotto. There are even recipes for a pinot noir mushroom sauce, which highlights the power of the flavor combination.  
Pinot Noir and Venison

The earthy nature of pinot noir also means that it pairs well with gamey meats, including venison. You could even use venison and mushrooms in the same dish to further play on the combination of flavors. 
Another reason for this pairing is that pinot noir tends to complement lean meats rather than fatty ones – and venison tends to be relatively lean.
Fatty Cuts of Beef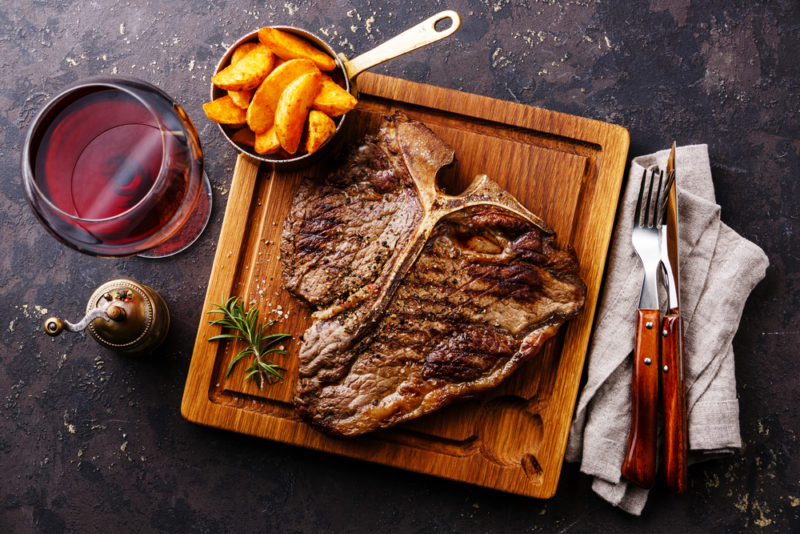 The fat content of your meat strongly influences the type of wine that you need. This is partly because fatty meat tends to be softer, juicier, and has a richer flavor than lean meat.
You're looking for a wine that will complement the intense flavors without getting overwhelmed. In particular, you need a red wine that is high in tannins. The wine is even better if it has strong flavors of its own too.
A cabernet sauvignon is an easy choice here and a good go-to solution if you don't want to spend too much money. You could also consider a petite sirah. This type of wine has a strong flavor and is strongly tannic, making it ideal for fatty meat.
Lean Cuts of Beef

If the beef you're serving is on the lean side instead, then you'll need to change the type of wine that you're serving. Lean cuts of meat tend to dry out when they're cooked and they lose flavor in the process.
This flavor loss means that a full bodied red would overwhelm the steak and you'd lose the nuances of the meat. You need to stick to a medium bodied red or even a light bodied one.
Merlot is an easy choice here, although you could try a sangiovese or zinfandel if you feel like experimenting a little.
Lamb

Lamb is a delicate choice, more so than other types of red meat. It has subtle flavors and a wonderful texture, especially if it is cooked medium rare.
The delicacy means that you're looking for a relatively light red wine to go with the lamb. Malbec and syrah are two choices that work well here. You could also look at chianti, which is a popular Italian wine.
Malbec can be particularly good if you are serving the lamb with mint sauce. Mint tends to increase the flavor complexity of malbec, which makes the combination of lamb, mint, and malbec simply stunning.
Bordeaux and Steak Frites

Steak frites refers to a meal of steak and duck fat fries. The dish works well with many types of red wine, but is particularly powerful when paired with Bordeaux.
The bold flavor profile of Bordeaux is perfect here, as it is a natural complement to the umami flavor of the meat. Plus, the meal is high in fat, which is important too, as the fat content helps to offset the tannins present in the wine.
This combination highlights two powerful things to consider with Bordeaux wine. You'll generally get the best results when focusing on a meal that is high in fat and has notable umami characteristics.
Zinfandel with Dark Chocolate and Blue Cheese

Zinfandel is well-known for its rich color, full body, and strong berry flavors. It can be an intense wine that pairs best with strong flavors. As a result, it is one of the relatively few wines that consistently performs well when paired with strong blue cheese.
The spicy notes in zinfandel also make it a good match for dark chocolate. And, of course, dark chocolate and blue cheese taste good together too. The combination of the three could be delightful as an evening snack or a treat to serve guests.
Port with Milk Chocolate and Cheddar

While we're talking about pairing wine with cheese and chocolate, here's a second one. This time the combo relies on milk chocolate. The wine of choice is a ruby port, which is a type of fortified wine. Ruby port has a rich body and an appealing sweetness. These features make the wine ideal for serving with chocolate and cheese.
Port is also classically served with blue cheese. When you do this, the sweetness of the port helps to offset some of the funkiness that comes with blue cheese.
Zinfandel and Barbecued Meat

Red zinfandel tends to be a rich wine that can be slightly sweet and has a notable fruity flavor. It can be a powerful choice, especially as the alcohol content can be higher than most other types of wine.
While white zinfandel is more common in the United States, red zinfandel can be an excellent food pairing wine. It is especially good when served with foods that have a sweet and spicy combination, which makes the wine ideal for food that has some type of barbecue sauce or seasoning.
Even meat that has been cooked on the barbecue and doesn't have all that much seasoning could pair well with zinfandel, as there are plenty of intense flavors to go around.
Sausages and Mash

Sausages and mash is a traditional British meal that is often served with onion gravy. The rich flavor profile means that the meal is normally served with beer rather than wine. But, that doesn't leave wine out of the picture entirely.
You can still serve wine with sausages and mash. The trick is to choose one that has enough oomph to take on the sausages. Malbec is a good choice here, along with red wines from southern France or perhaps Spain.
Sangiovese and Pepperoni Pizza

Wine and pizza? This combination might sound a little strange, but why not? Wine can be paired with casual foods and snacks just as easily as with expensive restaurant foods.
The type of wine will strongly depend on the pizza that you're eating, as pizzas can vary dramatically in flavor. For a pepperoni pizza, you're going to need something that won't be overpowered by the flavors of your meal and the fat content.
Sangiovese is a good choice here. This classic Italian wine tends to be rustic and somewhat earthy, although the grape is versatile, so some versions end up being more fruit forward than others.
If sangiovese doesn't work well for you, then consider a cabernet franc instead. Cabernet franc wines tend to have higher acidity than many other reds, making them ideal for pairing with tomato-based meals and rich flavors.
Mushroom Pizza and Pinot Noir

Mushroom pizza is another type that's worth mentioning. This time the flavors aren't as intense, so a pinot noir should be perfect. After all, a pinot noir is on the lighter end of the red wines, so you get some of the complexity of a red wine, without overwhelming flavors.
Pinot noir is also versatile. It pairs well with many different meals, including those that you would expect to use white wines with. As such, it's hard to go wrong with a good bottle of pinot noir.
Moussaka and a Greek Red

Moussaka is sometimes called Greek lasagna or Greek eggplant lasagna – names that are fitting, as the dish has a similar structure to the lasagna that we know and love. There are also some radical differences, as moussaka relies on potatoes, beef mince, and sliced eggplants as key ingredients.
The eggplants are, by far, the most unusual part of this dish, but don't judge the meal until you've tried it for yourself. The popularity of moussaka speaks for itself. And, if you're still not convinced about the eggplant, you could leave this out and you'd still have a delicious wine.
Not surprisingly, moussaka is best served with a flavorful red wine. After all, there are plenty of rich flavors for the wine to contend with. As the dish itself is Greek, pairing it with a Greek wine just makes sense. Two good choices are xinomavro and agiorgitiko. Finding these outside of Greece may take a little work, but the wines are more common than many other Greek reds.
You could also look for red wines from Sicily or the south of Italy. The characteristics of these are also a good match to moussaka.
Paella

Paella is an interesting meal, especially as the dish can be made in countless different ways, with variations in the ingredients and the flavors.
There are two consistent aspects to the dish, which are both relevant to wine pairing. The first is that paella often includes some seafood, regardless of whether other meat is present or not. The second is that paella tends to be savory rather than spicy
Despite the use of seafood, pairing paella with a white wine isn't essential. The dish also works well if you use a light red or a rosé. Even a medium-bodied red wine could be a good choice in some situations, such as a rioja or a grenache blend. The trick is to avoid red wines that are heavily fruit driven.
Light Merlot and Charcuterie

Here's one final pairing to round off our list, although it's a pairing that takes a little explanation. The word charcuterie refers to types of prepared meat, like ham, salami, and sausage, along with related products, such as pate and confit. Charcuterie boards often include related foods too, like sun dried tomato, crostini, crackers, and cheese.
Ideally, you want a wine that's going to pair well with most or all the items on the board, rather than just a few. A light merlot is one type of wine that works well here. For example, classic Merlots from Bordeaux often have a lean body, a feature that complements charcuterie well.
Final Thoughts

We have, of course, only featured a fraction of all the possible food and wine combinations. Any single type of wine could be paired with dozens of different meals. Plus, many types of food could easily pair with half a dozen types of wine, if not more. Take brie and baked salmon as examples. There are plenty of wine pairings for each of these, including some expected and some unexpected options.
When you're pairing wine on your own, it's often best to start with familiar combinations and branch out from there. For example, wines that pair well with one type of red meat-based meal will probably work similarly well with another.
You can also consider the general idea of wines and foods that come from the same location pair well. While this isn't a hard and fast rule, it is true often enough to be useful. The combination of a Greek red wine and moussaka is one example of this pattern.