BBQs are always popular, especially when the weather gets warm and we all start heading outside. The food can even be popular when we're stuck indoors with fewer options at our fingertips. And, while beer is a popular choice at such an event, finding good BBQ wine pairing combinations is an even better idea.
After all, the right combination of wine and food makes everything taste that much better.
The challenge is that wine and food pairing can seem confusing. Just take a look at the wine selection in the grocery store. There are many types to choose from and specialized stores will offer even more.
Thankfully, pairing wine and food isn't as difficult as it might seem. For one thing, despite all the 'rules' and recommendations, there is no single correct wine for any type of food. Instead, the best choice strongly depends on your own preferences.
You can also use the pairings in this post as a guideline. We're covering reliable wine pairings for most of the popular foods that you'll serve at a BBQ, along with ideas about wines that will match with many different foods. For more inspiration, check out our lists of red wine pairing, white wine pairing, and finger foods for wine pairing.
BBQ Wine Pairing
Sausages

Sausages are an easy go-to BBQ option, especially as they're often inexpensive. There are also many different types to choose from, including some that are spicy, some that are rich in flavor, and others that are much more subtle. Such differences all make wine pairing complex.
Not surprisingly, the best wine is going to depend on the type of sausages that you're serving.
A fruity red wine with some tannins, like a merlot or a cabernet sauvignon, is a good place to start. This type of wine will stand up well to sausages that have complex flavors, particularly those that are on the fatty side. This is particularly true for spicy sausages and beef hot dogs, as these don't aren't subtle at all. You might even want to focus on a heavily oaked bottle of cabernet sauvignon.
If your sausages tend to be mild instead, then consider pinot noir as your wine of choice. The light body of the wine makes it easy to drink and means that pinot noir won't overpower many foods. This is why pinot noir features in so many different food and wine pairings.
Many sausages do surprisingly well with white wine too. This is because sausages are often sweeter than you expect. The white wine helps to contrast against this sweetness, giving you a delicious balance. The combination is particularly nice for sausages that rely on lighter meats like pork and chicken.
Pinot gris is a fantastic white wine to choose here, as it isn't strongly aromatic and has enough body to stand up against the flavors. This wine will even work when you're making a hot dog, as most of the ingredients that you stack on top are a little sweet too.
Vegetarian Sausages

Vegetarian sausages often have a neutral flavor (unless they're attempting to mimic a beef sausage), so they also work well with white wine. This makes pinot gris a good choice here too.
You could try other white wines too. For example, sauvignon blanc is a popular alternative and tends to be more aromatic. It is especially good for sausages that use herbs or that are being served with vegetables.
Burgers

Like sausages, burger patties are often fatty and can be packed with flavor. This is another case where a rich red wine can be perfect. Cabernet sauvignon and merlot remain easy go-to choices, along with a grenache blend.
If you want something a little more unusual, try a bottle of zinfandel. Red zinfandel wine is distinctive, due to its high alcohol content and jam-like fruitiness.
The fruit-forward nature of the wine is ideal when you're dealing with complex flavors. After all, we're not just talking about a burger patty. There are other ingredients in a hamburger too and each adds its own flavor into the mix.
You can focus on even richer wines if you plan to serve your burgers well-done or even charred. An oaky cabernet sauvignon could be a good choice here, especially if you're including blue cheese in the burger.
Fatty Cuts of Beef

First things first – the fat content of your meat strongly influences the best type of wine to choose. Fatty meats tend to be tender and rich in flavor, especially if you cook them perfectly. You need a wine that's not going to be overwhelmed by the flavor of the meat.
The goal here is to find a wine that's high in tannins and in flavor. A cabernet sauvignon is a classic crowd-pleaser here and finding a good bottle of cabernet sauvignon is never too difficult.
A petite sirah is a good second choice. This type of wine has the same bold flavors and tannin content that you find in cabernet sauvignon and is perfect for fatty beef.
So, if you're cooking a strip steak, a porterhouse steak, a t-bone steak or a beef ribeye on the BBQ, a cabernet sauvignon or a petite sirah will do the trick nicely.
Lean Cuts of Beef

While fatty cuts of beef often feature more heavily at a BBQ, you might be serving some lean cuts as well. You'll generally want to serve a different type of wine for lean beef, as the tannins in a cabernet sauvignon can be quite intense without the fat to balance them out.
Malbec is a popular choice with lean beef. This is another medium to full bodied red wine but, unlike a cabernet sauvignon, malbec doesn't have a long finish and isn't high in tannins. These features make it ideal for pairing with lean meats.
Lamb

Lamb tends to be more delicate than other types of red meat, so the wine you choose doesn't need to be as intense as you would pair with beef. There are two approaches here. You can either focus on red wines that have a medium body or reds that have a bold body and smooth tannins. Both options mean that the wine complements the lamb without overwhelming the subtle flavors. Malbec is a popular choice here along with syrah.
You could also consider petit sirah. This wine might even be an ideal choice, as it can also combine well with fatty cuts of beef. A versatile wine like this could be exactly right for a BBQ, as serving multiple types of wine can easily confuse your guests.
BBQ Sauces

The type of meat isn't the only thing to consider when you're pairing wine at a BBQ. The sauce that you're using matters too.
This is even more important for meals that have a strongly flavored sauce. The sauce can easily end up being the dominant part of the meal, so you need to pair your wine to the sauce, rather than to the meat.
At a BBQ, you're probably serving tangy sauces, including the classic BBQ sauces. Fruity red wines are a good match for these, including zinfandel, gamay, and Australian shiraz.
Barbecue Ribs and Malbec

Malbec wine is another good choice when you're using a sweet and spicy BBQ sauce. This Argentinian drop has a full body, along with medium tannins and medium to low acidity. There are some strong dark fruit flavors present, including blackberry and red plum, finished off with chocolatey tones.
While you could pair malbec with most meats that use BBQ sauce, the wine is an especially good match for barbecue ribs. There's something just perfect about the rich wine next to the sticky ribs. Just be warned, you might end up with some of the BBQ sauce on your wine glass.
Of course, malbec isn't the only wine that you can choose here. Zinfandel is another popular choice. This wine works well, as it has sweet and spicy tones of its own, which naturally complement the balance of sweet and spicy in your ribs. Zinfandel is also strongly fruit-forward. That fruitiness adds another element to pairing, creating an even more delicious experience.
Finally, if you'd rather a white wine, then a dry riesling is a good choice. A riesling doesn't have the body or complexity that you find with malbec or zinfandel, but the bright acidity of the wine means that it can easily hold its own.
Venison

If you're branching out and having venison at your BBQ, then you'll need to think carefully about the wine. Venison tends to be quite gamey and it has an herbaceous aspect as well.
A syrah will often do the trick, as this wine tends to have smokey and earthy tones. Pinot noir is a classic choice too. The pinot works well because venison is leaner than many other cuts of red meat.
Malbec is another wine to consider with venison. This might seems slightly strange, as malbec does have a fruitiness to it. However, this fruitiness simply complements the meat, so you're just making your meal more interesting.
Zinfandel and Barbecued Pork

You can find white and red zinfandel wine. The white version tends to have a low alcohol content, is sweet, is easy to drink, and is inexpensive. So, it shouldn't be too surprising that many people use zinfandel to start off their wine journey.
The red version is the one that we're interested in here. Red zinfandel tends to have strong fruity flavor. It's often on the sweet side too. That combination of fruitiness and sweetness means that zinfandel tends to pair well with foods that include sweet and spicy flavors, which is why it is such a good choice with barbecue pork.
In fact, you'll find that zinfandel pairs well with most foods that use sweet and spicy BBQ flavors. This includes cases where you're using BBQ spices, BBQ sauce, and even some meats that have simply been barbequed without extra seasoning.
As a result, red zinfandel is a fantastic go-to wine choice for BBQs. If you're going to only serve one type of wine, then go with zinfandel all the way. The way that zinfandel is easy to enjoy is a bonus too, as you want your BBQ guests to be comfortable with all that you're serving.
Pulled Pork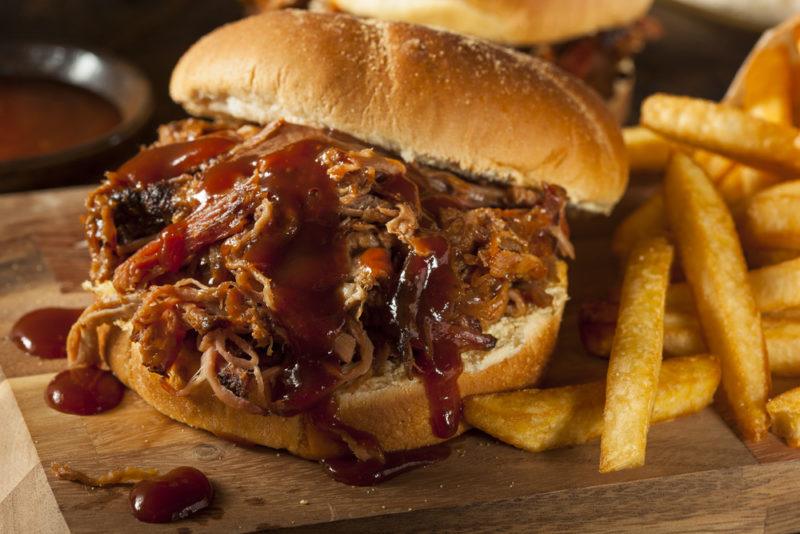 Pork always requires a little more thought, as it is lighter than beef and has a little sweetness. You need a wine that complements the flavors without overwhelming them.
For pulled pork, you also have the sauce to consider and there are different types of sauce to choose from.
One option is the North Carolina style, which tends to rely on a vinegar-based sauce. To complement this, you need a wine that offers acidity and some sugar. An off-dry riesling is an ideal choice here, especially one that has some citrus tones in the flavor profile.
Memphis style pulled pork, on the other hand, tends to be a little sweeter and has stronger smoky tones. The wine you choose needs to be richer too. A red zinfandel can work well here, as the juicy fruit-forward wine brings plenty of delicious flavors to the table.
Grilled Salmon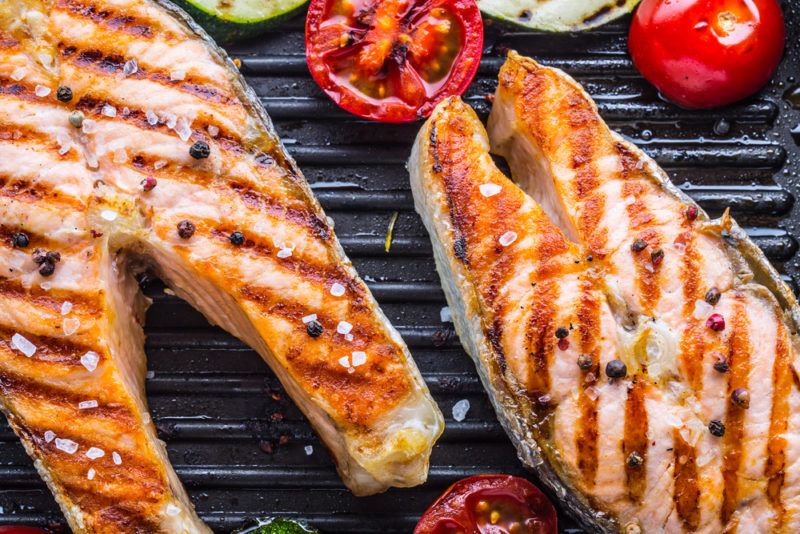 Meat isn't the only thing that hits the grill during a BBQ. Chicken, salmon, and other types of fish are popular too.
Pinot noir is an easy choice for grilled salmon, which isn't too surprising, as the wine pairs well with baked salmon too. If you prefer white wine, then consider a chardonnay instead. Chardonnay tends to be relatively rich with buttery tones, so it's an ideal choice with the richness of salmon.
Chenin blanc is an interesting alternative. This white wine has notable acidity and some sweet flavors. It often isn't as rich as a chardonnay, which isn't necessarily a bad thing, as you're giving the salmon more of a chance to shine through.
Grilled White Fish

While other types of fish tend to be more subtle than salmon, you are adding extra complexity by grilling the fish. As such, a full-bodied chardonnay often works well or perhaps a viognier instead. Of course, the ideal wine will change somewhat depending on the type of fish, the seasoning, and the sauce that you use.
For example, if you're heavily relying on herbs, then sauvignon blanc is a natural choice. This type of wine often has herbal flavor tones, so the wine blends well with the greens in your meal.
This is another case where a glass of rosé works well too. Rosé is often the safest choice, as you're getting a little complexity, but not too much.
Grilled Shrimp

While we're on the topic of seafood, it's time to talk about shrimp. Grilled shrimp is a classic BBQ choice, so it's important to get the pairing right. Most of the time, you'll be focusing on a rosé or a white wine. However, the specific wine will depend on how your shrimp is seasoned and what else you're serving.
For example, if you're grilling shrimp with tomatoes, then a dry rosé is an easy choice. The fruit flavors of the wine work well with the smokiness and tomato flavors of your dish.
For grilled shrimp that's going on a salad, sauvignon blanc tends to be better. The herbaceous tones in sauvignon blanc naturally pair with greens, while the lightness of the wine is beautiful with most salads.
And, when you're serving shrimp on its own, chardonnay is exceptional. This combination is especially perfect when you're using a little butter with your shrimp. You end up with a rich and delicious combination that is difficult to beat.
BBQ Chicken

First things first, let's think about how you're cooking your chicken. If you're literally cooking it on the grill and serving it with BBQ sauce, then your best bet is a medium bodied red wine, ideally one without too much oak.
Some types of white wine can work too, including an off-dry riesling and a gewürztraminer. Both types of wine contain some sweetness, which naturally parallels the balance of sweet and spicy that you often find in BBQ sauce. And, as you can probably guess, you can turn to a rosé too. After all, rosé is a versatile wine and works well with many flavor profiles.
If you're just lightly grilling the chicken instead and skipping the sauce, then a lighter white wine is in order. Think about a sauvignon blanc, as this is a vibrant dry white wine that often has citrus tones.
You could also turn to a light unoaked chardonnay. Just be sure to avoid aged chardonnays or those with rich flavors, as your risk overpowering your chicken.
Grilled Turkey

Turkey follows many of the same principles as chicken and, once again, you can choose whether you want a red wine or a white wine. If you're not relying on a heavy sauce, then a light-bodied red wine often works well, like a pinot noir or perhaps a Beaujolais nouveau.
If you're after a white wine instead, it's hard to go past a bottle of chardonnay. The richness of the wine complements the turkey well. It can even save your meal when the turkey has been slightly overcooked.
Grilled Tofu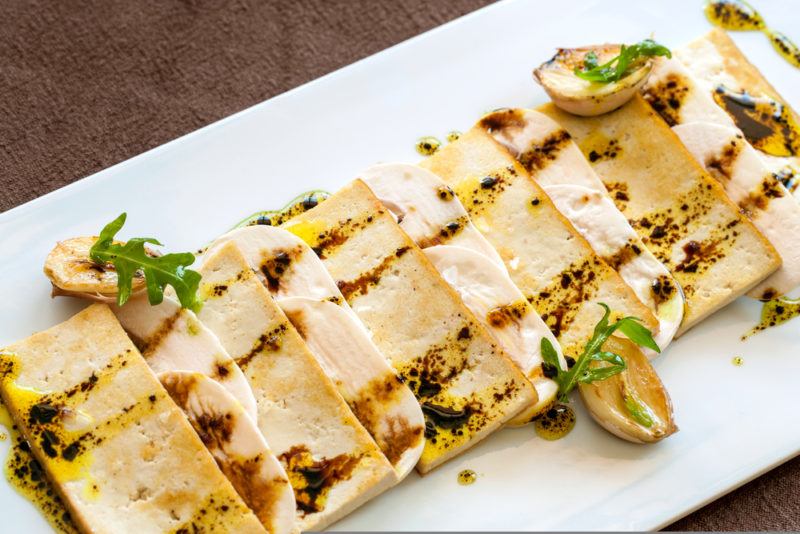 While a BBQ tends to be a meat-heavy affair, alternatives like grilled tofu sometimes make their way onto the menu too. A fresh rosé can be an excellent companion to grilled tofu, helping to contrast the silkiness of the tofu and making its nuttiness more noticeable.
You could take a completely different approach and serve champagne with the tofu instead. The bubbles in your champagne are a natural contrast to tofu's texture. The crispness of the champagne helps too.
Of course, you'll get some similar effects from a less expensive bottle of white bubbly. Prosecco is a worthy alternative. You might try a sparkling rosé too.
Spicy Foods

If you're using spicy seasoning or marinade with your foods, then it's best to look for a juicy red wine or a white that has a little sweetness. An off-dry riesling is a perfect type of white wine to choose here. Not only are you getting some sweetness to contrast the spiciness of your food, but you're getting a delicious balance of flavors.
Grilled Vegetables with Zinfandel

Zinfandel is a bold wine and it is best when paired with equally powerful foods. Grilled veggies work surprisingly well here, as grilling often heightens the flavor of the vegetables, while also creating smoky tones.
Grilled red peppers, tomatoes, eggplant, and zucchini are exceptionally good choices. They're great additions to your BBQ too.
You can also pair grilled mushrooms with this wine. After all, grilled mushrooms can have an intense earthy flavor and the zinfandel is going to make this shine.
Vegetarian Food with Rosé

We've talked about rosé a few times already, as this style of wine is more versatile than most others. This isn't surprising either, as rosé tends to have some of the complexity and rich fruit flavors that you often find with red wine, but is also lighter.
Rosé makes a simple choice too, as you don't need to worry too much about the specific variety or bottle. In fact, many foods will pair just as well with sparkling rosé as they do with still rosé.
Rosé is a particularly good choice for any vegetarian food that you're serving at a BBQ. This includes meat substitutes, such as vegetarian sausages and hamburger patties, vegetables, tofu, halloumi, and countless other options.
Each type of food will have other pairings too. For example, you can serve a pinot noir with grilled mushrooms or merlot with vegetables that have been marinated and grilled. Still, rosé works well too and is ideal if you don't want to worry about many types of wine at once.
Fried Chicken

Fried chicken might not be prepared on the grill, but it often ends up being served during a BBQ. After all, the chicken is easy to prepare if you have a deep frier or someone might pick up a bucket of fried chicken on the way over to your house.
Fried chicken tends to be crunchy, salty, and juicy. There's a decent amount of fat present too.
So, you're going to need a wine that is on the crisp side to balance the chicken out. A German riesling is an especially good option, if you can get your hands on one. The sweetness and acidity here is exactly what you need. Other types of riesling may be appealing too, just make sure that the wine isn't too sweet.
You could also turn to sparkling white wine. Look for a dry one, as this will be a perfect palate cleanser.
For that matter, sparkling white wine tends to be an exceptional choice at a BBQ, as this type of wine will combine well with many different foods.
Bacon Wrapped Prawns

If you're serving bacon wrapped prawns – look no further than chardonnay. What wine can compare to the buttery goodness that chardonnay has to offer?
You might even say that the wine is the ultimate choice. Sure, there are other oaked white wines, but chardonnay does have a distinctive balance of flavors that is difficult to beat.
Because bacon wrapped prawns are on the indulgent side, you don't need to stick to a light chardonnay. A richer bottle of chardonnay may be even better, giving you a more indulgent combination.
Grilled Corn

Buttery grilled corn is another BBQ staple. Not surprisingly, this dish pairs best with a chardonnay, as the wine mirrors the buttery tones that you find in your corn.
However, you'll need to look for an unoaked chardonnay or one that has only been through a little oaking. Aging in oak tends to make chardonnay more buttery, but also produces flavors of vanilla and spice. Those flavors don't complement grilled corn and could easily overwhelm your meal, so stick with an unoaked version instead.
Versatile BBQ Wines

Of course, if you're hosting a BBQ, you might not want to buy half a dozen bottles of wine (or more!) and then try to make sure that people drink the right wine with the right type of food. That simply isn't going to happen and you'd stress everyone out in the process.
So, if you're going to be serving a variety of different food types at your BBQ, it may be better to focus on a few all-rounder wines instead. These tend to pair well with many of the foods that you'll be serving and won't cause any serious clashes.
Malbec is an easy choice here, as it has rich flavors and is easy to drink. Zinfandel is another wine to consider. The bold flavors mean that zinfandel won't pair well with milder foods, like pork sausages or salads, but zinfandel is exactly what you need for BBQ sauces, spices, and rich meats.
If you want something a little lighter, try a pinot noir. Pinot noir is one of the most versatile red wines out there and ends up tasting good with most types of food.
A dry rosé is another versatile choice. This type of wine tends to have more complexity than a white, but isn't going to overwhelm your food. A sparkling rosé can be remarkable. And finally, if you're looking for a white wine, riesling is an easy choice that you can't go wrong with. You could consider traditional sparkling wines too. The bubbles will go well with most of the foods on this list, along with anything else that you feel like serving.