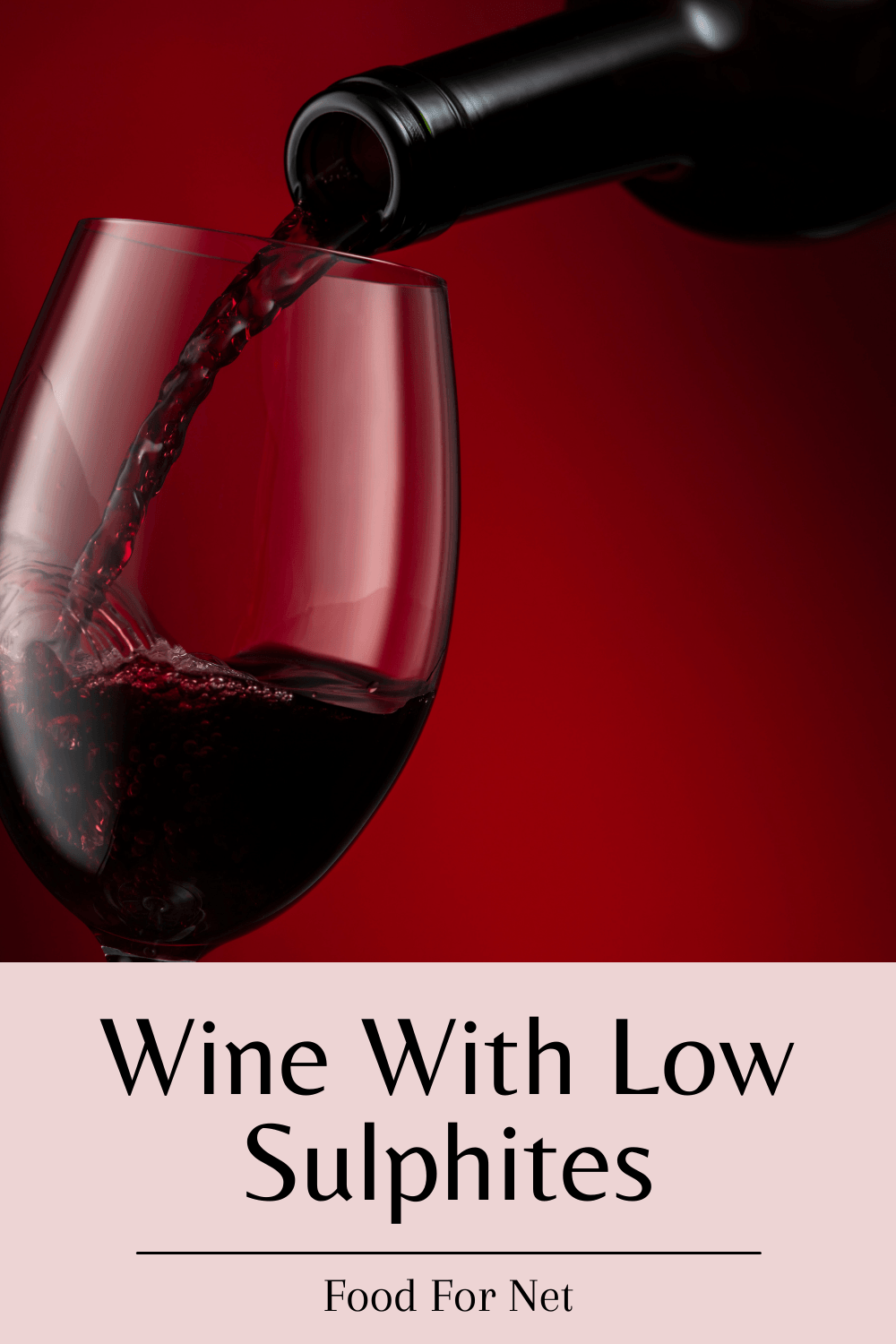 While wine is a fast favorite for many of us, it often leads to uncomfortable headaches. Tannins may partly be responsible for this effect, but the sulfites in wine are often blamed as well. This is why some people start hunting for wines with low sulfites.
So, what are sulfites? Do you need to avoid them and, if so, how?
Let's begin with the compounds themselves. Sulfites are a natural compound that come from the wine fermenting process. This means there will always be some sulfites in your wine.
However, sulfites are also a preserving agent that is often added to make wine fresher and help it remain stable for longer. Some companies add a decent number of sulfites, while others keep the sulfite addition to a minimum, or even avoid adding sulfites entirely.
Fantastic Wines With Low Sulfites
Rather than looking for individual bottles of low sulfite wines, it's best to look for reliable brands instead. After all, there are always new releases of wine, changes to industry trends, and different harvests from one year to the next. So, if we just talk about bottles, any list we give you will be useless after a year or two.
Frey Vineyards

Frey Vineyards is a famous winery that focuses on minimally processed biodynamic and organic wines. They're also one of the best choices for low sulfite wine. Frey is now in its third generation as a family run business, with a strong focus on quality and natural products.
Their wines never have sulfites added and careful processes are used to keep the levels of natural sulfites low. Many of their wines even measure at 0 ppm of sulfites. Those that do contain sulfites normally have no more than 5 ppm, which is fewer sulfites than you'll find in a single egg.
Frey is also one of the few companies that provides details about their sulfite levels. Most others don't and some don't even say whether they add sulfites or not.
Frey Vineyward wines can all be ordered online individually or in bulk (you receive 10% discount if you order 12 or more bottles at once). They even have a Wine Club that ships 4 or 6 bottles of wine to you every quarter. This club also gives you a 20% discount when you order individual bottles of wine.
ZeroPuro

ZeroPuro is an Italian vineyard, located in Abruzzo, Italy. They focus on producing single varietal bottles of wine, like their Montepulciano d'Abruzzo and Landae Pinot Grigio.
Winemaker intervention is kept minimal and ZeroPuro uses no added sulfites at all. This combination of approaches creates a natural wine with a strong sustainability focus. The wines are meant to be enjoyed young and don't age as well as some other products (this is true for most no added sulfite wines).
The sustainability focus even extends to the wine bottles themselves. These have a removable, recyclable paper label that doesn't even rely on adhesive. This is a fantastic break from tradition and looks pretty good too.
Usual Wines

Usual Wines aren't usual at all. The company is distinctive for shipping wine in small bottles, ones that contain just a single glass of wine. This style means that every glass of wine is fresh and of optimal quality. The tiny bottles are also elegant and make excellent gifts.
Usual Wines also has a focus on sustainability and avoids additives in their wine. This helps to promote quality, ensuring that you get amazing wine every time.
Many of their wines are familiar, including reds, whites, and a rosé. There is also sparkling wine and a few cans of wine spritz.
Ordering a mixed pack or a wine collection is the best way to experience the variety that Usual Wines offers. Doing so is perfect for a party, as guests could all choose their own favorite type of wine.
Interestingly, Usual Wines doesn't provide any information about their sulfite levels, although they say that nothing artificial is added. As such, there may still be some added sulfites, but Usual's winemaking approach will keep these low.
Donkey & Goat

Donkey & Goat is a natural winery that focuses on sustainable farming and natural winemaking processes. Their wines aren't entirely sulfite free, but the company is very careful when using sulfites – keeping the sulfite levels to a minimum and only using the additive when necessary.
The company also has an exceptional focus on the environment, something that many wineries don't share. As such, this is a fantastic brand if you care about the planet and also love your wine.
Unfortunately, Donkey & Goat doesn't talk much about sulfite levels, so it's not clear how much you get in the finished wine. Still, the sulfites should be lower than many other brands. The wines are also exceptional and well worth trying.
Dry Farm Wines

Dry Farm Wines is interesting, as the company focuses not just on natural wines, but also on ones that are low in sugar. This is fantastic for anyone interested in keto dieting or who just wants to keep their sugar intake low.
The wines rely on organic grapes, sourced from various small farms. Artificial additives are avoided and Dry Farm Wines keeps the sulfite levels low as well. However, in this context, low sulfites probably means that some sulfites are added.
No information is given about the ppm of sulfites in the different products. Still, the wines should be lower in sulfites than conventionally produced wines. That's true for all the brands on this list.
Bonterra Organic Estates

Bonterra is interesting, as they offer a collection of organically produced wine and one of biodynamic wine. Both approaches have a strong natural focus and produce high quality wines.
However, Bonterra wines aren't organically certified (few American wines are). The wines are made using organic grapes instead, which isn't quite the same thing. In particular, biodynamic wines and those made with organic grapes can have some sulfites added, which Bonterra does.
Their FAQ states that they keep sulfite levels low, but they do use some to make sure the wine retains its quality. This is helpful, as wines with no added sulfites don't always maintain their quality well.
Cobble Creek Vineyards

Cobble Creek Vineyard is part of Castoro Cellars and is the company's first organic vineyard. Cobble Creek doesn't just focus on organic grapes. They also strongly focus on sustainability and even operate using solar power.
Because the grapes are grown organically and there's a strong focus on sustainability, sulfite levels should be low as well (particularly within the red wines). However, this is another company that doesn't provide details about sulfite levels – so we're talking about minimal added sulfites, rather than none at all.
Types Of Low Sulfite Wines
The brands above are a fantastic place to begin. Still, they're hardly the only low sulfite wines on the market. You can find plenty of other low sulfite choices with a little legwork.
High Tannin Wines
If you're worried about sulfites, it's best to begin with red wines. The tannins in the wine help to preserve it, so companies don't need to add as many sulfites to preserve the wine.
For those who love white wine, try a chardonnay. This contains more tannins than most other white wines, so it tends to be lower in sulfites.
Many Organic Wines
Organic wines need to follow strict standards. For companies in American, not only must the grapes themselves be grown organically, but all of the ingredients used to make the wine must be organic as well.
The standards mean that companies can't add sulfites either, so the wines only contain naturally occurring sulfites. As a result, USDA organic wines are your most reliable low sulfite choice.
But, that's just true for USDA organic wines. Organic wines from other parts of the world follow different criteria, such as having mostly organic grapes and 'low' levels of added sulfites, rather than no added sulfites at all.
In fact, some may have sulfites of up to 100 parts per million (the same is true for American wines that aren't organic but are made using organic grapes).
This means that you can't just focus on organic wines. Instead, you need to consider where the wine comes from and what rules it follows surrounding sulfites.
Biodynamic Wines

Biodynamic and organic wines are often discussed in the same breath. Yet, they're not quite the same.
In particular, biodynamic wines are produced following a specific farming method that focuses on the elements and an astronomic calendar. These wines also follow many organic principles but often contain more sulfites than organic wines. Sometimes they get up to 100 parts per million of sulfites.
Natural Wines
Natural wines are different again. These take a low-intervention approach, where natural yeast is used to ferment the wine.
This style also keeps sulfites to a minimum. However, the wines also miss some other standard steps and tend to be unfiltered. This makes them cloudy and gives them a different profile than traditional wines.
Still, many people grow to love natural wines and these are a reliable choice if you want to keep sulfites low.
No Sulfite Added Wines
Finally, some winemakers choose to use a no sulfites added label on their product or in their marketing. This makes it easier to work out which products are truly low in sulfites.
Some companies, like Wine Insiders, have categories for low sulfite wines. Such categories are a helpful tool, but you'll still need to check the label or description of the wine. After all, people define 'low sulfite' differently, so their definition might not match yours.
Are Sulfites Really A Problem?
Sulfite sensitivity is a real thing, and people can get side effects like coughing, dizziness, headaches, flushing, stomach upset, and diarrhea. However, the sensitivity is pretty rare, just affecting 1% of the population or so.
Sulfites also aren't that rare. They're added to many products to reduce spoilage, including sausages, juices, granola bars, and jellies. They also occur naturally in fermented food, black tea, and even eggs. So, there's nothing exceptional about the sulfites in wine.
Should You Buy Sulfite Free Wine?

Sulfite free wine is a myth. It doesn't actually exist, as sulfites are always produced when wine is fermented. There also isn't a process for removing sulfites from wine. So, there's no avoiding it, your wine is always going to contain some sulfites.
The best you can do is look for wines without any added sulfites. USDA organic wines are a good bet here, as these don't use added sulfites. Plus, their sulfite content will be less than 20 parts per million (organic wines from other countries follow slightly different rules).
If you're still concerned, keep an eye on the label. Wines whose sulfite content is above 10 parts per million should have 'contains sulfites' written on their label.
But again, the sulfite content really isn't that big of a deal. Other foods are often much higher in sulfites – like dried fruit, which can get up to 2,000 parts per million.
Plus, added sulfites are important for the quality of your wine. Without them, wine typically won't age well and may not taste as good.
Do You Need To Avoid Wine Entirely?
If you're sensitive to sulfites, low sulfite wines are a good move. This way you're minimizing your sulfite exposure. However, avoiding wine entirely shouldn't be necessary.
After all, 10 parts per million of sulfites is a tiny amount. It's unlikely to have an effect, no matter how sensitive you are. Even 100 parts per million isn't that much.
You'll see more benefits by decreasing other sources of sulfites, including dried fruit, deli meats, and ultra-processed foods.
Also, side effects like headaches mightn't be due to the sulfites in wine at all. The tannins and histamines in wine are much more strongly linked to headaches. The sugar can play a role too.
Because of this, it may be best to look for low tannin red wines, ones that don't have any added sulfites. These wines still contain some tannins, so they're likely to fairly low in sulfites.
Or, perhaps you experiment. Try different types of wines, including reds and whites, those with added sulfites and those without, and see how you feel. We all respond differently anyway, so experimenting is the only way to know what works for you.