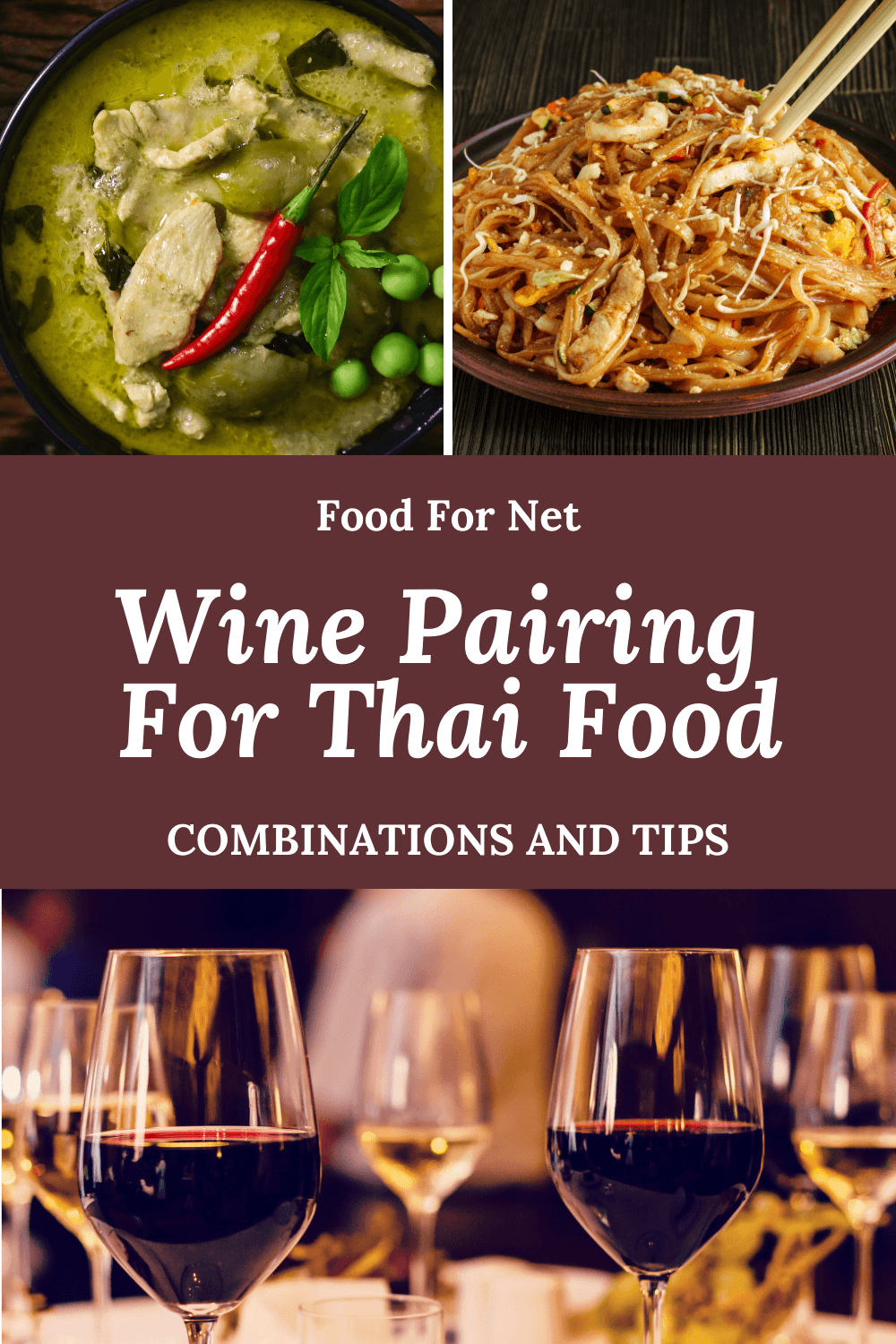 Many people look for the best wine pairing for Thai food and the topic is a worthy one. Thai food is, after all, delicious and encompasses a wide variety of flavors and textures. Fish sauce, coconut milk, curry paste, basil, and tamarind often feature, along with other ingredients that may be unfamiliar.
The combination of flavors and textures can be very different than the Western food that many of us are familiar with, which can make wine pairing difficult indeed. Where do you even begin?
We're going to tackle the question with this post, taking a close look at various Thai dishes and the wine that goes well with them. We'll also talk about some general principles for when you're making wine pairings on your own.
And, for anyone interested in ethnic foods, we also an article on Chinese food wine pairing and another that focuses on Asian food overall.
Wine Pairing For Thai Food
Thai Style Mussels
Green Curry
Pad Thai
Pad See Ew
Fried Rice
Pad Gra Prow
Red Curry
Yellow Curry
Spring Rolls
Chicken Satay Skewers
Spicy Foods
Coconut-Based Meals
Chicken with Cashews
Thai BBQ Dishes
Sparkling Wines
Thai Style Mussels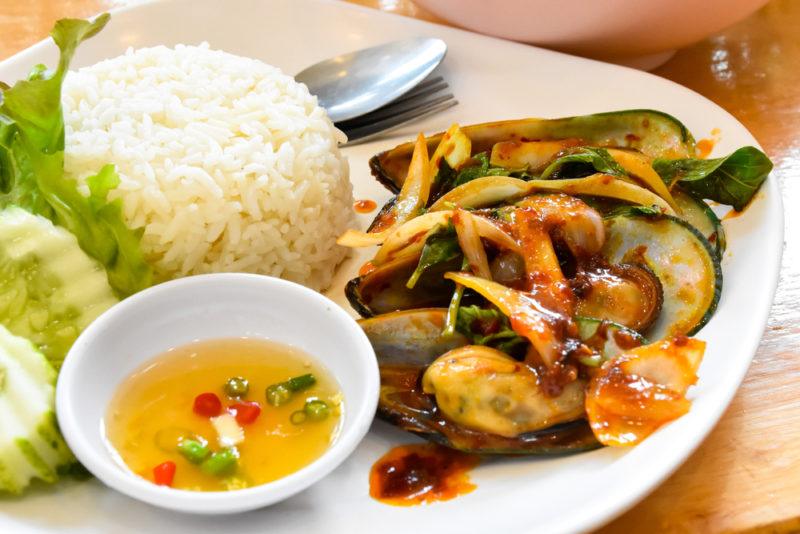 Following a Thai style for mussels tends to involve relying on ingredients like coconut, lime, and perhaps coriander. This type of dish pairs well with dry white wines, particularly those that have crisp qualities.
Pinot gris is a good choice here, as the wine complements the meal well and still allows the flavor of the mussels to shine through. You could also turn to a sauvignon blanc, particularly one from New Zealand.
Sauvignon blanc tends more aromatic than pinot gris, especially if you're focusing on a sauvignon blanc from New Zealand. The aromatics in sauvignon blanc can be appealing for savory dishes, especially those that rely on herbs, so it's not surprising that the wine works well here.
Green Curry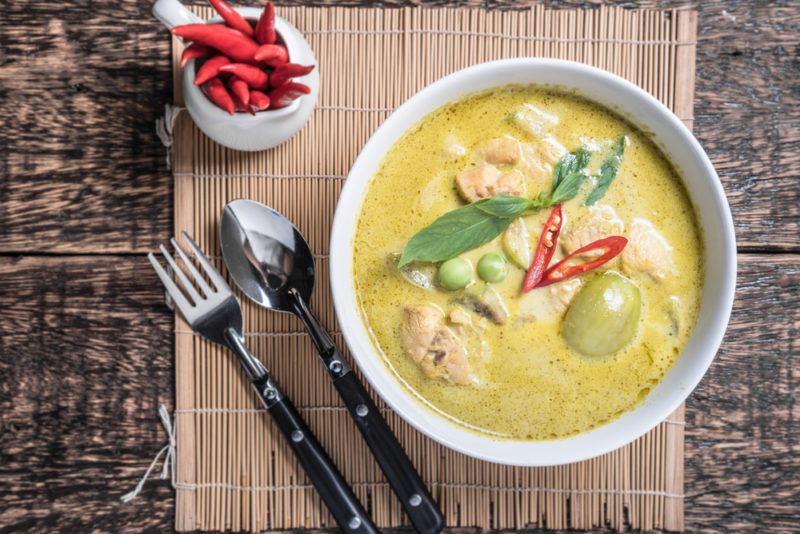 Finding a wine for Thai green curry is easier than you might expect. A pinot gris is a predictably attractive choice, as it offers a little sweetness that contrasts the chili notes nicely. This is especially important if you're making authentic Thai green curry, rather than a Westernized version.
An off-dry riesling has similar advantages and can be a delicious alternative. Both types of wine are easy to find. There is plenty of variations within each style too – giving you the chance to experiment and find the type that you like the most.
German riesling comes highly recommended for serving with Thai green curry. This type of riesling tends to have a long finish with notable lemon flavors. Both characteristics enhance the flavors of your green curry.
You could also turn to sauvignon blanc, particularly one from New Zealand. The flavor notes in the wine pair excellently with the green curry, as you're often getting some tropical notes that are a natural complement to the coconut milk in your curry.
The theme of pairing a little sweetness with a spicy dish is a common one. A dry wine will tend to make the spiciness of your meal seem stronger, to the point where the spiciness may seem overwhelming. A little sweetness, on the other hand, can mellow out the spiciness of your dish, creating a meal that is easier to enjoy.
Pad Thai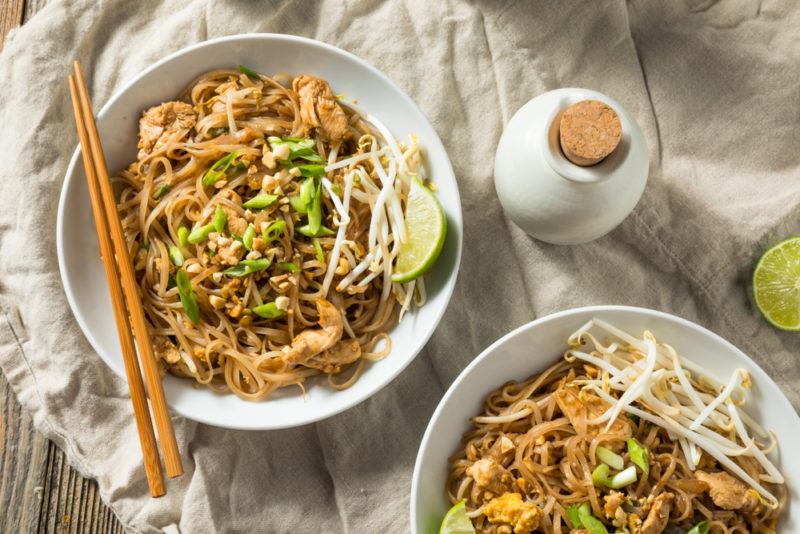 Pad Thai is another famous dish that we simply can't ignore. The wine pairing can be a little unusual here, as an orange wine is one of the best choices. The combination works so well because the sauce for pad Thai uses tamarind as a key ingredient, while orange wine has some interesting funkiness and bolder flavors than white wine.
The wine itself is made using white wine grapes, where the skins are not immediately removed. Instead, the grape skins stay in contact with the wine for days if not months. The process changes the flavor of the wine and makes it notably different than red wine, white wine, or rosé.
If orange wine isn't an option, you could look for an off-dry riesling instead. This white wine remains the best go-to choice for Thai food, as it gives you just enough sweetness without overwhelming flavors.
A French riesling can be appealing here, as the wine's flavor notes can include tropical fruit and citrus.
Pad See Ew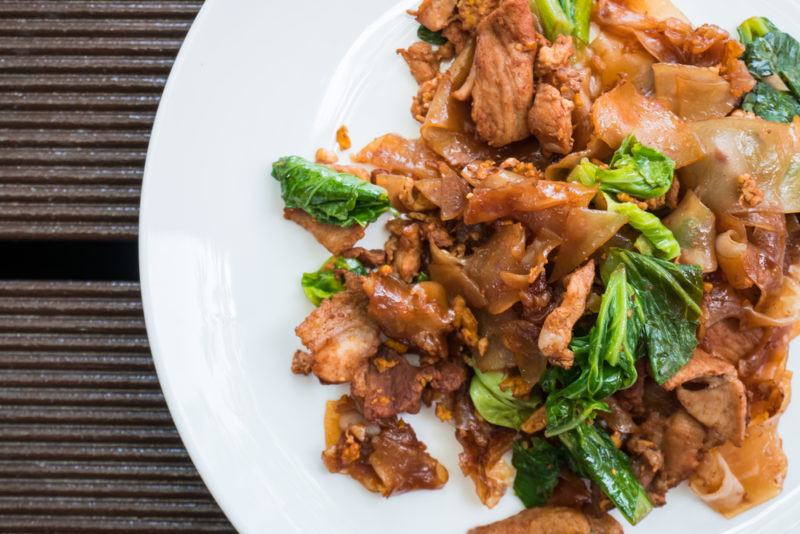 Pad see ew might not be as popular as pad Thai, but the meal has plenty going for it. Key ingredients include a sweet soy sauce, broccoli, and some type of meat, so you have plenty of umami to go around.
A fruity and mellow wine can be a good choice here, such as a pinot noir. To be even more specific, a pinot noir from Central Otago in New Zealand can be perfect, as pinot noir from this region tends to be fresher than pinot noir from elsewhere, which helps to brighten up your meal.
Fried Rice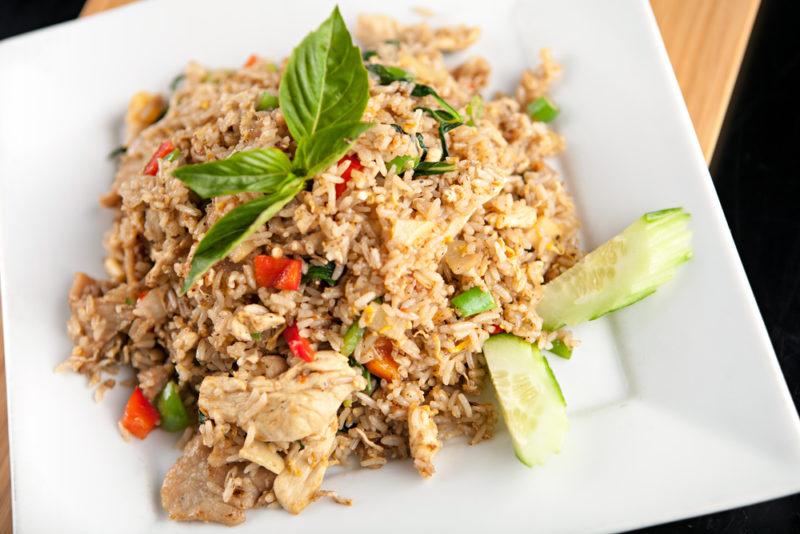 The wine that you choose for fried rice is going to partly depend on the sauce that you use. If the sauce is on the simple side, then a light and refreshing wine tends to work well. Once again, an off-dry white wine is a safe choice, but you could turn to a rosé instead if you want something different.
While rosé wines do come in many different styles, you don't need to worry much about the style. Instead, rosé wines tend to be versatile. They'll pair well with many types of food, including Thai meals.
A brut champagne pairs surprisingly well with this dish too, as the wine is crisp and refreshing.
Pad Gra Prow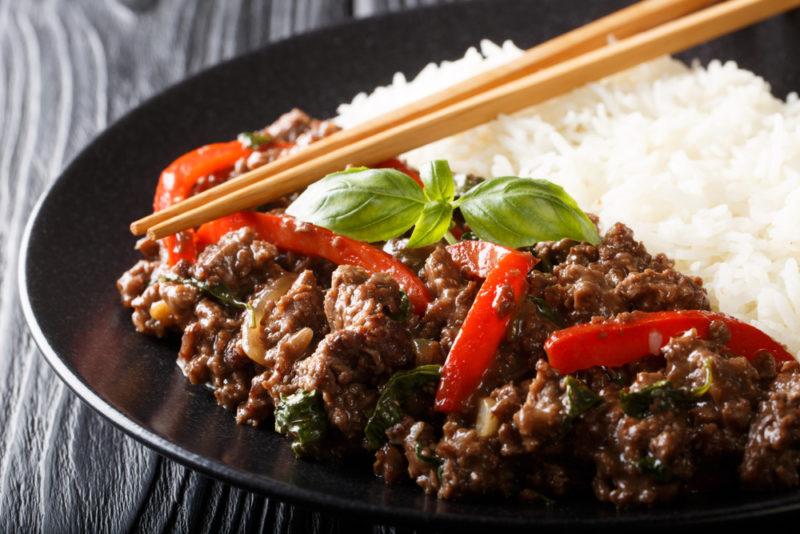 Pad gra prow is an aromatic meal that often relies on basil and cilantro as key ingredients. The herbs make the meal a good match for a New Zealand sauvignon blanc, as this type of sauvignon blanc is rich in herbaceous flavors of its own.
The wine also has similar advantages as the other white wines that we've featured, so it provides a vibrant contrast to the richness of your meal.
Red Curry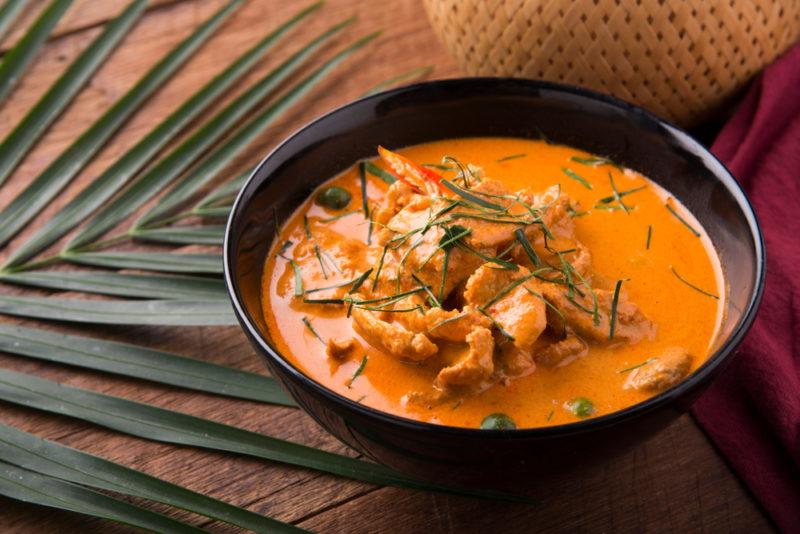 A red curry is one of the few times where you can successfully pair a chardonnay with Thai food. In most other cases, chardonnay ends up being too rich and can clash with the spices in your meal.
However, even here, it's best to focus on an unoaked chardonnay. This way you're not getting the richness and spicy tones that are found in the oaked versions.
You can also turn to gewürztraminer as a pairing for red curry. This wine can have some interesting spiced flavors and tends to be vibrant. The features are perfect for the strong flavors of a red curry, while a gewürztraminer can be a little too bold for some other Thai dishes.
Yellow Curry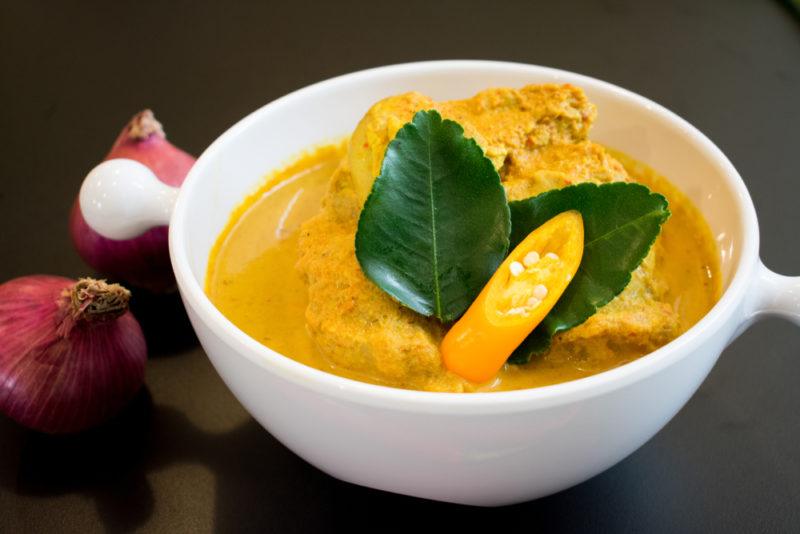 Yellow curry features on Thai menus too and tends to be less spicy than the other types of curries. Instead, the dish relies on a variety of different spices like turmeric, ginger, and cumin.
The savory nature of the dish and balance of herbs means that it can tolerate full bodied white wines and some red wines. If you're looking at a red wine, then a soft and earthy red is a good choice. Côtes du Rhône is one example. You might also turn to a sangiovese or the right bottle of pinot noir.
As for white wine, chardonnay and viognier are the obvious choices here. You could try other full bodied white wines too, especially if you have a favorite.
Spring Rolls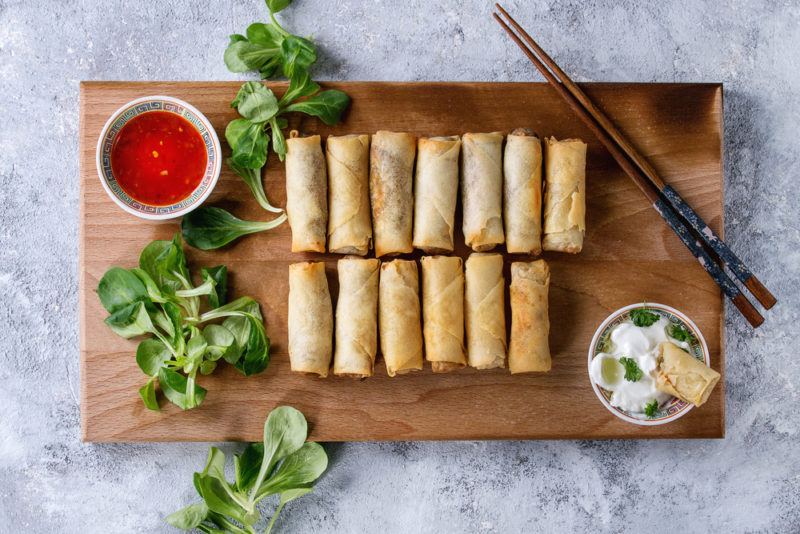 Spring rolls are fresh and crunchy, which makes a bubbly wine almost essential. That contrast of crunch and bubbles is the same reason that sparkling wine is perfect with so many finger foods.
You could focus on any type of sparkling wine here, but the best results will come from a slightly sweet wine. This sweetness helps to balance out the bitterness of the vegetables inside a spring roll.
Try opting for a sparkling rosé. Rosé wines are known for their delicious versatility and these features are especially true for the sparkling versions.
Chicken Satay Skewers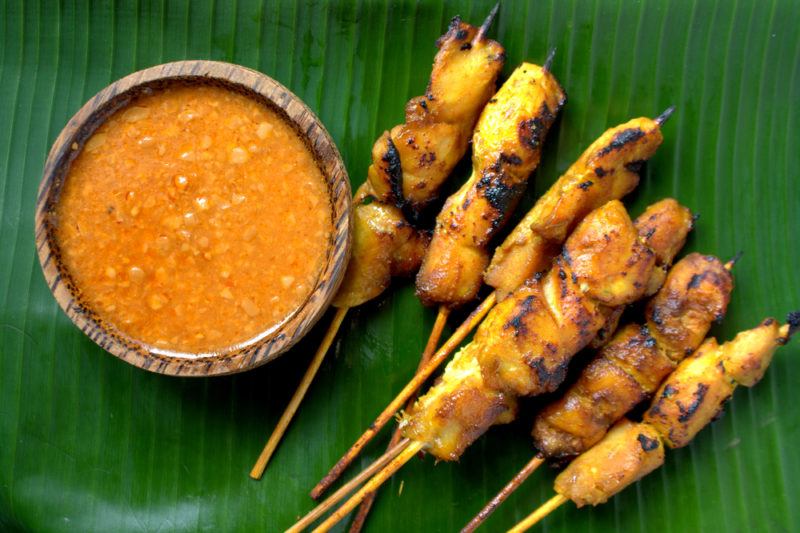 This classic dish includes a rich peanut sauce, so it has plenty of savory flavors to go around. You could stick with an off-dry riesling here too, but an off-dry rosé ends up being an even better choice.
Or, if you prefer a white wine to rosé, try a pinot gris or pinot grigio instead. Don't worry too much about the differences between pinot gris and pinot grigio. The two wines both come from the same grape. The names refer to slight differences in styles, but you'll also see the names used interchangeably.
Spicy Foods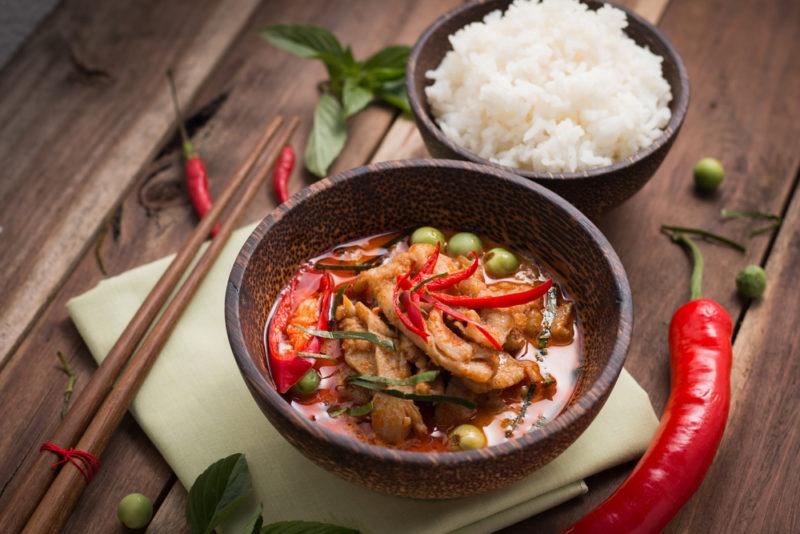 Let's move away from specific dishes and talk about some broader ideas, starting with spicy foods. Off-dry white wines are the perfect choice here, as their slight sweetness helps to balance the heat of the dish. A dry wine, on the other hand, can be an uncomfortable pairing, one that clashes with the spiciness of the drink.
A German riesling is a good choice here, as it gives you the flavor balance that you're looking for. If this isn't an option, any type of off-dry riesling should complement your meal well. You could also try off-dry versions of a New Zealand sauvignon blanc or a pinot blanc.
A red wine can be suitable too. The trick is to look for a red that isn't high in tannins and has a light to medium body. Not surprisingly, a pinot noir does well here, especially one with strong fruity flavors. A mellow merlot could be interesting here too, even though the flavor is a little stronger.
Coconut-Based Meals

Coconut has a distinctive flavor and creates meals that are both rich and creamy. If your dish is on the sweet side, then you could pair it with a dry unoaked chardonnay. The chardonnay has enough body to hold its own, while the dryness nicely contrasts the sweetness of your meal.
On the other hand, if your coconut-based dish is spicy, then a sweet riesling can work much better. This time you're getting a contrast of spicy and sweet, so none of the flavors end up being overwhelming.
There are other options too. For example, a muscadet can be an appealing choice for a coconut chicken soup, especially when the soup has citrus flavors. Muscadet works well here, as the minerality of the wine makes the flavors of the dish come alive. The wine also tends to be relatively neutral, so it's not taking away from the flavors of your meal.
Chicken with Cashews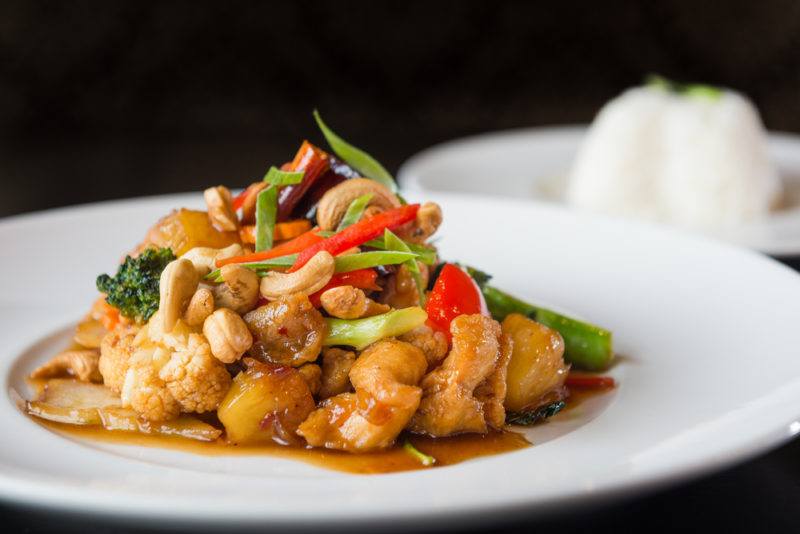 If your meal relies on chicken and cashews, then an acidic white wine can be ideal. Chenin blanc is one option. This wine tends to have a light body and is found in various styles. Look for an unoaked version, one that relies on fruit flavors like apricots and lemons.
The features of the wine all naturally complement the flavors and complexity of cashew chicken, while still allowing the dish to shine.
Thai BBQ Dishes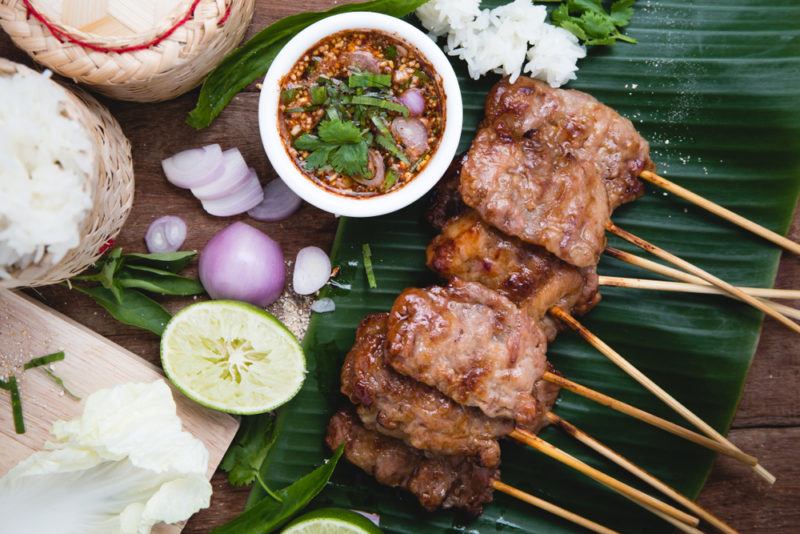 If you're serving a Thai BBQ dish of some type, particularly with a spicy dipping sauce, then a malbec may be just the ticket, especially a New World one. While red wine doesn't often pair with Thai food, this is one case where the combination can work well.
The reason for choosing malbec is that your dish has so many interesting flavors, including smoky tones and a little sweetness. The red wine balances these flavors perfectly, while adding its own fruitiness to the mix.
Sparkling Wines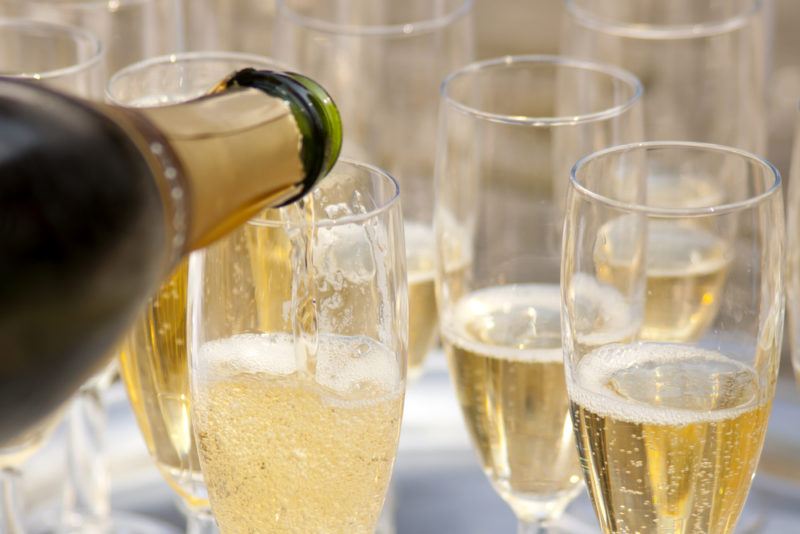 We've mostly focused on still wines in this list, but Thai food can be paired with sparkling wines too. A sparkling wine may even be better in some cases, as you're getting a crisp vibrancy that is quite refreshing.
You will, however, need to be careful about the meals that you focus on. The vibrancy of sparkling wine can be a problem for spicy meals, as the wine makes the spiciness seem even stronger, while the combination also makes the wine seem overly acidic and harsh.
Finding Best Wine Pairing For Thai Food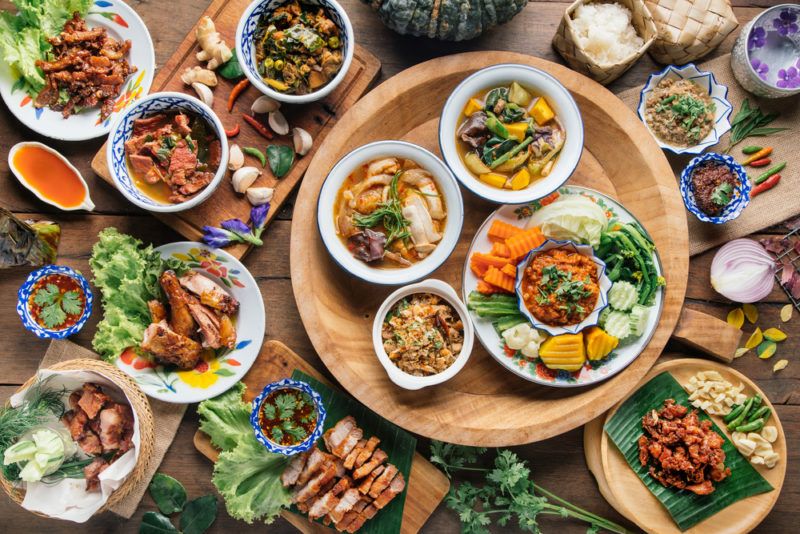 Thai food offers many flavors all at once and each dish and preparation is slightly different from the next. There's no way to cover all of the options in a single list – and we're not going to try. In the end, finding the best wine for your meal will take some experimenting. Besides, we all have different taste preferences, so the combination you like the best might not be a good choice for someone else.
Still, we can leave you with a few general principles to focus on.
The first is that off-dry white wine will be your safest bet, with riesling being your single best choice. The slight sweetness in the wine helps to offset any spiciness in your meal and complements even a complex balance of flavors.
It's best to avoid rich wines, which includes oaked white wines, like chardonnay, and strong reds like zinfandel and cabernet sauvignon. Such wines end up making your dish seem even spicier, to the point that it isn't as enjoyable as it could be. Of course, there are some exceptions to that general rule, as you would have seen on this list.
Off-dry white wines aren't your only options for wine with Thai food. When you're experimenting with others, try to focus on wines that are made to be enjoyed young (rather than aged) and can be drunk easily. Focusing on such features means that you end up with vibrant refreshing wines, which is precisely what you want for pairing with Thai foods.
Other wines to consider include pinot gris, a sparkling rosé, a chenin blanc, and even a pinot noir in some cases. You could also include more unusual examples, like a Zweigelt, a grenache blanc, or a Grüner Veltliner. While these wines should pair with most Thai dishes, some combinations will be better than others.