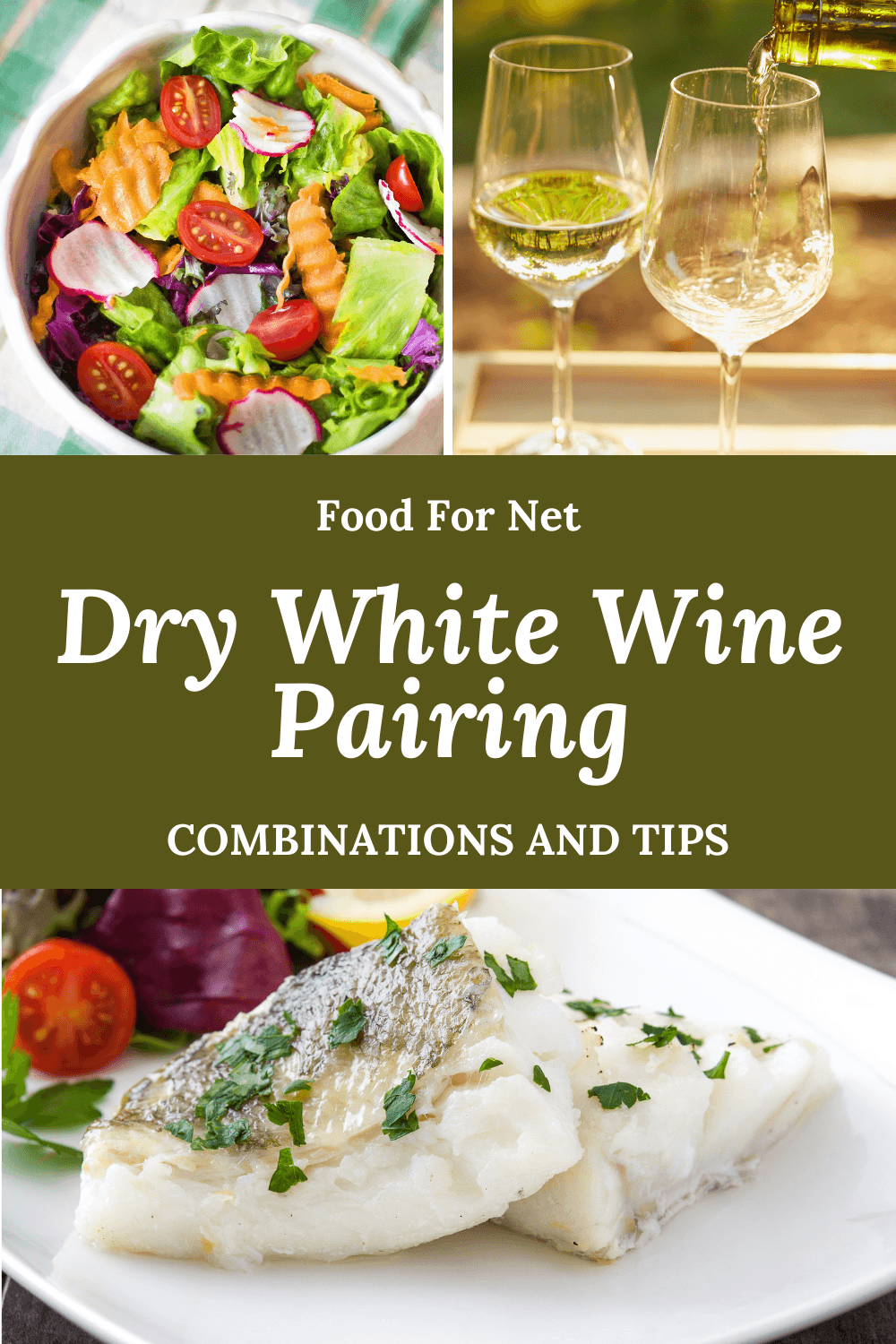 Wine pairing can seem pretty complex, especially when you first look into the idea. There are simply so many different types of wine and food to choose from, along with plenty of wine pairing 'rules'. To start you along the journey, this post focuses on food pairing with dry white wine.
We're taking this approach because it's sometimes easier to start with the wine and then buy or prepare food to go with it. After all, you already have some sense of the foods and flavors that you like, while shopping for wine to complement a meal you've planned can get overwhelming quickly.
Besides, if you're part of a wine of the month club, then your wine is being chosen for you.
If you want to start off with the food for wine pairing instead, check out our lists on wine pairing with chocolate, cheese, and pasta. These lists all highlight a variety of delicious pairings to try for yourself, along with advice to help you make your own combinations of wine and food.
Don't worry if it all seems overwhelming at first. Wine pairing does get easier as you go along. You'll find that you develop a sense of the combinations that work, along with your own preferences.
Food Pairing With Dry White Wine
Fresh Cheese
White Fish With Lemon
Shellfish
Chardonnay and Shrimp Scampi
Spicy Asian Meals
Creamy Sauces
Macaroni Cheese and Dry Riesling
Spicy Pasta Sauces
Apple Pie and a Gewürztraminer
Bean or Lentil-Based Sauces
Deviled Eggs
Butter Chicken with Chardonnay
Pickled Vegetables
Thai Green Curry and Sauvignon Blanc
Peach Cobbler and Riesling
Lemon Bars and Oaked Chardonnay
New Zealand Sauvignon Blanc and White Chocolate
Light Chicken Dishes
Fried Fish Tacos with Dry Riesling
Sauvignon Blanc and Avocados
Before we delve into the food and wine pairings, it's important to talk a little bit about the wine itself. The term dry is sometimes misused, but it isn't difficult to understand. It simply refers to a wine that isn't sweet. This type of wine doesn't contain residual sugar from the grapes.
The wine is created by using a longer fermentation process than you see with sweeter wine. The extra fermentation time gives the yeast longer to feed on the sugar from the grapes and helps ensure that there isn't much sugar remaining. Dry wines can still have fruity characteristics, but they also tend to be crisp and aren't very sweet at all.
Pinot gris, pinot grigio, chardonnay, riesling, and sauvignon blanc are some of the classic examples of dry white wines. Slightly less common examples include viognier, muscadet, pinot blanc, and torrontés. Sauvignon blanc and chardonnay are often considered two of the driest types of white wine, while wines like pinot gris, pinot grigio, and riesling are on the sweeter end of being dry.
These differences in sweetness will sometimes be relevant for your wine pairing. Sometimes you'll want the white wine to be as dry as it possibly can be, while other times a wine like pinot grigio or riesling could be a better fit.
Also remember that wines of the same type can be quite different from one another. For example, sauvignon blanc is usually made as a dry white wine. However, there are types where you will see it in an off-dry style or as a sparkling wine.
Fresh Cheese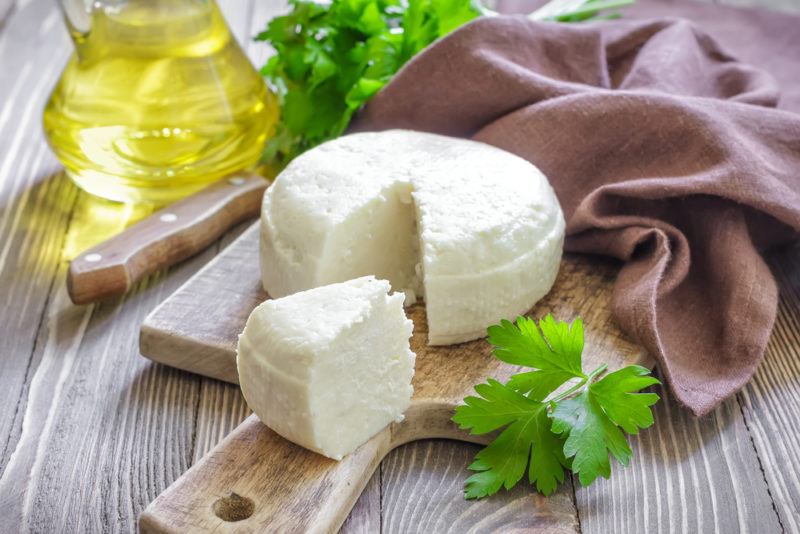 The types of cheese in this category tend to have been through very little aging, are often soft, and have a relatively mild flavor. Mozzarella cheese, soft goat's milk cheese, feta, and ricotta are all classic examples of this type of cheese.
The subtle flavors of these cheese mean that you need a young, dry, and fruity white wine to complement the cheese without overwhelming it. Sauvignon blanc and young chardonnay are commonly recommended.
If you're focusing on a salty fresh cheese, like feta, then a slightly less dry white may be more appealing, like a riesling or perhaps a gewürztraminer
White Fish With Lemon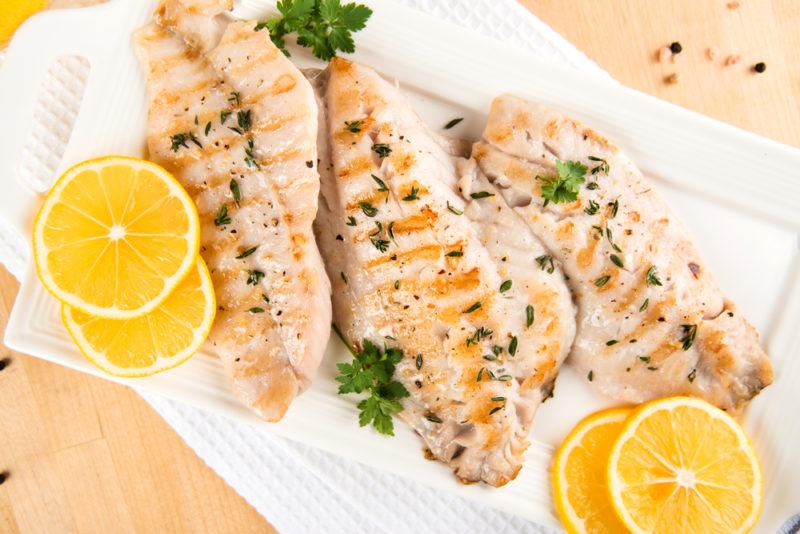 Dry and crisp wines like sauvignon blanc are an ideal choice for pairing with white fish. After all, fish often has a relatively mild flavor that could easily be overwhelmed by wine. Choosing a light wine helps ensure that the flavors of the fish still shine through.
Including a drizzle of lemon juice brings this food pairing up to the next level, as you end up with a light and bright balance of flavors in your meal and your wine.
You can also focus on white wines that are slightly zestier or offer a little bit of sweetness, like a pinot grigio. The flavor profile here can make the fish stand out even more.
You're not limited to serving fish on its own either. Many fish-based recipes pair well with dry white wine too, including options like fish tacos.
Shellfish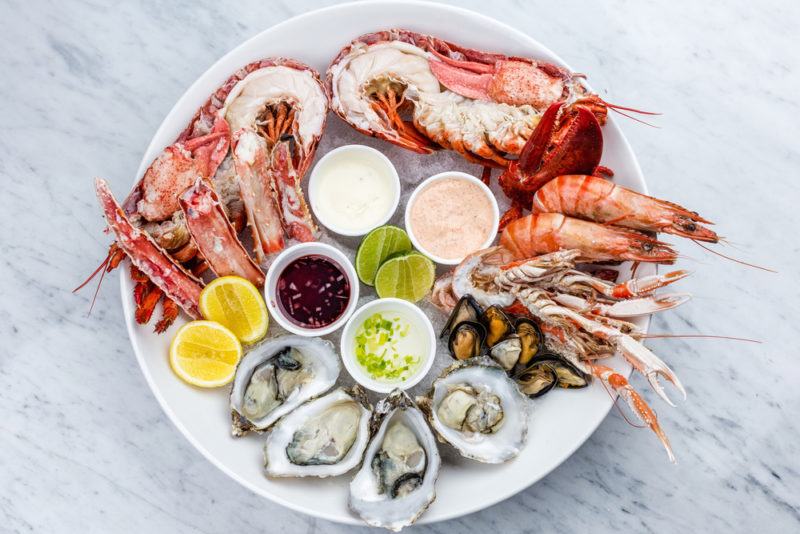 The flavor profile of shellfish pairs well with most dry white wines. Choosing a fruity white, like pinot gris, is even better than a non-fruity wine. Doing so gives you a delicious balance of flavors.
For that matter, fruity white wines combine well with any type of delicately flavored food. You end up with some interesting flavors from the wine, but not enough to overwhelm the food.
Chardonnay and Shrimp Scampi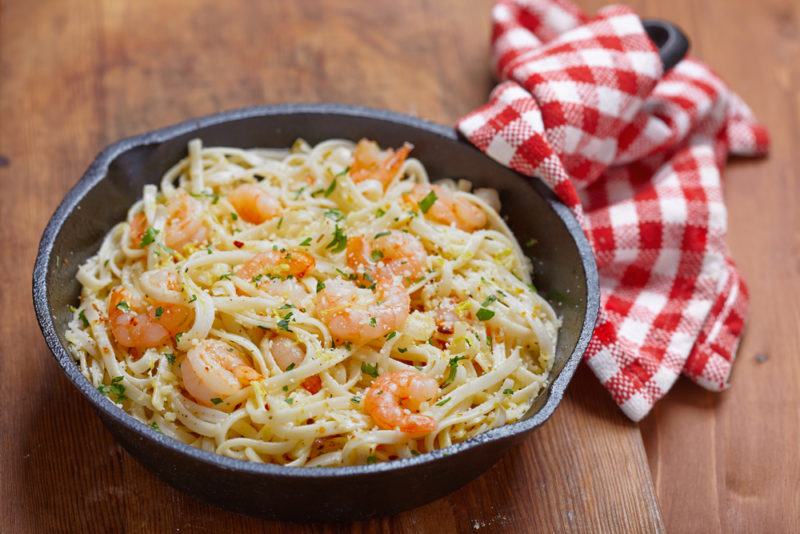 Here's a fun example of using a dry white with shellfish. Shrimp scampi is a buttery pasta dish that gets some flavor from the sauce and the rest from the shrimp. Chardonnay is a perfect pairing for both of these aspects of the dish, helping to highlight the creaminess of the meal without overwhelming any of the flavors.
You could even turn to a white burgundy, which is a specific type of chardonnay that comes from the Burgundy region in France. White burgundy is often thought to be the best type of chardonnay, so once you try it, you might not want to go back.
Spicy Asian Meals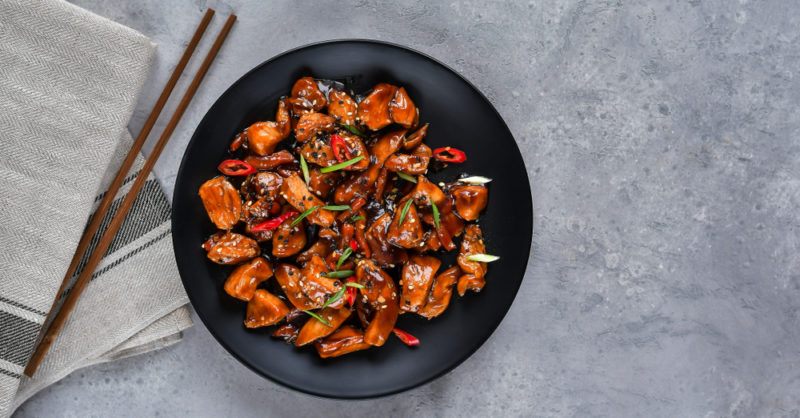 Dry whites aren't limited to subtle foods. The right white wine can also be used to complement spicy meals, including Asian dishes.
The trick here is to look for wines that have spicy or acidic notes. This includes examples like viognier, gewürztraminer, and riesling. It might seem surprising, but the white wine doesn't actually get drowned out in this type of combination. Instead, the acidity tends to cut through some of the strong flavors of the meal, creating an interesting contrast.
Creamy Sauces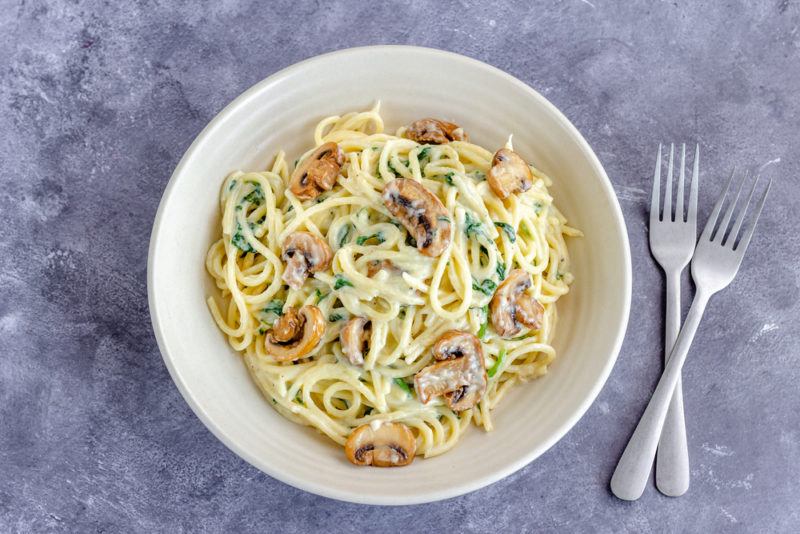 Chardonnay is often recommended as the wine of choice when you're serving a creamy sauce. This includes pasta dishes where the sauce is one of the main features of the meal.
Chardonnay works well in this context because it has some buttery flavor notes. So, for example, you could serve chardonnay with a fettuccine alfredo. With this pairing, the wine would complement the flavors and creaminess of the dish, but also offers enough acidity to cut through some of the cream in the dish. The acidity is important, as this helps your meal to not seem too rich.
Indeed, chardonnay is a perfect go-to choice for any creamy pasta dish, especially one that is laden with cheese.
Macaroni Cheese and Dry Riesling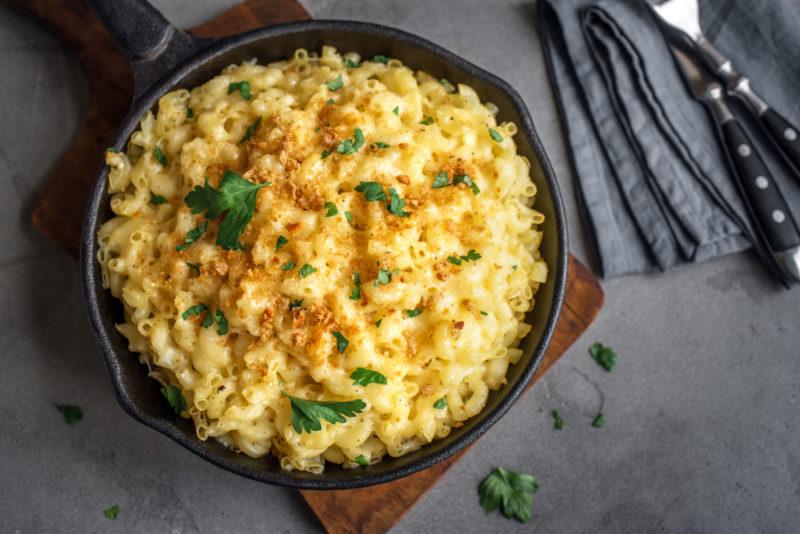 If you want a more unusual food pairing, try serving macaroni cheese with a dry riesling. This combination isn't common, as most people recommend using a gentle pinot noir or chardonnay with macaroni cheese. And, as we mentioned earlier, the buttery tones of chardonnay do make it an easy choice for most creamy pasta dishes.
A dry riesling, on the other hand, doesn't complement the creaminess of the macaroni cheese in the way that your chardonnay will. Instead, the crispness of the riesling provides a strong contrast, much like having a refreshing snack at the same time as your creamy meal.
While this idea might sound odd, it's certainly worth trying for yourself. Some wine pairings do rely on a contrast between the wine and the food. They often end up creating a much more interesting meal in the process.
Spicy Pasta Sauces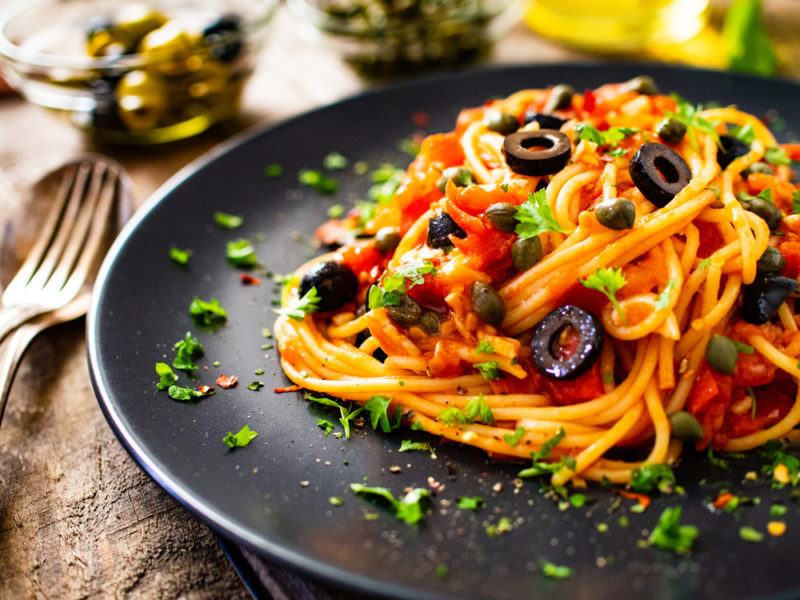 Pasta dishes that rely on a strong or spicy sauce, like puttanesca and arrabbiata, pair extremely well with sharp dry white wines. The sharpness of the wine is important here, as this is what contrasts against the spiciness of the pasta sauce.
Don't worry though, the wine isn't going to overwhelm the sauce (or vice versa). Instead, the contrast is only strong enough to create an interesting balance of flavors for your meal.
Apple Pie and a Gewürztraminer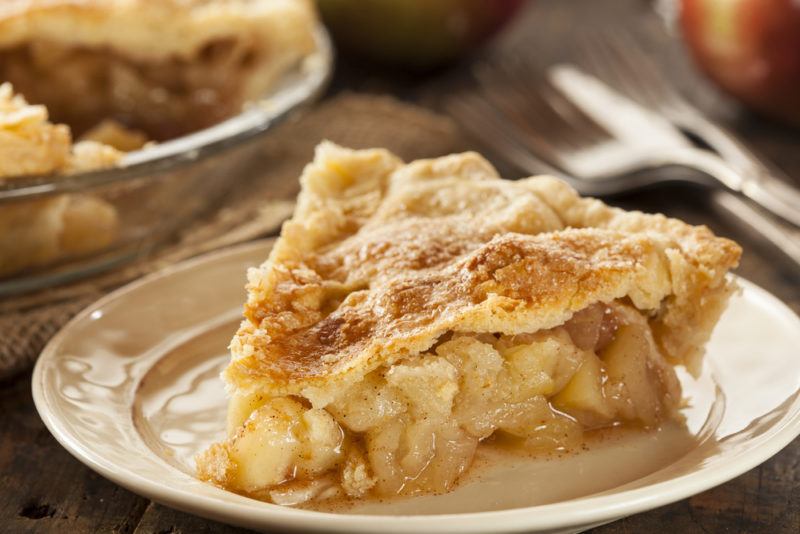 Gewürztraminer is still considered a dry white wine, even though it is a little sweeter than its counterparts. One reason is that the wine is highly aromatic, which makes it taste sweeter than it actually is. Gewürztraminer is also known for having a delicious balance of fruit flavors and spice.
That balance is why gewürztraminer works so well with apple pie. After all, apple pie tends to combine fruit and spice as well. You should have at least a little cinnamon present. Many apple pie recipes will contain other spices too.
Having a similar balance of spice and fruit in your wine and in your meal is simply excellent. Creating this type of parallel between food and wine can create an unbeatable combination.
Bean or Lentil-Based Sauces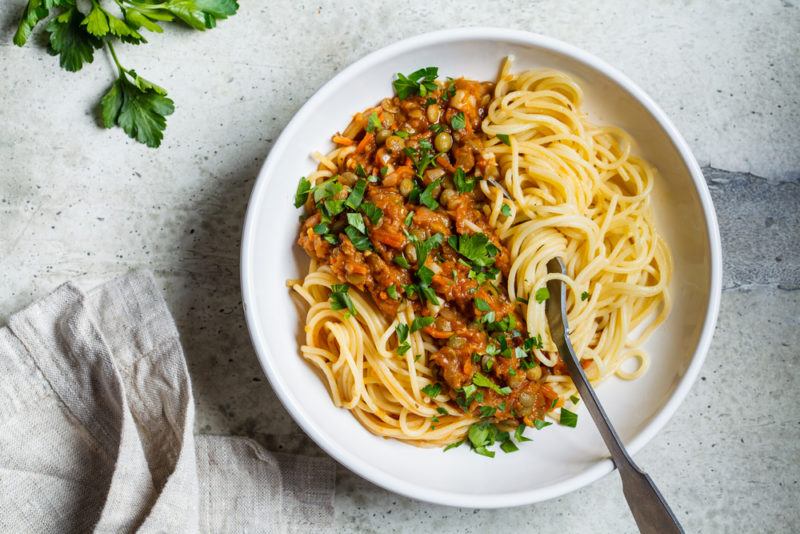 You'll sometimes see beans or lentils used as part of a pasta sauce. For this type of meal, a Tuscan red wine like Chianti is an easy and delicious choice.
White wines are occasionally recommended as well, including a dry chardonnay, especially partly oaked one. The best choices will come from Côte d'Or in France, although you may need to settle for something local instead.
Deviled Eggs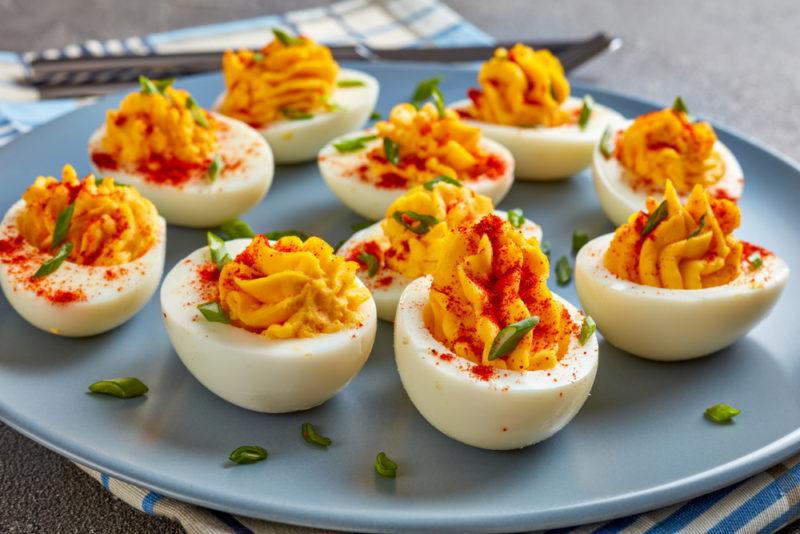 Food and wine pairing doesn't always focus on large meals. Finger foods, like deviled eggs, can also benefit from the right wine.
You can make deviled eggs in countless different ways. Some recipes follow traditional approaches and the flavor of the egg often shines through. Others are more complex, perhaps relying on different spices or flavor packed ingredients like bacon.
Regardless of the recipe that you choose, a dry white wine tends to be your best choice with the eggs. This way, you're giving the flavors of your food plenty of chances to shine.
A dry prosecco is an especially good choice. This way you're not just getting the contrast between the richness of the egg and the vibrancy of the wine, but you're also getting bubbles.
Prosecco also happens to pair well with other finger foods, particularly those that have been fried. This makes the wine an ideal choice if you're hosting some type of event.
Butter Chicken with Chardonnay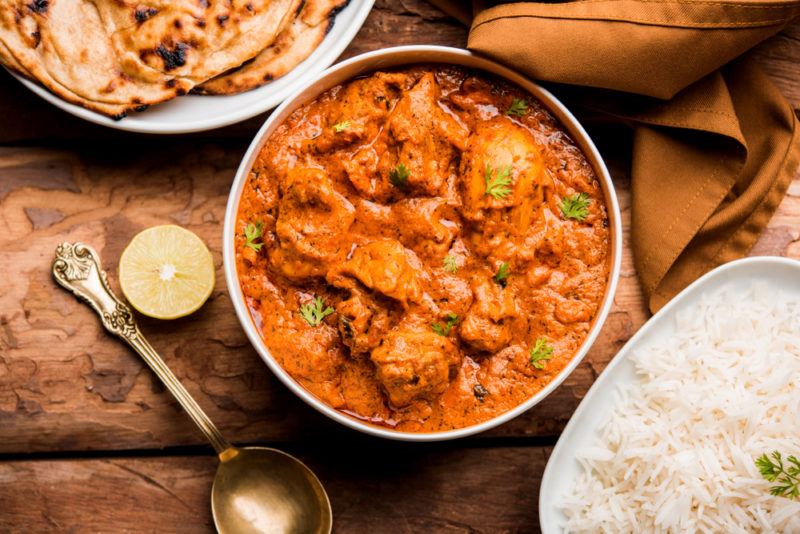 Pairing chardonnay with butter chicken shows just how versatile the wine is. Chardonnay has enough body, acid, and depth of flavor that it can stand up to the butter chicken well, complementing the flavors of the curry without being overwhelmed.
Using a dry white wine like chardonnay with butter chicken is also helpful because rich dishes can sometimes be overwhelming. The sharpness of a dry wine can help to cleanse your palate and make the meal seem more balanced.
Pickled Vegetables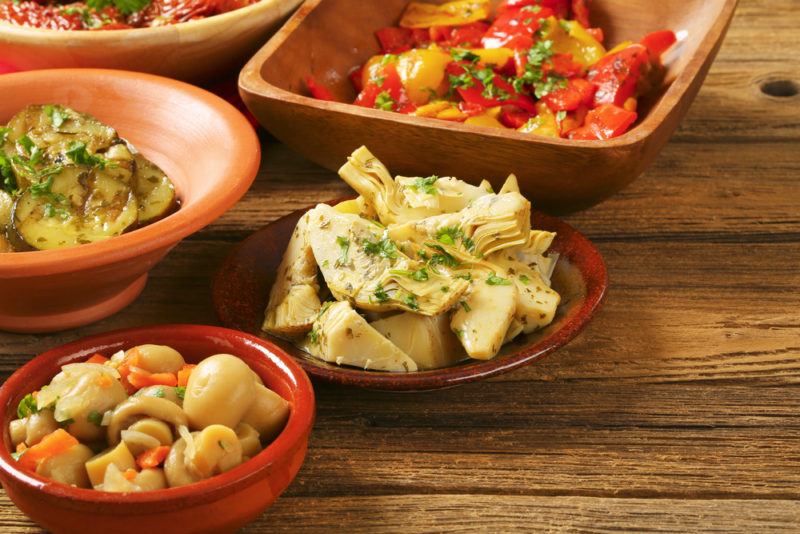 Pickled vegetables tend to be palate cleansers, which means that the wine you choose doesn't matter as much as with other foods. Still, if you're going to serve wine with pickled vegetables, then a dry white wine is the ideal choice.
This type of wine ends up promoting the palate cleansing aspect of the vegetables even more strongly.
Look for a white wine that has a decent amount of acid. A sauvignon blanc is an easy choice here, especially as there are some herbal flavors present. You could look for a riesling as well.
Thai Green Curry and Sauvignon Blanc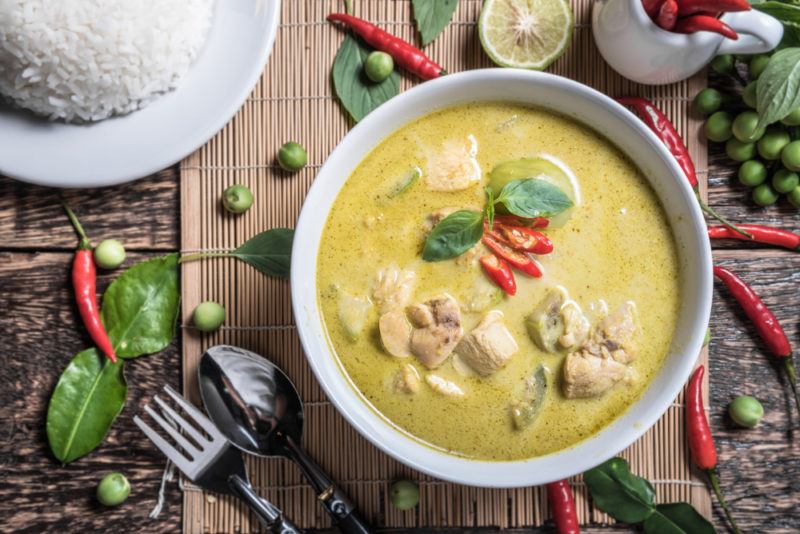 Thai green curry works well with multiple white wines, including pinot gris and off-dry riesling. In both these cases, the slight sweetness in the wine works well with the spiciness of the curry, giving you an enjoyable contrast.
Sauvignon blanc can be an even better choice. This doesn't offer the same sweetness as the other choices, but you often get some pea flavor notes, especially if you focus on sauvignon blanc from New Zealand or Chile.
Peach Cobbler and Riesling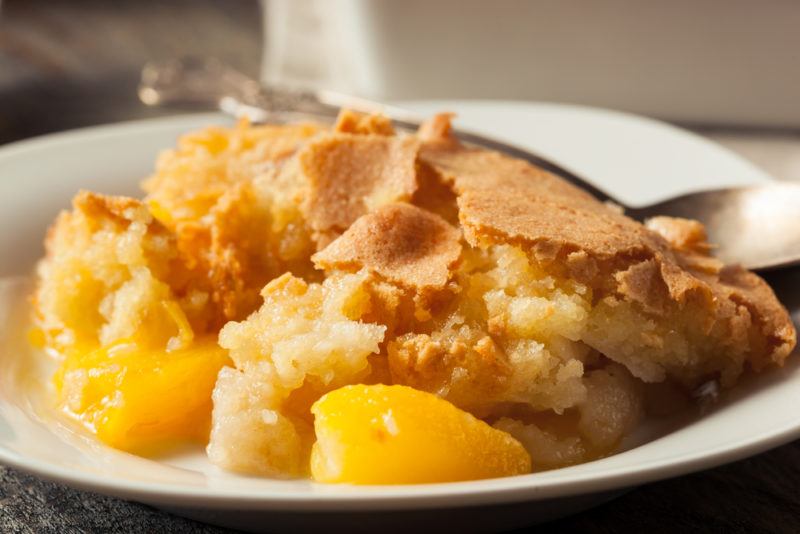 Sweet desserts sound like they should be paired with sweet wine, but this isn't always true. A dry wine can often work much better, as you get a fantastic contrast between the dessert and the wine.
In this case, we're suggesting serving peach cobbler with a dry riesling. We're focusing on riesling because the wine often contains flavors of green apple and citrus, both of which work well with the sweetness of your peach cobbler.
The acidity of riesling is important here too, as this is another way that the wine contrasts your dessert. If you can, look for a German riesling. This type of riesling tends to have earthier tones. These work well with the crust of your peach cobbler.
Lemon Bars and Oaked Chardonnay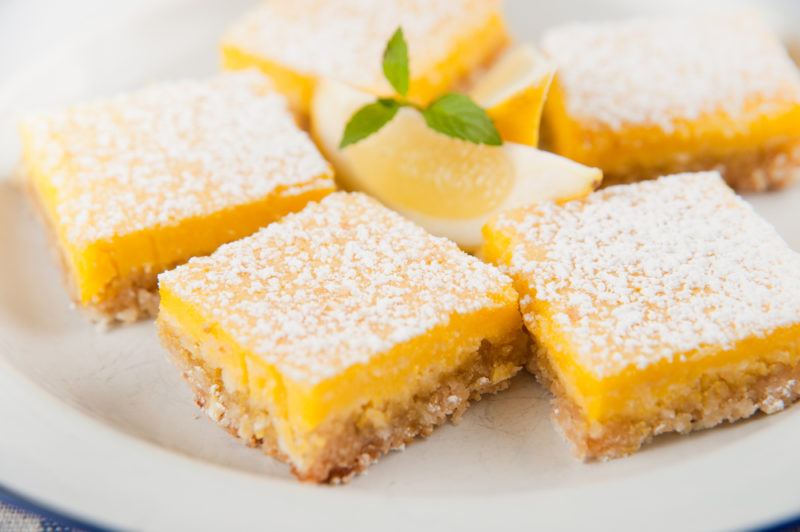 While we're on the topic of desserts, lemon bars are another option that pairs well with dry white wine. This time, chardonnay is an ideal type of wine to try, especially if you're choosing an oaked chardonnay. Aging chardonnay in oak provides a layer of creamy richness that is unusual in white wine.
Lemon bars, on the other hand, tend to have a fresh and zingy flavor from the lemon, while the crust provides richness and buttery tones. This contrast is an appealing one and the chardonnay simply parallels it.
New Zealand Sauvignon Blanc and White Chocolate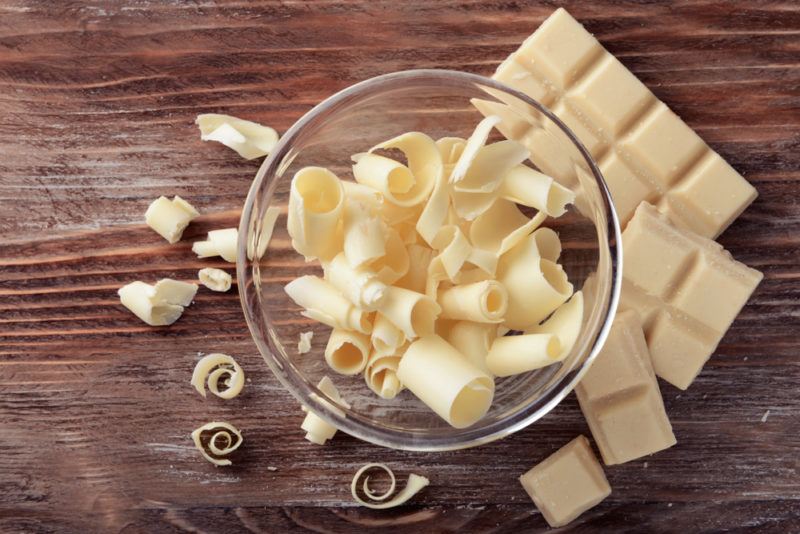 Pairing wine and chocolate is a field all of its own. We've covered the topic in-depth as part of a post on wine and chocolate pairing, but this particular combination is too good to pass up.
Choosing a New Zealand sauvignon blanc is important here, as sauvignon blanc from New Zealand tends to be fruitier and has stronger passionfruit flavors than sauvignon blanc from other parts of the world.
The increased fruitiness is important, as this adds an entirely new layer of flavor to your white chocolate, without overwhelming the taste of the chocolate at all. Honestly, it's like you end up with an entirely different dessert.
Light Chicken Dishes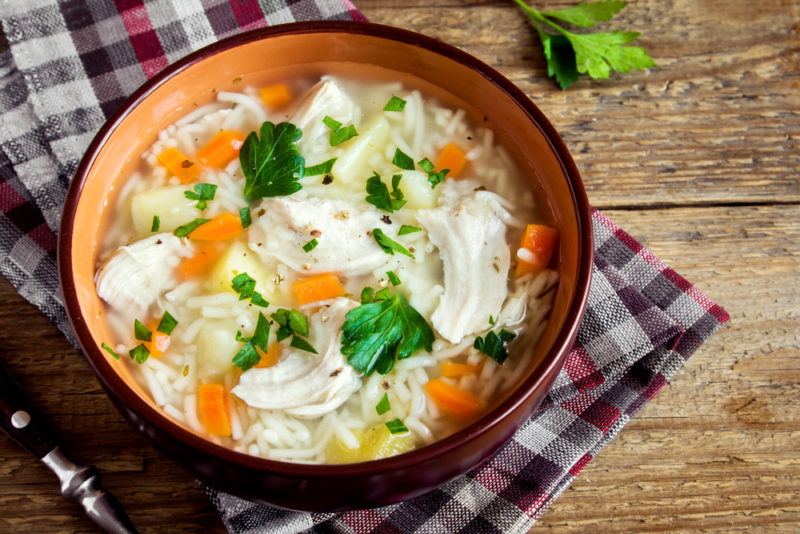 It's easy to see why chicken is traditionally paired with white wine. After all, chicken dishes often have subtle flavors and are fresh, so white wine complements them well without overwhelming them. This is particularly true if you're focusing on skinless chicken breasts, as these are low in fat.
The combination doesn't just apply to chicken on its own either. Other light meals that rely on chicken can be paired with white wine too. Chicken noodle soup and a salad with poached chicken are both examples where white wine will be perfect. You can probably think of many others too.
A crisp sauvignon blanc is one of the best white wines to rely on here. There's no risk that of the wine overwhelming the chicken and the wine even contains complementary herbaceous notes.
Fried Fish Tacos with Dry Riesling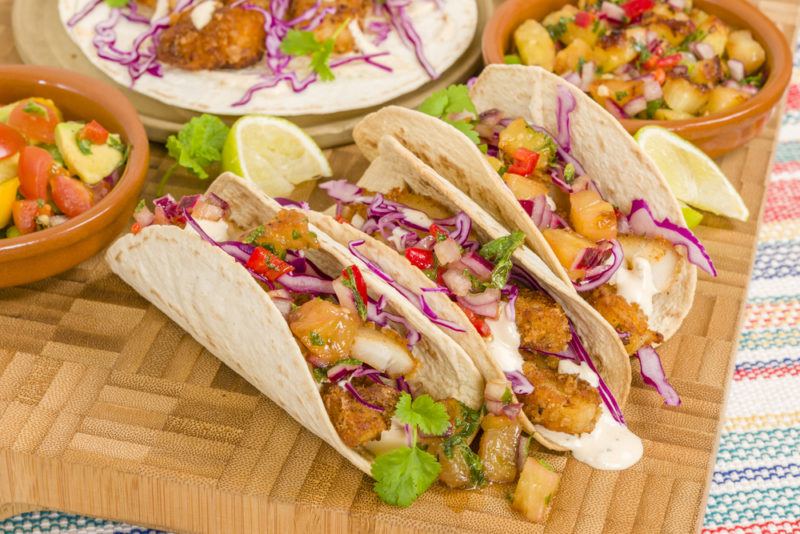 Dry white wine is commonly paired with fish anyway, so serving a dry riesling with fried fish tacos shouldn't be too surprising. Focusing on a dry riesling is important here, as an overly sweet version isn't going to complement a fish taco well at all.
There's another advantage too. A dry riesling tends to be a crisp choice, so it contrasts nicely with fried foods. There will often be some citrus tones present too. These naturally complement the fish, just like a squeeze of lemon or lime juice.
Sauvignon Blanc and Avocados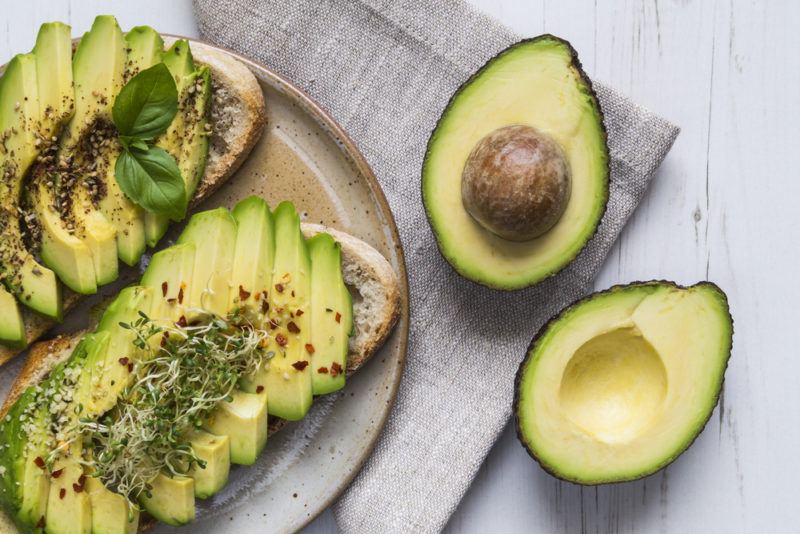 The herbaceous tones in sauvignon blanc make it a natural choice for many vegetarian dishes, along with other herb-focused meals. The same qualities make sauvignon blanc a natural choice for avocados.
The wine ends up pairing well with most avocado-based dishes, like guacamole and avocado toast. What could be better than serving a glass of crisp sauvignon blanc with avocado toast?
Tips for Pairing With Dry White Wine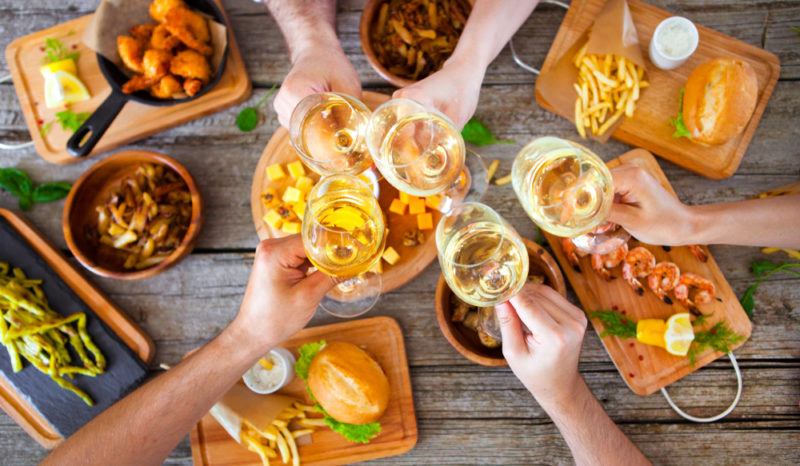 This list has covered a variety of foods that pair well with dry white wines, including some specific recommendations. But in many ways, we've just scratched the surface. There are countless other combinations out there waiting to be discovered – and every dish can be paired with more than one type of wine.
In general, dry white wines pair best with savory dishes, especially those that include fish or roasted veggies. This means that most of the time you'll be avoiding food that has intense flavors.
Those approaches and the pairings included in this list are a good starting point for working out your own food and wine combinations.
But, when you do so, don't get too caught up in the technicalities. While food and wine pairing can seem overwhelming, it is a subjective art. After all, our experiences of food and wine are strongly influenced by our own flavor preferences, how we're feeling, where we are, and countless other things.
In the end, the best dry white wine pairing is the one that you enjoy. So, experiment for yourself. Focus on wines and foods that you love, then see which combinations soar. Some of your favorites might not make it onto any food and wine pairing lists.