Do you find wine confusing? Many people don't quite know where to begin, as there seems to be infinite options, not to mention countless rules and guidelines. Thankfully, wine doesn't need to be as difficult as it seems. In this post, we aim to make the process simple by stepping you through some of the best white wine pairing solutions.
There are some broad rules to start off with. Wine should generally be sweeter and more acidic than the food that it is paired with. You'll also find that white wines pair well with light-intensity meats and meals, including fish and chicken, while red wines pair better with bold flavors.
That being said, you're often matching the wine to the sauce and the flavor of your meal as a whole, rather than just the meat that the meal contains.
One final note – the wine pairing suggestions in this post are just suggestions. As you become more familiar with wine, you'll be able to experiment more and break the so-called rules of wine pairing. And, as you'll discover, your own preferences are more relevant to wine pairing than any rule.
For more ideas, take a look at our other posts on wine pairing, including red wine pairing, chocolate and wine pairing, and cheese and wine pairing.
Best White Wine Pairing
Chardonnay and Salmon
Sauvignon Blanc and Japanese or Thai Meals
Sushi and Pinot Gris
Sauvignon Blanc and White Fish
Pinot Grigio and Fish Tacos
Quesadilla and Sauvignon Blanc
Chardonnay and Lobster
Salmon and Sauvignon Blanc
Pesto With Sauvignon Blanc
Pairing With Chicken
Sweet Riesling and Apple Pie
Pizza, Anchovies, and Sauvignon Blanc
Wine, Chocolate, and Cheese
Champagne and Caviar
Sauvignon Blanc and Avocado Toast
Riesling and Macaroni Cheese
Hawaiian Pizza and Riesling
Chenin Blanc and Turkey Dinner
Foie Gras and Sauternes
Deviled Eggs with Prosecco
Apple Tart with Gewürztraminer
Butter Chicken with Chardonnay
Sauvignon Blanc and Mussels
Chicken and Corn Chowder with Chardonnay
Pumpkin Soup with a Smooth White Wine
Crème Brûlée with Sauternes
Scrambled Eggs with Champagne
Tandoori Shrimp with Riesling
Sauvignon Blanc and Guacamole
Chardonnay and Salmon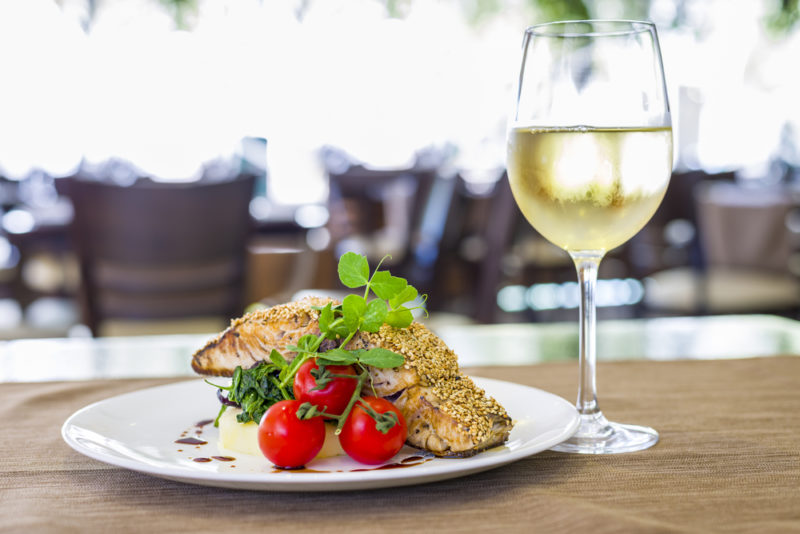 Chardonnay has some acidity to it, which helps to offset the fattiness of salmon. This is true regardless of the type of salmon that you're eating. Chardonnay pairs just as well with smoked salmon as it does with a salmon dinner that is straight out of the oven.
The richness of the chardonnay helps to make the combination feel a little decadent. You could even look for an oaked bottle of chardonnay, as aging in oak provides an extra depth of flavor.
Enjoying the contrast of chardonnay and salmon doesn't need to be difficult. You could simply serve smoked salmon on a platter with a few other items and a glass of chilled chardonnay.
Sauvignon Blanc and Japanese or Thai Meals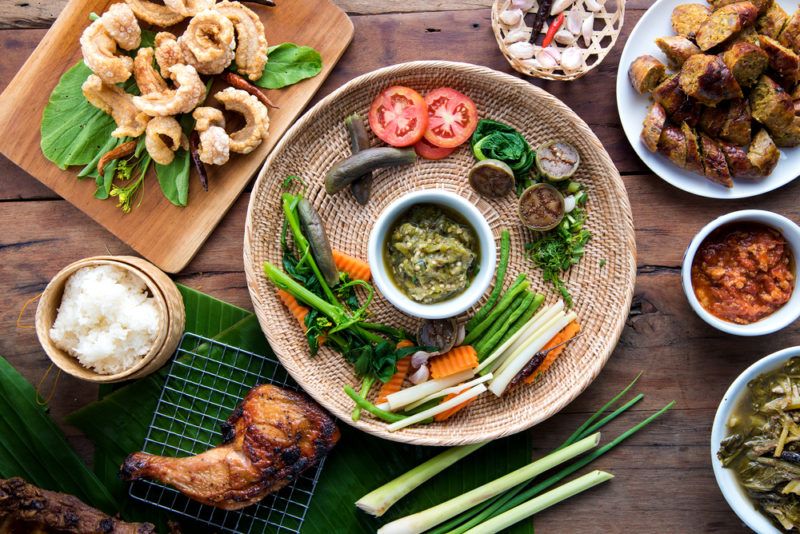 Sauvignon blanc often has some pungent aromas, along with acidity. These features are a perfect contrast to Japanese and Thai dishes, as such meals tend to have bold flavors. You'll often find that the flavors of the wine and the meal delightfully contrast each other, bringing the dish up to an entirely new level.
For example, the heat of a green curry is complemented by the acidity of the wine. Meals that use lemongrass as a key flavor are especially good, as these highlight the citrus notes present in the wine.
Sushi and Pinot Gris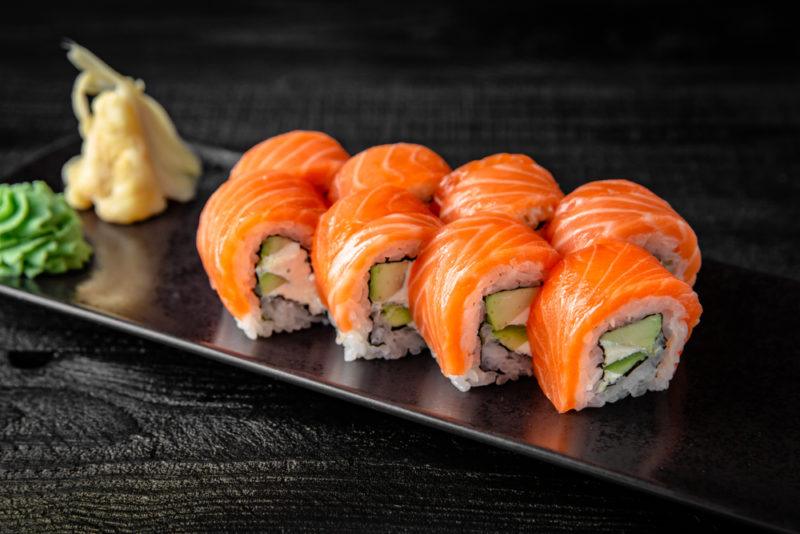 Drinking wine with sushi isn't the most common practice, but if you're going to do so, then pinot gris is the way to go. The sushi is a fantastic contrast to the acidity and fruit notes of the wine.
Plus, sushi and pinot gris both tend to be relatively light. This is another reason that the combination works well. A richer wine, on the other hand, would risk drowning out some of the nuances of your sushi.
Sauvignon Blanc and White Fish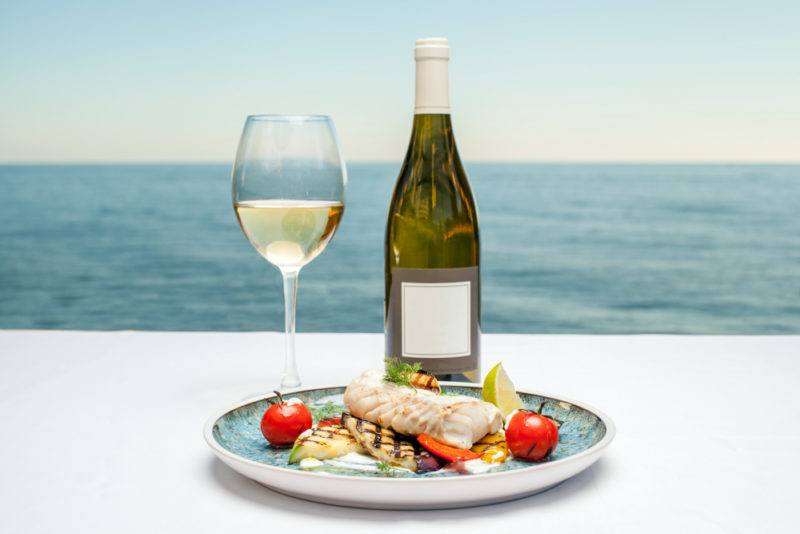 The combination of white wine and fish is a well-known one. Most types of white wine will complement the flavors of delicate fish and provide extra vibrancy to the dish.
Sauvignon blanc is an especially good choice, as the high acidity of the wine doesn't overwhelm the fish at all. Instead, flavors of the fish and wine end up complementing one another well.
However, when you're pairing fish with wine, the sauce you're using ultimately matters much more than the fish. In particular, sauvignon blanc complements meals where the delicate flavors of the fish shine through. But, if your fish has a rich cream-based sauce instead, you'll need to look for a different type of wine.
Pinot Grigio and Fish Tacos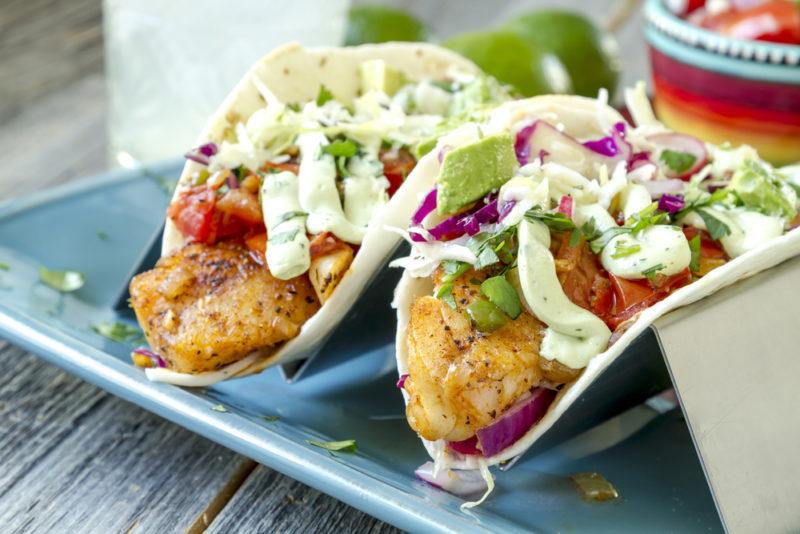 Pinot grigio is another type of white wine that easily pairs with white fish. The wine tends to be a little zesty and often has more sweetness than a sauvignon blanc. Both of those features help to make the flavors of your seafood stand out even more.
And, while you could use pinot grigio with most white fish meals, it is an especially good choice with fish tacos. Here, you have a variety of interesting ingredients that provide flavor to your dish and are made all the more interesting by your wine.
Quesadilla and Sauvignon Blanc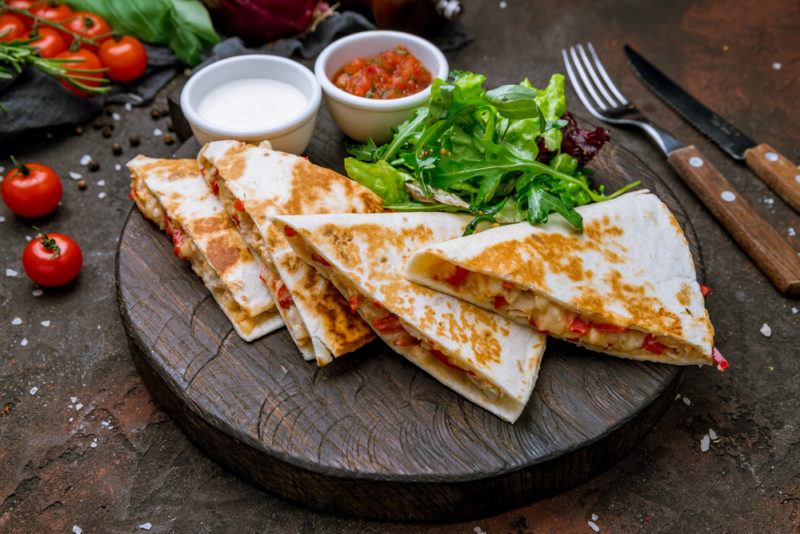 In general, Mexican meals tend to pair well with wines that are crisp and acidic. It also helps to look for a wine that has citrus tones, as the citrus helps to offset some of the heat from your meal.
Sauvignon blanc is a nice and easy choice for most quesadilla recipes. The balance of acidity and crispness is exactly what you want to go with quesadillas, and you manage to avoid making your meal too intense. The combination is particularly good if you are making your quesadillas somewhat spicy.
A more unusual option is to use an albariño instead of sauvignon blanc. This wine variety often comes from Spain and has the citrus flavor profile that you are looking for. It is also appealing for anyone who isn't a huge fan of sauvignon blanc.
Chardonnay and Lobster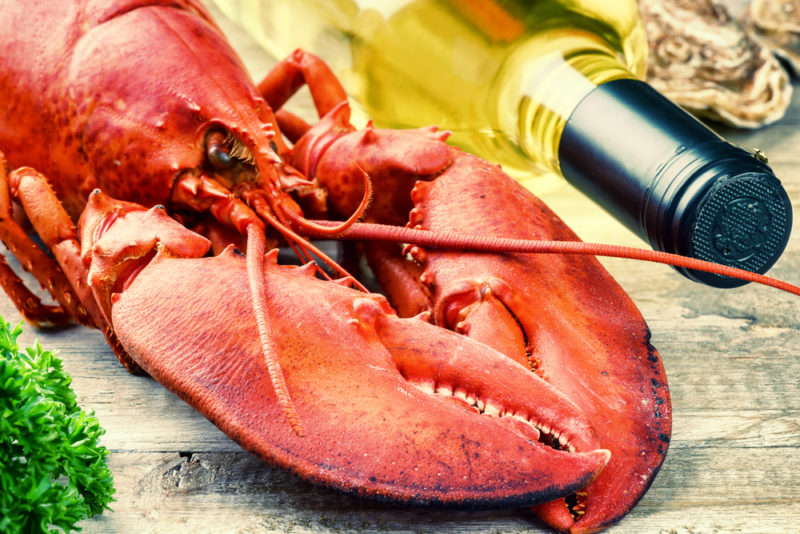 Lobster and chardonnay is a classic combination, especially if you're serving lobster with drawn butter. After all, chardonnay does have buttery tones of its own, so it's no surprise that these two choices work so well together.
Using chardonnay like this simply elevates the richness of your meal, making it even more of a treat than it was before. Plus, chardonnay is one of the classic types of wine that you can easily find. It is a perfect choice for people who don't have access to a wide selection of wine types.
If you're looking for other wine choices for lobster, check out our post on lobster wine pairing. In it, we highlight a variety of wines to consider, along with some general principles.
Salmon and Sauvignon Blanc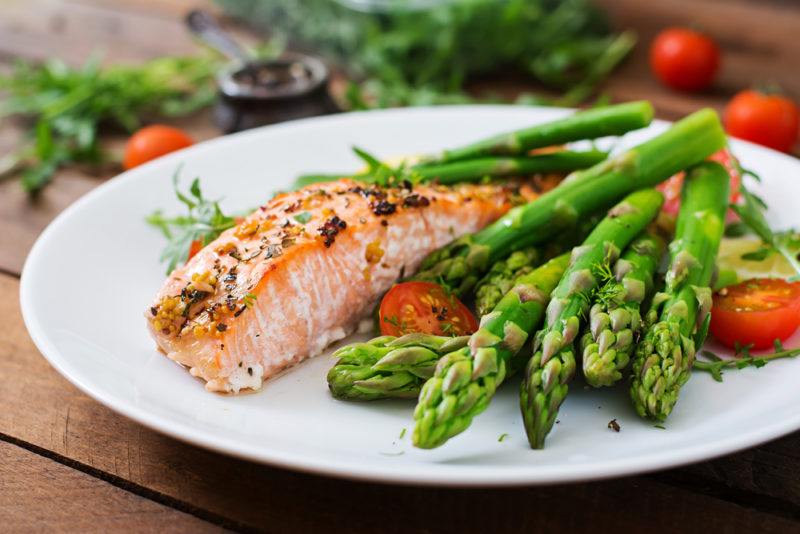 Salmon is an interesting case for food pairing. While recommendations generally suggest that you serve fish with a white wine, salmon is most often served with pinot noir instead. The approach shouldn't be too surprising, as salmon does have a richness and meatiness that isn't found with other types of fish.
Despite this, pinot noir isn't your only choice. Salmon can be paired with white wines too, with sauvignon blanc being a good way to go. The freshness of the wine acts as a nice contrast to the salmon. In some ways, the effect is similar to squeezing some lemon over your fish.
We have a separate post on this topic too. You can look at that for more ideas about baked salmon wine pairing.
Pesto With Sauvignon Blanc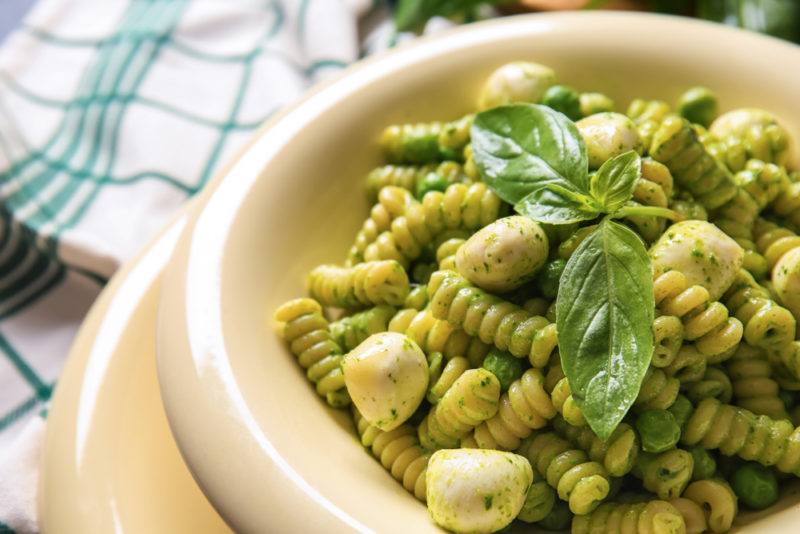 Pesto can be somewhat difficult to pair with wine, as you have multiple flavor elements to consider. Classic pesto, for example, relies on basil, pine nuts, and parmesan cheese, along with olive oil and sometimes garlic. You end up with a fairly complex flavor profile, one that contains elements of each ingredient.
When well-made, pesto tends to be fresh and bright, so it is best paired with a wine that has similar qualities. This means that you should avoid wine that has been aged or oaked, along with wine that has too much body. Fruity and acidic wines are especially appealing.
Sauvignon blanc remains one of the best choices for pesto, as it is acidic and also has herbaceous qualities. The herbaceous aspect creates a complementary balance between the wine and the pesto, something that a sweeter wine doesn't offer. Other types of white wine can be appealing too, but avoid chardonnay, as the buttery nature of the wine works against the pesto rather than with it.
Pairing With Chicken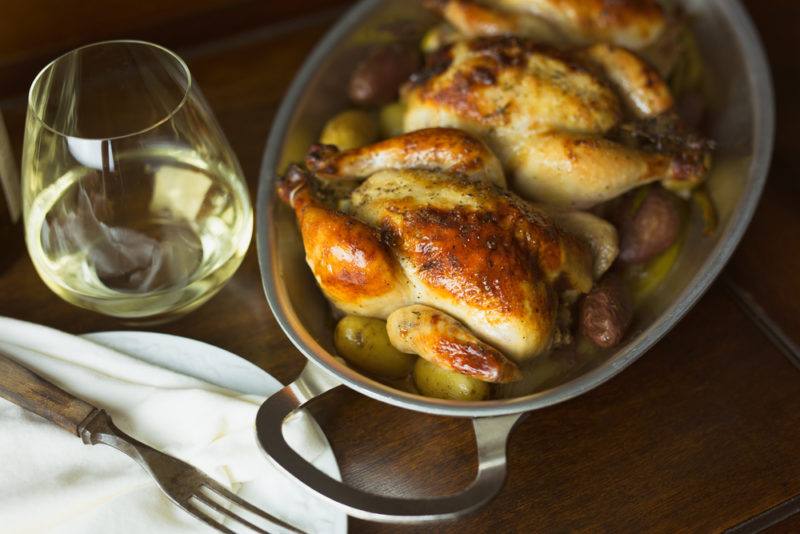 One of the basic wine pairing 'rules' is that you combine white wine with white meat and red wine with dark meat. While this is a simplistic approach, it does ring true, as the vibrancy of white wine complements white meat well and doesn't risk overwhelming it.
You have many different options for the type of white wine that you use with chicken. Sauvignon blanc, for example, is a common choice, as the crisp wine contrasts the chicken well. Sauvignon blanc often has herbaceous notes, which are perfect if you use herbs to season your chicken.
Chardonnay tends to be fuller bodied and is somewhat decadent. This combination of features means that chardonnay complements creamy dishes well. As such, it could be ideal if you're serving chicken in a creamy sauce or as part of a rich dish.
Sweet Riesling and Apple Pie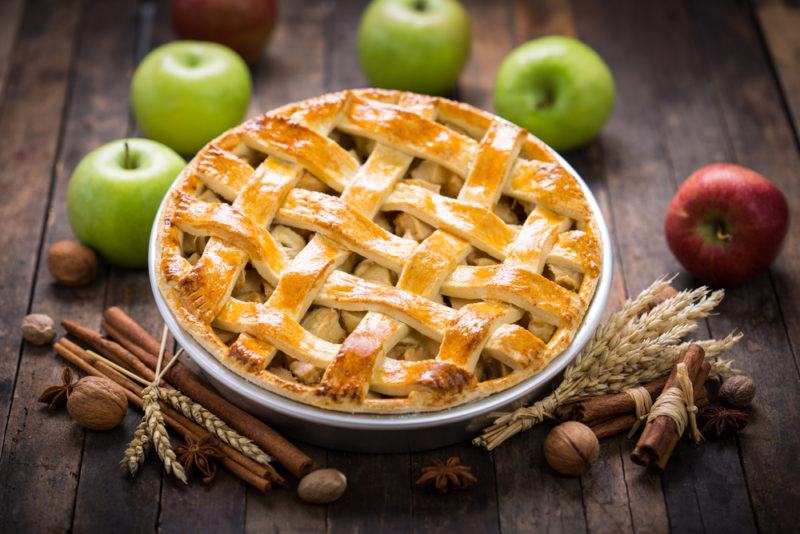 Sweet riesling might be less popular than drier versions of the wine, but it still shines in some food pairings, including this one. The wine tends to be light bodied and is still refreshing, despite having some sweetness.
The combination of refreshing and sweet qualities makes this wine an ideal match for most apple-based desserts, including apple pie. Sweet riesling ends up being even better still if your apple dessert uses caramel too.
Pizza, Anchovies, and Sauvignon Blanc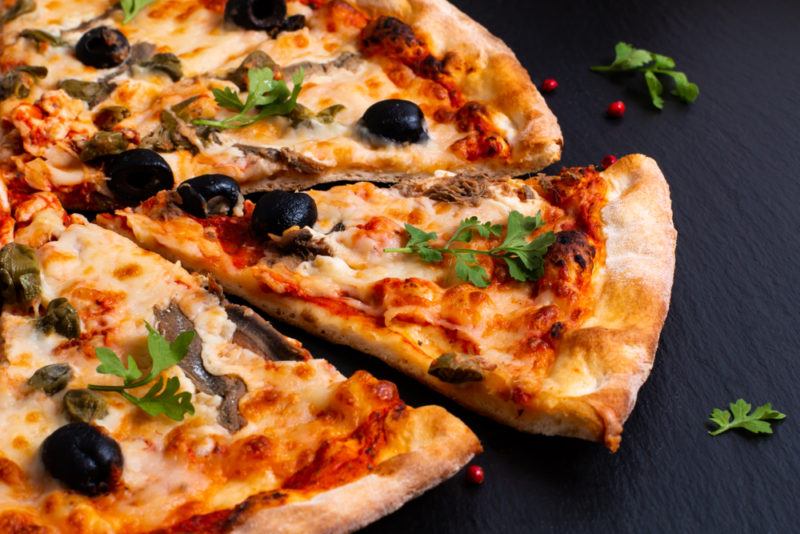 Here's an interesting combination. The idea is to match the wine to the anchovies, as these are easily the most dominant flavor on your pizza.
While other white wines could be effective too, sauvignon blanc is a good starting point. It has the crispness that you need to contrast the oil and saltiness of the anchovies. The wine may help to mellow the flavor of the anchovies too, making the pizza easier to enjoy.
Wine, Chocolate, and Cheese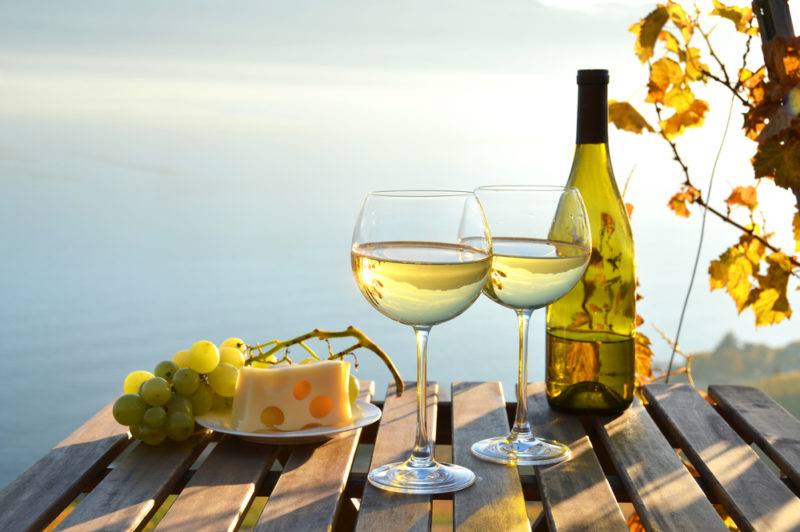 Pairing wine and chocolate is always an art form. Cheese and wine is easier, at least in theory, but with so many types of cheese to wade through, it still takes time to find good combinations.
For anyone wanting to enjoy wine, chocolate, and cheese at the same time, try combining a riesling with Swiss cheese and white chocolate. These three all pair well with one another and you aren't going to get any clashing flavors. The combination is particularly good if you focus on a sweet riesling, rather than a dry one.
Champagne and Caviar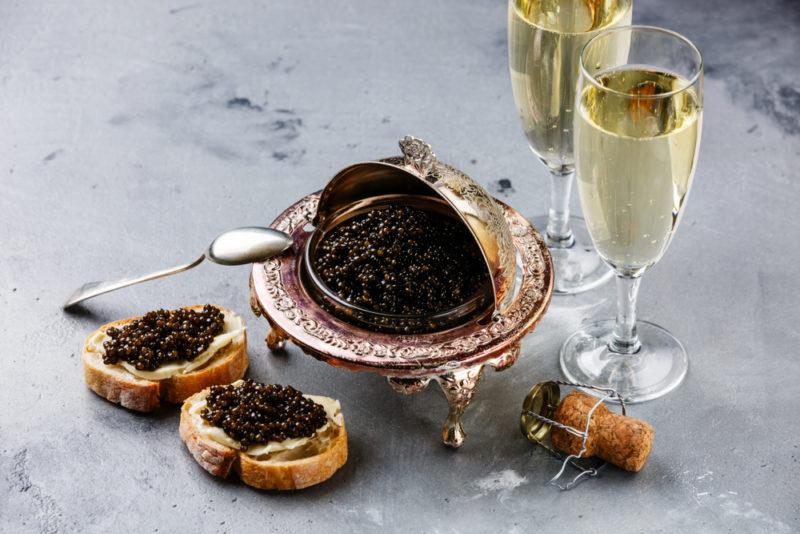 Champagne and caviar are often paired with each other just because both products are expensive and decadent. It can seem somehow wasteful to combine caviar with any type of less expensive wine.
But, as it turns out, champagne and caviar do also pair well together. There's a lightness to champagne and to caviar, both in terms of their texture and their flavor. Plus, you end up with a slight contrast between the fruitiness of the wine and the saltiness of the caviar. This aspect helps to highlight the complexity of the champagne and the caviar, making each seem even more delicious.
Sauvignon Blanc and Avocado Toast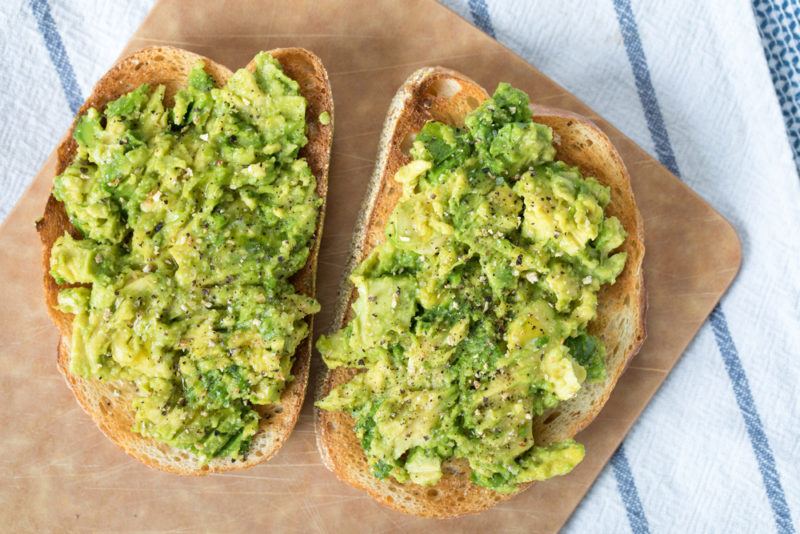 You've probably noticed that sauvignon blanc has cropped up many times on this list already. This isn't surprising, as the dry white wine is incredibly popular. It's one of those wines that you'll find at pretty much any store that sells wine.
The popularity of sauvignon blanc isn't surprising either. The wine tends to have a medium-low body and high acidity. This combination makes it a light and vibrant wine, one that can complement herbaceous flavors and tends to contrast well against fatty foods.
While sauvignon blanc ends up pairing well with many different foods, avocado toast is a stand-out choice. This combination is enticing because of the savory flavor and the fattiness of the avocado. Besides, drinking a glass of wine with avocado toast just sounds amazing.
Riesling and Macaroni Cheese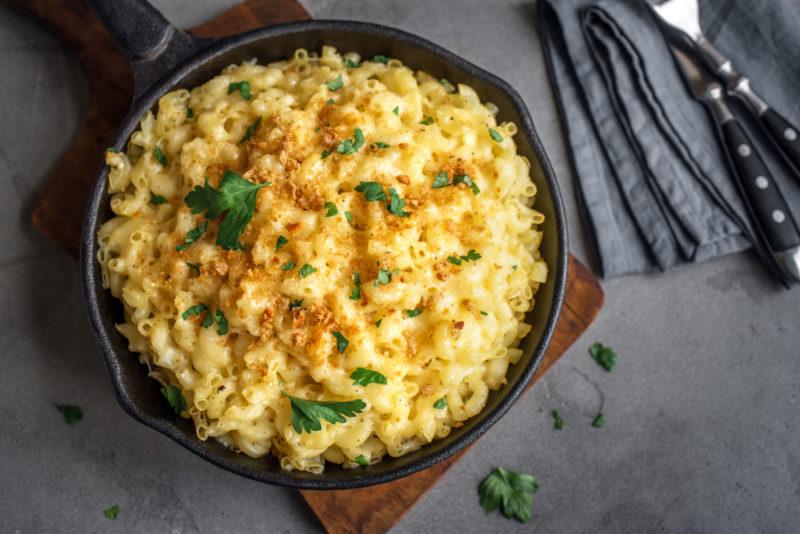 Here's an unusual pairing to consider, partly because macaroni cheese mightn't seem like a type of meal that you should drink wine with. But, if you're so inclined, there are multiple appealing wines that you can consider.
A chardonnay is the classic option for this type of meal, as it has buttery flavors that naturally complement the creamy cheesiness of your pasta. That combination can get a little boring after a while, which is why we suggest trying a dry riesling with your macaroni cheese instead.
This combination works for a completely different reason. While a chardonnay complements macaroni cheese, a dry riesling provides a sharp contrast instead. Think of the idea as being a little like biting into crisp apple slices every so often when you're enjoying macaroni cheese. While doing so might not be common, this type of flavor contrast often works much better than you expect.
Hawaiian Pizza and Riesling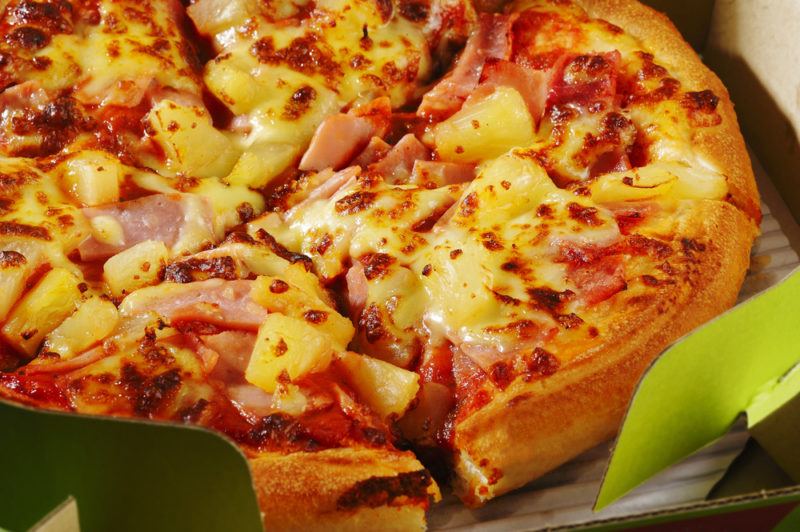 This wine pairing is certain to be controversial. After all, pizza may often be considered too 'low brow' to drink alongside wine (many of us choose beer instead or, if we do choose wine, we don't bother too much with wine pairing). And then there's the whole debate around whether you should put pineapple on a pizza to begin with.
But, if you love Hawaiian pizza, then a glass of riesling could be the perfect complement. Look for a slightly sweet bottle, as this will contrast perfectly with the Canadian bacon and the saltiness of the dish. You're also getting some acidity from the riesling, which helps to cleanse your palate between bites.
Chenin Blanc and Turkey Dinner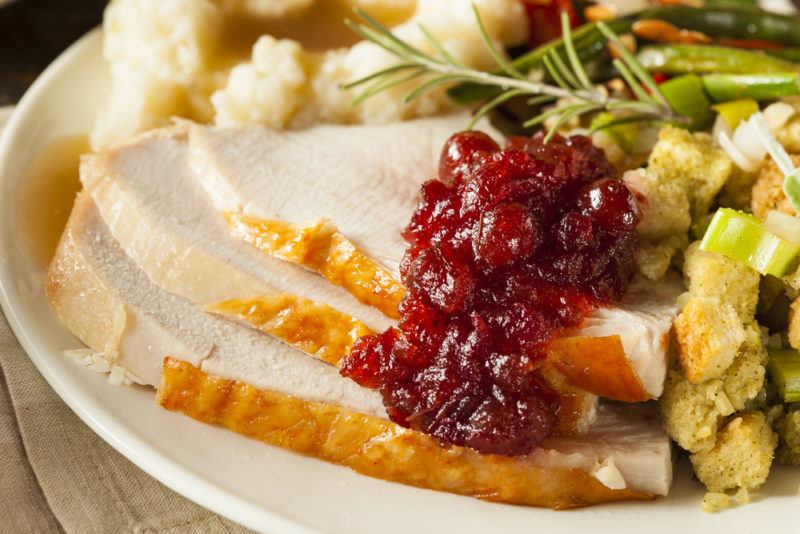 Many types of white wine will pair well with turkey. You could even choose a light red, like a pinot noir. But, if you want a more powerful pairing, try a chenin blanc with a full turkey meal. Chenin blanc is a light white wine that tends to be quite acidic and often has a little sweetness.
It's notable because the wine has enough body to stand on its own and it even helps to moisten your meal somewhat (perfect when the turkey has been slightly overcooked). The flavors of the wine are also a natural complement to cranberry sauce, which is another advantage.
Foie Gras and Sauternes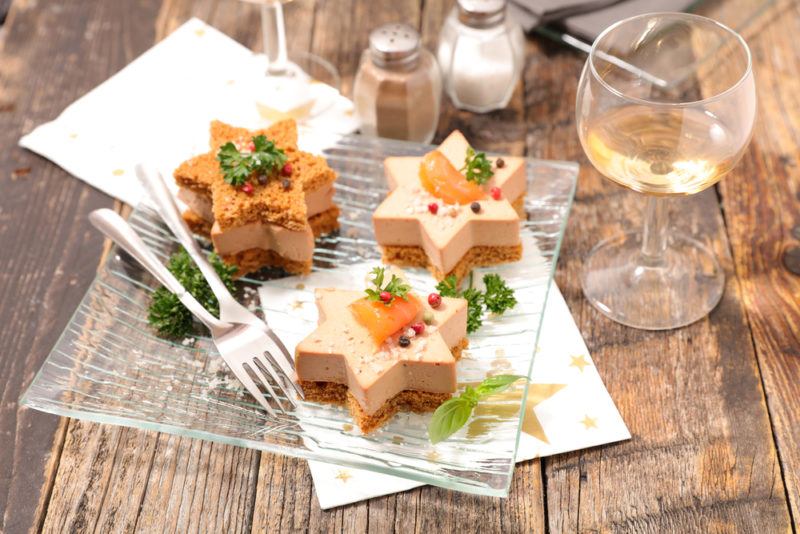 Foie gras is controversial. There's no doubt about that. This controversy isn't surprising either, as creation of the delicacy relies on force feeding geese or ducks.
Still, if you are a fan of foie gras, then little beats serving the delicacy with sauternes. Sauternes is basically the ultimate dessert wine. It tastes like heaven, with a delicious sweet richness that other dessert wines try to match. The boldness of the flavors means that the wine can stand up to the intensity of foie gras in a way that few others can.
The pairing somewhat flexible too, as you can drink sauternes with pan fried foie gras, with foie gras pate, and with other foie gras preparations. The choice is yours.
Deviled Eggs with Prosecco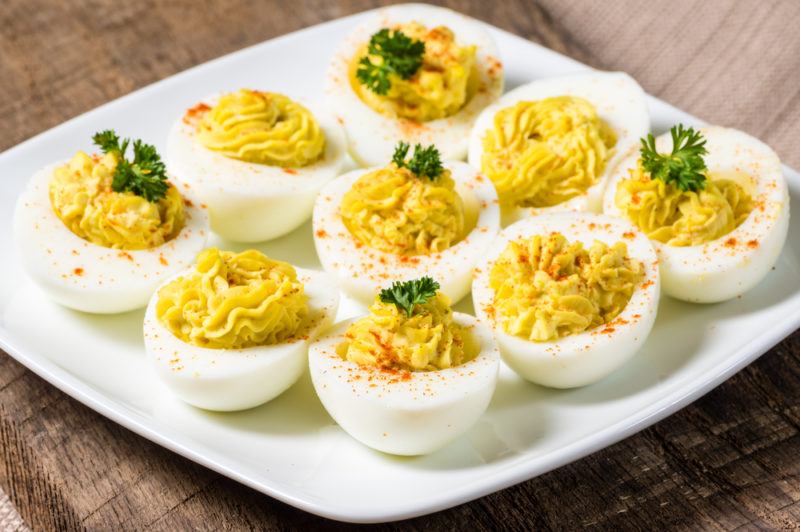 Deviled eggs are a classic finger food for parties. They work well because the traditional recipe is simple but can be easily modified to create a more complex combination of flavors.
Prosecco is one of the best pairing choices with this finger food, as you're getting a vibrant white wine, along with bubbles that are even more refreshing. You could also turn to another type of sparkling white wine or even a sparkling rosé.
There's another advantage too. Sparkling white wines tend to pair well with many different finger foods. So, if you're hosting a party or an event, a bottle of prosecco or something similar should pair well with most of the snacks that you're serving.
Apple Tart with Gewürztraminer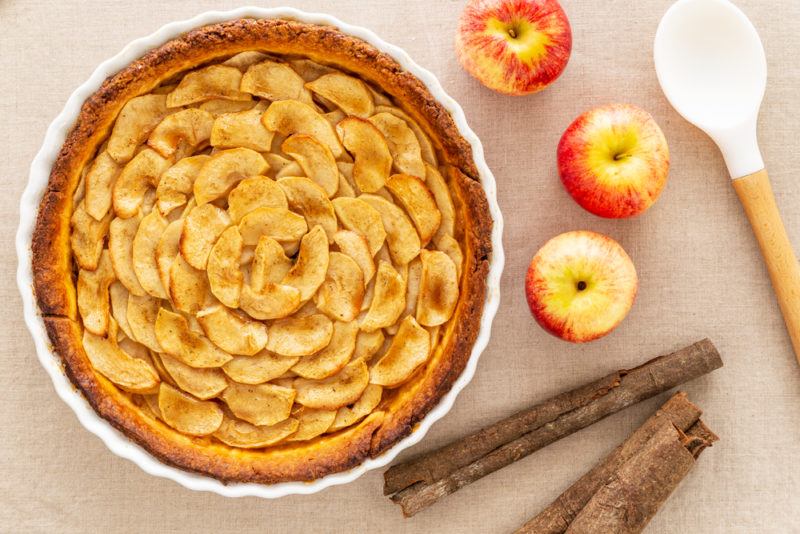 Fruit-based desserts can be fun to pair, as they have sweetness from the fruit, but they also tend to contain some spicy aspects as well. Cinnamon is especially common for apple desserts, like an apple tart. You might see nutmeg too or perhaps some other spices.
The use of spices helps to change the flavor balance in your dessert, which then influences your wine pairing. So, instead of using a dessert wine with this type of sweet treat, try a gewürztraminer instead.
This interesting wine is aromatic, to the point that it can taste sweeter than it actually is. The aromatics in the wine help it to pair well with many dishes, especially those that rely on spices.
Butter Chicken with Chardonnay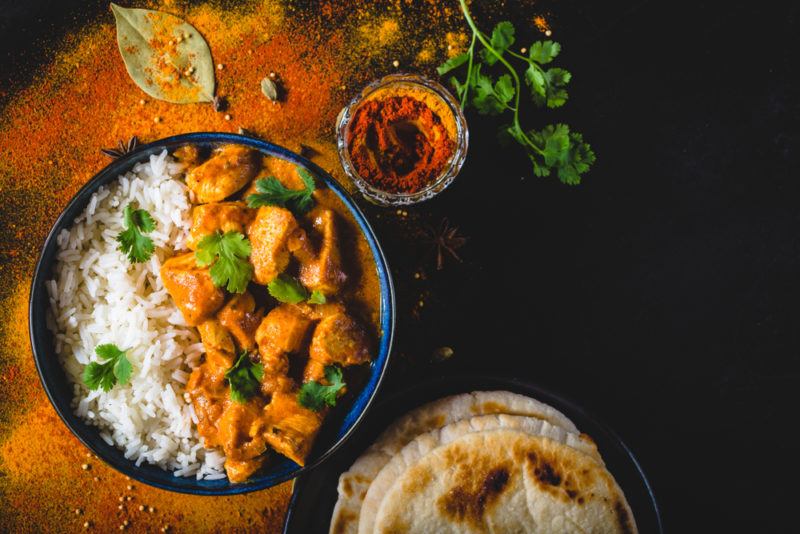 While chardonnay is sometimes paired with roast chicken, the wine can be just as good (if not better!) when paired with a more complex dish like butter chicken. Here, you have a creamy sauce that is rich in spices and tastes delicious.
Chardonnay has enough body that it can cut through some of the richness of the curry, creating an appealing balance. The combination works especially well if you rely on an oaked chardonnay, as the aging creates a slightly nutty flavor profile, which complements the spices in your curry.
Besides, as we've already seen, chardonnay is a natural choice for creamy dishes.
Sauvignon Blanc and Mussels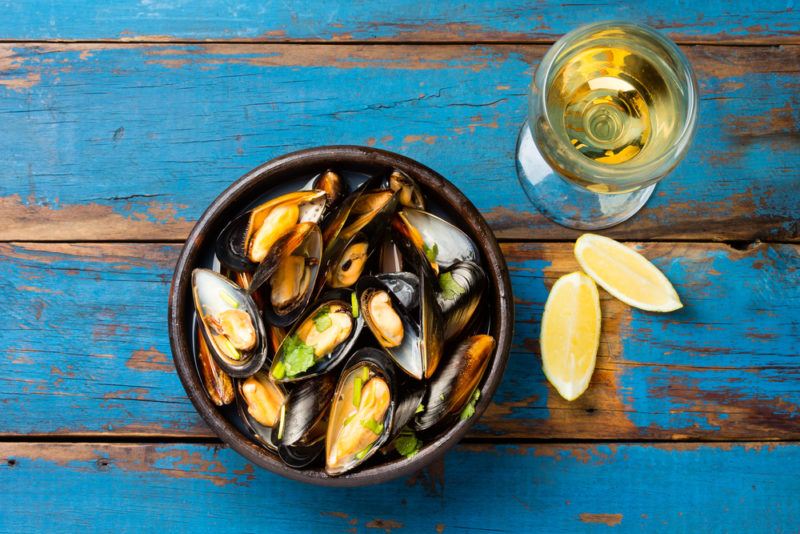 This combination takes advantage of the acidity of sauvignon blanc and the way that mussels are soft and have a floury texture. You're also following a classic approach, as dry white wines are often paired with shellfish. This style of wine tends to be perfect, as the wines complement the shellfish, without overwhelming any delicate flavors.
Of course, the way that you're serving your shellfish will influence the best type of wine. For example, if you're making some type of mussel curry, then an oaked white wine like Bergerac could be a good choice.
Chicken and Corn Chowder with Chardonnay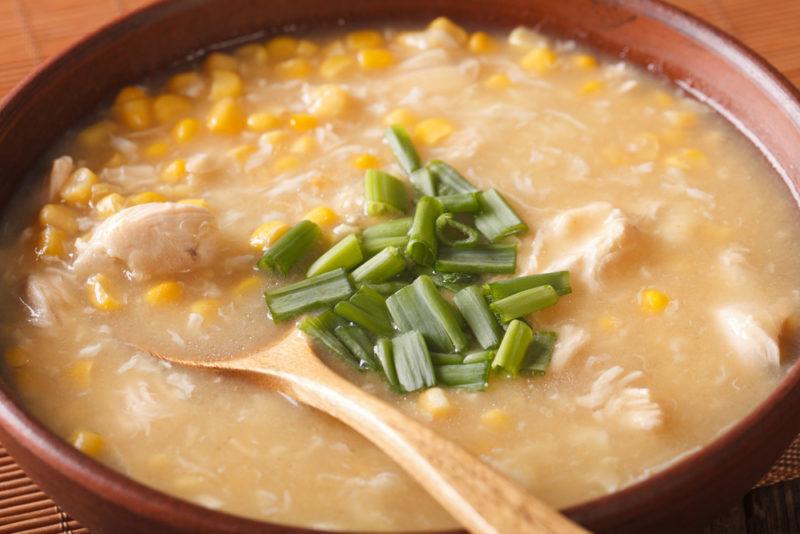 This pairing might seem overly specific, but chicken and corn chowder is a real-world dish that many of us do try to pair wine with. The challenge is often working out which flavor to focus on.
In this dish, the answer is easy – corn. Chicken has a relatively mild flavor anyway, so it isn't too surprising that corn dominates in this dish.
Focusing on corn makes the pairing easy, as chardonnay and corn always work well together. When doing so, look for a chardonnay that offers a decent amount of crispness. You want it to pair well with the veggies in your dish, while still offering enough richness to work with any bacon that you've included.
Pumpkin Soup with a Smooth White Wine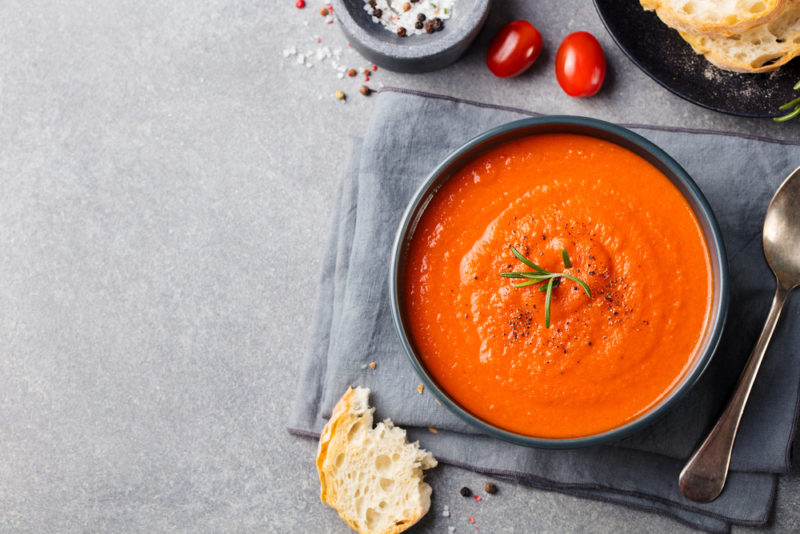 Pumpkin soup tends to be a rich dish, so you're looking for a suitable wine that can hold its own. A smooth and rich white wine is perfect here. Chardonnay and chenin blanc both come to mind as ideal pairings.
You don't need to focus on the richest versions of these wines either. Somewhere in the middle will be just fine – not too light, not too heavy.
A similar theme is true for butternut squash soup.
Still, you'll need to be aware of the flavors in your soup. A spicy soup might call for an aromatic white wine like gewürztraminer instead, as aromatic wines do tend to be a good choice for spicy foods.
Crème Brûlée with Sauternes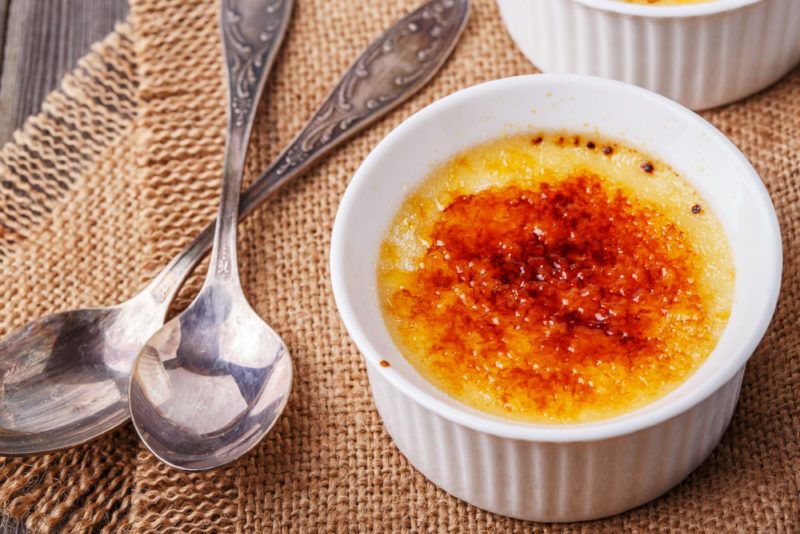 Sometimes sweet desserts call for a sweet wine. This is certainly the case for a crème brûlée, where the flavors of the wine are exactly what the dessert calls for.
Don't worry, you rarely end up with an excessively sweet combination. Sauternes might be a dessert wine, but it does have an interesting depth of flavor and some acidity that contrasts the custard in your crème brûlée.
Sauternes also helps to make your dessert feel like a special occasion, which is always appealing.
If sauternes isn't a viable option, you could try a white Moscato wine. While Moscato wines aren't as strongly sweet as sauternes, there is some sweetness present, enough to complement the dessert well.
Scrambled Eggs with Champagne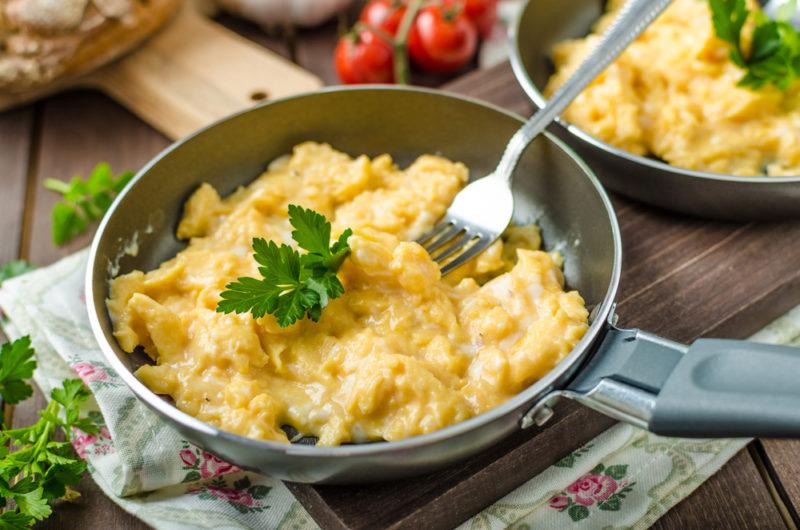 For a decadent breakfast, look no further than scrambled eggs with champagne. This is the breakfast that you never knew that you were missing and will want to try time and time again.
The eggs don't need to be complex either. Just some salt and pepper, and perhaps some chives. That's all.
As for the champagne, a brut or extra brut is perfect. The dryness of the champagne is an excellent contrast to the creaminess of your scrambled eggs, especially if you cook them just right.
Tandoori Shrimp with Riesling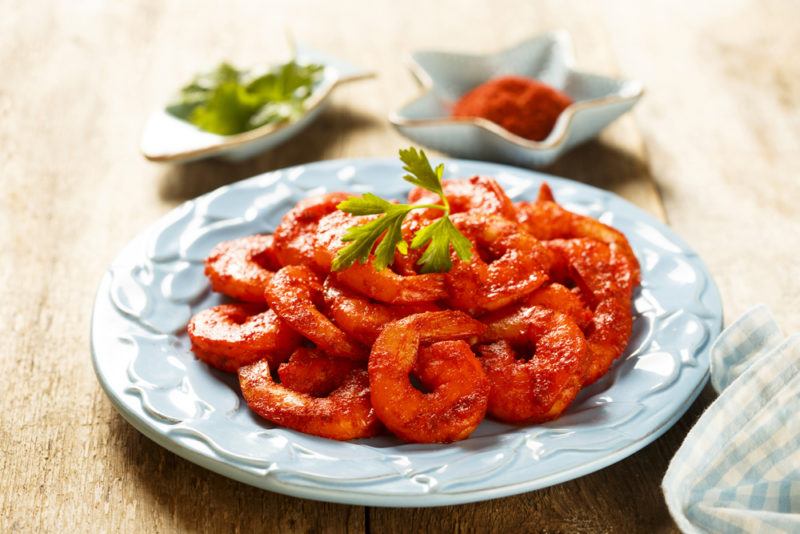 Riesling is a surprisingly versatile wine. It can be both crisp and aromatic – features that complement many foods. Of course, you'll need to choose the riesling carefully, as this white wine comes in many different styles.
For tandoori shrimp, an off-dry riesling is exactly what you need. It provides a delicious balance of flavors and aromas, while the slight sweetness provides an excellent contrast to the tandoori spices.
Sauvignon Blanc and Guacamole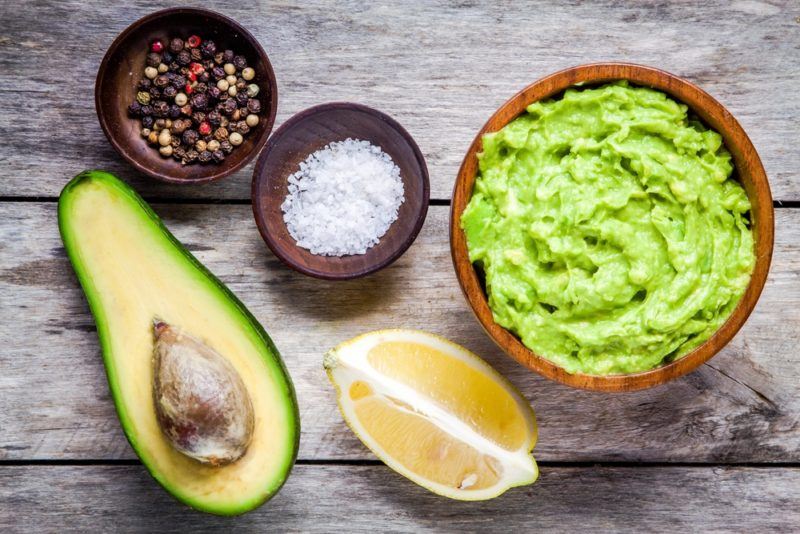 Sauvignon blanc tends to be an acidic wine, one that also has herbal aromas and citrus flavor tones. This combination makes sauvignon blanc an ideal choice with vegetarian meals or anything that vegetable rich.
So, it's not surprising that sauvignon blanc pairs so well with guacamole. You can even pair the wine with salsa, which makes sauvignon blanc a good choice if you're hosting an event.
Tips for Pairing with White Wine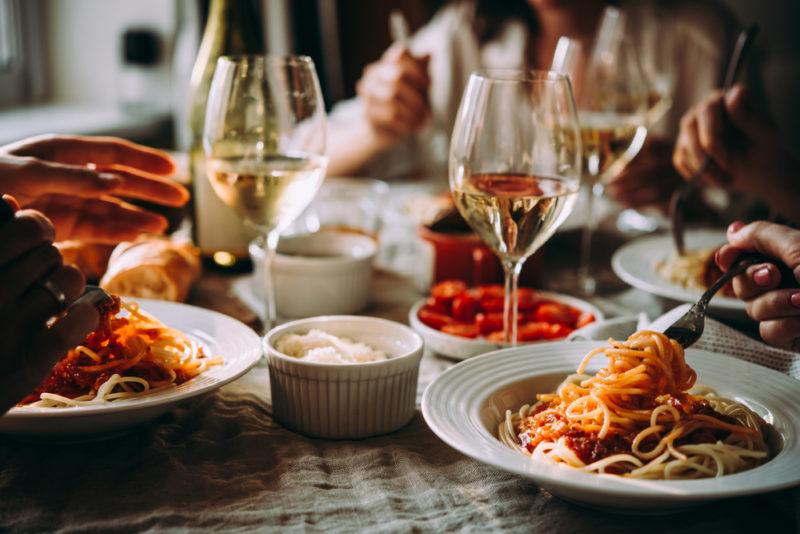 As you can see, there are many different choices for pairing white wine with food – and this list barely scratches the surface. We could make a list at least this long, if not longer, for any single type of white wine, but we're not going to.
At the end of the day, wine and food pairing is a surprisingly flexible art. As long as you've managed to roughly match the intensity of the wine to the food that you're serving, any coupling should taste pretty good.
The specific combination of food and wine isn't the only thing that influences your experience either. Your mood, your environment, the company, and your personal preferences can play a role too.
So, by all means, try the pairings in this list for yourself or use them as a starting point for an entirely different arrangement. Just don't let the whole process stress you out.
You could even just join a white wine of the month club and experiment with the wines that you receive. Such clubs are a great way to try wines that you would never have purchased otherwise.