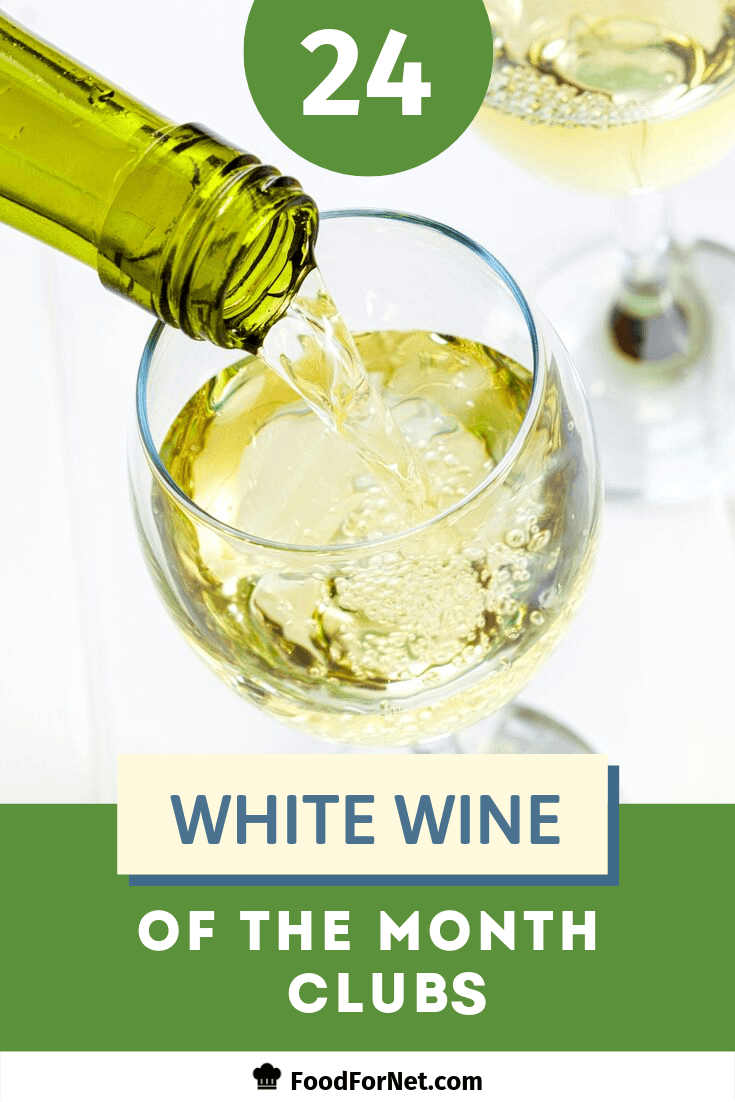 So are you a red or white wine person? Everyone has a favorite. It's hard to beat a refreshing glass of chilled white wine on a warm spring day. A white wine of the month club means not only that you'll be stocked up for such an occasion, but also that you won't get stuck buying the same bottle over and over again. Explore!
For the most part, white wine is created by fermenting the flesh of white grapes. The process creates wine that has a floral aroma, along with fruity notes. The freshness of the wine means that it perfectly complements fatty fish, chicken and many pasta-based dishes.
While white wine doesn't have the same antioxidants as red wine, it does offer some health benefits too. Besides, white wine can be an enjoyable way to relax, especially on a hot afternoon.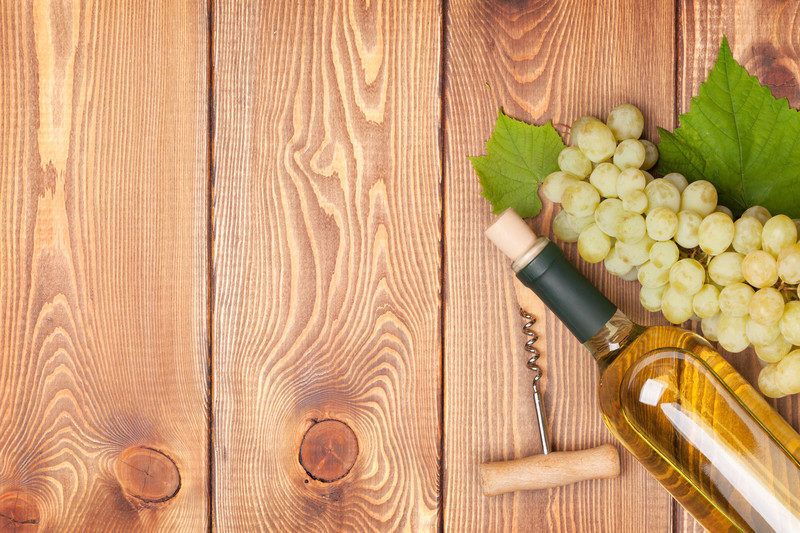 Have you ever been stuck in a grocery store looking at labels, or on Google searching for the difference between sauvignon blanc, pinot grigio, and gewürztraminer? Yeah, me too.
This is a good reason to check out white wine clubs. These memberships do the choosing for you, giving you a range of different white wines to try out. You'll quickly learn about how these differ from each other, along with the types that you like the best. Some even use your personal taste preferences to influence the bottles of wine that you receive.
PS. If you ever get bored of these, you can check out the champagne and/or rosé clubs, or dig into the red wine clubs which seem to be the most popular.
PPS. You know what goes well with wine clubs? Chocolate and cheese clubs.
White Wine Of The Month Clubs
Hello Fresh Wine Club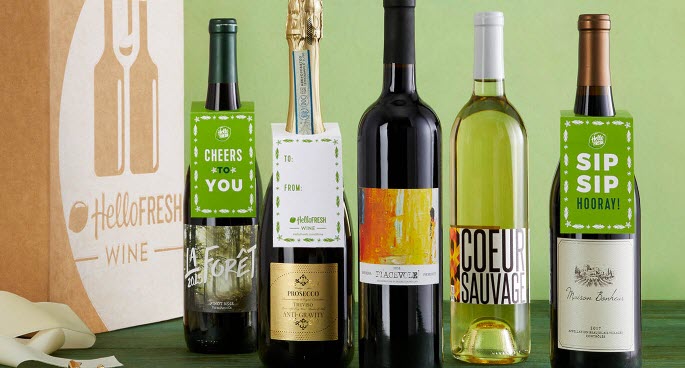 Hello Fresh is a meal kit service that I've reviewed in the past. They also have an interesting wine club. This provides you with 6 bottles of wine each month (750 ml each). You are able to select a White Wine Plan, a Red Wine Plan or a Mixed Wine Plan. All 3 plans cost $89 per month, which averages to around $14.80 per wine bottle.
The wines are also directly related to meals from Hello Fresh. All you need to do is match the icon provided with the wine to the icon on a Hello Fresh recipe card. Of course, this only works if you are ordering meals from Hello Fresh too.
California Wine Club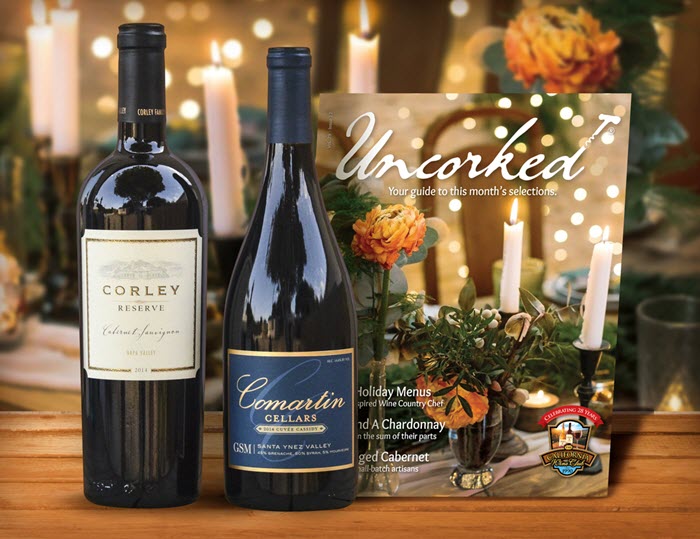 The California Wine Club has a comprehensive site, offering a grand total of 5 clubs. Some focus on higher quality wine, while others provide wine from specific regions (like their International Series Wine Club). The selection sounds amazing, but white wine lovers don't get much choice.
Of these clubs, only the Premier Series Wine Club allows you to receive 2 bottles of white wine each shipment. These bottles can be the same or different. You can get the shipments every month, every other month or quarterly.
The club follows a fairly common style and costs $40.45 (plus shipping) per shipment. Each shipment contains the 2 bottles of wine and a copy of Uncorked, which provides tasting notes and wine details. The wines should be on par with other companies. This means that you're not getting the most amazing wines ever. Still, you're receiving good wine for a reasonable price.
Tasting Room


If you are selective in the flavors that you enjoy, a membership like Tasting Room could be exactly what you need. The company sends you out a Tasting Kit, which includes 6 mini bottles of wine. This is used to develop a taste profile. The profile is then used to determine which wines are sent out to you each month. You also get to choose the type(s) of wine that you want.
The subscription program itself is also unusual. You receive 12 full-sized bottles of wine every 2 months. Tasting Room doesn't provide details about the total cost, but mentions that the price may be as low as $13 per bottle. This suggests that the price may be influenced by the specific wines selected.
While the overall style is fun, the lack of clear pricing details is a problem. The price tag of $13 (or more) per bottle isn't as low as Tasting Room suggests either. Some companies manage to get the cost per bottle much lower than that.
Plonk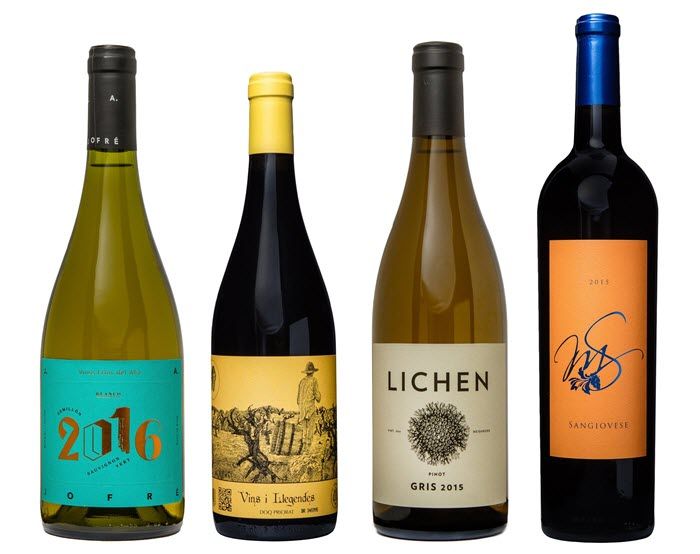 Plonk doesn't have the most elegant name, but don't let that dissuade you from checking out the club. Plonk actually has a greater focus on quality than most. This includes prioritizing organic and biodynamically produced wines. Their chosen wines are also sourced from throughout the world, providing you with plenty of selection.
There is a Mixed Wine Club, a Red Wine Club and a White Wine Club for you to select from. The pricing is the same in each case. You can pay $110 per shipment if you want 4 bottles per month or $285 if you want 12 bottles in a shipment. The 12-bottle version can be ordered quarterly and is exceptional value for money.
Still, the 12-bottle subscription doesn't provide you with 12 different bottles of wine. Instead, you get 4 different types of wine and 3 bottles of each. Whether this style works for you will depend on your preferences.
Wall Street Journal Wine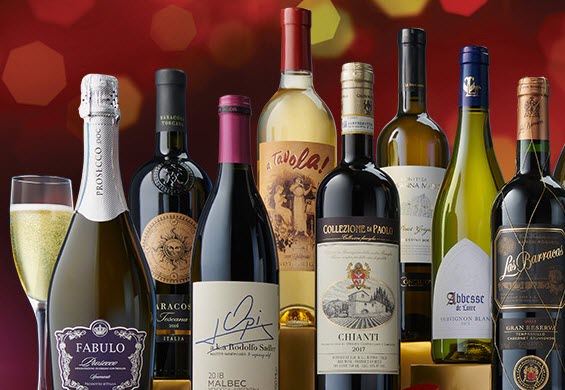 The wine club from The Wall Street Journal is a good choice if you want plenty of wine at a time. Both subscription programs provide you with 12 bottles of wine every 3 months. This gives you the chance to stock up your collection, while still having plenty of time to go through the wine.
The first club version is the Discovery Club. This costs $159.99 per shipment, along with a $19.99 shipping and tax fee. You can choose the type of wine included. There's also an appealing introductory offer. This provides 2 bottles of wine and 2 wine glasses with the membership, while dropping the price of the first month down to $69.99 (with the same $19.99 fee).
The other version is the Premier Club. This has an emphasis on high-quality wine, which is why it costs $259.99 per month. While you can get a mixed wine selection with this version, you can't get all white wines. As a result, many people will prefer the less expensive Discovery Club.
Wine Awesomeness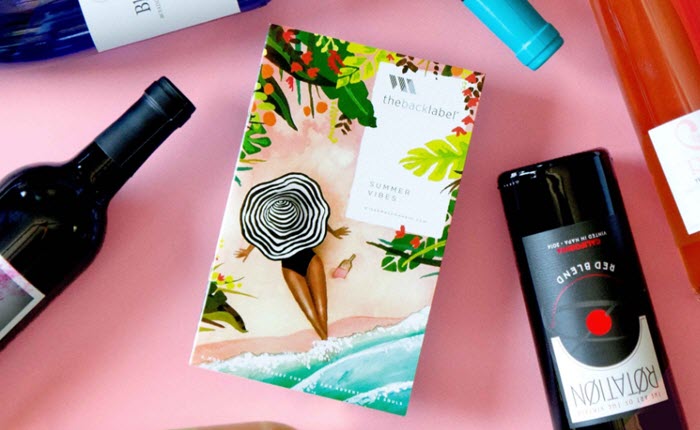 The best way to describe Wine Awesomeness is that it is a wine club that focuses on stories. The company provides many more details than normal about their wines and the areas that they come from. This comes in the form of the Backlabel magazine, which is sent out with each shipment.
There are 2 different subscription boxes. These are both shipped out monthly and you can choose between red wine, white wine and a mixed box. The first version has 3 bottles of wine for $49 per month, while the second has 6 bottles for $79 per month. Your initial order is discounted to $39 and $54, respectively.
90+ Wine Club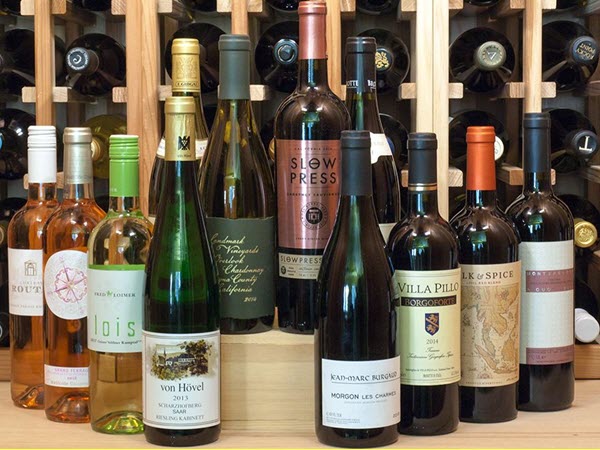 There are 2 distinct aspects of the 90+ Wine Club. The first is that you're receiving 12 wine bottles per quarter. This style is somewhat unusual, although it means that you have a wider selection of wine at a time. In addition to this, the club takes advantage of the wine critic labeling system. Only wines that receive scores of 90 or above are included.
By using a quarterly approach, the wine club is able to provide seasonal selections. Members also receive food pairing suggestions for each individual wine, along with tasting notes.
Club membership costs $169.97 per quarter. There is a white wine version of the membership. However, this does also include rosé and sparkling wines.
The Original Wine Of The Month Club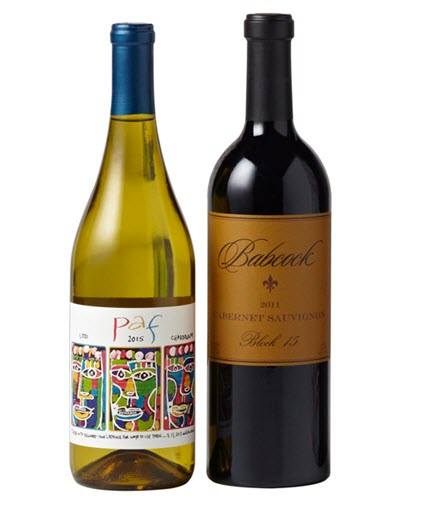 This Wine of the Month Club comes with the bold claim that it is the first such club. The owner's father apparently invented the idea in 1972. The claim does sound a little far-fetched, but it isn't impossible. Regardless, the company has an interesting selection of different wine clubs for you to choose from. In fact, there are 11 clubs – more than you'll find in most other places.
Most of the clubs provide 2 bottles of wine each month and some allow you to choose the type of wine that you get. This gives you the chance to select white wine only. There are 3 clubs with this option. These are: The Classic Series Membership ($37/shipment), the Vintners Series Membership ($48/shipment) and the Limited Series Membership ($58/shipment).
The price differences reflect variations in the quality of wine, with the more expensive memberships providing you with better wine.
Gold Medal Wine Club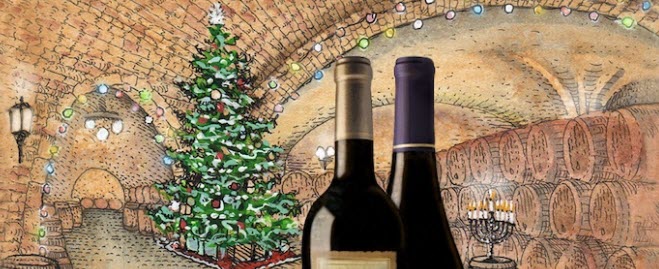 Like some of the previous options, the Gold Medal Wine Club does heavily favor red wine drinkers. In fact, many of their subscription programs only allow you to choose between all reds and mostly reds. Even so, they do have a Gold Wine Club that can ship out 2 bottles of white wine every month.
This subscription costs $39 per shipment. It can be sent out monthly, bi-monthly or quarterly. The price is the same for most subscription lengths. The only exception is that you save 10% on the total price (and get a free gift) when you order the 12-month version of the program.
Bright Cellars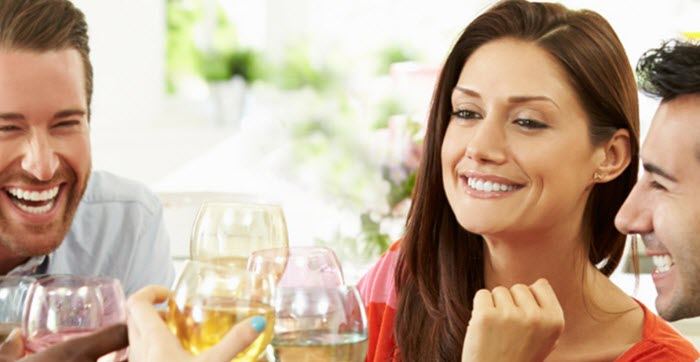 Bright Cellars is a powerful choice for anyone tired of wines that they don't enjoy. The company uses a unique Bright Points algorithm to match wines with customers. The algorithm has 18 different attributes, making it more powerful than most. You can even get your wine replaced with a new bottle if you get one that you don't enjoy.
The club itself costs $80 per month, plus the shipping fee. This means you're paying an average of $20 per bottle. That's a higher price than many other clubs. Still, the club might be worth the price if the wines are good quality and match your taste preferences well.
Glassful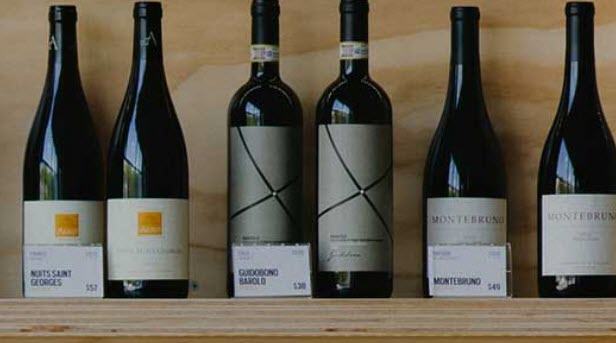 If you're very particular about your wine, Glassful is a good company to consider. They heavily rely on biodynamic, organic and sustainable wines, including those from small companies. Your tastes also play a role in the wines that you're sent.
Glassful uses a survey to get a sense of your taste preferences. They also ask whether you would rather white wine, red wine or a mix of both. Once you've completed the quiz, you're provided with details on 3 different wines. These will be your first shipment if you choose to sign up.
There is a single subscription option. It costs $54 per month. Glassful suggests that this averages out to between 30% and 70% off the retail price of the included wines.
The International Wine Of The Month Club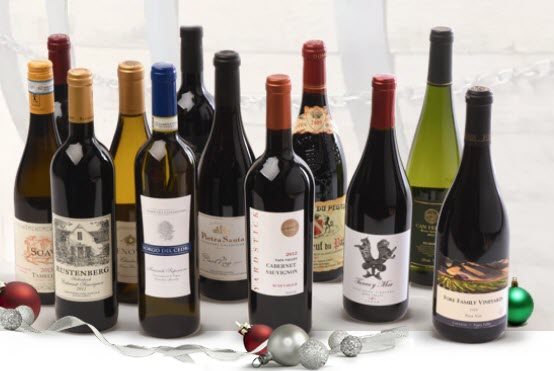 The first advantage of The International Wine of the Month Club is precisely what the name suggests – you're receiving international wines. This provides you with less common wines and a larger selection than other clubs.
Another cool thing is the subscriptions. There are 4 of these. Each has a slightly different angle, although they all provide you with tasting notes and winemaker profiles – to expand your knowledge.
The most relevant club for white wine drinkers is The Premier Series Wine Club. This is the cheapest club, costing $39.95 per month (plus $13 shipping and handling). The club provides 2 limited production wines each week. You can choose to have only white wine sent to you.
While the other clubs are interesting, they don't provide white wine only. Instead, 2 of them allow you to receive 2 red wines or a white and a red. The last is for red wine only.
Wine Of The Month Club (From Great Clubs)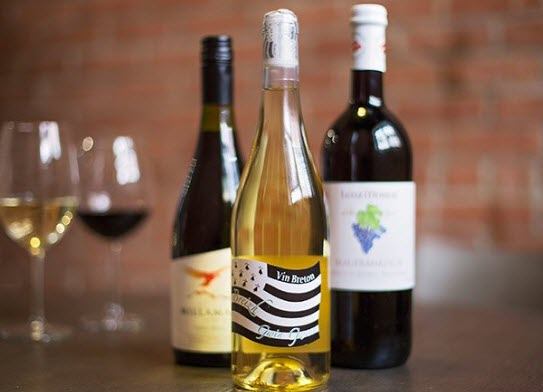 As the name suggests, Great Clubs is experienced at creating clubs and selling memberships. Their Wine of the Month Club is one example of this. The club focuses on international wines, including ones that come from small vineyards or have won awards. There are fewer details about the wine selection than other companies. This isn't too surprising though, as the site doesn't specialize in wine.
The club itself ships out 3 bottles of wine each month. You get to choose the type of wine, so you can ask them to send out white wine only. The other feature is a newsletter called Wine Expeditions. This provides you with additional information, including details about the wines that are shipped and facts on wine in general.
While there are multiple ordering options, the club tends to cost the same amount ($44.95 per month) regardless of which one you choose. The main exception is a 12-month membership. In this case, you save $50 on the total price.
Blue Apron Wine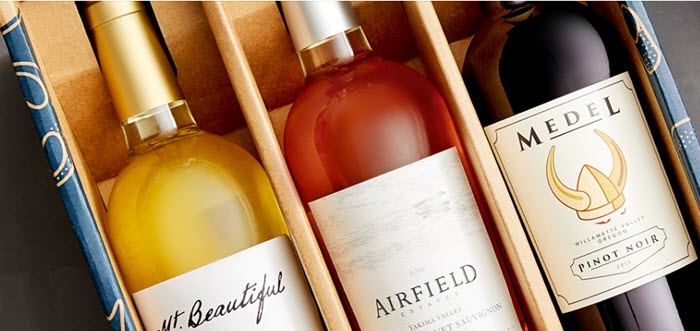 Blue Apron's wine club is a relatively new addition to the meal kit company. It's also an unusual service, as the subscription provides you with 6 bottles of wine each month. These are 500 ml each, rather than the traditional 750 ml. The size choice has its advantages, as it means the wines are roughly the right size for 2 people to enjoy with dinner.
You don't have much control over the subscription. The only thing that you can choose is the type of wine you want. As such, you can receive 6 bottles of white wine a month, a mixed selection or all red wines.
An unusual feature is that the wines are all chosen to complement the meals Blue Apron sells. This is fantastic if you're a member of the meal kit program. Even if you're not, you could use Blue Apron's dishes as inspiration for your own cooking.
VineOh!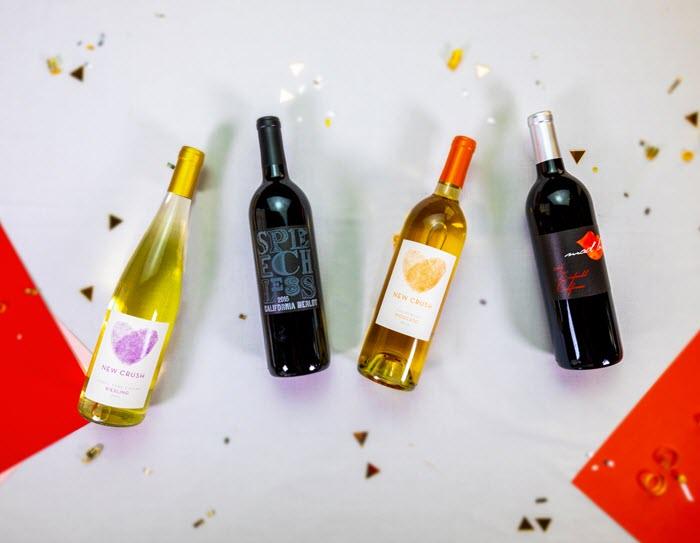 VineOh! is a little different than most other wine subscription clubs. For one thing, you're not just receiving wine. The box comes with various other items as well, such as makeup, chocolate or even socks. The overall theme is that the boxes are designed for women. As such, each one will contain 5 or 6 different full-sized items, along with 2 bottles of wine.
You're able to choose whether you want white wine only, red wine only, both types or sweet wines. You'll probably choose the first option if you love white wines. Still, the versatility is nice.
Regardless of the wine, the box ships out every 3 months for $59.99. You can also pre-order for an entire year. If you do so, you end up paying a little more than $56 per box.
Hazleton's Wine Of The Month Clubs



The wine clubs from Hazleton's stand out because there are multiple white wine options. This includes a Vintage White Wine Subscription (from $99 per month), an Old World White Wine Club (from $79.99 per month) and a New World White Wine Club (from $69.99 per month). There is also a Dessert Wine Club (from $149.99 per month), which will feature many sweet white wines.
The shipments all contain 2 bottles of white wine, along with a food pairing guide. There are also customization options. You can choose from 2, 3 or 6 bottles of wine each month. You're also able to add on other items, like more wine, chocolate, cheese or fruit, although you will pay extra for any such additions.
Cellars Wine Club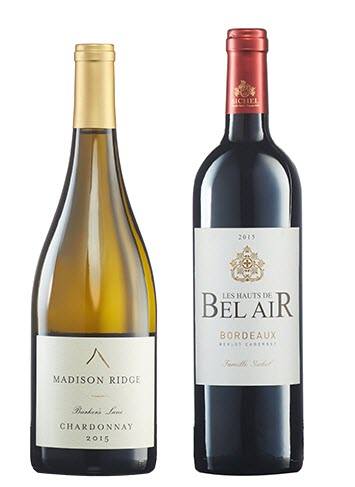 Cellars Wine Club is different. Most clubs only have 1 or 2 options for white wine, but they have 12 clubs overall and 5 of these can include white wine only. The first is the Bottle Club, which just contains a single bottle of wine for $29 a shipment. The others all give you 2 bottles each month, with prices ranging from $45 to $79 a shipment.
The differences between the clubs relate to wine quality and also to where the wine comes from. For example, the $79 per shipment club only provides wine that has scored at least 90 in ratings. There is also a West Coast Club and an International Club, which both cost $49 per shipment. As the names suggest, one of these provides international wine, while the other focuses on wines from within the United States.
Vinovore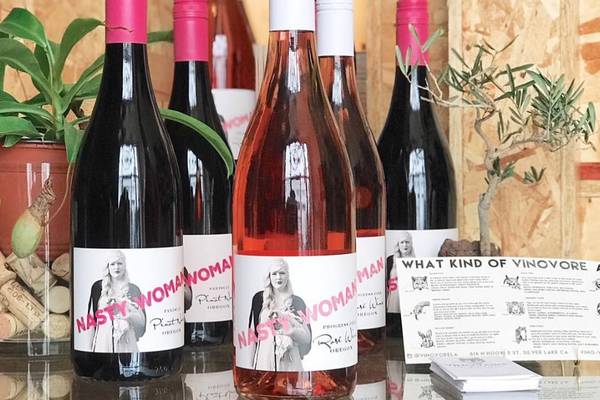 Here's an interesting wine club with an emphasis on female winemakers.
Vinovore has an interesting style, making it a fun club to check out. The company focuses on wines created by female winemakers. This makes their selection more unusual than normal. The marketing on their site is entertaining and the information in their tasting notes is likely to be as well.
An unusual aspect is the shipping. Vinovore is one of the few companies that allows you to pick up your monthly boxes. You do so at their store in Silver Lake, California. The ability to pick up is partly because they only ship to a limited number of states (Washington D.C., California, New Mexico and Oregon). If you live in a different area, you may not be able to join the club at all.
As for the subscriptions, there are 2 basic versions. One is Hair of the Dog, for $45 per shipment. With it, you receive 2-3 bottles of wine, which can all be white wine if you want. The other option is Party Animal. This is a larger subscription, with 4 to 5 bottles of wine. It costs $75 per shipment.
Firstleaf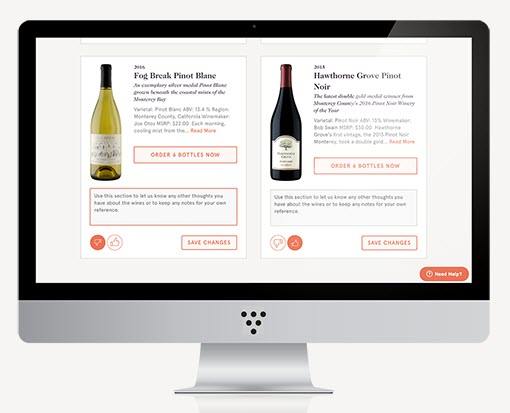 Firstleaf isn't the only personalized wine club (despite their claims), but it is an especially good one. The club heavily relies on a rating system, where you rate all the wines that you receive. The more ratings you provide, the more personalized your selections become.
Firstleaf uses a 3-bottle introductory order to kick things off. This comes at a discounted price of $15 (plus $4.95 shipping). You can choose a pre-designed set of bottles from Firstleaf or get allocated 3 wines based on your answers to a short quiz. Your ratings on these initial bottles are used to determine what you get sent next.
The full subscription sends out 6 bottles of wine per shipment (you can select to get the wine monthly, bi-monthly or every 3 months). It costs $79.95 for each shipment, plus another $9.95 for shipping. The style works well, as long as you're comfortable with 6 bottles of wine at a time.
Laithwaite's Wine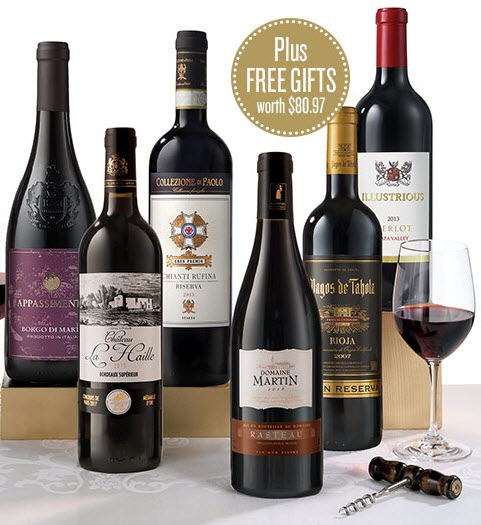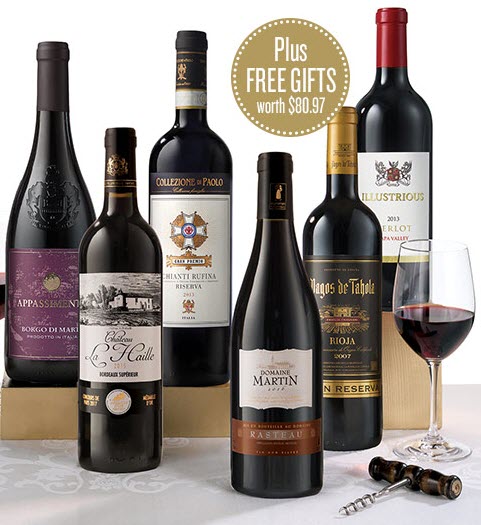 Laithwaite's Wine offers an unusual pair of wine clubs. The most notable aspect is the size. The club provides you with 12 bottles of wine every quarter. You're able to choose whether these are all white wine, all red wine or a mix. It's rare to find any club that provides 12 bottles of white wine at a time.
The first version of the club is The 4 Seasons Wine Club. Your first month's subscription costs $69.99. It includes the company's top 12 white wines, along with 3 bonus bottles of wine. After that, you're paying $149.99 (plus $19.99 tax and shipping) for 12 bottles.
The second version is Laithwaite's Reserve Club. This also has a $149.99 price tag and provides you with 12 wines. It increases up to $219.99 after the first month. Both club versions allow you to customize the wine that you receive. You're also given tasting notes so that you can get the full experience from each bottle of wine.
Martha Stewart Wine Co.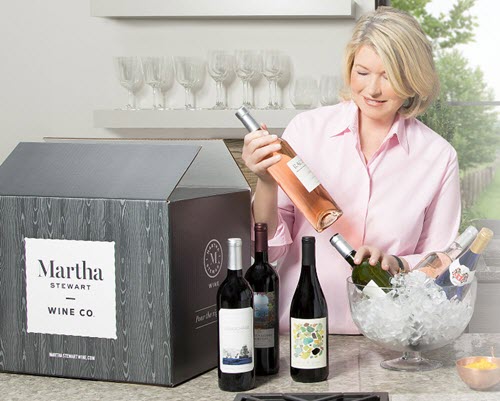 If you're a fan of Martha Stewart, then Martha Stewart Wine Co. may be the perfect subscription for your needs. As you can probably guess, all of the included wines were individually selected by Martha Stewart herself. She also provides specialized suggestions for entertaining, serving and pairing the wines.
There are 2 distinct club versions, which differ in size. The first is called the Half-Case Wine Club. This ships out 6 bottles of wine every 6 weeks. The other version is the Case Wine Club. It offers 12 bottles instead, with shipments every 8 weeks. The pricing works out at around $8.33 per bottle for the 6-bottle version and $7.49 per bottle for the 12-bottle.
Both versions allow you to choose whether you want all white wines, all red wines or a mix. The white wine version also starts you off with a planned selection of 3 wines. These are carefully chosen to provide you with variety and show you the type of wines that the company offers.
Vinebox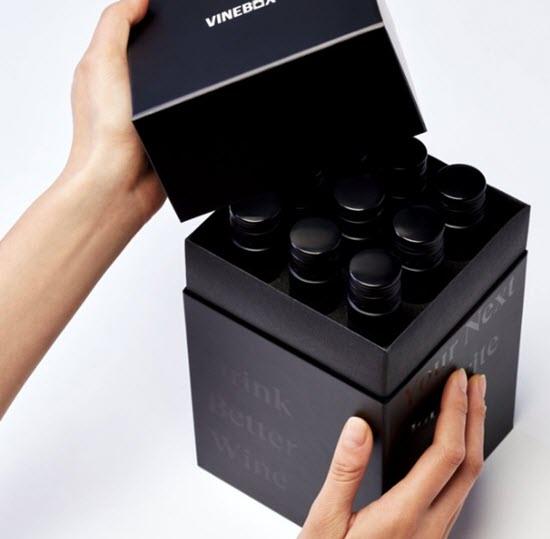 Vinebox isn't like any other wine club – as they don't ship out bottles of wine. Instead, they provide you with a box that contains 9 different wines, all in glass tubes. The tubes are sized so that you get a glass of wine each time. That's enough to let you discover whether you like the wine, while also helping you to learn more about wine types.
The idea is a brilliant one. No other club gives you so many chances to experiment. The club does cost $72 per shipment, so it's not cheap. Still, you'd pay much more to receive 9 individual bottles of wine. For that matter, the wines are carefully selected with an emphasis on biodynamic and organic wine.
Vinebox takes the standard approach of allowing you to choose whether you want a red wine subscription, a white wine subscription or a mixed one. However, they don't follow your requests strictly. This means that you might get red wines from time-to-time, even if you state that you prefer white wines.
Wine Of The Month Club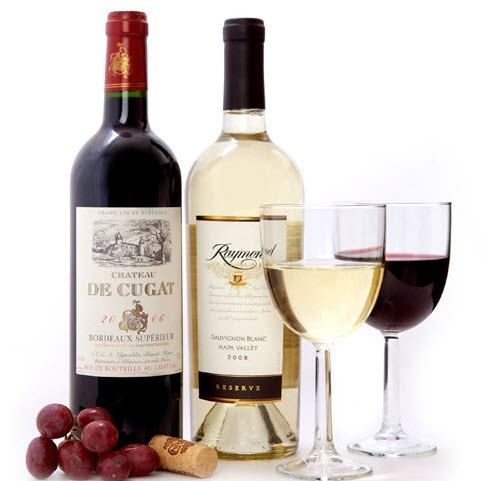 This Wine of the Month Club comes from the site Amazing Clubs. They claim that it is a popular program, with more than 2,000 positive reviews. While Amazing Clubs doesn't specialize in wine, it can't be denied that they have plenty of experience in club management. This aspect alone could make their wine club worth considering.
The description states that you will get 2 different bottles of wine every month. You have the chance to choose whether you want white wine only, red wine only or a combination of both. You can even see a listing of previous selections if you're unsure about the club.
Pricing is reasonable for the field, with the club costing $43.95 per month. This is true if you're ordering month-to-month or if you're pre-paying. Amazing Clubs does sometimes have sales on their memberships too. When this happens, you might pay $42.95 or $41.95 per month for some of the longer memberships.
Winc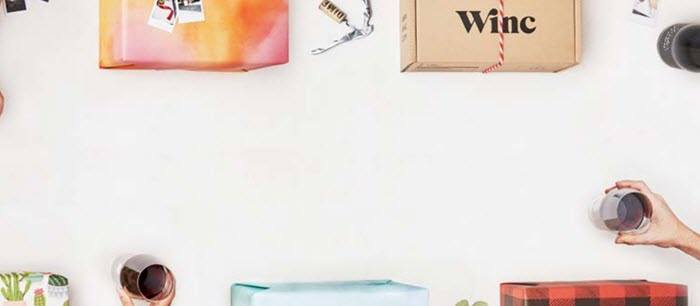 The wine club from Winc provides you with 4 bottles of wine each month. You're paying somewhere between $52 and $59 monthly. The exact price is based on the individual wines that are chosen. Paying a different amount each month is slightly odd. Thankfully, the range of possible prices isn't very large.
Speaking of the wines, Winc is also a customized wine club. As such, your monthly wines are chosen based on what Winc thinks you will like. That selection is influenced by your responses to an initial survey. While the survey isn't complicated, it should provide Winc with enough information to make educated selections about your wine preferences.