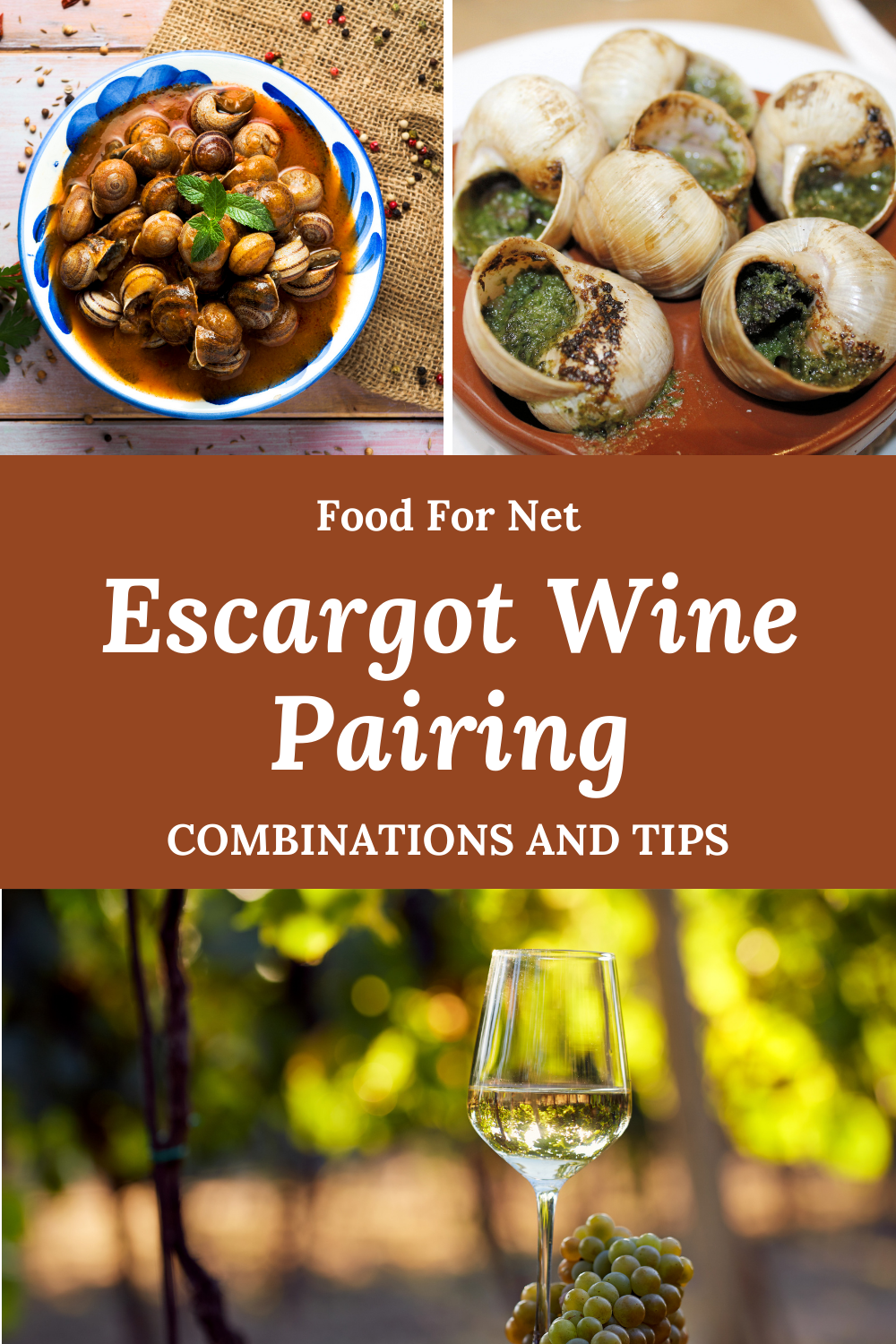 Snails might be slow, but that doesn't stop them from being an incredibly popular delicacy. Seriously, the French consume upwards of 40,000 tons of these animals every single year – and that's not counting everyone else that eats escargot too. This makes escargot wine pairing an important topic, as anyone who enjoys escargot is going to want the best experience possible.
First things first…
We're not going to tell you the best wine to pair with escargot because there isn't one. Wine pairing isn't as black and white as that. There are always multiple appealing types of wine for any single dish.
This isn't so surprising. After all, there are many different types of wine out there along with plenty of variation from one winery to the next and from harvest-to-harvest. Food varies too, as there are many different recipes to choose from. Even the same recipe can taste quite distinctive depending on who made it and their personal style.
And finally, wine pairing will depend on your preferences. Different people will prefer different combinations of wine and food. So, rather than tell you about a single type of wine, we're going to focus on a list of options. You can choose the best one for you based on your personal preferences and how your escargot is being prepared.
Escargot Wine Pairing
Chardonnay
Escargot in Butter Sauce
Lemon Sauce Escargot
Escargot Cooked with Chicken Stock
Snails in Limousine
Escargot de Bourgogne
Escargot à la Bordelaise
Chardonnay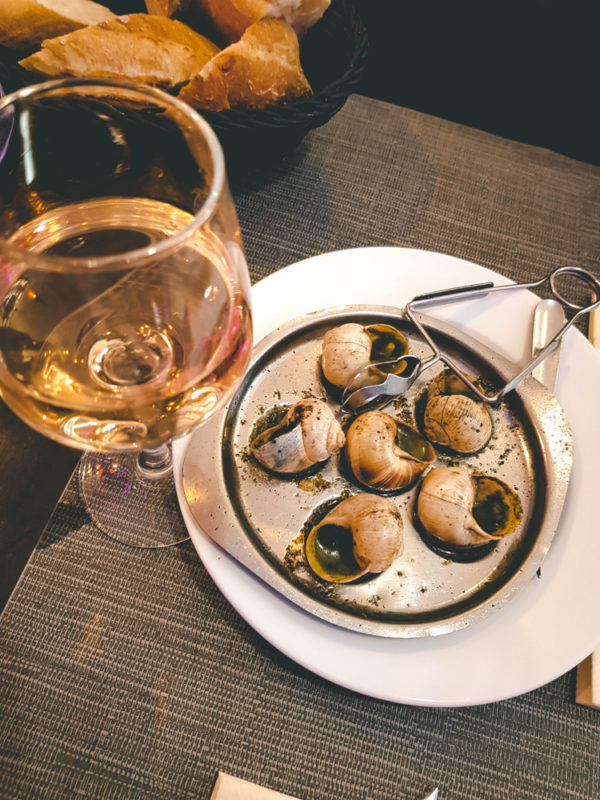 Chardonnay is a natural first choice for wine pairing with escargot, as the snails are often prepared with garlic and butter. Chardonnay always complements butter-rich dishes, as it has buttery flavor notes of its own.
You can take this pairing a step further too by focusing on white burgundy. White burgundy is a type of chardonnay that is produced in Burgundy, France. It is seen as the single best type of chardonnay, far surpassing chardonnay from other parts of the world.
This isn't too surprising, as Burgundy, France is the birthplace of chardonnay wine and the combination of techniques, growing conditions, and climate means that wines do differ depending on where in the world they're produced.
Besides, escargot is a French delicacy. It is only logical to pair them with an equally respected French wine.
Escargot in Butter Sauce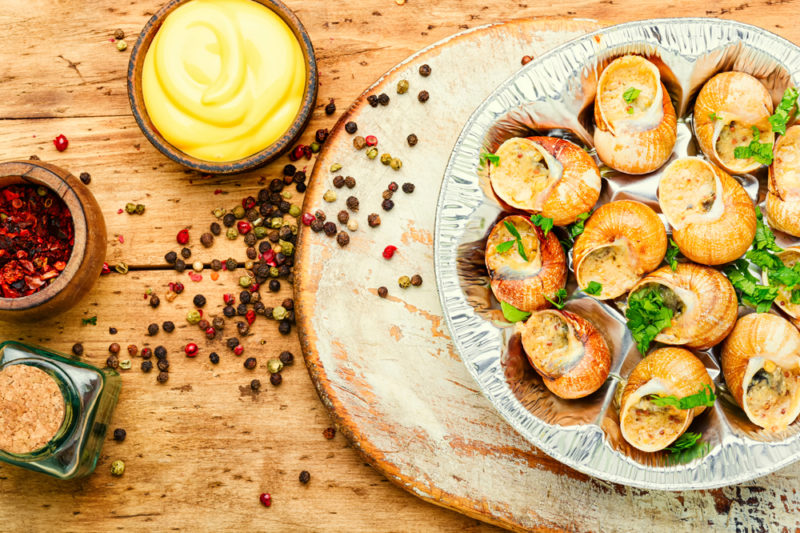 Escargot is often served in a garlic butter sauce, which is why chardonnay was the first entry on this list. However, chardonnay isn't your only option, which is a good thing, as chardonnay doesn't appeal to everyone.
A dry rosé is an excellent alternative. This style of wine is incredibly versatile. It will pair well with countless dishes, including escargot. While the buttery nature of chardonnay complements the sauce for your escargot, a rosé provides a delightful contrast instead.
You could also turn to a sparkling white wine, perhaps champagne. The bubbles in the wine contrast the creaminess of your sauce and there's no risk of the wine overwhelming any delicate flavors. Besides, sparkling wine is a fantastic way to create a sense of occasion.
Lemon Sauce Escargot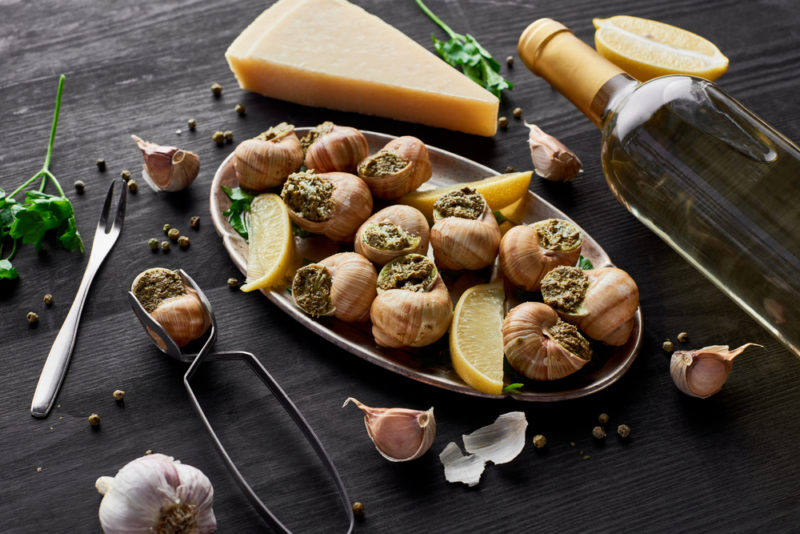 If your escargot is being served with a lemon sauce rather than a buttery sauce, then you have some different flavors to work with. You can still serve a chardonnay here, but you'll need to look for an unoaked version rather than one that has been aged in oak.
A sauvignon blanc can be an interesting choice too. This type of wine doesn't have the same rich creaminess that you find with chardonnay. It is sharper instead and often has herbaceous notes. The wine can make an excellent contrast to escargot, while the herbaceous aspect is a natural complement to the lemon in the sauce.
A riesling could also be appealing. This is another common white wine that is easily found. It can be easier to drink than a sauvignon blanc on occasions, especially if you choose an off-dry riesling rather than a dry one. However, for pairing with escargot, try to avoid any strongly sweet bottles of riesling.
Escargot Cooked with Chicken Stock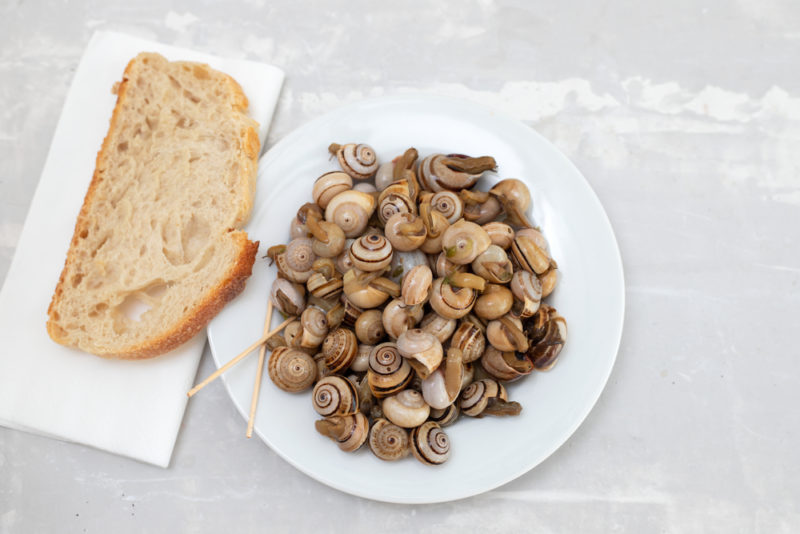 Serving escargot with a buttery or a lemon sauce is the most common approach, but you'll sometimes find escargot cooked with chicken stock instead. This approach makes the flavors of the escargot more dominant and calls for a different wine pairing.
Most wines that complement chicken end up being ideal here, such as a pinot gris or a pinot grigio. These two types of wine are made from the same grape and are very similar to each other. They're both vibrant choices. Pinot gris tends to be the richer of the two, but there are many exceptions to that general rule.
A white Chablis is another option to try. This white wine tends to be crisp and offers plenty of minerality. It's also a nice change from wines like chardonnay, riesling, and sauvignon blanc, which are very common and can get boring after a while.
If you prefer red wine, then consider a pinot noir. Pinot noir is one of the lightest red wines and complements many foods that are normally served with white wine, including chicken. Pinot noir can be a stunning choice, as you get more depth of flavor with this wine than with a white wine.
Snails in Limousine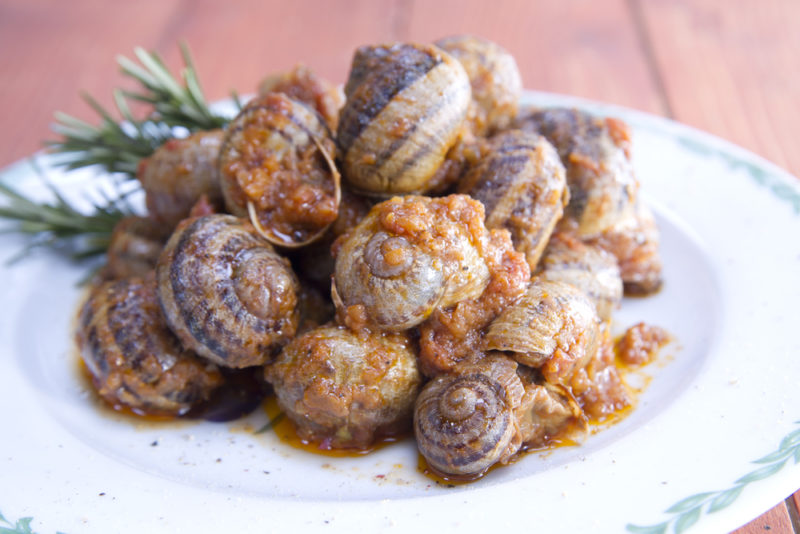 This version of escargot is unusual, as it includes the flavor of nuts. Roasted peanuts are a common choice here, although you may see walnuts or another type of nut as well.
The use of nuts creates a stronger flavor in the dish, giving you more flexibility with the type of wine that you use. A riesling or a gewürztraminer can be excellent here. Both are vibrant white wines that are easy to find.
Gewürztraminer tends to be aromatic, which can make the wine taste sweeter than it actually is. This feature can work well when the wine is paired with this dish, as you end up with a lovely sweet and savory balance.
Chablis is another interesting choice. This is a type of chardonnay that comes from the Chablis region of Burgundy France. As such, the wine has many of the same features as a run-of-the-mill chardonnay, but is also much more special.
One difference is that the wine is rarely aged in oak. Because of this, Chablis ends up being highly acidic with notable minerality. These features are fantastic as a contrast to your dish. You could try this same wine with other types of escargot dishes too.
Escargot de Bourgogne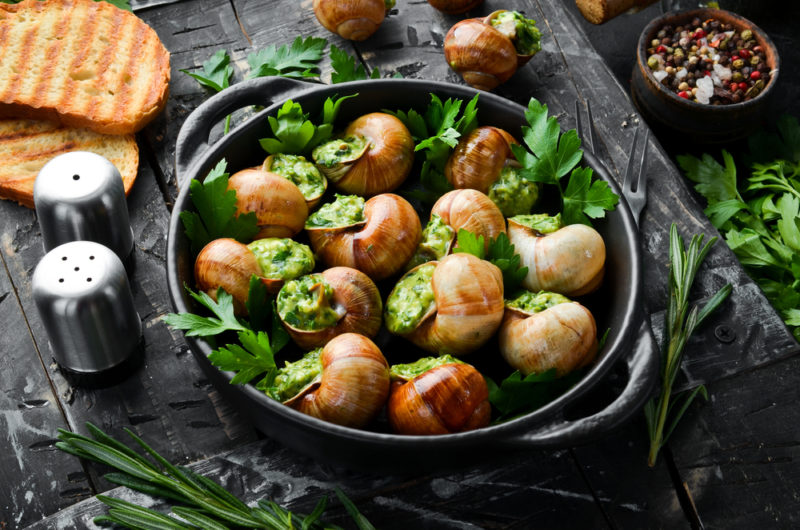 There are various ways to make this meal, but for the most part, you're relying on garlic herb butter. The dish works perfectly with a dry white wine. You can also turn to a white semisweet wine (perhaps an off-dry riesling) or a sparkling white wine.
Sauvignon blanc can be especially good here, as the herbaceous notes naturally complement the greens in your dish. Try a sauvignon blanc from New Zealand, as the herbaceous notes are even stronger in a sauvignon blanc from this part of the world.
A sparking white wine is interesting too, as the bubbles provide extra vibrancy, making the experience even more special. The wine is even more perfect if you're serving the escargot on its own, rather than as part of a meal.
Chardonnay is a viable option too, but you'll need one that hasn't been oaked. This is another case where a Chablis could be an excellent pairing.
Escargot à la Bordelaise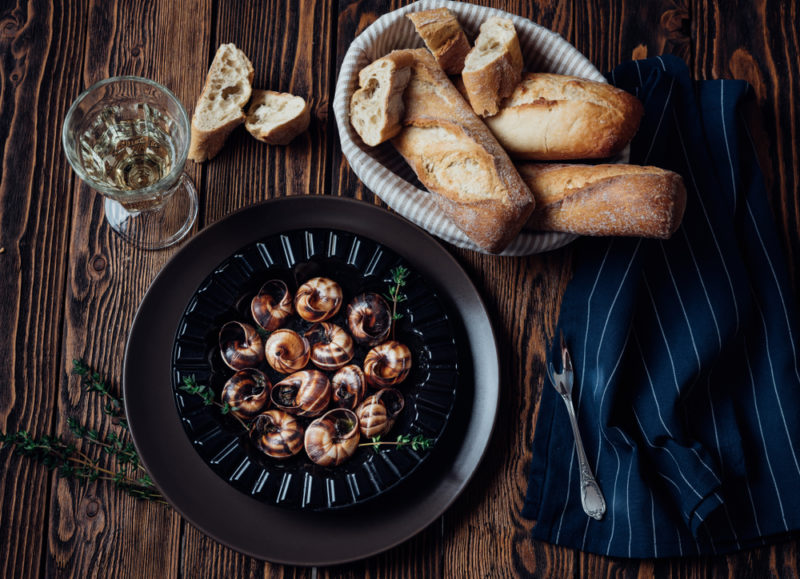 The flavors of this dish are a little more complex, which makes the wine pairing interesting too. This time, the snails are cooked with meat, using a white wine broth. The sauce ends up being richer and meatier than with the other escargot dishes, so you can use a heavier wine with it.
A pinot noir is a good option here, as the wine has more depth of flavor than the white wines we've been highlighting for most of this list.
Try a red burgundy, which is simply a pinot noir that comes from the Burgundy region of France. Wines from this region taste amazing, especially when we're talking about classic wines like pinot noir and chardonnay. You might pay more for a wine from Burgundy than one produced closer to home, but wine truly is worth the extra price.
Tips for Escargot Wine Pairing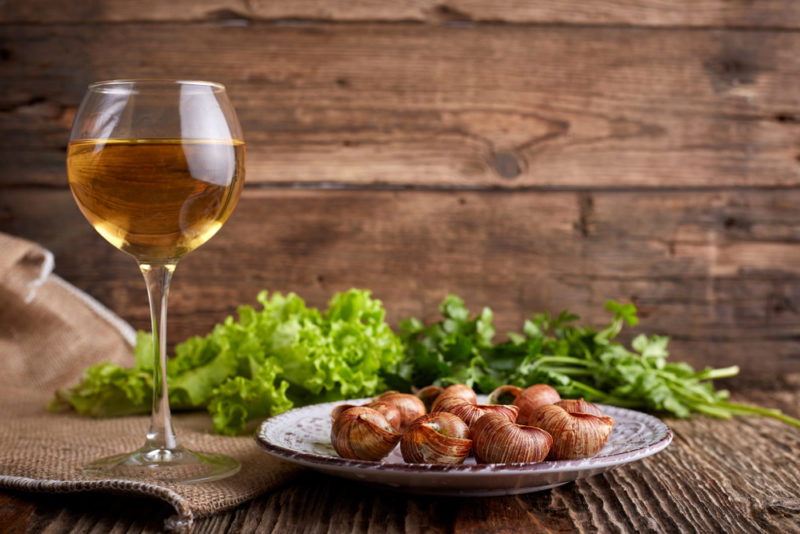 The wines featured here aren't your only options when you're pairing escargot with wine. After all, there are countless types of wine to choose from, not to mention all the variation from one wine producer to the next.
Then there are all the differences between meals. Even if you went to the same restaurant every time, the taste experience would always be at least slightly different.
So, it's always worth doing some experimenting of your own. Use the ideas in this list as a starting point and try out different types of wine. Focus first on the wines that you enjoy, as this will make a huge difference to your overall experience.
It's also worth starting with light wines. Avoid rich red wines, especially those that are high in tannins. The best wines will often be young and vibrant, except for chardonnay, where an aged version can add delicious complexity to your experience.
Don't be afraid to rely on your own judgment too. Wine pairing recommendations are all well and good, but we all have individual palates and preferences. If a so-called bad pairing tastes delicious to you then, by all means, enjoy it.
Related Content