Tee-shirts are a staple of most wardrobes across the globe, whether worn as an undershirt, part of your casual afternoon attire, or even dressed up under a blazer, they are multifunctional and comfortable. This makes shirt of the month clubs a fun and practical choice.
With tee-shirts commonly seen all over the world, it is easy to forget they are not a historical garb widely worn throughout the centuries. In fact, as far as clothes go, tee-shirts are the babies of the wardrobe world.
Tee-shirts were first seen in the early 19th century and were a derivative of the jumpsuit worn by laborers. Though they started as jumpsuits, they were cut to keep the worker cooler on hot summer days. It wasn't until 1898 that the first tee-shirt was designed and by 1913 the US Navy started using them as standard issue undershirts.
And it was not until the 20th-century tee-shirts made its way to beyond the undershirt worn by men. But thanks to Marlon Brando in A Streetcar Named Desire, the tee-shirt made its way onto the big screen. Although even with Marlon Brando and James Dean doing all they could to bring the tee-shirt into fashion, it still took several years before it became the popular wardrobe item it is today.
In the 1950s, designers began creating graphic and printed shirts with sayings or designs—one of the first being part of a political campaign for a presidential candidate. When the '70s hit, they became the personal billboards with strong, often political messages, bringing about the tee-shirts of self-expression we regularly see today.
Today tees are found everywhere; many are still used as a way to express one's thoughts or beliefs. However, many are designed with light-hearted sayings, advertisements, or just fun creative designs.
There are several shirt of the month clubs available on today's market, many of which feature tee-shirt. There are clubs for both men and women, and fun themed clubs like dive bars or New Orleans inspired designs. And, if you're looking for apparel, there are other clubs to try out too, like a sock of the month club or shirt of the month club

Shirt of the Month Clubs
True Classic
Red Tuna Shirt Company
Oklahoma Shirt Company
NOLA T-Shirt Club
Dive Bar Shirt Club
Framed by Sarah
Wohven
Loot Crate
True Classic

True Classic was founded by three guys looking to grow their business while also helping others. True Classic has teamed up with CSAH (Charity Starts At Home) and the Tiny House project in the effort to provide housing to homeless vets.
Ryan Bartlett, one of the three founders, grew up in a heavily military influenced family. After his parents retired to Savannah, Georgia, they began working with CSAH, which inspired Ryan to do the same.
So, combining his desire for finding higher quality plain tee-shirts that are designed with a fitted look and helping others, the True Classic company got its start. The tee-shirts found on true classic have a simple design to streamline and simplify wardrobes.
Those looking for comfortable quality shirts have the option to purchase shirts individually or in multi-packs. Additionally, they sell short sleeve or long sleeve options. But tee-shirts aren't the only thing they offer, they also carry hoodies, tank tops, and pullover sweatshirts.
All of the options come in a variety of solid colors. And, they offer a Monthly Tee Club, which includes free shipping. The monthly tee club has three options for single tee shirt options: Crew neck, v-neck, and pocket tee.
Plus there are nine pack Monthly Tee Club choices:
The Classic 3-Pack Subscription
The Color 3-Pack Subscription
All Black 3-Pack Subscription
All White Pack Subscription
All White V-Neck 3-Pack Subscription
All Black V-Neck 3-Pack Subscription
All White 5-Pack Subscription
All Black 5-Pack Subscription
Black Fleece 3-Pack Subscription
They are month-to-month subscriptions, and prices vary based on club. But you may choose to receive shipments every month, every two, or every three.
Red Tuna Shirt Company

The Red Tuna Shirt Company, founded by Scott and Austin out of Houston, Texas is family and veteran-owned and operated. The Red Tuna company specializes in designing the coolest and most interesting authentic saltwater fishing company tee-shirts and delivering these to anglers all over the country.
The Red Tuna company seeks out companies from all over the world to find the best charter boats, fishing lodges, and marinas. And by best, they mean companies that are interesting, unique, and have a good reputation.
After learning about the fishing company, they design a shirt with a small logo on the front and large graphic design on the back that best represents the company. The tee-shirts are all pre-shrunk cotton or 90% cotton on the heather tees.
Red Tuna understands that not all fishing expeditions are successful, so why not give people at least a tee-shirt to return home with? And by signing up for the Red Tuna tee-shirt of the month club, you get the opportunity to purchase shirts with the names of the top fishing companies from around the world, without having to leave the comfort of your home.
Red Tuna offers a variety of graphic fishing tees but also designs long-sleeve tee-shirts and short-sleeve button-ups. Also, they have a monthly tee-shirt club. And there are four different versions of the club to choose from:
Month-to-Month for $22/month
3-Month Prepay for $22/month
6-Month Prepay for $21/month
12-Month Prepay for $20/month
2XL-5XL sizes are available but are an additional $3/month. Also, you may choose a pocket tee or a long-sleeve tee-shirt for a small upgrade fee. All of the plans are flexible, and shirt style and size can be adjusted at any time. All shirts shipping within the US is free; however, Red Tuna will ship to Canada for $12.95.
Oklahoma Shirt Company

Oklahoma Shirt Company sells shirts with an Oklahoma theme. Their online store offers custom screen printing and a shirt of the month club. You can also order an array of graphic Oklahoma tees off their retail page that features everything from state parks to Sasquatch.
In addition to tee-shirts, they also have custom masks, plus a variety of local school-themed gear. And depending on their stock, they will sell past tee-shirts from their tee-shirt of the month club.
Their tee-shirt club is $12 each month plus $3.04 for shipping and handling. The shirts are unisex and come in a variety of sizes, starting at extra-small youth 2/4 and going up to 4XL. All of the memberships are month-to-month and can be canceled anytime.
NOLA T-Shirt Club

NOLA T-Shirt Club, founded by John and Jackie Abston in 2015, started as an online store. Though the business was John's idea, Jackie set up the internet site and the social media side of the house.
At first, the two juggled their full-time jobs in addition to the new shirt company; but it wasn't long until the company was a success. And in March of 2018, NOLA opened their first retail location. By 2020, they had two brick and mortar shops in addition to their online shop.
And for those unfamiliar with what NOLA stands for, it means New Orleans Louisiana. All of the NOLA shirts are screen printed with a large variety of themes like Mardi Gras, sports teams, summertime, St. Patrick's Day, not for kiddos, kid friendly, and festivals.
NOLA offers more than just shirts; they also have an array of other boutique NOLA inspired items such as socks, hats, stickers, bags, jewelry, leggings, and kitchen towels.
In addition to their many NOLA items, they also have a tee-shirt of the month club subscription. There are four subscription duration options available:
Month-to-Month for $15/month
3-Month Prepay for $45/month
6-Month Prepay for $113/month
12-Month Prepay for $200.76/month
Their tee-shirt of the month club ships shirts out around the 20th of each month. Though you do not get to choose your monthly shirt, they do post the upcoming month's design so you can opt to skip a month if the design is not to your liking.
Dive Bar Shirt Club

Dive Bar Shirt Club ships shirts from dive bars all over the country. The Dive Bar team of experts scour the country looking for the seedy and unique dive bars to include in their club. But they are also open to suggestions, so if you have a favorite dive bar, they are interested in hearing from you.
Every month a new dive bar shirt is sent out, and then the design is retired. All shirt designs are limited and can not be purchased outside of the shirt subscription. Every month you will receive your tee-shirt along with a postcard with fun information about that month's dive bar.
The Dive Bar Shirt Club membership costs $23/month, though there is an upcharge on shirts 2XL and up. Dive bar shirts are shipped for free within the US, but a $5 charge is added for addresses outside of the country. All shirts are shipped using USPS.
After signing up, you may choose to cancel your membership or change your shirt size at any time. There are three tee-shirt styles available lightweight, heavyweight, and women's cut. Additionally, there are five membership options to choose from, month-to-month or 3, 6, 9, or 12-month prepay.
Framed by Sarah

Framed by Sarah is both an online store and retail store out of Witchita Falls, Texas. ramed by Sarah is a boutique shop for women offering a variety of clothing and accessory options. Their online store includes:
Masks
Jewelry
Monogrammed items like bags and sport towels
Graphic and Screen Print Tees
Seasonal decorations
All of their shirts are designed in house and are unique to Framed by Sarah. Though the color and designs change from shirt to shirt, the shirts are always made from soft, brushed cotton with a comfortable fit.
Additionally, they offer three subscription clubs: The Monogram Box, Framed Tee-Shirts, and Framed Tees for Teachers.
The two Tee subscriptions comes in three levels:
T-Shirt. 1 soft tee every month for $20+$4.50 shipping per month
T-Shirt and more. 1 shirt and matching accessories for $30+$4.50 shipping per month
Combo of the T-Shirt and monogram box. $60+$9.95 shipping per month
All shirts are available from size small up to 3XL.
Wohven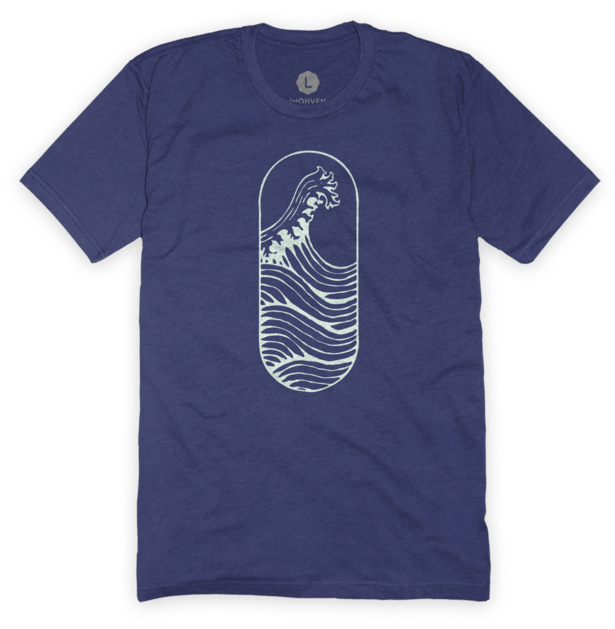 Wohven focuses on shirts that are elegant or simple. Their graphics are often interesting, elegant, and minimalistic. The selection of past designs on the site makes it easy to see whether the service is right for you.
There are two types of subscription to choose from, with two options for each.
Graphic T-Shirt. Crew neck for $13/month or V neck for $14/month
Blank T-Shirt. Crew neck for $9/month or V neck for $10/month
Shirt sizes range from S to 3XL and the price remains the same regardless of the size. All shirts are made from a soft blend that uses polyester and combed ringspun cotton.
Loot Crate

Loot Crate is most well-known for shipping out boxes of geek products, including ones that are related to pop culture, films, gaming, and themes like Pixar and The Fresh Prince. The company also has Loot Wear subscriptions. These focus on apparel instead.
Some of the Loot Wear boxes include tee-shirts as a possible item, like the Look Wearables box, which offers pop culture clothing for $17.99 per box or Loot for Her, which costs $19.99 per box and is designed with women in mind. Both of those subscriptions provide apparel items, but there's no guarantee that you'll get a tee-shirt.
Then there's the Loot Tees box. This costs $13.99 per box if you pay month-to-month. It can get down to $9.99 per month if you pay for a year up-front.
The tee-shirts are all limited edition. They go up to 3XL for women and 5XL for men.