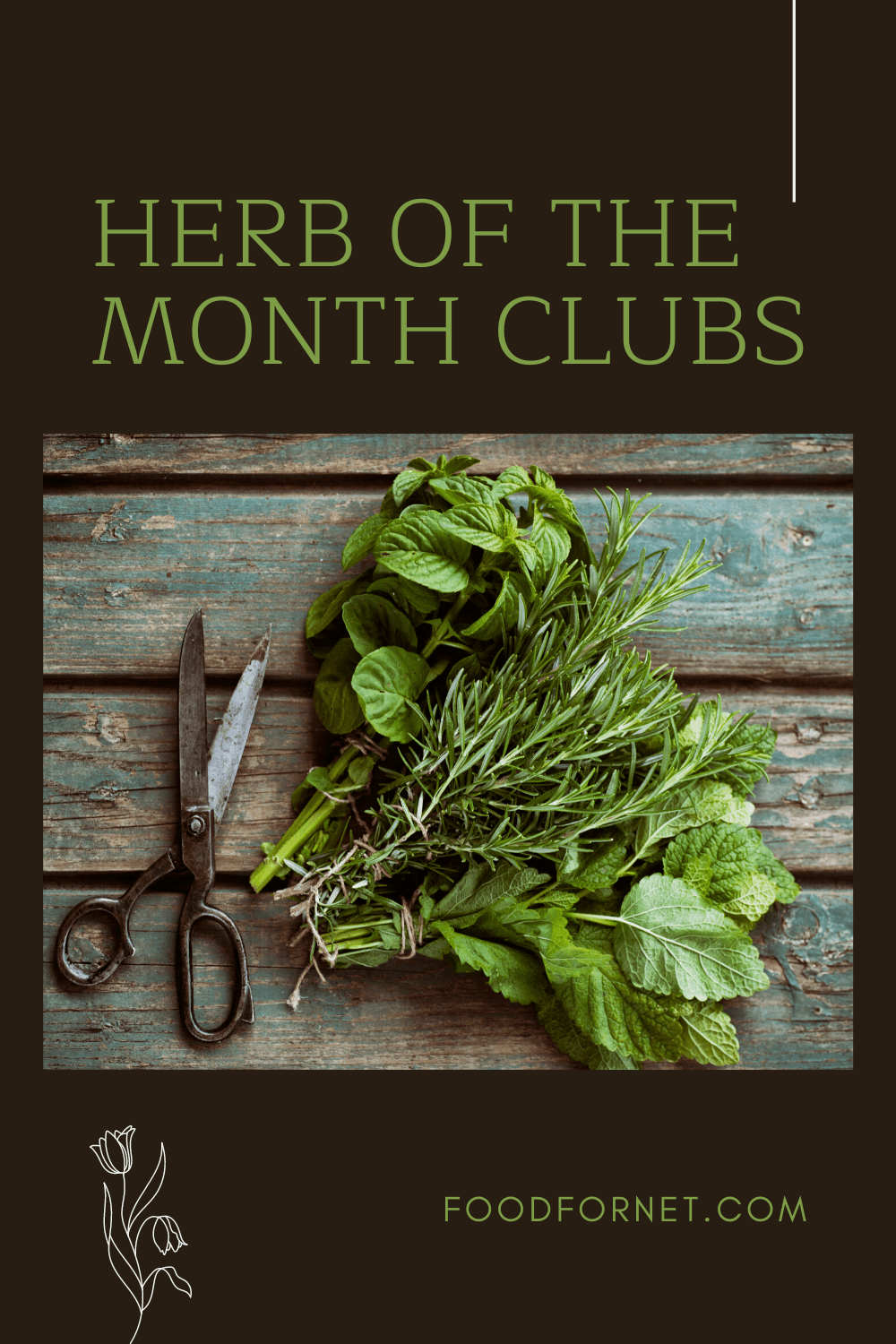 Having an endless supply of fresh herbs at your fingertips is an incredible convenience. And when you sign up for a herb of the month club subscription, you can have just that. Herb clubs send out potted herbs each month so you can start an herb garden of your own.
And if you are looking for the ideal present for the chef in your life, they would love one of the gift herb boxes that contain live herbs planted in decorative boxes.
Now, the terms herbs and spice are frequently used interchangeably, but there is a distinct difference between the two. Herbs can be used frozen, fresh, or dried and are made up of the leaf of the plants. Spices, on the other hand, are made up of the flower, seeds, fruit, roots, and bark of the plant.
The clubs in this list focus on herbs, rather than spices, although there are spice of the month clubs out there too.
Herbs have been used for centuries in a variety of cultures, for multiple uses, including flavoring dishes, teas, cosmetics, and medicinal purposes. Even as far back as 3000 BC, there is documentation of herbalists in Egypt. Herbs have also been used for symbolism, such as rosemary for remembrance.
Though we can find fresh herbs year-round, they can be pretty spendy for small bouquets or even just a handful of sprigs. And if you enjoy using fresh herbs in your cooking, it can get quite costly.
However, if you were to grow your herbs, it would be more economical, and cooking with herbs you've grown yourself makes everything taste just a bit better. This makes herb clubs especially powerful.

Herb of the Month Clubs
The Herb Box
Leaf'd Box
Gardenuity
Herb Gift Boxes
Harry & David
1-800-Flowers.com
The Herb Box

The Herb Box, founded in 2019, is located in Southern California. The founders of the company wanted to come up with a way to make it easy for people to grow their herbs, while at the same time cutting back on food waste.
Often when recipes call for fresh herbs, they rarely need the whole amount purchased, usually resulting in waste. By growing herbs at home, you eliminate unnecessary waste.
The herb box sends out pre-planted herb seeds, choosing which ones to send based on the season. There are four herb box options. Month-to-month costs $12, prepaying for 3 months costs $35.25, prepaying for 6 nibtgs cists $69, while prepaying for 12 months costs $135.
Each box includes curated seeds in soil planted in cow pots. The seeds contained are not always herbs. Sometimes, fruits and vegetables are included too.
The boxes also contain instructions for the proper care of the plant in that month's box. Plus, since the seeds are already planted, there's no mess for you to clean up.
Shipping and tax is not included in the prices listed above.
Leaf'd Box

Leaf'd Box, founded by Robert, makes planting a garden easy. The founder realized though he had the best intentions of planting a garden, so he and his family could enjoy fresh vegetables, he didn't have the time to do the planning and planting.
Robert soon realized he wasn't alone, and so he started the Leaf'd Box. The Leaf'd Box takes out the guesswork of planting a garden. The company has searched all over for the best plants that produce fast or significant amounts so you can maximize your garden's growth potential.
Leaf'd Box sends its clients plants based on the season, so you can start harvesting vegetables as soon as possible, and as late into the year as possible. And don't worry, they choose plants best suited to your location.
To get started, you first need to choose what type of garden you want. Leaf'd Box has four to choose from: Small Veggie Garden Seasonal for $14.99/month, Veggie Garden Seasonal for $29.99/month, XL Veggie Garden Seasonal for $59.99/month, and Herb Garden Seasonal for $14.99/month.
The herb garden subscription consists of four boxes. Each box is delivered based on your local climate. The herbs are chosen based on the season and zone you live in, so you will always have the optimal choices in each box.
The herb boxes contain: Ten plants that can be grown indoors or outdoors and an easy grow guide. Herb varities can include cilantro, basil, thyme, and parsley.
Plus, each herb box includes enough herbs to produce $30 of food. Herb boxes are all shipped from California and are delivered within 1-2 days, to ensure the freshness of the plants.
Though the boxes are shipped out every three months, the subscription is billed each month to spread out the cost. If you choose to cancel, they will reimburse any pre-paid amount.
Gardenuity

Gardenuity, founded by Julie Eggers and Letier, started in 2016 with beta testing their business plan. Their initial marketing approach was formatted, much like Mary Kay, using in-home parties to sell their gardens.
What they soon realized is that their primary market wanted two things that their initial platform didn't provide:
Clients wanted the convenience of ordering online
Customers wanted to be able to get their questions answered from the source they purchased their garden
So the two reformated their business strategy to create an online garden company that would offer a variety of garden options suited to different zones and needs. Plus, they were sure to provide the support their clients needed to grow their garden successfully.
They have eleven different themed garden kits including ones such as Some Like It Hot, My First Garden, Culinary Herbs, Cocktail Herb Garden, and Taco Toppings.
They also offer three subscription garden kits: The Vegetable Garden, The Chef's Garden, and The Herb Garden.
The herb garden is $149 that consists of three deliveries per year. The initial shipment includes a growing container, custom compost, soil, plant nutrients, and a collection of six fully rooted herbs. The growing container is a portable and reusable 7-gallon black grow bag embroidered with "Herb Garden".
The following shipments include rooted herbs and the appropriate nutrients. The herbs provided are customized to your zone.
You also receive a 12-month membership to Grow Pro. This is a garden concierge service that comes complete with weather alerts for your area, recipes, growing and harvesting tips, and experts ready to answer any of your gardening questions.
Herb Gift Boxes
Harry & David

Harry & David, first started with Bear Creek Orchards, when Samuel Rosenberg sold his hotel in Seattle and bought an orchard in Rogue River Valley, in the southern area of Oregon. This family-run business began by focusing on pears.
When sons, Harry and David, returned from Cornell University, they immersed themselves in the company.
One of the first things Harry and David did was to plant a Comice pear from France in their Oregon orchard. To everyone's delight, the pear flourished and grew even heartier than in its home soil of France. Harry and David renamed their pear the Royal Riviera, which soon helped make the orchard famous.
The pear was so well received that even the Great Depression couldn't end the future of the orchard. Instead, Harry and David took their pears on the road, marketing them as a premium business gift. And in 1934, Harry & David started their journey to become one of the top gourmet gift companies in the world.
Today you can find every imaginable edible gourmet gift. Harry & David offer many subscriptions and one-time specialty gifts, including a herb crate.
The herb garden featured above is $49.99 and contains three herbs, rosemary, thyme, and sage. The beautiful rustic flower box is perfect for any kitchen and makes a lovely gift for the cook in your life. Included with the garden are detailed instructions for how to take care of the herbs.
1-800-Flowers.com

1-800-Flowers.com, founded by Jim McCann, has been doing business for more than 40 years. In 1976 McCann started with a single floral shop in Manhattan, and over the next ten years, he would open 13 more in the New York area.
In 1986, McCann obtained the phone number that would change the world of flower delivery forever, 1-800-Flowers. He later changed his business name to reflect his new phone number.
Over the next several years, the company grew with the advent and expansion of the internet, eventually changing their name one more time to 1-800-Flowers.com.
In 2000, they began expanding their product lines to include other unique gifts like baskets, popcorn, and cookies. But they didn't stop there 1-800-Flowers.com started acquiring other gift companies like:
Harry & David
Wolferman's Bakery
DesignPac Gifts, LLC
Eventually, they became the one-stop-shop for all premium gifts, including an herb garden. The Herb Garden Trio, featured in the photo above, is $44.99 and includes the decorative box, three herbs, and specially crafted herb shears. The charming herb box includes thyme, oregano, and parsley.