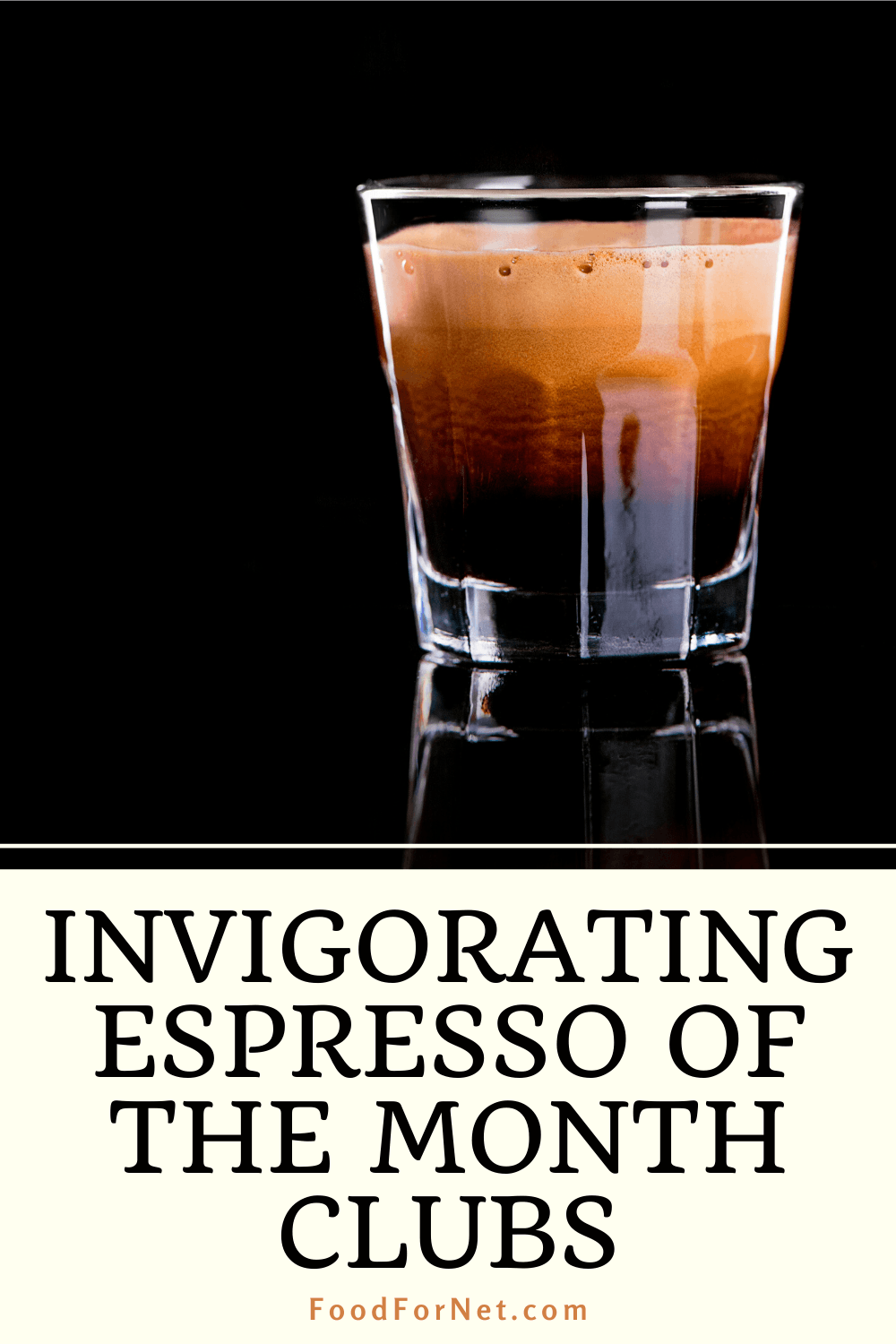 Whether you enjoy espresso straight up, added to your coffee, or made into one of the many delicious drinks like lattes or cappuccinos, an espresso of the month club will help you explore the many flavors found all over the world.
Espresso itself was invented in 1884 when Angelo Moriondo built the first espresso machine. The first machine was unlike the ones we see today, mainly because it was quite a bit larger and brewed espresso in batches for more than just one serving. Moriondo's machine used a steam method and was named, "New steam machinery for the economic and instantaneous confection of coffee beverage, method 'A. Moriondo."
From 1884 on, a few improvements were made to the espresso machine, trying to perfect the machine and taste of espresso.
1901 introduced the espresso machine with a boiler attached and allowed for four cups of espresso to be brewed at once.
In 1938, the piston pump method was developed, using hot not boiling water and eliminating the burnt flavor.
1961 changed the pump method to an electric pump and removed the boiler. This is still the base model of the espresso machines of today.
In addition to requiring a specific machine, espresso also uses beans that have been specially roasted for espresso. Though the original bean used for espresso starts the same as any coffee, espresso beans are a darker roast and are roasted for a more extended period.
Plus, espresso beans are finely ground, much like the consistency of sand.
After the beans are carefully ground, they are measured into the portafilter, then tamped down and compressed. Finally, the portafilter is attached to the machine, and the espresso is brewed.
The best espresso has crema on top, which is the frothy tan-colored foam that gives espresso its signature look. The crema is important to espresso aficionados because it indicates the quality of the espresso. Additionally, the crema provides an aromatic finish and aids in giving the espresso a fuller-bodied flavor.
While espresso that you make at home might not be quite the same as what you get at a coffee store, it can be very similar indeed. Espresso of the month clubs can help to make sure of this. And, of course, we're just scratching the surface with this list. You can also check out our selection of organic coffee of the month clubs and regular coffee subscriptions.

Espresso of the Month Clubs
Bean Box
Bell Lap Coffee
La Marzocco
Klatch Coffee
Blue Bottle Coffee
Bean Box

Bean Box, founded by Mathew and Ryan, is located in the coffee capital of the world, Seattle, where coffee is much more than a caffeinated drink, it is an art. The founders were not former baristas but instead were software engineers. They combined their background in technology and their love of coffee, to bring Seattle coffee to the world.
Knowing that not everyone has easy access to the rich and superior coffees of Seattle, the two founders made it their goal to connect the "world's finest artisan coffees" with customers through Bean Box.
Though you can purchase their various coffees by the bag, the bean box is a coffee subscription box focused company. There are two primary subscription options:
The Bean Box Sampler – Four 1.8 oz bags of coffee sent each month containing a variety of new coffees
Coffee of the Month – Which subscribers can choose from a variety of options including all roasts, light and medium roasts, medium and dark roasts, decaf, light roasts, medium roasts, dark roasts, and espresso.
The Espresso box has the choice of weekly, every other week, or monthly deliveries. Additionally, you can choose to sign up for month-to-month payment at $26/month, 6-month prepayment at $24/month, or 12-month prepayment at $23/month.
Each month you will get a 12 oz bag that brews 24 to 36 cups of espresso, and every delivery is different. The subscription includes "a tour of the world's best artisan coffees," and free shipping is part of every subscription.
Bell Lap Coffee

Bell Lap Coffee got its name from co-founder Justin Rumley, who loves his coffee and bicycling. Justin uses the world of bicycling to help name the artisan coffees at their roastery.
Bell Lap Coffee specializes in artisan handmade small-batch coffee beans. Their coffee is roasted to order to ensure the ultimate freshness of each bag. Plus, you will never have to wonder how old the beans are since each bag has a roasted date.
Bell Lap uses wild-grown beans from sustainable family farms from Papua New Guinea. They roast their coffee in River Fall, Wisconsin, and all beans ship out within 48 hours after roasting.
Their various coffees are available to be purchased by the bag, but also, can be ordered as a subscription. Their subscriptions are easy to sign up for online. There are a few coffee clubs available like monthly coffee (1 or 2 bags) or bi-weekly coffee (1, 2, or 3 bags).
Their espresso clubs come in monthly or bi-weekly options and includes one 12-ounce bag of espresso, which you may choose to have pre-ground or left in whole bean form.
The espresso of the month subscriptions come as follows: Month-to-month for $12.95/month, 3-month prepay for $12.75/month, 6-month prepay for $12.20/month, and 12-month prepay for $11.95/month. All prepaid options also charge $4.25/month shipping.
You can also add on things to your order, such as Minipresso Gr, Belgian chocolate-covered espresso beans or espresso accessories.
La Marzocco

La Marzocco, founded in Florence, Italy, by Giuseppe and Bruno Bambi, first opened their doors in 1927. La Marzocco made its name by manufacturing espresso machines. And in 1939, they were the first company to come up with a horizontal boiler and then a double boiler system. The horizontal boiler would later become the industry standard.
La Marzocco manufactures a variety of high-end espresso machines. Most have innovative features seen on commercial machines, but are compact enough for your kitchen counter. Their premium espresso machines start around $5,400.
In addition to inspiring the espresso community with their machines, La Marzocco also offers classes both in their espresso lab, located in Seattle Washington, or online. And if you are are looking for a more personalized class on how to use your machine, they offer free virtual consultations.
In addition to their espresso machines, they also sell grinders, accessories, and espresso bean subscriptions.
Their espresso subscription is $39 a month, including shipping. Each month you will receive two 12-ounce bags of freshly roasted espresso, brewing recipes, and tips from Master Roasters (including brewing recommendations).
Some of the types of espresso included in the subscription include: Stamp Act, Ditta Artigianale, Onda Origins, Fulcrum, and Five Elephant.
Your espresso box will usually arrive around the 15th of the month. All boxes ship using USPS.
Klatch Coffee

Klatch Coffee is a family run business located in Los Angeles. It has been around for more than 25 years, serving "award-winning coffee with great conversation." Klatch coffee started as a small retail store but has since grown to a worldwide wholesale roaster with six retail locations, and they are not done growing yet.
The beans are sourced from farmers that Klatch Coffee has partnered with all over the globe. They have built strong, loyal relationships with the farmers who they work closely with to cultivate the perfect bean. After the beans arrive at their southern California roastery, Klatch Coffee roasts the beans with care to ensure the bean reaches its "peak flavor profile."
There are a three different coffee club subscriptions: Roaster's Choice Blend, Brewer's Choice Single Origin, and Barista's Choice Espresso.
The Barista's Choice Espresso club subscription costs $18 per bag per delivery, including shipping. You may choose how many bags you want to be shipped and at what frequency between one to four weeks. Each bag of espresso is 12 ounces and contains whole beans.
Every month is different, but if you receive multiple shipments in the same month, you will receive the same type of espresso. Likewise, if you order more than one bag per delivery, it will be the same variety. Subscriptions are only available within the US.
Blue Bottle Coffee

Blue Bottle Coffee was the name of the very first coffee house in Central Europe and is now the name of an entirely distinct coffee business in California. A key goal of the company is to ship out fresh coffee within 48 hours of roasting, to ensure that customers get fresh and delicious coffee every time.
There are now many different Blue Bottle Coffee cafes across the US, Korea, and Japan. And, just as importantly, the company has a coffee subscription program. This ships out whole beans within 24 hours of roasting and you have full control over what you recieve.
If you want variety, you can check out one of their three assortments: Single Origin Assortment, Blend Assortment, and Espresso Assortpment. There are also three individual espresso clubs if you want to get the same type of espresso each time. These are: 17FT Ceiling Espresso, Hayes Valley Espresso, and Opascope Espresso.
Many of the subscriptions start at $8 per month, although some start at $8.50 or $9.50 instead. You can choose to receive either a half bag or a standard bag per shipment, then whether you want your coffee every other week or every four weeks