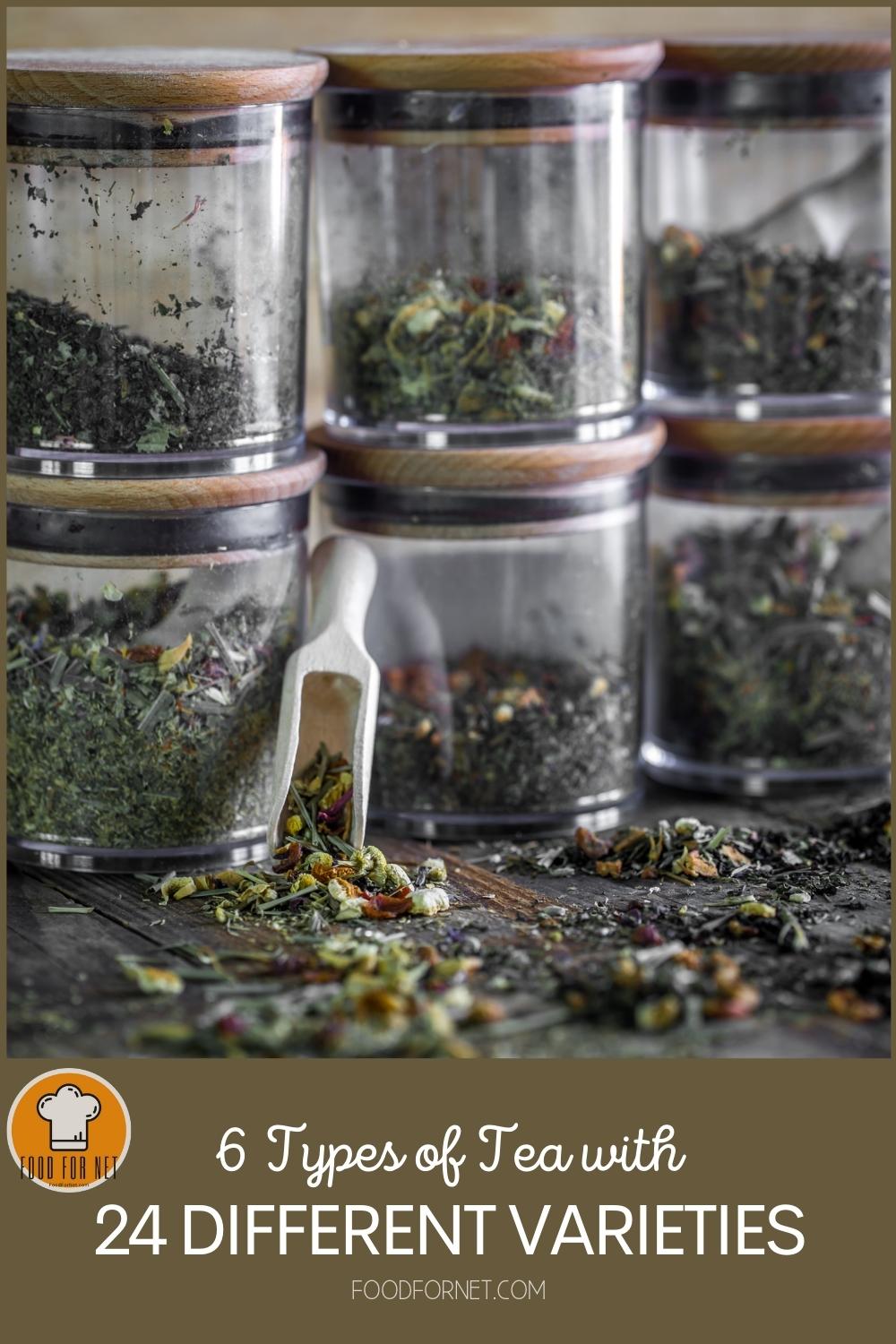 Whether you like it hot or cold, it would seem that tea is very much a part of the beverage choices you have in mind. And not surprisingly so, with so many types of tea out there, black tea and green tea, being the most common, you'll definitely not miss them. Even Starbucks has them!
According to legend, in 2737 BC, a servant to Chinese Emperor Shen Nung accidentally created a concoction while he was boiling drinking water, and leaves from a tree (Camellia sinensis) blew into it. The emperor who was a herbalist tried the infusion and just like that came the birth of tea – one of the most beloved drinks even up to this day.
In fact, tea is the second most consumed beverage next to water worldwide. In the US alone, over 84 billion servings of tea were consumed in 2019. During the same year, China, India, Kenya, Sri Lanka, and Indonesia were the main tea producer. The increased health awareness among shoppers can be attributed to this continuous growth and popularity of tea.
Since tea is an all-natural product, it's also environmentally sound. It supports sustainability not just economically and ecologically, but socially as well. This, of course, made tea even more appealing to consumers who are into green living and another good reason to love teas on top of their health benefits.
To help you have a better understanding of the different types of tea along with the different varieties out there, we compiled a list here. We presented the different tea variety that falls under each type of tea. See which ones you are already familiar with and which among them would you like to try next time.
We excluded flower-based teas, an infusion of plant material in water because they are technically not teas but are rather called a tisane.
Types of Teas
Black tea
Black tea is fully or almost fully oxidized. It generally has a much stronger flavor than the other teas. The brew is dark and coppery in color. Black teas are also relatively high in caffeine – about half as much as a cup of coffee.
Assam tea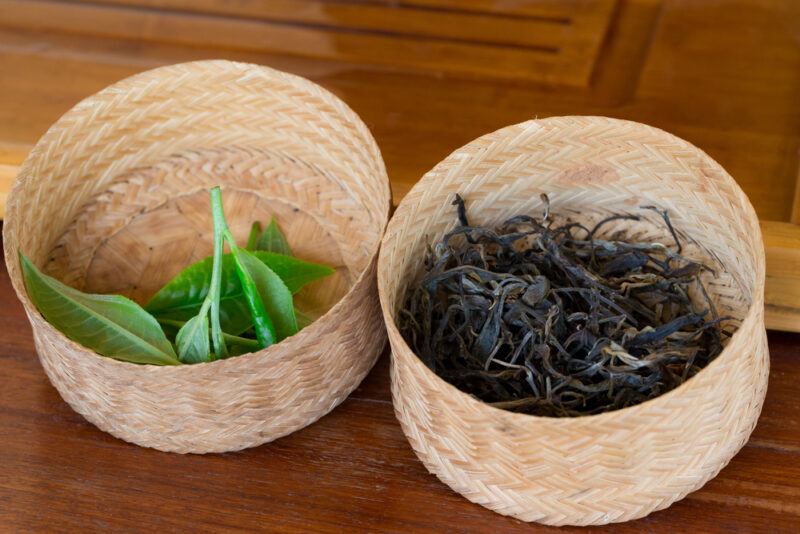 Assam tea comes from the Indian state of Assam which is one of the largest tea-growing regions worldwide. Assam tea is mostly grown at or near sea level and is harvested twice – the first flush which is picked during late March and the second flush which is harvested later and is considered the more prized "tippy tea."
Darjeeling tea

Darjeeling tea is grown and processed in the Darjeeling Districts in West Bengal, India. The tea leaves are harvested from March to November into four flushes by plucking the top two leaves and the bud. Many tea-producing estates acquire organic, biodynamic, and Fairtrade certifications to further boost their international appeal.
Earl Grey tea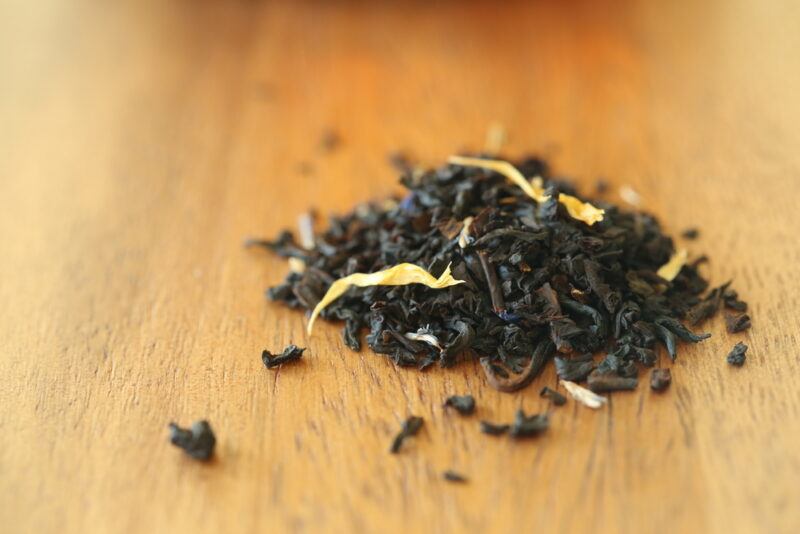 Earl Grey tea is actually a tea blend – black tea flavored with oil of bergamot orange. It's the rind's fragrant oil that lends it that unique taste. Traditionally, Earl Grey tea is made from black teas that are not intended to be drunk with milk.
English Breakfast tea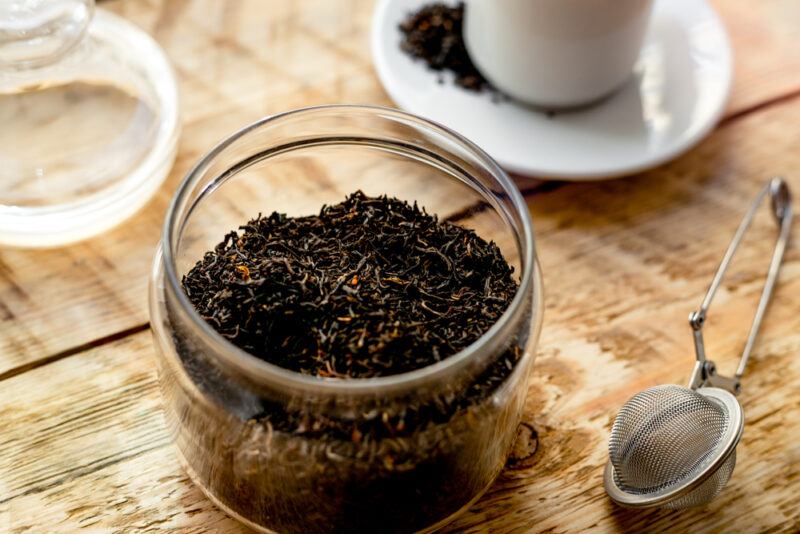 English breakfast tea is a traditional blend of black teas and is one of the most popular blended teas. The blend varies but Assam, Ceylon, and Kenyan teas usually dominate it. The more expensive blends sometimes also include Keemun. English breakfast tea's full-bodied, rich, and robust characteristics made it perfect with milk and sugar.
Irish Breakfast tea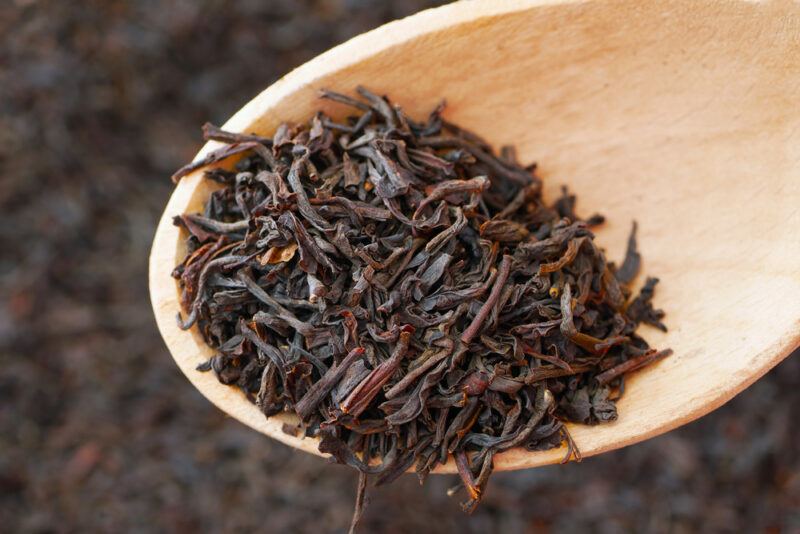 Irish breakfast tea is also a blend of several black teas. As the name suggests, it's one of the most popular blended teas in Ireland culture. The blend contains Assam tea which is usually blended with one softer tea that will highlight Assam's flavor. It's also made with leaves that have been broken or leaves that have been dried and then lightly crushed.
Green tea
Green tea is unoxidized. It has a rather light body and milder, vegetal, grassy, herbaceous, and somewhat nutty taste. The brew is light green or yellow in color. It contains about half as much caffeine as black teas.
Gunpowder tea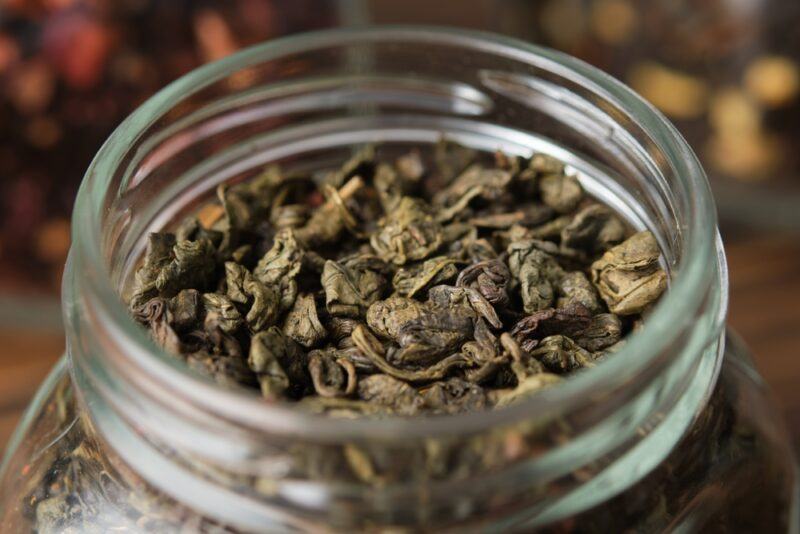 Gunpowder tea earned its name from its resemblance to grains of gun powder – the leaves are rolled into small round pellets. Rolling made the leaves not only less susceptible to physical damage but also allows them to retain more of their flavor and aroma. This tea dates back to the Tang Dynasty and was first introduced to Taiwan in the 19th century.
Genmaicha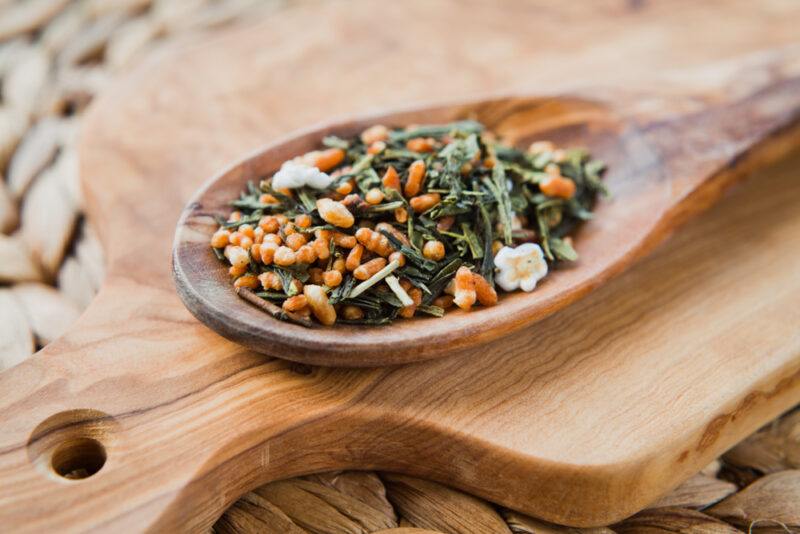 Genmaicha is a brown rice green tea that originated in Japan. It's a combination of green tea and roasted brown rice. It is sometimes called "popcorn tea" because some of the rice grain in the blend popped during the roasting process. It's also called "people's tea" because the use of rice as a filler reduces the price of the tea making it more affordable.
Gyokuro

Gyokuro which translates to "jewel dew" is a type of shaded green tea that comes from Japan. It is shaded for approximately 3-4 weeks. It's typically steeped at a lower temperature with the teaware used commonly preheated, this is to preserve its delicate notes. However, if you want more of its vegetable and briny qualities, you can steep gyokuro at higher temperatures.
Matcha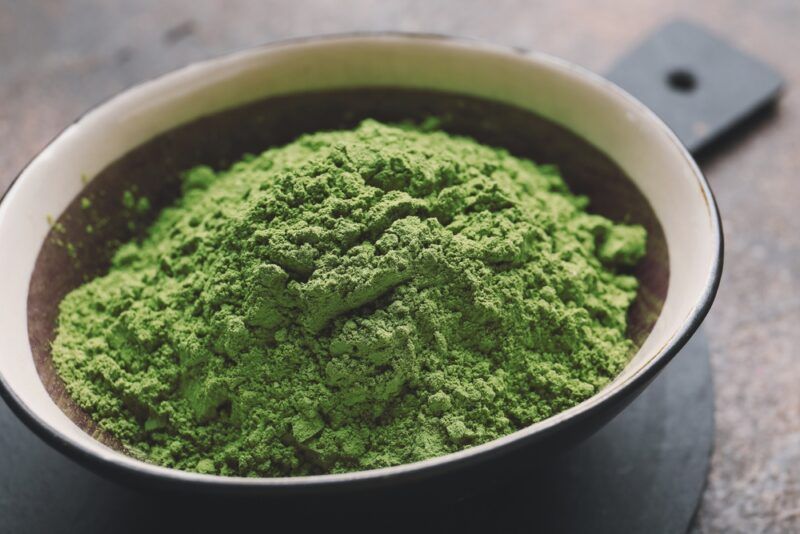 Matcha is the finely ground green tea leaves that are shade-grown for 3-4 weeks before harvest. Both the stems and veins are removed during processing. Traditionally, matcha is served and drank hot during a ceremony, the matcha used for this purpose is ceremonial-grade with high quality. Today, matcha is also used for flavoring and dying foods like mochi, green tea ice cream, or soba noodles.
Sencha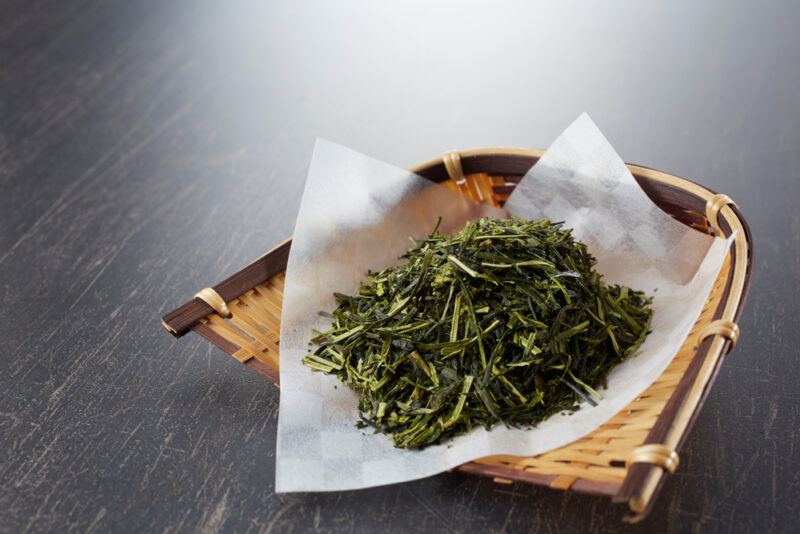 Sencha is the most popular tea in Japan which is prepared by infusing processed whole green tea leaves in hot water. And although sencha and matcha are derived from the same plant species, they differ in texture and consistency. Matcha comes in ground powder form while sencha comes in rolled loose leaf.
Oolong tea
Oolong tea is partially oxidized. It usually has a fruity, floral, and a hint of grassy taste. It also has a thick mouthfeel. The brew is anywhere from pale yellow to rich amber in color. Its caffeine content is somewhere in between that of black tea and green tea.
Da Hong Pao (Wuyi Oolong Tea)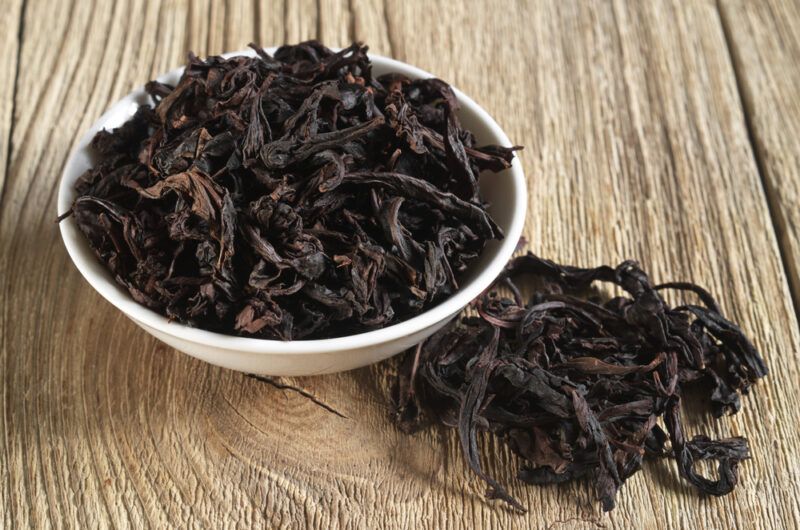 Da Hong Pao or Wuyi Oolong Tea is grown in the Wuyi Mountains of Fujian Province in China. This tea looks like slightly twisted strips or tightly knotted ropes. It can retain its flavor for up to nine steepings. Da Hong Pao is considered the "King of Tea" because of its scarcity and superior quality – there are only 6 mother Da Hong Pao trees, which are over a thousand years old, in existence today.
Dan Cong (Phoenix Tea)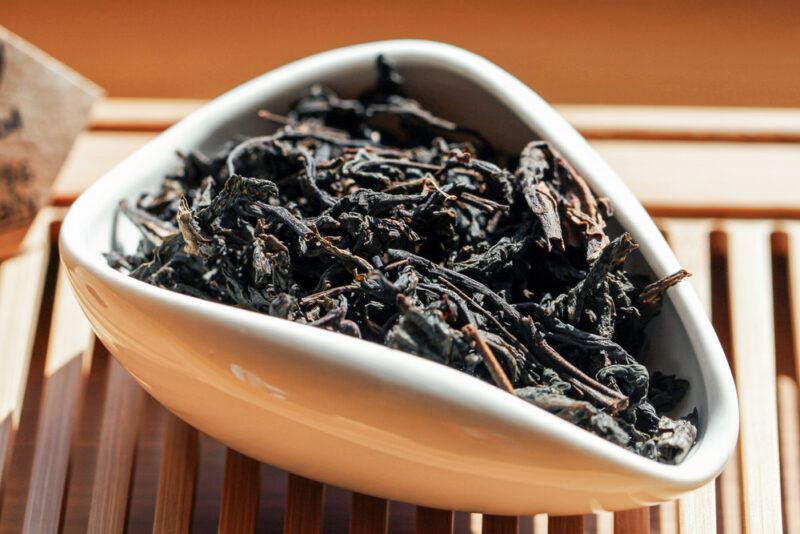 Dan Cong which means "single bush" is a variety of Oolong tea that mimics different flavors. It's harvested from the Phoenix mountains in Guandong Province in China, hence the name Phoenix tea. And while most tea leaves are grown on small bushes at ground height, Dan Cong is picked from independently tall trees which are sometimes found in large groves. These wild or semi-wild mountain trees can be hundreds of years old.
Gaoshan (High Mountain Oolong Tea)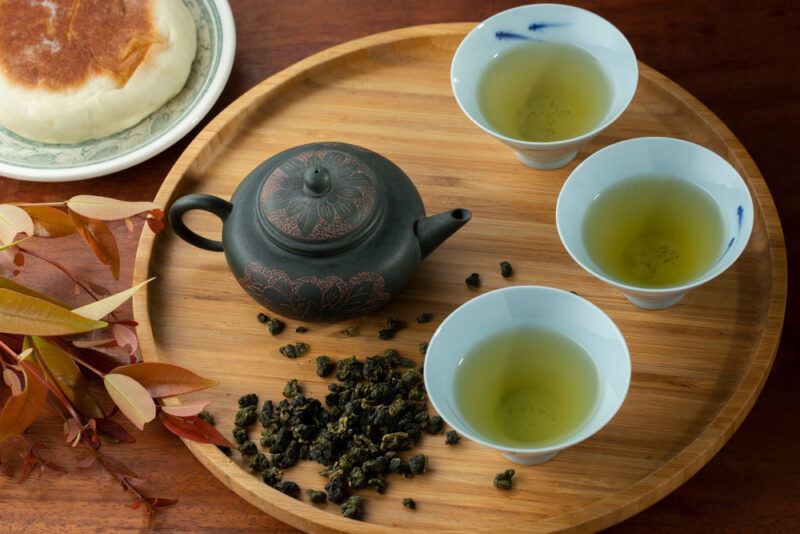 Gaoshan tea, also called High Mountain Tea, is Oolong tea grown in the mountains of Central Taiwan. The teas grow slowly because of the high humidity and natural precipitation of the high mountain (altitudes higher than 3,300 ft above sea level). They're harvested usually by hand in late October and mid-June. It takes about 36-40 hours to process a single batch and is packaged as "handkerchief tea."
Jin Xuan Tea (Milk Oolong Tea)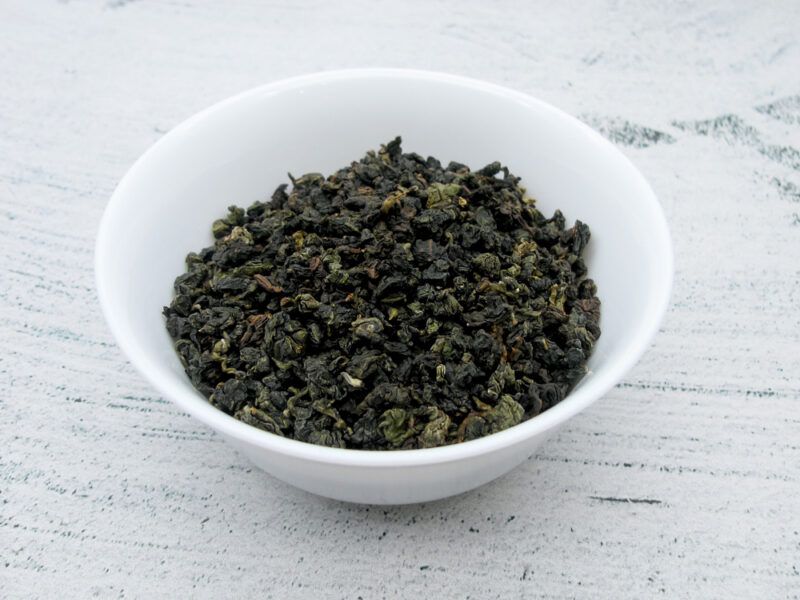 Jin Xuan Tea originated from Taiwan and is also known as #12, Milk Oolong, or Nai Xiang. It's grown in higher altitudes and can yield about 20% more than traditional tea varieties. It has a light, creamy, flowery taste that is sometimes compared to milk. And while genuine Jin Xuan naturally tastes milk, there are tea producers who use additives to artificially add the flavor.
Ti Kuan Yin (Iron Goddess of Mercy)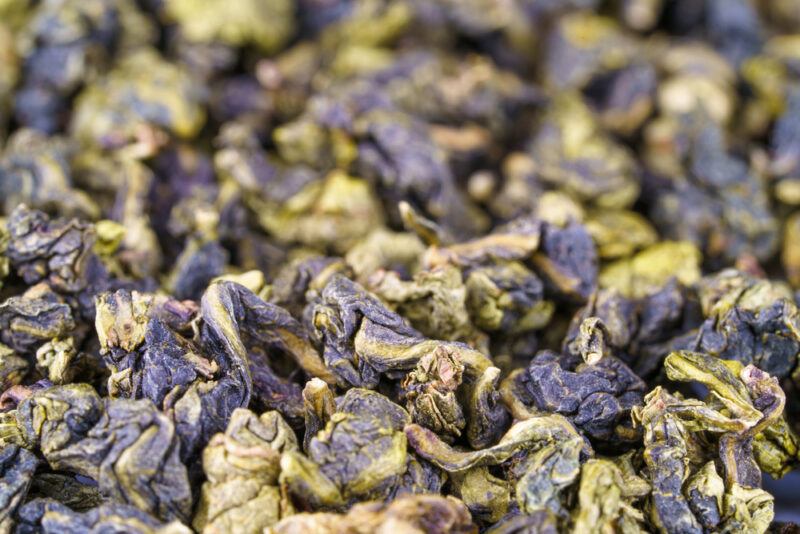 Ti Kuan Yin, also called Iron Goddess of Mercy, originated in Anxi County, Fujian Province in China. It is arguably the most famous Chinese tea. Legends has it that monks trained monkeys to harvest the tea leaves which are along high cliff edges. And that these teas are brewed only for the Emperors of China.
White tea
White tea is slightly oxidized. It has a light body with a mild flavor and a crisp, clean finish. It can taste subtly sweet and fruity. The brew is light gold in color. It's usually very low in caffeine with some variety slightly higher in content.
Bai Mudan (White Peony)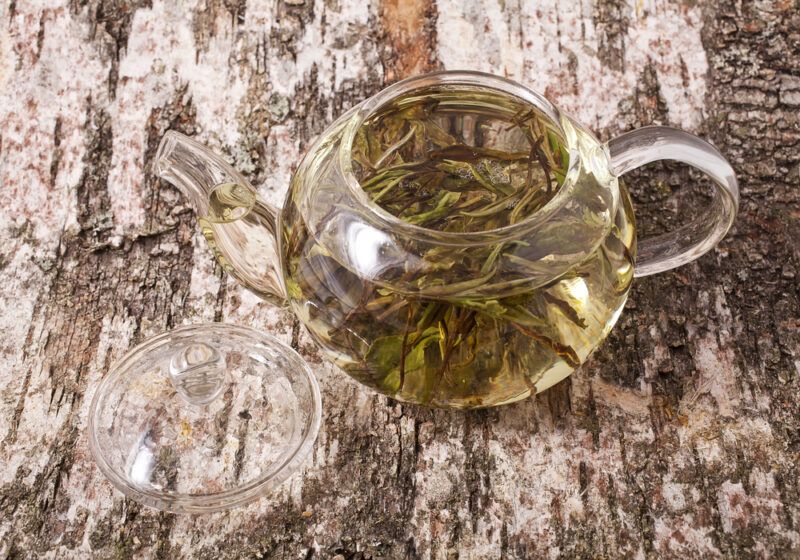 Bai Mudan also called White Peony and is the second most popular white tea from the Fujian Province in China. Both the buds and one or two leaves with fresh green and brown color are used to produce the tea.
Baihao Yinzhen (Silver Needle)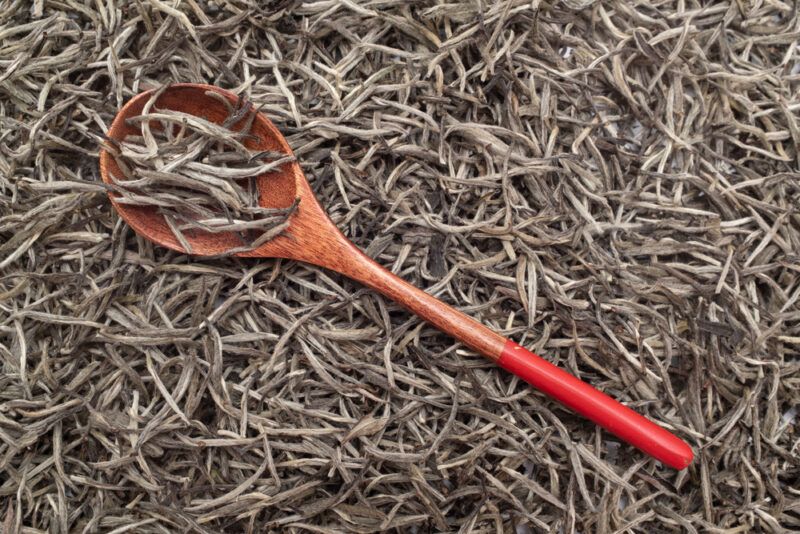 Baihao Yinzhen also called Silver Needle originated from Fuding and Zhenghe counties in Fujian Province. It is considered the most popular and highest graded among white teas. This is because only the top buds or leaf shoots of the plant are used.
Gong Mei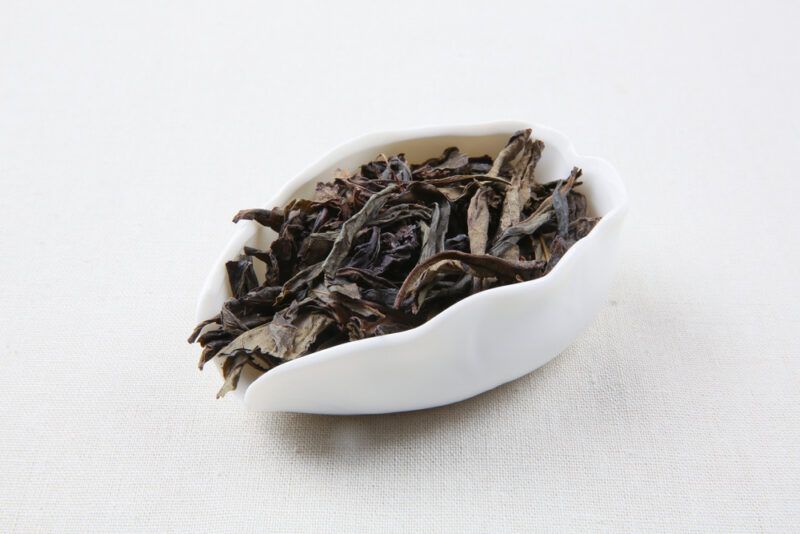 Gong Mei is a white tea mainly grown in the provinces of Fujian and Guanxi Provinces. This cultivar has smaller leaves and is usually darker than White Peony with a slightly stronger flavor.
Shou Mei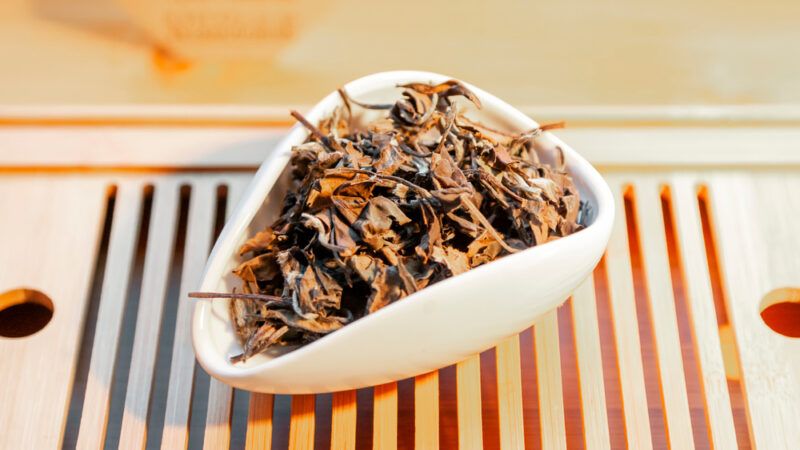 Shou Mei, like Gong Mei, also originated in China. It included fewer buds than the latter and is considered as the tea of the fourth grade (Gong Mei is considered of third quality grade tea). Its usually darker color makes it perfect for making white tea blends.
Yue Guang Bai (Moonlight White)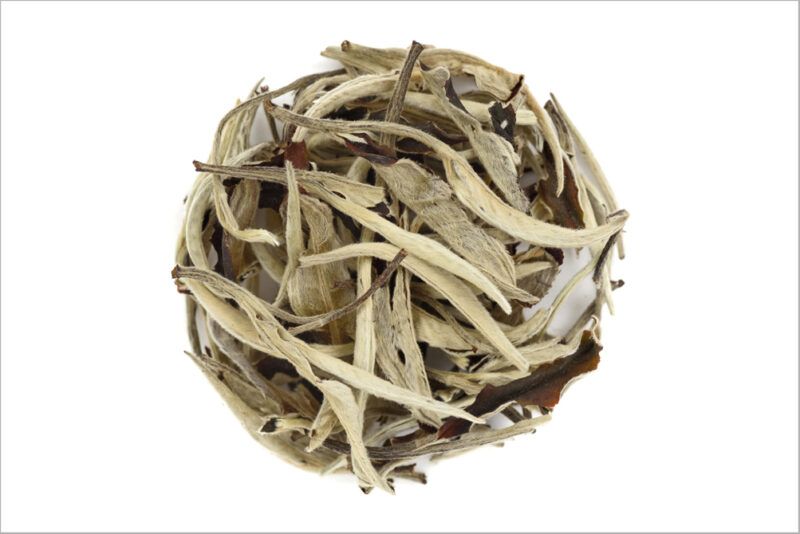 Yue Guang Bai or Moonlight White is a mellow white tea that originated from Yunnan Province in China. The blend consisted of tips and leaves that are hand-harvested and processed similarly to Pu-Erh tea.
Pu-erh tea
Pu-erh tea is actually aged and partially fermented, not oxidized. It has a full body with earthy, rich, and deeply satisfying taste. The brew is inky brown-black color. Pu-erh tea is fairly high in caffeine, about the same amount found in black tea.
Sheng Pu-Erh tea (Raw)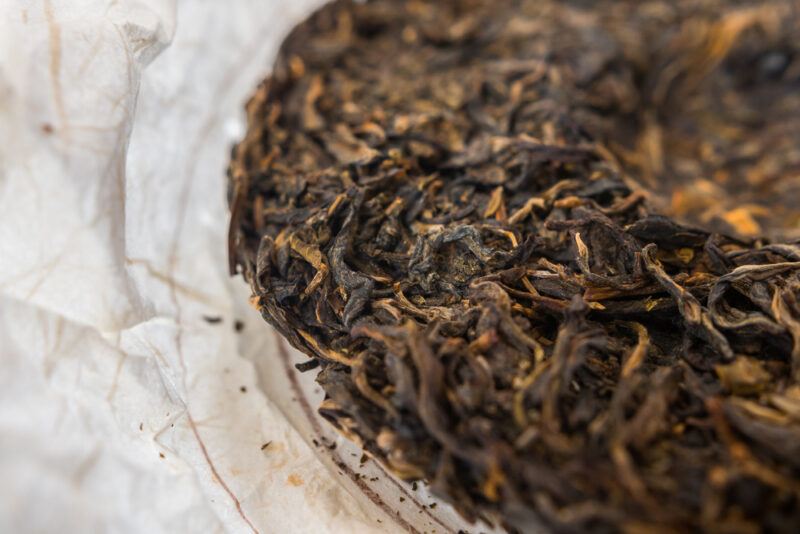 Raw Pu-Erh tea is made from sun-dried green tea via a compression process. It's fermented naturally over a longer period of time of up to ten years sometimes. Of course, those for commercial uses are matured for a shorter time. Sheng Pu-Erh tea has a delicate and earthy taste with a complex flavor and aroma.
Shou Pu-Erh tea (Ripened/Cooked)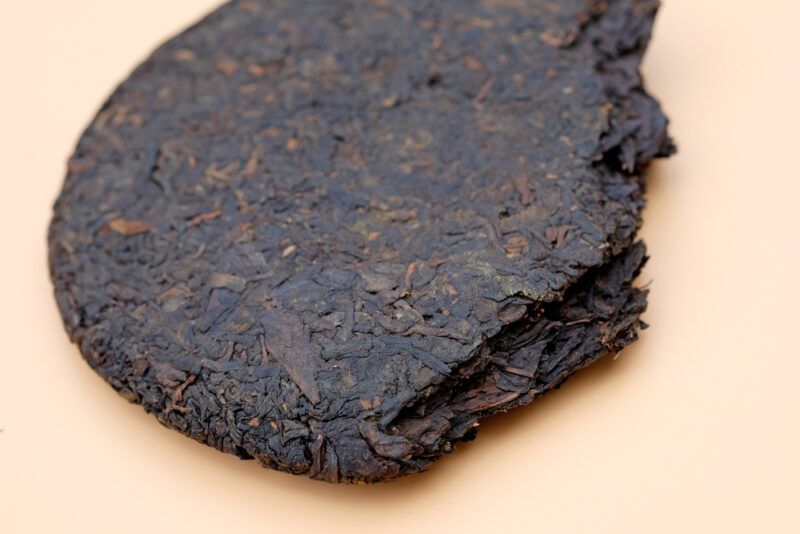 Ripened or cooked Pu-Erh tea undergoes a microbial post-fermentation that is executed at higher temperatures and higher humidity conditions. To accelerate the process, they're stored in dense piles to create additional heat and humidity. It undergoes aging and maturing of up to 20 years – the longer it's stored the pricier it gets.
Yellow tea
Yellow tea is lightly oxidized. It's slowly dried for its leaves to take on a yellow color. It has a mild taste that is somewhere between green and white tea. It's slightly sweet with less of the vegetal and umami notes. The brew is green-yellow color. Yellow tea is one of the rarest types of tea and is produced in really small quantities.
Huo Shan Huang Ya (Amber Mountain)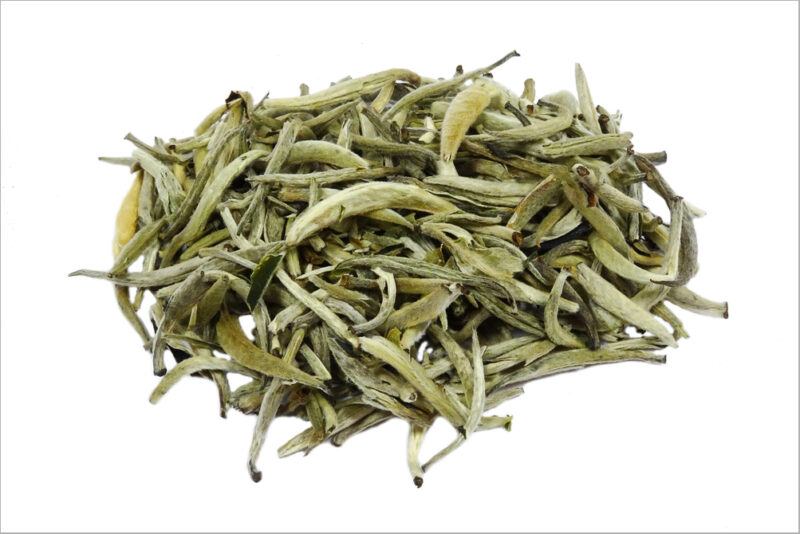 Huo Shan Huang Ya or Amber Mountain is a yellow tea from Huoshan County of Anhui Province in China. It dates back to the Ming Dynasty and is considered an imperial tribute tea. It's usually harvested in April with cutting including only one bud and one leaf or one bud with two unopened leaves.
Jun Shan Yinzhen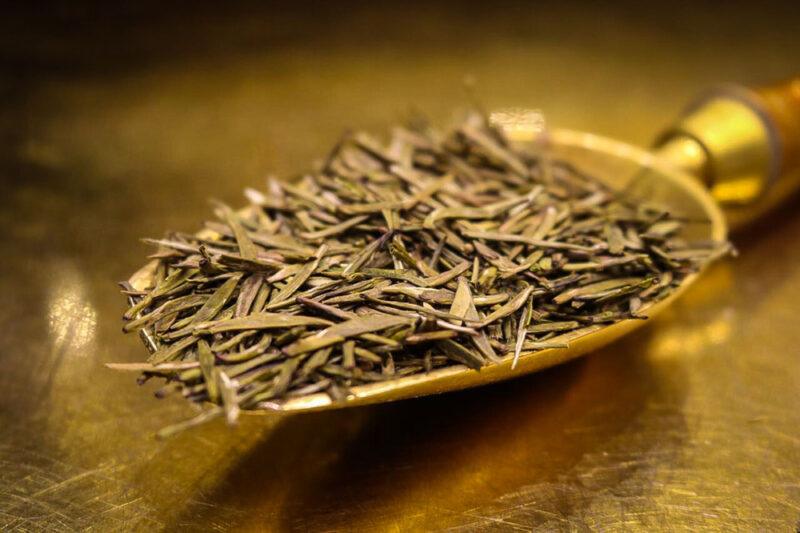 Jun Shan Yinzhen is a yellow tea from Junshan Island of Hunan Province in China. It's considered to be China's rarest tea and allegedly the preferred tea of Mao Zedong. It has sage green and silvery buds with leaves that grow anywhere between 3-7 centimeters in length.