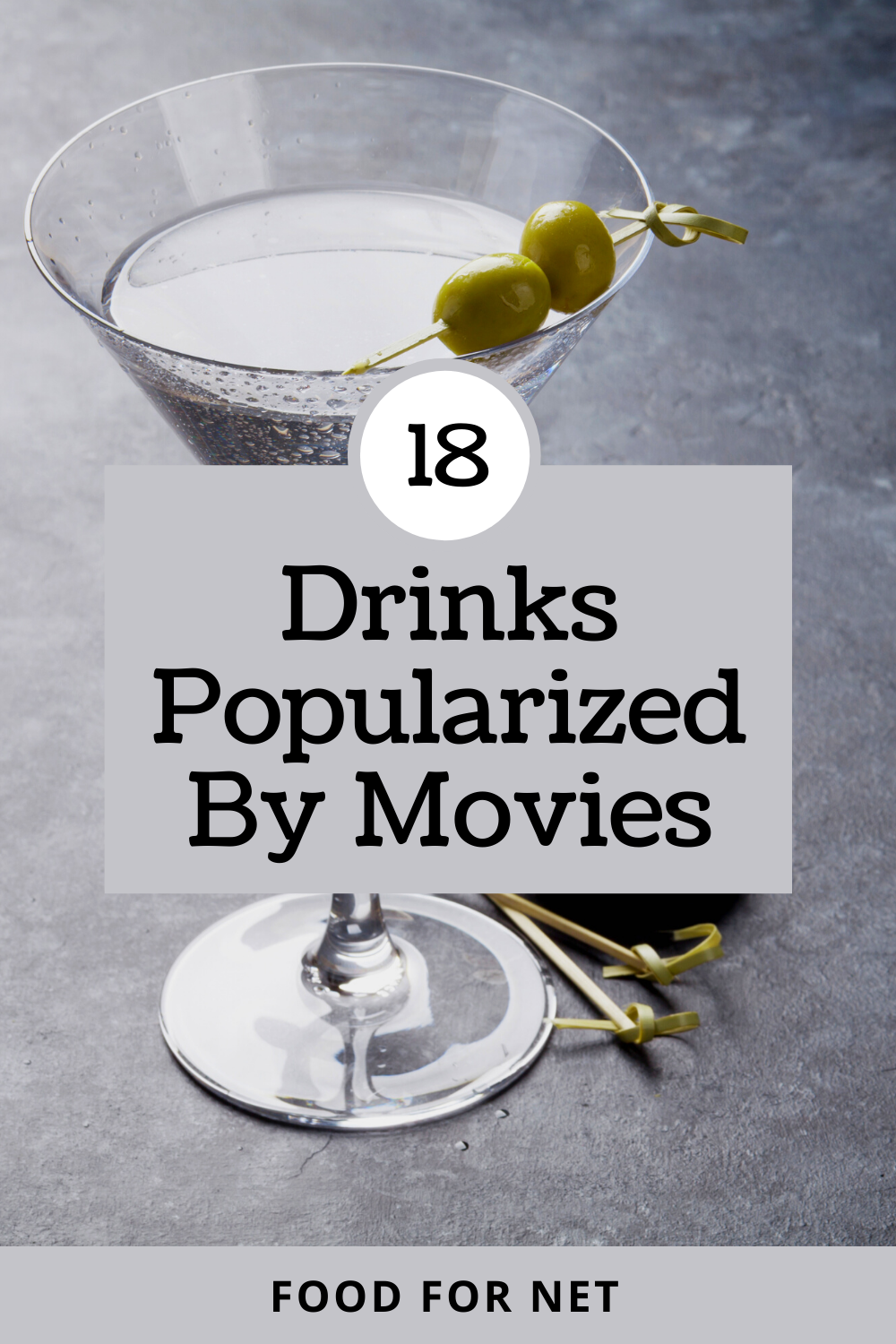 Ah, the movies. We pick up so many things from – including drinks. Some cocktails were almost unheard of before they were featured in a film and now they can be found everywhere. So, in this post, we're taking a close look at drinks popularized by movies.
And, why not? There are so many drinks out there to choose from, including straight shots, simple two-ingredient cocktails, fruity cocktails, 'manly' drinks, and much more. Looking at the drinks that feature in movies is a fantastic way to find some new favorites.
Plus, these drinks are now so well known that most are easy to order at a local bar. This is less stressful than trying for something obscure that your bartender has never even heard of before.
Drinks Popularized By Movies
White Russian
Vodka Martini
Vesper
Orange Whip
Red Eye
The Gibson
Cosmopolitan
French 75
Sweet Vermouth on the Rocks with a Twist
Suntory
Pinot Noir
Chianti
Chardonnay
Absinthe
Manhattan
Whiskey Sour
Singapore Sling
Sidecar
White Russian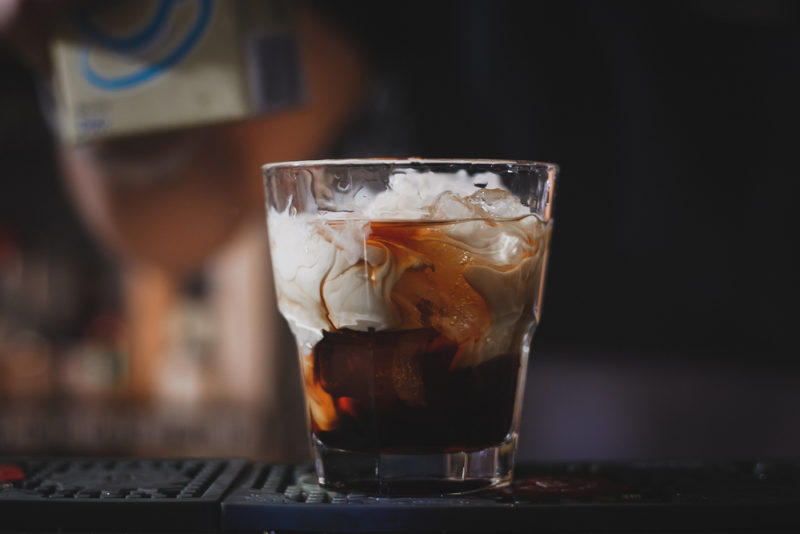 The white Russian is a well-known cocktail in its own right, and the movie The Big Lebowski elevated its status even further. In the film, 'the dude' seemed obsessed with the drink, either having one in hand or trying to make one.
The cocktail is a great one to try at home, as it is very easy to make. You only need three ingredients: vodka, heavy cream, and coffee liqueur (Kahlua is usually used). The cocktail is generally served on the rocks, although you could skip the ice if you want to.
The cocktail is often layered, so it is darker at the bottom and lighter at the top, with the cream swirling into the vodka and Kahlua mix. You can also mix all the ingredients together, creating a drink that looks much like a glass of milk.
Vodka Martini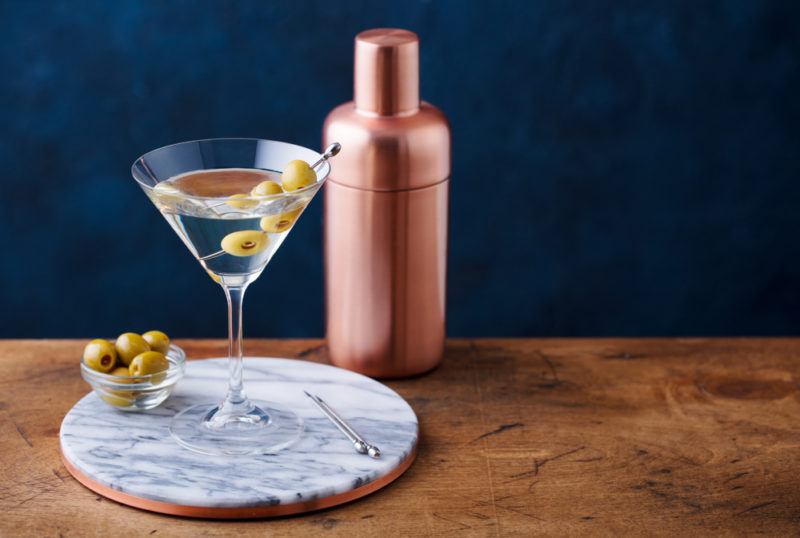 You probably already know where this cocktail got its fame from. James Bond has a habit of ordering vodka martinis throughout many of the Bond films.
There is a little controversy here too, as Bond famously wants his martini to be 'shaken not stirred', but martinis are traditionally stirred. Many purists argue that shaking the cocktail simply ruins it – creating an unappealing texture and even changing the flavor.
It's worth trying both approaches out for yourself and then deciding which type of martini you enjoy the most. You might not even be able to tell the difference, as martinis are strong and can be a little overwhelming for the newly initiated.
On a side note, Bond doesn't always order the same martini. This is particularly obvious in the books, as Ian Fleming is quite specific about the cocktails that are served. One version involves six parts vodka and one part vermouth, while another is simply specified as being dry. He even orders gin martinis at times.
Vesper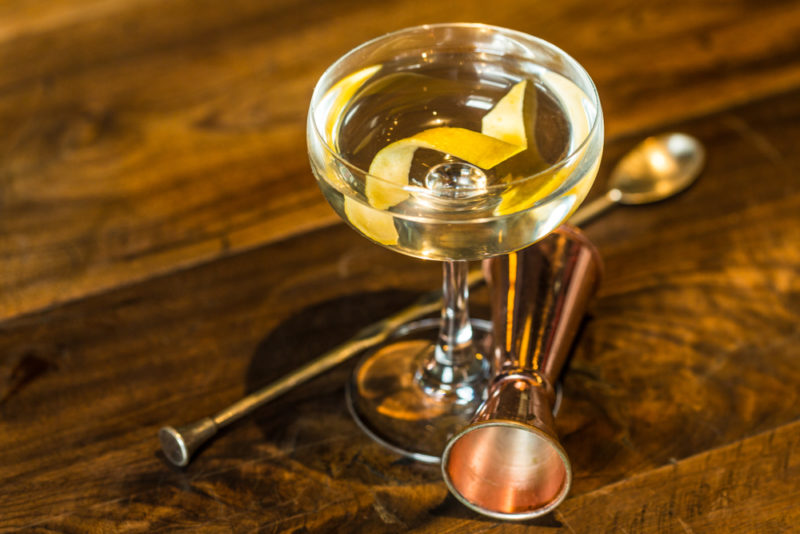 The Vesper cocktail is another one that gets its fame from James Bond. It initially comes from the Ian Fleming book Casino Royale and later featured in the movie of the same name. The original version relied on Gordon's gin (3 measures), vodka (1 measure), and Kina Lillet (half a measure). Kina Lillet is an aromatic wine that is no longer produced.
Modern versions of the cocktail rely on Lillet Blanc instead of Kina Lillet. This is a similar product in many ways, but it doesn't have the quinine that featured in Kina Lillet. This makes the modern versions of the Vesper a little bit different than Ian Fleming's original design.
However, you can get a little closer by adding in Angostura bitters, which helps offset some of the extra sweetness found in Kina Lillet.
Still, we're talking about cocktails from movies and the Casino Royal film is fairly recent, so making the cocktail with Lillet Blanc should more than adequate. Just be sure to garnish it with the traditional lemon twist.
Orange Whip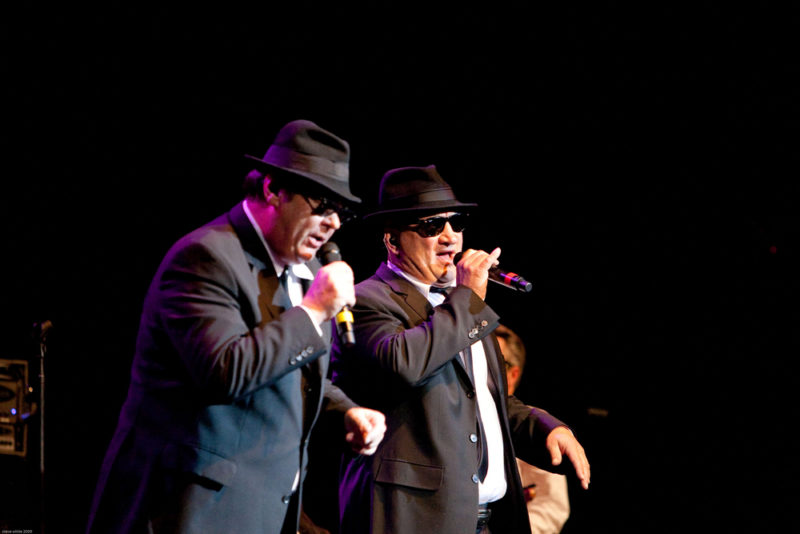 This cocktail gets its fame from Blues Brothers. It's a sweet cocktail with an interesting combination of orange juice, cream, rum, and vodka. The ingredients are normally blended together, which creates a milkshake-like consistency. You even get some foam on top.
Orange juice is the main ingredient here, followed by cream. The quantities of rum and vodka tend to be much lower, which makes this a low ABV cocktail.
There are variations to the recipe. Some versions rely on an egg white, orange juice, and orange sherbet, while others are different again.
While the orange whip was only mentioned in one scene, this single reference was enough to significantly increase the drink's popularity. And, interestingly enough, the orange whip line wasn't even in the original script.
Red Eye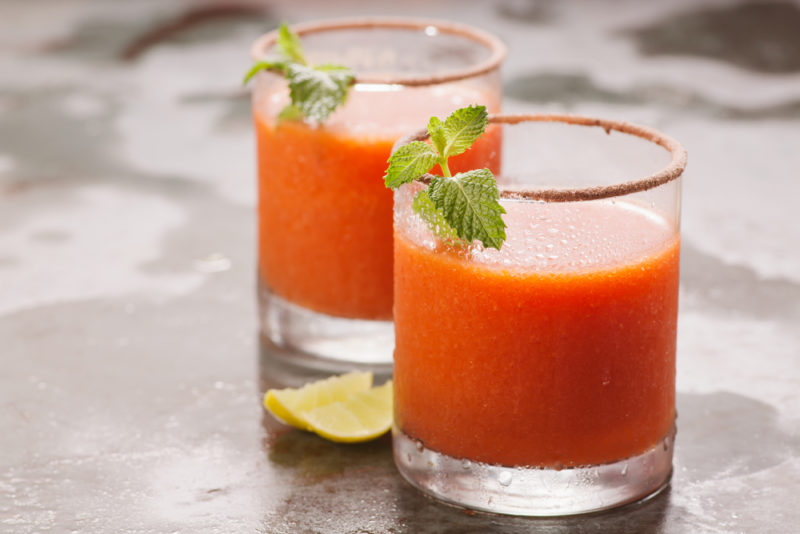 This drink comes from the 1988 movie Cocktail (starring a very young Tom Cruise) and sounds pretty strange at first glance. It relies on a raw egg, bloody Mary mix, and vodka. Then the whole mixture is topped off with a cold beer.
The cocktail is well-known as a hangover cure, which helps explain the choice of ingredients. It is still popular as a way to start the day after a night of heavy drinking. And, if nothing else, the cocktail is memorable.
You can also make it by just using tomato juice, rather than a full bloody Mary mix. Doing so would make the cocktail a little less complex, but just as enjoyable.
The Gibson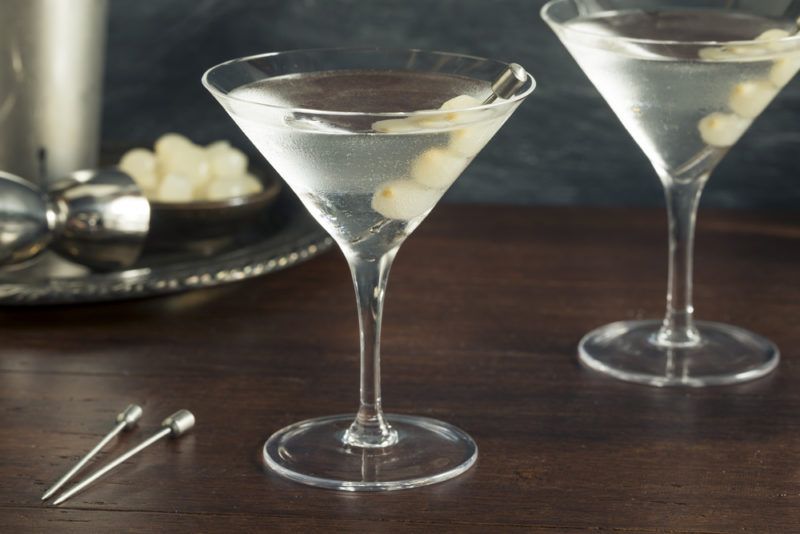 The Gibson might not be as famous as the martini, but it does feature in a movie too. This time, the drink harkens back to the North by Northwest, an Alfred Hitchcock movie from 1959. There is even an earlier appearance, in All About Eve, back in 1950.
The drink is a simple one, as it is literally just a dry gin martini that is served with a pickled pearl onion instead of an olive or a citrus twist.
Cosmopolitan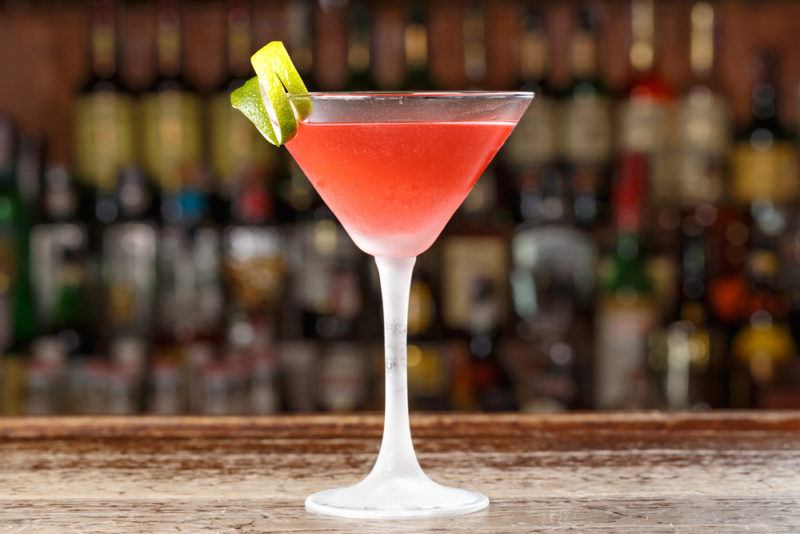 Ah the cosmopolitan. Sweet, easy-to-drink, and delicious – this single drink has ended up being many people's entry point into the world of cocktails. The cosmo mostly gets its fame from the Sex and the City TV series, but it features in the movies as well.
If you want to follow the Sex and the City girls, then you're looking at a cocktail with vodka, cranberry juice, Cointreau, and a little lime cordial. There are other versions of the recipe too, like ones that rely on flavored vodka and triple sec rather than Cointreau.
It's easy to see the cosmopolitan as a girly drink, especially with its color and the link to Sex and the City. But, that reputation came from Sex in the City; it wasn't there beforehand.
The cosmopolitan packs a surprising punch too, as Cointreau is full proof and is roughly 40% ABV. So, in the end, a cosmo is stronger than many similar cocktails.
French 75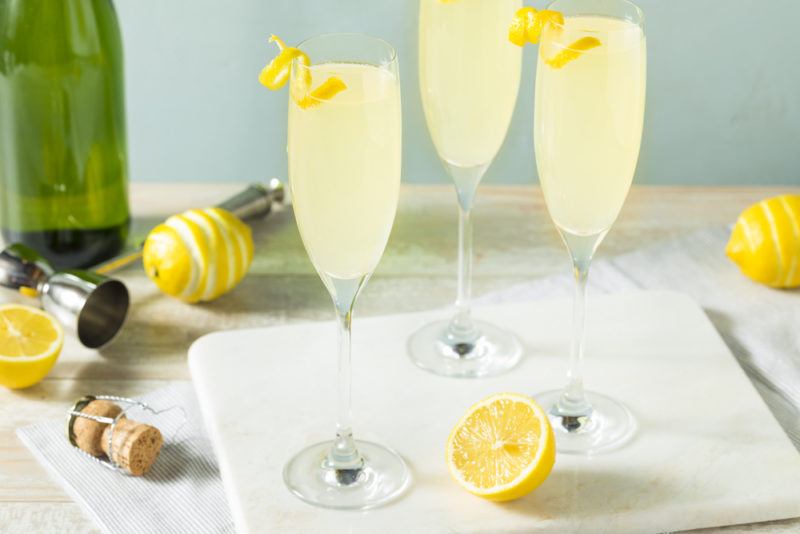 The French 75 is probably the most well-known champagne cocktail. You start off with lemon juice and muddled sugar, then add cognac. The ingredients are mixed and then the drink is topped up with champagne.
You end up with an easy-to-drink and refreshing cocktail. The drink's fame comes from Casablanca, where the partner of one of the characters orders a French 75.
Sweet Vermouth on the Rocks with a Twist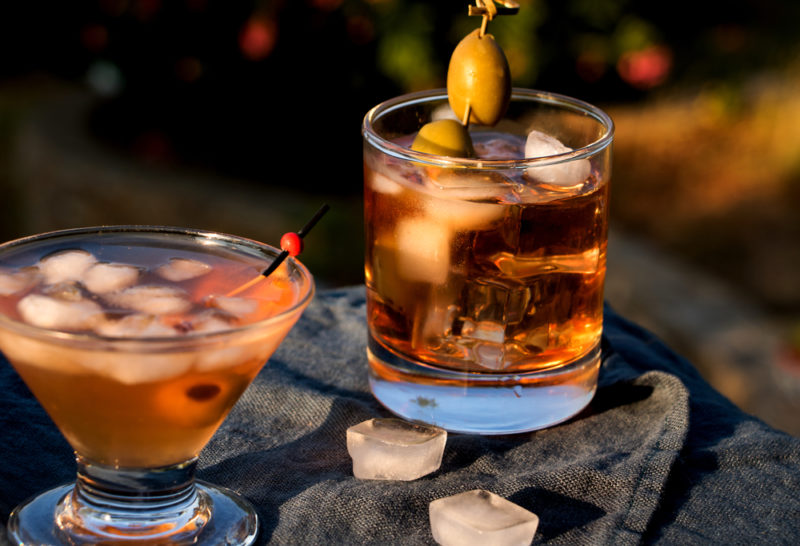 This unusual drink comes from Groundhog Day. The drink is exactly what the name suggests – sweet vermouth in a glass over ice with a twist of lemon as a garnish.
It's an unusual drink because sweet vermouth isn't normally consumed neat. The fortified wine is normally just used as a martini ingredient (and occasionally in other cocktails). Even then, dry vermouth tends to be more popular.
Still, the sweetness makes this little number very easy to drink. The alcohol content can be appealing too, as vermouth tends to have a little more alcohol than wine (around 16% to 18% ABV compared to 9% to 14% for wine), but still contains less alcohol than straight spirits or many cocktails.
Suntory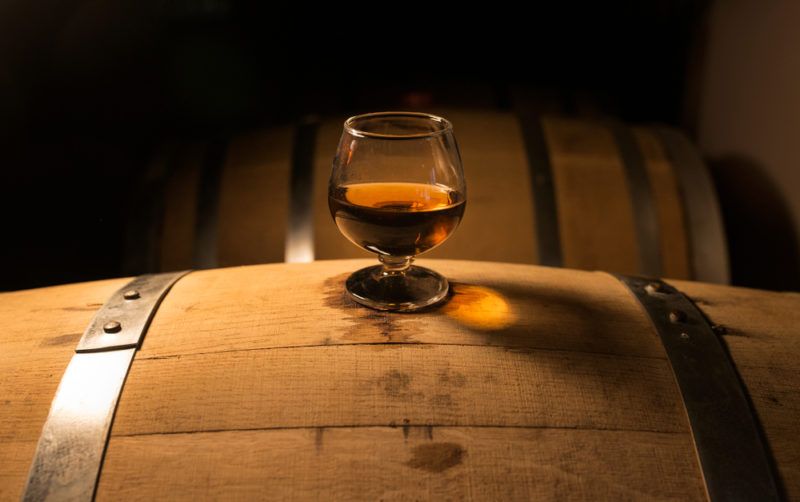 This one is a little different. Suntory is a whiskey brand, rather than a cocktail. It was made famous through the Lost in Translation film, starring Bill Murray. In that film, Bill Murray's character is meant to star in an ad for the whiskey.
Suntory is notable because it is a Japanese whiskey brand. It is now one of the easiest Japanese whiskies to find in the United States, and Lost in Translation may have something to do with that.
Pinot Noir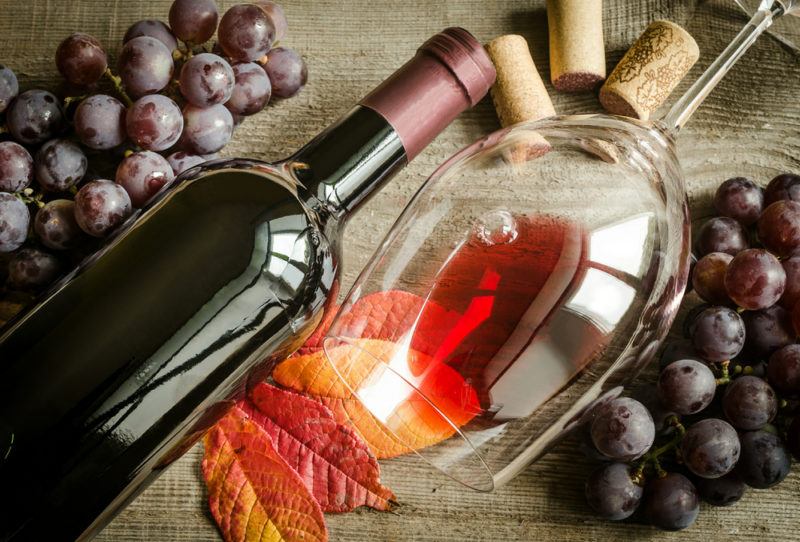 Some films have focused on a single type of wine, making it popular for a while. In Sideways, the wine of choice was Pinot Noir, with the character Miles loving Pinot Noir and hating Merlot with equal passion.
Movies that focus on a single type of wine can be helpful. Sure, the viewers already knew about Pinot Noir before watching Sideways, but wine can get overwhelming fast, as there are so many different types out there. Hearing a character love a single type of wine may be enough to inspire someone to try it out for themselves.
Chianti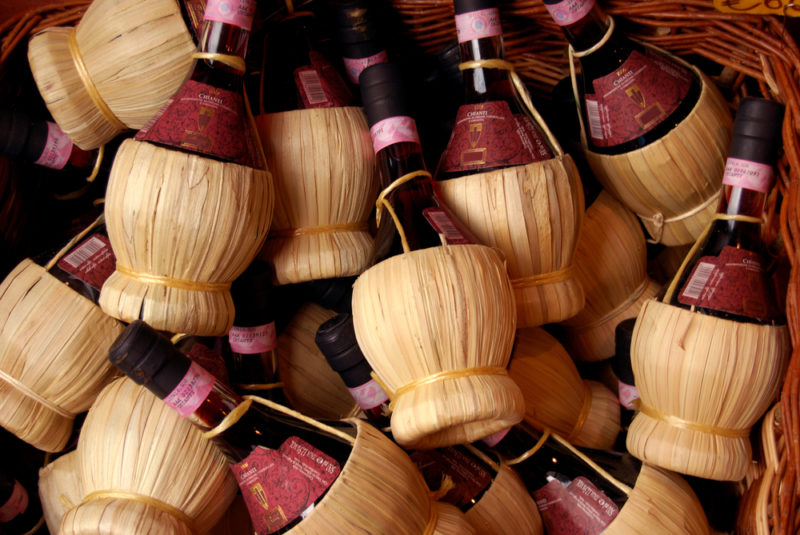 Do you know this reference? Chianti saw a spike in popularity following Silence of the Lamb. The character Hannibal Lecter talks about enjoying a man's liver, along with fava beans and some chianti.
That image might be enough to put you off the blood-colored wine for a little while. Still, if nothing else, the reference is likely to stick in your head.
The line also suggests a nice pairing to try – chianti, fava beans, and liver. Of course, unlike Hannibal Lecter, the liver you choose will come from an animal rather than a human.
Chardonnay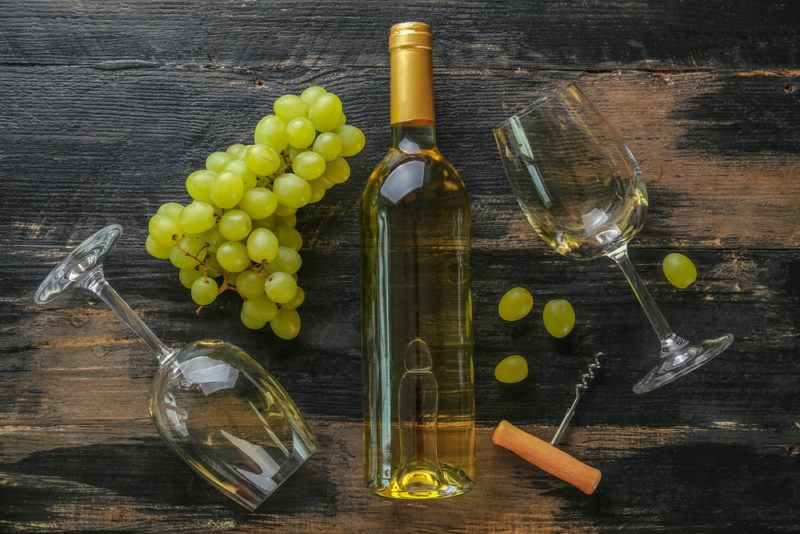 Chardonnay saw a popularity boost through the movie Bridget Jones's Diary, even though it isn't the only type of drink featured in the movie. Still, chardonnay works well in the context of the film, reminding viewers that Bridget is still ladylike, even if she doesn't always behave that way.
Chardonnay is a popular white wine and can be exceptional when you're pairing white wine and food. It often has some buttery tones that aren't found in most other white wines.
However, opinions of chardonnay are mixed. While many people do enjoy this type of wine, others prefer a crisper and more refreshing white wine.
Absinthe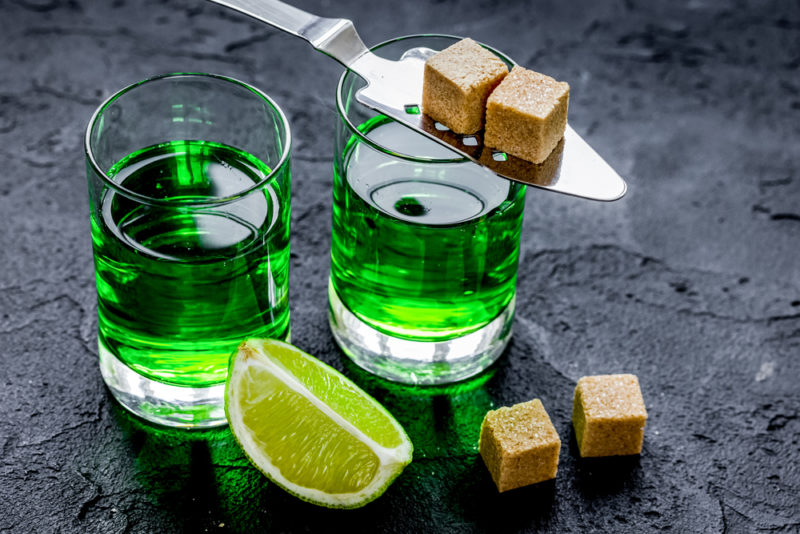 Absinthe most famously featured in Moulin Rouge! although the drink has been seen in other movies as well. It is an anise-flavored spirit, where the alcohol content ranges from 45% ABV all the way up to 74%.
The high alcohol content isn't the only reason for interest in the spirit. It has an air of mystery and rebellion to it, as absinthe was banned in the United States and much of Europe from the early 1900s.
That ban was partly linked to the compound thujone found in the drink, which is toxic. Of course, the ban also came about because of society at the time and link that was often made between alcohol and degeneracy.
While many claims were made about the effects of absinthe and its dangers, modern tests show that there isn't all that much thujone in the spirit to begin with. In practice, most people would die of alcohol poisoning before they had reached a lethal dose of thujone.
Absinthe bans have now mostly been lifted and the drink is experiencing a revival. Moulin Rouge! almost certainly played a role in absinthe's modern resurgence.
There is also this idea that absinthe gives drinkers hallucinations, which is one reason that it was popular among many artists. Such claims are the stuff of myth and, in the end, absinthe is simply a strong spirit.
Manhattan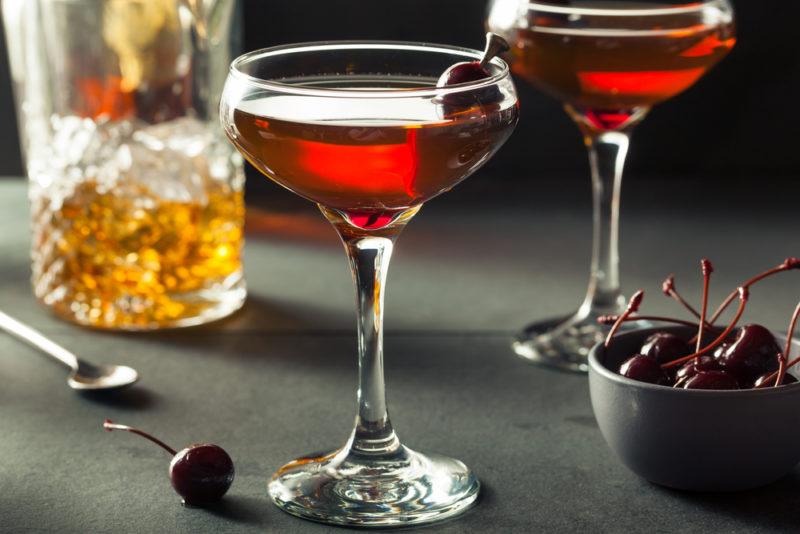 We're going back to a 1959 classic with this drink reference – as the Manhattan was the classic drink of the movie Some Like it Hot. This movie itself is famous too, as it features Marilyn Monroe, mobsters, and a pair of cross-dressing men.
The Manhattan turns up during an impromptu cocktail party during the pair's escapades. And honestly, the movie is worth watching for that scene alone.
There are multiple versions of this cocktail, but sweet vermouth, whiskey, and Angostura bitters generally feature. A 2:1 ratio of bourbon to sweet vermouth is the classic ratio. Finish it off with a maraschino cherry as a garnish.
Traditional Manhattan recipes call for rye whiskey, which has a somewhat spicy flavor profile and makes the drink stand out. Other versions use bourbon instead. This gives you a mellower drink that is just as enjoyable.
You can make other changes too. For example, flipping the ratios of sweet vermouth and whiskey will give you a reverse Manhattan, while adding orange bitters as well as the Angostura helps to make the cocktail a little brighter. You can even make a perfect Manhattan by using an equal mixture of dry vermouth and sweet vermouth.
Whiskey Sour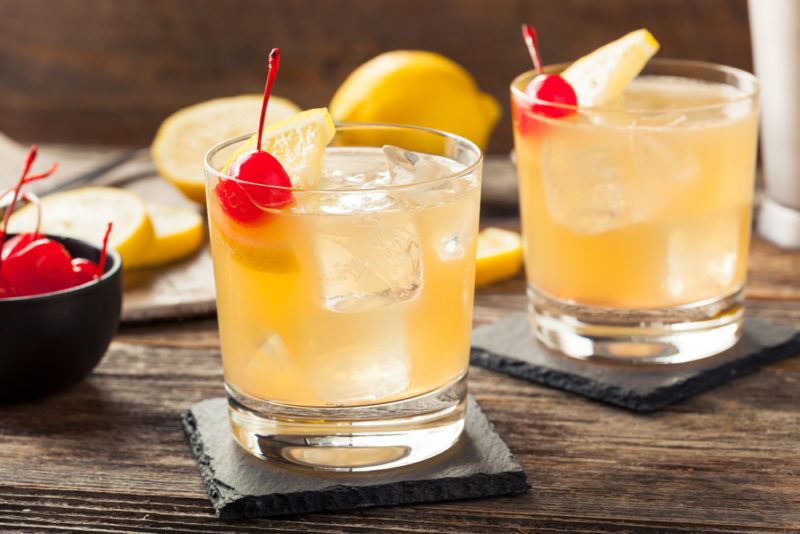 You'll find the whiskey sour featured in The Seven Year Itch, which is another Marilyn Munroe film. The drink is more complex than some of the others on this list, as it relies on bourbon, lemon juice, sugar syrup, and egg white. The sugar and lemon juice are what creates the sweet-sour balance of the cocktail, while the egg white is used to give the cocktail some texture.
Some people skip the sugar entirely. This creates a more intense drink that can be a little overwhelming for beginners. If that's too much, you could try dropping down the amount of sugar, rather than cutting it out entirely.
Singapore Sling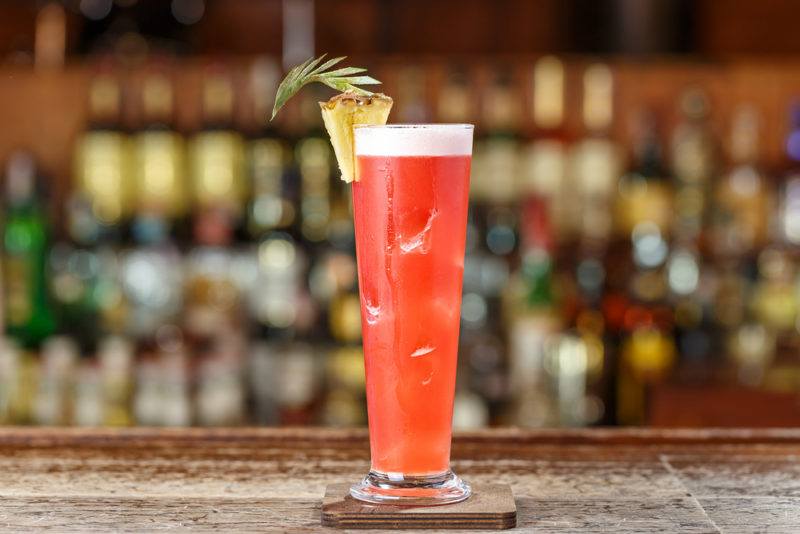 The Johnny Deep movie Fear and Loathing in Los Vegas featured a variety of drinks, but the Singapore sling is easily the most memorable. The name alone makes the cocktail stand out, while the ingredient profile is even more impressive.
Gin and cherry brandy are the main spirits in the cocktail. Other ingredients include Benedictine, angostura bitters, grenadine, lemon juice, orange liqueur, and pineapple juice. With an ingredients list like this, it shouldn't surprise you that the cocktail has a complex flavor profile.
But, there isn't just one Singapore sling recipe out there. There are many versions to choose from, each with its own distinct features. Most rely on gin, citrus, soda, and sweetener, although even that pattern isn't guaranteed.
The most consistent things about the different Singapore Sling recipes are that they tend to be fruity and tend to be strong. It's easy to drink more than you intend to, as the sweetness masks that alcohol content somewhat.
Sidecar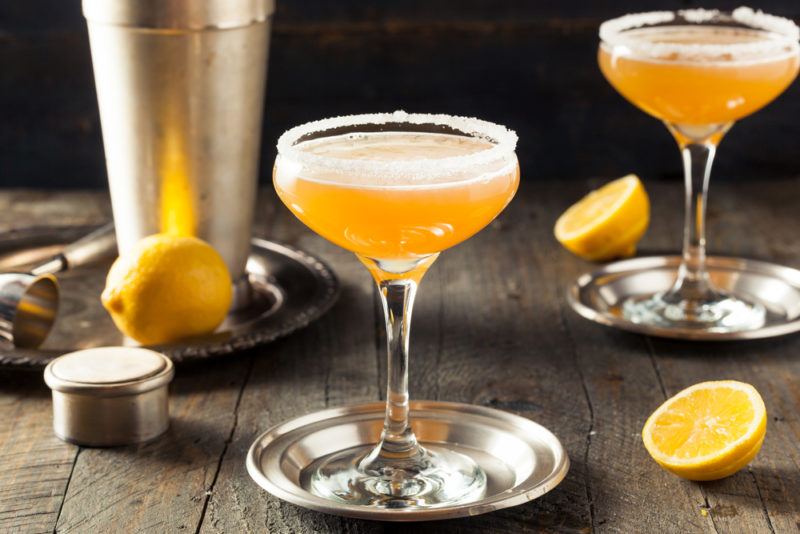 This drink reference is a little more obscure. It comes from the film Bonfire of the Vanities and is ordered by a character who isn't supposed to be drinking.
The sidecar is, of course, one of the classic cocktails. It mightn't be as popular now as it was in its heyday, but many people still order it regularly.
The sidecar is an easy drink to make too, as it is simply a three-ingredient cocktail. Cognac is the star ingredient. The other ingredients are lemon juice and some type of orange liqueur. Cointreau is often the orange liqueur of choice, but it isn't the only option.