Ah, the 80s. It was a time to remember, that's for sure, what with big hair, leg warmers, neon colors, high-waisted jeans, and many more 'fashion' statements. With so many stand-out features of the era, it's easy to forget about the bar scene. Or, perhaps you want to forget, as the bar scene then certainly isn't what it is now. Indeed, many 80s drinks skipped the fresh ingredients and bartending skills, and chose to rely on premixes instead – including powdered sour mix.
Seriously, what were we thinking?
Most of us wouldn't choose 80s drinks for their flavor. Even so, nostalgia is always a delicious guilty pleasure. Why not take a trip back to the past and experiment with some of the 80s classics?
In this list, we're rounding up our favorite 80s drinks. Most of them are cocktails, so you can easily recreate them at home. Perhaps for an 80s party?
If the original versions don't sound that appealing, why not vary the recipe? Adding bourbon to your amaretto sour, for example, gives the drink much more nuance. You can do the same thing for cocktails from other eras, like ones from the 70s or even the 20s.
Drinks From The 80s
Sex On The Beach
Long Island Iced Tea
White Zinfandel
Bartles & Jaymes Wine Coolers
Slippery Nibble
Between The Sheets
Light Beer
Alabama Slammer
Pina Colada
Cosmopolitan
Tequila Sunrise
B52
Fuzzy Navel
Amaretto Sour
Blue Curacao Cocktails
Harvey Wallbanger
Bucks Fizz
Snowball
Sex On The Beach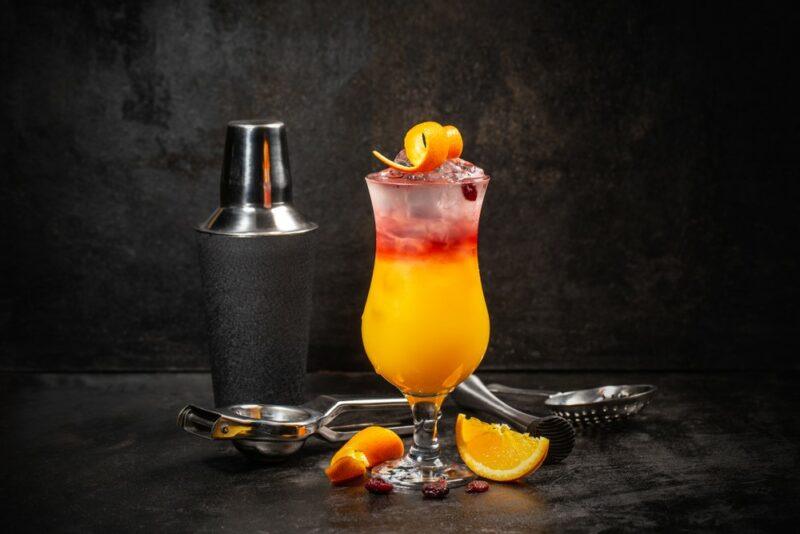 How do you know that a cocktail comes from the 80s? Because it's sweet and has a suggestive name. Okay, admittedly many 80s drinks don't fit either of those criteria, but a surprising number of them do.
With four (sometimes five) ingredients, the cocktail might seem complicated at first. Don't worry though. The main ingredients are easy to find and the cocktail comes together nicely.
To make the drink yourself, you'll need vodka and peach schnapps for the alcoholic quotient, with cranberry juice and orange juice to balance it out. This is a tall drink, so you're using a decent amount of fruit juice and you end up with a sweet, fruity, and delicious cocktail.
Chambord or crème de cassis can be added as an optional fifth ingredient, giving you a more complex drink.
Some people change things up by swapping out the orange juice for pineapple juice instead.
Long Island Iced Tea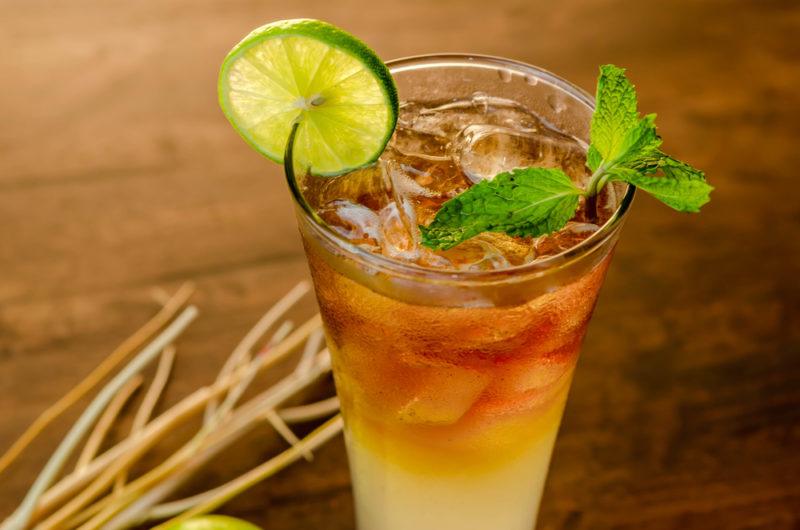 This cocktail was invented in the 70s and remained incredibly popular into the 80s (and is still damn popular today). Like most 80s drinks, there's nothing refined about a Long Island Iced Tea at all.
Instead, the drink is a mess of different spirits, including vodka, white rum, gin, tequila, and triple sec. There is some simple syrup in there and lemon juice, then the whole thing is topped off with cola.
The cocktail doesn't sound like it should work. Yet, somehow, it does. The flavors balance each other out surprisingly well, while the sweet and sour combination masks some of the alcohol.
You end up with a strong cocktail that is shockingly easy to drink. No wonder it was such a hit in the 80s.
White Zinfandel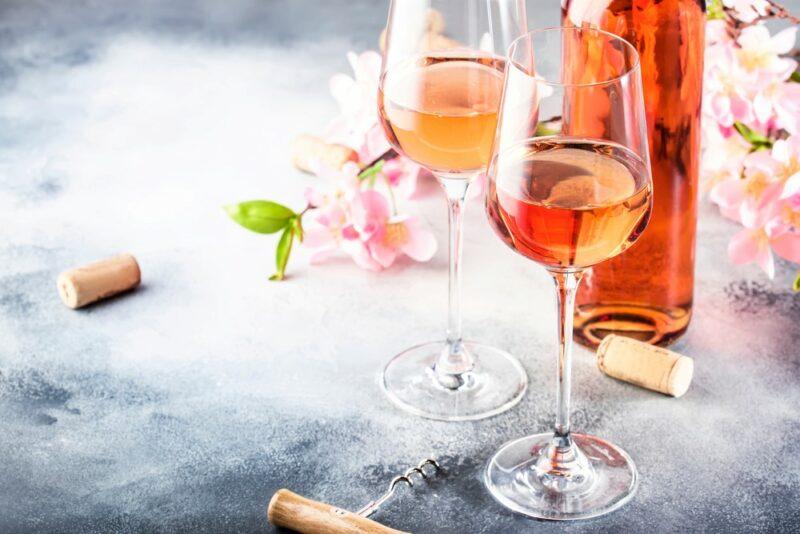 Here's another drink that's still served today, although white zinfandel certainly isn't as popular as it once was. In the 80s, the sweetness of white zinfandel made it an instant hit, especially as the wine is also pink and goes down a treat.
Wine snobbery wasn't as such a big thing then either, so it was easy enough to enjoy your glass of white zinfandel without any judgment at all.
Although seriously, if you love white zinfandel, don't let wine snobbery put you off. Let's just drink what we enjoy and be done with it. Who has time to stress about the 'right' drinks?
Bartles & Jaymes Wine Coolers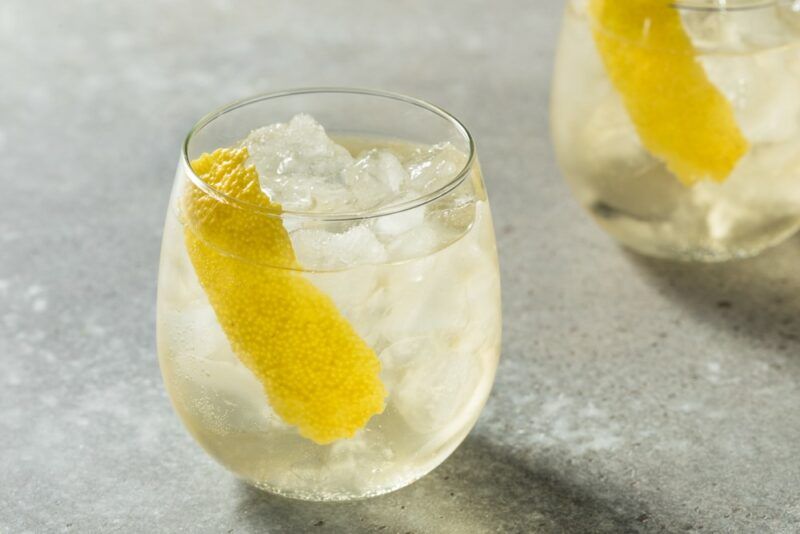 Wine coolers were popular in the 80s too and few brands made their mark like Bartles & Jaymes did. The strangely old-time style of their commercials may be partly responsible for the company's success, but the flavor and quality of their products were just as important.
In fact, Bartles & Jaymes were one of the few companies in the field to use real wine in their coolers, rather than malt liquor. This meant that they couldn't keep prices down low enough to stay competitive, but Bartles & Jayme's wine coolers were certainly loved when they were around.
Slippery Nibble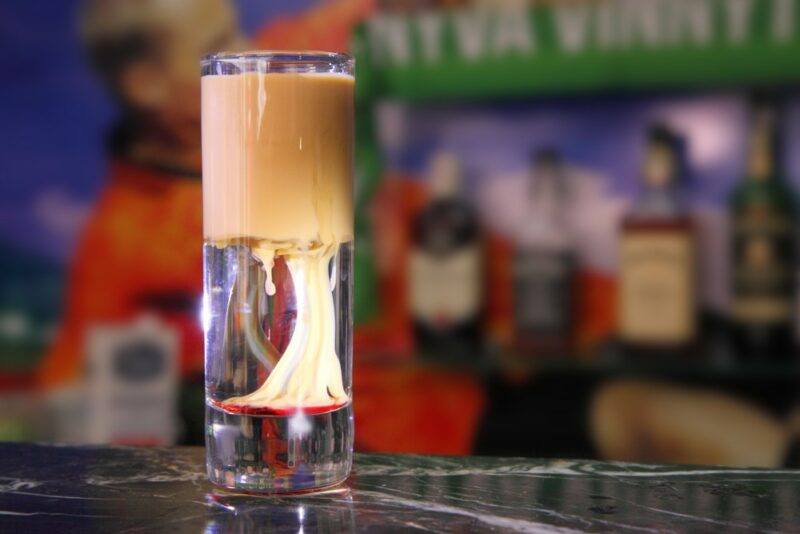 The slippery nipple shot is as fun to drink as it is to say. I mean, let's be honest, how many of us have ordered this one at least once just because of the name?
The simplest version of the drink involves just two ingredients: Irish cream liqueur and sambuca (which has an anise flavor). While the flavors of Irish cream liqueur and sambuca don't complement each other exceptionally well, you do end up with a pretty layered effect without too much work.
To make the drink look even more stunning, add a little grenadine as the bottom layer in your glass. This creates a three-layer effect and even more sweetness (not the drink needs to be any sweeter).
There are also some fun variations to try out, like the fuzzy nipple, which uses peach schnapps, and the buttery nipple, where butterscotch schnapps features.
Between The Sheets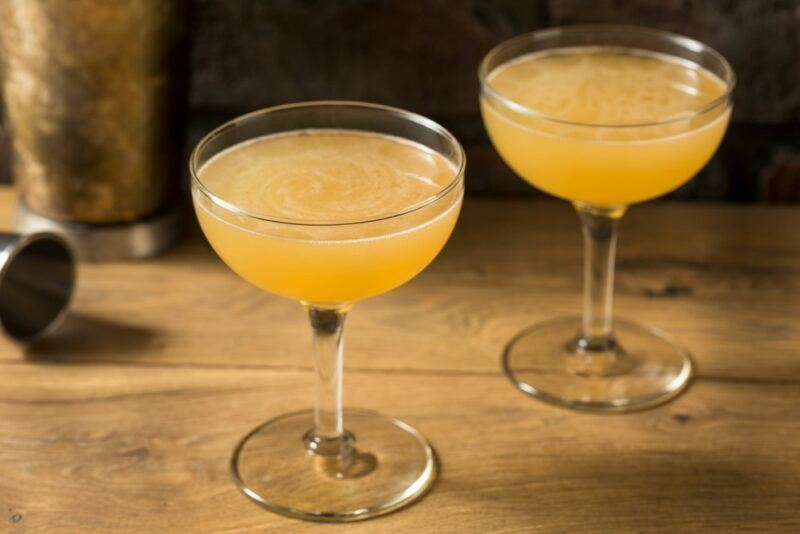 This cocktail actually comes from the 1930s, but the innuendo in the name was enough to make between the sheets incredibly popular in the 1980s too. Don't worry though, between the sheets isn't an overly sweet low-quality cocktail. It's actually a delicious one.
The main ingredients include lemon juice, triple sec, cognac, and rum. With three alcoholic ingredients, this ends up being a potent drink, one that's best served in small glasses.
Light Beer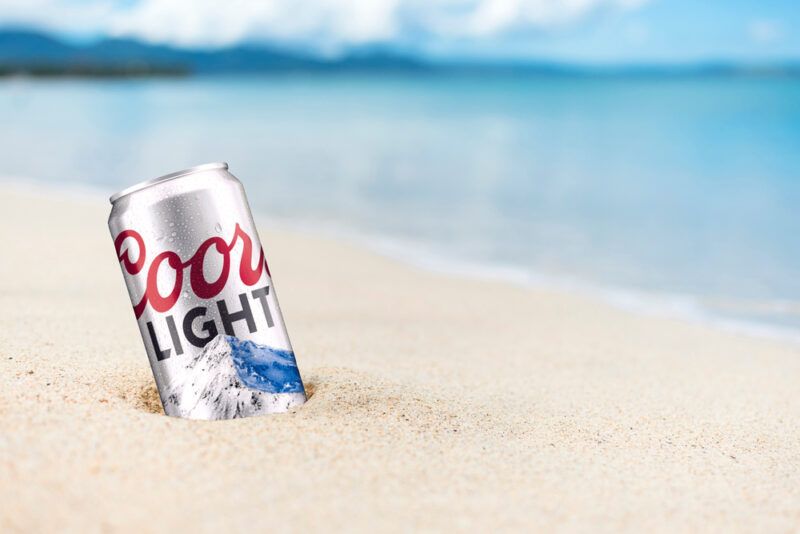 Light beer is still a thing, but it was even more popular in the 80s. For some reason, cocktails tended to be sugary and calorie-heavy, while beer was light instead. Perhaps the light beer helped to balance everything out.
Coors Light was a popular choice here, not because it was an amazing beer, but because there weren't many other good choices.
Alabama Slammer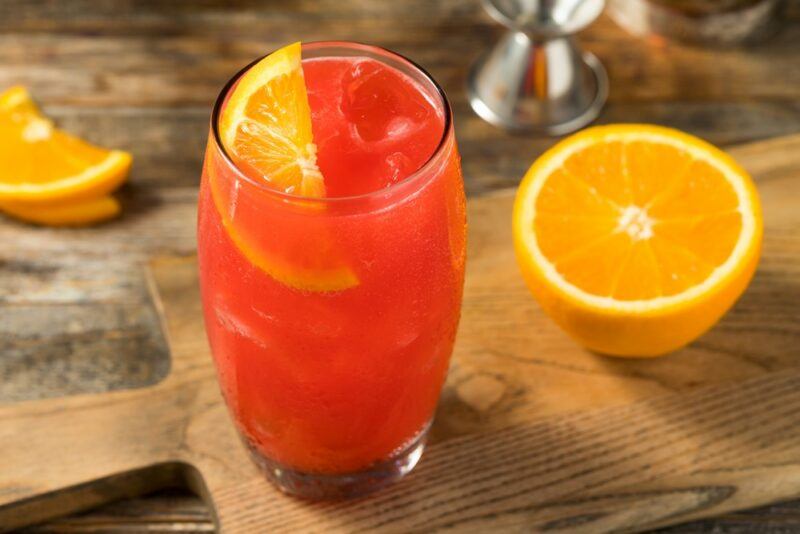 The Alabama slammer has the bold colors and sweetness that you often see in 80s cocktails, even if the name isn't a sexual innuendo. That being said, the drink did feature in the Playboy Bartender's Guide back in 1971, so it does have some sexual history.
As for ingredients, you're looking at Southern Comfort, sloe gin, amaretto, and orange juice. The combination sounds like what you'd get after raiding your parent's liquor cabinet, but surprisingly, the drink flavors do work.
The cocktail's popularity took off in 1988 after the movie Cocktail. Some people still make Alabama slammers regularly, but the cocktail's popularity has certainly faded.
Pina Colada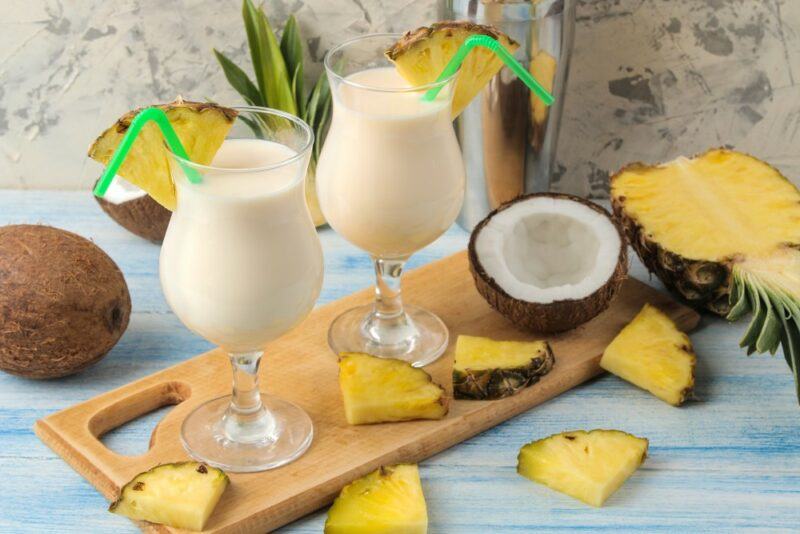 The pina colada is one of those cocktails that just keeps giving. It's a famous 80s choice, partly because of Escape (The Pina Colada Song), which came out in 1979.
The cocktail uses rum as the spirit of choice, with coconut cream and pineapple juice balancing out the flavors. You end up with a creamy, sweet, and delicious drink, one that's forever associated with tropical holidays.
80s versions of the pina colada often relied on syrups for some of the flavor, along with low-quality rum, creating a mediocre drink. You can make a much better version by relying on fresh pineapple juice, high-quality coconut cream, and decent rum.
Cosmopolitan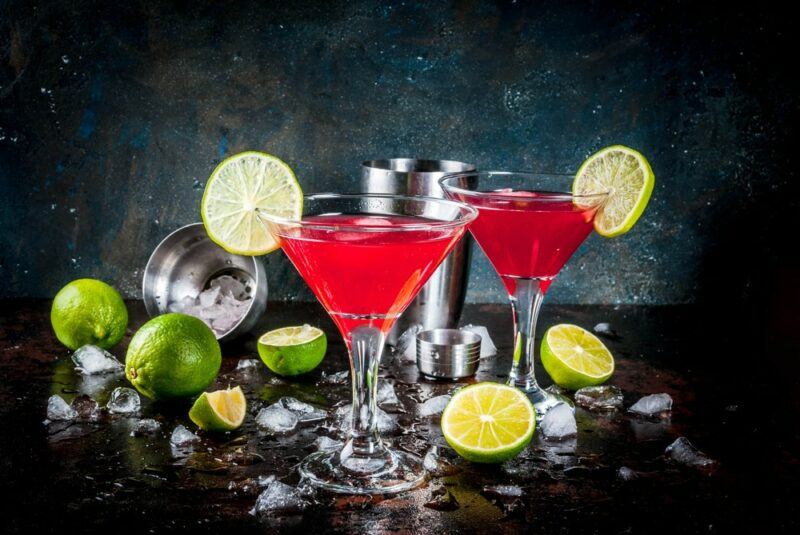 The cosmopolitan is an instantly recognizable cocktail. It actually has a long history and wasn't always seen as a women's drink. However, all that changed with the show Sex and the City, which brought cosmopolitans into the limelight.
Part of the popularity came from the color of the drink. Plus, cosmos are pretty, easy to drink, and contain more alcohol than you might expect. What could be better for a night on the town?
The drink is often made using cranberry juice, lemon vodka, triple sec, and a little lime juice. Some versions add maple syrup or another ingredient for extra sweetness, but honestly, this isn't needed.
Tequila Sunrise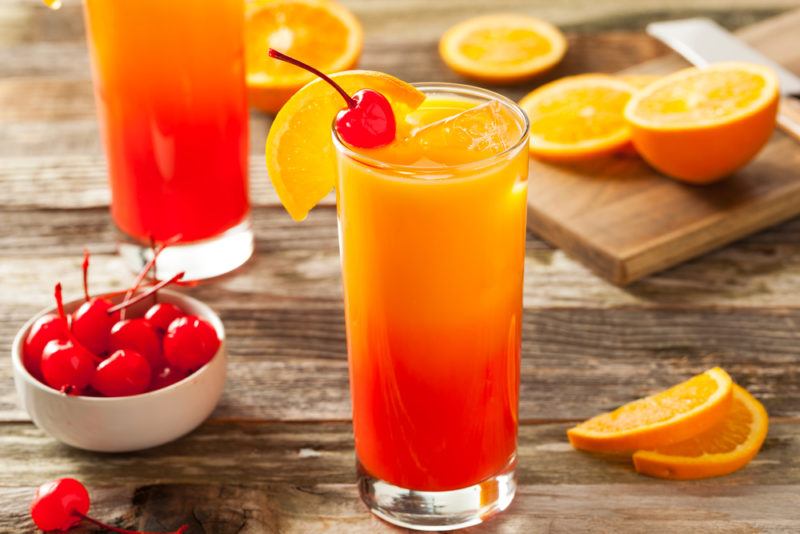 It's hardly surprising that this cocktail saw its time in the sun in the 80s, as it's sweet, bright, and looks great in the glass. Most of the flavor comes from the combination of orange juice and tequila, while the splash of grenadine gives the drink its sunset-like appearance.
Like many cocktails, this one can be excessively sweet and unappealing if made poorly, but very delicious if made well. If you really want to go the extra mile, try making your own grenadine. Doing so gives you a more balanced ingredient, one that isn't too sweet.
B52

The B52 is a reminder of how odd shots can be. It's a three-layered job, one that relies on Kahlua, Bailey's Irish Cream, and triple sec. If you get the layers right, then it looks fantastic.
And, somewhat surprisingly, the shot actually tastes good too. The flavors meld together, giving you a shot that tastes much like caramel with a touch of orange. In fact, the flavor is interesting enough that you could drink the shot slowly, rather than having it all in one go.
Fuzzy Navel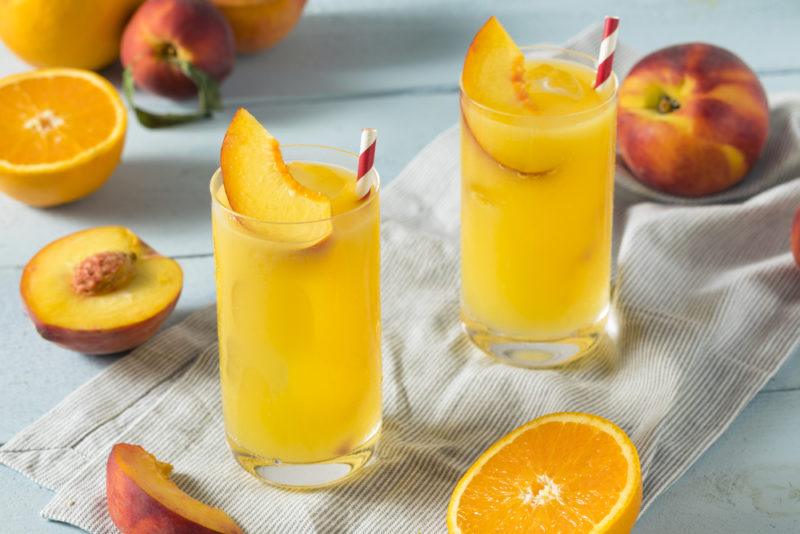 Some 80s cocktails were incredibly simple, including the fuzzy navel, which just relies on two ingredients – orange juice and peach schnapps. Not surprisingly, you end up with a sweet orange drink that goes down easily.
This cocktail is mostly a light one, as peach schnapps is often between 15% and 20% ABV. Still, light cocktails aren't always a problem. They're perfect when served during lunchtime events or before dinner.
Because there are only two ingredients here, the quality of your orange juice really matters. A fuzzy navel made with freshly squeezed orange juice is hundreds of times better than with reconstituted juice from a bottle.
Amaretto Sour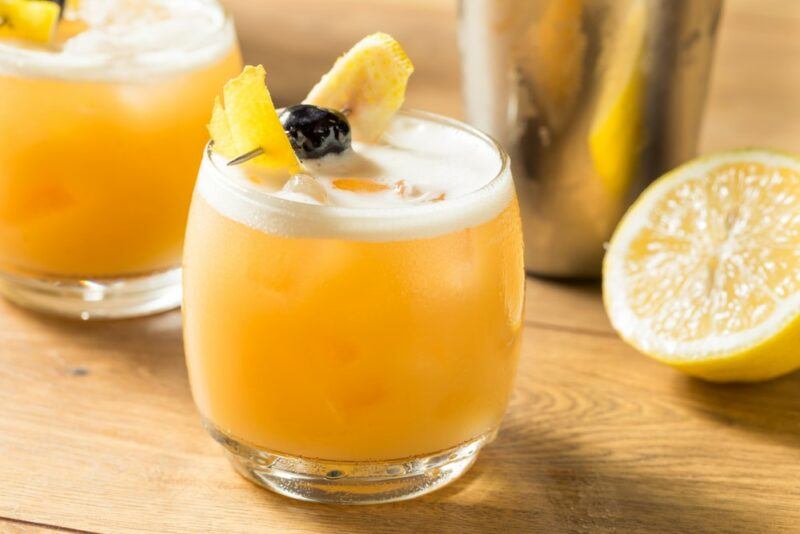 The amaretto sour suffered the same fate as many 80s cocktails, in that it tended to rely on a sour mix, rather than using fresh lemon juice. This approach gives you an overly sweet drink that is exactly what you would expect from the 80s.
Indeed, the original drink used amaretto, sour mix, and sometimes a splash of orange juice. It's a cocktail that few people miss (except, perhaps, those who forgot what it originally tasted like).
These days, bartenders have made the drink their own by following the style of other sour cocktails. One version relies on amaretto and bourbon, along with fresh lemon juice and simple syrup. These ingredients give you a more balanced cocktail, one with an interesting combination of flavors.
Blue Curacao Cocktails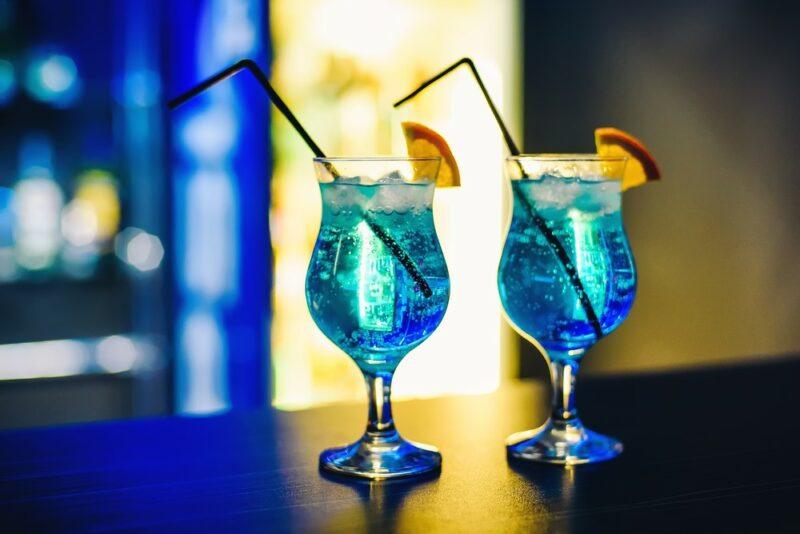 Brightly colored drinks were all the rage in the 80s, so it's no wonder that blue curacao was such a popular ingredient. The liqueur is orange flavored, but has a deep blue color, making it a fun cocktail choice.
One classic 80s choice is the blue lagoon, which combines blue curacao, vodka, and lemonade. Some versions switch it up slightly by using lime juice and lemon-lime soda. Either way though, you get a light blue tropical drink that's still popular today.
The blue lagoon is just one example. There are countless other blue curacao cocktails out there, with bartenders often experimenting to make their own.
Modern bartenders are starting to bring blue curacao back again, but this time, there's a focus on creating elegance and nuanced flavors, rather than overly sweet drinks.
Harvey Wallbanger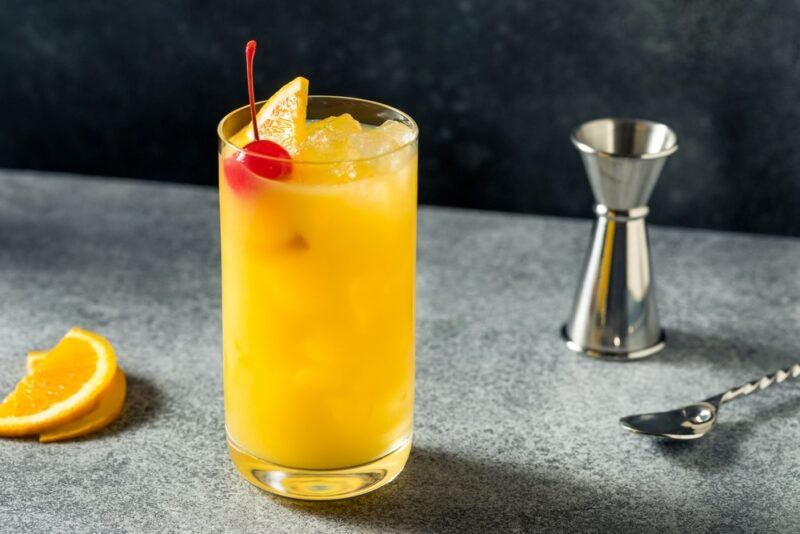 Harvey Wallbanger is a classic 80s cocktail that couldn't be simpler. It only uses three ingredients: vodka, Galliano, and orange juice.
Of course, we're really just talking about a screwdriver with a little Galliano added as a layer on the top. The Galliano might seem a little pointless, as it doesn't change the color of the drink much at all. However, it does add an interesting flavor, giving you something a little more than just alcoholic orange juice.
Just be sure to choose decent vodka and fresh orange juice. With so few ingredients in the cocktail, the quality of each one is crucial.
Bucks Fizz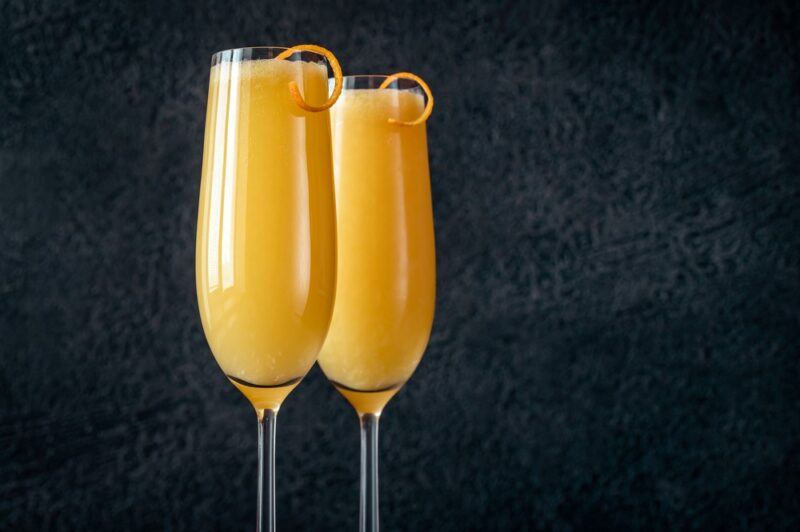 Bucks Fizz was an 80s pop band that was incredibly popular. It's not surprising that the cocktail with the same name also took off in popularity.
Honestly though, there's nothing particularly special about the cocktail. A bucks fizz is like a mimosa, except that bucks fizz is meant to be made using two parts sparkling wine to one part orange juice, while a mimosa is meant to be a 50-50 mix.
Besides, let's be honest, many of us don't pay too much attention to the suggested ratios of orange juice to wine. We use whatever combination feels right at the time. That might mean preparing a more orange juice heavy drink early in the day and a more wine heavy one in the evening.
Snowball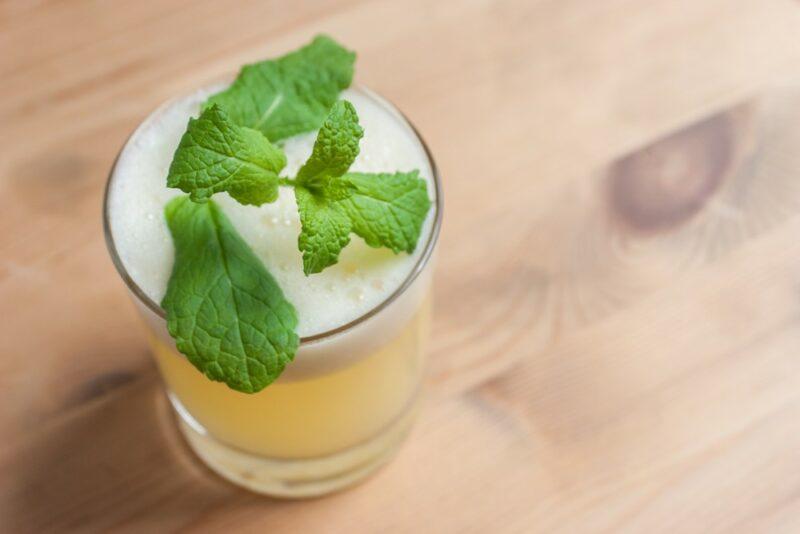 A snowball cocktail is a fantastic choice for Christmas parties, partly because of the light color. It relies on advocaat and cognac as the alcohol of choice. There is also some sparkling lemonade and some fresh lime juice.
Some versions skip the cognac and just use advocaat instead.
Either way, you end up with a fairly light drink that looks pretty in the glass. You can even mix it up and make a champagne snowball, which uses champagne instead of lemonade.