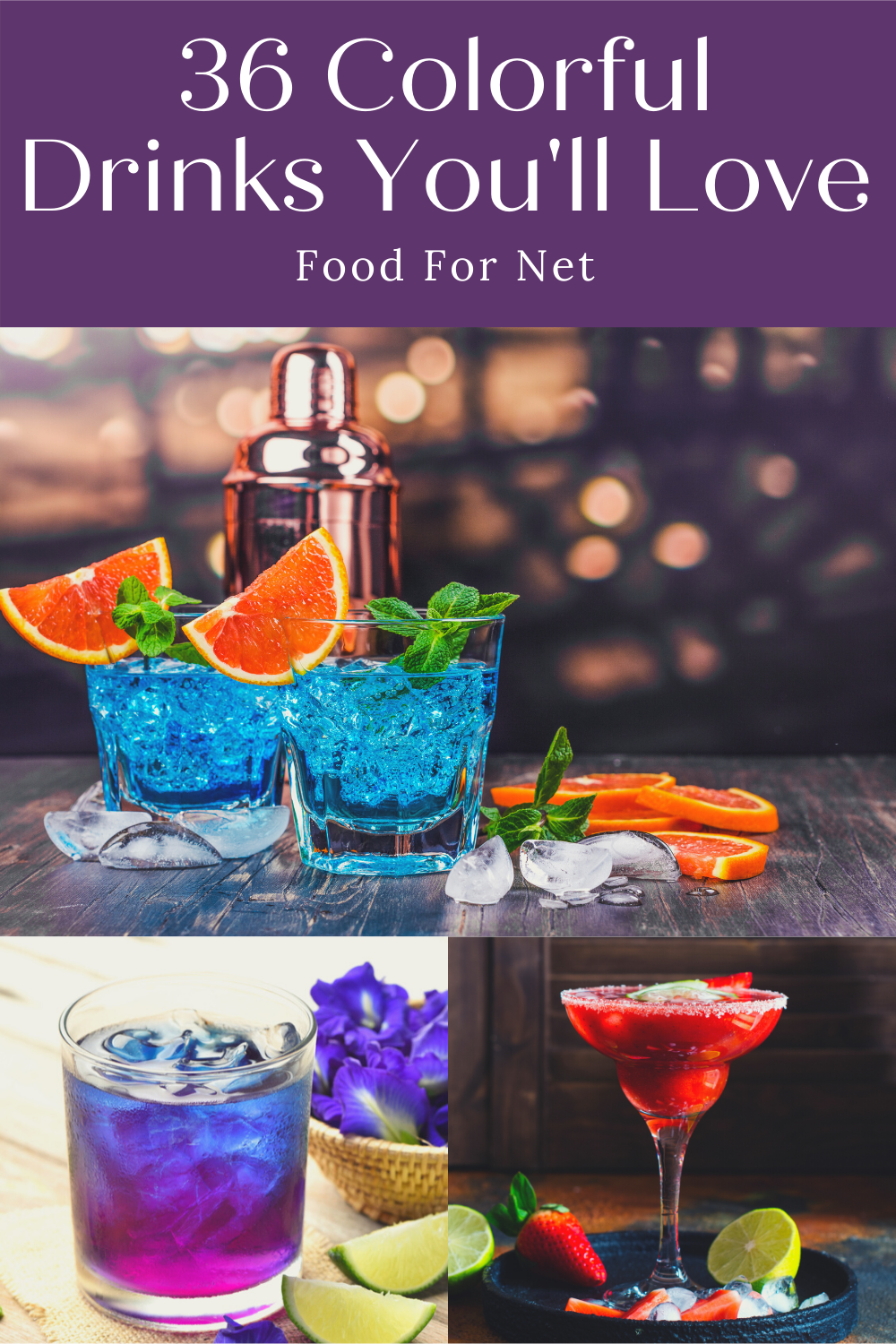 Some of the drinks that you order at a bar or make at home are stunning. They stand out from the crowd and often taste pretty amazing too. Others are, well, drab. Thankfully, the colorful ones aren't difficult to find. You'll probably be familiar with some of them already. Others might be entirely new to you.
Colorful cocktails are often created with a focus on appearance, so you know that you're getting something designed to impress. Don't worry though. Mixologists go to great efforts to make sure that their cocktails still taste delicious too.
In this list, we're featuring a wide selection of colorful drinks. They're all alcoholic and most of them are cocktails, but there are a couple of shots in the mix too.
You'll often be able to order these cocktails at a bar, especially classics like a tequila sunrise, bellini, or sex on the beach. Others might need to be made at home instead, as they rely on unusual ingredients or simply aren't well known.
If you're looking for more ideas, why not check out our lists of three-ingredient cocktails or dessert cocktails. You could even join a cocktail of the month club, where ingredients and instructions are shipped out to you every month.
Colorful Drinks
Negroni
Mezcalita
Tequila Sunrise
Tequila Sunset
Rob Roy
Harvey Wallbanger
Americano
Bellini
Paloma
Sex on the Beach
Blue Lagoon
Blue Margarita
Other Blue Curaçao Cocktails
Mango Margarita
Aperol Spritz
Grasshopper
Singapore Sling
Mimosa
Kir
New York Sour
Millionaire
Gold Rush
El Diablo
Melon Patch
Sea Breeze
Fruit Martini
Hurricane
Chatham Artillery Punch
Galaxy Cocktails
Bloody Mary
Cosmopolitan
Zombie
American Layered Cocktail
Irish Flag Shooter
Melon Ball Shots
Negroni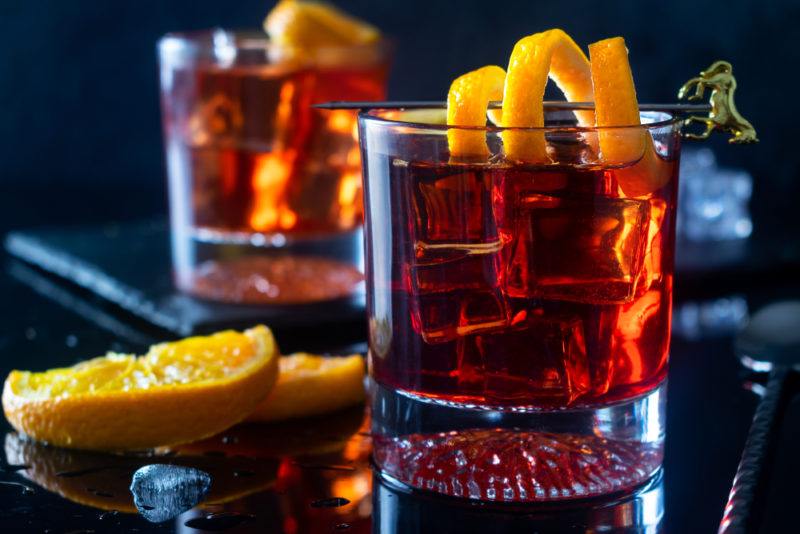 The negroni isn't just a pretty cocktail. It's also a classic and is one that you can order at almost any bar. Any bartender that doesn't know this recipe needs to find a new job.
There's nothing hidden about this cocktail. It's a simple three-ingredient recipe, relying on gin, sweet vermouth, and Campari. The only non-alcoholic ingredient is the orange peel that is used as a garnish.
With such a pretty color, it's easy to forget that the negroni is a potent cocktail. It has a surprising punch, especially if you knock a couple back without thinking about it.
Mezcalita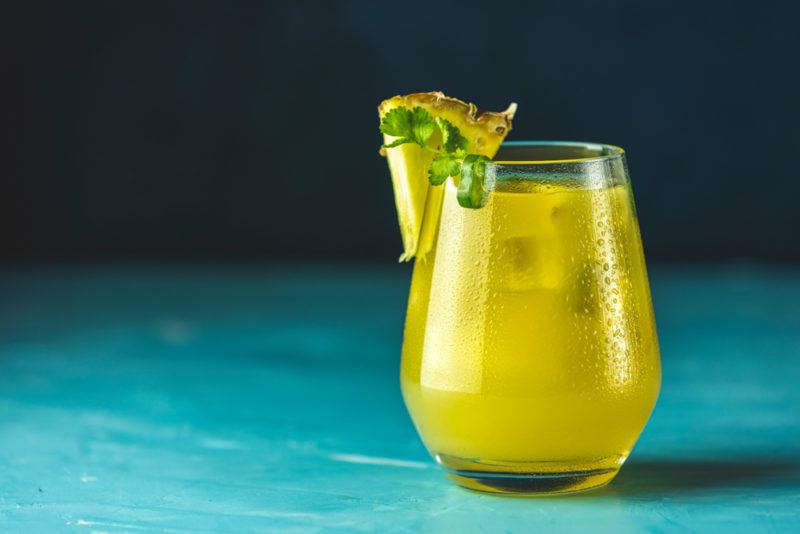 This isn't a classic cocktail, so there are various recipes out there. Still, you're often looking at a bright yellow drink that uses mezcal as the main spirit. Mezcal is starting to become more mainstream now and there are plenty of other cocktails that use the spirit too.
A mezcalita is basically a riff on a margarita. Some versions are made just like a margarita, except that they use a smoky mezcal rather than tequila.
Others use orange juice, along with orange bitters and orange liqueur, to increase the orange flavor profile. This second approach gives you a more vibrant color. Both versions can taste good, but go with the second option if you're looking for something a little different. The first version, while nice, still tastes similar to a margarita.
Tequila Sunrise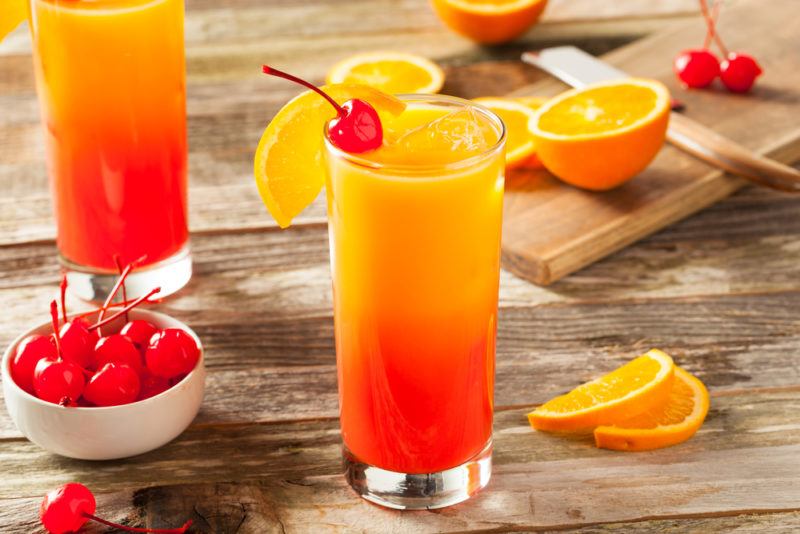 A tequila sunrise always seems like the perfect vacation cocktail – mostly because it looks so amazing in the glass. The cocktail often ends up a vibrant orange, with a block of red at the bottom of your glass (just like a sunrise!).
Orange juice, tequila, and grenadine syrup are the only ingredients in the cocktail. The grenadine syrup creates the red band and needs to be carefully poured into the cocktail. Drizzling it down the side of your glass or pouring it over the bottom of a spoon can work well.
This cocktail works best if you rely on freshly squeezed orange juice. Orange juice from the bottle tends to be less tart and can create a cloyingly sweet cocktail.
A tequila sunrise is a great cocktail for drinking during the day, as the alcohol content is fairly low. You're often using a decent amount of orange juice, along with relatively little tequila and grenadine.
Tequila Sunset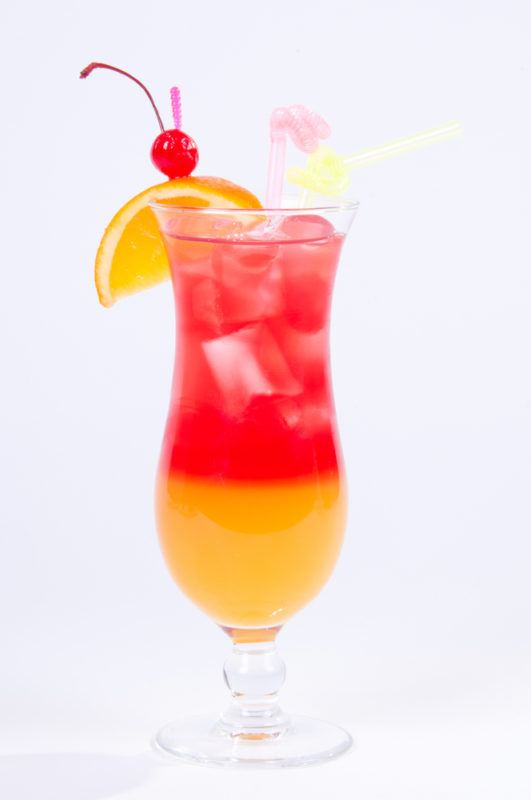 Then there's the tequila sunset to consider. This is a similar cocktail, except that the red hue is at the top instead of at the bottom.
The cocktail can be made with the same ingredients as a tequila sunrise. To get the red at the top of the glass, you just need to mix it with a little bit of soda water. Do this before you add the grenadine to the cocktail.
Another variation involves using blackberry brandy instead of grenadine. The difference in weights between grenadine and blackberry brandy influences where the red in your cocktail ends up. Of course, using blackberry brandy will change the flavor profile of your cocktail.
You can find other recipes by hunting online too, like a version that uses grapefruit juice rather than orange juice. The grapefruit juice version would be more refreshing than a traditional tequila sunset, as you're not getting much sweetness from the fruit juice.
Rob Roy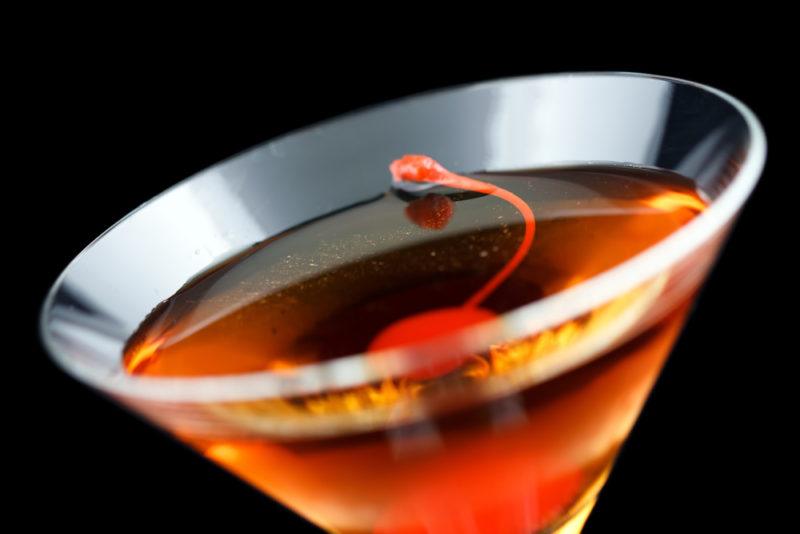 This cocktail gets its name from the famous Scottish outlaw whose given name was Robert MacGregor. The cocktail has this fantastic red-orange coloring and isn't that difficult to make either.
In fact, the Rob Roy just uses three ingredients – sweet vermouth, Angostura bitters, and Scotch whisky. The Scotch whisky is important, as using another type of whisky will get you closer to a Manhattan than to a Rob Roy.
You can also make a dry version of this cocktail by focusing on dry vermouth rather than sweet vermouth. A "perfect" Rob Roy, on the other hand, uses equal measures of sweet vermouth and dry vermouth.
Harvey Wallbanger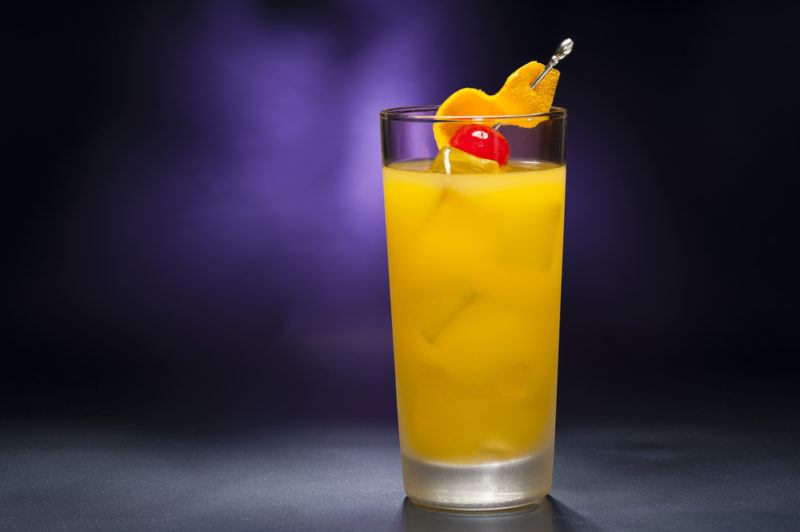 This modern cocktail mostly looks like a glass of fresh orange juice. That shouldn't be surprising, as the drink is a variation on the classic mimosa. Both cocktails use orange juice and vodka, and tend to be better if the orange juice is freshly squeezed.
Most versions of the Harvey Wallbanger include just one other ingredient – Galliano. This is an herbal liqueur that adds extra complexity to the cocktail.
Ideally, the Galliano should be added as a float on top of your cocktail. Pouring the spirit over the back of a spoon can be an easy way to do this. While the Galliano doesn't stand out against the orange juice at all, pouring it on top rather than mixing it into your cocktail creates a fantastic contrast of flavors.
Americano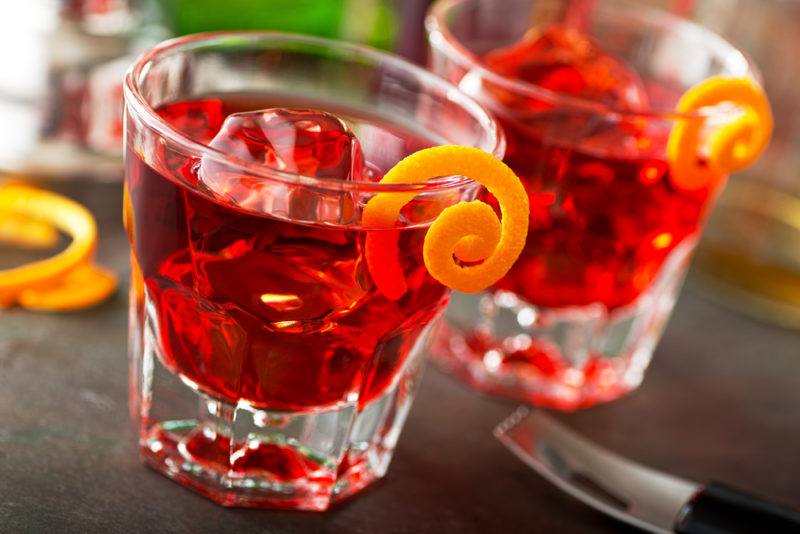 If you're looking for a classic, go no further than the Americano. For one thing, it was the very first cocktail to feature in the Bond novels by Ian Fleming (not the martini, as you might assume).
The Americano also uses Campari, a colorful and bitter liqueur with an ABV somewhere between 20% and 30%. Campari is responsible for this cocktail's color, as the other ingredients are sweet vermouth and soda water. Neither of them adds much flavor to the drink.
The cocktail also has a strong Campari flavor, so it isn't for everyone. Some people don't enjoy the bitterness of the liqueur, especially with little to dilute it. Still, it's worth having a few goes at this cocktail and giving your tastebuds the chance to adjust.
You might find that you end up loving it. Plus, the reliance on vermouth and Campari makes this a low alcohol cocktail, so it's perfect as an aperitif.
Bellini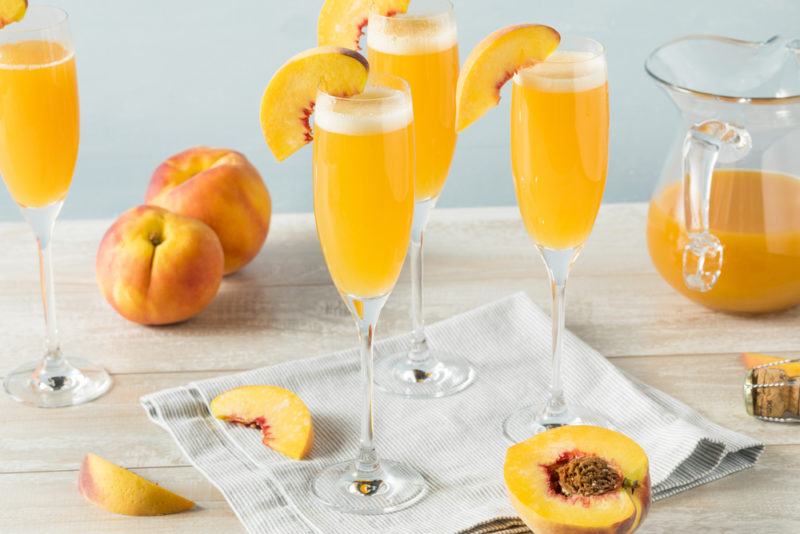 This classic cocktail is pretty and easy to make. There are various ways to make it, but one of the best uses peach puree and prosecco. This gives you a delightful sparkling drink that retains some of the texture from the peach puree.
While you can buy peach puree, it's much better to make the puree yourself. You just need to blend fresh peaches together. This way, there are no additives to worry about and the cocktail tastes much fresher.
To make the cocktail, you simply place some peach puree in the bottom of a champagne flute and top it up with prosecco. You can use another type of sparkling white wine if you would prefer. The cocktail will be delicious either way.
Some recipes add simple syrup as well, which makes the cocktail even sweeter. Other versions use peach juice or nectar as well as peach puree. This makes the peach flavor even more intense and creates a bolder color too.
Paloma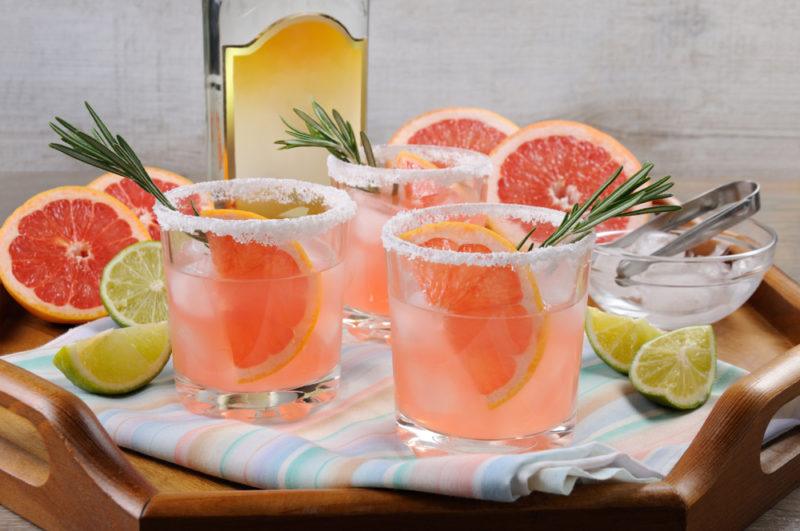 The colors of a paloma are more nuanced than some of the other drinks on this list, but the cocktail isn't any less appealing. In fact, there's something delightful about the light pink-orange color.
There are two main ingredients in the cocktail – grapefruit soda and tequila. The soda is what provides the coloring and much of the flavor. The paloma isn't a bold cocktail by any means. Still, it is a delicious one.
Many people add lime juice as well. That addition isn't too surprising, as tequila and lime are a natural pairing.
Grapefruit soda can be a little tricky to find. If this ingredient isn't an option for you, then you could turn to grapefruit juice and soda water instead. You do get a slightly different flavor this way, but your cocktail will still taste good.
You can also use a little sugar, agave syrup, or another sweetener to make the cocktail easier to drink.
Sex on the Beach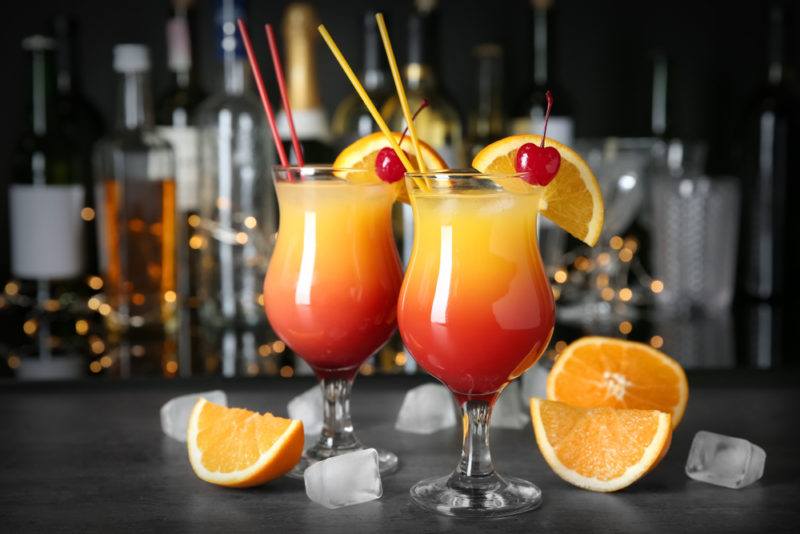 This classic cocktail is somewhat famous for its name alone. It's also a fantastic choice when you want a cocktail that isn't too heavy, as there is plenty of mixer involved.
The main ingredients are vodka, peach schnapps, orange juice, and cranberry juice. The orange juice can be swapped with grapefruit juice, which creates a sharper cocktail that isn't nearly as sweet.
Some versions add in crème de cassis as well. This is a blackcurrant liqueur that adds a fantastic flavor and color to the cocktail.
The cocktail will always be better if you use freshly squeezed orange juice, as this doesn't have the same almost overwhelming sweetness that you find with bottled orange juice. If fresh juice isn't an option, be sure that the product you're using is high quality and doesn't rely on additives.
If you add the ingredients one at a time without stirring, you often get a slightly layered effect in the final drink. This looks fantastic and you don't need any special skills to pull it off.
Blue Lagoon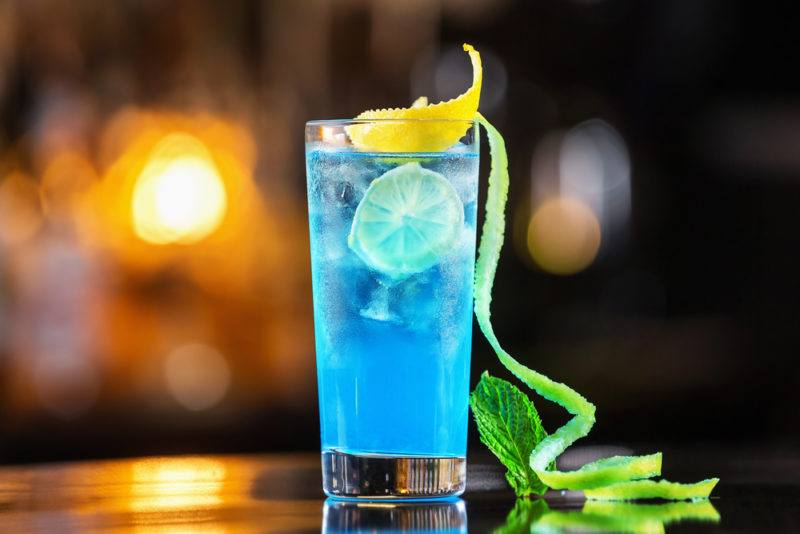 We can't talk about colorful cocktails without mentioning the blue lagoon. The bright blue color of the cocktail is stunning and really makes it stand out.
This is a surprisingly simple cocktail too. It just relies on lemonade, vodka, and blue curaçao. You end up with a reasonably sweet drink that is easy to enjoy.
Not surprisingly, the blue curaçaois what gives the drink its vibrant color. Blue curaçao is simply curaçaothat has been colored blue. As such, it still has the orange flavor that you find in curaçao and other orange liqueurs like triple sec.
Blue curaçao is generally lower in alcohol than curaçao that hasn't been colored, which is useful if you want a light drink.
Blue Margarita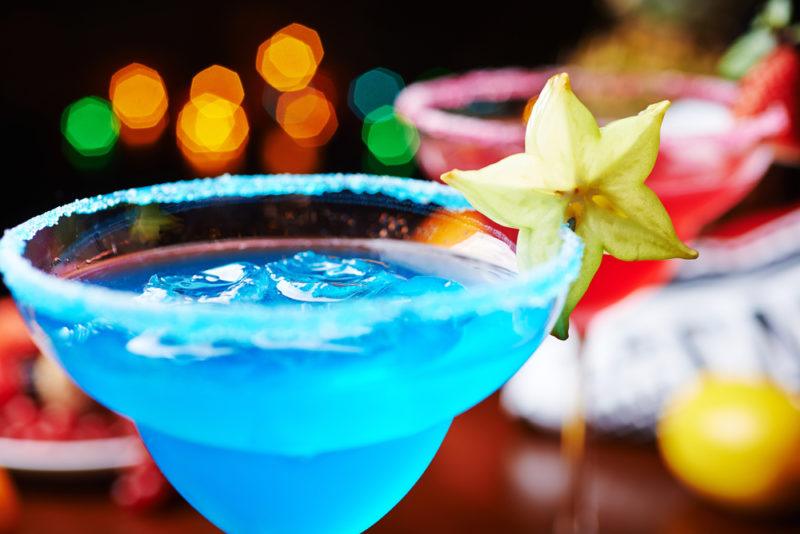 This cocktail has a similar bright blue color to the blue lagoon, which isn't surprising, as blue curaçao features in this recipe too. In fact, the cocktail is simply a regular margarita where the triple sec has been replaced with blue curaçao instead.
Triple sec and curaçao are both orange-flavored liqueurs, so the substitution is an easy one. However, you do end up with a sweeter cocktail with a lower alcohol content than the a traditional margarita.
Other Blue Curaçao Cocktails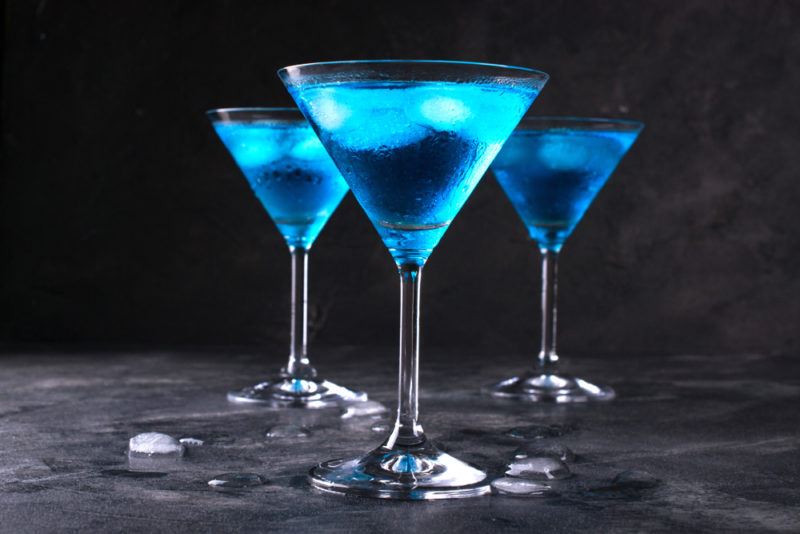 We could go on and on about blue curaçao cocktails – as there are many to choose from. Some are classics in their own right, some are unique creations, and others are blue versions of more well-known cocktails.
The main trick is to make sure the other ingredients don't have intense colors of their own. This means that you'll be using a clear spirit and lightly colored mixers. For example, the midnight kiss cocktail uses blue curaçao, vodka, champagne, and some lemon juice. Likewise, a cocktail called envy relies on silver tequila, pineapple juice, and curaçao.
You can play around with your own combinations too.
Interestingly, if you use blue curaçao and triple sec in the same cocktail, you often end up with a much richer blue. The cocktail bluebird is an example of this. It relies on two parts gin, one part triple sec, one part blue curaçao, and a couple of dashes of bitters.
Mango Margarita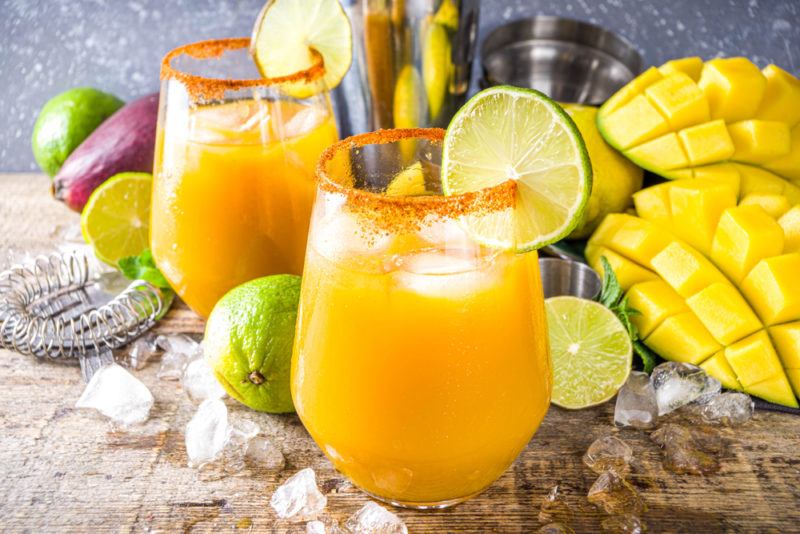 The blue margarita from before is just the tip of the iceberg. There are many other variations on the margarita. These are often more colorful than the original and feature different flavors.
With a mango margarita, you're focusing on mango juice, tequila, triple sec, and lime as key ingredients. Some versions blend the ingredients together with ice and frozen mango chunks to create delicious frozen mango margaritas.
You might also add in a little agave syrup if you're worried about the sweetness of the cocktail.
Mango margarita mix is another approach to take. Jose Cuervo produces a product like this, where you just need to add tequila and you're good to go.
And, while we're on the topic, you can make other fruity margarita variations too. Strawberry is another popular option and you can even buy a margarita mix for it. This version gives you a bright red cocktail rather than an orange one.
Aperol Spritz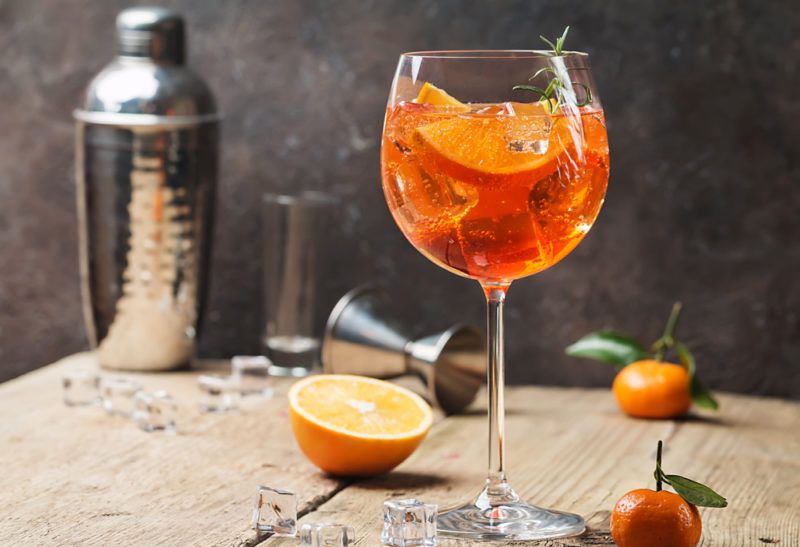 This light and vibrant cocktail relies on Aperol, which is an Italian aperitif. Aperitifs are normally consumed before a meal, as a way to increase one's appetite. Because of this, they tend to be dry rather than sweet.
Aperol has a vibrant orange-red color and an ABV of around 11%, which is roughly the same as wine. The drink has citrus flavor tones, along with a slight bitter aftertaste. That bitterness isn't a bad thing and makes the aperitif quite refreshing.
While the aperitif can be consumed on its own, many people find it too bitter. Hence, the Aperol spritz. The cocktail is simply a combination of Aperol and prosecco. The alcohol content is similar to a glass of wine, but you're getting a more vibrant and often more refreshing drink.
Some versions add a little club soda to the mix. There are even a few that skip the prosecco altogether and make the cocktail by just using soda water and Aperol. Leaving the prosecco out makes this a much lighter drink, which could be a refreshing choice during the day.
Grasshopper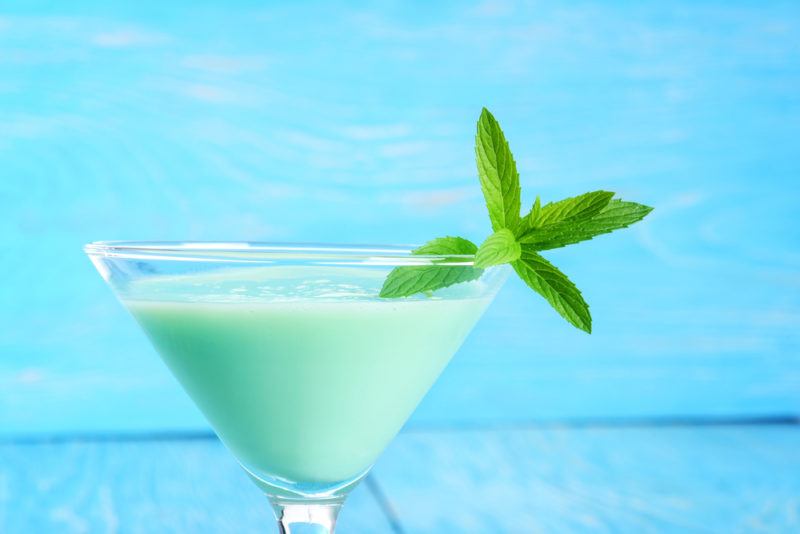 This cocktail always looks fantastic in a glass and, as you can probably guess, it's a dessert cocktail. Crème de menthe is one of the main ingredients. This is what gives the cocktail its distinctive green color, along with a peppermint flavor.
Crème de cacao is used too (which brings in the flavor of chocolate), along with heavy cream.
The combination might be too rich for some, but for others it is perfect. If nothing else, a cocktail like this is a delicious alternative to dessert.
Singapore Sling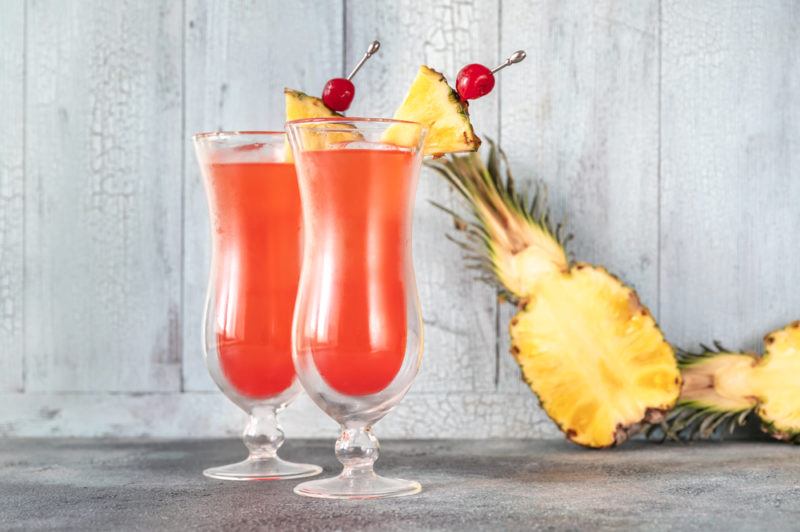 The Singapore sling is a vibrant and complex long drink. The pink color is the reason we're including it on the list, although honestly, the drink is worth it for the flavor alone. It tends to be refreshing too, with a heavy focus on fruit flavors. However, much debate surrounds the recipe.
One early recipe relies on gin, cherry brandy, Benedictine, Cointreau, lime juice, pineapple juice, grenadine, and bitters. A second is more straightforward, using gin, lemon juice, cherry brandy, and club soda as the favored ingredients.
Those are just two versions. There are many others as well. And, even when the base ingredients are similar, you'll find variation in the amounts used of each one.
While you might never get the same cocktail twice, you can be certain that you're getting a delicious experience every time.
Mimosa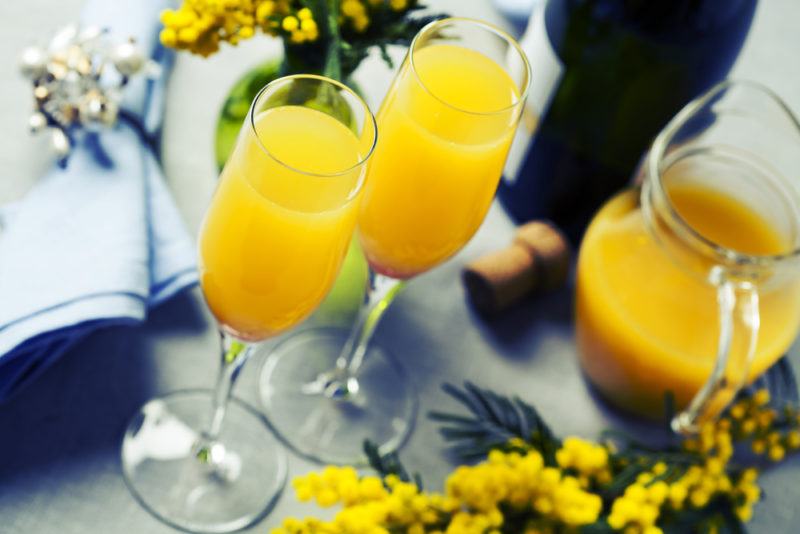 Can we get any more classic than a mimosa? This is one of the simplest cocktails, as it just relies on orange juice and sparkling wine. A few versions add Grand Marnier for a little extra flavor, but that approach is rare.
Mimosas can be delicious or boring, depending on how they're made.
The first thing is to always rely on freshly squeezed orange juice. This tends to be vibrant and a little tart, while orange juice from a bottle just doesn't have the same power.
It's worth thinking about your ratios too. Classic mimosas are roughly half wine and half orange juice. This allows both ingredients to shine.
Of course, you can change the ratio. Try using more wine if you want a stronger cocktail and less if you're serving mimosas with brunch.
Also, be aware of how many you're drinking. While mimosas aren't very strong, the combination of bubbles and juice can make the alcohol hit your bloodstream fast.
Kir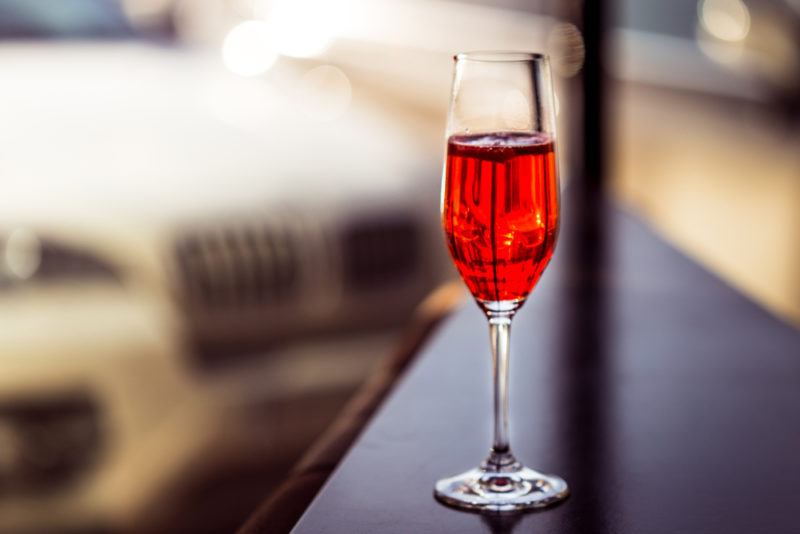 You could also try a kir royale. The difference here is simple, you're using champagne rather than sparkling white wine.
Another variation is the kir rosé. As you can probably guess, this cocktail uses sparking rosé rather than white wine. You change the liqueur too. The cocktail calls for Giffard Pamplemousse – a grapefruit liqueur.
New York Sour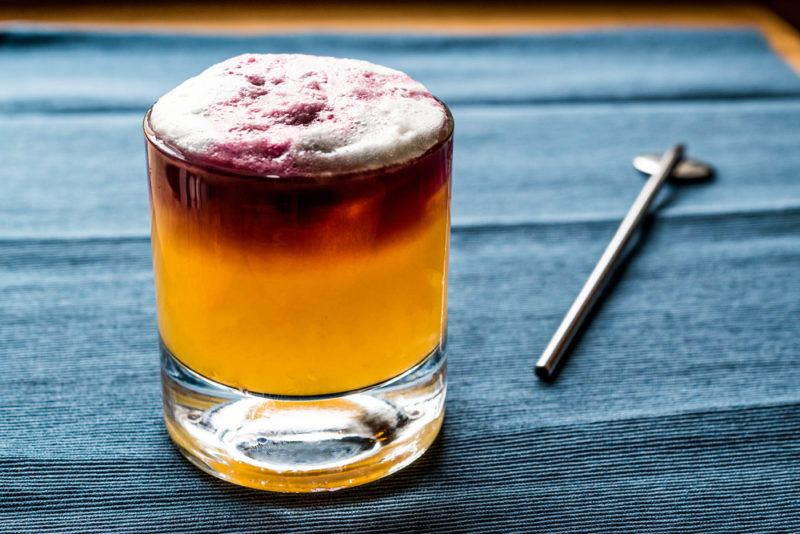 The layers of this cocktail are what make it so fun. And, while the cocktail is a little tricky, it isn't as difficult to make as you might expect.
The base recipe is simply a whiskey sour, which relies on whiskey, lemon juice, sugar, and an egg white. Cocktails like this tend to have a delicious sweet-sour balance. The egg is used to provide texture to the cocktail. It can be skipped if you like, but the cocktail is better when the egg is used.
Once you have made a whiskey sour, there's only one more step – floating red wine on top. To do so, you need to carefully pour the red wine, perhaps over the back of a spoon. Some people use a syringe to add the wine instead.
The red wine provides a fruity aromatic quality to the cocktail and makes it look better as well. You can choose how much red wine to use. Some people just use enough to create a thin layer, while others make a much thicker red band in the cocktail instead.
Millionaire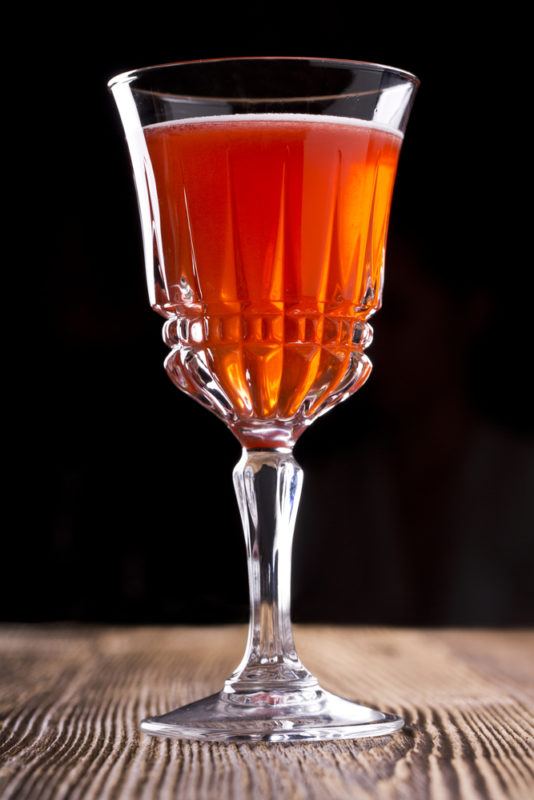 This cocktail has a striking red color that you don't often see. There's more than one version of the drink, which isn't all that unusual, except that the versions can be quite different from one another.
One of the most well-known is a sour cocktail and dates back to Prohibition. This cocktail uses bourbon as the main ingredient. It also features Grand Marnier, lemon juice, grenadine, absinthe, and an egg white.
With Grand Marnier, grenadine, and absinthe in the mix, it's clear that you get a strong cocktail.
A second version is much simpler. It uses equal measures of sloe gin, apricot brandy, and Jamaican rum, along with lime juice and a dash of grenadine.
These two cocktails taste very different from each other, but they are both delicious. They're also equally correct, as both versions have a long history. Why not try both and see which one you prefer?
Gold Rush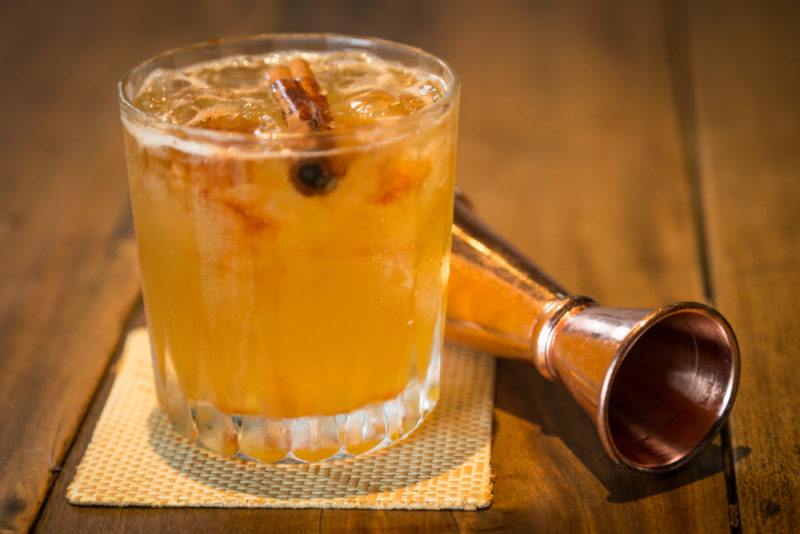 This cocktail is surprisingly simple. It relies on just three ingredients, bourbon, lemon, and honey syrup. It's basically a whiskey sour that uses honey instead of sugar (and skips the egg).
But, switching honey for sugar has a dramatic impact on the cocktail. The flavors of whiskey and honey balance out well, giving you a different taste and mouthfeel to a classic whiskey sour.
If you're making the cocktail at home, try making a honey syrup first, rather than just adding the honey straight to your drink. Honey syrup is just like simple syrup except that you're using honey instead of sugar. The syrup creates a better texture than straight honey and there's no chance of getting lumps of honey in your drink.
You could also look at the bee's knees cocktail. It's a similar drink, but the coloring is less intense, as you're using gin as the spirit of choice rather than bourbon.
While they have different flavor profiles, gold rush and bee's knees are both delicious choices.
El Diablo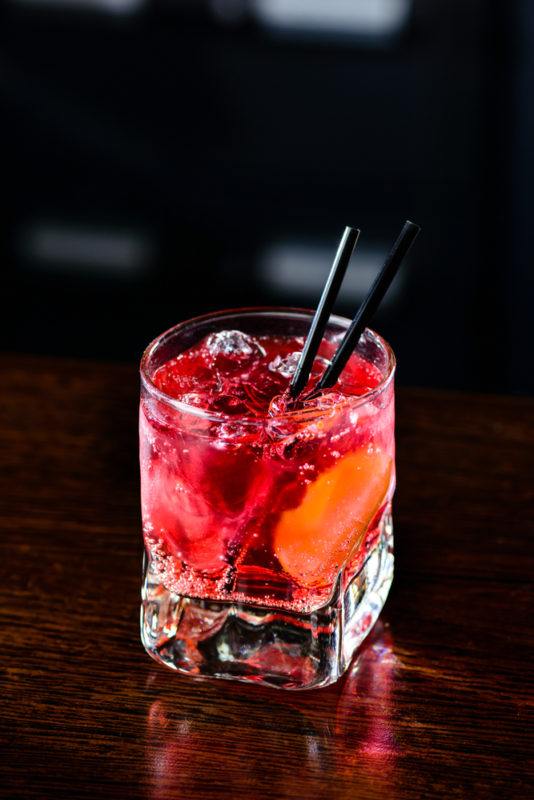 This tequila cocktail looks fantastic in the glass and isn't difficult to make either. The main ingredients are tequila, crème de cassis, lime juice, and ginger beer. Crème de cassis is a dark liqueur made from blackcurrants. It's most popular in the kir cocktail, but you can find it in other drinks too.
The crème de cassis provides some of the color in this drink, while the rest comes from the ginger beer. The flavor combination is fantastic and you end up with a refreshing tall drink.
Melon Patch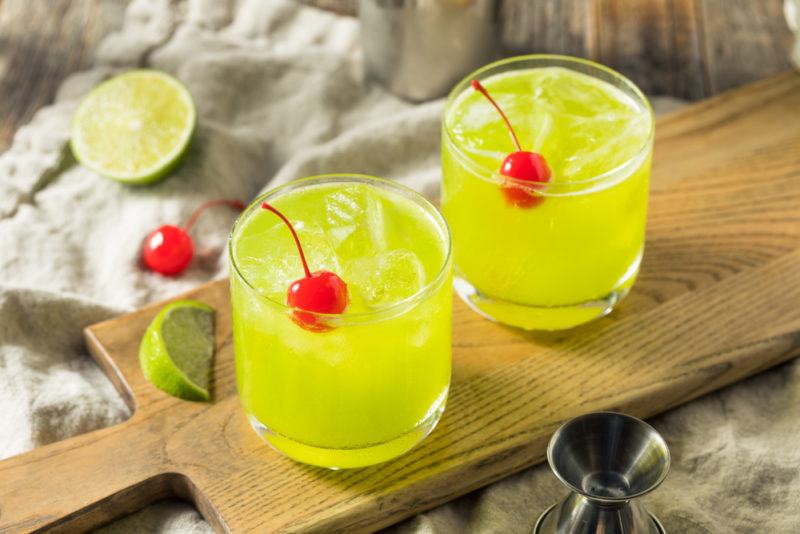 The vibrant green color of this cocktail comes from melon liqueur. Other ingredients include triple sec, vodka, and some club soda. These don't add much to the color or the flavor of the drink, so the cocktail ends up tasting strongly like melon, with a touch of citrus from the triple sec.
Don't worry though, the melon flavor isn't overwhelming. You've got a decent amount of soda water in the cocktail too and this makes it refreshing.
Sea Breeze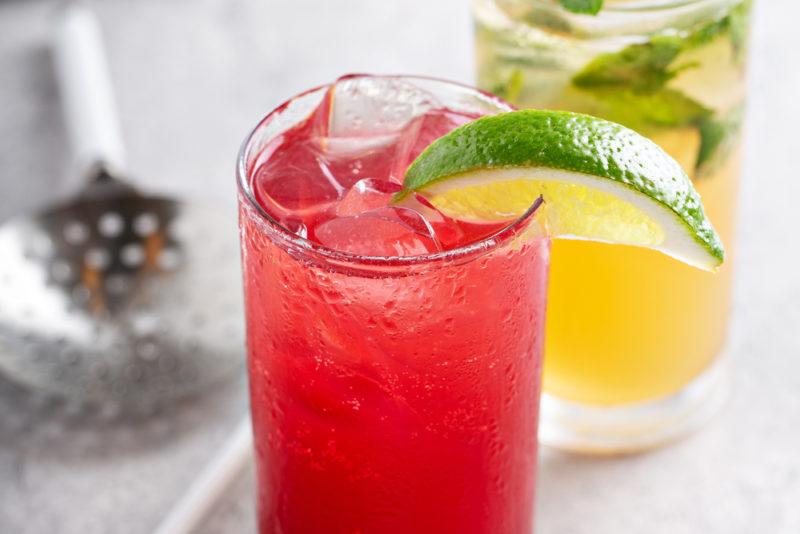 This cocktail looks fantastic and is very easy to mix up too. You're only using three ingredients – vodka, cranberry juice, and grapefruit juice. Some versions add in a little lime juice too, but that's it.
Think of the cocktail as a less sweet version of a cosmopolitan. It's also a reasonably light cocktail due to the ratios of the two mixers to the vodka.
Fruit Martini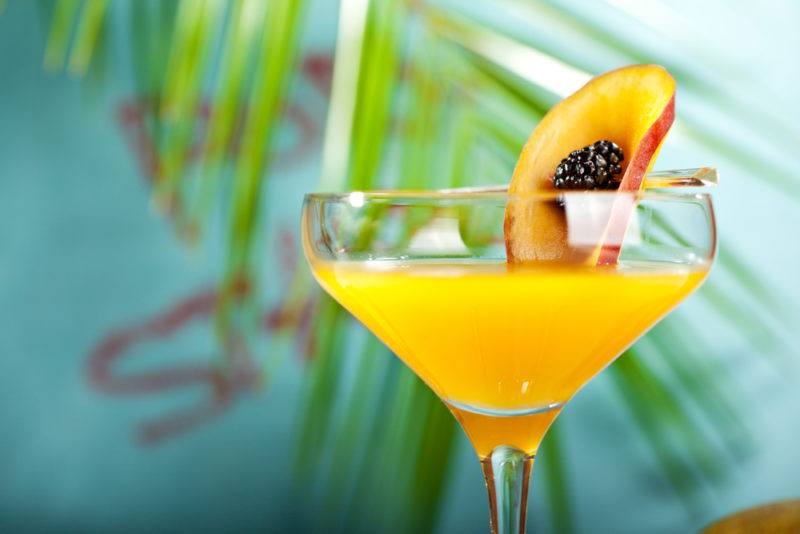 There are numerous martini variations out there. Quite a few of them are fruit-themed and end up being brightly colored. There's an apple cider martini, a passion fruit martini, a kiwi martini, a peach pomegranate holiday martini, and many more.
While these drinks are often served in martini glasses and have 'martini' in their name, most barely resemble a martini at all. Many use vodka, one or more flavored liqueurs, and some fruit juice.
Still, misleading names or not, these cocktails look great in the glass and are often delicious too.
Hurricane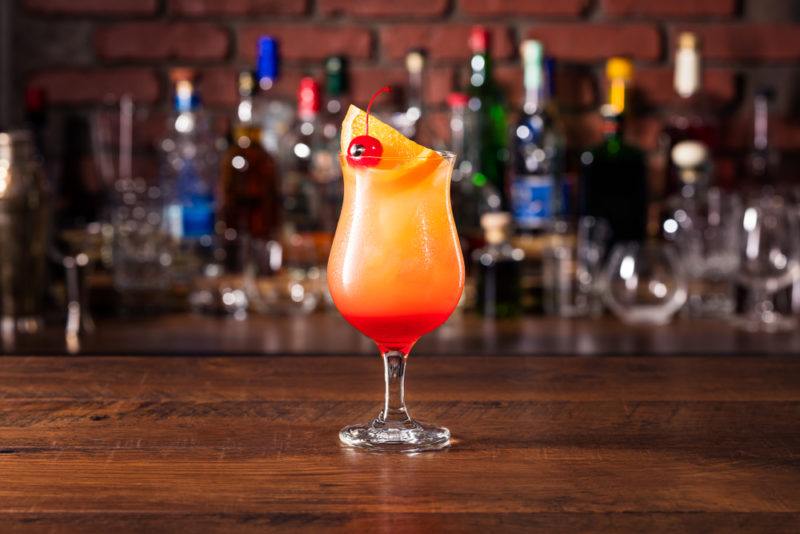 This cocktail looks much more innocent than it actually is. The recipe relies on two types of rum (white rum and dark rum), along with passion fruit juice, orange juice, and often some sweetener. Other ingredients might be included too, like grenadine and lime juice.
This gives you a syrupy sweet drink that is also quite strong. It can easily catch you off guard if you order one or two while you are out on the town.
Strawberry Daiquiri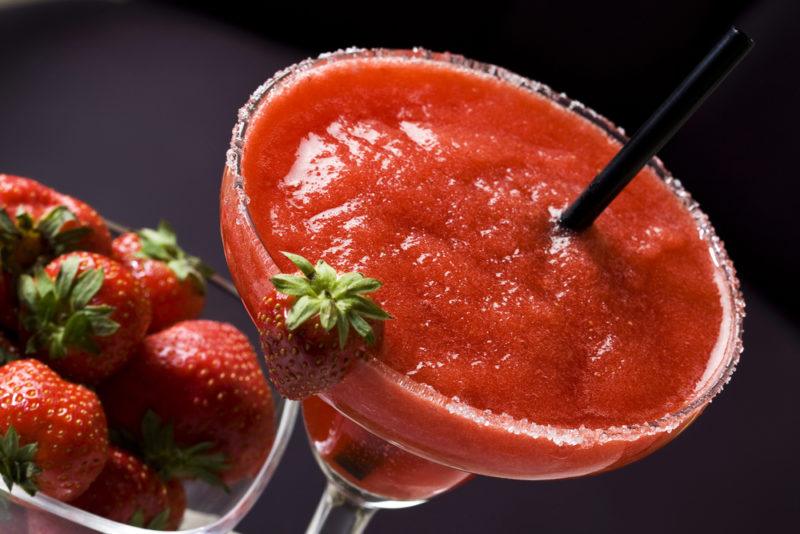 This is another fruity variation on a traditional cocktail. It's also an entertaining cocktail, as you get a deep red color from the strawberries.
You'll often see this as a frozen cocktail. The best versions use frozen strawberries and only a little ice, which gives you an intense flavor. Rum and lime juice features in the cocktail as well.
Some versions use simple syrup to provide extra sweetness, while others rely on the natural sugar in strawberries. Either style works well. It just depends on how sweet you like your drinks.
Chatham Artillery Punch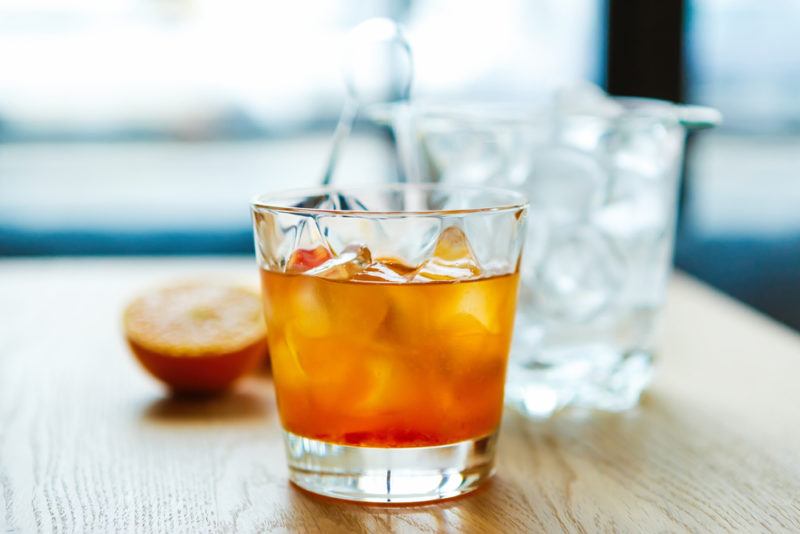 With a name like Chatham artillery punch, you can probably guess that this punch recipe is going to be strong. Seriously. This is a drink to be careful with, especially if your guests don't know what went into the punch. The punch is very alcoholic, tastes delicious, and is surprisingly easy to drink.
The catch is that the punch isn't cheap to make. You're going to need three full bottles of champagne, and a bottle each of bourbon, Jamaican rum, and VSOP cognac. You could possibly switch the champagne out for a less expensive sparkling white wine, as there are so many other flavors going on. But, beyond that change, it's best to follow the recipe as written.
The cocktail often ends up with a rich orange color that looks amazing in your glasses. Some versions add lemon juice and sugar in too, which adds a yellow tone to the punch.
Galaxy Cocktails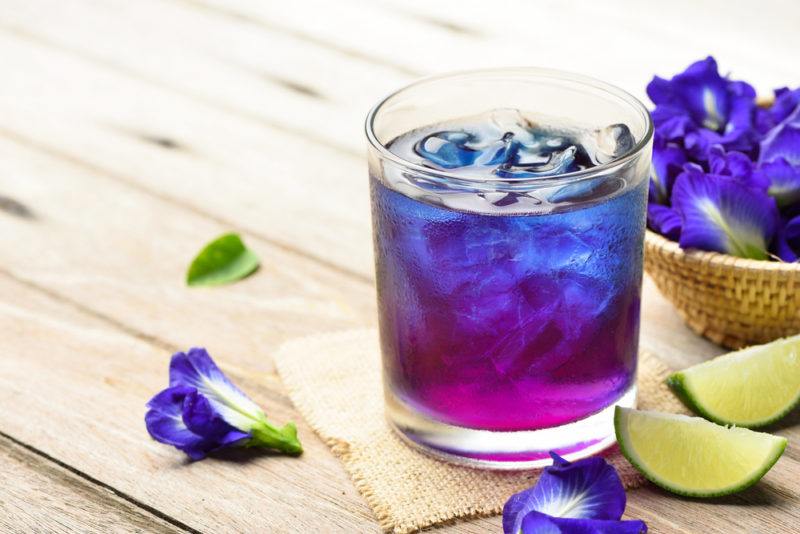 These cocktails are extraordinary. You often have a gradient of color in your glass and the colors included are quite unusual for a cocktail. It's easy to see why the drinks are often called galaxy cocktails.
There's one simple trick to these cocktail – butterfly pea flowers. The pigment from these flowers changes color depending on the acidity of the solution and sometimes for other reasons.
An article on The Flavor Blender provides more details about the cocktails you can make and how to use butterfly pea flowers. The author even talks about infusing your alcohol with the flowers and then using that in the cocktail.
Bloody Mary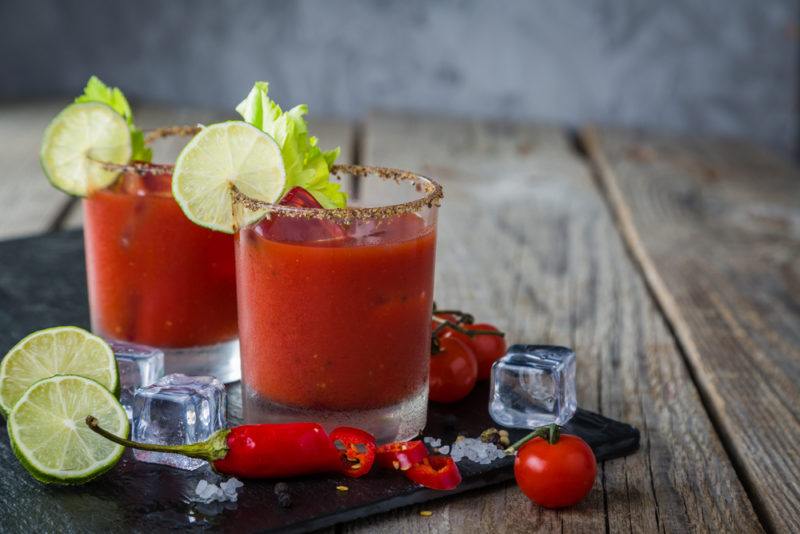 There's no doubt about it, the bloody Mary cocktail is famous. Most people have at least heard of it, even if they haven't tried the drink for themselves. The fame is easy to understand too, as tomato juice isn't a common cocktail ingredient.
The most famous version of this cocktail uses seven ingredients: Vodka, tomato juice, black pepper, celery salt, Tabasco, Worcestershire sauce, and lemon juice. There are countless variations, partly because many people won't have all the ingredients on hand at one time.
You can also buy bloody Mary mix and combine that with vodka. The resulting cocktail might not be quite as good as one made with fresh ingredients, but it comes pretty close.
Some variations on the recipe change the type of spirit that is used. For example, the bloody Maria uses tequila instead of vodka, while the red snapper uses gin. All of those versions look roughly the same in your glass. However, some fans say that the red snapper is the best option, as the aromatics in your gin are a fantastic contrast to the savory notes of the cocktail.
Cosmopolitan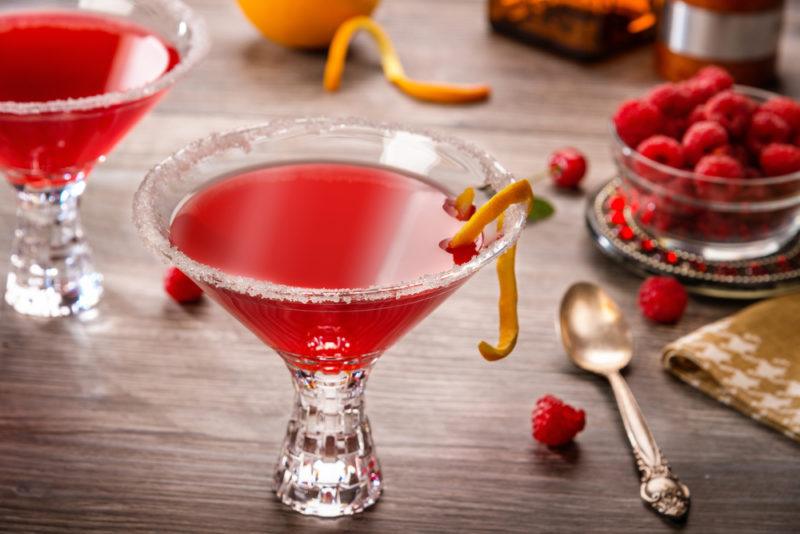 The cosmopolitan gets its fame from Sex and the City, although the drink was around before the series came out. The red color from the cranberries makes this a difficult drink to miss.
And, while cosmos are often seen as girly, they're more alcoholic than you might expect. You're using vodka and triple sec, which can both have an ABV of around 40%. While there's cranberry juice and sometimes lime juice present too, the alcohol content is still high for a so-called girly cocktail.
Be a little careful if you're having one or two of these with a girl's lunch.
Zombie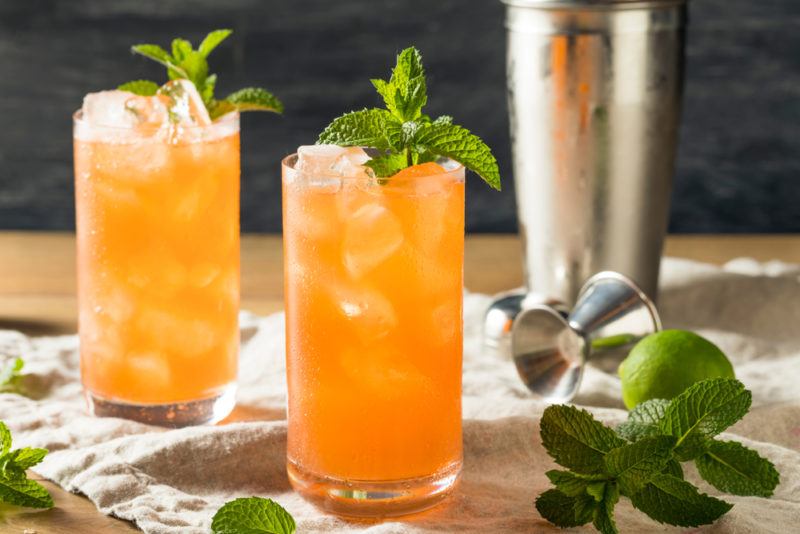 There are many versions of this cocktail and the appearance will be influenced by the recipe that you choose. Still, you're often getting something bright and vibrant, as the ingredients can include some combination of orange juice, grapefruit juice, pineapple juice, and passion fruit puree.
Don't think you're getting off lightly. The zombie cocktail packs quite the alcoholic punch. There can be as many as four different types of rum. Some recipes use fewer types of rum, but include at least one high proof rum, so they're equally potent.
American Layered Cocktail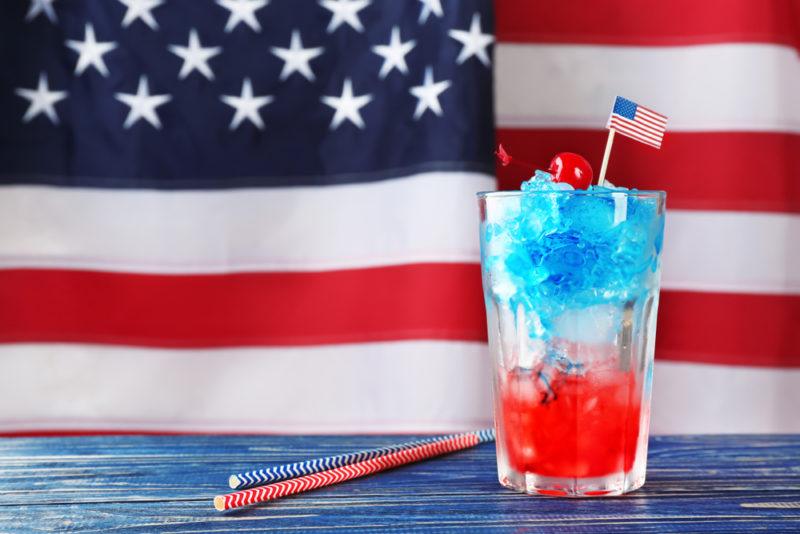 The inspiration for this layered cocktail should be obvious and it isn't difficult to pull off either. There are three types of alcohol: vodka, blue curacao, and grenadine, one for each layer.
Each of the layers is made by shaking the alcohol with lemonade and then pouring the combination into your glass. You'll need to pour each layer into the drink on the back of a spoon and even then it may take a few tries before you get the layers working as they should.
This is a cocktail that you should prepare immediately before serving, as the layers won't hold for very long.
Alternatively, you could skip the lemonade and make shots instead, using the same three types of alcohol. You'll still need to be careful with the layering, but the shot looks more stunning in the glass and packs a stronger punch too.
Irish Flag Shooter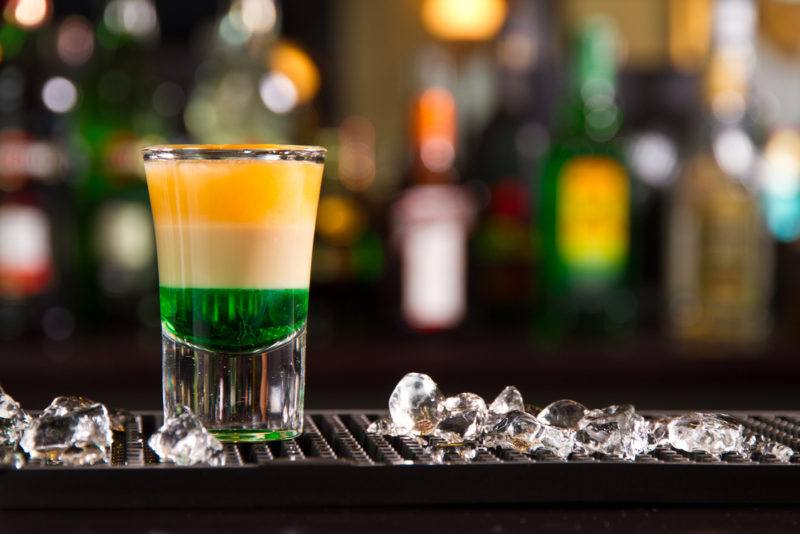 Here's another drink that uses layers to mimic a flag. This time, the focus is on the Irish flag.
The shooter is easy to make, as the layers naturally form due to their different weights. Pouring the ingredients in over the back of the spoon still helps, but you don't need to get too pedantic.
The ingredients here are crème de menthe (green), Irish cream (white), and Grand Marnier (orange). But, be warned, while the drink looks cool, it combines orange and mint with a creamy center. That's not a tasty combination of flavors.
Melon Ball Shots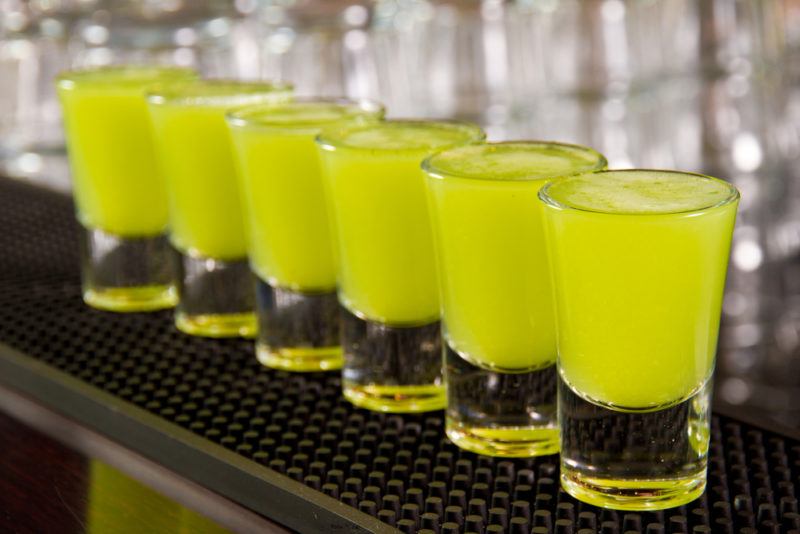 These shots use melon liqueur to provide the bright green color. Midori is the most common choice, but you might find a different melon liqueur instead.
You also need vodka and orange juice. The cocktail uses equal measures of all three. Other interesting cocktails use melon liqueur too, like a melon margarita, which relies on melon liqueur, tequila, and a classic margarita mix. What could be easier?
Or, there's the melon ball cocktail, which uses the same ingredients as the shot but in larger quantities.