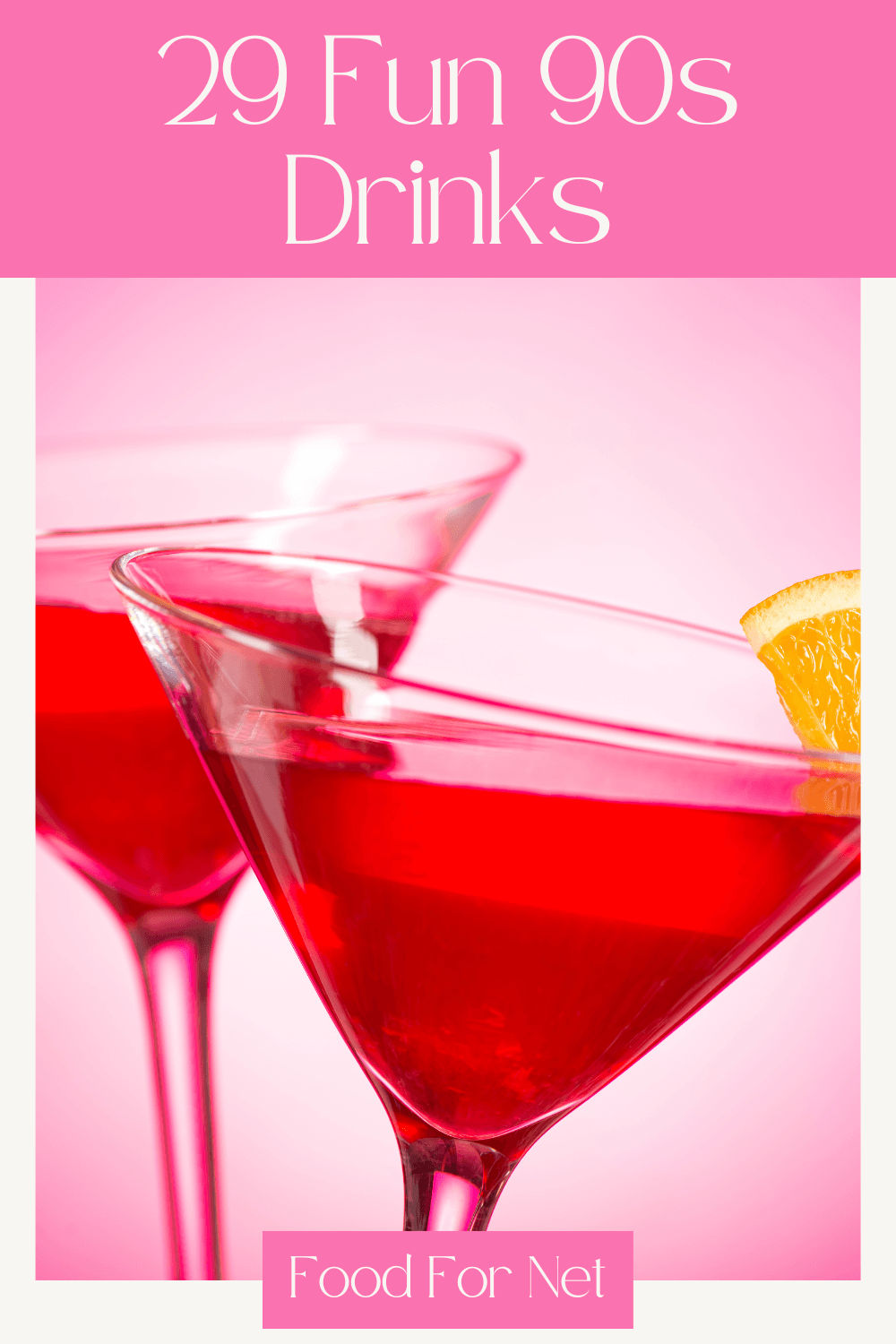 The 90s was an exciting time, full of pop culture, fun and funky music, bright colors, and plenty of cocktails. Much of the excitement came from cable television, which allowed trends to spread faster and more vibrantly than ever before. It was an era we love to remember, notably through 90s themed parties and events, which wouldn't be complete without some 90s drinks.
While the 90s is most famous for clothes and music, 90s drinks were exciting too. Some of the era's trending drinks, including the Long Island iced tea, daiquiri, and even the cosmopolitan, can still be found today.
Others have faded into obscurity, just like plenty of drinks from the 60s, 70s, and 80s. Still, even the less popular drinks have their place. They're perfect for a 90s party or anytime you want a vibrant and exciting cocktail. You could even serve these cocktails along with some classic 90s foods.
Drinks From The 90s
Cosmopolitan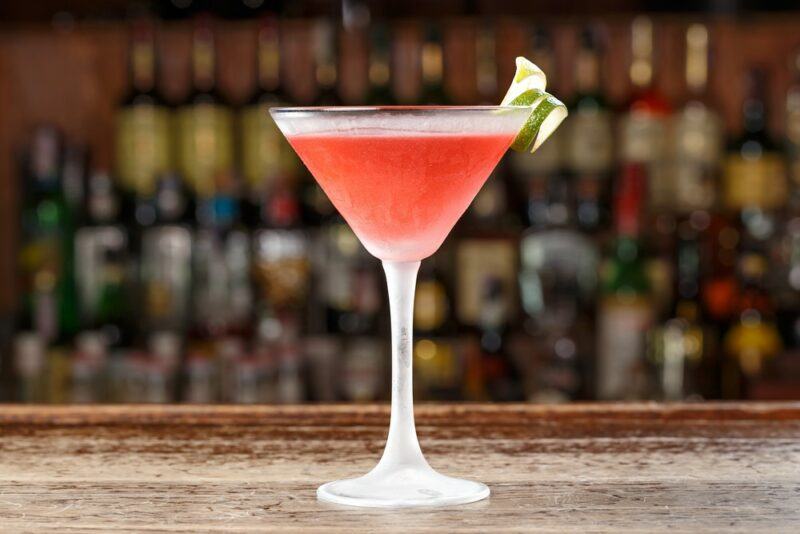 The cosmopolitan was actually developed in the 80s, but it is easily the most famous cocktail from the 90s. The cosmo owes its fame to Sex in the City, which firmly implanted the drink in our collective imagination.
Even now, cosmopolitans are the most well-known girl's night out drink. You can even buy premixed versions.
To prepare a cosmopolitan yourself, you just need cranberry juice, lime juice, vodka, and triple sec. Citrus vodka is ideal, but you can use plain vodka if that's all you have on hand.
The cocktail is best with fresh cranberry juice. If this is too difficult to find, look for products that don't have too much extra sugar. The cocktail isn't nearly as good when it's excessively sweet.
Long Island Iced Tea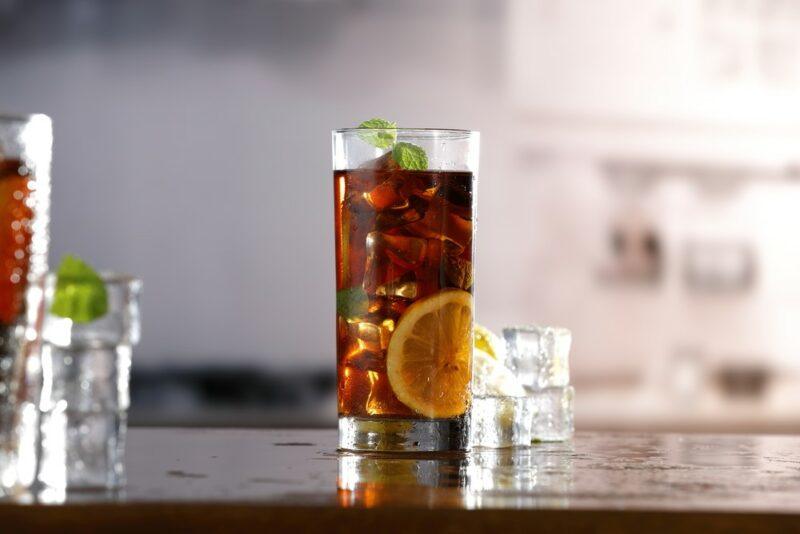 The Long Island iced tea is a mess. There's no point in denying it.
You've got vodka, tequila, rum, gin, and triple sec all in the same drink, plus lemon juice, simple syrup, and cola. The cocktail doesn't sound like it should work.
Yet, it does. Somehow the different flavors marry together extremely well, giving you a potent drink that goes down very easily.
High in alcohol and easy to drink? It's no wonder this was a trending cocktail in the 90s.
Espresso Martini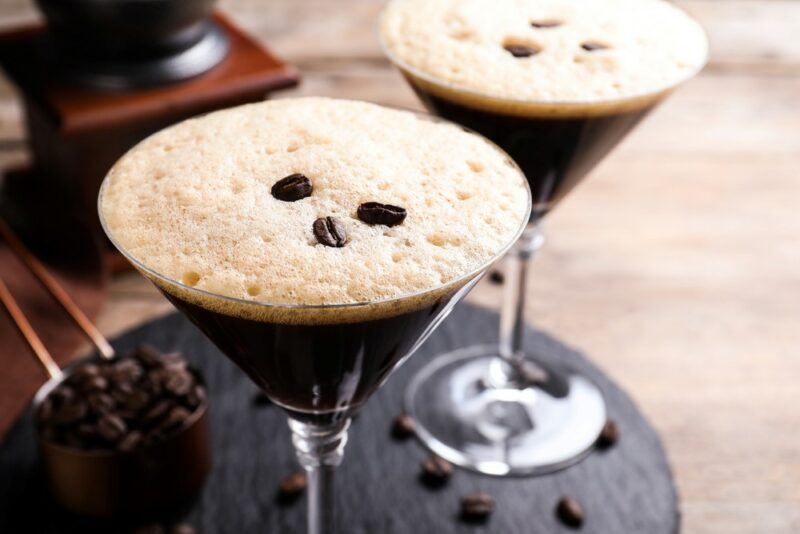 The espresso martini was developed in the 80s and became exceptionally popular in the 90s. Not surprising, right? After all, the cocktail gives you caffeine and alcohol all at once, while also looking refined.
The drink highlights another 90s trend – martinis that aren't martinis.
For a while, almost anything served in a martini glass got slapped with the name martini, especially if it had vodka in it. There's no vermouth though, so the espresso martini is actually just a simple vodka cocktail.
Appletini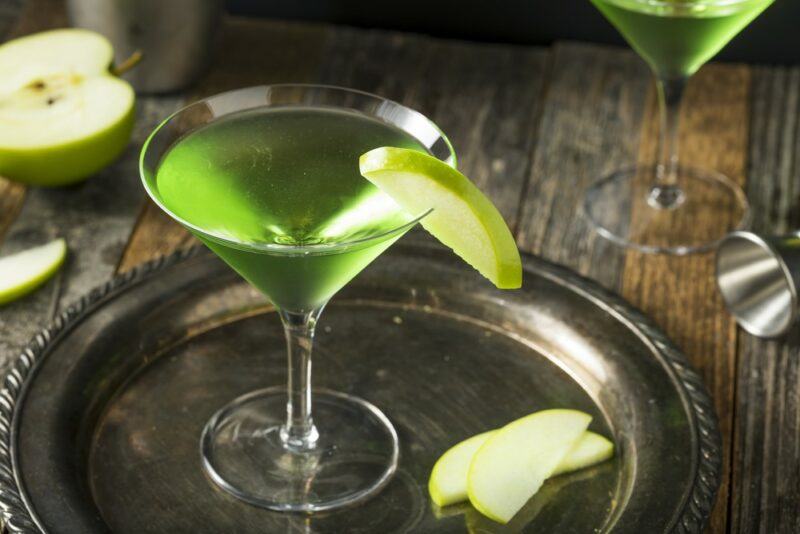 The appletini (or sour apple martini) is a 90s drink through and through. Not only does it run off with the martini name again, but the cocktail also tends to be bright green.
Really, the 90s had a thing for vibrant drinks.
The cocktail's flavor varies depending on how it is made. In the 90s, the appletini was incredibly sugary, often tasting much like a Jolly Rancher. This effect came from the use of Sour Apple Pucker, a type of apple liqueur.
Some modern versions take a more natural approach, trying to create a sour drink that actually tastes like apples. Such appletinis can be tasty, but they're not really true 90s drinks.
Sourz Apple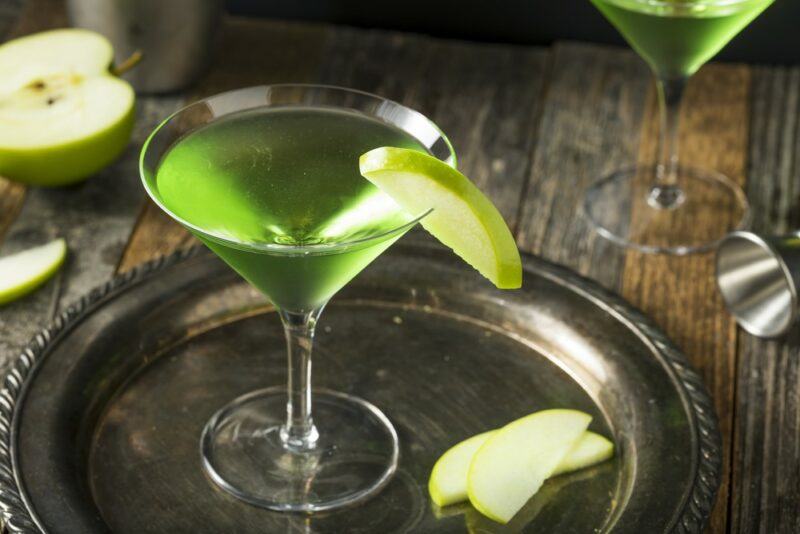 The sour apple flavor didn't just feature in cocktails. 90s partygoers could also buy sour apple liqueur and Sourz Apple was one of the most popular. You can still find the liqueur today, although it's thoroughly out of fashion.
The Sourz range includes other sour flavors as well. They all have an ABV of around 15%, along with a decidedly artificial flavor. Still, partygoers in the 90s were convinced. Some used the Sourz liqueurs in cocktails, while others just used them as shots instead.
Daiquiri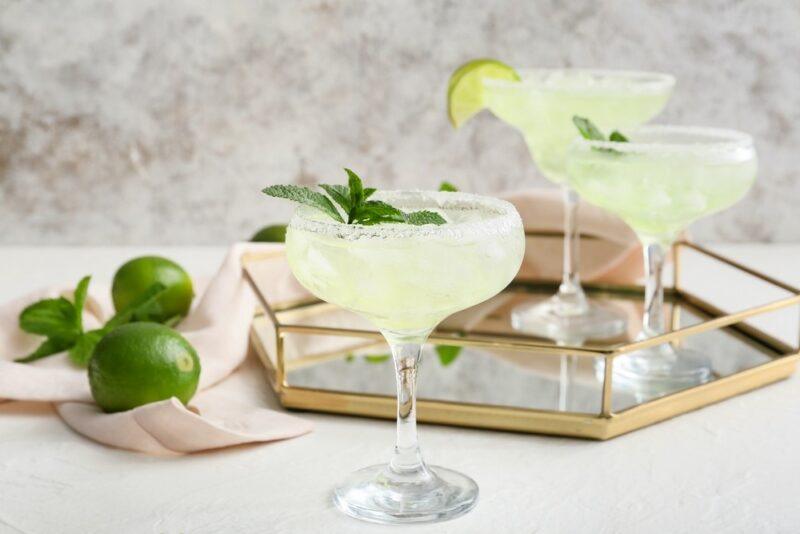 The daiquiri continues to be popular today, but was even more trendy in the 90s. The cocktail itself is a simple sour, made with rum, lime juice, and simple syrup.
It's a perfect drink for anyone sick of bright and fruity cocktails. Plus, the daiquiri can be tweaked in endless ways, including being served straight or frozen.
However, not all daiquiri variations are good. Some use artificial coloring and corn syrup, creating a version that's often far too sweet.
Strawberry Daiquiri (frozen)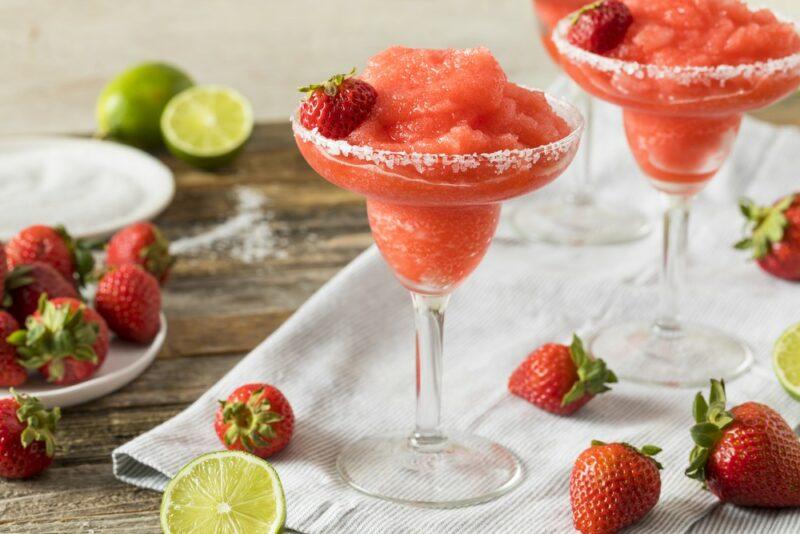 Chief among the 90s daiquiri variations was the strawberry daiquiri. More often than not, this was served as a semi-frozen slushie, making it a great choice on hot days.
Again, there are some good versions of the drink and some bad ones. Artificial coloring is often used to create the red color of the cocktail. Some versions even use artificial strawberry flavor, which doesn't taste like the real thing at all.
Lemon Drop Martini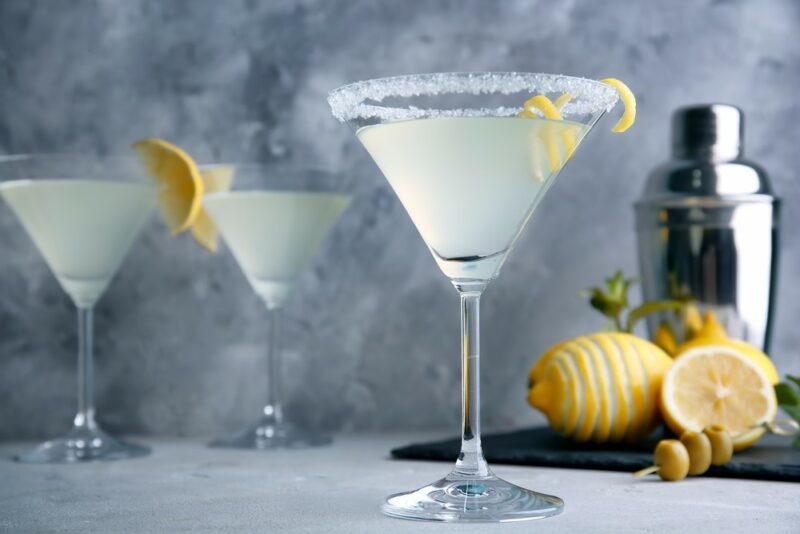 Cocktails weren't all excessively sweet in the 90s. There were some sweet-sour entries too, including the lemon drop martini. The basic cocktail combines citrus vodka with triple sec and lemon juice (making it a variation on the traditional sours).
Interestingly, the drink is sometimes called a lemon drop and sometimes a lemon drop martini, although both versions are exactly the same.
Some recipes add simple syrup into the mix, making it sweeter and less overwhelming.
Lemon Drop Shot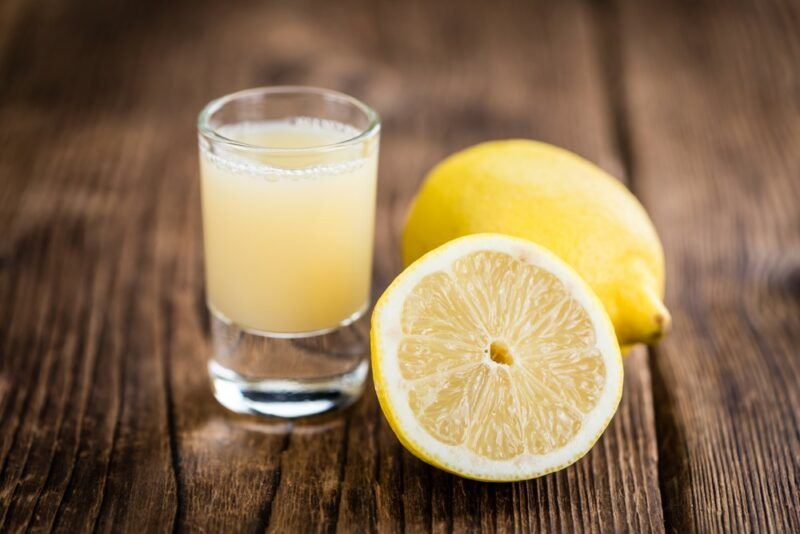 If you really want to pucker up, how about a lemon drop shot? This follows the same theme as the previous cocktail, but often just uses citrus vodka, lemon juice, and simple syrup.
Skipping the triple sec also makes this a more accessible party drink, as there's just one alcoholic ingredient to worry about. You could even make the shots using regular vodka rather than citrus vodka (a perfect approach if your liquor cabinet is on the small side).
TVR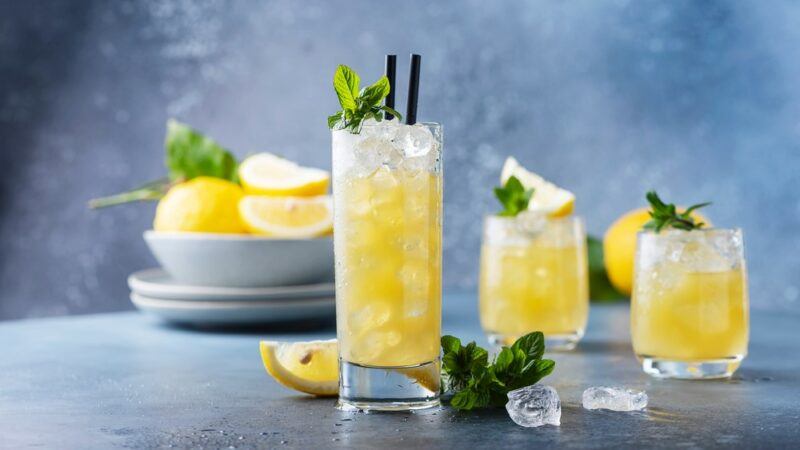 The TVR gets its name from its ingredients – tequila, vodka, and Red Bull. The Red Bull dominates the flavor profile, making it a distinctive cocktail.
You can balance the drink a little more by using anejo tequila. This type of tequila brings the initial sweetness down just enough to make the cocktail enjoyable.
You could also experiment with the energy drink, swapping it for one of the flavored Red Bull versions or perhaps another energy drink brand entirely.
Champagne Cocktail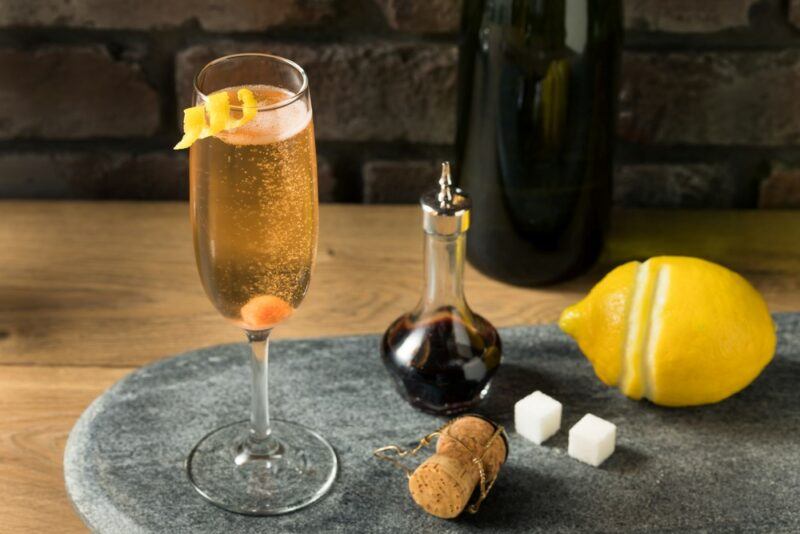 90s cocktails weren't all vibrant and modern. There were some classics in the mix as well, including the champagne cocktail.
This drink is simple and elegant. The classic version involves placing a cube of sugar in the bottom of a cocktail glass, adding some bitters, then topping the drink up with champagne.
Many recipes also include cognac. This adds an interesting color and some depth of flavor to the drink.
White Russian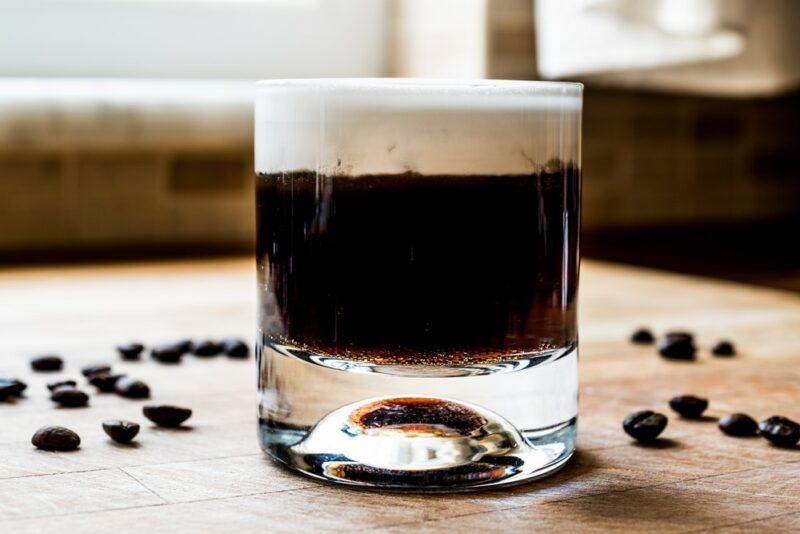 The white Russian is one of those cocktails that keeps on coming around.
It was even more trendy towards the end of the 90s, after the release of The Big Lebowski. The Dude's focus on white Russians throughout the film was enough to drive interest in the drink, a trend that kept going long after the film's release.
This is an easy cocktail to make too. You just need a coffee liqueur, like Kahlua, plus vodka and cream. The cream brings the whole drink together, but you can skip it (which gives you a black Russian instead).
Mai Tai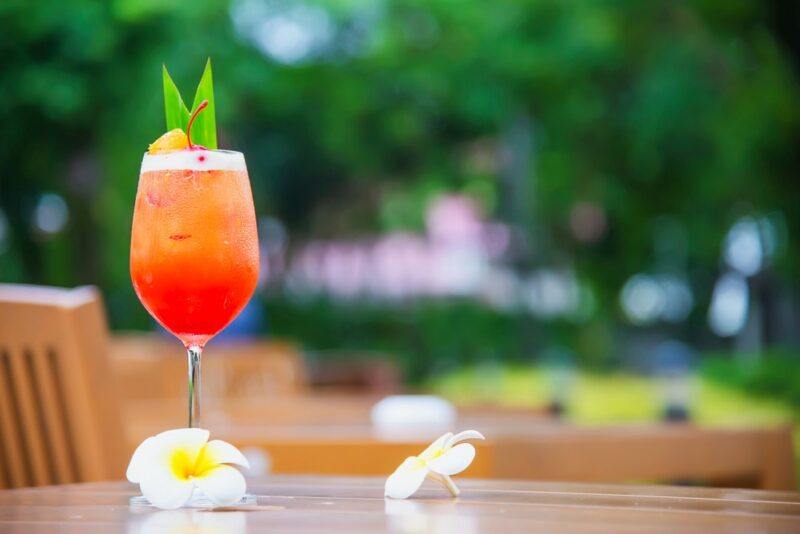 This popular tropical cocktail was created in 1944, but it didn't really start to take off until the 90s.
It's also one of those cocktails that is often made poorly. In particular, 90s versions of the mai tai were often incredibly sweet. Some even relied on a sweet and sour mix, which did little for their overall flavor profile.
A more traditional version relies on two types of rum, orange liqueur, lime juice, and orgeat syrup. There isn't even any pineapple juice present, making the cocktail much less sweet than you might have expected.
Añejo Highball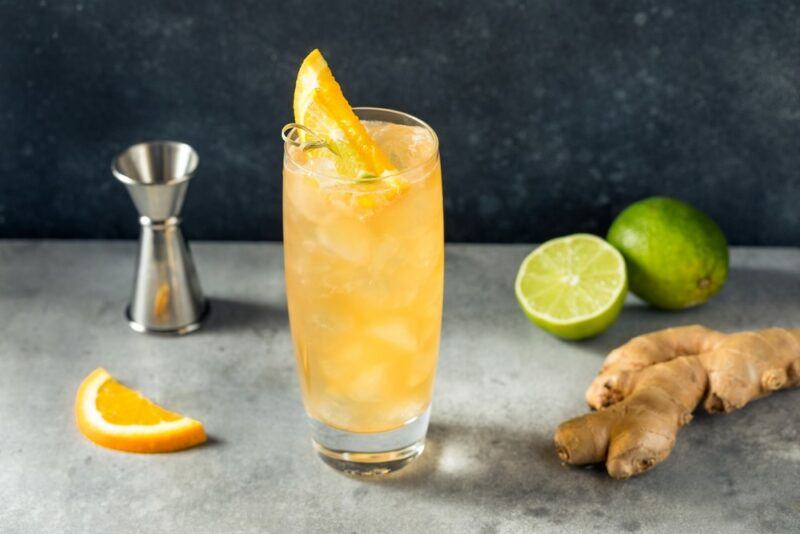 The añejo highball was actually invented in the 1990s, even though it shares features with many classic drinks. It is a tall drink that combines dark rum with orange liqueur, lime juice, ginger beer, and Angostura bitters.
This is an excellent cocktail for anyone who likes tall drinks, but gets sick of how simple and sugary most of the other options are.
Spicy ginger beer makes this cocktail even better. In fact, ginger beer dominates the flavor profile, so the ginger beer you choose actually matters more than the rum.
Bloody Mary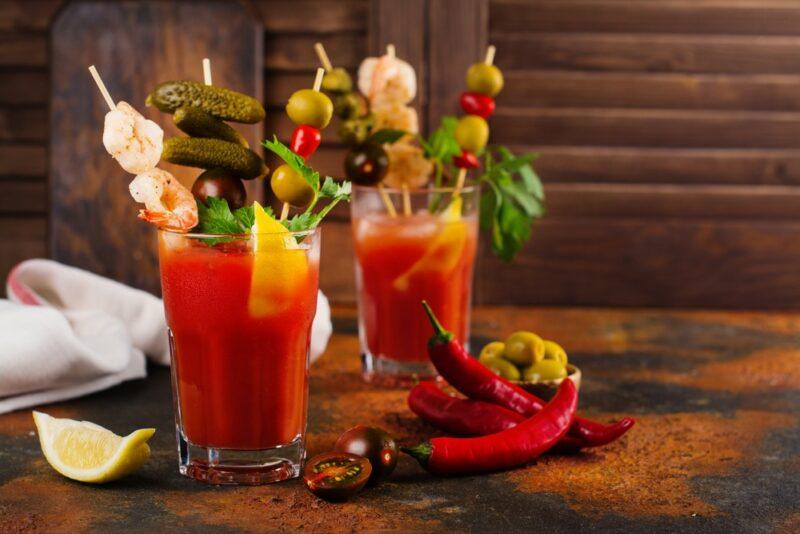 Ah, the bloody Mary. It's one of those cocktails that you either love or hate. There's really no middle ground.
The original recipe relies on vodka and tomato sauce, plus ingredients like hot sauce, lemon juice, Worcestershire sauce, and celery salt. The combination gives you a savory cocktail, one that's sometimes used as a hangover cure.
These days, there are endless twists on the recipe, including some that change the spirit to tequila or gin, while others add completely unexpected ingredients.
Don't forget about the garnishes either. Some places go completely over the top in trying to garnish their drinks, occasionally giving you a mini-meal on top of your bloody Mary.
Bramble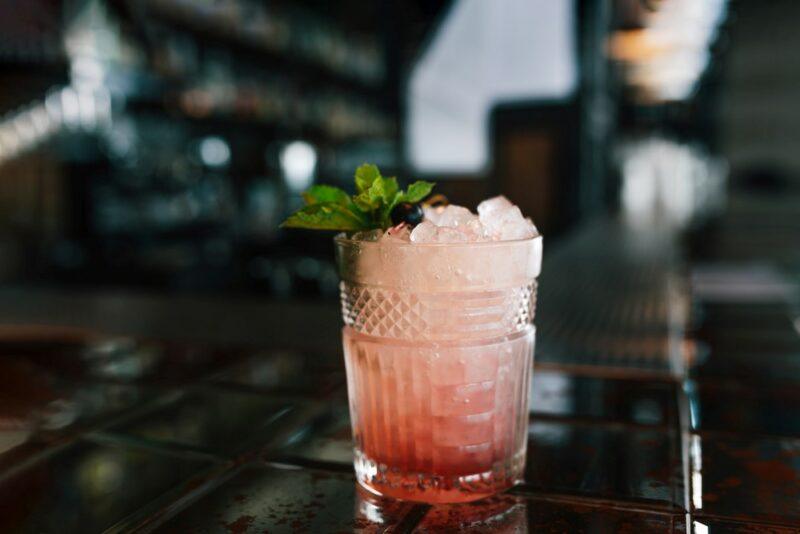 Crushed ice cocktails also became popular in the 90s, including the bramble. The classic version of the cocktail combines gin with simple syrup, lemon juice, and crème de mure (which is a blackberry liqueur).
The crème de mure is what makes this drink stand out, giving it a more interesting color and flavor profile than a traditional sour. You can make the color more intense by muddling a couple of blackberries into the cocktail as well.
There are plenty of variations on the style, including recipes that substitute the gin for an alternative spirit or use another type of liqueur.
Old Fashioned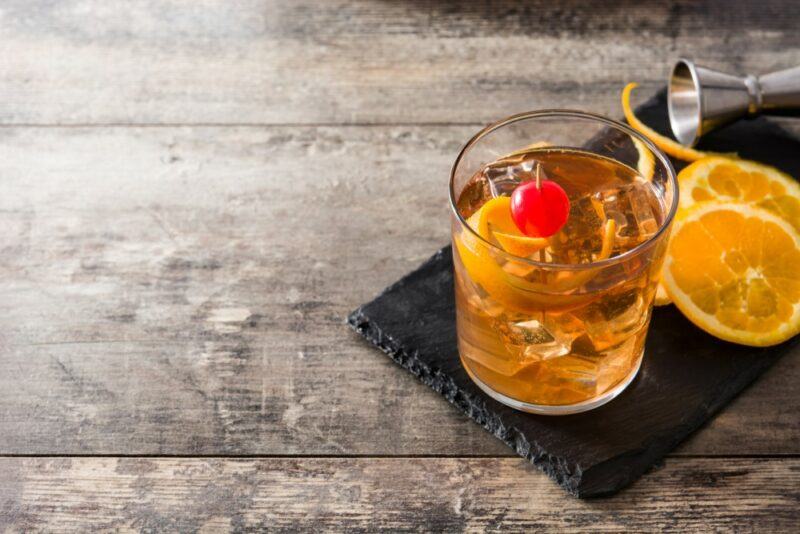 The old fashioned isn't like most other 90s cocktails, as it's dark, refined, and intense. This is partly because it's a much older cocktail, one that has appealed to gentleman drinkers across the decades.
The cocktail is a simple one too. It just combines bitters, sugar, and whiskey. It's the ideal drink if you want to stay true to the 90s spirit, but don't enjoy brightly colored fruity sugar bombs.
Cable Car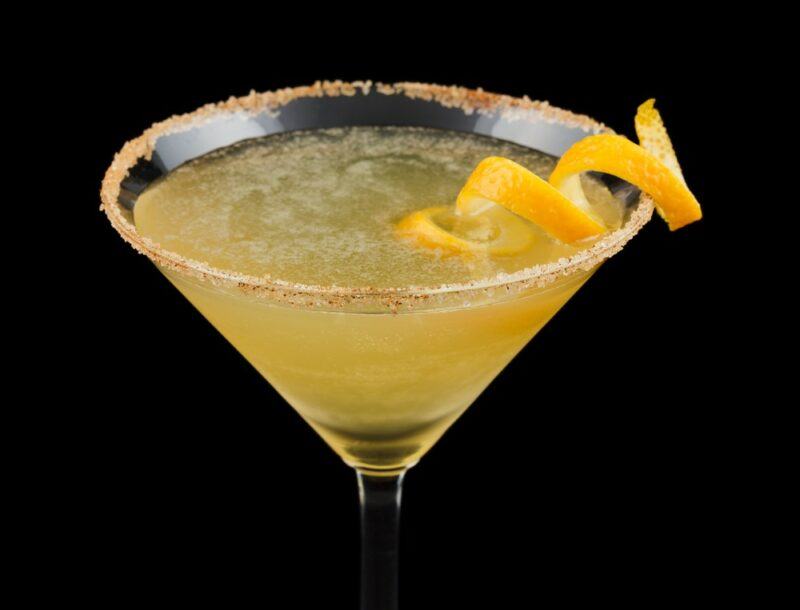 The cable car cocktail was created in the 1990s. It was incredibly popular in the United States, but didn't catch on in other countries.
The recipe relies on spiced rum (ideally Captain Morgan spiced rum), Curacao, lemon juice, and simple syrup. It's often served with a cinnamon sugar rim, which makes it stand out from other cocktails.
The ingredients all work well together. Plus, it's always nice to find a tasty spiced rum cocktail.
Raspberry Martini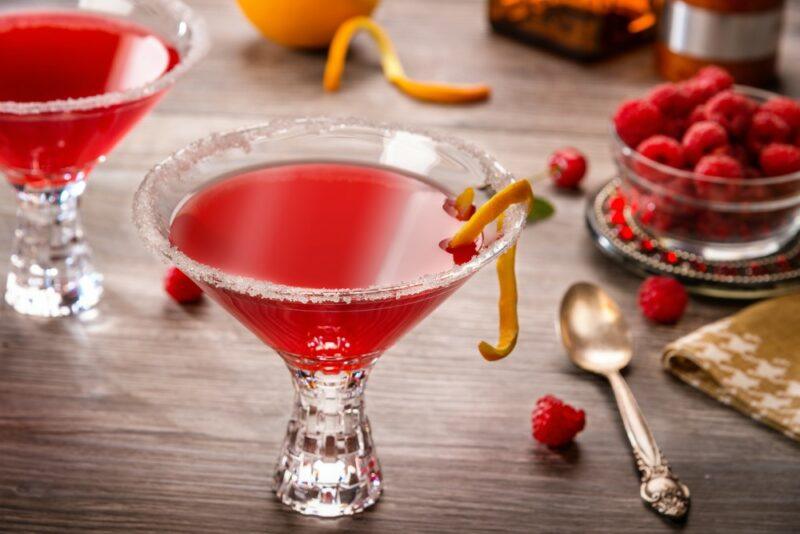 The appletini is particularly famous, but it was only one of many 90s fruit martinis. Raspberry martinis were popular too.
Most versions combine raspberry syrup with vodka, cranberry juice, and a little fresh lemon juice for contrast. So, again, we're not talking about a real martini at all.
You can also ditch the cranberry and lime juices, to make a version that just uses vodka, simple syrup, and raspberries.
Pineapple Martini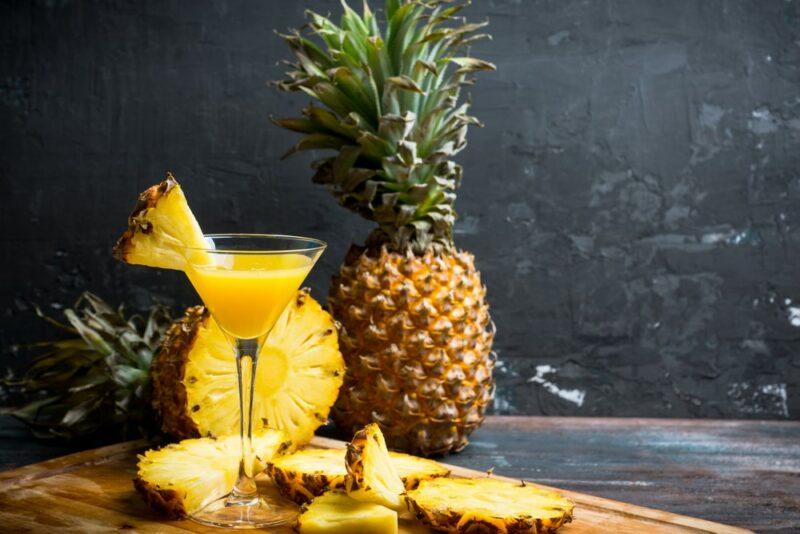 Here's another fruity choice. In the 90s, this cocktail was classically made using vodka, pineapple juice, lime juice, and a little sugar syrup.
The pineapple juice dominates in this cocktail, dramatically influencing its flavor and quality. As such, fresh pineapple juice is almost essential. The cocktail tends to be overly sweet if you rely on stuff from a bottle or a can.
Watermelon Martini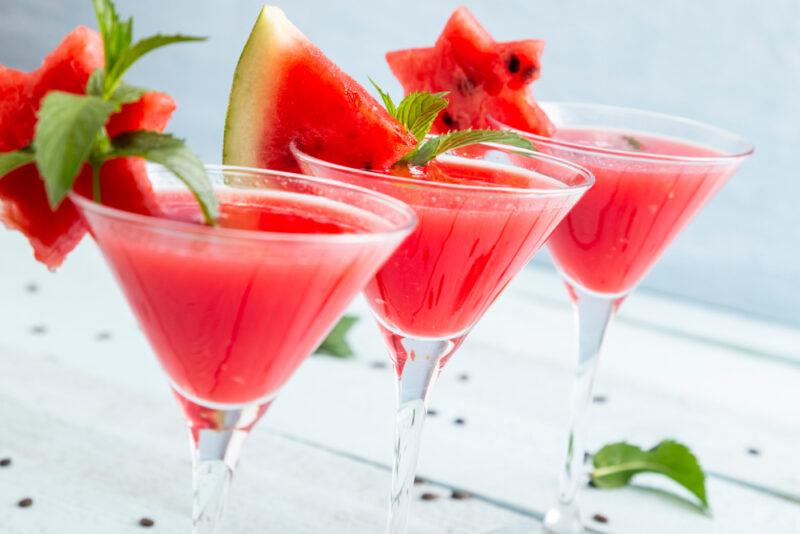 You get the picture now – fruity martinis were all the rage in the 90s. The watermelon version was particularly popular in London.
It often relied on vodka, watermelon juice, and simple syrup, plus lime juice and Cointreau to balance out the flavors.
It's possible to make a version that's similar to an actual martini, by using vodka, watermelon liqueur, and dry vermouth. However, that's a more modern creation, not the type that was served in bars in the 90s.
Breakfast Martini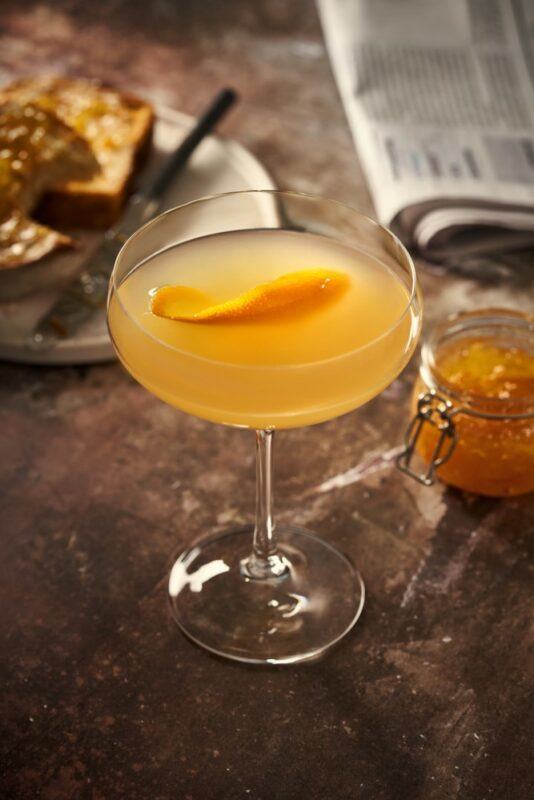 The breakfast martini is a variation on traditional sour cocktails, making it quite different than the previous fruit martinis.
You're basically looking at a gin sour. So, the ingredients include gin, lemon juice, simple syrup, and an egg white for texture.
There's just one unexpected ingredient – marmalade. This is what makes the drink a 'breakfast' martini. Don't be too quick to hate the drink, though, as the marmalade works surprisingly well with the other ingredients.
Sea Breeze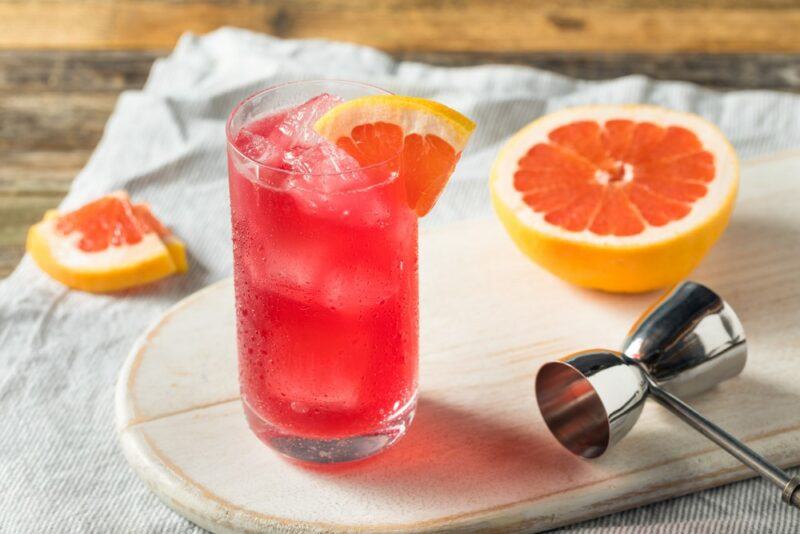 This cocktail was popular in both the 80s and the 90s – not surprising, given the bright color. Marketing efforts by Ocean Spray and vodka companies pushed the cocktail's popularity even further.
The sea breeze is simple to make. It just combines vodka with cranberry juice and grapefruit juice. These ingredients give you a fruity and fun drink that's perfect when it's hot out.
Caipirinha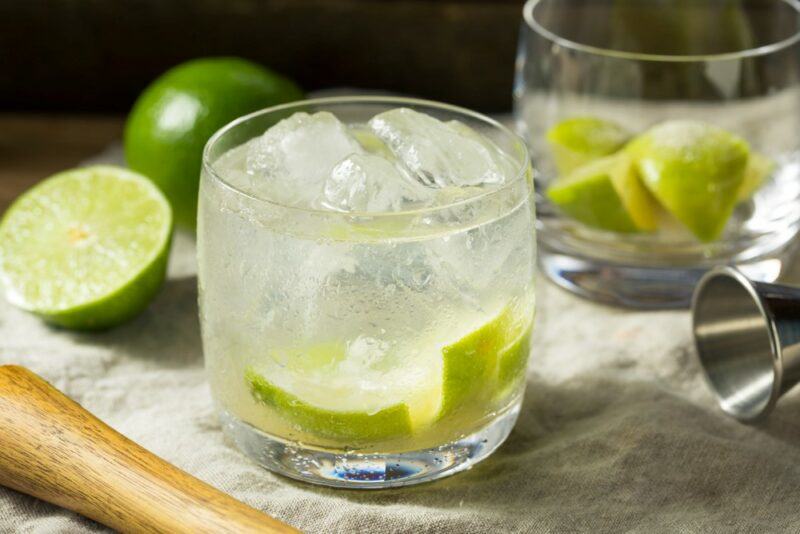 The caipirinha is an interesting little cocktail that relies on cachaça. Cachaça itself is a sugarcane liquor that has a distinct flavor profile.
While the liquor isn't exceptionally popular these days, it really took off in the 90s. The flavor of the cachaça shines through in the caipirinha cocktail, as the only other ingredients are a little sugar and lime.
To prepare the drink, the limes are muddled with sugar. Then ice is added and the whole thing is topped up with cachaça.
French Martini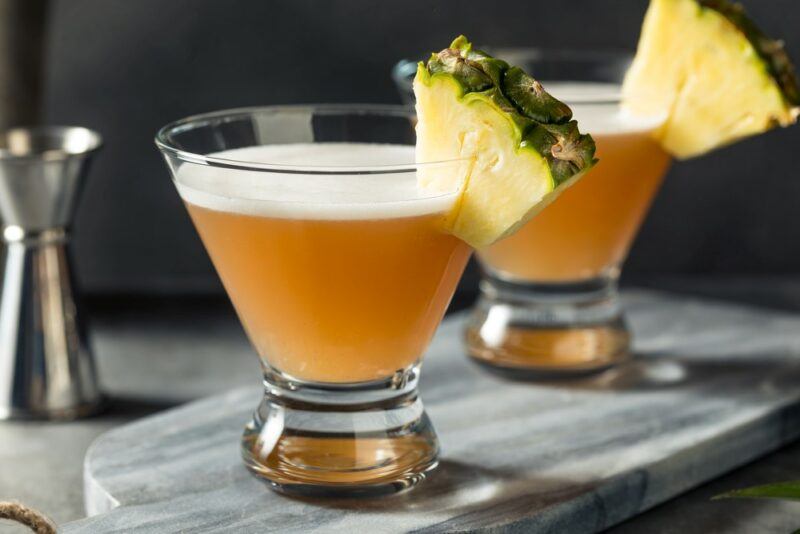 How could this not be a popular 90s cocktail? It's fruity, relies on vodka, and is served in a martini glass.
This time, raspberry liqueur and pineapple juice give the drink its distinctive flavor. The name comes from the reliance on the French Chambord as the liquor of choice.
Jello Shots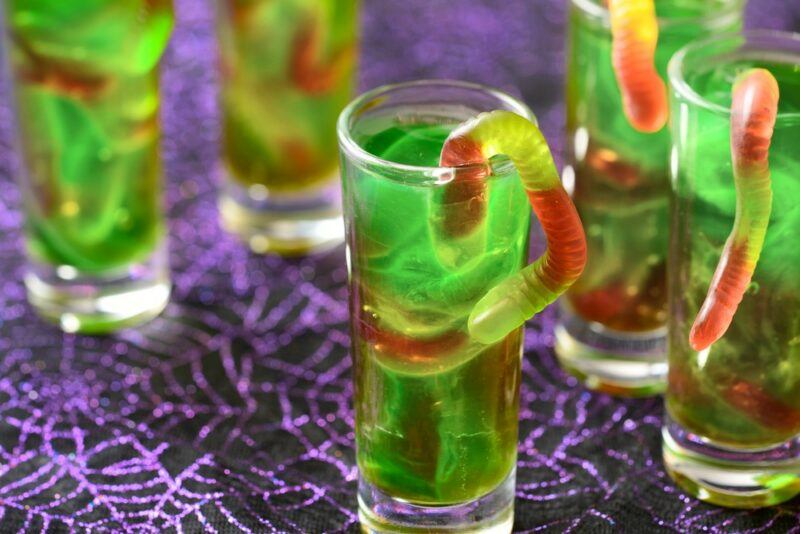 Jello shots encapsulate the 90s perfectly. They're typically bright, sweet, fruity, and go down a treat. Many of them also mimic the flavors of classic 90s drinks, like the lemon drop, the raspberry martini, and the appletinis.
The shots haven't completely gone out of style either. They're much more popular than they have any right to be. There are even plenty of new and exciting recipes to experiment with, including layered shots and surprisingly complex ones.
Jasmine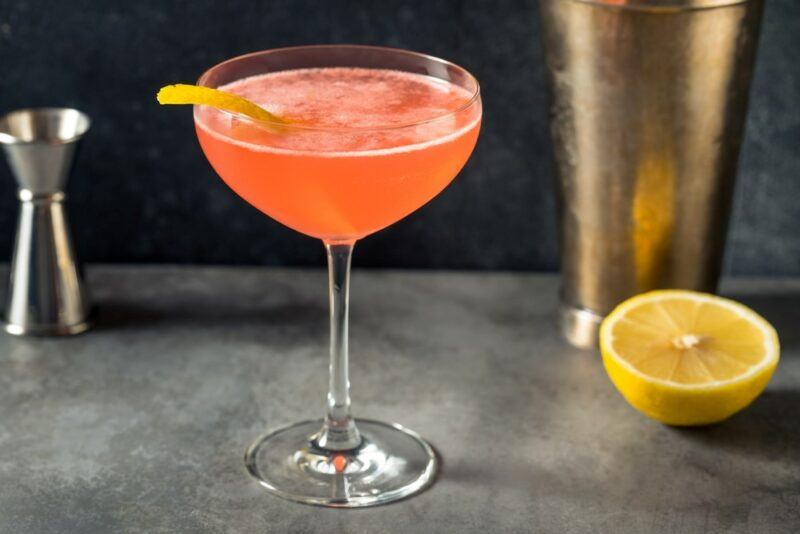 This light colored cocktail is more intense than you might expect, as it relies on gin, Campari, Cointreau, and lemon juice (making it a variation on the negroni).
While this level of intensity was unusual in 90s cocktails, the drink itself was still popular. It's also ideal if you want something that's just a little different.
Zima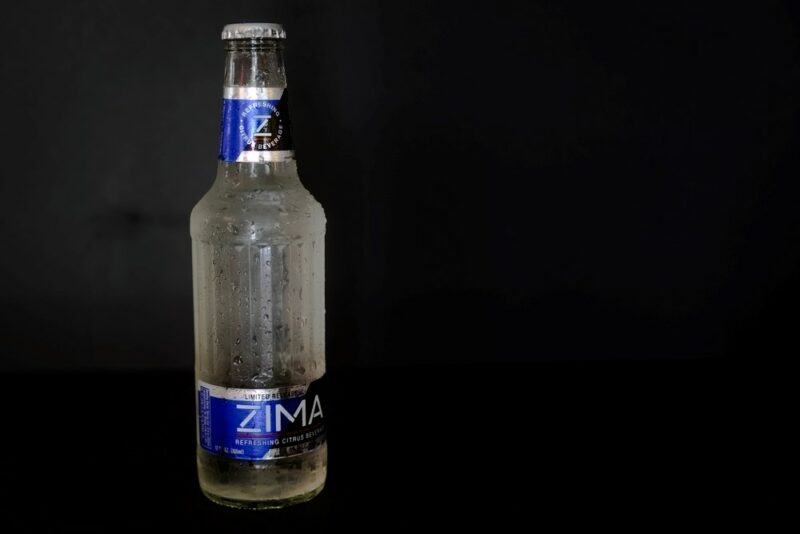 Zima was produced from 1993 to 2008, making it an easy go-to drink during the 90s. It was promoted as a beer cooler, with less than 6% ABV.
While the drink was somewhat strange, it played right into the era – as clear drinks were beginning to take off.
The drink certainly wasn't as enjoyable as most of the cocktails on this list. Still, it was a 90s classic, one that many readers will remember with fondness.
Bacardi Breezers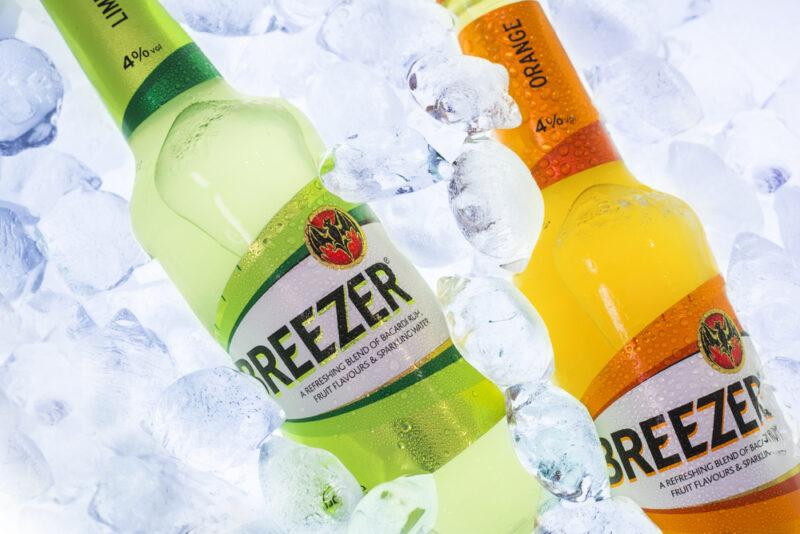 Here's another premixed drink that shot to fame in the 90s. Not surprising, right? After all, Bacardi Breezers are brightly colored, sweet, and alcoholic. The Breezers were an easy choice for picnics, barbeques, and parties. Bacardi does still make such premixed drinks, but modern versions tend to be more nuanced than the Breezers of the 90s.