Whiskey is an intricate spirit with near-endless uses and thousands of options to choose from. Many of our favorite cocktails feature whiskey and different expressions can create many different flavor experiences from a single mixed drink by contributing different nuances than the last one. You do have to be careful when choosing a whiskey for your cocktail, though, as not all flavors mix well together.
You must also consider quality as bad whiskey can make a delicious cocktail taste awful. Thankfully, there are many quality whiskies available at reasonable prices that let you easily host a party and offer great drinks for all your guests. Sometimes, though, you're on your own and just want to make a nice drink for yourself. In these cases, it may be worth putting a more premium whiskey in your cocktail, despite the higher price tag. It's only one drink, and the taste may just be worth it.
There are some whiskies, however, that go beyond mixing and are made specifically for sipping on their own and experiencing the vast world of flavors they have to offer. Some of the best expressions in this category of whiskey come from The Macallan. The best Macallan whiskey are the expressions that have been expertly crafted, perfectly aged, and labored over by some of the best in the industry. Their entire range of whiskey is impressive, but there are certainly a few that top the list. 
The Best Macallan Whiskey
1. The Macallan Double Cask 12-Year Old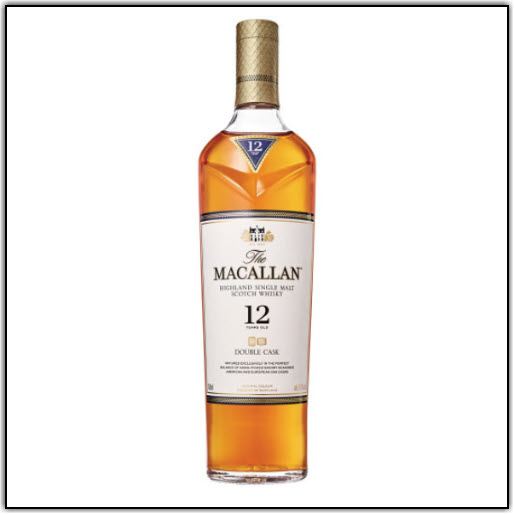 Aged for 12 years in European and American oak casks that used to hold sherry, this Double Cask Single Malt Scotch has won several awards, including a Double Gold Medal at the San Francisco World Spirits Competition and a Gold Medal at the International Review of Spirits Tasting where it also earned a score of 95 points.
The distillery is housed on an impressive estate, covering 370 acres in total, of which 95 are dedicated to the production of their own barley which is used in a number of their expressions, including this one. Once distilled the whiskey is cut down to about 16% and then sent for maturation. This cut results in a richer, fuller-bodied whiskey.
They've worked hard to create a perfectly balanced profile in this expression. The aroma is rich and exciting with notes of oak spice and fruit cake – almost Christmasy! The palate is full of caramel, vanilla, and nuts with citrus on the finish.
2. The Macallan Estate Single Malt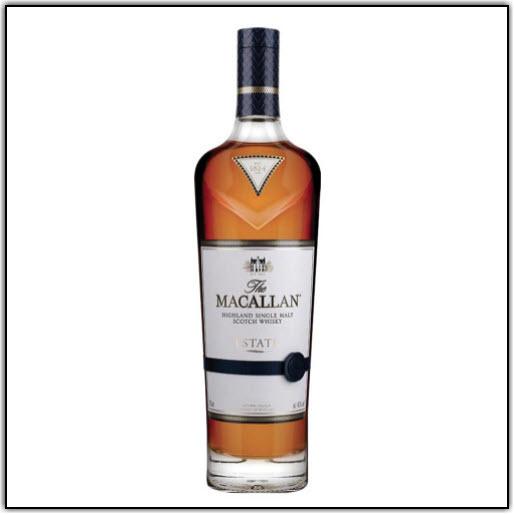 The Macallan Estate Single Malt is a special expression made by the distillery to pay homage to the company's deep and rich heritage. It's crafted using barley that's grown on a neighboring estate.
This particular expression is distilled annually over just a single week, and that's it for the year! The rarity adds to the already incredible value of this premium quality whiskey. The entire profile is inviting and complex, making for one of the best sipping experiences you've ever had – especially if you like warmer notes.
The nose offers wood spice and cinnamon on the first whiff, with citrus, dried fruit, caramel, lemons, and bananas coming in after. The palate is similar, with wood spice taking center stage, followed by notes of oak, figs, and raisins. Citrus returns on the finish, which is sweet and long.
3. The Macallan Rare Cask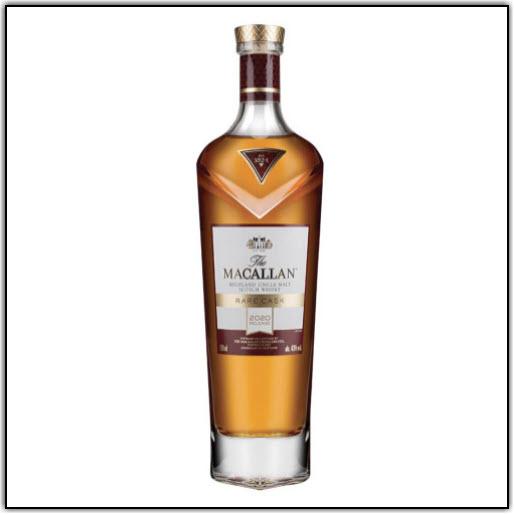 The Macallan Rare Cask is a unique expression that is meant to showcase the incredible knowledge, expertise, and passion of the team at Macallan. It's aged in only the finest sherry-seasoned oak casks. This gives it an intense and complex profile as well as unmatched smoothness.
When preparing to age this expression, the team is very selective. They only choose the best casks they can find, using their knowledge and experience to their advantage in this part of the process as well. The better the casks, the better flavor result they'll get.
On the nose, you'll find intense notes of raisin with vanilla, lemon, apples, and oranges. The palate has even more rich and intense raisins which lead into dark chocolate, vanilla, and citrus. The finish is long and silky smooth.
4. The Macallan 12-Year-Old Sherry Oak Single Malt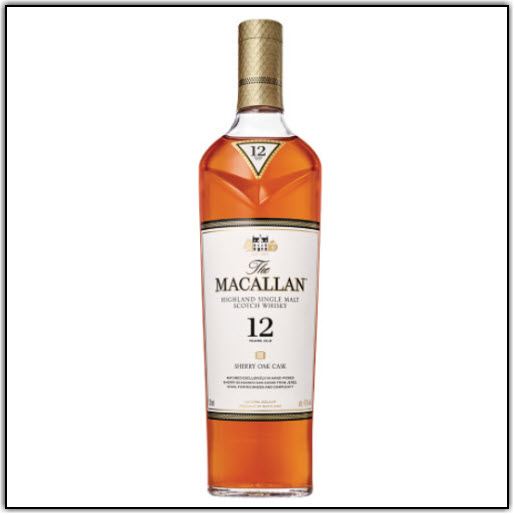 The Macallan 12-Year-Old Sherry Oak Single Malt is part of The Macallan's range of oak expressions. This one is aged in seasoned oak casks that come from Jerez. It's on the lower end of the range in terms of age and price, making it more accessible to those who want a delicious premium whiskey within a more moderate budget, without sacrificing the quality that can be expected from The Macallan.
Keep this expression as a staple in your home bar and always have it on hand when you want to sip some whiskey with friends or relax after dinner. The profile on this expression is exquisite and classic oak with wonderful depth and complexity.
The nose is warm and rich with the perfect touch of vanilla. The palate comes in smooth and balanced with a medium body and delightful notes of fruit, oak, and spice. The finish is long with dried fruit, oak, and spice lingering.
5. The Macallan 18-Year-Old Sherry Oak Single Malt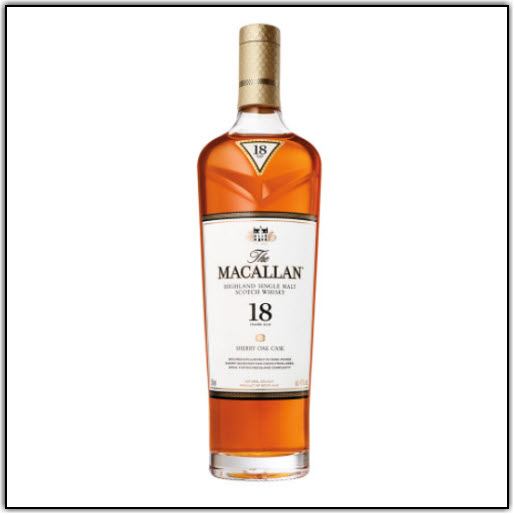 The Macallan 18-Year-Old Sherry Oak Single Malt is a continuation of the previously mentioned 12-year expression, with a similar but more advanced profile. Awarded an impressive 92 points from the Wine Enthusiast, this expression is considered by many to be one of the best single malt Scotches in the world.
Made with only the finest ingredients and a deliberate, meticulous distilling process, the 18 years it spends in seasoned Sherry oak casks is the final step to an arguably perfect bottle of single malt Scotch whiskey. The depth and complexity in this expression is a once-in-a-lifetime experience, not often replicated elsewhere.
The aroma offers notes of ginger and toasted oak with a light touch of vanilla, cinnamon, and raisins. This combination creates an amazing harmony of sweet, warm, and spicy on the nose. On the palate, you've got a similar combination with notes of spice, cloves, oranges, and more toasted oak. The finish is elegant and spicy with notes of ginger, dried fruit, and orange zest.
The Macallan History 
The Macallan didn't come to produce some of the best whiskey in the industry by chance or accident. In addition to decades of experience and built-up knowledge, there are several things they do differently in order to produce their phenomenal line of whiskies.
The distillery is situated on an estate that's been around for more than 300 years. The distillery itself was founded in 1824, one of the very first distilleries to be legally licensed in Scotland. In the beginning, founder Alexander Reid would ferment and distill his grains himself and often drink it right from the still or sell it to travelers. This was especially common during the winter when a few sips of whiskey was a popular way to warm up a little. Many farmers would distill their excess grains and make a little extra money this way.
Today, they still produce much of their own barley on the dedicated 95 acres, with each acre producing enough barley for about 1,800 bottles per harvest. This is impressive, but still not enough.
To supplement their needs, they contract with local farmers, only purchasing barley that is high in starch and low in nitrogen. This helps give them the rich, oily whiskey they're looking for. Also contributing to this goal are the "curiously" small stills they use. They may be small but the pure, smooth, and unique output is worth it.
The distillery focuses heavily on the quality of their casks as they are responsible for much of the whiskey's quality, from taste to color. Many whiskies have something added to enhance their color, but The Macallan doesn't believe in such a thing. Their whiskies get their color entirely from the wood they age in, which is one of the many reasons they are so selective with their casks.
Because wood is natural, every tree is going to be different. This is yet another area where the expertise of the distillers comes in, as they carefully select casks to ensure that the color is as consistent as possible from bottle to bottle.
Reid named the company The Macallan after an infamous old church that was unfortunately destroyed by a fire in the 15th century. The legacy certainly lives on with the success The Macallan has experienced. From expert practices, hand-selected casks, and vigilant attention to detail, The Macallan has managed to produce some of the best whiskey in the world. There's variety in taste, aroma, and age to give everyone something they'll love.